There are some people that are able to change the way that others view things. David Mann was one of these people. He was born September 10, 1940. David grew up to be a graphic artists who brought a subculture to the mainstream. He was an impressive motorcycle painter and was considered to be the best artist in the bike world, and his work can be seen on the gas tanks of motorcycles, in various tattoos, and on biker/motorcycle memorabilia.
Some of his most notable work includes surreal backgrounds, distorted skylines, and color images that celebrate the freedom that motorcycles have to offer.
David began his career as an automobile painter and specialized in custom cars. He moved on from this point to painting motorcycles. He became very interested in the culture that bikes follow. In 1936 Mann took his artwork to the Kansas City Custom Car Show. Another biker and artist by the name of Tom Fugle took notice in his artwork. Fugle showed this artwork to customer car painters and even the biker magazine Chopper.
The magazine published his work .
Due to the publicity of this magazine and his work Mann was invited to join the El Forastero Motorcycle Club and even got his artwork published in the Easyriders magazine.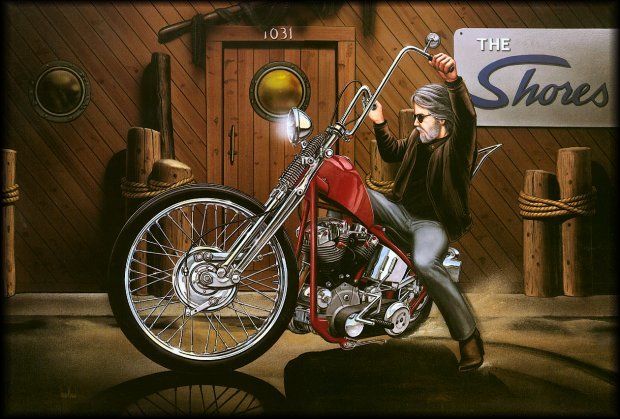 Due to the popularity of the magazines Mann was selected to begin to paint custom motorcycles. He continued to publish custom artwork in the Easyrider magazine until he died. In 2004 Mann was inducted into the Motorcycle Hall of Fame.
Mann lived to the age of 64.
Before he died he was honored with a custom bike made by Orange County Chopped. The bike was called The David Mann Bike and featured some of his custom artwork. Unfortunately Mann died before the bike that was made to honor him was completed. Mann was cremated and something unusual was done with his ashes. The ashes were put into the paint that went into the gas tank of a Harley Sportster XLCH that was painted in the custom David Mann Red. Mann left behind a wife as well as three children.
While Mann may be gone his artwork and his style continue to live on. There are some images that Mann has become known for. The first image is of two bikers riding on the road side by side. The first of the bikers is riding alongside a kindred figure. The two bikers have identical clothing and have the same facial features.
Mann is also known for bikers that are driving along the road. This one biker is seen driving alongside a police officers that has a bit of a cartoons look to him. There are other motorcyclists that are passing along as well. The lone biker looks like he wants to ride along with the other bikers but is not quite sure how to join them.
Another famous work by Mann is the female figure that appears in the picture. The female figure appears to be some kind of supernatural being that is watching over a biker from the sky. The person looking at this picture may get the impression that the biker loved this woman at one point and she may have passed away. In the biking world many women are not often seen as devote riders. Women can also be shown as sex objects so this is a new take to see a biking that is missing a woman that he must have loved at one point.
There are other variations to these scenes that Mann has been noted for. Sometimes his work shows tension between the biker and other figures in his life. The biker wants some attention from the mainstream but at the same time rejects the lifestyle of this culture. There are some other contrasts to his work as well. Some of the bikers appear as knights and heroes that are on a mission.
Mann has designed a number of custom art pictures and has painted motorcycles for the El Forastero Motorcycle Club. This club does not have the best reputation. Members of this club has been found guilty of various crimes including drug trafficking. It was found by authorities that members of this motorcycle club would purchase money to buy drugs and sell them at their events. While members of the club were committing crimes Mann managed to stay out of trouble.
Mann is known for his ability to capture the early biking culture. He work depicts the early times of bikers and the riding scene that they are known for. Bikers are out on the open road and driving side by side. His artwork is very detailed and there are many intricate designs. The detail that goes into this artwork in unmatched. Every little spoke on the motorcycle has detail and the correct shading. This artwork took a lot of time to complete from everything from the drawing to finding the proper colors. This work is attention getting and a person that sees it can appreciate the time and the dedication that went into each of these paintings and drawings.