When a Belgian gent and masterful endurance racer by the name of Kris Reniers decided to take up a new Ducati bike build with his favorite color scheme (a beauty metallic dark green), it seemed only fitting to name the thing the "Green Machine 3.0" – and while the christening is a special ritual all its own, we're also loving what the man had going on under the hood of this particular project.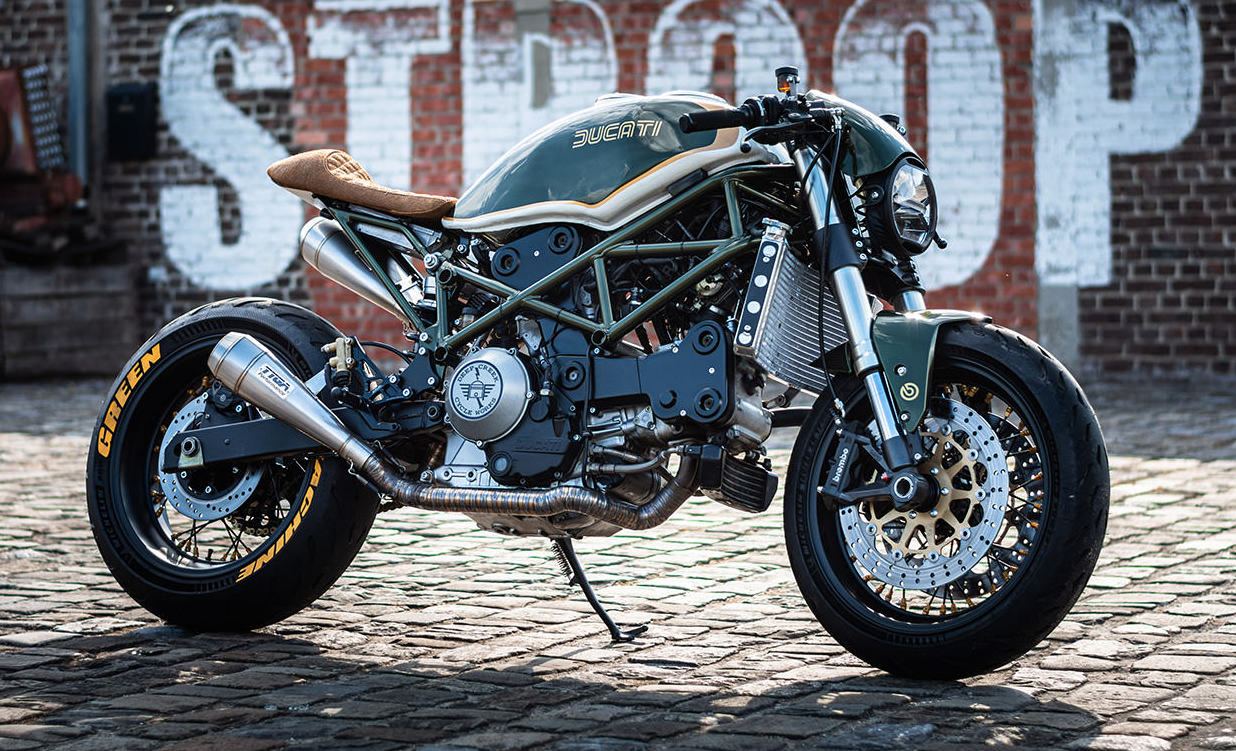 The donor bike of choice? A 1998 Ducati ST4, sporting the exact same V-twin heart as the iconic Ducati 916 and capable of a very lovely 105hp and 66lb-ft/89Nm of torque.
Obviously, Reniers didn't stop there; a glance at a Holographic Hammer illustration purportedly gave him the inspiration to go lean and mean with the rest of the build:
"I wanted a rough look for this bike," he explains in an article on BikeExif. 
"A bit nose heavy, a bit buff. With the headlight as low as possible, and a more sporty and beefed up front suspension, I knew I could get that look."
On went the surgical gloves and Reniers got to work.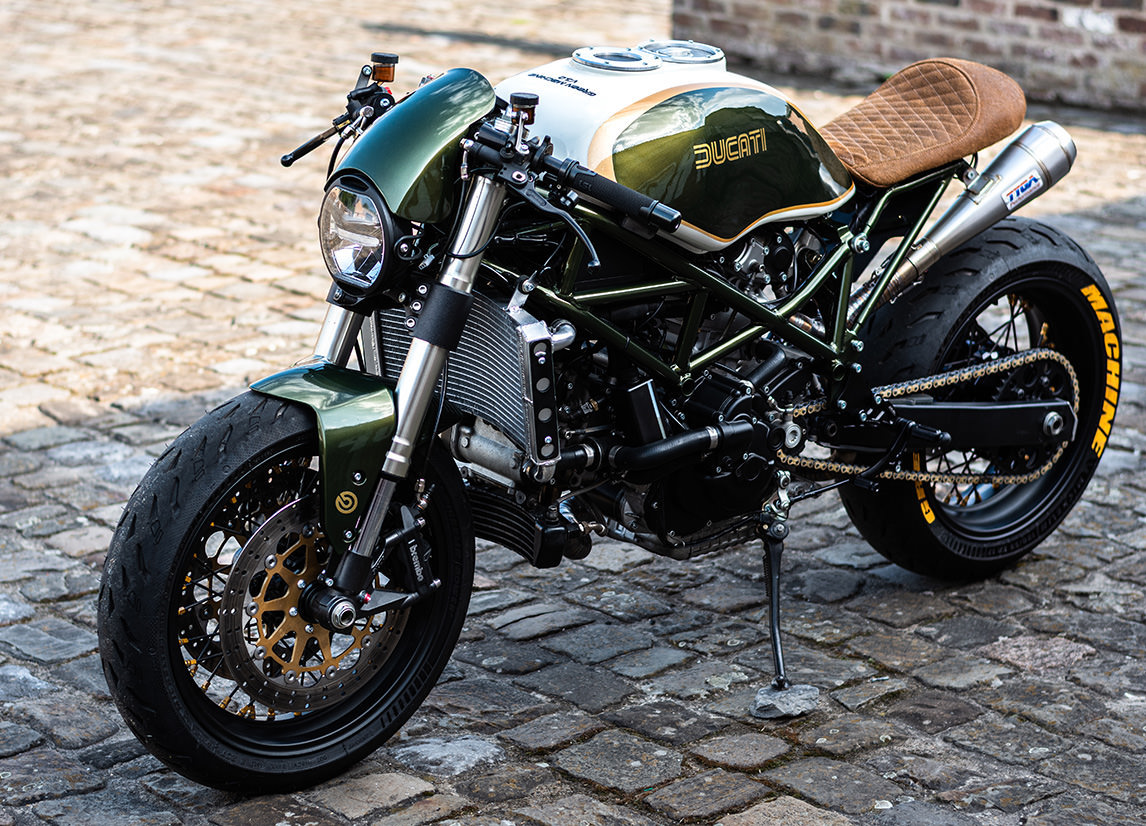 An indeterminate length of time later, and the front end of a Ducati Streetfighter 848 was transplanted onto the ST4, complete with the Streetfighter's radial Brembo calipers. Spacers and bushings were then worked to fit a bit of Ducati's Paul Smart 1000 LE in the form of some Alpina wheels.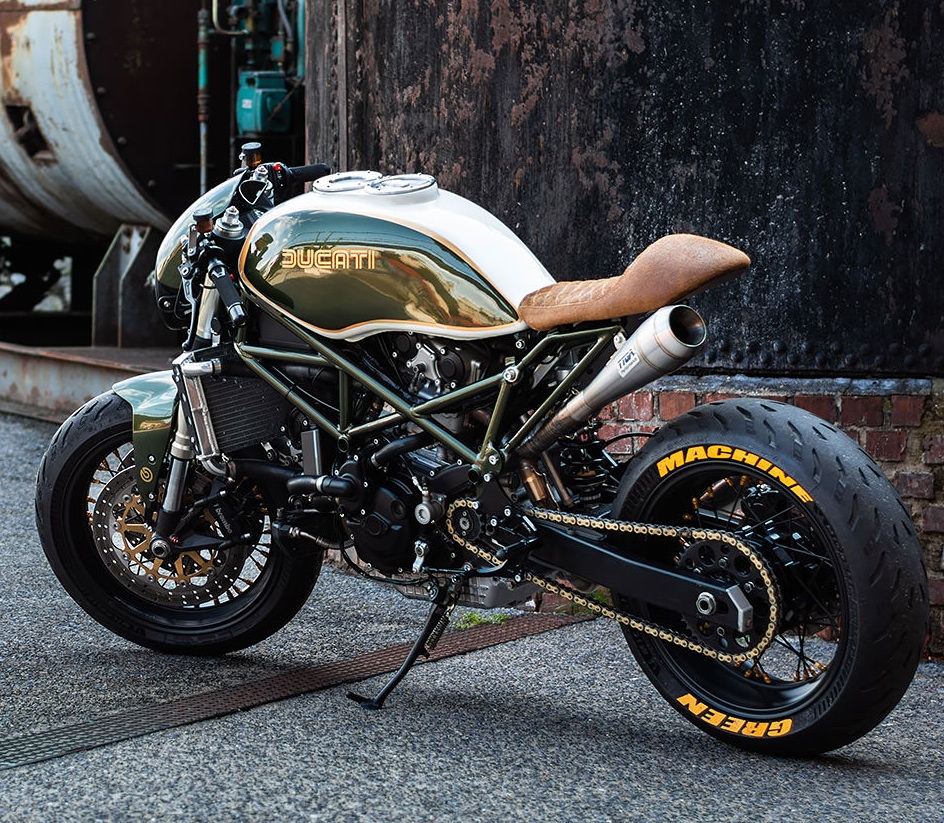 The rear end was then tossed in favour of a one-off subframe, created to give a small, waspy look to the seat and added as a nod to the track.
Given Reniers' history as a racer, it seemed only natural the bike get a chonky set of upside-down forks, with a new Wilbers shock to complete the back end.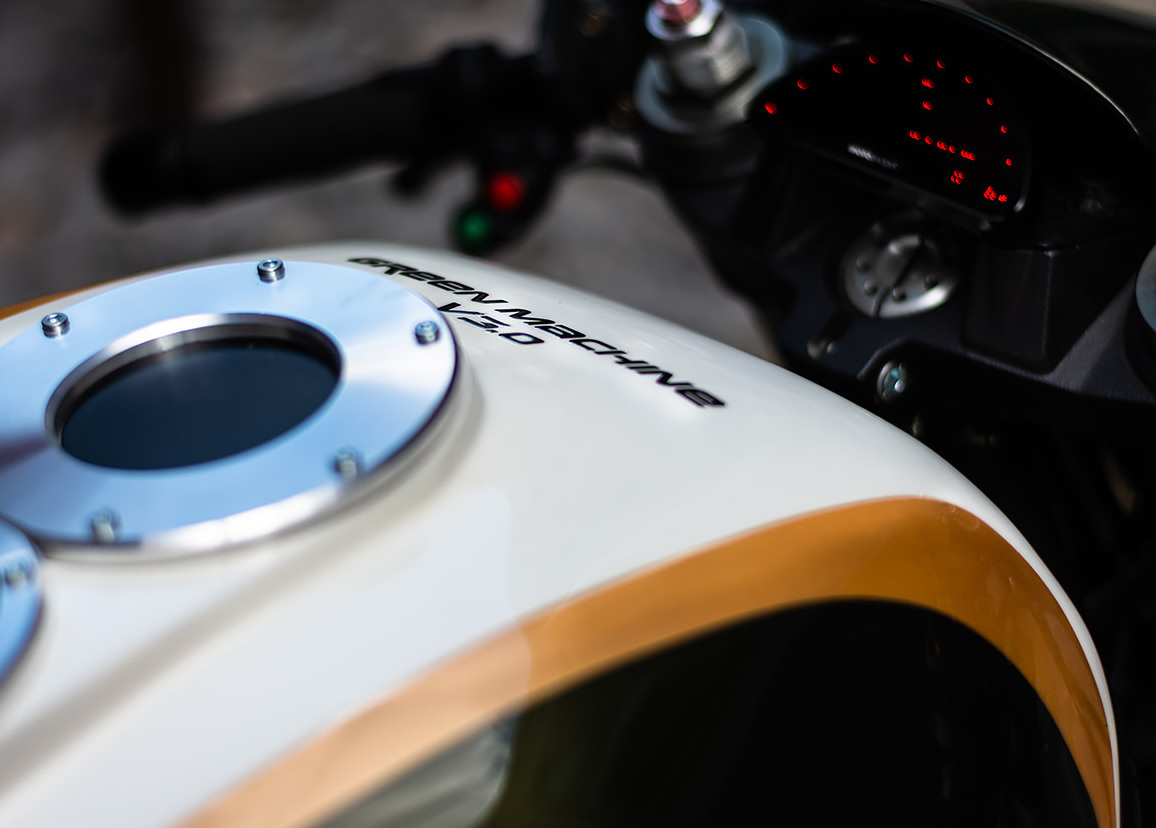 Believe it or not, the gas tank has been preserved despite the huge amount of mods that went into this build – something that Reniers is quite proud of. 
"The fuel tank was not an easy job because all the electrics needed to be kept out of sight – and the perfect place was under the tank," he admits. 
"It's a bit of a Frankenstein tank, welded up using the original as a donor, which was cut and reshaped."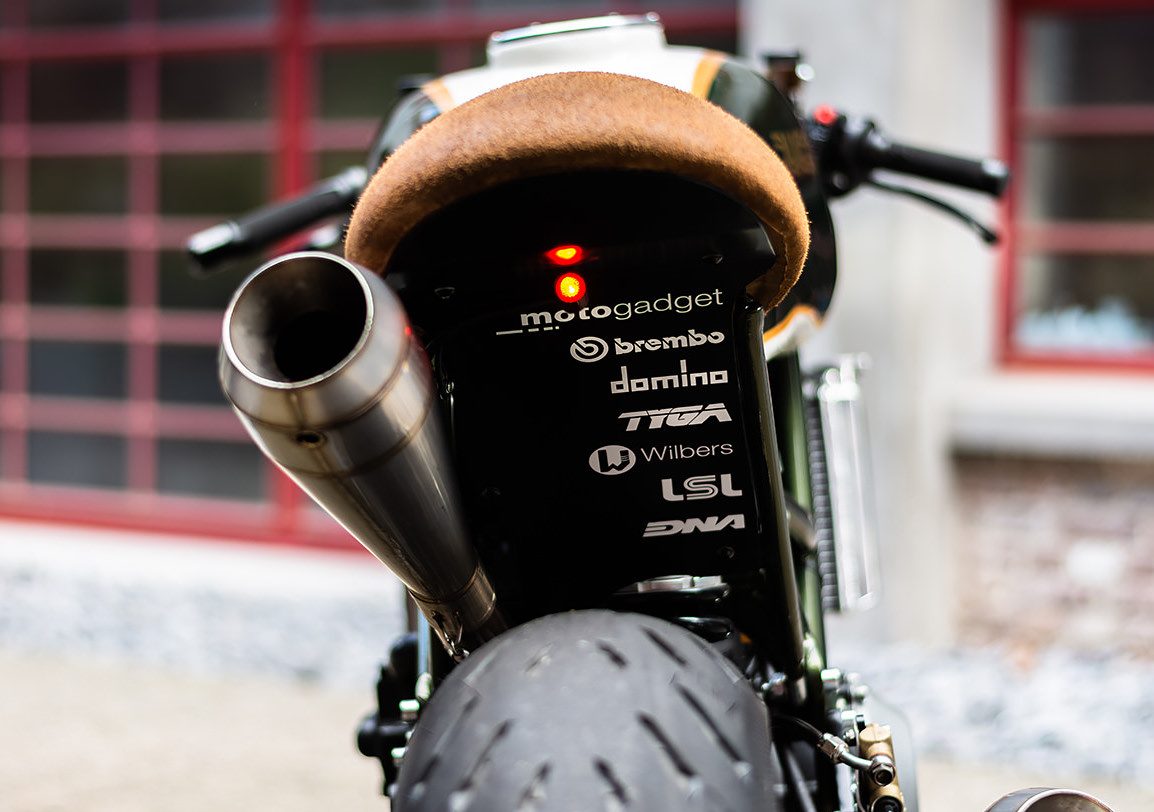 Here's the rest of the mod list:
LED taillight (Wünderlich)

Splash guard 

Hand-made tray (under the seat)

Handmade cowl

LED Headlight (Koso)

LSL grips

Digital Motogadget Motoscope Pro dash

New rear sets (Valtermoto)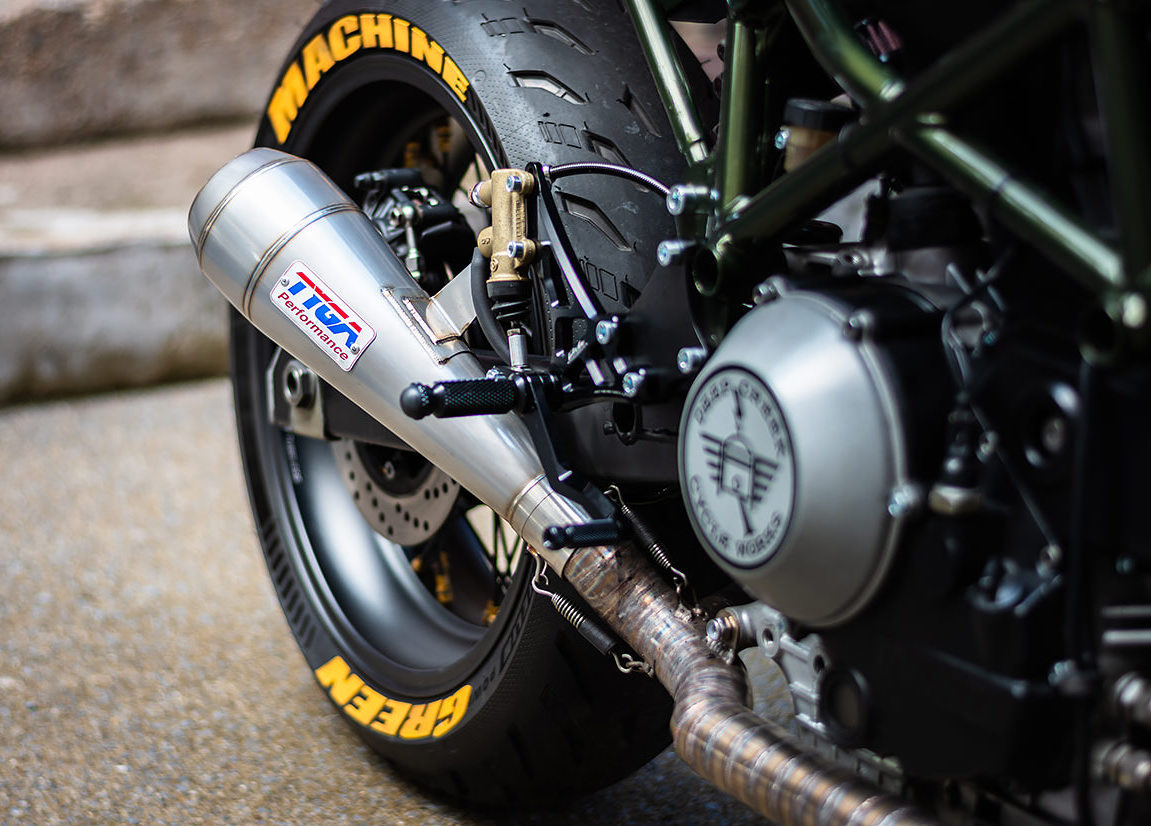 Add to all this the final work of art; an asymmetrical exhaust system with twin mufflers from Tyga. 
"The pie cuts were a handful for me," says Kris. 
"I am not used to welding them, and that bit could have been done better by a professional. But nobody is perfect – and this bike is no exception."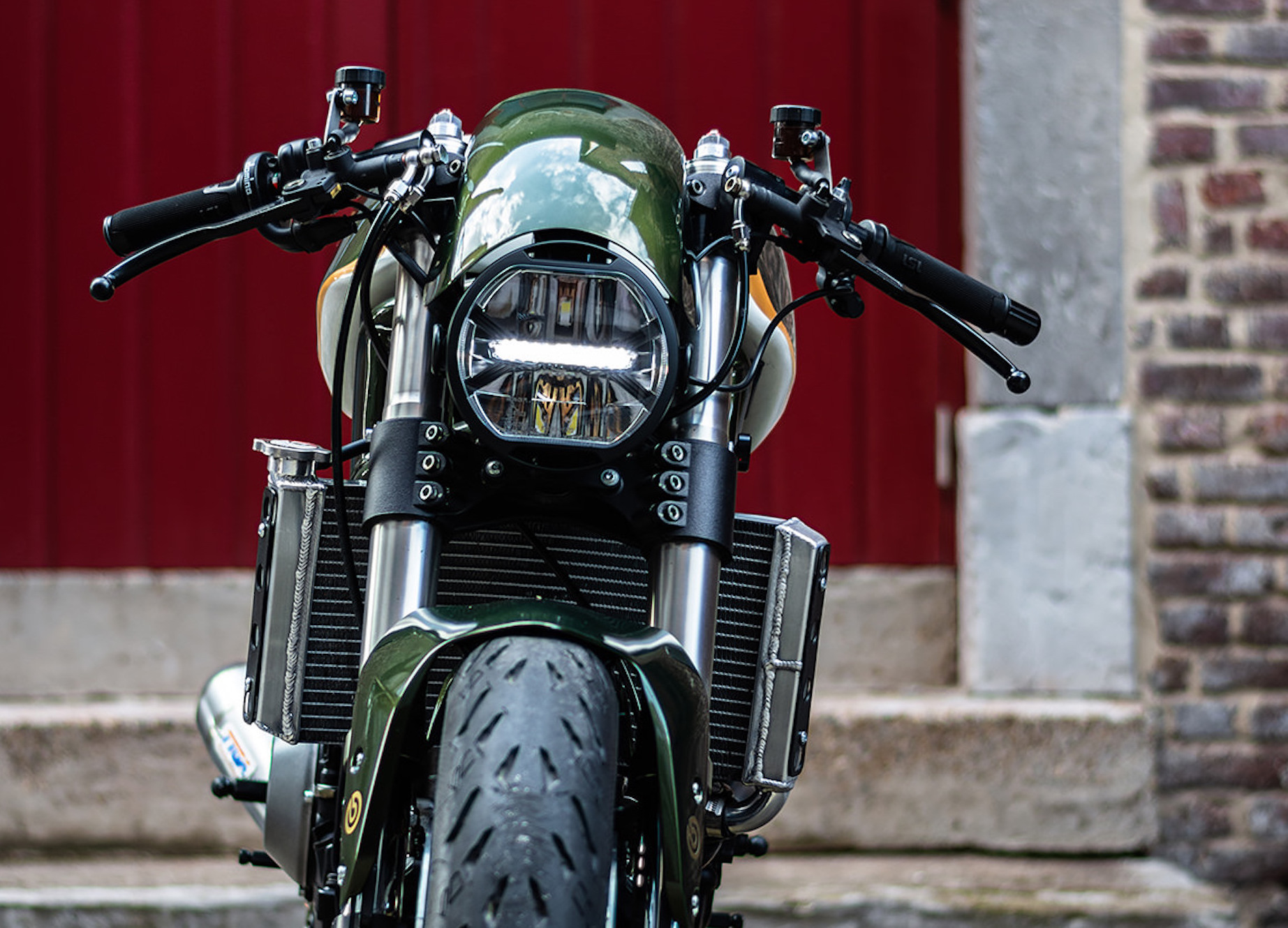 What do you think?
Comment down below, be sure to head over to Deep Creek Cycleworks to support their stuff, and as ever – stay safe on the twisties. 
*Media sourced from
BikeExif
*