Intrepid Queensland adventure motorcyclist Stuart Ball has crashed out of his second attempt to set a sub-70-hour west-east motorcycle crossing of Australia.
However, he is well and determined to give it another go.
"It's never over," he told us this morning. "It knocks you for six when it does fail, but what you have to do is get everything home first and assess what went wrong and why."
Stuart left Steep Point, WA, on Thursday night but unseasonal heavy rains in the deserts made it hard going.
Unfortunately, he crashed in a rut at about 85km/h on the Gunbarrel Highway about 1500km into his trek and was two hours quicker by this stage than last year.
Stuart patched up himself and his KTM 920SE and battled on to the medical centre at Warburton where he hung up his boots last night on his second attempt at the record.
The Great Australian Ride founder was only about 80km from finishing the Gunbarrell Highway yesterday afternoon when he came around a slight right bend to be faced by a couple of deep water ruts.
"Catching the front wheel in the left one, which pulled me in with nowhere to go. Crashed heavily on my right side, using my head and right arm as a brake," he wrote on his Facebook page.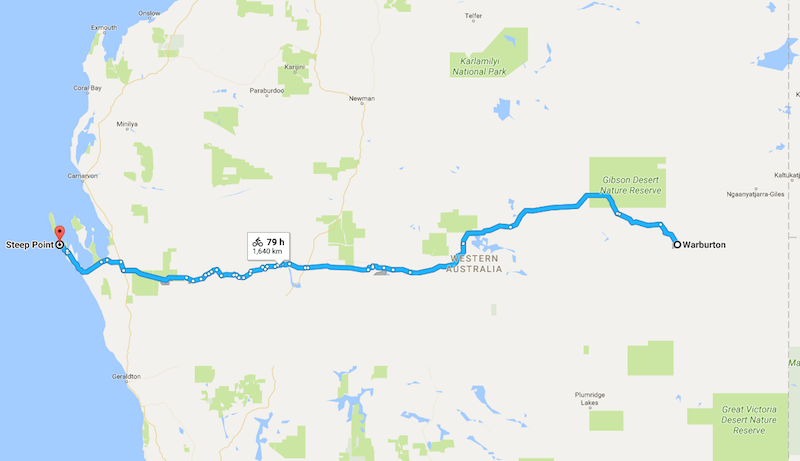 Stuart injured his right arm and torso.
"I pulled out my medical kit and set about cleaning and bandaging my wounds thinking I can continue," he writes.
"The swelling was painful and I was doing my best to block it out while I picked the bike up to inspect the damage.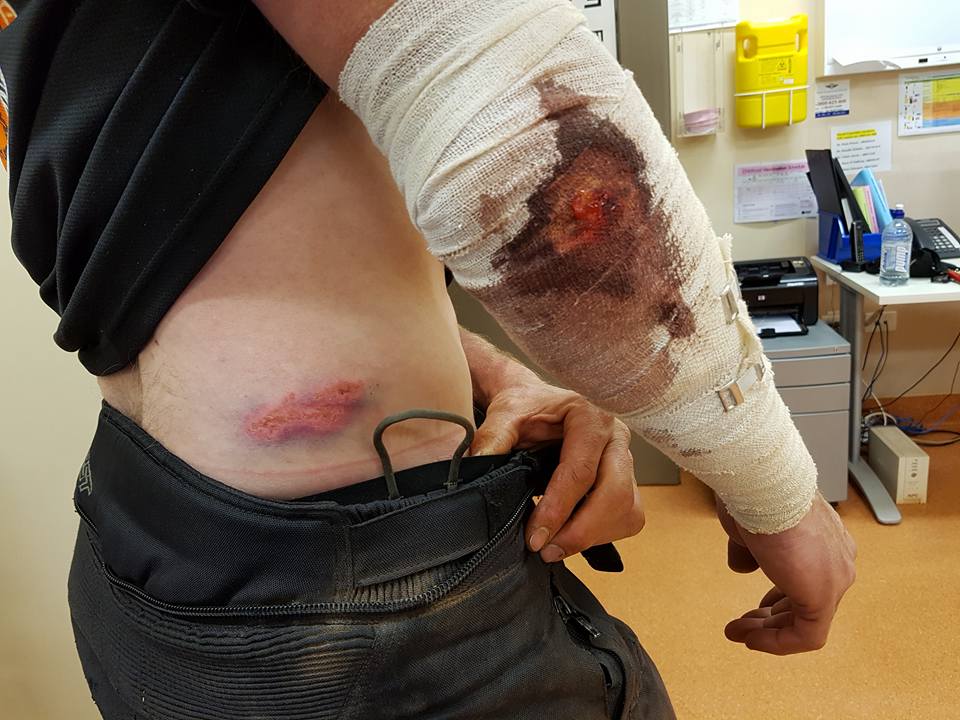 His bike appeared to have only plastic damage and was able to restart.
However, the sidestand was broken and when he clicked it into gear the cutout switch turned off the engine.
He used his satellite phone to contact his mechanic for advice and soon had the bike going again.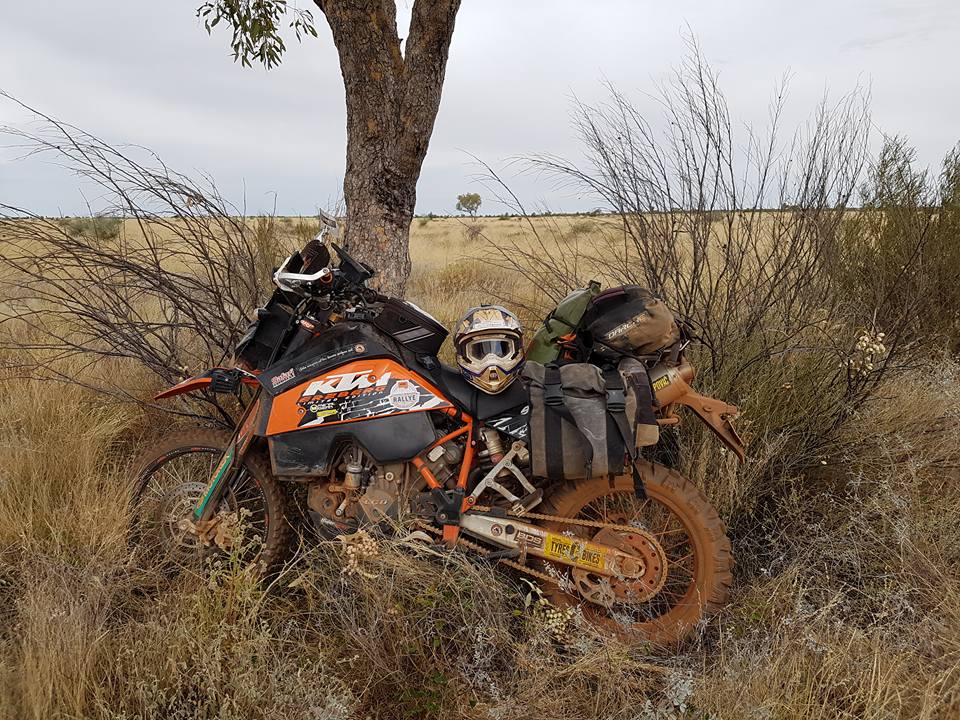 Pain kicks in
"By now the pain was really kicking in and doubts were starting to cloud my judgment," Stuart writes.
"Pushing on was hard but I was determined to get the last Gunbarrel 80km done and reassess once I saw the Heather sign which took me about 2.5 hours of difficult riding.
"Strength in my throttle arm was drastically down due to the swelling.
"These times are always a dig-down-deep experience and I was trying to hold the bars tight and get through without doing more damage to myself which didn't work as I came down another three times aggravating the swelling and bleeding.
"Hope was fading and there were a couple of moments of 'What the hell am I doing'."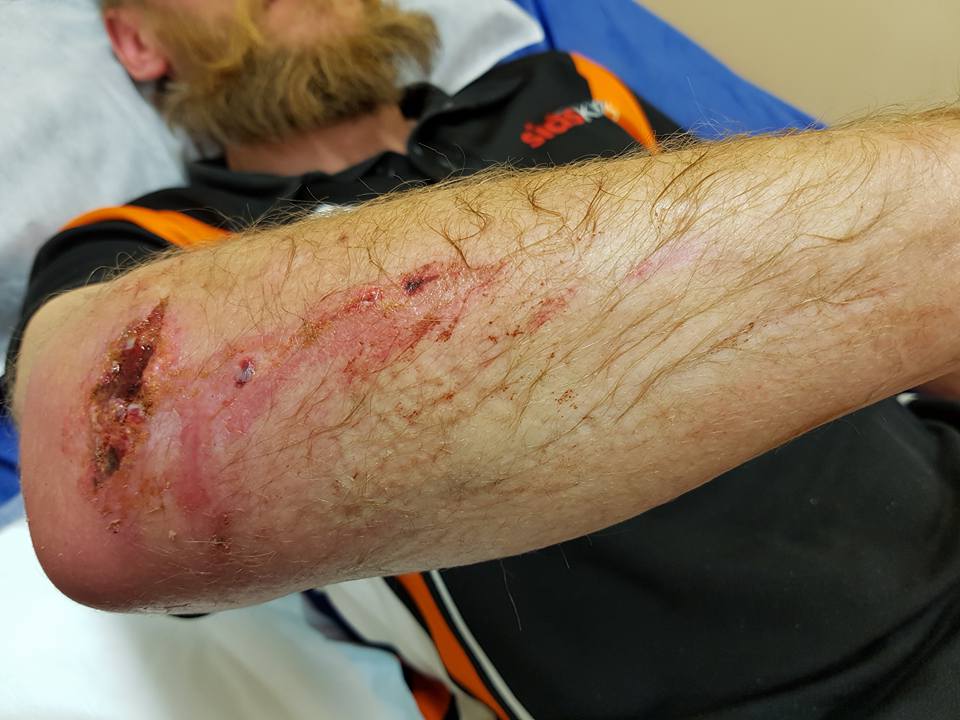 Stuart slept, rode and battled on to eventually make it to Warburton where he was praised for the medical care he gave himself.
"After a couple of shots of morphine, 20 injections to numb my arm and a penicillin shot in my backside I was in good spirit.
"There's a big hole 2cm deep in my arm now which is stuffed with antibacterial material which will be removed tomorrow. My torso is bruised but no internal damage. I've been lucky."
Stuart says he is "devastated" to have ended his record crossing attempt.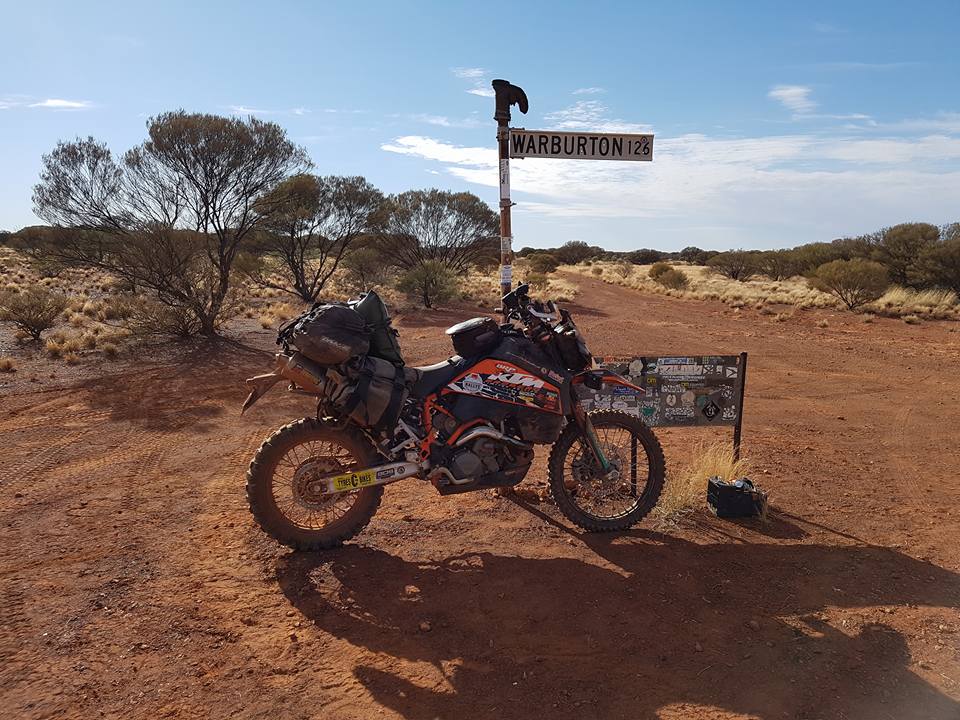 "Lying on the cold deset floor in pain tends to make you think and there have been some things that I have neglecting due to my motorcycling pursuits," he said.
John Hudson's record time of 70 hours and 33 minutes still stands.
John wrote on Stuart's Facebook page that he was jealous that Stuart was having a crack at his record.
"I am very happy you are out safe," he writes.
Stuart says he acknowledges the "time, energy and determination" John put into his record crossing.
"I now understand that there are men like me because of those men who set the bar," he writes. "It has been an incredible journey to Warburton and I'd like to thank all those I crossed paths with."
Second attempt
This is Stuart's second attempt at the record after a failed attempt last year when the wiring harness on his KTM 990 burnt out.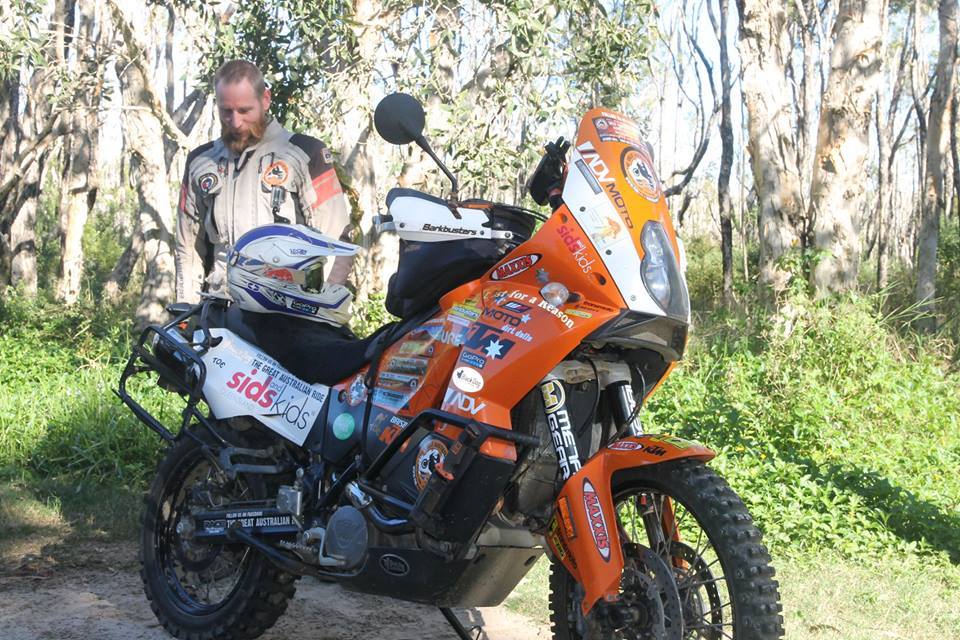 Stuart's record ride has also been raising awareness and funds for Red Nose that aims to eradicate sudden infant death syndrome (SIDS).
So far his Great Australian Ride team has raised $90,000 this year and he was hoping to break $100,000. You can still donate by clicking here.