A Cooling Neck Wrap for Summer
I've either been accelerated through time in a wormhole or the fall weather has bulldozed its way in much quicker than I expected.
Or, all of the above.
Because it seems like yesterday I was riding in mesh clothing and today I'm freezing my buns off.
The beautiful fall colors have reminded me that it's a strange time to review a cooling neck wrap, but I was supposed to do this one about two months ago and I kept putting it off and now guilt has gotten the better of me.
So, I say, better late than never; there's always next year.
Maybe global warming will create a huge demand for cooling neck wraps in January and hey, don't forget that our friends Down Under are just gearing up for their summer too.
You're looking at the Koolin' Klothz brand of neck cooling wraps; Koolin' Klothz makes neck wraps and other cooling neck wraps, vests, bandanas, head bands and just about anything else you can think of.
If the fabric looks vaguely familiar, your eyes aren't deceiving you.l
It's very similar to a product you have probably seen, called "The Absorber", which is a synthetic chamois drying towel that can be found in most auto parts stores.
I have two Absorber towels that I use to suck up the water after washing the motorcycles and cars.
The Absorber is one of those products that I didn't think I needed and now I don't know how I'd live without it.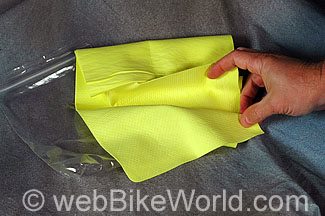 Absorbing Moisture
They're pretty amazing, holding a claimed 50% more water and absorbing moisture a claimed three times faster than a similar sized fabric towel.
I simply lay the Absorber down on the wet painted surface and let it absorb the water, which prevents spotting on the paint. They can be used over and over and when they get dirty, I throw them in the wash.
I use them for everything — they can even be taken on camping trips and used as drying towels because they absorb so much water so quickly. My wife uses them to dry the dogs and horses after a bath.
It's amazing how much moisture the fabric will hold — it simply pours out of the cloth when it's wrung out.
The only trick is that they actually have to be stored damp — if they're allowed to dry, they get as stiff as old cardboard and have to be reconstituted with water again.
The Koolin' Kloth comes in a Zip-Lock plastic bag and it's slightly damp, just as it should be.
It can be folded and stored in a regular old Zip-Lock or other type of household clear plastic storage bag, as long as the bag will seal and keep in the moisture.
I'm not sure if either The Absorber or the Koolin' Klothz are treated with some type of anti-fungal, anti-mildew coating, but I've always stored them damp and I have never experienced a problem with mold or mildew and they never smell like they're moldy either.
So the Koolin' Kloth cooling neck wrap seems very similar to the material used in the Absorber, except this specialized neck wrap version is slightly thinner, which, along with its narrower profile, makes it better suited to wrap around a neck.
I wear it wrapped around my neck, tucked underneath my motorcycle jacket and I knot the front by folding one end over and around the other. It doesn't have to be soaking wet, although as I said, it will hold a lot of water.
The cloth is nice and cool — as soon as I wrap it around my neck I can really feel it, just like I am wearing an air conditioner.
I like it much better than the cooling vests, which are too damp and icky feeling underneath my jacket.
The wet vests make me feel like I've just fallen in a swamp or something, and they don't smell very nice when they're damp — they have to be completely dried out before storage or they'll smell musty. Plus, they're hard to store on the bike, especially when they're wet.
The Koolin Kloth can fit under the seat and what's cool about it (pun intended) is that it can be stored moist in the Zip-Lock bag so it's always ready to go.
It can be "recharged" by simply wetting it under a faucet, with a water bottle, or even in a puddle in a pinch.
Since there are so many large veins and arteries in the neck, keeping something cool wrapped around that area really makes a difference.
In fact, the Koolin' Kloth feels so cold when I first put it on that it usually gives me a chill — I have to slowly lower it on to my neck or I'll get goosebumps!
It comes in handy for wiping down the motorcycle or the motorcycle seat after a surprise rainstorm, for drying the bike after it's washed and it can even be worn under a helmet (although they do have a special helmet liner version).
The Koolin' Klothz come in various sizes, from a small 8.5″x6.5″ to the 13″x8.5″ neck wrap seen here to a larger sized 13″x17″ drying towel.
They're also available in a variety of colors, including green, yellow, natural (tan colored), red, blue, black and purple.
Conclusion
I'm always in favor of multiple-use products; that is, products that work both on and off the bike, and this is one of them.
The Koolin' Kloth can be used as a cooling neck wrap anywhere around the house and it can also be used for a variety of other purposes.
It gets very hot and humid here in the Mid-Atlantic U.S.A. in the summer and the Koolin' Kloth cooling neck wrap has helped me through this summer's hot riding weather.
I'll bet it will also work great for desert riders and it's just the thing for that next 'round the world adventure tour. Check 'em out…
w
BW
 Review: Cooling Neck Wraps
List Price (2006): $3.50 to $14.00
Made In: U.S.A.
Colors: Green, yellow, natural (tan), red, blue, black and purple.
Sizes: Rectangular
Review Date: October 2006
Note:
 For informational use only. All material and photographs are Copyright © webWorld International, LLC since 2000. All rights reserved. See the webBikeWorld® 
Site Info page
. Product specifications, features and details may change or differ from our descriptions. Always check before purchasing. Read the
Terms and Conditions
!
---
Where to Buy Cooling Neck Wrap
Check Reviews & Prices on Amazon
Check Reviews & Prices On RevZilla
See More Motorcycle Helmets at RevZilla and Amazon
---
Owner Comments and Feedback
Other WebBikeWorld Cooling Vest Posts