Track Day With the New Continental Hypersport Tires
The new Continental Sport Attack 3 is a tire designed for the aggressive street and track day rider.
This tire combines high traction with manners suitable for every skill level of rider.
This is achieved with a new profile and improved wet weather traction over the previous version, the Sport Attack 2 tire.
Full disclosure: Continental covered the cost of travel and lodging expenses to attend the press day in Texas.
U.S.A. Press Launch
The Continental Sport Attack 3 is not exactly breaking news, as Continental released the tire in 2015 with a launch at Continental in Europe.
This past week though, Continental hosted a USA-specific press launch inviting several motojournalists from around the country.
When webBikeWorld was invited to attend the Sport Attack 3 launch and take a spin on the German tire company's latest motorcycle rubber, we knew we had to be there.
The USA press launch was held at the Continental Tire Proving Grounds in Uvalde, Texas.
This 5000+ acre facility holds nine tracks, including an 8.5 mile oval with several smaller tracks and testing facilities on the grounds.
Street (asphalt) surfaces as well as off-road paths are spread around the facility for testing of not only motorcycle but automotive and commercial tires.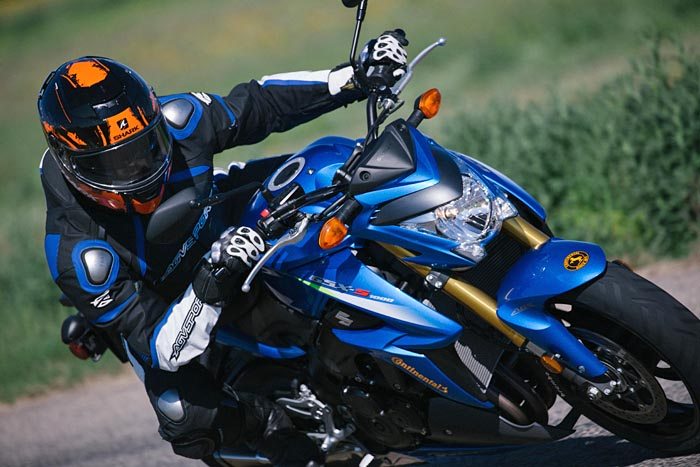 Dual-sport riders are very familiar with the popular Continental TKC80 (review) but many owners are less familiar with Continental street/sport tires.
But Continental has a lot more "street cred" than many might realize.
They have been in the rubber business since 1871 when they began producing rubberized fabrics and solid rubber tires for carriages, in addition to other soft rubber products.
Fast-forward to the 21st century and they are now one of the top five global suppliers — and that's not limited to just the rubber bits.
There are five divisions at Continental that include not only tires but also braking hydraulic systems, transmissions, and electronics to name a few.
As an example, Continental makes traction control systems, ABS systems and instrument displays and all of which can be found in the BMW S1000RR motorcycle.
This was quite surprising as I (and some others at the press launch) had no idea that Continental did such a thing.
There is a big advantage to this experience, because the designers behind the Sport Attack 3 have sort of an inside track, if you will, at getting excellent data on tire performance.
The S1000RR was used extensively in the development of the new Sport Attack 3 tire, in part because Continental wanted a street bike with big power as a test platform to be sure the new design could handle whatever was thrown at it. .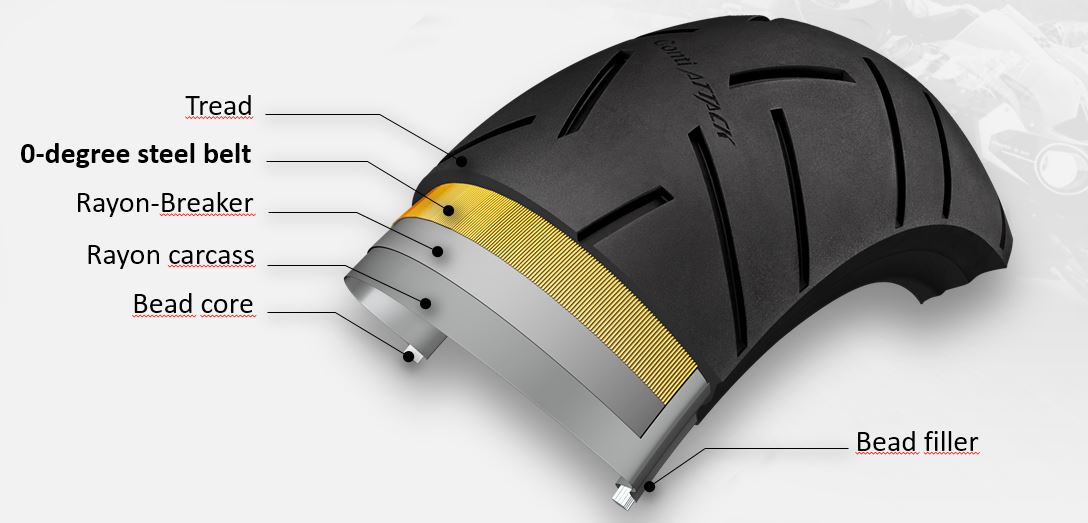 The Sport Attack 3 "Hypersport" Tire
This latest motorcycle from Continental builds upon design and technology from the previous Sport Attack 2 and Road Attack 2 EVO tires and brings a couple of new features along the way.
One of the most important features is the increased wet weather traction of the Sport Attack 3.
If you are familiar with the tread patterns and sipes of the previous versions of this tire, you might recall the curved swooshes that gave those tires their distinctive and very cool look.
It turns out that the design had limits in its ability to channel water way from the contact patch.
With the Sport Attack 3, a new pattern of straight blocks that are thick and use very squared sections are employed for water drainage.
These new grooves channel much more water than the previous design and have a hand in improving a claimed 20% increase in wet grip.
The new pattern isn't the only factor though. An improved silica compound provides better flexibility at lower temperatures allowing for better grip as the tire is cooled by water.
This also has the by-product making the tire feel fully warmed up faster. Judging by the diagrams I am led to believe that a more diverse mixture of particles in the compound which allow the contact patch to "squish" more completely into the road surface.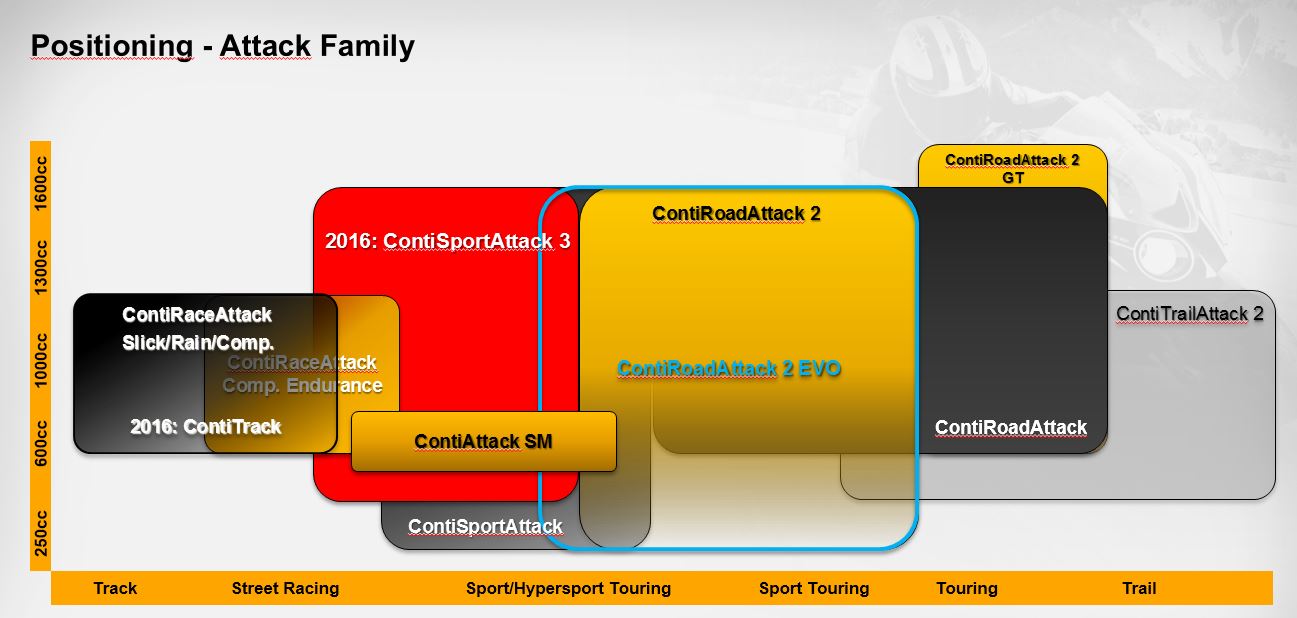 ---
Where to Buy Continental Sport Attack 3 Tires
Check Reviews & Prices on Amazon
Check Reviews & Prices On RevZilla
See More: Motorcycle Accessories, Motorcycle Tire, Motorcycle Horn 
---
Grip, Limits and Feedback
Another feature of the Sport Attack 3 tires is something Continental calls "Grip Limit Feedback".
The idea is that as one gets closer to the edge of the tire, a warning in the form of slightly lessened traction is given to the rider but letting them know traction limit is getting close without the traction letting go.
My impression from looking at the tread pattern suggests this is achieved by the surface turning solid again (the blocks stop before the very edge) providing maximum traction at full lean angle.
So as one gets the ends of the drainage grooves the missing contact surface of the grooves traction is lessened a bit until one gets right past them.
Finally, the latest trick for improved wear balanced with traction is their MultiGrip technology used in the Sport Attack 3.
This is an update to Continental's CCT or Continuous Compound technology.
Instead of using distinctly different compounds on the center and shoulder areas of the tire, Continental uses a process of curing the tires at different temperatures from center to shoulder.
This creates a surface that gradually increases in grip as it moves from center to edge.
The process eliminates harsh transitions of grip as well as allowing for more even wear versus other tires using dual compounds. So that's a lot of technical information — does it actually work? Let's see…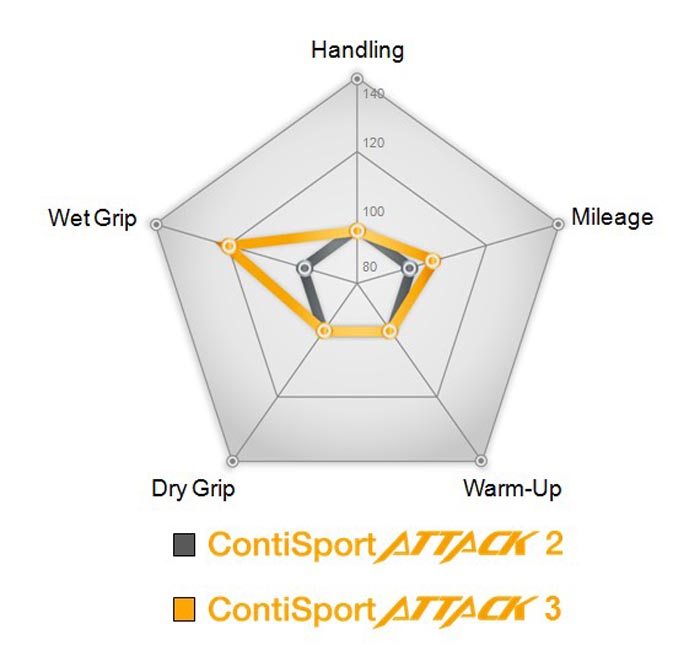 w

BW

 Video: Conti Sport Attack 3
---
Where to Buy Continental Sport Attack 3 Tires
Check Reviews & Prices on Amazon
Check Reviews & Prices On RevZilla
See More: Motorcycle Accessories, Motorcycle Tire, Motorcycle Horn 
---
Testing Time
After a briefing at the Uvalde facility and a quick photo session at "The Rock", we fueled up the bikes and rode out the staging area between the two test tracks we would be riding on that day.
The first track was a narrow and perfectly flat ribbon of very abrasive asphalt, used for dry adhesion testing. No banking or kerbing here, just a sticky surface in a grassy field.
This track was narrow enough to maybe get two cars side-by-side, except for the front straight which was more than double that.
This was where we would get our feet wet, as it were, with the motorcycles that were provided for the day and the new Sport Attack 3 tires ready for scrubbing.
My mount for the day was a Suzuki GSX1000. I fired up the blue beast and rolled onto the track to follow our host for a couple of sighting laps.
The Sport Attack 3 tires really did warm up fast as we were told they would and by the time we were done sighting the tires were more than ready for what I could throw at them.
This track consisted of numerous curves of varying sizes include a long sweeper leading back to the front straight.
Grip from the Sport Attack 3 tires was very good and feedback was exceptional. Granted we were on a very adhesion-promoting surface but the tires really stayed in shape.
And even under the weight of a naked 1000cc bike they felt solid and very stable.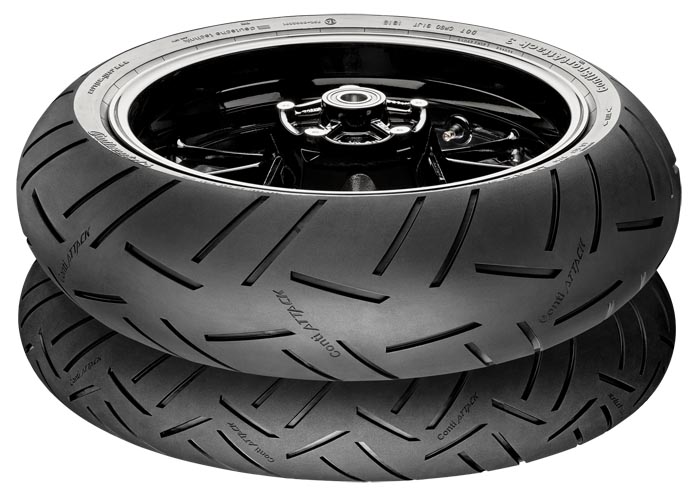 Profile and Stability
Their stability is one of the features I appreciated most about the Sport Attack 3. The small twisty track offered lots of changes of direction and I found that quick and extreme back-and-forth flicks were easy and drama free.
The profile of the 3rd generation Sport Attack is less triangular than the previous version and reminds me more of the Road Attack series of tires with their rounder profile.
Where many "hypersport" tires use a "pointy" profile to make for quick turn in, this can make the handling twitchy or nervous.
The rounder profile of the Sport Attack 3 does require a bit more pressure at the inside grip for quick turning which wasn't a problem on the naked GSX1000 with its wide tubular handlebars.
I did take a brief stint also on the Honda CBR1000RR and noticed that I had to be very deliberate on the clip-ons to initiate a quick turn.
I wouldn't necessarily ding this as a bad thing, but it is something that takes a little getting used to if coming from a sharper profiled tire.
After spending some time on the adhesion track, we were given a real treat.
The next track we would be riding on for the afternoon was designed by a Formula 1 circuit designer. This would be our playground for the afternoon and the next location for our Sport Attack 3 tire torture.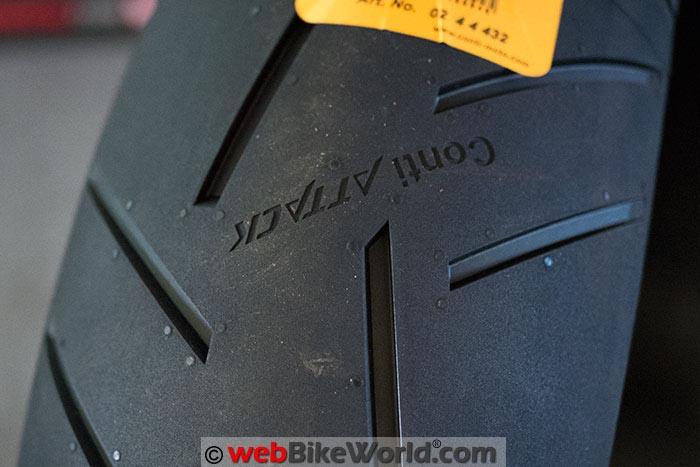 ---
Where to Buy Continental Sport Attack 3 Tires
Check Reviews & Prices on Amazon
Check Reviews & Prices On RevZilla
See More: Motorcycle Accessories, Motorcycle Tire, Motorcycle Horn 
---
Time for Play
At this point I want to mention that I am not a track day star or wannabe racer. I am happy going on "spirited" rides, but my ambition is not to find the limits of traction on any bike.
That said, the monster of a track that lay before us presented a fantastic variety of turns both banked and flat, as well lots of changes of elevation.
Spinning up the Suzuki and rolling out onto the track was a fantastic experience.
The circuit ahead of me presented a great test of what these new Sport Attack 3 tires could do. I wasn't going to be the fastest rider there but what I could do was ride like someone who doesn't spend every weekend on the track.
I went too fast into some turns where I would then brake late and hard. I also found some surprises in the form of a high banked, decreasing radius left hander that was very sneaky — and yes, a little scary.
The first couple of laps provided a few pucker moments.
This turned out to be a great test for the Sport Attack 3 tires. Despite my best efforts at riding poorly, as I learned the track, the tires were unflappable.
They rewarded a well-chosen line with a super stable feel. They also remained drama free when a line had to be changed in mid-corner due to poor calculating on the rider's part.
That's one of the best aspects of the new tire profile on the Sport Attack 3.
The stability while I was leaned over and the ability to hold a line happens very naturally. The round profile makes it very easy to settle into the right lean angle and to correct it when it's not.
Other mistakes — like chopping the throttle or giving it a too-quick handful — were handled with little excitement and that's the takeaway from my riding experience that day.
Once I was "in the groove" and knowing the track, the tires became forgotten — in the best way.
I tried to remain focused on the them but they just took everything I threw at them so gracefully that whether I got the last turn just right or totally blew it, they didn't misbehave and that's the best thing for any tire.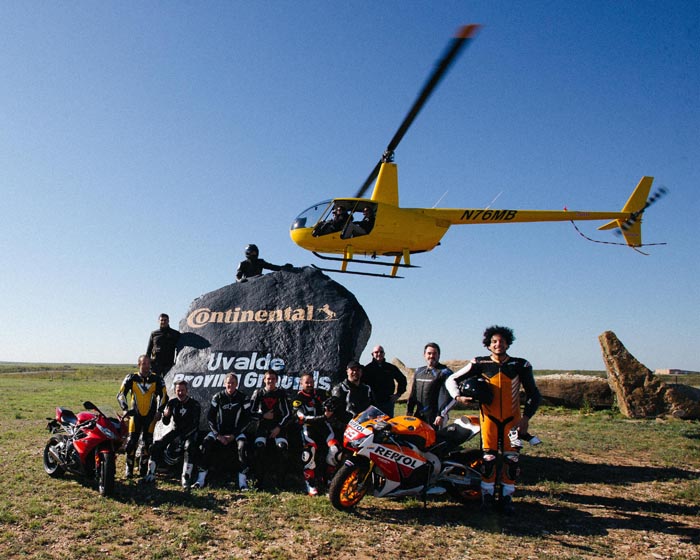 Conclusion
The new Continental Road Attack 3 tires are not race tires and they are not meant to be.
They are, however, an excellent tire for the rider who likes to straighten out a favorite back road as well as the avid track day attendee.
The grip is excellent for a street tire and the very calm and neutral behavior provides lots of confidence for the new and experienced rider.
Continental claims about a 10% increase in mileage and a 20% increase it wet traction also with the Sport Attack 3.
Due to the short time we had with the tires I can't really provide feedback on the mileage, but I will say they they looked pretty good at the end of the day, as did the other riders' tires too.
Also, we had great weather that day so no wet weather traction testing was done (whew!).
Some riders may need a little more time becoming accustomed to adding a bit more deliberate pressure on the bars when tipping into turns with the Sport Attack 3 tires fitted, but you'll quickly adjust.
From my own experience going from another brand of hypersport tire that was very "tippy" to the previous generation of Road Attack 2 tires I installed at the time, I can say it doesn't take long to adjust.
The stability and behavior at lean is an excellent tradeoff for eliminating that twitchy nature.
I'm very pleased that Continental reached out to us and this press launch was just the tip of a new marketing push here in the USA.
They will soon be launching a new website and social media blitz designed to not only create more awareness of the brand but also to educate the rider community on motorcycle tire technology in all of their ranges including off-road tires.
Thank you very much Continental for the opportunity and the wonderful hospitality! Here's more information on the Continental Sport Attack 3 tires on the Continental Motorcycle Tires website.
Publication Date: March 2016
See Also: Continental Road Attack 2 EVO Tire Review
Note:
 For informational use only. All material and photographs are Copyright © webWorld International, LLC since 2000. All rights reserved. See the webBikeWorld® 
Site Info page
. Product specifications, features and details may change or differ from our descriptions. Always check before purchasing. Read the
Terms and Conditions
!
Other WebBikeWorld Tire Posts