Noise Reduction Earphones
Comply also makes a set of the Noise Reduction Earphones without the volume control.
Also, included in the box is a nice carrying pouch with a zipper and a spare set of soft earphone tips.
Spare tips are also available for purchase from Comply.
I've been on the lookout for some motorcycle-specific noise reducing earphones that could be used to eliminate helmet wind noise.
Good idea, right? Why not use modern noise cancellation technology in a tiny earphone that could be used in place of ear plugs to reduce the tremendous amount of noise that motorcycle riders have to endure?
During my search, I learned a couple of interesting facts about noise cancellation.
Active noise cancellation is a term for a system that creates a sound wave that is opposite from the waveform of the ambient sound, thus "cancelling" it out.
The system is run by a computer which analyzes the ambient sound and then creates the opposing waves and delivers them through earphones or head phones.
I'm pretty sure that when most people hear the term "noise cancellation", they think of the computer-controlled systems made famous by the Bose "Quiet Comfort" Noise Cancelling Headphones, which is an active system.
But there are similar systems made by other manufacturers, and they becoming quite common, with noise cancellation head phones and earphones now readily available to consumers.
I learned also that this technology is used for military and some commercial airplane pilots and it's even available as an option in some cars, where it works through the speaker system.
And the other type of noise cancellation system? Ear plugs! All of the evaluators at webBikeWorld use ear plugs whenever we ride.
But I never thought of ear plugs as "passive" sound cancellation.
Apparently, that's what they are though, in the broadest sense of the term, as we'll see in a minute…
But first, how about that active noise cancellation system — the one that would be perfect for motorcycle use?
All you'd have to do is slip on a set of earphones and all that nasty wind noise and turbulence would be gone — and you'd also have the ability to listen to music during the ride.
Cool, eh?
---
Where to Buy Comply Noise Reduction Earphones
Check Reviews & Prices on Amazon
See More: Motorcycle Accessories, Motorcycle Tire, Motorcycle Helmets
---
Comply "In The Ear" Noise Reduction Earphones
The problem, at least so far, has been finding a decent pair of noise reduction earphones that would do the job and are small enough to fit without interfering with the inner sides of the helmet.
So when I found the ad for these Comply in the Ear "High Tech Noise Reduction Earphones" for less than $60.00, I thought I was in business.
But when the box arrived, I must admit that I was surprised, because, as it turns out, these aren't "active" noise reduction earphones; they're passive noise reduction earphones.
Maybe I should have paid more attention to the fine print, or maybe I got over-enthusiastic when I placed the order?
I didn't expect that the product would simply consist of a set of decent earphones with some soft ear plugs adapted to the ends.
The "passive" part only means that the soft ear plug eliminates some of the ambient sound, allowing the music to be heard.
Nevertheless, the Comply in the Ear "High Tech" Noise Reduction Earphones claim a "Passive noise reduction at an average of 48 dB or better" on the box.
Curiously, the website makes a different claim: "It achieves average noise reduction of 42 dB while the desired signal is boosted ~ 5 to 10 dB at higher frequencies."
48 dB? That would pretty phenomenal, because the best soft disposable ear plugs around, like the Moldex Pura-fit 6800 or the EARsoft Grippers (review) are rated at around 32dB, and they do a great job.
Help me here folks, but I think the dB scale is logarithmic, no?
Which means that a 48dB noise reduction is something like 160 times quieter than a 32dB reduction?
Even if my math is incorrect, a 48dB noise reduction is still way better than that offered by some of the best disposable ear plugs at 32dB.
And the 48dB number is one of the features that most caught my attention with the Comply noise reduction earphones. (NOTE: See update on this issue in the Comments section below).
Honestly, I figured they would have to use an active noise cancellation system to get that much noise reduction, thus the surprise to find out that, as far as I can tell, no such system is included with these earphones.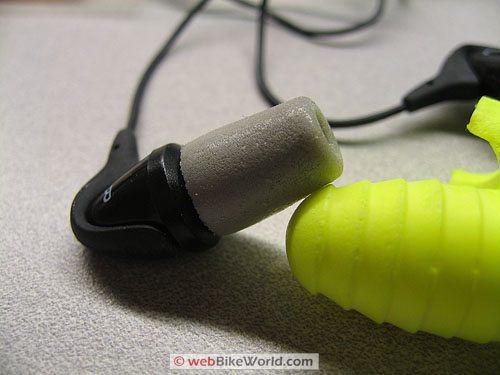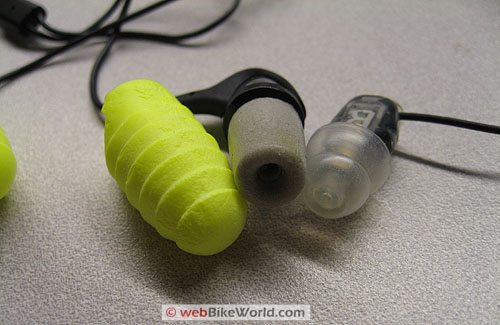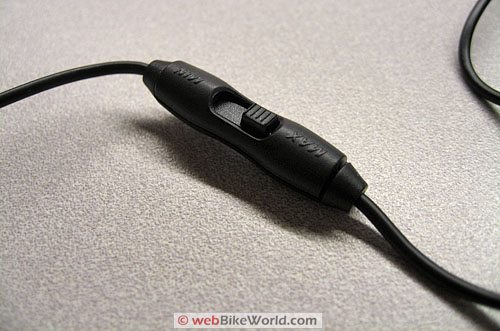 Instead, what I got is a very good sounding pair of earphones surrounded by a soft, squishy, replaceable ear plug (see photo); uh, sorry — Comply calls them "canal tips".
The earphones are designed to be used with an MP3 or other device, as near as I can tell.
The instructions only have a single sentence that reads "Be sure that the volume on your personal listening device is at the lowest setting before proceeding."
Now I'm not saying that their marketing materials, website and even the box are misleading.
But I do think they could have come right out and stated in plain language somewhere just what the product is designed to accomplish.
I consider myself to be a pretty smart guy, but I was and am confused and I thought the product included some type of active noise cancellation.
Reading the website again just now for about the 4th time, I see this statement in the FAQ section: "Passive Noise Reduction is placed in the location that it should be…in the ear canal, not over the ear.
The signal-to-noise ratio is dramatically increased. Desired sound is increased since it is sent into the remaining smaller space of the partially filled ear canal.
The noise is reduced because the Comply Platinum Canal Tip, the most effective sound attenuator, efficiently filters out noise."
OK, so they don't use active noise cancellation.
Actually, the company wouldn't be far off at all by calling these "the best earphones you can buy for less than 60 bucks" or something.
Because my opinion is that they provide noticeably better sound than the Etymotic Research ER-6 earphones I bought a while ago for — yikes! — $139.00.
I have never been happy with the ER-6's, despite the glowing reviews that I read on many of the audiophile websites at the time I purchased them.
I always felt the sound was tinny, the wires are too thin and get tangled way too easily for a "personal listening device" and they have never fit my ears correctly because they slip out when I walk.
The ER-6 earphones have, in my opinion, very poor bass response and the silicone "canal tips" don't block much of the ambient noise at all.
At least the Comply Noise Reduction Earphones fit well, the tips are comfy and they do seal the ear very nicely, blocking out what seems like about 1/2 the ambient noise.
As far as the claim of a 48dB noise reduction…well, I just don't buy it — sorry! Again — what we have here is a good pair of earphones, surrounded by a decent set of soft ear plugs.
Squeeze down the soft ear plug material, just like you'd do for a set of disposables, and stick 'em in your ears using the same method described on our Ear Plugs and Hearing Protection Page.
The squishy ear plug that surrounds the speaker does fit pretty well in my ear canal, although not as snug or full as, for example, the E-A-Rsoft Grippers.
The Comply earphones include a built-in volume control on the wire (see photo), but I've found that it can get hung up on clothing when I'm riding and the slider is too easy to move.
So I have to tape it over to make sure it doesn't raise or lower the volume unexpectedly, and use the volume control on the MP3 player instead.
I can hear the tunes more clearly when using the Comply earphones.
But since I don't often listen to music anyway while I ride (preferring instead to listen to the music made by a nice V-Twin), this doesn't do much for me.
Conclusion
[asa2 tplid="6″]B002ODHX1U[/asa2]
For those that do like to listen to music while riding a motorcycle, the Comply Noise Reduction Earphones may be just the thing.
I can't tell if they actually reduce the noise to the claimed 48dB.
(UPDATE: See note below in Comments section).
I certainly don't think so, because a good set of normal disposable ear plugs seems to do a better job.
And when I'm not using the MP3 player, the Comply Noise Reduction Earphones seem to offer only about 1/2 the noise reduction of a good set of ear plugs. For some riders, that may be enough.
Note also that the Comply earphones have a hard tip or tube inside the soft surrounding tip, and these tubes make it more difficult for me to correctly insert the entire ear plug.
I'm afraid to push them in too far because I can feel the tube pushing and I don't want to damage my ear.
I'll keep searching for a set of active noise cancellation earphones…
More wBW Noise Cancelling Earbud Reviews
w

BW

 Review: Comply Noise Reduction Earphones
List Price (2007): XXXXX
Made In: China
Colors: Black/silver
Sizes: N/A
Review Date: September 2007
Note:
 For informational use only. All material and photographs are Copyright © webWorld International, LLC since 2000. All rights reserved. See the webBikeWorld® 
Site Info page
. Product specifications, features and details may change or differ from our descriptions. Always check before purchasing. Read the
Terms and Conditions
!
---
Where to Buy Comply Noise Reduction Earphones
Check Reviews & Prices on Amazon
See More: Motorcycle Accessories, Motorcycle Tire, Motorcycle Helmets
---
Owner Comments and Feedback
---
From "S.Z." (August 2015): "You say your Etymotic ER-6's sound tinny.
You do know that Comply makes foam replacement tips for hundreds of earbud manufactures, right? You can buy from the Comply website, or Amazon, or EBay.
I usually use the Comply website to determine what tips I want to buy, then look online, but prices are pretty consistent whichever you use.
I'm not a fan of their Comply stereo earbuds, but I absolutely LOVE their replacement tips.
I've had them on my Etymotic HF-5's for the past few years and sound is awesome.
And yeah, at 80 mph – 100+ mph I never need the volume more than half. That's on my naked 1986 Yamaha SRX-6.
Comply also makes thin, medium, and wide ear canal sizes.
If you're not sure, they sell a variety 3-pack of any of their styles (yes, they have different styles for different usage) giving you varied canal sizes so you can figure out which is the best fit for you and your given headset.
Then you can confidently buy exactly what you want in 3 or 5 packs.
I prefer the long stem of the HF-5 style. It blocks the most exterior noise possible.
I also like that the Etymotic HF-5's have no volume control and a chin take-up to tighten the earbud straps to your face so there's no awkward binding under the motorcycle chin strap.
I use my Etymotic connected directly to my cell phone which I keep in my chest pocket of my jacket, or connected to my Sena. I understand you can now use your own earbuds with the Cardo system as well."
---
From Hearing Components (April 2008): "I was recently reading your review of our NR-10 earphones for riders. I wanted to clear up any confusion on the 48 dB claim.
The 48 dB is the most sound the NR-10 will reduce in a specific frequency not the Noise Reduction Rating which you are referring to with the earplugs (NRR 32).
An official NRR is determined by testing across the entire frequency spectrum and combining the dB reduction from each specific frequency together for an average dB reduction.
We recently had the NR-10 tested and it came back NRR 29 (better than active canceling headphones)…"
---
From "W.W.":  "Hi, I just made some silicone ear molds for the Comply headphones. They work reeealy great. Better than a $20 Mr. Clean Magic V2 eraser!
The other guy who reviewed these headphones hated them and wondered what the point was of listening to music while riding.
I just read your review of that intercom system. You may not like music, but you could create a great intercom headset, earplug combo with these."

Also From "W.W." (05/11):  "I've had the NR-1 Versions that I made with custom silicone tips (see picture above) since before the publication of this review.
And in that time, I've gone through 2 sets of these where loose connections at the plug that sees a lot of wear and tear, causes the wires to short out.
Not sure as to the normal longevity of headphones in general, but in talking with customer service, but the warranty is for 30 days since it's considered a "wear item".
Customer service is very good with the company.
And after some emails with them in regards as to how much a mid/premium earphone should last, they gave me a one time courtesy warranty even though the earphone was actually a private label Centrios branded clone.
With the custom ear tips I made, I have no problems with ear gunk on the tips, and can wear these for hours with great sound and clarity.
Usually I have sound on my mp3 set in the lower 1/3 of the volume range.
On the bad side, the wire casings are made of some sort of material that hardens after time.
This makes 'cord rub' pretty annoying and sometimes transfers sound into the ear. This has been a problem with every set I have purchased.
My last sets' wire casing split from the hardening of the plastics.
On the plus side, since I am now out of warranty, I discovered that the manufacturing process of the earbud makes it easy to take them apart and de-solder the connections.
I can re-solder a new wire assembly donated from a (cheap) earphone for as little as $2, with the added benefit of not having a wireset that hardens over time.
It doesn't matter what the price is, earphones due to the abuse they get, are a consumable item, so with this little $2 hack I can rebuild what is a great earphone for riding."
More From "W.W.":  "The Comply website is kinda confusing in the fact that it talks about active and passive, but these are definitely passive.
Active headphones usually have some sort of pickup mike to analyze ambient noise, usually at the plug or in the middle of the cord.
Something you wouldn't want dangling in the wind and wouldn't be effective anyways because it wouldn't reflect the noise that is happening within the helmet.
Active headphones usually have that weird worble that I've never liked too, kinda like being in a womb.
And they (the Comply Noise Reduction Earphones) are not -48dB reduction.
I would say more like -26dB, but listening to tunes on the bike, I now listen to them at level 4 clearly where I used to listen to music at sometimes the max of 30 due to the wind noise.
I wouldn't recommend these for long high speed trips as I once did a long ride with -26db earplugs, and I did get a little tinnitus, but around town and commuting, it just adds such a different dimension to your riding. Imagine a car without a stereo.
Riding without tunes or news at my leisure would be like the same thing.
To fit better, you definitely have to use two hands to insert the earphone.
The opposite hand to pull the ear up so that the canal is straighter and the other hand to insert the compressed foam of the earbud.
That way I can push the earphone in as far as I can without fear of feeling the hard center plastic tip.
(BTW, the little hardness you feel won't hit your eardrum. It's not even close.)
These are really comfortable, and I'd recommend you get the one WITHOUT the volume control, depending on your MP3 Player.
I've tried everything else on the market, and once properly inserted, I can wear these for hours without problem.
Other brands, even the expensive ones hurt after awhile, and although the tip on the comply buds are hard, the tips are still small, so they don't pick at the inner ear as badly as a pair of foam JVC buds that I've tried.
The only bad thing are the Comply tips, they do get grungy over time, but I plan on taking ear molds using a home silicone kit and somehow making custom fit earplug monitors out of these with the old plastic tips.
You can of course buy refillable tips.
It's been great having tunes on the road. And if you did ever find the mythical -48db earplugs, you wouldn't hear anything at all probably."
---
From "B.M.":  "On the Comply earphones:  These (TA-100 "Noise Blocking") earphones appear to use the same tips, and are even cheaper.
I tried them, and found the sound quality very good, but the tips just didn't fit my (very small) ear canals very well."
---
From "B.":  "I own a pair of Westone UM-1 Headphones that also use the Comply tips.
They're made in the USA, cost about $100, and beat the crap out of the $50 Sony IEMs they replaced.
They came with three ear tips – long foam, short foam, and triple flange (like the Etymotics that you referenced).
The Triple Flanges are nice for general use, as they're washable, but they don't really block noise. The foam tips, however, are a dream. I guarantee that they don't block as much noise as earplugs but they go quite a long way.
I couldn't recommend any headphones higher for riding if you're inclined to listen to music on the road. I also wouldn't recommend any headphones higher just for personal use.
After wearing the UM-1s, I realized just how loud I normally was listening to music to compensate for the environment around me.
When it's only the music that you really hear, you can turn it way down and still hear clear details.
Absolutely recommend trying out this sort of headphone solution."
---
From "D.P." (Responding to "J.B." comments below):  "I have the Philips headphones mentioned above from Wal-Mart. My opinion is that they rock. Seriously, they do the job.
It used to be that I had to crank my earbuds to deafening levels to hear at speed. Not so anymore.
Now even audio books and podcasts from the internets are no problem. I adjust the volume to a comfortable level before I even get on and start the bike. That same volume works at speed too (70mph).
The only thing, and it's a minor thing, is that an inline volume control would be nice.
But Philips makes an identical model with inline volume control, but it's an extra $20. Not worth it. Anyway, give them a try. I'm a very satisfied customer."
---
From "J.B.": "I read your article about the noise cancelling earphones. I had the same idea a while back. I had known about the Bose headphones, but knew this wasn't an option while riding.
I have looked around several places and have found, interesting enough, a pair made by Philips at Wal-Mart for only $30.
They claim to have an active noise reduction which is accomplished by a noise canceling circuit powered by 1 AAA battery.
The earbud does have a silicone tip, but I am sure you could switch those out for a "modified" foam ear plug. I haven't tried this one yet, but plan to do so. It will be interesting to see if it will truly work."
Other WebBikeWorld Earbud Posts