Choosing and Buying a Motorcycle: A Woman's Perspective
Choosing and purchasing a motorcycle is a major decision.
It can be confusing and intimidating, especially if you're new to riding…or happen to be a woman.
I'm not new to motorcycle riding, but I am a woman.
And it had been 40 years since I'd bought a new bike.
So I thought I would chronicle the process I went through to purchase my new bike.
For several reasons that I will discuss, I decided on a Harley-Davidson Softail Slim.
Hopefully you can pick up some tips that may take some of the anxiety out of making your motorcycle purchase.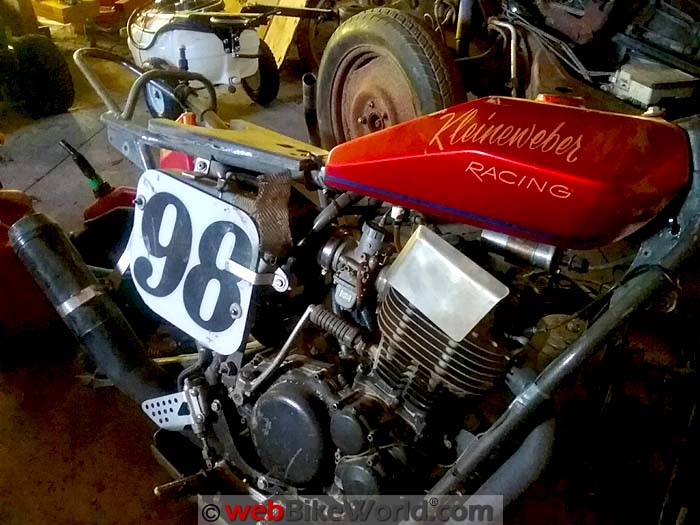 Finding Your Style
Choosing the style of motorcycle to purchase is mostly determined by the type of riding you're going to be doing, but it may also simply be a matter of taste.
For example, when I was young, my Dad raced flat track on a weedy dirt track outside of town. The group he raced with called themselves the Rainbow Chasers and they were just a bunch of regular guys that liked to go fast.
Most of their bikes — including my Dad's — were old beaters they had rebuilt themselves.
Some of my fondest memories involved sitting around that dirt track, drinking a cold Orange Crush, and watching my Dad whiz by.
Motorcycles were a big part of our lives. Most of my Dad's evenings were spent shaving little curly-cues of metal off some part he was fabricating for the bikes.
Naturally, he started us off riding as soon as we could reach the pedals. I was scared to death the first few times (I don't recall knowing how to stop the thing) but I quickly became hooked.
Most of the things I know and love about motorcycles are rooted in those early years watching those 60's era bikes racing around that oval track.
So, all of that was a long-winded way of saying that your choice of motorcycle style is often shaped by your experience and history.
My Style
I've always gravitated toward classically designed bikes and I've really never given a second thought to owning any other type.
I can appreciate the speed and power of todays sport bikes but I can't imagine contorting my body into that riding position at my age.
And as far as adventure touring bikes go, I'm sorry but they're "just plain ugly to me" (what exactly is that beak for?).
However, they both serve a specific function and you don't want to be so focused on looks that you ignore the way you ride.
So the first thing you need to determine when choosing a style of motorcycle is what you want the bike to do. If going fast and carving up twisties is your biggest priority, then a sport bike is for you.
If, however, you're looking at long-distance riding that may involve some dicey roads, then an adventure touring bike it is.
Me? I wanted a bike for commuting over country highways, city streets and the "super slab". I also wanted a bike that would be comfortable for long distances.
Visually, I was looking for a bike that resembled the bikes I grew up loving. Thankfully, cruisers and standards deliver on all those requirements and right now there are a lot of retro inspired bikes to choose from as well.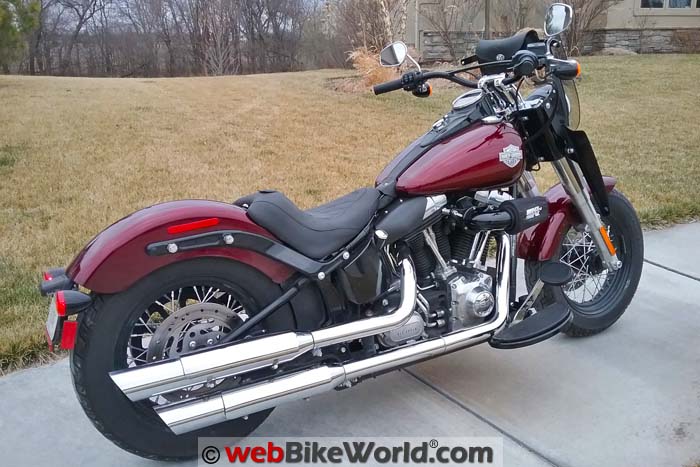 Choosing the Bike…Or Letting the Bike Choose You
Two years ago I was riding a Honda Shadow Aero. It's what I would call a classically designed 750cc V-twin that fit me well and was fun to ride.
That spring we went on a weekend group ride across the state. The first day wasn't bad; although I was sure the bigger bikes in the group were trying to lose me at every stop sign.
But the second day was downright scary.
There was a 35-40 mph crosswind that was nearly blowing me off the road at every curve. About half-way home I got on the intercom and told my husband "I'm going to need a bigger bike".
Fortuitously (or perhaps unfortunately), we stopped at a Harley-Davidson dealer on that same trip. They fed us and encouraged us to look around the showroom and sit on the bikes.
That's when I found myself straddling a Softail Slim. It was a fairly new model at the time and I don't believe I had ever seen one before.
It was very low to the ground and looked much more accessible than the larger touring bikes that everyone else was gathering around.
It was also the only model that I could easily lift off the kickstand!
Sitting on it was all it took — for me, it was love at first "sit"! I had to have it.
Of course, real life is not that easy. $14,000.00 plus is a lot of money and my husband thought the 103 cubic-inch (1694 cc) engine was too big for me.
But I just couldn't get it out of my mind.
I tried talking myself into something with a smaller displacement engine but like Goldilocks, I had already found my "just right" bike. I dreamed about it at night. During the day I stared at pictures of it.
I "built" several different versions of it on the H-D website and dropped by the local dealership every few days to drool over it.
Finally I decided to go take a test ride.
It is a big bike — nearly 100 pounds heavier than the Aero — and surely it would be cumbersome and difficult to handle. Right?
I figured one ride would be enough to convince me that it was too big, too heavy and probably too scary and I would be able to put the obsession behind me. You can probably guess the rest of the story…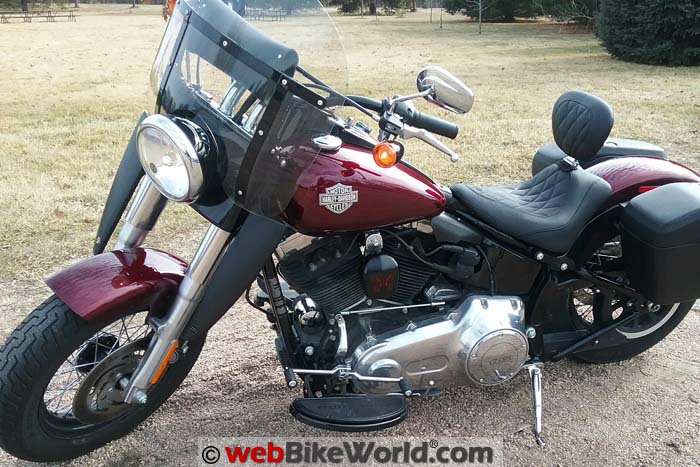 The Dealer Experience
Our local Harley-Davidson dealership is kind of a fun place to shop. They have the most extensive line of women's gear in town; nearly as much on the women's side as the men's.
I'd been there a number of times before, buying gloves (to feed my glove fetish) and looking at other gear. The people are very friendly — the owner even brings his dog to work with him — so it's a very low-pressure environment.
That's exactly the kind of place you want to buy from, since getting pressured into buying a motorcycle that's too big, too tall or uncomfortable is a recipe for disaster.
This is one decision you don't want a sales person or significant other making for you, because your safety depends on you buying a motorcycle that is within your skill level and will work for you alone.
So my advice is to first scope out the dealerships near you and find one with friendly salespeople that know the difference between carbs and fuel injection. And take your time.
It's also imperative that they offer test rides. I had expected that the dealer who offered me a test ride that they would bring some old beater out of the back, but instead they put me aboard a beautiful, brand new model.
I can't believe they trusted me with a $14,000.00 bike, but they did. All I had to do was produce my driver's license with my "M" certification.
As sometimes happens, the ride didn't start out that well. I had them put a reach seat on the test model but then I realized that once I was seated, I couldn't reach the side stand and I had to ask the sales guy to put it up for me!
But after that it was smooth sailing.
With a low seat height (23.6 inches laden) and low center of gravity, the Softail Slim felt very compact and approachable.
In fact, the rider triangle (feet, hands, seat) was almost identical to my Aero. Parked side-by-side, the Honda actually looked like the bigger bike and it was, at almost 6 inches longer.
Also, I was not intimidated by the weight or extra power; in fact, it only took me a couple of blocks to realize I'd made a big mistake. Instead of getting over my Softail Slim obsession, I realized that I had just fallen into a deeper hole!
Dreaming about it wasn't going to be enough; now I had to talk my husband into it.
I tried several of the typical (and different) angles, playing up the safety aspects of a bigger, more stable bike and spouting resale stats illustrating what a good investment it would be, but he remained unconvinced.
Finally, he admitted it was all about the money. So what did I do? I got a second job!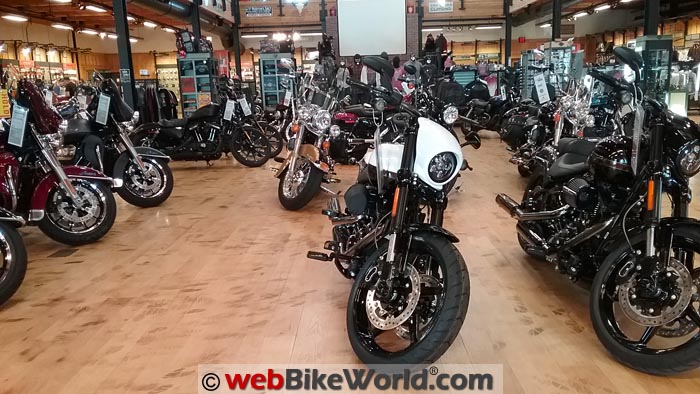 Do the Research
Before I make any purchase, I always first do my research. That's just the way I'm wired.
Before I buy any motorcycle gear I consult webBikeWorld and before I considered buying the Softail Slim, I read every review I could find about it.
Unfortunately, motorcycle reviews don't always cover subjects that are important to women.
I'm not as concerned about horsepower numbers and redlining the engine as I am about center of gravity and how much the bike moves around on the highway.
I understand that most professional reviewers are charged with testing the limits of the motorcycle, which is fine, but I'm not an 18 year old boy. I need to know how it performs in real life, the way I'm going to use it.
Makes sense, right?
For instance, every review of the Slim bashed it for the lack of cornering clearance.
But I've only scraped the floorboards a few times; I either plan ahead so I don't come into a corner that hot or I lean my body instead of the bike, kind of a geriatric version of dragging a knee.
In other words, I ride it like the cruiser it's meant to be, not like a sport bike.
So my advice is: do the research before you buy, but don't rule out a motorcycle just because the reviewer doesn't think it's fast enough or powerful enough.
Sometimes a more sedate ride is easier to handle and more fun for the way you're going to use it "in the real world".
New or Used?
I've only had one other new bike — right out of college, I bought a 175cc Kawasaki. I can't remember how much I paid for it but I think it was less than $1,000.
Since then, I've always bought used.
There are lots of advantages to a used bike, especially if you're a newer rider. For example, a used bike is usually a lot cheaper, a lot of them are already accessorized and you don't have to be so worried about dropping it.
They usually come with a few scratches and dings already, so the first time you have a mishap it's not quite so traumatic.
The disadvantages? They are already accessorized, but usually not the way you would have done it and they come with scratches and dings so they're not perfect.
And occasionally they have mechanical challenges, especially if the bike has been sitting for a while.
Still, I would rather have bought a used Softail Slim than a new one.
Unfortunately, the Slim has only been in production since 2012 and used examples are few and far between and they also aren't much cheaper than a new one.
Harleys hold their value very well, so I was only going to save a few hundred dollars. And besides, the nearest used Softail Slim I could find was several hundred miles away.
By the time I figured in travel costs, it was not going to be worth it. So I was "stuck" buying a new one (dang!).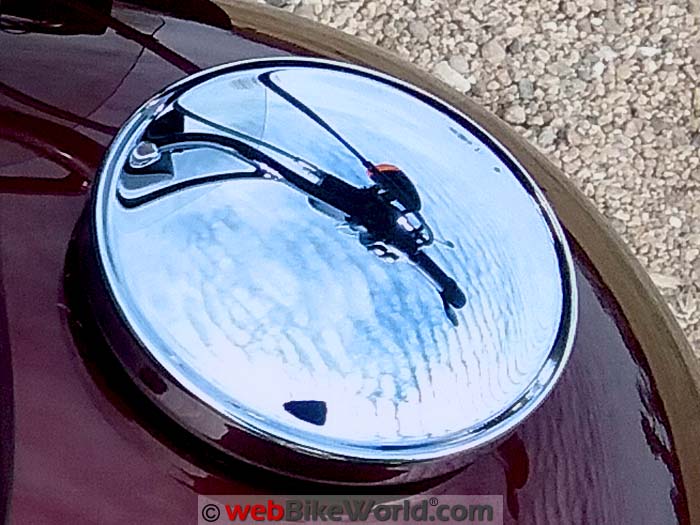 The Buying Process
Once I had enough money, it was time to make the deal. I had my 2004 Honda Aero to unload first.
I was going to sell it privately, because they usually sell pretty quickly, but the salesman offered me over book value for it and made it so painless that I decided to just trade it in to the dealership.
It was paid off, so that part was all quite easy.
Next, we had to haggle over the price of the new bike, although there wasn't much room for haggling on this one. This particular dealership doesn't charge all of those extra destination charges, shipping and whatever else they can usually tack on.
This is where that research comes in handy; I knew what the base price should be from all of the internet research I had done, so I thought the dealer was quoting me a fair price.
I did have them make a few alterations before I took possession, so I paid them a small down payment (I think it was only a 100 bucks) to reserve the bike while they worked on it.
That was about the only downer, because it took them 2 weeks to switch out a few parts and cut down the windshield. It seemed like an eternity!
Finally they finished and it was time to pick it up.
I rode my Honda in, handed over my title and keys and was ushered into an office to sign papers.
The Final Pressure Tactic
The sales person that I had been working with wasn't there that day so I was stuck with a different guy I had never met and he wasn't quite as nice.
Guess what? He spent a lot of the time trying to sell me an extended warranty and service contract.
The H-D service contract covers your first three recommended maintenance checks and saves you some money if you intend to get the work done there, but my Dad "knows a guy" at the Indian dealership who works on Harleys so I had no need for it.
It took me a while to convince this new sales guy to get a move on, but still, I was in and out in less than a half hour.
The whole transaction was done over my lunch hour and I was now the proud owner of a new motorcycle!
Riding it back to work I was tempted to just pass by my office and keep on riding…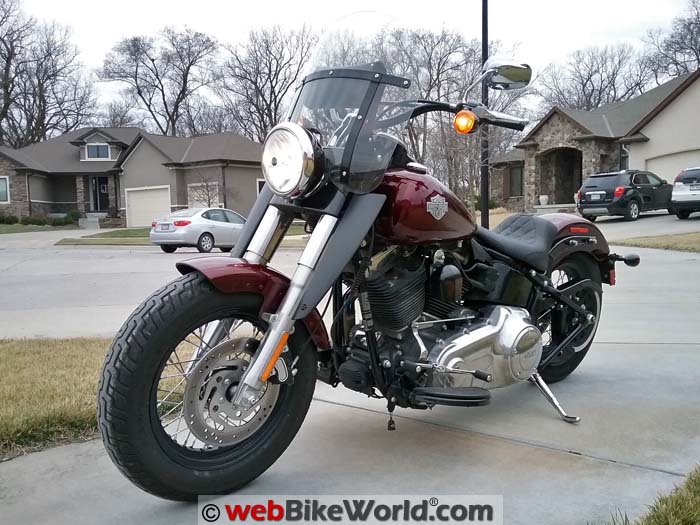 The Harley Davidson Softail Slim
The Softail Slim is actually a pretty good motorcycle for women. I know, I was skeptical too before I rode it, but it actually handles and rides pretty well for such a large bike.
I'm not recommending it for beginners, mind you, but for experienced riders it can be the perfect move-up bike.
So let's take a look at the Slim, starting with how it looks and how you can accessorize it to fit you.
Color and Options
For 2017 the Slim comes in black and a black/grey combo. It also comes in black or red denim and an olive gold color that is prettier in person than it sounds.
But when I bought mine (it's a 2014) it came in Mysterious Red, a color that is deep, dark and gorgeous.
There weren't very many factory options, I suppose because it was a newer model at the time but maybe they thought it looked perfect the way it was.
There are optional ABS brakes according to the website, which would have been nice to have, but adding them was almost $800.00 extra and that wasn't in my budget.
Starting in 2016, the Softail Slim also comes in an "S" model which upgrades the engine to the larger 110 cu in (1801 cc) size. Prices for the 2017's start at $15,099.00 however for the base model.
Accessorizing
At 5'2" with my shoes on, finding a motorcycle that fits is a major consideration; many bikes are just too tall for me to ride.
The Slim fit me better than just about every other bike I've ever ridden but it still needed a few tweaks to make it comfortable enough for long distance treks.
The first thing I did was put a "reach" seat on it. Harley-Davidson only makes a two-up reach seat for the Slim, which is baffling to me.
If you're small enough to need a reach seat on a model that's already less than 24 inches off the ground you probably aren't big enough to handle a passenger safely.
I originally installed a HardDrive solo seat but I've recently upgraded to the Mustang Wide Tripper seat (review) with a backrest. It's more comfortable for the long haul and the optional backrest allows me to fine tune the riding position.
Next I added handlebar risers. Harley makes risers for the Slim that don't require the cables to be lengthened or rerouted. They provide 1.75" of rise and 1.5" of pullback, which allows me to sit in a more comfortable upright position with my elbows slightly bent.
And the last accessory I added to accommodate my short stature was a Kuryakyn side stand.
The stock side stand is attached to the frame near the front of the floorboards and I could barely reach it with my toe and only then if I scooted up onto the gas tank.
It was pretty hairy when the footing wasn't ideal and I almost dropped the bike a couple times.
But there is an attachment point on the bike right below the seat for a side stand and in my opinion it's where the thing should have been attached in the first place.
Wind protection was the next thing I addressed.
The increased power of the Slim nearly blew me off the back of the motorcycle the first time I aggressively accelerated to get on the Interstate.
A detachable windshield, cut down so that I could see over it, protected my upper body, while lowers, powder coated to match the blacked-out Slim, kept air from coming up under the shield and protected my legs from road debris.
They are both H-D accessories and they are the same heavy-duty construction as the bike.
Then I added some comfort items.
The large displacement Harleys put out a lot of engine heat; enough heat to burn the insides of your legs if you're short like me, so I added some mid-frame heat deflectors that helped reroute some of that warmth away from my thighs.
I also switched out the air cleaner for a tornado type. The stock air cleaner stuck out far enough to make braking awkward and I really like the look of the tornado air filter by Figure Machine.
After adding the new air cleaner, I did not switch out the pipes or remap the fuel injection, despite warnings from a mechanic that by replacing just one element in the intake/exhaust system, everything would be messed up.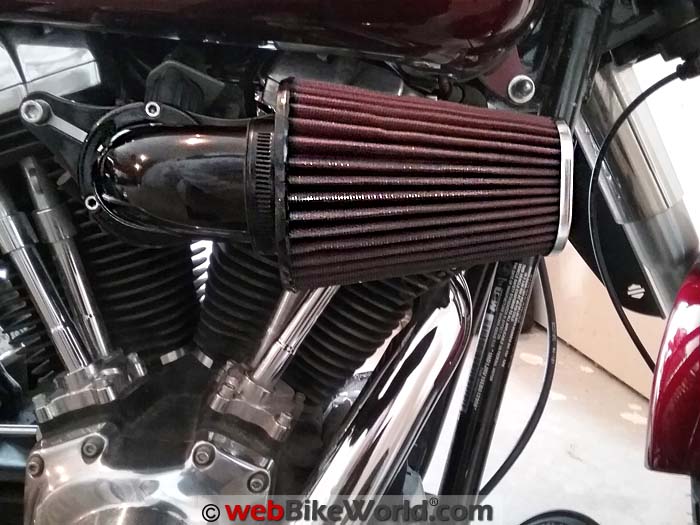 Riding the Slim
I've been riding the Slim now for almost two years, so I have a pretty good handle on its personality. In fact, I've found it to be a lot like me — pretty laid back most of the time but quick to fire up when needed.
Most of the time it just lopes along between 2,000 and 2,500 RPM. You have to be going 75 mph to even get it into the overdrive 6th gear, but it has pretty impressive low-end torque and surprising roll-on speed in 2nd and 3rd gear.
The engine in the Slim is counterbalanced, so you don't get that brain-rattling, hand-numbing shaking at idle that most Harley's have.
It accelerates quickly and smoothly and the handling is pretty neutral; it turns into corners easily thanks to the skinny rear end and holds the line very well.
The smaller and fatter front tire prevents the cruiser front wheel flop at low speeds, although it's a bit of a beast to get heeled over. But with a little practice I've mastered a fairly tight U-turn.
There's not a lot of travel in the single hidden rear shock, so I have bottomed it out a few times, even with my light weight. I could stiffen the shock setting but I like it a little softer.
The Mustang seat has helped this quite a bit as it has a lot more cushioning than the stock saddle.
Where it really shines is on the highway going straight…and long straight roads are about all we have here in the heartland. It is extremely stable at speed and doesn't seem to be bothered much by cattle trucks or semi's speeding by.
Now while that may not sound very exciting, I wanted fun, not "Oh my God, I'm going to die", so it's perfect for me.
Overall, it's quick enough to get my adrenalin going but composed enough that I always feel safe and confident when I'm aboard.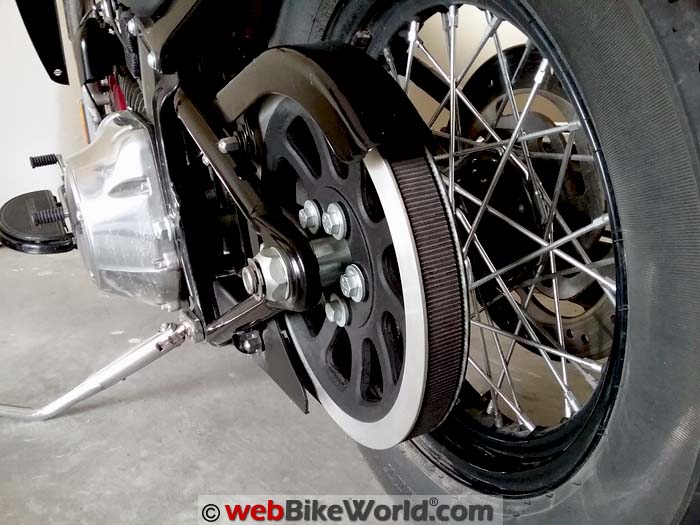 Odds and ends
The Slim has a 5 gallon fuel tank and I've been getting between 35 and 45 mpg, which gives it about a 200 mile range. I can tell you when the low fuel light goes on and the range to empty gauge says "fill up soon" that you'll still have plenty of gas to get to a station.
We took a wrong turn in the mountains once and I thought I was running on fumes but then it only took 3.6 gallons when I filled up, so I had a long way to go before absolute empty.
Speaking of gauges, it has a fuel gauge, a low fuel warning light and a digital readout that rotates between 5 different settings. It includes an odometer and 2 trip meters, a clock, a tachometer, miles to empty, and a gear indicator.
The tach and gear indicator are on the same screen, so I usually just leave it on that one.
The Slim does run hot — too hot to sit in traffic on 100 degree days. Even with the heat shields, it's enough to burn your legs.
It does have a unique feature though; you can turn off the back cylinder at idle, something that has to be set at the dealer, so I'm thinking of trying it before this summer.
Harley-Davidson motorcycles do have the turn signals set up differently than metric bikes.
Instead of them both being on the left grip they have them separated with the right signal on the right grip and this was really hard for me to get used to, because I tended to rotate the grip reaching for the right side signal which accelerated the bike into the turn.
Another time I overshot the signal and hit the kill switch. I finally went and got switch extenders and sat in the garage and practiced until it was second nature.
Braking on the Slim is something of an adventure, however. The levers are a bit of a stretch for my small hands (adjustable levers would have been nice) and it takes a good strong pull to haul it down from speed.
The rear brake pedal is also a little touchy; I've locked up the rear wheel a couple of times, which is scary on a bike this large. I probably should have worked an extra month to have enough money for the ABS.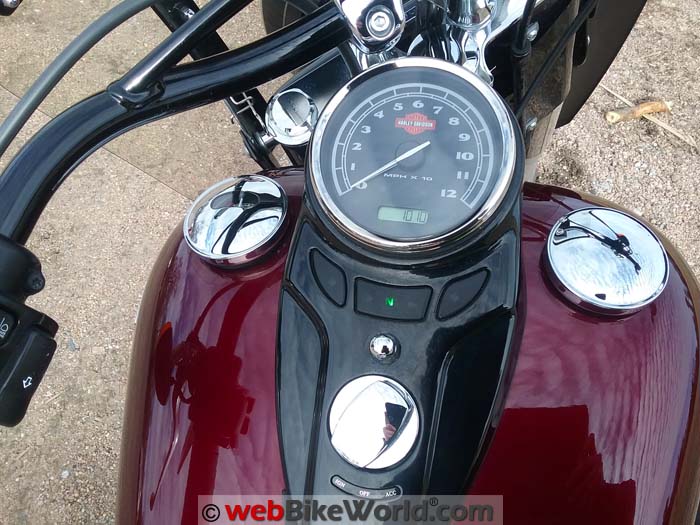 Buying a Lifestyle
To tell the truth, I've always scoffed at Harley owners. I've read all the reviews where they pan Harleys for being big and slow and expensive. And their marketing slogan that you're "buying a lifestyle" was actually turn-off for me.
I'm not the type of person that needs Harley-Davidson to provide me with a "lifestyle" — I already have a very nice one!
But when you buy a Harley-Davidson you're automatically included in "The Club", whether you want to be or not.
There is something about a Harley that's different, that's for sure. It's like the difference between a full-size pickup truck and a sub-compact car. There's nothing wrong with the car; the pickup just feels more solid and substantial.
On a Harley there are no plastic fenders or no unsightly gas tank welds. Everything on it is heavy-duty and well made.
I did go to a HOG meeting once though just to see what it was like. Everyone was very nice but I never went back. I guess I'm just not a joiner!
I have to give them kudos though — they do a lot of charitable activities in our community and a lot of them participate in the Patriot Guard which is really commendable.
Conclusion
Buying a new motorcycle is both thrilling and nerve-wracking. It's nerve-wracking because it's a lot of money and you want to be sure you're making the right choice.
It's thrilling because you're buying more than a mere machine; it's a passion that can take over if you let it.
I wouldn't say that the Softail Slim is a beginner bike, but if you're ready to move up it is surprisingly nimble and easy to handle for its size.
I can also highly recommend it for vertically challenged riders.
My dad is 85 years old now and he's still building flat track race bikes in a shop in his basement. I couldn't wait to show him my new bike and he was moved to tears when I ushered him outside to see it.
It really is a beautiful bike…but was it worth having my husband mad at me for 6 months and working a second job for a year? You bet it was!
Publication Date: March 2017
Note:
 For informational use only. All material and photographs are Copyright © webWorld International, LLC since 2000. All rights reserved. See the webBikeWorld® 
Site Info page
. Product specifications, features and details may change or differ from our descriptions. Always check before purchasing. Read the
Terms and Conditions
!
Owner Comments and Feedback
---
From "B.P." (March 2017): "For those who may not know, cycle-ergo.com allows you to place a custom-sized rider on a pretty comprehensive variety of bikes, then compare them (for directly comparison of riding position, select "center on seat.").
You can use the scroll wheel on the mouse to slide back and forth. It also allows you to see the impact of changes like higher/lower seats, pegs, bars, etc.
It's no substitute for a test ride (or at the very least sitting on the bike with somebody holding it upright), but it's a good starting place, and in my experience quite accurate."
---
From "M.T." (March 2017): "Great story, I can totally relate and interesting to read. I went the opposite route, to the sportbike.
I'm the only female in the family, my 3 brothers have sportbikes so that was always what I wanted. Started with a Kawasaki 250 Ninja and now loving a GSX-R750. Once you start the habit, one is never enough!
And also it allows me to wear full one-piece leathers, with a full-face helmet I'm equal to other bikers, nobody knows there's a "girl" underneath!"
---
From "B.P." (March 2017): "What an excellent review of the Softail Slim by Donna S. She covered pretty much all the essentials, and in a very readable manner.
I have just a few comments and concerns, if I or someone I knew were buying the bike.
First, it looks like those are tube-type tires, given those center spokes. I'd prefer tubeless tires and a mushroom-plug kit if I picked up a nail, but I suppose that's what cell phones and roadside assistance are for.
Also, I prefer not looking down at a tank top to see RPMs or speed.
Donna already covered the limitation of the rear suspension. And I might be interested in a bit more lean angle, if only for the increasingly present roundabouts these days.
Last, I know nothing about that sort of air filter. Can the bike still be ridden in the rain?
But, all in all, given the riding style of a mature, inseam-challenged, rider — and given that the perfect bike for anyone probably doesn't exist — I think Donna made a very intelligent choice, and I think she conveyed the reasons for her choice extremely well. Kudos to her."
---
From "H.S." (March 2017): "A nice adventure into buying a bike with good suggestions and the decision some sort of V-twin. I'll admit, not my cup of tea, but in reality, what else is there for those with shorter inseams.
I've steered many in that direction because the layout makes for the shortest available motorcycle.
(Donna) did a good job laying out the connection to her dad, as well as describing the styling and control-fit for her needs, as well as the emotion of finding your bike. I felt all that again as if I was making a new purchase.
Safety is important, and that translates into being able to put the rider's foot firmly on the ground, pulling up the side stand, and standing the bike up. Smart that there was an optional side stand so she could reach.
Now, given all that, the one thing that I can deem was a mistake was the choice not to get the ABS.
I've ridden over 50k miles on bikes with ABS, and would not have one without. Truth being known, I've never hit the ABS threshold in anger — I have forced rear ABS to kick in just so I was prepared for the feel.
Why am I such a dedicated ABS fan? I've seen test after test, that both in wet and dry conditions, an ABS bike will stop faster than non-ABS.
With it, and trusting it, one can hit the brakes as hard as they want (as long as they're upright and straight) and the bike will extract the maximum amount of traction from the tire regardless.
ABS is a great help in preventing high-side accidents, many times caused by locking the rear wheel, which can cause the bike to go sideways. It is only when the brakes are released and the rear wheel gains traction again, that the high-side occurs.
Can't lock the rear wheel with ABS, so that cause and injury all but disappears.
On the contrary, if the wheels on the motorcycle lock up when heeled over, it will most likely result in a low-side accident; still not good, but far less damaging to the rider for the most part.
Is ABS perfect? Not by any means. It will not account for any lateral grip the tire is producing. In some conditions, it can increase braking distances.
Those trained in threshold braking may be able to out-brake an ABS equipped bike. Sometimes.
When thinking in terms of the Circle of Forces, the tire has a given amount of traction that is divided between acceleration, turning, and braking.
Modern motorcycle ABS systems really only can measure traction in terms of straight line braking.
Some motorcycles, like the BMW 1600, have lean sensors that help with throttle control. I do not believe it has worked its way into the ABS system, as the algorithms to make that work reliably and safely would be enormously complex.
(Editor's Note: Actually, Bosch has a motorcycle stability control system for motorcycles with traction control and ABS that works when the bike is leaned over also.)
Although an expensive option, both to buy and to maintain, I believe it is the best safety measure ever made for motorcycles.
I still am confused that manufacturers offer it as an option, and not as standard.
For example, the Honda Gold Wing, with arguably one of the best ABS systems available, does not offer ABS at all on the base model, and options on the two center models, with the top line bike, the only one with ABS standard.
As far as ABS, as I explored the limits before activation, I started to truly understand just how much braking I had available with a lessened fear of dropping the bike."
Other WebBikeWorld Motorcycle Posts