Carrozzeria Motorcycle Wheels Review
The wheel bug hit me at the 2008 Powersports Dealer Expo, when I discovered the beautiful Alpina spoked wheels on display.
They're sized for the Ducati SportClassics (and other motorcycles) and they use tubeless tires, so I thought they'd make an interesting — albeit expensive — addition to theGT1000 (see my GT1000 blog)
But then I discovered the Carrozzeria forged rims, which are made from made from 6151-T6 forged aluminum in Japan and CNC machined in California.
Carrozzeria says they've been making wheels for 25 years for street and track use, and I really liked the looks of their new VSTAR forged aluminum wheel…so after thinking it over, I figured I'd go for it.
Now some will say that putting a forged wheel on a beautiful retro SportClassic like the GT1000 is a sin, while others will probably think it's a great idea. I'll admit that there was part of me that thought it wouldn't look right, but after seeing and riding the bike, I think they're fantastic and the change is pretty dramatic.
I changed the wheels purely on a whim. It wasn't because I felt a desperate need to eliminate the tubes — the last 4 motorcycles I've owned had tubes and I've never experienced a problem.
And it wasn't because the original Ducati spoked wheels on the GT1000 were starting to corrode, because they weren't, even though some owners have reported the problem. Maybe the Spiffy Spokes really were keeping them clean??
It was simply a matter of the coolness factor, and doing something a bit different to customize the bike. But am I glad I did it, because the weight savings is dramatic, to say the least.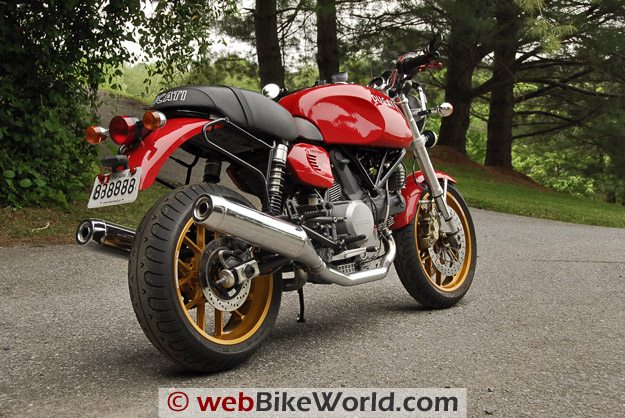 Carrozzeria Wheel Weights
The Carrozzeria rims with the same Michelin tires — but without the tubes they now don't need — have carved a whopping 23 lbs. from the unsprung weight of the bike!  That's awesome!
And it's made a real difference — the bike feels like it's gained, oh, 10 HP or so?  I was always slightly disappointed that the 1,000 cc V-Twin didn't have more bite, but the bike now seems to leap from a start and the 40-70 MPH roll-ons are way more responsive — like somebody's kicking it in the butt.
The handling has perked up also; I noted in the GT1000 blog that my bike seemed to steer slow, especially compared to the sprightly Multistrada 620 with it's narrower rear tire and wider handlebars. Well, the handling is still just as stable and confident, but it seems to have less inertia when swinging back and forth in the curves.
And the tires seem to be more responsive when the bike is leaned over, like I've gained more precision and feel, which makes sense when 23 lbs. of dead weight have been sprung from the unsprung. It feels like relieving the weight has now allowed the Michelins to do the job they were intended to, in the way they know best. Super!
Duc Pond Motosports in Winchester, Virginia is the local Carrozzeria (and Ducati and MV Agusta) dealer, and they put together a nice package for me. They took some detailed notes on the before and after weights:
Carrozzeria vs. Stock Ducati Wheels: Weight Comparison

| | | | |
| --- | --- | --- | --- |
| | Stock Wheels | Carrozzeria Wheels | Difference |
| Rear Wheel w/Sprocket & Rotor | 28.0 | 16.75 | 11.25 |
| Front Wheel W/O Rotors | 15.25 | 8.0 | 7.25 |
| Rear Tube | 2.5 | 0.0 | 2.5 |
| Front Tube | 2.0 | 0.0 | 2.0 |
| Total | 47.75 | 24.75 | 23.0 |
Pretty amazing, eh? I honestly didn't think much about the weight and its effect before I bought the wheels — again, I was originally interested only in looks, until I pulled the bare wheels out of the box when it arrived at Duc Pond. Amazing!  How could something this light be that strong?
From what I understand, the 6151-T6 aluminum used in the Carrozzeria wheels has a higher tensile strength than other high-strength aluminum or magnesium cast wheels, with a greater yield strength and some other neat qualities that only a metalhead would know and admire.
There's a pretty good explanation of all this, and of the benefits of reducing unsprung weight on the Racing Connection website. But the bottom line is that light is good, because it helps handling, braking and acceleration while reducing wear on the suspension components. Unsprung weight — that is, basically everything not above the springs, is the enemy.
OK, so how much did all this goodness cost, you ask?  Well, there's always a catch, isn't there?  The wheels list for $1,739.00 the pair, which honestly isn't at all bad for wheels of this quality. But it doesn't stop there, unfortunately — the original brake calipers on the GT1000 won't work with the Carrozzeria wheels due to offset problems.
Donnie Unger at Duc Pond had a set of used Brembo 6800-series (I think that's what they are – can someone positively ID them from the photos below?) calipers left over from another job, and I was able to score those at a great price. A new set of 6800's will set you back about $200.00 to $275.00 each.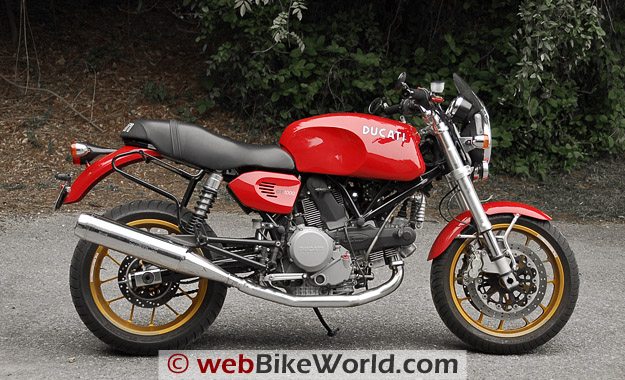 UPDATES
UPDATE 1: By the way, something I forgot — the front wheel also comes with a spacer for the right-hand side, but the included spacer was the incorrect size, so Jason at Duc Pond used his machinist skills to pop out a new one on the lathe at no extra cost.
UPDATE 2: Regarding the new calipers, wBW reader "H" says: "To answer your question, the calipers are 99+ Superbike calipers which are 65mm offset 4 piston 2 pad (in your case) but you could use the 4 piston/4 pad."
UPDATE 3 (6/08): Well, I've now had the wheels for about 500 miles or so, and I have noticed that the bike feels slightly twitchy in the turns. The wheels are apparently so light that any little movement on the bars seems to take the bike off its line slightly. It just doesn't feel as planted as it did with the spoked wheels. It's very subtle, and something that took several hundred miles to notice.
I wonder if the GT1000 frame and suspension isn't quite up to the job — after all, it is a lower-end specification system. I'm not sure if a steering damper would help or just mask the symptoms. I'm not sure what I'll do yet; it's the sort of thing that once I notice it, it's hard to get it out of my mind, and I become over-sensitized to it and I'm looking for the slight weave or twitch on every corner. The bike felt so incredibly planted before… I may consult with some local expert Ducati owners to see if anyone has a suggestion…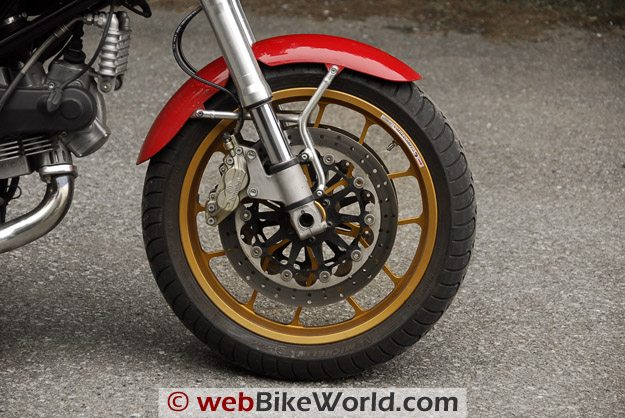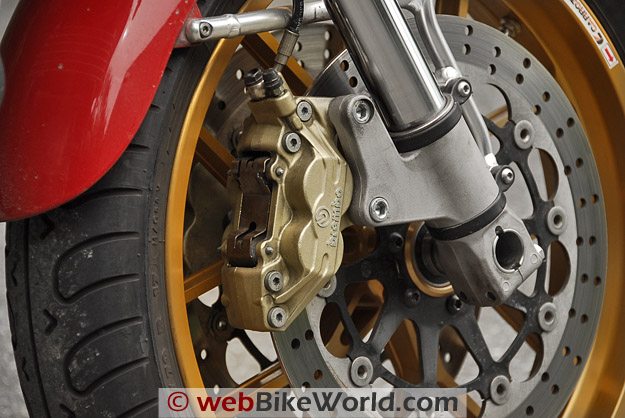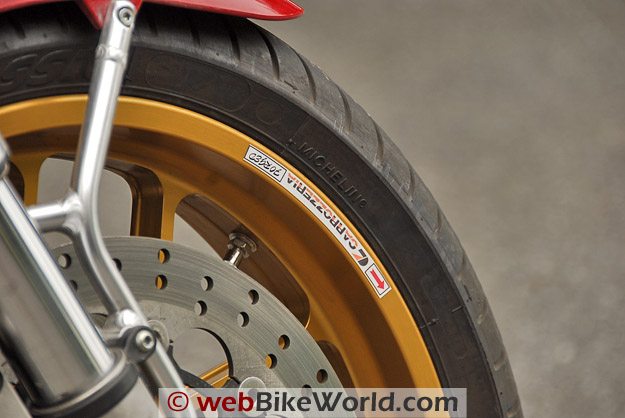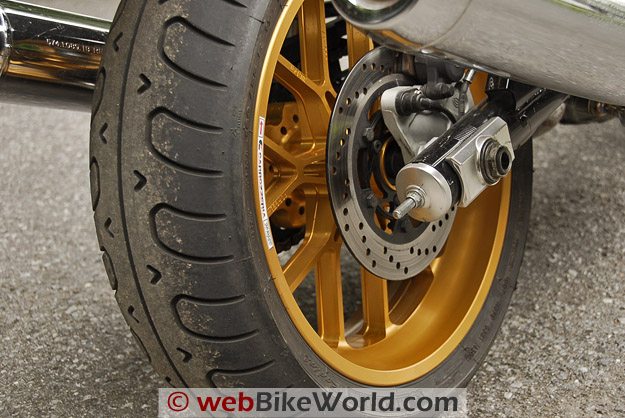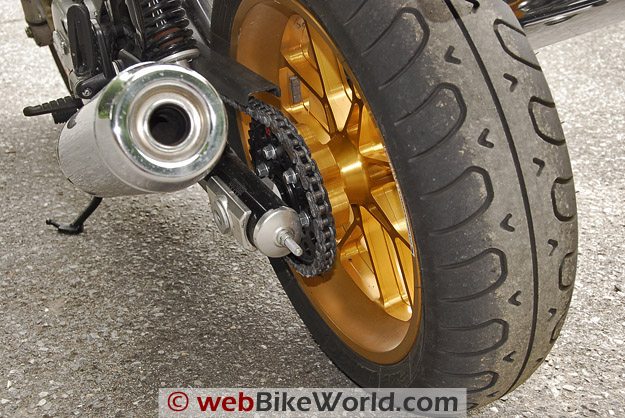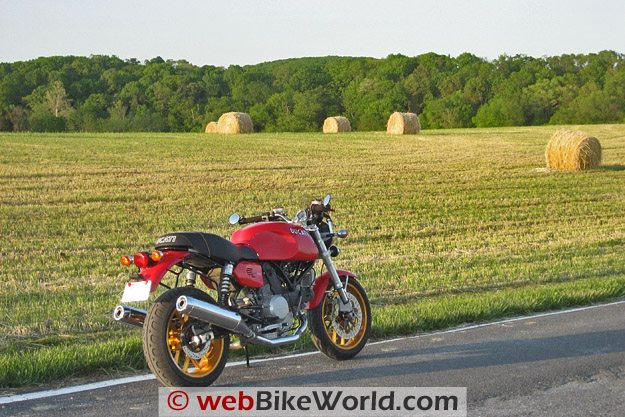 Concluson
The black sprocket on the rear Carrozzeria wheel cost another $80.00, and 2 hours of labor at $80.00 per hour would bring the total to somewhere in the neighborhood of $2,500.00 with tax. If you can get it down to 100 bucks a pound ($2,300.00), you're doing good. Contact Duc Pond Motosports for more information; they'll gladly sell you the wheels, parts or, better yet, the entire package.
Worth it?  Only you can decide. But remember: you only live once….
I used my tax rebate to stimulate the economy — and me — with my new set of gold anodized Carrozzeria wheels. I'm happy and I'm lovin' it!
Note:
 For informational use only. All material and photographs are Copyright © webWorld International, LLC since 2000. All rights reserved. See the webBikeWorld® 
Site Info page
. Product specifications, features and details may change or differ from our descriptions. Always check before purchasing. Read the
Terms and Conditions
!
Owner Comments and Feedback
---
From "D.S." (12/10): "Inspired by Rick's article, I began to search for Carrozzeria wheels for my GT in 2009. I looked unsuccessfully for a used set for over a year (yes – I have the quoted $1600 for new set, but according to my wife, I would never pay $1600 for wheels!), I switched gears and opted for a like-new set of wheels from a Paul Smart PS1000LE.
The PS wheels are dimensionally and physically identical to the spoked chrome steel wheels of the GT, except that they are lighter since the rim is made of aluminum, by Excel. Known as "Excel" wheels, they are OEM on the Ducati 1000S and the Sport Classic models too.
As these things go, a week or two after taking delivery of the PS wheels, I located a used set of gold Carrozzeria wheels, just like Rick's! So the PS wheels were never installed by me, but then I thought it might be meaningful for other GT riders to at least have a weight comparison between 3 options: OEM "Chromers" vs. OEM "Excels" vs. the Carrozzeria.
My measurements, documented below, are consistent (although not exactly identical) with Rick's. I don't have access to high-tech scales, but each measurement was taken 3 times, carefully, on one of 2 scales (wheels were weighted on your typical health club 400 lb scale with sliding weights; lighter parts were weighed on a 5 lb postal scale) .
Results (here is a full-sized version):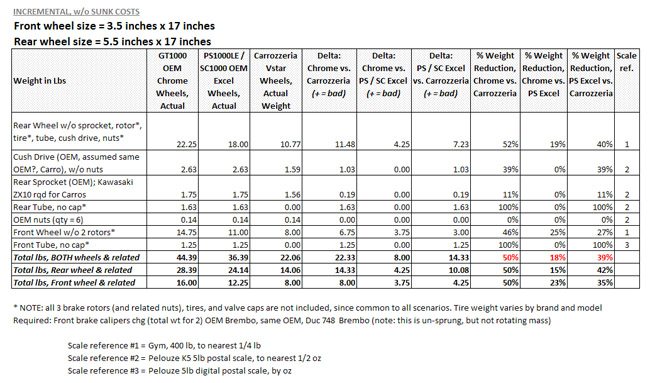 Summary: the Carrozzeria wheels result in a 50% reduction in weight over the Chrome wheels of the GT, if you ignore the OEM parts that are reused (3 brake discs, rear caliper, tires).
Switching from the Chrome wheels to the Excel wheels will provide a 18% reduction, and appears to be a bolt-up" change, meaning that no front brake calipers or rear sprocket changes are needed. IMO, this is generally the best "bang for the buck approach" for a quick, straight forward upgrade.
The Carrozzeria wheels represent a still-significant 39% weight reduction over the Excel wheels.
Also: I agree with "MB"s' comment below – the gold Carrozzeria wheels aren't very photogenic. They look better – much richer and deeper in color – in real life.
Two final comments: I decided that the gold wheels didn't work as well as I desired with the red GT, so I switched to black fenders and tank, and dropped the side covers all together. Since this is a "winter project", I have not experienced the road yet. I'll give pics and riding impressions in the spring….I'm anticipating good news!
I know that Rick has moved on to write about other bikes, but thanks for all the honest, detailed work you've provided on the GT on webBikeWorld."
---
From "M.B.": "I too, have a set of lovely gold Carrozzeria on my '05 CBR 1000RR – red bike also – and totally love them. I bought mine from Brad at Superbike Supply, he gave me an incredible price via 1000RR.net.
I've had mine on since last June ('07); I ride all year long, and live in the Pacific Northwest. They have held up very well… not fading, or discolouration. I too, put on a new sprocket (Driven), and went from a 530 chain to a 520 D.I.D. chain for even more weight savings.
I agree the handling became much quicker – going from side-to-side in an instant with drastically less rider effort. I had them mounted at my local Cycle Gear (bought new Pilot Power); they put in a touch too much air, 40/38 psi. And together it felt twitchy. I almost turned too fast, too soon in my first couple of corners. I dropped the psi to 34/33, and it handles like a dream; yet is still tremendously stable.
Again, I did my wheel change just for the bling factor, at first. But now consider lighter wheels a must for any future bike (though I'd probably not ever sell my RR – I have too much money invested in it). And I always suggest it to people that are looking to improve their ride, performance and safety.
Down sides: 1) the gold colour never photographs accurately; they are way brighter in person. 2) I always get asked if they're Marchesini wheels – I think the V-Star looks better. 3) I have to remember that I use a Kawasaki rear sprocket. 4) They are a nasty bugger to clean compared to my 3-spoke OEM wheels. 5) Price."
Here are some photos of M.B.'s wheels: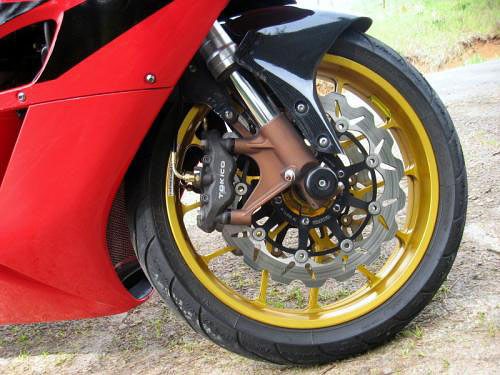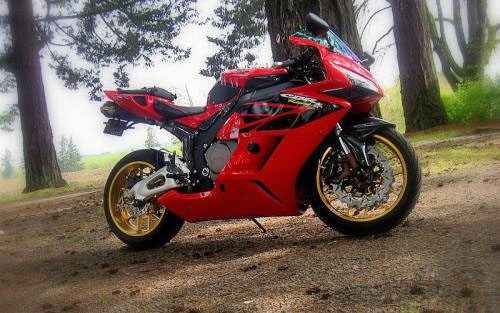 Other WebBikeWorld
 Wheels 

Posts