Cardo Scala Rider SmartSet Android App for the G9 Intercom
We all anxiously await the next generation of Bluetooth motorcycle intercom systems which promise a whole lot more "gee whiz" and bang for our buck.
In the meantime, Cardo has quietly (sort of) added an Android-based "SmartSet" mobile app to its system maintenance suite.
This simple- but sophisticated-looking (and functioning) app can be downloaded, installed and configured in a couple of minutes, once the prerequisite Cardo Scala Rider G9 (review) update is completed.
It works extremely well in providing the ability to configure or adjust G9 intercom systems via a Bluetooth connection from a mobile device.
The SmartSet app currently works in portrait or page mode only just now, but hopefully that will change, and for a first release, Cardo has "done good" and we just know it won't be the last, from Cardo or the other manufacturers.
And for everything else the SmartSet app might mean to users, it is another indicator of what is coming regarding portability, service integration and capability convergence.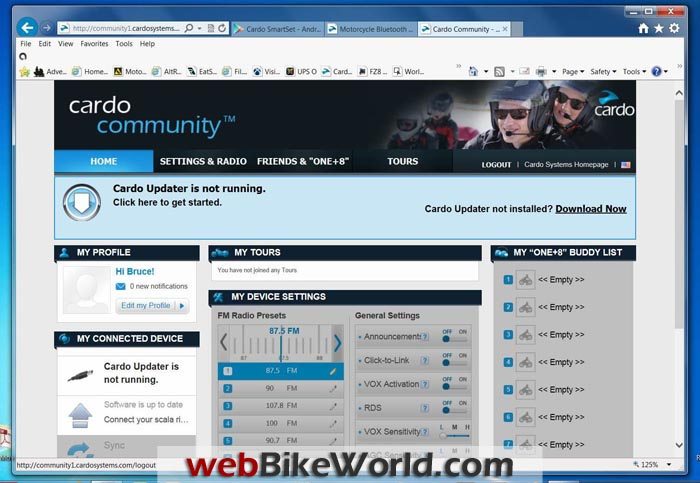 ---
Where to Buy Cardo SmartSet App
Check Reviews & Prices on Amazon
Check Reviews & Prices On RevZilla
See More: Motorcycle Intercom, Motorcycle Accessories, Motorcycle Helmets
---
Introduction
It has been awhile since we revisited the Cardo Scala Rider G9 intercoms. Much of the recent attention has been given to the newer Cardo Scala Rider Q1 and Q3 (review) intercom systems and for good reasons, as detailed in the webBikeWorld review.
However, the Cardo G9 remains Cardo's flagship product, used by many (many) enthusiasts. And with the release of the Cardo SmartSet Android app for the G9, another positive feature has been added to its long list of capabilities.
There is a prerequisite, however, in being able to successfully use the SmartSet app for the G9, and that is that your G9 intercom must have the firmware release v1.6 of mid-November 2013 installed via the Cardo Community website. The firmware release focuses on providing support for the new Cardo SmartSet app, with some minor bug fixes and other improvements included.
Overview
The free Cardo SmartSet app for the Cardo scala rider G9 systems, which is available in theGoogle Play Store (here) is currently available for Android systems only. It allows an Android mobile phone or other Android device (e.g., tablet) to adjust the following on your Cardo Scala Rider G9 intercom:
Enable or disable spoken status, RDS, VOX and Click-to-Link functions.
Preset the six FM radio stations.
Change VOX operation mode.
Adjust AGC and VOX sensitivity levels.
Customize the Hot Dial feature.
Choose device language (currently eight).
Unless your Cardo G9 intercom has the new v1.6 firmware update, the app can still be launched on your Android device and the G9 device(s) can be paired for headset or media functionality, but no interaction with the Cardo SmartSet app will be possible.
The Android application was released 12 November 2013 (Release 1.0). It requires Android 3.0+ and was developed by Cardo. Note that the app currently functions in portrait (page) mode; hopefully this will be addressed in any subsequent release.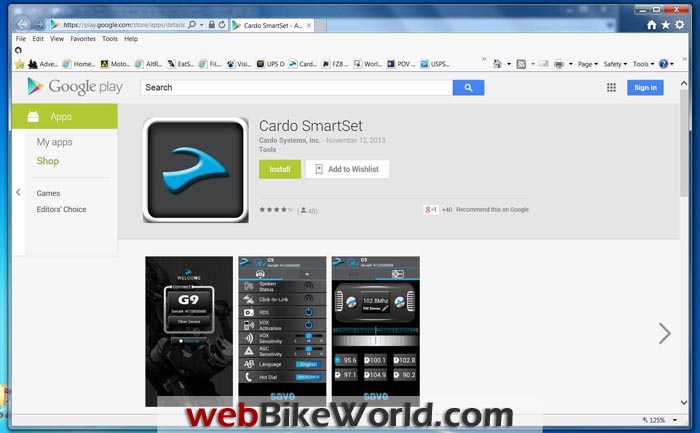 The Android Device
The Cardo SmartSet app should work on compatible Android-based devices and for this webBikeWorld "Quick Look" we used the Nexus 7 (N7.1) tablet (32GB, WiFi and 3G), running Android version 4.3, Kernel 3.1.10G1E8B3D8, 11 Jun 13, Build JWR66Y.
The Editor "loaned" me this Nexus 7 tablet (he probably won't get it back!) for an ongoing evaluation of its capabilities as a large screen navigation device (with assisted or unassisted GPS), among other uses, for travel. As the evaluation nears completion, I can state that the "N7" is being used very successfully for this purpose and is worthy of a Santa-list.
Installing the Cardo SmartSet App on Your Android Device
A friendly advisory email from Cardo regarding release of the new app included a direct link to theGoogle Play Store page. But if you just do a search for "cardo smartset app" in the Google Play Store, you'll find it.
You will of course need to be logged in; I use my original Gmail account to satisfy this requirement. Once device compatibility is verified, downloading and installation will commence and the "Cardo SmartSet" icon is added to the apps listing on your Android device.
Installing the Cardo G9 Intercom Firmware Update
Just a recap, to update your Cardo G9 intercom to the version 1.6 firmware release, go to theCardo Community website (if you're a G9 owner, you're probably already registered. If you're a new G9 owner, now's the time).
If it has been a while since your last visit, you may need to first update the Cardo Updater software itself, currently at v1.5.0.
Then follow the indicators on the left side under the "My Connected Device" section. Connect your G9 intercom once it's recognized and the configuration is loaded, the software update display will flash (red). Go through the Cardo G9 software/firmware update process as described in the webBikeWorld Cardo Scala Rider G9 review (Part 2) and then follow the instructions to finalize the update.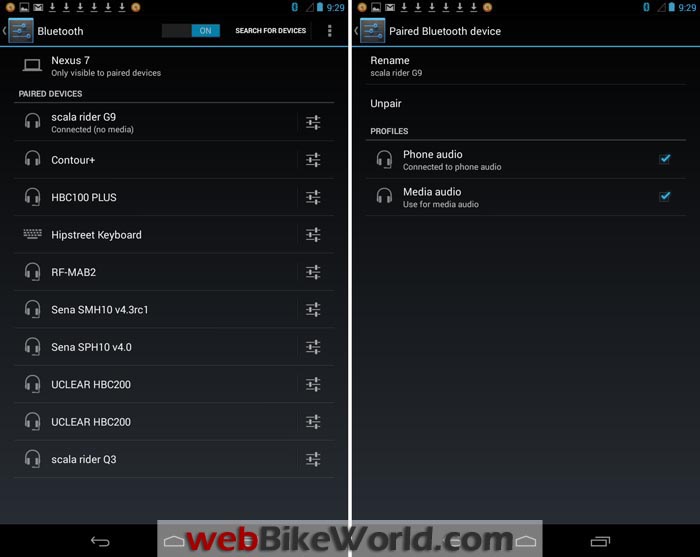 ---
Where to Buy Cardo SmartSet App
Check Reviews & Prices on Amazon
Check Reviews & Prices On RevZilla
See More: Motorcycle Intercom, Motorcycle Accessories, Motorcycle Helmets
---
Cardo SmartSet App Features and Functions
The main Cardo SmartSet App screen has a small highlighted "Connection" box with two buttons: one for any currently connected intercom, like the first G9 updated to v1.6 and then paired, and a second smaller button is for switching to another intercom, such as a second G9.
When this "Other Device" button is pushed, the main "Bluetooth device" screen appears so the next intercom can be activated via the Bluetooth link. This makes configuring multiple G9 intercoms a relatively simple and expedient process, although as usual only one intercom can be connected at a time and it is best to turn the other G9 intercoms off first and restart the updated G9s afterwards.
If the Android-to-G9 connection is lost or terminated, the "Connect" box will show a "Turn ON and Connect your Device" message, with the second button now showing as "Choose device".
At any time during the process, the "Tutorial" button can be selected as well; it provides a slick visual walk-through of the Cardo SmartSet app and it's a nice one-minute refresher.
There are two tabs on the display: the "General" tab on the left for headset functions while the "FM" tab on the right is for configuring the radio features.
Notes on the General Settings Menu
There are nine horizontal tabs under the "General" or headset menu of the SmartSet app: Spoken Status, Click-to-Link, RDS, VOX Activation, AGC Sensitivity, VOX Operation, Language and Hot Dial.
These are options that replicate those provided under the Cardo Community profile for the intercom (or they are also accessible directly through the headset controls on the G9 intercom itself).
Pressing any of the interactive line tabs will bring up a small screen briefly describing its function — a good "refresher" in case you have forgotten one or more of the functions. Pressing the related icon on the right side of the screen will change the current setting or bring up related options.
Once any or all changes have been made via the tabs, pressing the "Save" button will send the changes to the device; a start and end beep indicates defines this process, along with a small confirmation screen.
Notes on the FM Settings Menu
The FM menu screen is layered top to bottom, with the top section featuring a stylized radio with two interactive tuning controls left and right and a centred frequency display.
A spectrum tuning display occupies the middle and the bottom section sows the six FM channel assignment boxes. All three displays are linked of course, with the "Save" button located at the bottom of the screen.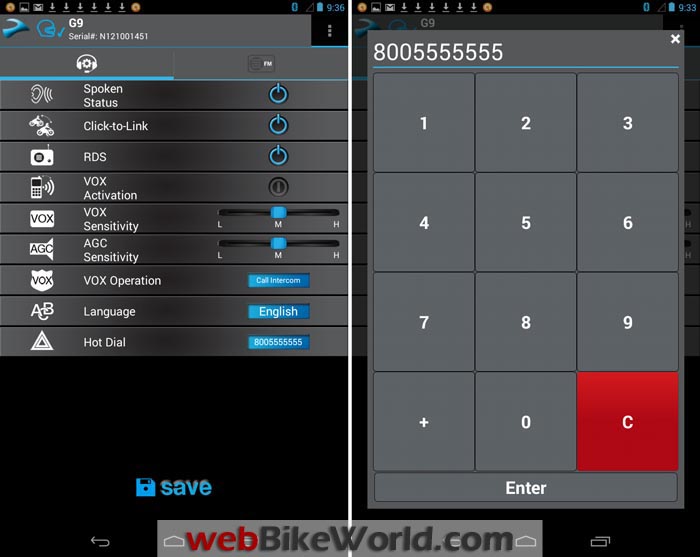 Conclusion
The new Cardo SmartSet app for the Cardo Scala Rider G9 intercom is easy to install, configure and use. The menus, interactive buttons and tabs are well thought out, nicely placed and intuitive to use…just like it all should be.
The only nit so far is that the app only works in the portrait or page mode, but hopefully this will change. It might not be seen as critical, but I feel the same way about a few other very popular apps that still do not support landscape or portrait mode, even though they would be better displayed in that mode.
This observation is primarily due to the fact that the Nexus 7 tablet (securely encased inside anOtterBox Defender series housing and cradled by RAM mount components) is mounted in landscape mode when mounted on the 2014 BMW F 800 GS Adventure or 2014 BMW R 1200 GSW motorcycles. I can rotate the mount to orient the tablet in portrait mode, but not without some other adjustments being required.
Some postings on the Cardo website and another forum have identified issues in configuring and using the Cardo SmarSet app on other Android devices; hopefully Cardo Support will be there to help out.
But so far, this experience has been a positive one. The Cardo SmartSet app is an excellent and timely addition to the Cardo Scala Rider tool suite and it will be a real asset to Cardo G9 owners who are also Android-based mobile device users. No word on Apple iOS compatibility yet!
Publication Date: November 2013
More wBW: Motorcycle Intercom Reviews  |  wBW Reviews Home
Note:
 For informational use only. All material and photographs are Copyright © webWorld International, LLC since 2000. All rights reserved. See the webBikeWorld® 
Site Info page
. Product specifications, features and details may change or differ from our descriptions. Always check before purchasing. Read the
Terms and Conditions
!
---
Where to Buy Cardo SmartSet App
Check Reviews & Prices on Amazon
Check Reviews & Prices On RevZilla
See More: Motorcycle Intercom, Motorcycle Accessories, Motorcycle Helmets
---
Owner Comments and Feedback
Other WebBikeWorld Intercom Posts