The Great Ocean Road along Victoria's spectacular southern coastline has been rated the world's most recommended motorcycle route, according to a British online insurer survey.
Confused.com consulted Adventure Biker and other motorbike enthusiasts to pick the top five most breathtaking motorbike routes and the hottest meeting points for bikers around the world.
We agree that the Great Ocean Road is simply one of the most stunning roads in all the world; our version of California's iconic Big Sur which came in at  number three.
However, this heritage-listed road is simply too popular and you may find yourself caught behind tourists unaccustomed to driving on the left side of the road, grey nomads plodding along in Jaycos, cyclists on their own Tour de Chance and novice motorcycle riders unfamiliar with the roads. 
Even tackling this road midweek won't guarantee a smooth run. It's busy almost every season, almost every day.
However, there is no denying its beauty with the road rated the second-most Instagrammed road trip in the world behind the famous Route 66.
To find the most picturesque biker routes around the world, researchers paired up with motorbiking enthusiasts to map out the ultimate biker bucket list.
These are their most recommended routes around the world: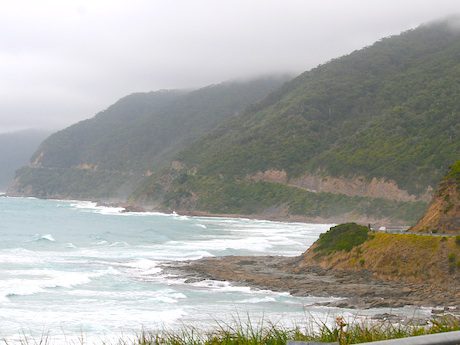 The Great Ocean Road, Australia: Enjoy the beautiful landscape on this 290km-long route from buzzing Melbourne to quaint Peterborough, catching views of shoreline rainforests, limestone pinnacles and surfing beaches on the way.
Cape Town Circuit, South Africa: If you prefer mountain views and desert landscapes, this 1700km-long route will take you from beautiful seaside Cape Town into the deserts of South Africa, offering great picture opportunities and a chance to see the Little Karoo Mountains.

Big Sur

Pacific Coast Highway (Big Sur), California, USA: A classic known to many, the quiet route from San Diego to San Francisco lets you soak up beautiful beach views with an unforgettable experience: crossing the all-famous Golden Gate bridge
Ho Chi Minh Trail, Vietnam: This 1900km ride will take you from Hanoi to Da Lat. It boasts rocky hills, Laos' longest bamboo bridge and winding dirt roads for the full journey
Troll Ladder, Norway: While this route is only 55km long, this mountain range isn't one for the faint-hearted. If you head over to Rauma, you can expect 11 tight hairpin bends, a nine-degree descent and incredible views from the top
The new Brit study also lists the top biker hotspots such as Harley's Milwaukee museum, plus the UK's biker capitals and best routes.