Gear Montana Jacket Review Summary
Review Summary
Hands down the nicest, most supple, best-looking retro (or "classic") leather jacket I've ever laid my eyes and hands on. The big bonus -- besides the buttery-soft leather -- is the addition of the modern Knox body armor underneath. The "hidden" vents in front and the exhaust in the rear actually do serve to help keep things cool, so the Montana jacket works in much warmer weather than you'd expect. If you want to cruise in style with some of the best protection you'll find in a classic leather motorcycle jacket, look no further.
Pros
Nicest
most supple
best-looking retro (or "classic") leather jacket
great protection
Gear Montana Jacket Image Gallery
Super-supple leather, perfect fit, retro cool styling right down to the antiqued YKK zippers. Includes Knox elbow and shoulder armor and an optional Knox Level 2 back protector. Bottom line?  The Montana jacket is a winner!
A couple of years ago, British Motorcycle Gear (aka BMG) decided to move forward with their own line of motorcycle clothing — a non-trivial pursuit, as you can probably imagine. Sane human beings just don't voluntarily take on a project that includes designing, sourcing, manufacturing, distributing, retailing and managing customer service, especially for the fickle and particular motorcycle crowd.
To do all of that and still come up with products like this Montana leather jacket is definitely commendable. I knew nothing about the jacket before Rick asked me to evaluate it; I envisioned it as just another imported leather jacket. But I'll tell you what — the Montana jacket became an instant favorite the minute I slid it over my arms.
It is without doubt the most supple, most comfortable leather jacket I've ever owned. That it comes with a full array of Knox armor is a real surprise — this is one classic jacket that doesn't compromise. But I'm getting ahead of myself…
At first glance, the Montana looks just about like any number of retro or classic leather motorcycle jackets that are for sale. But pictures don't do it justice. The leather is extremely supple and very nicely finished. It feels like the type of leather that might be found on a high-quality (and high-priced) leather dress jacket. I'll probably cry the first time I scratch it!
The Montana needs no break-in; it's perfect right from the factory. The black leather quickly takes on a nice patina, so you'll have that rugged "been there, done that" look right out of the box. British Motorcycle Gear says the leather used in the Montana jacket is 1.4 mm thick, so I broke out the metric micrometer and checked a few spots.
The material is doubled over in many places for both looks and strength, but the single-ply leather pieces did check in at exactly 1.4 on the millimeter scale. Seriously, the leather is so soft that it immediately takes on the shape of the owner. I could honestly wear this thing to bed and be comfortable. Lining that buttah-soft leather is the silkiest piece of satin fabric I've ever felt in a motorcycle jacket. Victoria's Secret has nothing on this!
The lining covers the entire inside of the jacket, right down to the sleeve cuffs and it feels great next to the skin.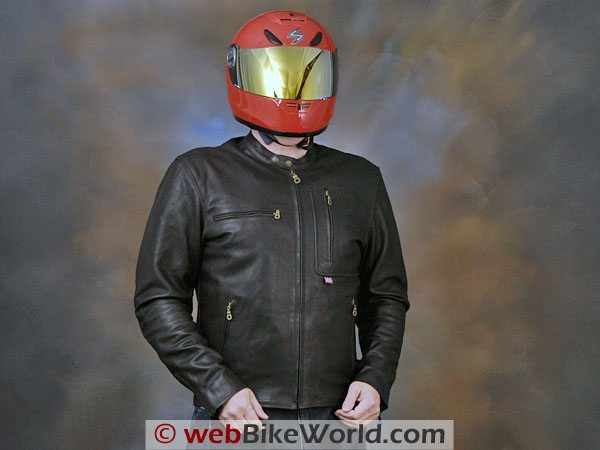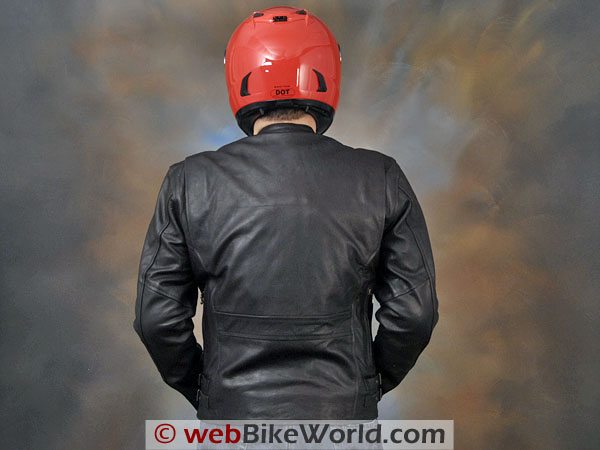 Sizing
The Montana also has a removable vest liner; it attaches all the way around with a single zipper, up the left side, around the back of the neck and down the right side.
This insulating liner is made from a thin and very soft material that feels like a cross between polar fleece and flannel.
No quilted puffy stuff here — the liner has just enough gumption to ward off the chill on those cool fall days, and it feels so soft and comfy, you'll want to throw away the T-shirt.
The thin insulating liner allowed the designers to keep everything close to true size, so the Montana jacket has an excellent fit. It comes in U.S. men's chest sizes 34 to 54; this one's a size 44 and it fits exactly as expected.
It's also listed as a woman's jacket, and a cross-reference chart on the BMG website indicates women's sizing.
The sleeves on the Montana jacket aren't too bulky either, so even though there are no weird-looking sleeve cinch adjusters that the jacket doesn't need anyway, the elbow armor fits nice and snug, as it should.
Armor and Protectors
The amazing thing — as you can see from the photos — is that you'd pretty much never know that the Montana is filled with high-quality Knox "body armor".
I guess you can maybe see that the optional Knox back protector in the photos, but that's due more to the studio lighting than anything else.
The Montana jacket comes with the Knox elbow and shoulder armor; the back protector is a $39.95 option. By the way, the Knox back pad/protector is "Level 2" (EN 1621-2), which means that it meeets the same safety standards as most race back protectors!
The back protector may also fit in other types or brands of motorcycle jackets.
I tried it in a couple of jackets we had in the inventory and it fit in their back protector pocket. If it doesn't fit yours, surely a local tailor would be able to easily modify an existing pocket on just about any jacket to fit this pad.
The Knox CE-approved back protector for the Montana jacket is more comfortable than the SAS-Tech rubbery-type of back protector that was discussed in the webBikeWorld review of theFurygan Fighter jacket.
It's also lighter and less noticeable. You'll probably never even realize the Knox piece is inserted.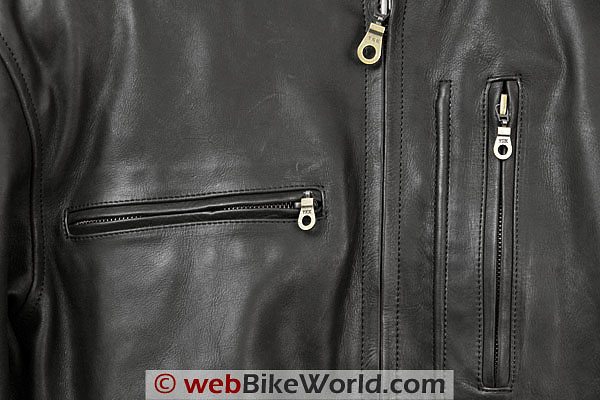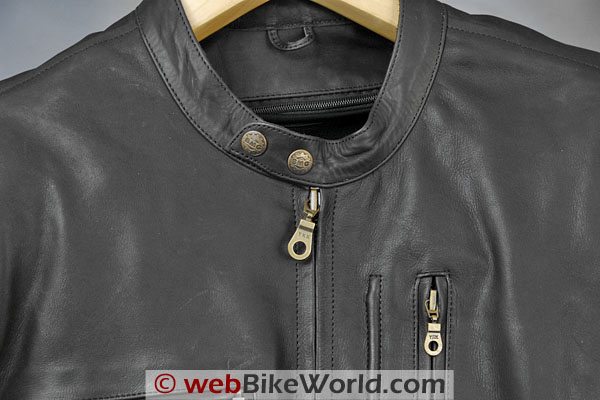 Zips and Pockets
The Montana uses very nice YKK brand zippers, made from metal. That's real metal, as in not plastic.
As you can see, each zipper has a nice YKK pull tab that adds to the overall styling. The zippers are designed to look antique, from the actual style and shape to the antiqued bronze surface finish.
The Montana jacket includes two hand pockets: a horizontal 14.5 cm by 18 cm (5-3/4″ by 7″) deep pocket on the right hand breast and a vertical 18 cm by 18 cm (7″ x 7″) pocket on the left.
Each pocket has a 25 mm section of perforated leather sewn under the zipper opening, which provides some ventilation when the zippers are open.
Inside the left breast placket is another pocket; this one features a nylon YKK zipper with smaller teeth. This pocket has a 14.5 cm opening and it's 14.5 cm deep.
The front main zipper is a big YKK metal unit. The only issue I have with the entire jacket is that the front main zipper can be difficult to get started, because the bottom zipper pin (the first "tooth") is hidden behind the leather hem on the front of the jacket.
Not a biggie, but I have to start the zipper pull tab on the pin before I put on a full-face helmet, because I can't bend my head down far enough to see what I'm doing over my stomach.
Another solution?  Wear an open-face Davida classic helmet!  We have an upcoming review of one of those soon also — a perfect match with the Montana jacket. Don't forget the Made in England Halcyon goggles either…
Oh, and by the way — the jacket zips up European style; that is, the zipper pull tab is on the left placket.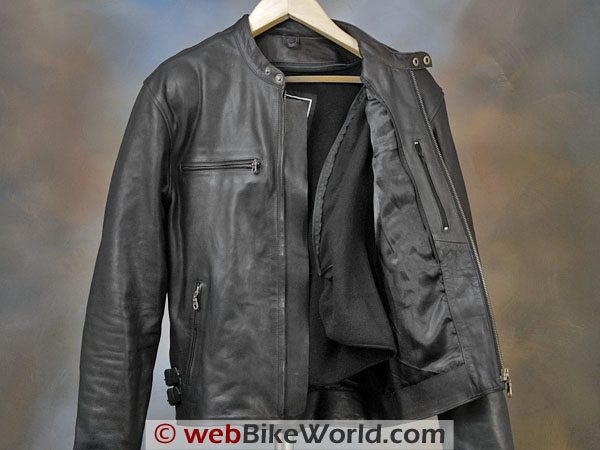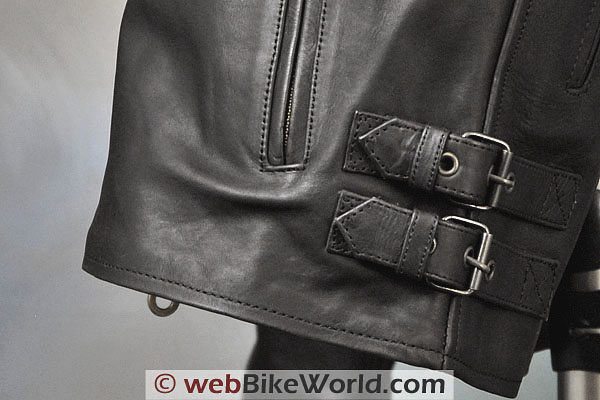 The neck has two real metal TTK snap buttons for adjustment, and there are short dual leather belts down at the waist on either side, which add to the retro look without being too blatant.
A vertical zipper is above the buckles on either side of the rear of the jacket act as the exhaust. They zip open to 18 cm. A section of perforated leather has also been sewn underneath to provide the ventilation.
One more thing — the sleeve cuffs also close with YKK metal zippers. The leather is folded and hemmed about 40 mm up inside the sleeve cuff for a nice trim, and about 55 mm up inside the lower back at the hem for the same effect.
The sleeves are slightly long, as they should be for a motorcycle jacket. After all, you'll need that extra length to reach the "Clubman" bars on your Velocette cafè racer.
Conclusion
Hands down the nicest, most supple, best-looking retro (or "classic") leather jacket I've ever laid my eyes and hands on. The big bonus — besides the buttery-soft leather — is the addition of the modern Knox body armor underneath. The "hidden" vents in front and the exhaust in the rear actually do serve to help keep things cool, so the Montana jacket works in much warmer weather than you'd expect.
If you want to cruise in style with some of the best protection you'll find in a classic leather motorcycle jacket, look no further.
w

BW

 Review: British Motorcycle Gear BMG Montana Jacket
Available From: British Motorcycle Gear
List Price (2008): $399.00 (Knox back protector is $39.95 extra).
Colors and Sizes: 34 to 54 U.S. (including women's sizing).
Made In: Unknown.
Review Date: October 2008
Note: Item provided by a retailer, distributor or manufacturer with these Terms and Conditions.
Note:
 For informational use only. All material and photographs are Copyright © webWorld International, LLC since 2000. All rights reserved. See the webBikeWorld® 
Site Info page
. Product specifications, features and details may change or differ from our descriptions. Always check before purchasing. Read the
Terms and Conditions
!
Owner Comments and Feedback
---
From "W.S.O." (June 2012): "Thank you for the excellent review! As a long time reader of your site it definitely help me decided to buy the BMG Montana jacket.
I found that it ran true to size, initially ordering one size up then sending it back for my actual size.
It's a beautiful jacket and seems like it will last as long as I can ride. BMG has great customer service and even paid for postage when shipping me the second jacket. I highly recommend it!"
---
From "DJ" (11/08):  "You have a great web site. Really!  I wanted to send you a quick note regarding your British Motorcycle Gear Montana Jacket that might help others considering a purchase, particularly if you are a big/tall fellow like me.
I emailed BMG before ordering about their sizing on this jacket and queried if it ran "small" at the upper end of the range. Many jackets in the size I was ordering fit me fine and are true to size, others, if they don't run true, won't fit.
They responded quickly and after a short email dialogue they kindly offered to refund shipping if it didn't fit (fingers crossed on this), and I ordered one.
After the package arrived I was surprised to see that they sent me a size one smaller than I ordered. Waa?  It was also sadly apparent that even a size up was not going to fit either and they probably ran smaller than marked.
Not a "shape" issue, a size issue.
It is indeed a very nice jacket, but I agree with others, you need to order at least a size up. And if you are a big/tall 4XL, you're out of luck."
Editor's Note:  Just as an FYI, the size large as described above fit just as expected for a large. The model in the photos is 5'11" with a 44″ chest.
---
From "A.P." (10/08):  "As soon as I read your review I had to write to you. Sometimes reviews tend to sugar coat things and make something out to be better than it is, but in this case its spot on. If anything, it doesn't give the jacket enough praise.
It's really that good, I've had mine for a few months now and love it.
There's only 3 things I can add to this review:
1) The customer service is excellent. I contacted BMG before I bought the jacket to ask some questions and got an immediate response. I ordered what I thought was the right size and ended up sending it back for a bigger one, and they processed the return and the new order very quickly.
2) The size issue: I measured my chest according to standard measurements, and the 1st jacket was too small. I can only speak for myself, the going up 2 inches in chest measurement got me a perfect fit.
Without the vest zipped in, and with a shirt underneath it feels good, maybe slightly loose but like the review says, the sleeves are snug so the armor stays in place.
With the vest in I can still put on a sweater or fleece under it, I've ridden to work a few times in 35F weather and been very comfortable.
3) The only odd thing about my jacket is the sizing tabs/buckles on either side of the jacket are sewed in backwards. On my first, too small jacket they were sewed in the same as in these pictures, with the tab end pointing backwards. On my current jacket the tabs point forward.
Not a big deal, looks slightly odd but still works the way it should.
Overall, I'm happy with the money I spent on this. Yes, I could have bought 3 jackets for the price of this one, but I fully expect it to last for many years, as long as my belly stays close to its current size!"