BMW Motorrad is seeking a patent for a hybrid drive motorcycle with a boxer engine and a back-up electric motor that would also act as a starter motor.
No, it's not April Fool's Day, even though two years ago BMW announced a two-wheel-drive version of its R 1200 GS Adventure as an April Fool's Day joke.
At the time, BMW Motorrad Australia GM Andreas Lundgren said there was a "very thin border between fact and fiction in their pranks … the concept is plausible".
He seems to be right, according to these recently released simplistic patent drawings filed with the German patent office on August 8, 2017. (German patent drawings are usually simplistic because they only need describe the "essence of the invention".)
The April Fool's Day press release declared it would be called xDrive Hybrid and include an electric motor in the front wheel hub as developed by their automobile engineers for hybrid vehicles. That would make it a two-wheel-drive bike.
However, the patent filing is not for a two-wheel-drive bike.
Hybrid drive
Instead, it's for a hybrid drive bike with the electric motor and boxer engine delivering power to the rear wheel.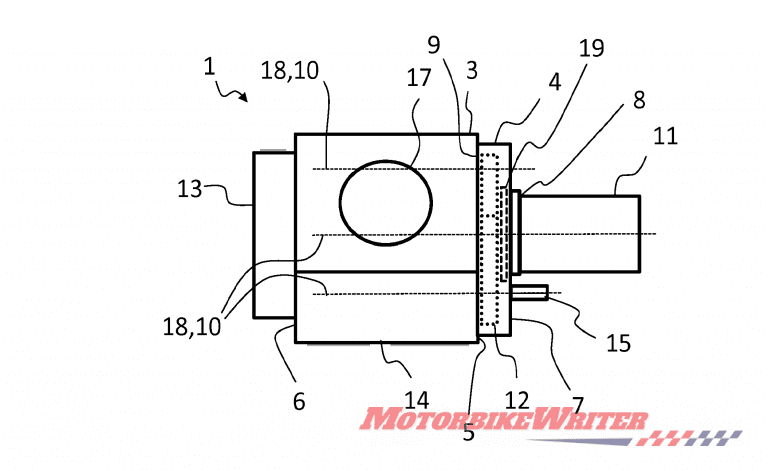 They would be connected by a planetary gear system with a torque-limiting slip clutch on the electric motor driving the crank.
The electric motor would also function as a starter motor and generator, converting mechanical power from the boxer engine into electricity.
Being a hybrid drive system, BMW could reduce the size of the boxer engine and appease stringent Euro 5 emissions targets due in 2020.
April Fool's Day pranksters
The Bavarian jokesters are famous for their April Fool's Day jokes, having begun running spoof advertisements on April 1 in the early 1980s.
BMW's marketing department says April Fool jokes are "designed to teeter on the verge of credibility" and often focus on a new and revolutionary piece of technology, but "push the idea just beyond the plausible."
Some of their other April 1 pranks were a self-cleaning car, remote-inflatable tyres, dog-repellent bumpers, tyres that melted snow and a self-driving car that follows you when you go for a jog. This appears to be their first motorcycle prank.
Two-wheel-drive future?
But is BMW still interested in a two-wheel-drive adventure motorcycle?
There have been several other two-wheel-drive motorcycles before, most notably Yamaha's 2WD system called 2-TRAC. They used it to tackle the Dakar Rally but it never made it into mass production.
The idea is not dead yet with Yamaha, either. Their PES2 electric bike is 2WD and the Japanese company recently filed a patent for a new 2WD system with an electric motor driving the front wheel.
Other 2WD products and concepts include the Christini dirt bikes, Suzuki Nuda concept, Rokon, Ural 2WD outfits and Australia's own Drysdale stroker which was intended for the Australian Army.
But the biggest hint that BMW may actually be considering a 2WD bike comes from BMW accessories company Wunderlich. 
In 2016, they developed an electronic two-wheel-drive system for the R 1200 GS that also gives it a reverse gear.
The Wunderlich invention is basically a 7.6kW electric hub motor in the front wheel that neatly fits inside the ABS ring.
It sounds very similar to what BMW proposed in their 2017 April 1 press release.
Many online sites fell for that joke, but they weren't the only ones playing pranks that year.
Other pranks included an Australian Government law to make all bikes water-cooled, Holden producing motorcycles, Triumph introducing a HandleWheel to replace the handlebars and the American Transportation Department requiring all bikes to be fitted with a $35 limiter that restricted top speed to 75mph (120km/h). The latter caused much angst and confusion among riders!
At Motorbike Writer, we report the news and don't play pranks with our readers.
This is from the BMW Motorrad April 1, 2017, press release on the "xDrive Hybrid" bike:
All-wheel drive can be operated automatically or manually by the rider via the 2WD (Two-Wheel Drive) switch located on the left handlebar operation unit. It activates the wheel-hub e-Drive system which functions both as electric motor and generator. With the additional output of 33 kW (45 hp) and overall 125 kW (170 hp) system performance, the innovative all-wheel drive system opens up a whole new dimension of performance and off-road suitability.

A new generation of batteries, derived from BMW i battery technology, stores the energy recuperated during braking. The e-Drive system on the front wheel is supplied with this energy and the R 1200 GS xDrive Hybrid rider can use it for accelerating in addition to the power delivered by the combustion engine. Thanks to sophisticated management technology the power is always supplied to the front wheel in the right amount and appropriately depending on the riding situation. This means that the front wheel only receives the amount of power as the traction conditions permit – for example in wet or deep snow conditions. The rider can use a number of riding modes to customise how the all-wheel drive system operates and adjust the hybrid system's recuperation strategies to suit his needs. Everything can be controlled using the innovative LCD display.

Optimised braking performance and balanced weight ratio thanks to intelligent recuperation and single disc brake.

Apart from the significant advantages achieved with regard to ride performance, the xDrive Hybrid all-wheel drive also benefits braking greatly. Thanks to the recuperation process, which has been integrated into the BMW Motorrad ABS system, braking performance has been improved even further.

This intelligent combined solution also made it possible to reduce the conventional double-disc hydraulic braking system at the front to a single-disc brake system thereby saving approximately 2.9 kilograms of weight. In combination with the wheel hub e-Drive, which only weighs 880 grams, the bike's agility was also optimised. Thanks to the bike's positive weight balance, the weight level of the current R 1200 GS Adventure could be maintained in spite of the additional hybrid all-wheel technology.

This bike will get you anywhere, on any surface – even to the North pole.

In the past months the test version of the new R 1200 GS xDrive Hybrid covered countless thousands of kilometres in the toughest of riding conditions. The most extreme demands were placed on the bike last winter, when Reiner Scherbeck, the head of winter testing at BMW Motorrad, rode it to the North Cape on a first stage and from there across the frozen Barents Sea to the North Pole and back again.

Scherbeck: "We were absolutely amazed how problem-free and reliable the all-wheel drive worked even at minus 56 degrees. Thanks to our functional BMW rider equipment, the cold temperatures were no problem for the rider, too. Probably the most thrilling conclusion we can draw from our test runs, is that for the first time we can offer a motorcycle that makes riding a motorcycle a pleasure at snow depths of 1.25 metres in high winter with the new R 1200 GS xDrive Hybrid. Special front section components have also been developed for this purpose as well as high-speed suitable M+S all-season tyres. This was also necessary in order to meet the necessary requirements for high-speed winter operation."  

The new BMW R 1200 GS xDrive Hybrid will be presented to the public in a suitable location very soon. It will be available from the second half of 2017. BMW Motorrad will announce special tyre combinations and optional equipment features as well as the official sales price at a later date.