BMW K1600GT and K1600 GTL Final Production Versions Announced
---
The BMW K 1600 GT and K 1600 GTL: Introduction
October 5, 2010 – BMW announced today the final production version of the BMW K 1600 GT and GTL.
Both of these motorcycles feature the brand-new BMW 6-cylinder engine.
We first presented the engine in the concept study of the Concept 6 (Photos and Information) in November of 2009.
Then came the first photos and specifications of the K 1600 GT in July of this year.
Now it's here and it was formally announced and displayed at the Fall 2010 Intermot show in Cologne, Germany.
It was also introduced at the 2010 EICMA show in Milan, Italy and here are the photos and video of the K 1600 GT and GTL.
BMW sent the most recent information and photos of the bikes, presented here in edited form.
BMW Announces K 1600 GT Pricing
February 14, 2011 – BMW announced pricing today for the new K 1600 GT and K 1600 GTL.
The K 1600 GT will have a base Manufacturers Suggested Retail Price (MSRP) of $20,900. The K 1600 GTL will have a base MSRP of $23,200.
An additional destination charge of $495 is not included in MSRP.
Both new models will be available for purchase through authorized BMW Motorrad USA dealers this Spring.
UPDATE: Photos and video of the K 1600 GT and GTL live from the EICMA 2010 show!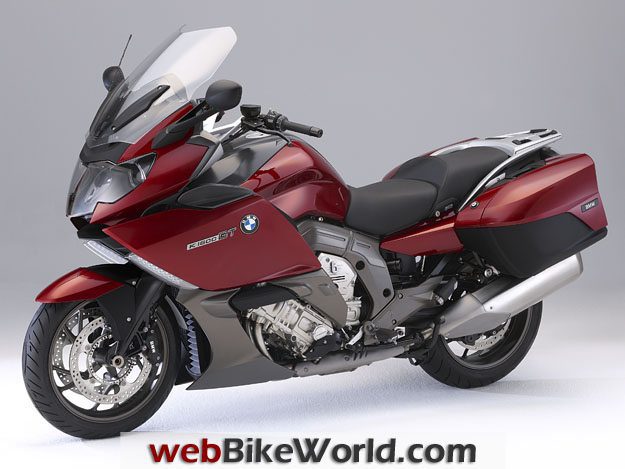 BMW K 1600 GT and BMW K 1600 GTL – fascination with six cylinders.
Ever since BMW Motorrad presented the Concept 6 (Photos and Information) in autumn 2009, the new 6-cylinder in-line engine installed in it has caught the imagination of many motorcycle fans.
For over seven decades now, 6-cylinder in-line engines have stood for fascinating engine technology in automobiles at BMW more than with any other brand.
With the new K 1600 GT and K 1600 GTL, BMW motorcycles are now available for the first time with a 6-cylinder in-line power unit developed in-house.
The two touring motorcycles have a supreme, impressive and equally distinctive appearance, creating a desire to travel at first sight.
Riding dynamics, long-distance suitability and comfort.
For decades, 6-cylinder in-line engines have exercised a special fascination. In addition to their perfect running smoothness they also offer supreme output and torque, giving the rider powerful emotional impressions.
Safety, equipment and comfort along with prestige and dynamic performance are the key criteria for a supreme touring bike.
With the most compact in-line 6-cylinder engine in serial motorcycle production to date, the K 1600 GT and the K 1600 GTL penetrate a whole new dimension in terms of riding properties, long-distance suitability and comfort.
They combine maximum agility and riding dynamics with a luxurious overall package.
With an engine output of 118 kW (160 bhp) and a maximum torque of 175 Newton meters, the 6-cylinder engine provides superb propulsion in all conditions.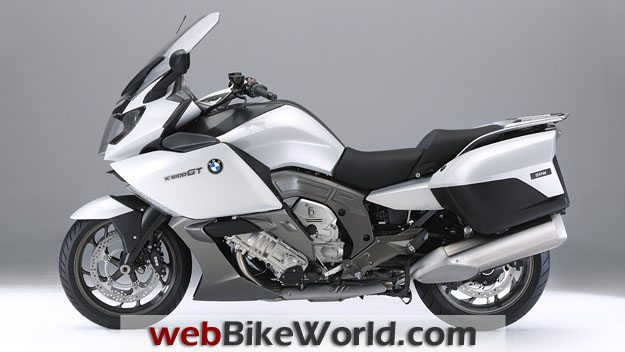 Lightest and most compact serial production 6-cylinder in-line engine in a motorcycle greater than 1000 cc.
Previously, the in-line arrangement of six cylinders resulted in either very long or very wide constructions, depending on the installation position, which led to drawbacks in terms of chassis geometry, weight distribution and centre of gravity.
This where the K 1600 GT and K 1600 GTL break new ground.
Weighing 102.6 kilograms, the engine is by far the lightest serially produced 6-cylinder in-line engine for motorcycles in the class greater than 1000 cc.
What is more, the engine is significantly narrower in construction width than all other 6-cylinder in-line motorcycles in serial production to date.
This extremely compact construction and reduced width was achieved in particular by means of a cylinder bore of 72 millimeters in conjunction with a spacing of just 5 millimeters between the cylinder the cylinder sleeves.
Both the low engine weight and the consistent lightweight construction of the vehicle as a whole contribute to the low weight of the vehicle.
At 319 kg (K 1600 GT without panniers) and 348 kg (K 1600 GTL with panniers and topcase) the new touring bikes are in the lower range of the segment.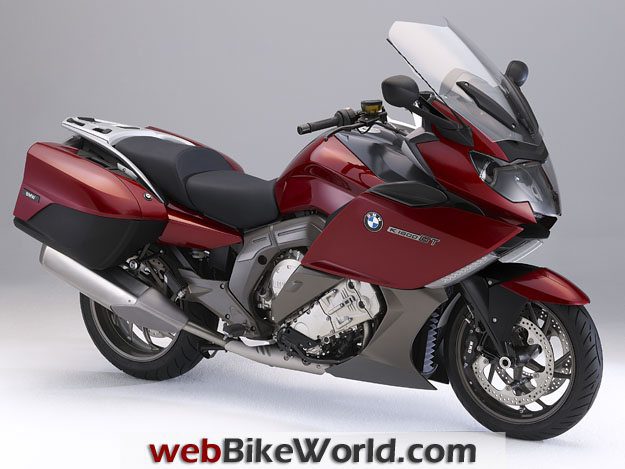 Three modes to choose from and DTC (Dynamic Traction Control) for maximum safety when accelerating.
The rider of the K 1600 models has three different engine characteristics directly available at the press of a button at the right-hand end of the handlebars.
This allows the rider to be able to adapt to different uses such as touring on the road, riding on wet surfaces and sporty, dynamic motorcycling – the modes "Rain", "Road" and "Dynamic".
Available as an option ex works, the traction control function DTC is combined individually with the different modes, fully harmonised with them so as to provide maximum riding safety.
E-gas Throttle Control
The control of the central throttle valve with a diameter of 52 millimeters is effected via an e-gas, also known as a ride-by-wire system. The rider's wishes are registered by means of a sensor in the accelerator twist grip.
The engine control then adjusts the position of the throttle valve accordingly.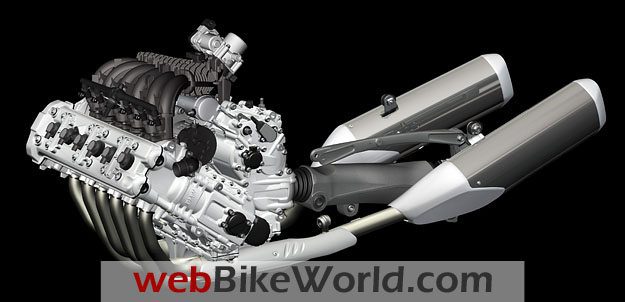 Chassis with ideal mass concentration for dynamic riding properties.
The essential chassis elements of the BMW K 1600 GT and K 1600 GTL are the light alloy bridge-type frame, and the Duolever and Paralever for wheel control at front and rear.
Because of the special requirements of a touring bike with a 6-cylinder engine, particular attention was paid to balancing the masses.
All in all, the interplay of chassis and engine position, together with the seating position of the rider, makes for a low overall center of gravity with a very favorable concentration of masses.
It also provides an ideally balanced wheel load distribution for excellent riding properties.
The combination of ride stability, riding dynamics and lightness of handling in all riding and load conditions sets a new benchmark in the touring bike segment.
Electronic Suspension Adjustment ESA II for optimum adaptation to all uses and load states.
The new 6-cylinder touring bikes also benefit from the innovative Electronic Suspension Adjustment II (ESA II), which is offered as a special equipment feature ex works.
With this system, globally unique on the motorcycle market, the rider can conveniently press a button to electronically adapt not only the rebound damping properties of the front and rear spring strut but also the spring rest ("spring preload") of the rear spring strut.
Also adjustable is the latter's spring rate and therefore the "hardness" of the suspension.
This makes for outstanding stability and impressive responsiveness in all load states.
The additional adaptation of the spring rate allows the damping settings "Sport, Normal, Comfort" to be spread widely in ESA II, giving them clearly perceptible characteristics during riding.
So in "Sport" mode, the K 1600 GT and K 1600 GTL are even more dynamic and precise and in "Comfort" mode they are more comfortable while still retaining excellent stability.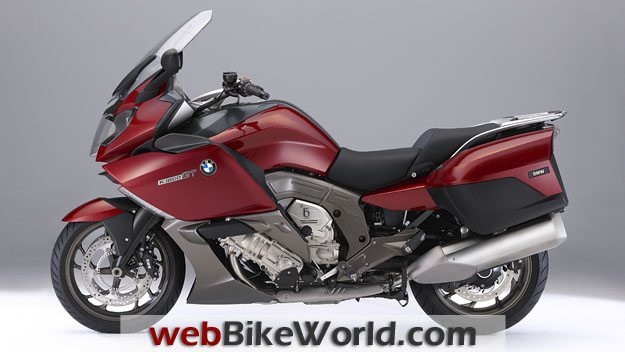 Adaptive headlight – a world first for increased safety at night.
With the new BMW Motorrad touring bikes, the first ever "Adaptive Headlight" option is available from the factory as a supplement to the standard xenon headlamp.
In addition to standard pitch compensation, the light of the main headlamp is also balanced in relation to banking angle.
This produces significantly improved illumination of the road when cornering and therefore an enormous increase in active riding safety.
Integrated operating concept with Multi-Controller, TFT colour screen and menu guidance.
The instrument panel of the K 1600 models comprises two classic circular instruments for the speedometer and tachometer and a 5.7-inch TFT color display. The design of the information display is also completely new in the motorcycle field.
Among other things, it enables the attractive presentation of text and graphics over several lines.
Another world first is the Multi-Controller as part of an integrated operating concept, first introduced in the BMW R 1200 RT at the end of 2009.
In addition to audio system control, the K 1600 models also have a menu for operating the comfort functions and on-board computer.
Innovative design with outstanding wind and weather protection.
Particular attention was paid during development to the combination of innovative design, optimum wind and weather protection and the very highest level of functionality.
A very good example of this is the electrically adjustable windshield with memory function.
The bike's aerodynamic qualities in terms of reduced air swirl — especially in the pillion passenger area — were developed in sophisticated wind tunnel tests.
But the windshield not only protects the rider and pillion passenger: it automatically returns to the starting position when the ignition is switched off, acting as an anti-theft system for the optionally available navigation system.
BMW K 1600 GT with active riding ergonomics for proactive touring.
The design of the ergonomic triangle from the position of the footrests, seat top and handlebars makes for a highly proactive seating position in the K 1600 GT, while still retaining a high level of long-distance comfort.
The rider and pillion passenger enjoy a comfortable knee angle but the seating position is geared towards the front wheel for a dynamic riding style.
The seat is height-adjustable in the rider area so that it can be adapted to individual needs.
The K 1600 GT is has a very extensive range of standard features from the factory, consisting of xenon headlamps, heated grips and seat, cruise control and on-board computer.
In conjunction with the supreme riding qualities of the new BMW Motorrad 6-cylinder engine, this motorcycle leaves nothing to be desired as far as the proactive touring rider is concerned.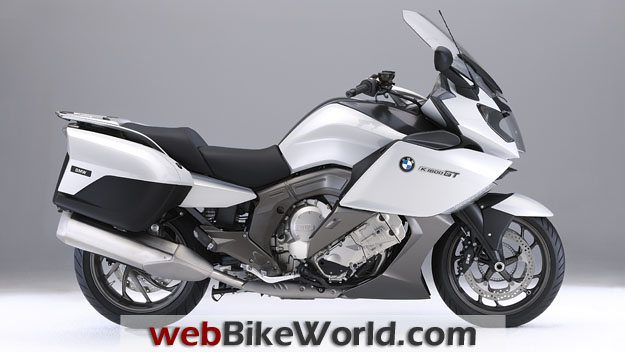 BMW K 1600 GTL with very comfortable, relaxed ergonomics set-up for long trips with pillion passenger.
The luxurious touring bike BMW K 1600 GTL meets the very highest demands.
Rider and pillion passenger benefit from the very relaxed, upright seating position as is especially appreciated over long distances.
The ergonomic design is geared towards maximum comfort and derives from a single-section, dual level seat in conjunction with rider footrests which are further forward and lower, as well as handlebars which reach further backwards.
The standard top case rounds off the range of comfort features for the pillion passenger.
Like the K 1600 GT, the K 1600 GTL has a very extensive range of standard features consisting of xenon headlamps, heated grips and seat, cruise control and on-board computer.
The overall impression of the fascinating 6-cylinder motorcycle in combination with a carefully conceived storage concept, a standard audio system and numerous design elements make the BMW K 1600 GTL the flagship model among the BMW Motorrad touring bikes.
Individual paint finish concepts adapted to the character of each bike.
As touring bikes, the new BMW K 1600 GT and K 1600 GTL stand for a perfect synthesis of supremacy, dynamic performance and comfort. This is also reflected in the coloring of the two models.
In the K 1600 GT, the body colors of Light Grey metallic and Vermilion Red metallic create a fascinating contrast with the frame and wheels in Ostra Grey and the engine in Platinum metallic matt.
The coloring especially highlights the bike's technical components. The lines are concentrated and give the motorcycle a marked sense of agility.
With its emphasis on comfort and equipment, the K 1600 GTL has a powerful presence and elegance with elongated lines.
This was achieved by means of a harmonious interaction between body colors and the coloring of the engine and chassis components.
Here, Mineral Silver metallic or Royal Blue metallic 2 provide a perfect match for the Magnesium metallic matt of the painted frame and wheels. The engine in Platinum metallic matt ensures an appealing overall impression.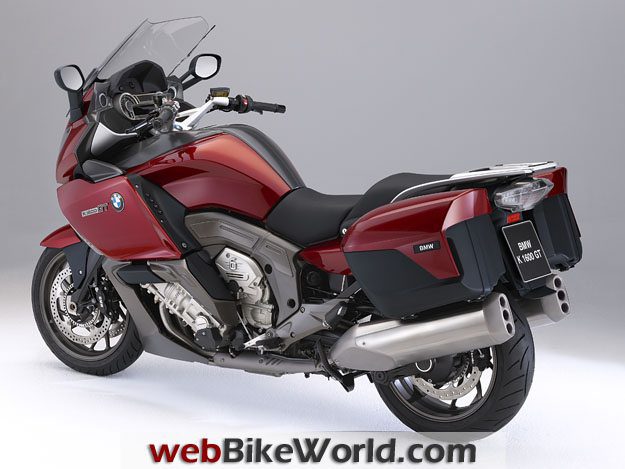 An overview of highlights of the BMW K 1600 GT and BMW K 1600 GTL:
Supreme in-line 6-cylinder engine with a high level of pulling power, especially in the lower and medium engine speed range.
Engine output 118 kW (160 bhp) at 7,750 rpm and maximum torque 175 Nm at 5,250 rpm.
Over 70 per cent of the maximum torque is already available from 1,500 rpm.
The lightest and most compact 6-cylinder in-line engine in serial motorcycle production greater than 1000 cc weighing just 102.6 kg and measuring 555 mm in width.
Consistent lightweight construction throughout the entire vehicle (magnesium front panel carrier, aluminum rear frame, crankshaft etc.).
E-Gas.
Three modes to choose from ("Rain", "Road", "Dynamic")
High active safety due to standard BMW Motorrad Integral ABS (part integral).
Dynamic traction control DTC (Dynamic Traction Control) for maximum safety when accelerating (optional extra).
Chassis with Duolever and Paralever and ideal mass concentration for dynamic riding properties combined with optimum comfort.
Electronic Suspension Adjustment ESA II for optimum adaptation to all uses and load states (optional extra).
World premiere in a motorcycle: Adaptive Headlight (optional extra) for increased safety at night in conjunction with standard xenon headlamp and fiber optic rings.
Integrated operating concept with Multi-Controller, TFT color display and menu guidance for the first time.
Audio system with preparation for navigation device and controllable interface for iPod, MP3, USB, Bluetooth and satellite radio (USA and Canada only) (standard in the K 1600 GTL).
Innovative design with outstanding wind and weather protection.
K 1600 GT with active riding ergonomics for proactive touring.
K 1600 GTL with a very comfortable, relaxed ergonomics set-up for long trips with pillion passenger as well as luxurious touring equipment.
Central locking for storage compartments, panniers and top case (optional extra).
Extensive fittings and individually tailored accessories at the familiar high level of BMW Motorrad.
Publication Date: October 2010
Note:
 For informational use only. All material and photographs are Copyright © webWorld International, LLC since 2000. All rights reserved. See the webBikeWorld® 
Site Info page
. Product specifications, features and details may change or differ from our descriptions. Always check before purchasing. Read the
Terms and Conditions
!
Owner Comments and Feedback
---
From "J.S." (December 2011):  "Well, as usual, after Googling the stuffin's out of cyberspace, I come back to wBW for the real skinny on the new BMW's. Always the best.
But I've got a curmudgeonly reputation to protect, so after all the cyberdust has settled and hype is written (à la the BMW newspiece I just got online that quotes Motorcycle.com with the convoluted pseudo-superlative:
"The GTL has become the supreme motorcycle ever built" (sic-shouldn't that be "…most supreme…"?).
The GTL has become the supreme luxury-sport motorcycle ever built."
But OK, what really bothers me about all this "fly by wire" CANbus stuff is, what used to be a simple mechanical throttle control, auxiliary power outlet or taillight housing is now a computerized mini-brained black box with the attendant $$$$CD/US replacement cost.
And all that while the other folks are still meeting Euro-5 and other emission requirements with "primitive" things like carburetors, closed-loop exhaust emission controls.
Even a two-stroke mosquito fogger like the latest from Piaggio passes muster without so much big-bucks to-do.
I mean, if you inadvertently dump "my precious" on the left side and bung the throttle grip, or crack the taillight housing by backing into the garage and kissing your riding mower, you'll need an urban renewal loan to repair the damage.
And have you priced the BMW "battery keeper" that is required to fool the "smart" power outlet just to keep a post-2004 Beemer tip-top?
I don't even want to think about what a bruised 2012 "tilt-a-whirl" headlight assy. might set you back!
Throw in an optional tire pressure monitoring thingie and if it's any where near as unreliable as what's mandated on four-wheelers nowadays, sheesh!
And just how does the self-parking windshield add security to the the onboard nav. system? That thing is buried in the front panel, right?
If someone wants it, do you really think a slab of even high-impact acrylic is going to do more than slow them down??? But that little non-feature will set you back how much… Harrummph!"
Rick's Reply: You're preaching to the choir here, I'm having too much fun on my single-cylinder, carb-fed Suzuki DR650 (blog). It even has a cable that actuates the throttle!
---
From "M.W." (01/11):  "Some don't like the 'look' of the new K1600.
I say it looks like a motorcycle, and nice they opened the side panels a bit to allow for mounting after-market cruiser pegs without drilling into the slab side of the previous K****GT.
Also, engine heat from these super-sport tourers (Yamaha FJR, Honda ST13, Kawasaki C14) is a well known problem, with 118,000 Watts being generated between your legs, you might want some ventilation – that's a lot of heat guys!
My comment on the styling:
What is up with the big black 'grab-bar' above the cylinder on the left side of the bike, and no symmetrical equivalent on the right side?
Maybe it's another superb dynamic luxurious fascinating impressive propulsive technology to create a new dimension of distinctive appearance?
So much focus on the narrowness of the I-6 engine – not noteworthy in my book. Seems like the cylinders are well forward of the rider's leg area, ergonomically speaking – so why all the fuss.
Would there be as much excitement if they narrowed the R-series boxer engine?
All in all, the bike appears to be a winner, falling somewhere on the lighter and sportier side of a Goldwing and with loads more performance technology and nearly if not equal comfort.
Love the adaptive headlight, and see this as another innovative feature being brought to everyday motorcycling popularity by BMW — like the telescopic fork, shaft drive, fuel injection, anti-lock brakes, and traction control so many years ago.
Even if you're a BMW hater, you have to acknowledge this is awesome, and likely a life-saver many times over.
Seems everyone in the media publishes another wave of the same BMW marketing jargon. Only BMW would use "…supreme…impressive…distinctive…desire…" in the same sentence.
If Harley Davidson is the king of marketing, then BMW is next in line to the throne. I'll end it here as my Harley-Davidson brand wireless keyboard is running hot – I'd better shut it down."
---
From "D.M." (01/11):  "I am one of those "rich" people referenced and I ordered yesterday (GTL).
I started riding when I was 14 years old (53 years ago) on a Sears marketed Allstate scooter (Vespa) which I still have. I have moved through Ducati, Kawasaki, Honda and HD.
While I have paid close attention to BMW over the years, I have never owned one. When I ran across the release information for the K1600GTL I decided that I still have one more Alaska ride left in my old bones.
The only problem I have is that my ten car garage is full of motorcycles, but I will have to make room.
Unfortunately you won't buy mine @ 70% of retail next year because I will keep it forever…or until I die, whichever comes first…
Anyone interested in joining my bride of 46 years and me for a leisurely 'two-up' ride to AK, leaving mid July 2012 and returning some time before the weather sets-in is welcome…"
---
From "B.P." (11/10):  "Yeah everybody's a critic!! No one has even ridden one yet, so until you do shut the (heck) up!!!
I owned a 79 CBX and even though it didn't handle so well the sound was worth the price.
I now own a 2008 1200 GT, by far the best all around bike I have ever ridden. So when these hit the floor I will ride one and then wait a year for the 30% discount on a used one from the rich people who had to have a brand new one."
---
From "C.L." (10/10):  "I see the comments about the fairing and design on the new bikes, my present bike, a K1300GT, gets comments about the big unbroken side panels of the fairing, some call it "furniture plates".
Now, BMW has broken the lines, even a different colour on the lower part, and people say it looks like it has a 3/4 fairing. In my opinion, the new bikes are state-of-the-art in design and technology.
I called my dealer today, he told me it's a rush to get the new bike, if I want a new 1600GT before April, I would have to order now. People are trading in 1200-1300GT's, FJR's, ST's, 1200 RT, obviously older (touring) people with enough cash want this bikes.
BTW, the K1600GTL (standard) price in Norway is $55,920 USD at todays exchange rate!"
---
From "B.B." (10/10) (Response to P.H. below):  "Let us not forget the venerable Honda CBX which was produced from 1978-1982 and that some 40,000 were built in that timeframe.
At 1047cc, the DOHC 24 valve 105HP air/oil cooled transverse in-line 6 certainly qualifies it for inclusion into the club. The Benelli SEI should be considered but it only came in 750 and 900cc flavors and never crossed the 1 Liter boundary.
If you consider the CBX was nearly $4K when it was introduced (that's almost $18K in today's dollars) and while it was advanced for the day it has nowhere near the amount of sophistication and technology of the new king of sport tourers.
Now it's just a matter of coming up with the ubercash to buy one…There's always the lottery."
---
From "G.R." (10/10):  "Ummm…I read the other comments, and am compelled to say that I'd like to be so fortunate as to at least look at one of these machines up close.
My first motorcycle was a 1975 R60/6 with Vetter fairing and BMW hard cases, and I rode it almost exactly 10,000 miles the year I bought it.
I've tried other makes, and the only other one that I've been impressed with is the Victory Vision. Hey, some people think those are heavy and ugly, too, but maybe they need to ride one.
Y'know, if it has two wheels, and it's safe to ride, it's worth a try."
---
From "P.H." (10/10):  "The marketers were probably on holiday or hung over when they had to come with the copy for this launch.
According Wikipedia, the only "serially produced inline 6 engine over 1000cc" was the Kawasaki KZ1300 of 1979.
Well done BMW, only 30 years of development and your new engine is lighter than the KZ1300 even if the finished bike is almost exactly the same weight."
Editor's Note:  Can't tell, is this a compliment?
---
From "M.M." (10/10):  "Wow!  And UgLyy!  I thought I'd buy one because of the stats, but I didn't think 703 lb. is all that great for a sport touring bike.
Now after seeing the pictures it is plain ugly. Looks like somebody added an old Vickers 3/4 fairing onto a naked bike and pronounced it a sport touring bike.
Why not a full fairing? I've always liked BMW's definition of Sport Touring = GT.
Now they've pushed that definition into a mutation, looks like a puzzle picture of a large motorcycle with pieces of the picture missing where the fairing should be.
The GLT doesn't even look right. I won't pre-order just from the pictures. I'll give them one more look at the dealer."