BMW K 1300 S Review Summary
BMW K1300S
Summary
Since we as motorcyclists age like a fine wine as the years go by, we tend to gravitate towards a more balanced motorcycle rather than ride the razor's edge of a true sport bike.
Want proof?  Look no further than the sport touring market as that segment has exploded in recent years. Most mature riders seek out a motorcycle that maintains the performance they've grown accustom to over the years without enduring an uncomfortable riding position. Not to mention that the popularity of exploring one's surroundings is quite an enticing idea for those of us who sit in an office cubicle for 10 hours a day (you know who you are).
Enter the BMW K 1300 S. What's that, you say?  BMW only creates cars — not motorcycles.
On the contrary my fine freckled friend, as BMW Motorrad (the name given to this German company's motorcycle business unit) has been producing motorcycles since 1923 when it produced its first motorcycle – the R32.
Even though BMW sold over 100,000 units in 2008 alone, the company is designing new motorcycles for a variety of markets (e.g., the S1000RR sport bike). If you do order a K 1300 S — or any other BMW motorcycle for that matter —  it will be manufactured at their exclusive Berlin facility.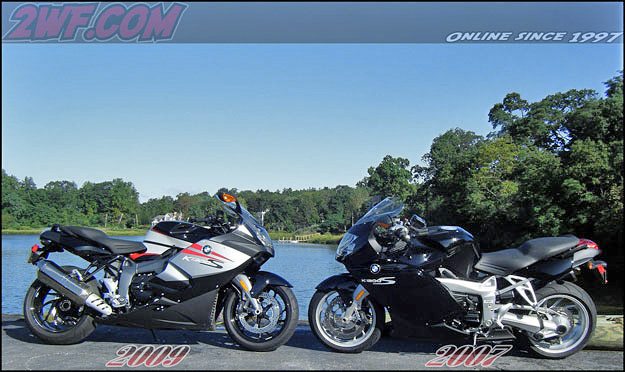 Style is always subjective, but I like the sharp lines, angular fuel tank and large headlight housing of the K 1300 S. The integrated front turn signals in the mirrors along with the sculpted windshield create a smooth profile and an aesthetically pleasing front view. Add in a well-designed cockpit and the K 1300 S won't be misconstrued as anything but a BMW.
Speaking of the instrument panel, someone in Germany must have listened to my voicemails, as it has everything (and I do mean everything) a rider would want to know about how his or her motorcycle is performing.
The large analog tachometer and white face speedometer are easy to read (backlit at night with an orange hue), as are the turn signal indicator lights, the neutral indicator and the ABS light. The K 1300 S has joined all of the UJM (Universal Japanese Manufacturer) motorcycles too, as it now places the turn signal switch on the left side of the clip-on handlebars instead of BMW's customary independent left and right switches.
The other main items that you might come to expect from a dash are clearly visible within the LCD, such as the clock, air/coolant temperature and trip meters. Not only that, but you also have readouts for fuel range, highest speed traveled, TPM (tire pressure monitoring), suspension and gear selection, heated grips and [wait for it] a fuel gauge.
Yes, finally a manufacturer has combined all the relevant information into one clear and concise instrumentation cluster. I think BMW owes the dashboard team a few rounds of Weizenbock.
BMW is certainly known for using technology in its motorcycles and the K 1300 S is no exception. Whether it's the ABS (Anti-Locking Braking System), ASC (Automatic Stability Control), ESA II (Electronic Suspension Adjustability) or GSA (Gear Shift Assistant), this motorcycle has enough technology to make George Lucas blush.
The fascinating thing about what BMW has done is that all of the systems work seamlessly together without one dominating the others. Not an easy task by any means when these types of systems have to deal with complex situations including, but not limited to, varying road conditions.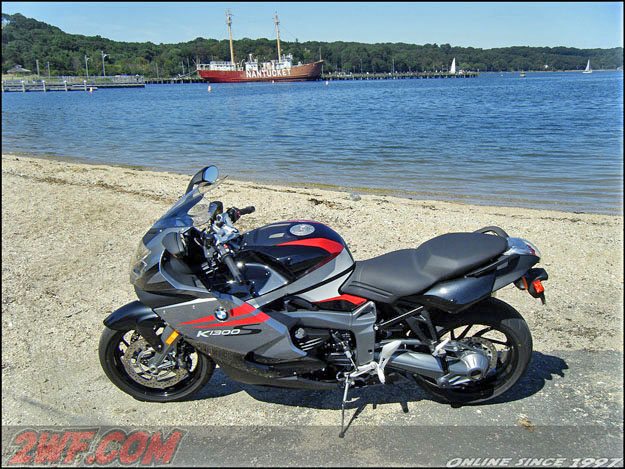 All the fancy electronics will always take a back seat to the one crucial part of a motorcycle: its tires. And here, too, the K 1300 S doesn't disappoint.
With an aluminum single-sided swingarm and cast aluminum rims mounted with a Bridgestone Battlax 120/70-17 front and 190/55-17 rear, the tires provide ample grip and warmed up rather quickly, considering the fall-type weather I experienced while riding.
With a length of 86 in. and a weight of 560 lbs. (road ready), this latest K 1300 S is slightly heavier than the outgoing version; 14 lbs. to be accurate. Although most manufacturers try to decrease weight for obvious reasons, no doubt some of this added weight is due to stricter emissions controls. The good news is that this additional mass isn't noticed while at speed and there are a few more ponies (8 hp and 7 ft. lbs. of torque) on tap for 2009 vs. 2008.
Now normally I'd say that in order to ride a bike like this you'd have to be graced with some decent height but since BMW offers a low seat option that lowers your at-rest position by 1.1 in. (31.1 in. vs. 32.3 in.), you don't need to be a six-plus footer. Those that fall short of that mark rejoice as you should be able to flat-foot the K 1300 S without a problem. Whichever height range you fall into, between the adjustable levers, high clip-ons and different seat options, the K 1300 S should fit your statue perfectly.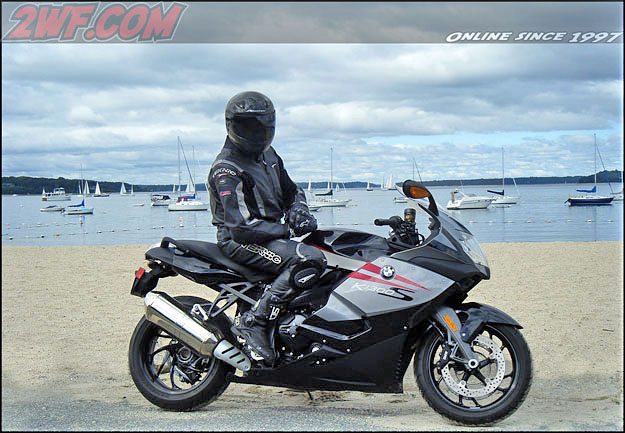 It's apparent that the engineers who designed this motorcycle don't live in a vacuum, as there's plenty of knowledge transfer across all the divisions of BMW. Case in point: The M-Technik (or just "M" for Motorsport) engineers surely gave some guidance when it was time to create the new engine for the "K".
The bore and stroke was changed to 80 x 64.3 mm (up from 79 x 59 mm) so that the 1,293 cc liquid-cooled four-stroke in-line four-cylinder engine with four valves per cylinder, two overhead camshafts and dry sump lubrication now produces 175 hp @ 9,250 rpm and 103 ft. lbs. @ 8,250 rpm. The compression ratio of 13:1 remains unchanged.
Big HP and tons of torque are available anywhere in the rpm range and the only restraint this engine has is your right hand. If left to its own devices it — and you — will easily pass the triple digit mark and blow the doors off of anything on the road. Perhaps a trip to Germany to travel the Autobahn or a take a few hot laps around Nürburgring wouldn't be a bad idea if you want to truly experience all of what the K 1300 S engine has to offer.
The stock exhaust has a nice snarl to it but after riding with another K 1200 S that had an Akrapovic exhaust fitted, I'd most likely change to that. Not only will the bike lose weight but it will also gain a few more horsepower in the process. Of course, your fuel consumption may spike since you're going to want to hear the bike sing like it was performing Beethoven's Fideliobut with a 5 gal. fuel tank (1 gal. reserve) I think you'll find it's worth the cost.
All that horsepower and torque is put to the ground via a constant mesh 6-speed gearbox with multiple-disc clutch mated to a shaft drive. There are many pros and cons regarding shaft, chain and belt drive systems (many of which I've discussed before), but BMW's shaft drive is as smooth as silk.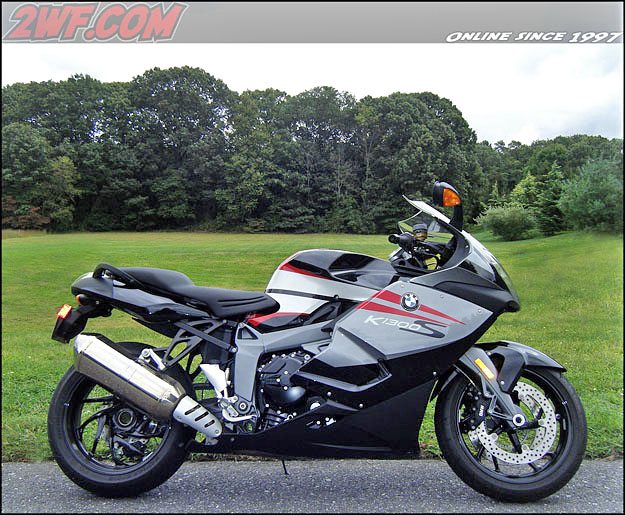 The shifting is exact and there's no lag between shifts. Incorporate the GSA (gear shift assistant) option and clutchless upshifts and downshifts are a breeze. You can literally click through 6 gears in a manner of seconds without ever letting off the throttle. There is a bit more "clunk" in the gearbox while shifting this way but it's a small price to pay for keeping the power going.
Obviously with this much power you're going to need a braking system that's up to the task. Although the K 1300 S doesn't have radial mounted brakes it nonetheless has a very capable braking system. Up front there are dual 320 mm floating discs and 4-piston fixed calipers. Out back a single 265 mm, double-piston floating caliper handles your stopping requests.
These ABS-outfitted brakes had good initial bite, excellent feedback at the lever and overall worked well. Perhaps there might be some flexing with these conventional units compared to a radial mounted setup but you'd be hard pressed to notice it and if you did, I'd have to assume you're at the track doing your best impression of Troy Corser.
If you're one of the few that are lucky enough to do a track day or stretch the legs of the K 1300 S on your favorite canyon roads then you're definitely going to want to have a suspension package that can handle each of those environments. The K 1300 S implements what BMW calls a Duolever front suspension. BMW first introduced this type of suspension in 2004 and it's now standard equipment on the S, R and GT versions of the "K" series.
As you've probably noticed already there are no conventional sliding forks. Instead there are two trailing links made of forged steel which are attached via rolling bearings to the bridge-type frame.
A central spring strut, which adjusts the suspension and damping, is linked to the lower of the two trailing links and rests against the frame. A trapezoidal shear joint mounted to the control head and the wheel carrier is coupled with the handlebar. This shear joint transmits the steering movements. The advantage of this type of front suspension is its torsional rigidity, thus equating to very precise suspension movements along with enhanced rider feedback.
The rear suspension isn't the normal piggy-back unit either. The rear employs BMW's Paralever system, which decouples torque reaction as the suspension compresses and extends, avoiding the tendency to squat under braking and reducing tire chatter from the road surface.
In 2005, along with the introduction of the "Hexhead" engine, BMW inverted the Paralever and moved the torque arm from the bottom to the top of the drive shaft housing which increased ground clearance on the left side while in full lean.
Alright, you say, that's all fine and dandy but does it really work? Absolutely. The bike feels extremely stable at high speeds and can carve a corner like a middle weight sport bike. If you opt for the ESA option then you can change the damper settings "on the fly" (moving or not).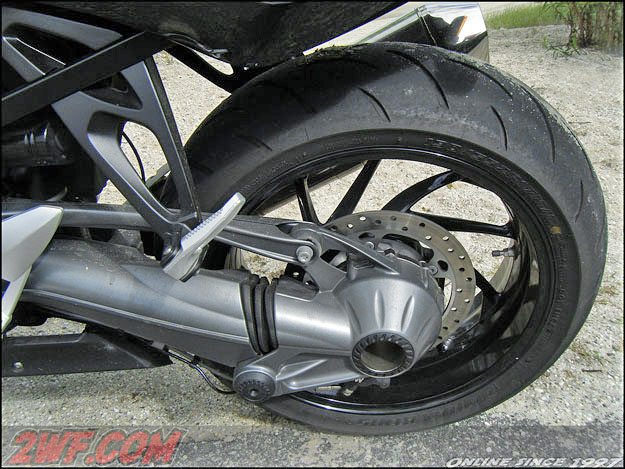 Three settings are available: "Comfort", "Normal" and "Sport." You can also adjust the preload (when stationary) by holding down the ESA button and selecting three additional settings represented by small icons– one helmet (one rider); one helmet and luggage or two helmets (one rider and a passenger).
I sampled all of these settings with and without a passenger and I certainly noticed a difference. Each setting is distinctive and best of all you can change into these modes by just a push of a button. No tools required; but don't let your spanner wrench hear you say that.
All of that technology doesn't come cheap though and for that kind of money you expect a lot from a motorcycle. BMW recognizes this and is solidifying their status as a technological leader by investing heavily in R&D (as it's apparent with the "K" series) and producing systems that aid you as a rider rather than isolate you from your ride entirely.
Luckily for us, BMW has struck the right balance of embedding technology into their motorcycles to not only make us better riders but also make the ride more enjoyable.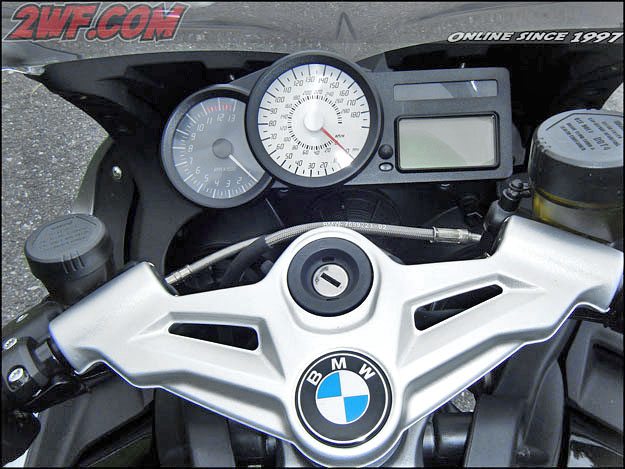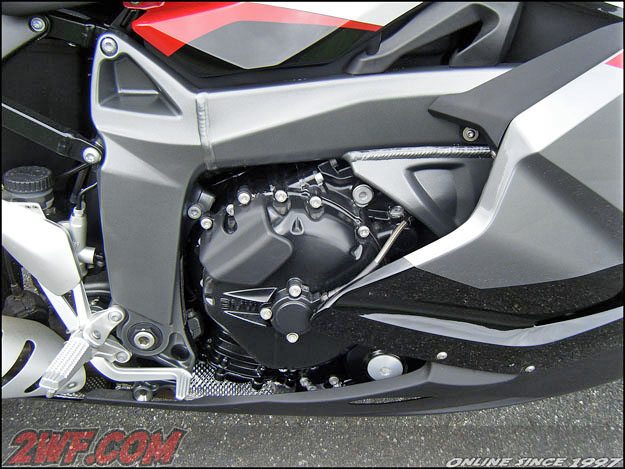 The 2009 BMW K 1300 S has three color choices: light grey metallic, lava orange metallic and sapphire black/granite grey/magma red. If you really want to stand out from the crowd then I'd suggest the lava orange otherwise either of the other two color schemes would be my choice.
The "K" has a manufacturer's suggested retail price (MSRP) of $15,250. Choose the standard package (adding heated grips) and the price rises to $15,500.
The premium package, consisting of heated grips, GSA, ESA II, ASC, and TPM will set you back $17,500. Add in an alarm, luggage grid and the sapphire tri-color scheme and you're fully loaded at $18,695. Visit BMW's web site for more information.
More:  wBW Motorcycle Reviews Directory
2009 BMW K1300S – Specifications

Engine
Type:  Water-cooled 4-stroke in-line four-cylinder-engine, four valves per cylinder, two overhead camshafts, dry sump lubrication
Bore x Stroke:  80 mm x 64.3 mm
Capacity:  1293 cc
Rated output:  175hp (129 kW) at 9,250 rpm
Max. torque:  103 ft. lbs. (140 Nm) at 8,250 rpm
Compression ratio:  13.0 : 1
Engine Management
Electronic intake pipe injection/digital engine management including knock sensor (BMS-K)
Emission control:  Closed-loop 3-way catalytic converter, emission standard EU-3
Performance
Maximum speed:  Over 125mph 200 km/h
Fuel consumption per 100 km at constant 90 km/h: 4.7 l
Fuel consumption per 100 km at constant 120 km/h: 5.3 l
Fuel type:  Unleaded Premium
Electrical System
Alternator:  three-phase alternator 580 W
Battery:  12 V / 14 Ah, maintenance-free
Power Transmission
Clutch:  Multiple-disc clutch in oil bath, hydraulically operated
Gearbox:  Constant mesh 6-speed gearbox
Drive:  Shaft drive
Chassis and Brakes
Frame:  Bridge-type frame, cast aluminum, load-bearing engine
Front wheel location / suspension:  BMW Motorrad Duolever; central spring strut
Rear wheel location / suspension:  Cast aluminum single-sided swing arm with BMW Motorrad Paralever; central spring strut with lever system, spring pre-load adjustable hydraulically (continuously variable) at handwheel, adjustable rebound damping
Suspension travel front / rear:  4.5 inches (115 mm) / 5.3 inches (135 mm)
Wheelbase:  62.4 inches (1585 mm)
Castor:  4.1 inches (104.4 mm)
Steering head angle:  60.4°
Wheels:  Cast aluminum
Rim, front:  3.50 x 17″
Rim, rear:  6.00 x 17″
Tires, front:  120/70 ZR 17
Tires, rear:  190/55 ZR 17
Brake, front:  Twin disc, floating brake discs, diameter 320 mm, 4-piston fixed calipers
Brake, rear:  Single disc brake, diameter 265 mm, double-piston floating caliper
ABS:  BMW Motorrad Integral ABS (part-integral) standard equipment
Dimensions and Weights
Length:  86 inches (2182 mm)
Width (incl. mirrors):  35.6 inches (905 mm)
Height (excl. mirrors):  48 inches (1221 mm)
Seat height, unladen weight:  32.3 inches (820 mm) (low seat: 31.1 inches [790 mm])
Inner leg curve, unladen weight:  71.2 inches (1810 mm) (low seat: 68.9 inches [1750 mm])
Unladen weight, road ready, fully fuelled:  560 lbs (254 kg)*
Dry weight:  503 lbs (228 kg)**
Permitted total weight:  1014 lbs (460 kg)
Payload (with standard equipment):  454 lbs (206 kg)
Usable tank volume:  5 U.S. gallons (19 liters)
Reserve: Approx. 1 U.S. gallon (4.0 liters)
* According to guideline 93/93/EWG with all fluids, fuelled with at least 90% of usable tank volume.
** Unladen weight without fluids.
 Publication Date: November 2009
Note:
 For informational use only. All material and photographs are Copyright © webWorld International, LLC since 2000. All rights reserved. See the webBikeWorld® 
Site Info page
. Product specifications, features and details may change or differ from our descriptions. Always check before purchasing. Read the
Terms and Conditions
!
Owner Comments and Feedback