2012 BMW G 650 GS Sertão
2012 BMW G650GS Sertão Preview
November 7, 2011 – BMW had many new motorcycles to present at the 2010 EICMA show, including the Concept C scooter, the six-cylinder K 1600 GT and GTL and the new G 650 GS.
This year, not much is new at BMW, so the G 650 GS gets a bit of a makeover with the G 650 GS Sertão, "the sporty BMW single cylinder enduro for offroad and everyday", according to BMW.
Here's an edited version of the BMW press release and photos, with more "live" coverage coming this week from the 2011 EICMA show.
With the BMW G 650 GS Sertão, BMW Motorrad has added a new, sporting chapter to the history of single cylinders in the BMW GS family.
Whereas the G 650 GS thrilled riders with its lean, wiry offroad stature, the G 650 GS Sertão promises even more sporting characteristics, even greater offroad capabilities, and an even stronger desire for adventure.
And all of this without any sacrifice to the established virtues of a BMW single cylinder endure such as everyday practicality, appealing price-performance ratio, and playful riding properties.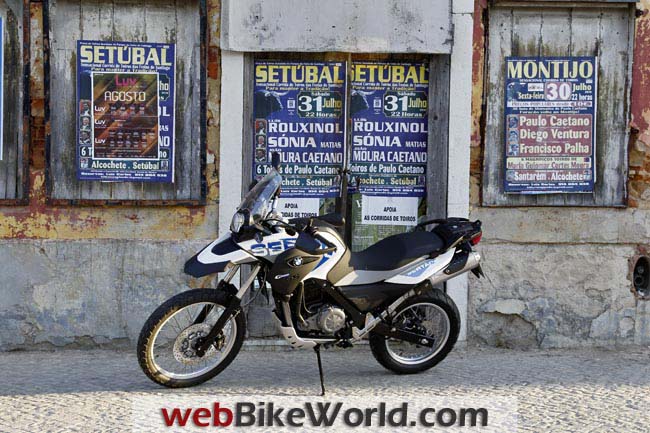 Chassis for greater offroad practicality, optimised touring properties, and dynamic design.
On the technical side, the new G 650 GS Sertão uses the established liquid cooled, high-torque single cylinder engine of the G 650 GS with two overhead camshafts, fuel injection, and double ignition.
Its 652 cc displacement delivers 35 kW (48 hp) at 6500 rpm and a max torque of 60 Nm at 5000 rpm. Options include output reduction to 25 kW (34 hp) at 6500 rpm and 47 Nm torque at 4500 rpm.
Whereas the G 650 GS chassis was developed primarily for country roads and light offroad use, the Sertão presents far greater offroad practicality in the form of longer spring travels and tighter tuning. In addition, it is fitted with wire spoke wheels. Also the new colour concept underscores the dynamic character of the single cylinder enduro.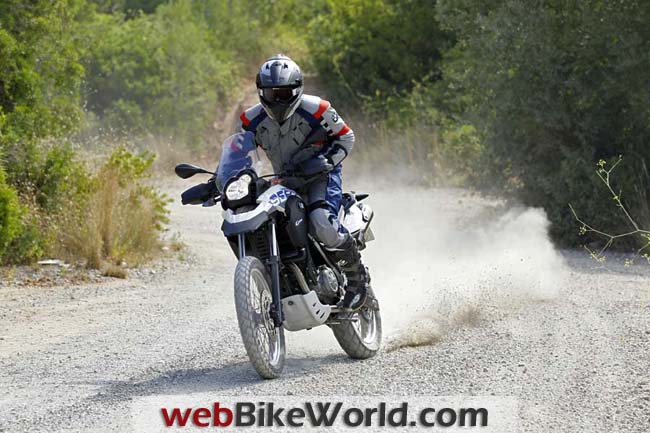 The essential features of the new BMW G 650 GS Sertão at a glance:
High-torque and low-consumption single cylinder engine with 652 cc displacement.
Max torque of 60 Nm at 5000 rpm and max output of 35 kW (48 hp) at 6500 rpm.
Output reduction to 25 kW (34 hp) available.
Offroad chassis concept with long spring travels (front/rear 210 mm).
Wire spoke wheels with light alloy rims.
Wheel sizes 21″ front and 17″ rear.
Dynamic colour concept in Aura White / Arroyo Blue with Sertão lettering and seat in black/grey.
Luggage carrier in black.
Extended top front wheel cover.
Two seat heights: 860 mm (standard) and 900 mm (special accessory).
High windscreen.
Hand protectors.
Engine guard of aluminium.
Disengageable BMW Motorrad ABS (option ex works).
Extensive range of special accessories.
2. Technology and design.
Longer spring travels and wire spoke wheels for greater offroad fun.
The BMW G 650 GS did not need long to win the hearts of many fans who were thrilled by the chassis designed for the greatest possible agility and carefree cornering fun on country roads, but without sacrifice to comfort or touring properties.
Moreover, its high level of riding stability, steering precision, and handling immediately instils confidence even in motorcycle starters.
With the new BMW G 650 GS Sertão from BMW Motorrad, the G 650 GS has now been joined by a sister model that gives even greater prominence to the offroad talents of the agile single cylinder enduro.
To this end, the front and rear suspension elements were fitted with longer spring travels. Fitted with fork tubes of 41 mm diameter and a stabiliser, the telescopic fork can now travel over 210 mm instead of 170 mm.
Also the rear suspension system, consisting of a dual swingarm, central spring strut and rocker, features a 210 mm instead of the 165 mm spring travel. In addition, the wheelbase has been extended from 1477 mm to 1484 mm, now providing even greater directional stability on offroad terrain.
The G 650 GS Sertão can also be fitted with other wheels that cater to a more sporting offroad taste. Unlike the G 650 GS fitted with cast alloy wheels, the Sertão sports high quality wire spoke wheels with alloy rim rings and hubs.
With their larger front wheel diameter of 21 instead of 19 inches and smaller rear wheel rim width (3.00 x 17″ instead of 3.50 x 17″), the new wheel sizes promise the rider hours of offroad fun. Also the tyres were modified accordingly on the G 650 GS Sertão (90/90 R21 54S front and 130/80 R17 65S rear).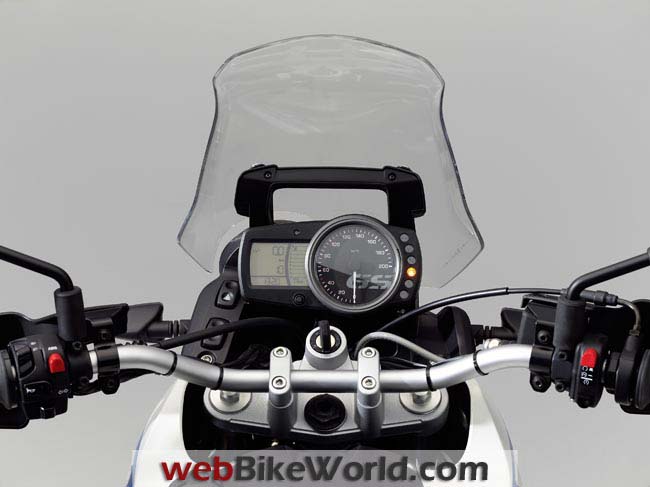 Higher seat, larger ground clearance, and greater touring practicality.
Presenting a seat height of 860 mm instead of 800 mm, a considerably larger ground clearance, and a sturdy engine guard of aluminium, the G 650 GS Sertão presents the optimal conditions for offroad riding. In addition, the high windscreen, hand protectors, and the extended front wheel cover provide a greater level of comfort on longer tours.
Powerful single cylinder in sporting, dynamic design.
The 652 cc, 35 kW (48 hp) single cylinder with liquid cooling, fuel injection, double ignition, and closed loop catalytic converter delivers a powerful acceleration that cannot fail to thrill. Its strengths are spontaneous throttle response, refined riding properties thanks to the balancer shaft, and very low fuel consumption.
Also, the design of the new BMW G 650 GS Sertão does full justice to its dynamic performance figures and greater offroad practicality. Its coloring, vivid lettering, and sturdy look not only underscore the refined offroad talents of the G 650 GS Sertão, but also emphasise its affiliation to the dynamic GS family of BMW Motorrad.
Characteristic enduro colour scheme in the legendary GS style.
The high contrast colour scheme in Aura white / Arroyo blue combined with the seat in black/grey and the vivid Sertão lettering lend the G 650 GS Sertão its particular sturdy enduro character.
That special sporting touch is contributed by black surfaces on the engine, exhaust embellishers, fork slider tubes, side plate holder, luggage carrier, extended front wheel covers, and hand protectors. And the quality of the engineering is highlighted by the wire spoke wheels in the colour of aluminium, the engine guard, and the engine cover painted in Nürburg silver for the alternator and clutch.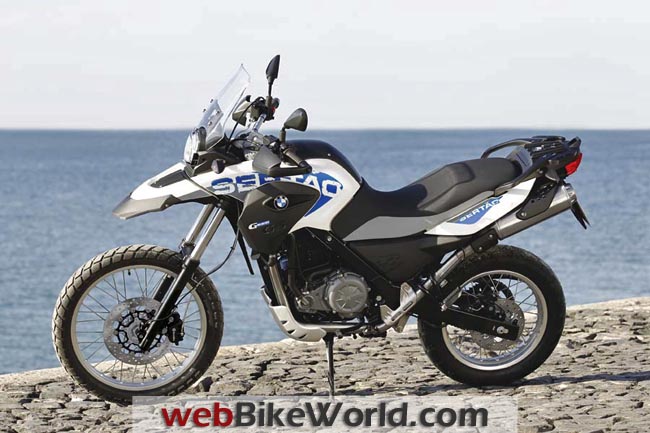 3. Equipment range.
Special equipment and special accessories — a plethora of optimising options for the BMW G 650 GS Sertão.
Even with the standard equipment, the new BMW G 650 GS Sertão is virtually the perfect embodiment of a dynamic offroad enduro. Moreover, BMW Motorrad can provide an unusually extensive range of special equipment and accessories for even greater individualisation of the new BMW G 650 GS Sertão.
Special equipment is delivered directly ex works and is integrated in the production process. Special accessories are installed at BMW Motorrad dealerships.
The motorcycle can therefore be fitted with options after it has left the factory.
BMW Motorrad ABS (disengageable) including hazard warning flashers.
Heated grips.
DWA alarm system.
Charging socket.
Vario case.
Case holder.
Liner for Vario case.
Topcase.
Liner for topcase.
Tank rucksack.
Ergonomics and comfort.
High seat (height 900 mm).
Single seat with luggage compartment (height 860 mm like standard).
Windshield, high, tinted.
DWA alarm system.
Crash bars.
LED light for onboard charging socket.
4. Engine output and torque.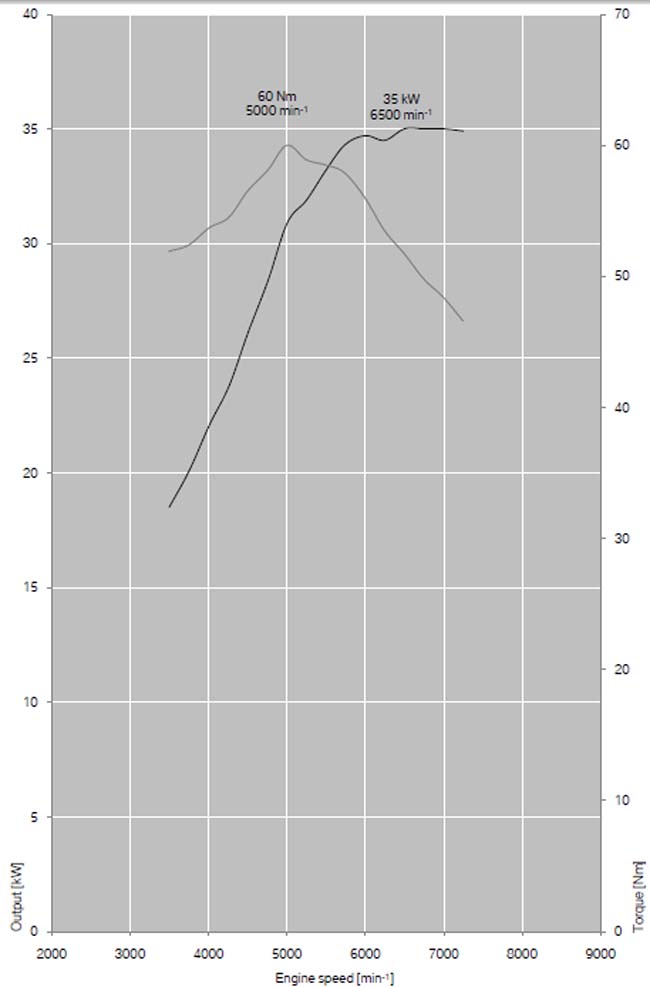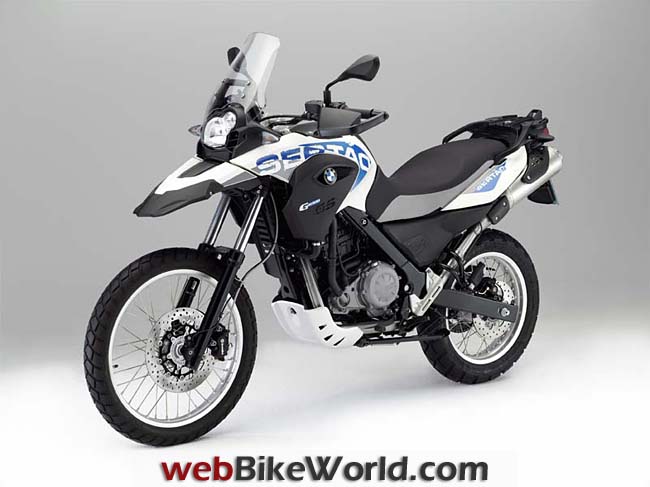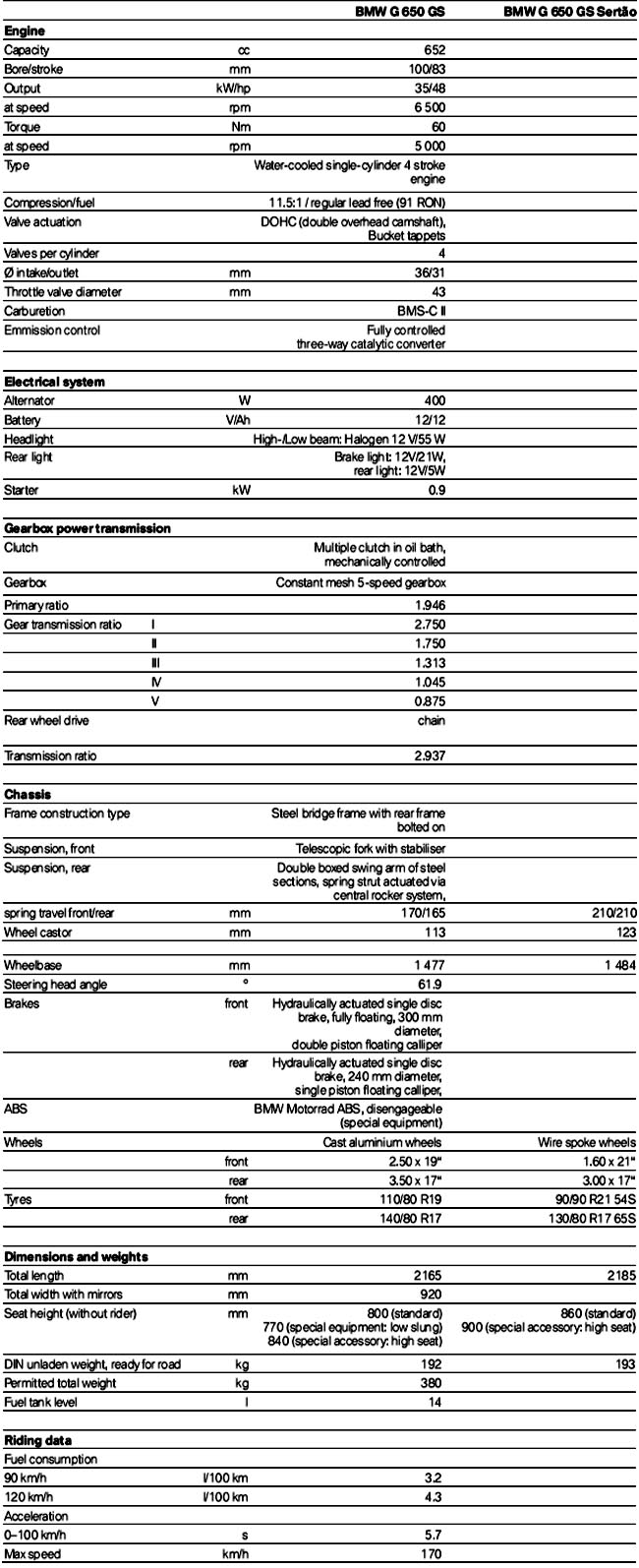 5. Technical specifications.
BMW G650GS Hinterland
Look for the live photos and video from the 2011 EICMA show later this week!
Publication Date:  November 7, 2011
Note:
 For informational use only. All material and photographs are Copyright © webWorld International, LLC since 2000. All rights reserved. See the webBikeWorld® 
Site Info page
. Product specifications, features and details may change or differ from our descriptions. Always check before purchasing. Read the
Terms and Conditions
!
Other WebBikeWorld Motorcycle Brands Posts
wBW Motorcycle Brands Info