A Quick Review of the BMW F 800 S and the Blog
Welcome to a quick review of the BMW F800S and the intro to the Blog!
Yes, I know — the F800S entered production in 2006 and the "S" model was manufactured until 2010.
So just about everything that has been/could be said about this bike has and was.
No problem…there's always my opinion!
The BMW F-series is (finally) becoming more popular by the day and the new 2015 BMW F800GTand the 2015 BMW F800R (Preview) promise to become sales leaders.
Unfortunately — and unfairly — there has always been some disdain for the BMW 800 parallel twin (actually 798 cc) and, I have to admit, I was one of the non-believers.
Yet again, I chalk this up to the print motorcycle magazines, for whom anything less than a 150 HP race-ready superbike is savaged because, dontcha know, only beginners would want anything less.
You would think that I (and others) would have learned the lesson that this is total nonsense.
In fact, the big, heavy Suzuki V-Strom 1000 ABS (Review) has taught me once again (I'm a slow learner) that large capacity, high torque and horsepower engines that look good on paper are not much fun in the real world.
The Perfect Engine Size?
I'm here to say that 800 cc's may be the perfect engine size for the 21st Century.
The 800 cc BMW twin is a good example. It has a really nice "sweet spot" combination of torque and horsepower. Usable torque and usable horsepower, that is.
This makes the engine very flexible back in that real world, with a wide powerband that gives just enough of a kick to make it fun without being ridiculous, scary or nonsensical — like just about anything with over 90 HP is.
In the F800S, the engine doesn't care whether you're in 3rd, 4th or even 5th gear. Once up to speed, roll on the throttle and climb the clean power curve all the way to the top without worry about getting out of shape.
I was as shocked as anyone after first riding the F800S. Shocked in a good way, that is.
After believing all the garbage written about this engine, I went back once more and read all the old reviews, trying to figure out what the heck the magazines were talking about.
They claim the BMW F800-series engine has "no soul" and feels "appliance-like".
I have completely given up on believing anything any of the mainstream print magazines write about bikes, to be honest.
They're wrong about the V-Strom and they're dead wrong about the BMW and just about every other project bike that's come through the webBikeWorld garage in the last 10 years.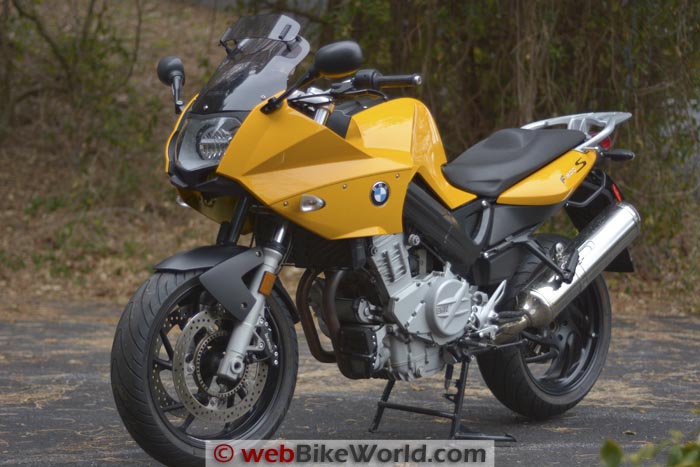 What About Those Vibes?
OK, so the 800 isn't perfect. Even with the unique vestigial third connecting rod that helps quell the vibes, the engine makes its presence known. But I like that; it reminds me of my 1986 R65.
The vibes are nothing like, say, the Suzuki DR650 (Blog) single and again, my feeling is that there is this unreasonable expectation that a motorcycle engine should be glass-smooth.
The irony is that if that were so, the press would then complain that the engine had "no soul". You can't win…
RReally folks — I mean, c'mon — if you can't take a little engine feel, then go buy a Zero electric bike.
The BMW 800 cc twin has gone on to power the BMW F800GS series, which includes the confusingly-named F700GS and F650GS. And by the way, the F800S, ST and GT use a belt drive!
Smooth, clean, quiet and lightweight…makes you wonder why it isn't used on more motorcycles. It was, in fact, one of my main reasons for wanting this bike.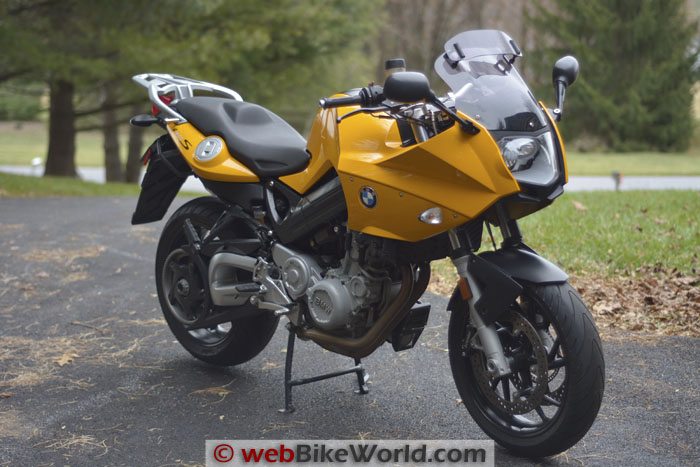 Handling
The F800S handles like a dream, it really does. This was also surprising to me; I just didn't think it would handle as good as it does. The original owner replaced the clip-ons with bar risers and an ABM handlebar for a nice and not-too-sporty riding position.
My 31″ inseam is a little cramped on the foot pegs; there are lower pegs available but I'm not sure I need them at this point.
It's easy to toss, due to the low center of gravity with the under-the-seat fuel tank.
It's relatively lightweight and the new Michelin Pilot Road 2 tires (review) that were installed just before I bought it are a perfect match for the bike — neutral handling and a very planted feel in the corners.
I feel like this bike takes corners better, easier, smoother and more securely than any other bike I've owned.
This Bike
This F800S is a one-owner bike, originally sold and serviced by Bob's BMW near Washington D.C.
The owner traded it on a newer BMW in the fall of 2014 and the dealer went through the bike and gave it an up-to-date service and checked for any recalls. The new Michelin Pilot Road 2 tires were installed also.
The bike has ABS, the BMW center stand; an ABM handlebar on risers installed by the original owner; a Powerlet outlet; the rear grab rail; an MRA windscreen and deflector and a bug screen on the radiator.
I think the guard on the front of the engine was also added.
The forks have vertical protectors in front of the seals and the fork seals were leaking when I brought the bike home, but Bob's covered the cost of the replacement.
The Blog
I bought this 2007 F800S with 16,400 miles on the clock just before winter set in.
So I haven't had all that much time on it, but that hasn't stopped me from accessorizing it. This Blog will record the progress, so check back often.
As always, I welcome feedback from BMW F-series owners, so please give me a shout at editor@webbikeworld.com
w

BW

 BMW F800S Blog
F800S and BMW F800-Series Accessory Reviews
More…
BMW Rear Seat Cover
Magura Hymec Hydraulic Clutch
Cyclops LED Headlamp
Rear LED Visibility Lights
▪ LED Load Resistor for BMW Motorcycles
▪ Hornig LED Turn Signals for BMW Motorcycles
January 13, 2015: There are several LED turn signal options for the F-series and other BMWs.
These range from replacing the incandescent bulb with an LED (which also requires a load resistor) to complete turn signal stalk replacements (an official BMW part) to the LED-on-a-circuit-board from Hornig that was used for this Hornig LED Turn Signals for BMW Motorcycles Review.
December 31, 2014: The BMW heated grips seem to have a small diameter, so this set of Grip Buddies (review) was installed.
They temper the amount of heat coming through and I'm not completely pleased with the way the grips feel, so I'll probably try another solution eventually. Stay tuned on this one…
▪
 BurnsMoto Dual-Port USB Charger
Note:
 For informational use only. All material and photographs are Copyright © webWorld International, LLC since 2000. All rights reserved. See the webBikeWorld® 
Site Info page
. Product specifications, features and details may change or differ from our descriptions. Always check before purchasing. Read the
Terms and Conditions
!
Owner Comments and Feedback
---
From "R.L." (March 2016): "Firstly, I loved riding this bike. As you stated handled very well, good mileage and for me pretty comfy too.
Got mine used from a BMW dealer w/ around 6000 mi. on it. Rode it into NY State, Missouri, Arkansas, Texas and down to Miami. Got rid of it around 33,000.
On a routine service mechanic notice water in rear hub assembly. Pulled it apart, the whole thing was disintegrated.
BMW I will admit, supplied replacement parts, saying they had some issues with this bike. Still cost me over $800 in labor.
Then fuel sensor (thanks ethanol ) started in, stalling the bike in traffic many times.
And a gremlin appeared in electrical system. Eating up, no make that burning up, headlight bulbs and melting the paneling (plastic) around the bulb.
The mechanic who was working on my bike has one also. No problems and loves it.
Have had four Beemers, no problems to speak of. Traded for kinda polar opposite bike, Honda NC700X. Really like it w/ close to 20,000 on the clock.
Really think 800 is about an ideal size engine.
Last, I've been on all models of BMW 800's, they don't do it for me, because of that S bike. Should find one really cheap, would try it all over again."
---
From "S.H." (February 2015): "I noticed that you recently acquired a 2007 F800S and thought I might give you my two cents since I owned the bike for well over six years with 105,000 miles before moving onto a bandit 1250S.
As you mentioned, the bike handles like a real gem. I found the F800S to be very fun, nimble and a very confidence inspiring motorcycle.
I regularly rode with pure sportbike riders and had no trouble keeping up or leading the pack when it came to twisty/technical backroad riding.
I was always disappointed when so many articles and riders took the F800S for a good 'entry level' or 'girl's bike'. Given the right rider, this motorcycle is more than capable.
It's true that the engine is no rocket but what I'd consider useable, grunty and happily ridden near redline without obtaining too many speeding tickets (although I still managed to collect several with the F800S).
Other items/quirks you might find useful:
These bikes are known to stall out in hotter weather riding. Mine left me stranded twice until I invested in the Jens Booster Plug (review). Mine was the unit that "puked" its guts out in your article back in 2010 and made the change to a solid plastic housing.
As you'll read on the forums, the rear wheel bearing failure is a problem. Mine failed but was replaced at 15,000. Not a problem ever since the replacement.
If you discover any oil leaking from the left cylinder near the clutch cable, this is caused by a lack of sealant from the head gasket. I simply added more sealant and the problem was fixed forever. You have to specifically ask a BMW mechanic to do this for you though.
My stock muffler failed at a welding point. I have not read this to be a problem, so it might have been simply bad luck.
I got over 30,000 out of my stock belt and didn't have to replace it as it was still in fine condition. I always loosened the belt from the dealer as I feel having so much tension contributes to the rear wheel bearing failure.
My bulb burnt out due to one of the wires overheating and melting onto the bulb connector. I replaced it was an HID lighting system (reviews) but would have kept the stock setting if I did it again. While the HID is very bright, it simply does not reflect light throughout the housing as well as the stock setup.
I added a K&N air filter (review), booster plug, Cee Bailey's Touring Shield and Grip Puppies as the only modifications. I was very close to investing in a Russell day long seat but decided to sell the bike for a '08 Bandit 1250S.
Other than some of the items above, I would have no hesitation picking up another F800S if the right opportunity came about. I really prefer the F800S over the new GT as well. I hope you continue to enjoy the bike and maybe I'll bump into you at one of the AIM shows one of these years."
---
From "B.S." (January 2015): "I run a small motorcycle blog, called UltimateVelocity, here in Cape Town in sunny South Africa. I also ride a 2007 F800S. I echo your sentiment that the bike is very underrated and misunderstood.
Your specific motorcycle, although the same year model as mine, looks like it's had a few modifications already. You have the ST touring handlebars as well as a grab-rail that could possibly be from the ST.
The part that I'm most intrigued about, is your fork protectors on the front forks. I recently had to get my fork seals replaced because of pit marks forming due to stones hitting the stanchion whilst riding.
Did you buy the motorcycle with those fork protectors already fitted, or did you buy them yourself?
My bike is pretty standard apart from a Leo Vince slip-on and a Kappa touring screen. I'm keen to read your blog and further thoughts and experiences with the bike.
Rick's Reply: The original owner added the fork guards, here's some info on the F800riders.org form that I found about the the BMW F800 fork protectors like I have on mine.
---
From "H.S." (August 2014): "I agree that the F800S was a gem. When they were a current model, I rode a demo for about 75 miles, to the top of Mt. Lemmon, while my R1200GS was being serviced at the Tucson dealership.
I was surprised how much I liked the twin cylinder engine, despite lukewarm reviews I had read.
I loved the belt drive, as I have never liked chains, ever since one broke on me in 1968 and left me stranded. Despite being 6′ 4″ and about 180 lbs., I didn't find the S model terribly cramped.
Compared to some of the more luxurious BMW's, the 800's are designed to sell at a lower price point, but so what? I later rode two iterations of the F800GS, and liked all of them.
If you look at the history of the 800 models, I'd say it's time to bring back the F800S.
It was (prematurely?) dropped in favor of the F800ST, which was neither sufficiently sport-y nor tour-y, and thus was in turn replaced by the F800GT and then the F800R.
Looks to me like the F800S market niche is unfilled at present. Whew!  I'm glad my income doesn't depend on making marketing decisions for BMW!"
---
From "T" (January 2015): "It would be interesting to here how the F800S compares to the Kawasaki Versys (review) you did a blog on. Those are two bikes (used) that I am considering for this riding year."
Rick's Reply: Unfortunately, the Versys is long gone. It was in Canada with H.B.C. so I never had a chance to ride it.
Other WebBikeWorld Motorcycle Brands Posts
wBW Motorcycle Brands Info