BMW Motorrad is the latest motorcycle company to reveal its self-riding technology with its ConnectedRide R 1200 GS Adventure fitted with autonomous computer tech.
The German manufacturer had already telegraphed its intentions with the "crashproof" Vision Next 100 self-balancing motorcycle concept.
And British company AB Dynamics used a BMW C1 to develop by a self-riding scooter to "help improve motorcycle safety" and prove that motorcycles can interact with autonomous vehicles. 
ConnectedRide
BMW's ConnectedRide self-driving BMW R 1200 GS Adventure is basically a standard motorcycle.
However, its panniers and topbox are packed wth computers that operate the throttle, brake, clutch and steering to ride the bike.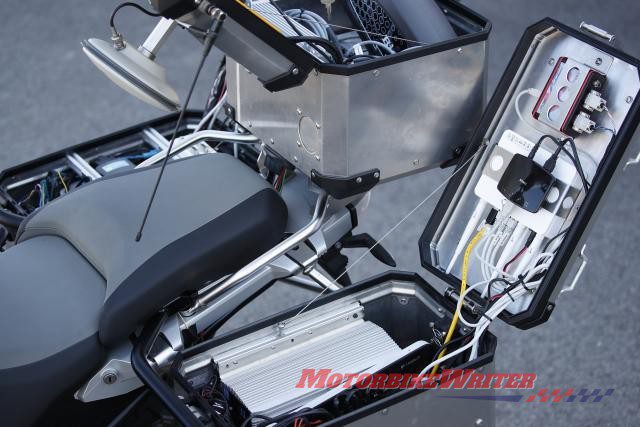 It also has an automatic side stand that deploys when it stops.
The ConnectedRide bike is different to the other sales-riding motorcycles shown so far.
Yamaha uses a robot to ride a fairly standard R1M motorcycle.
Meanwhile Honda uses gyroscopes and automated forks that change the angle and steering.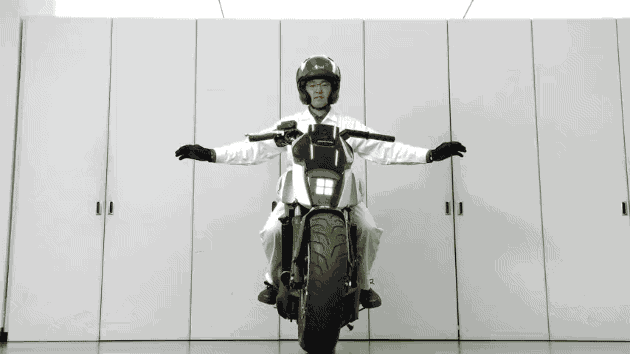 To a lesser degree Kawasaki and Yamaha are working on artificial intelligence for their motorcycles that will interpret your riding style and intervene in emergency situations.
And Ducati and KTM are working with Bosch to develop adaptive cruise control and other rider intervention technology.
Testbed for 'safety'
It's all mind-boggling stuff and many riders wonder why they would even bother.
After all, the attraction of riding a motorcycle is "riding" it, not just getting from A to B!
However, BMW Motorrad says the ConnectedRide self-driving R 1200 GS is being used as a "testbed for advanced motorcycle safety equipment".
They say the "autono-bike" will help researchers and engineers integrate safety systems more naturally wth a rider.
They include systems that navigate around an obstacle or prevent riders from drifting from their your lane. This technology is already available in some luxury cars.
There may be a self-riding motorcycle market for couriers, two-wheeled taxis and emergency services such as police.
However, the intention of these companies is more to develop advanced safety systems rather than take over from riders.
At least that's what the manufacturers say.
Many riders fear the future may consist of riderless motorcycles. One filmmaker even believes conventional motorcycles will been day banned.