BMW Revives the C1-E Concept for Urban Travel
1990's BMW C1 Now With Electric Motor Proposed as Solution for Urban Travel
BMW fans will remember the BMW C1 from the 1990's; an interesting and unique scooter with a cover that did not require a helmet for the rider.
About 10,000 C1's were manufactured by BMW from 1992 to 2002 and sold in Europe. Some European countries allowed owners to ride the C1 without a helmet, but the UK government would not allow this, which hurt C1 sales in what was expected to be its largest market.
The C1 was ahead of its time, but it's good to see that BMW has not given up on the concept. A press release from BMW dated October 6, 2009, indicates that the idea is still alive and well, and it may be an answer for modern intra-city transportation. An edited version of the press release follows.
---
This is what a safe, environment-friendly and highly practical single track vehicle for city traffic could look like in the future.
BMW Motorrad developed the C1-E study as a contribution to the European safety project eSUM. This study unit is based on the concept of the BMW C1; it is characterized by a very high level of active and passive safety and is driven by an electric motor.
eSUM is an acronym for "European Safer Urban Motorcycling". It is a cooperation project between major urban European motorcycling centers and motorcycle manufacturers. The cities currently involved in the project include Paris, Rome, Barcelona and London and the manufacturers are BMW and Piaggio.
The advantage of two-wheeled transportation is that it offers a great opportunity for improving the flow of traffic in urban locations. Moreover, it is environmentally friendly and lends itself to individualization.
However, the vast majority of accidents occur in urban traffic, in areas where 80 percent of the population live. The idea behind eSum is to look into ways of countering this trend. The joint goal is the identification, development, and practical demonstration of measures which are able to guarantee safe motorcycle and motor-scooter transport in the inner-city traffic of the future.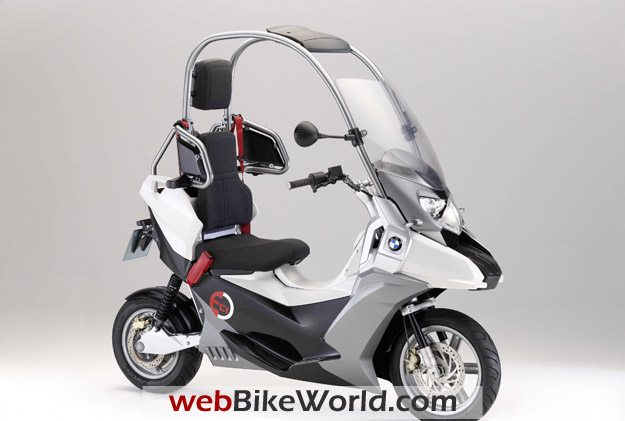 The BMW C1-E provides exemplary protection for its rider. This is ensured by the safety cell with the conspicuous roll-over bar which dynamically spans the rider seat in combination with the energy-absorbing impact element at the nose end. A further special point is that the C1-E rider wears a seat belt, which is highlighted by red belts and belt buckles in this concept version.
Visually, the concept vehicle expresses brand typical sheer driving pleasure and clearly distinguishes itself from typical scooter looks.
Its lines are dynamically stretched and flow horizontally with a low visual centre of gravity. The fairing with its windscreen, the luggage space behind the rider and the side stand for effortless parking ensure high suitability for everyday riding combined with a high degree of wind and weather protection.
The electric motor employed in the study has been designed for city use and is based on components by the Vectrix scooter company (Editor's Note: Vectrix filed for bankruptcy in September of 2009).
The motor obtains its power from a lithium-ion battery and thus possesses sufficient power for mastering most inner-city traffic riding with ease. Alternatively, the vehicle could also be equipped with an efficient, low-emissions internal combustion engine.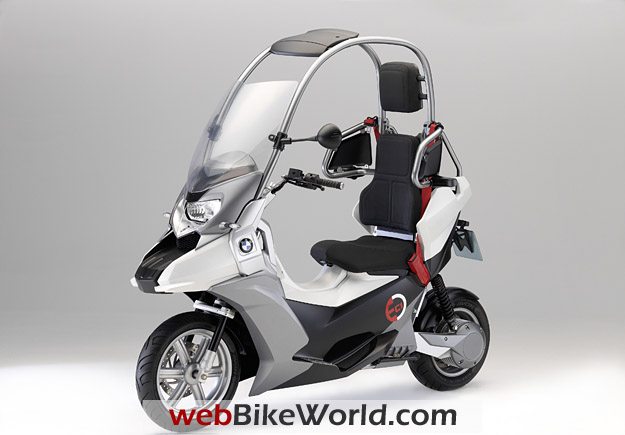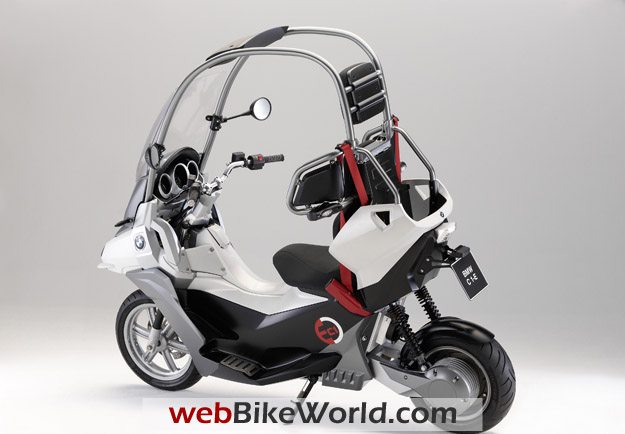 The safety features of the C1-E have been taken from the former BMW C1 and further enhanced. BMW's avant-garde two-wheeler is regarded as a milestone in safety on two wheels. It is the only motorized single-track vehicle to be exempt from mandatory helmet wearing in almost all European countries.
This BMW Motorrad study is likely to remain the only model of its kind. Series production is currently not planned; nevertheless, findings from the project will find their way into other future developments in the field of single-track vehicles.
One of BMW Motorrad's major concerns over the last twenty years has been the improvement of motorcycle safety. This was amply demonstrated by the consistent strategy which has led to the Motorrad ABS and continued with its long-term ongoing development. Only a few weeks ago, on August 31, the 1,000,000th BMW motorcycle with Integral ABS, a BMW K 1300 R, left the production line in Berlin-Spandau.
Since 2005, a series of further active safety features have been developed to enhance the safety BMW motorcycles still further:  RDC Tire Pressure Control, ASC Anti-Slip Control, the new Race ABS and the DTC Traction Control incorporated in the new BMW S 1000 RR, not to mention the innovative range of BMW Motorrad rider equipment.
Over and above this, BMW Motorrad is also conducting research into forward-looking rider assistance systems designed to increased road safety, as part of BMW's ConnectedRide project. ConnectedRide provides vehicle-to-vehicle communication technology designed to help reduce vehicle accidents.
Features being looked at include cross-traffic and traffic-light assistance as well as a warning system for impending poor weather, road obstacles, an approaching emergency vehicle, or sudden braking maneuvers.
Note:
 For informational use only. All material and photographs are Copyright © webWorld International, LLC since 2000. All rights reserved. See the webBikeWorld® 
Site Info page
. Product specifications, features and details may change or differ from our descriptions. Always check before purchasing. Read the
Terms and Conditions
!
Owner Comments and Feedback
---
From "M.A.H." (06/2011):  "it is with great interest that I read this article, bearing on mind the often high quality of all, of your editorials. I as a rider (RT 1200 SE) driver (123 D) and follower of BMW engineering, innovative and creative designs; would truly appreciate you could pass comments of encouragement to BMW Motorrad, in regards to C1 and E-C1 projects, I would love to have the opportunity to have one or even two of this very smart scooters, ideally with larger capacity power plants and in electric form as well."
Editor's Note: Not sure if the C1-E will ever reach production, but BMW has stated that they will manufacture a version of the Concept C Scooter, which will be for sale to the public.