Blutek Bluetooth Helmet Image Gallery
The Bluetek Bluetooth helmet isn't perfect, but it's very good overall.
It's also an excellent value for the money, especially appreciating the fully integrated Bluetooth system.
The helmet reveals simple design, good construction and balance. It is quiet and comfortable.
It meets DOT and ECE standards and the Bluetooth system is FCC approved.
See Part 2: Blutek Integrated Helmet Bluetooth System
webBikeWorld publishes a lot — and I mean a lot — of motorcycle helmet reviews.
Given the size and maturity of this market segment and ALL of the choices available for motorcyclists wanting to protect their cranium and related parts, this is a good thing.
To be honest, I had never heard of Blutek helmets prior to the Editor waking me up via email and asking me to take a look at the link he had sent along.
I felt somewhat sheepish in not having found the site before, especially given all the motorcycle gadget/geek snooping I do on a regular basis.
So enlightened, I (eagerly) accepted the challenge to receive and review a set of the Blutek Generation II helmet systems…it was just a matter of getting the helmets in hand before our ever-deteriorating weather took a serious turn for winter.
Luckily, things turned out well as riding is still a (cool) option, albeit between snow squalls.
Providing a quality helmet, full-face, flip or otherwise, along with a semi or fully integrated Bluetooth system is not a new concept per se, but the approach taken by Blutek is unique in its design and execution and its price point makes it an attractive option as well.
This evaluation is going to follow the traditional wBW methodology in reviewing any helmet as Part One.
But at the same time appreciating that the Blutek Generation II system is a full face helmet with a fully integrated Bluetooth system, Part Two will focus on the integral BT system functionality and provide a system assessment.
As always, form, fit and function were the primary considerations for this review pertaining to the helmet itself and the Bluetooth system.
The integrated system found in the Blutek helmets is not as complex or multi-function like many other offerings on the market today but it does offer something that is always appreciated simplicity.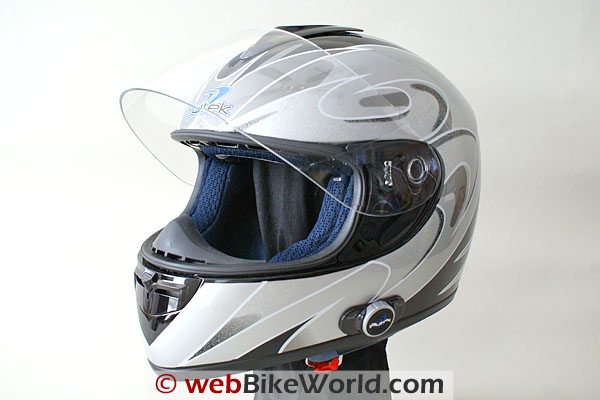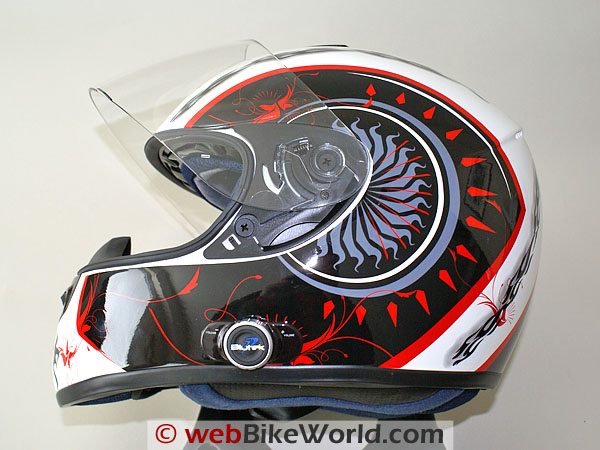 Blutek LLC
Blutek is a Oklahoma City based company that was formed by three family members with the intent to sell an attractive line of motorcycle helmets with an integrated Bluetooth system.
Their vision, as published on their website, is focused on three core values quality, innovation and distinction.
The "new company, new product" attitude is reflected in their helmet designs and functionality of their Bluetooth helmet systems. The company has increased its sales steadily and now has sales representatives in three states and a family-connected office in France.
Blutek also sponsors a stunt rider who shows off the company products as part of his shows.
Available helmet colour schemes reflect a mixture of quality graphics along with subtle solids.
The designs include the "Damien", with its edgy skull design, while the "Fire Dancer" and "Night Dancer" share the same bold graphics but the Fire Dancer motif is bright whereas the Night Dancer is more subdued.
The "Sliver" color graphic pattern presents a more traditional pattern with sweeping black lines, shades of grey and silver flecks.
The solids are represented by the "Phantom" in matte black and the "Grey Ghost" in a light and very pale shade. The pictures on the website do not do justice to the designs or coloring of the helmets when seen in real life.
Speaking of real life, two Generation II helmet systems were provided for this evaluation a Fire Dancer in Small and a Sliver in Large
Upon receiving the helmets, pulling the helmet boxes out of their shipping package and then removing the helmets from their soft helmet bags, it becomes apparent that Blutek is probably on to a good thing.
The helmets look great, feel very light and are comfortable right out of the box.
While I get the odd chance to review helmets it is usually an update to an existing model, such asmy review of the Arai XD3. Since I have not reviewed (or worn) a Blutek helmet previously, evaluating these two units is new ground for me.
As such, the helmets will stand alone on their strengths and weaknesses.
From a mechanical perspective, everything works the face shield action is smooth and the release mechanism work well. A few things stand out, most notably reduced noise levels and an excellent bottom seal.
Without letting the cat out of the bag, these helmets are good — darn good.
They would possibly fall short if put up against some top-end brand offerings, but against some of the currently available mid-range helmets, two of which I own, they fare very well indeed.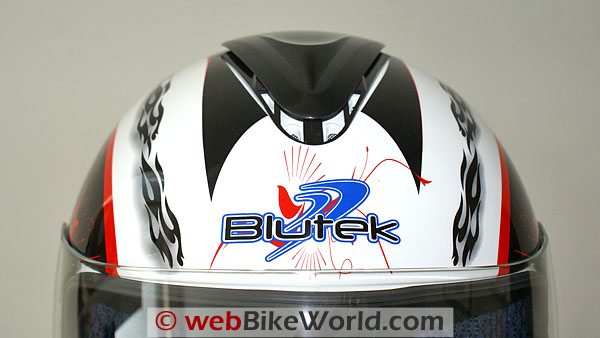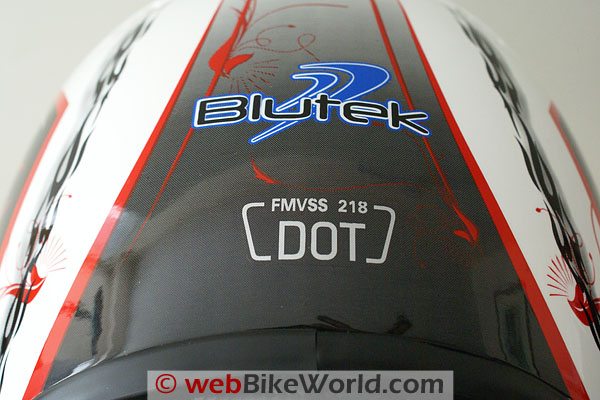 Paint, Graphics and Overall Quality
With a pair of Blutek helmets on hand, both in different sizes and schemes, there was plenty of opportunity to assess the two units individually, together and with other helmets.
Graphics for the most part are very well applied. The clear coat provides a smooth look and finish, but the minor discrepancies are visible upon closer inspection.
Of the two helmets I reviewed, the Fire Dancer has the best finish.
Only one trim piece was cut short and visible above the bottom moulding. Some dust and dirt had obviously been caught on the helmet when the final coat was applied this was apparent on the front part of the chin guard.
The Sliver is not as well finished. Some overlay points are rough or bunched up and others are unevenly applied.
The darker coloration also hides a few imperfections that can be seen upon really close inspection but this is nitpicking.
Overall quality is very good everything fits together tightly, the shield mechanism works well, the interior is basic but well cut and assembled. The chin curtain and substantial neck roll are real pluses and they really work.
The top nose guard that fits inside the bottom lip of the shield frame tends to pull out easily, but that is about it.
Score (See ratings chart in the Summary Table below): The Fire Dancer gets a Very Good, while the Sliver gets a Good, largely due to the finishing observations. While the Sliver is less than perfect, the Fire Dancer is on par with just about anything else on the shelf.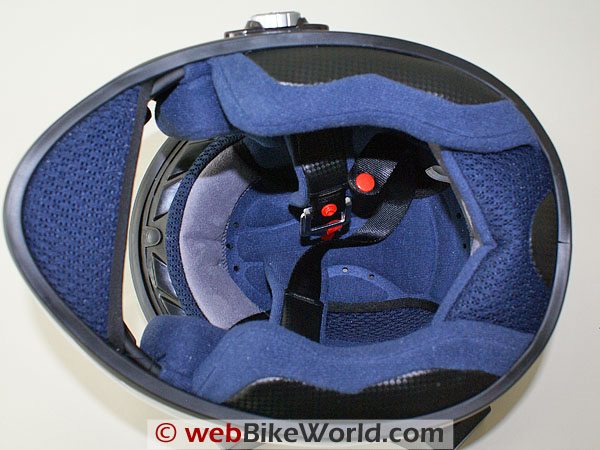 Helmet Fit, Internal Shape, Liner and Comfort
I have what some vendors would call "an expensive head" (no comments please) in that the helmets that fit me best typically end up being those that cost the most. Recently however, I have found "comfortable" helmets from other manufacturers, many featured on wBW, and most of them are far less expensive.
This is a trend that I can get used to and now the Blutek can be included among those less expensive helmets that really seem to fit.
The Blutek helmet sizing chart is a useful tool, as it includes other brand sizing as well. According to this chart, at 58 cm, I could fit either a Medium or Large, which is pretty much where I end up when using the Arai fitment chart as well.
Even though I was expecting a Medium, a Large got sent, which is good – it fits extremely well and was comfortable right out of the box.
After a week or so of use it has started to get broken in and only a couple of minor pressure points remains, which I suspect will disappear with use.
Not knowing the design shape of the Blutek helmet, determining its shell shape is somewhat subjective (see the wBW Motorcycle Helmet FAQ page for a head shape discussion).
My guess is that the Blutek helmets lean towards a neutral round shape with perhaps a very slight oval bias, which would explain why it sits so well on my head.
Blutek offers six sizes, ranging from Extra Small up to 2X Large. The helmets themselves are of pretty standard construct – nothing really jumps out as a unique feature, other than the incorporation of the Bluetooth system.
This is not a bad thing the helmets do have all the basic characteristics of a good full face helmet, along with a couple really good functional features.
I found the helmet shell to be small in comparison to the other Large-sized helmets I own.
The Blutek helmet shells are made from an injected thermo-resin material. While the liner appears permanent, the head liner and cheek pads can be easily removed for replacement or cleaning.
The liner and pad material used by Blutek is not identified, but it provides good cushioning and it is very comfortable.
Ventilation holes in the top of the helmet liner optimize the transfer of heat from the head surface area out to the rear shell vents.
The only immediate issue I have with the helmet is, you guessed it, eyeglasses. I wear both a heavier frame and a flex-frame set and both are really hard to put on when wearing the Blutek.
If I shift the front of the helmet up first the glasses will slip in a bit easier, but overall it is still a struggle. Once fitted however, there are no issues wearing the eyeglasses inside the helmet.
Score: I'll give a Very Good here, despite the issue with my eyeglasses.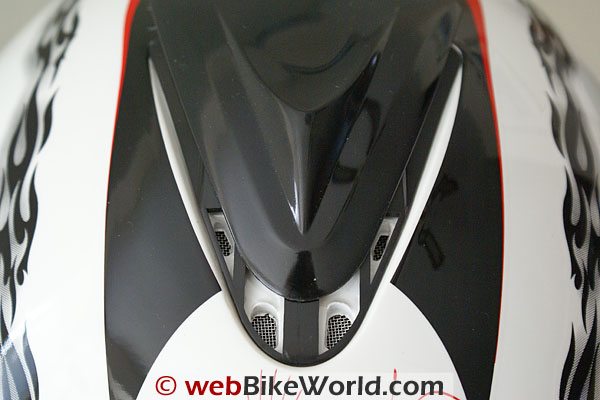 Ventilation
When the ambient air temperature is well below freezing with the wind chill (which is the current situation), closing the front chin guard and top spoiler vents on the Blutek helmets results in an immediate cessation of air flow, something that does not go unnoticed and is a plus in cold weather.
By the same token, opening both the front and top vents results in a noticeable flow of fresh air up along the front shield area, across the forehead and then over and around the top of the head itself.
Given the volume of air flow that can be felt in the helmet, I expect that warm air in the summer would be pushed out quite quickly via the vent slits in the rear shell.
Although it is important to make sure that the head liner is installed properly so that the ventilation holes can flow air out to the exterior openings.
With the chin guard vent closed some minor fogging of the face shield occurs when the bike is stopped, but with resumption of forward motion the shield quickly clears off.
This indicates that the minimum amount of air flow is maintained, even with the front vent "closed".
The top vent is a sliding component, with two settings forward (closed) and backwards (open). If the vent is moved back slowly it can be put in a partially open position, but there are no detents to facilitate this.
The four intake holes are recessed below the top vent cutout and arranged in a V-pattern with a mesh overlay to keep large things from entering the helmet.
When it is closed, the vent housing is seamless with the shell and when open the vent panel looks like and probably functions much like a spoiler.
Open or closed, there is no discernible change in noise levels, unlike many other helmets. How well the system will work in the high heat of summer remains to be tested, but I suspect the Blutek will cope quite well.
Score: I'll give the Blutek helmets a Very Good in this category, although my feeling is that this rating could move up to an Excellent once warm weather riding arrives again, or I go and find it.
Helmet Weight
I decided to purchase a scale and found several Pelouze models at a local store and purchased the PE5 model for about $80.00 CAD and an AC adapter.
After test weighing some of the helmets and specifically comparing the HJC Sy-Max II (Large), Arai Quantum II (Medium) and the Arai XD3 (Large), I have a relative baseline vis-Ã -vis the webBikeWorld published Motorcycle Helmet Weight chart.
This scale seems to be about 4 grams "lighter" on average. It records the Blutek helmet, size Large, at 1568 grams and the size Small at 1564 grams. I suspect same shell, but different liner…
Score: Although very subjective, I would give the Blutek helmets a Good rating at the minimum, not so much for what I think are reasonable weights, but for their balance as well.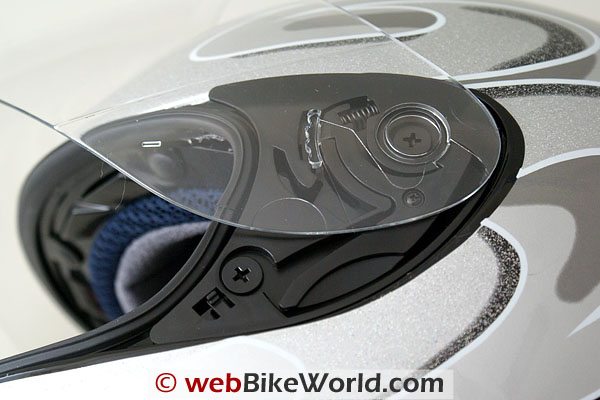 One of my new-year resolutions is to get the Editor to make a decision in what we call that plastic thing in front of our face on a helmet a face shield or a visor?
(I'd like to call it a face shield, but webBikeWorld visitors call it both. Not to be confused with the flip-up or rotating visor on a flip-up helmet… – Editor)
I'm not sure if the visor mounting system used on the Blutek helmets has a specific name or patent, but it is very similar to some other generic systems…and you know what? It's simple in principle, simple to understand and simple to use.
Just push the visor, er, face shield, all the way open, push up on the curved pressure lever at the bottom of the assembly, the shield bevel molding will release and the visor swivel molding will pop out of its retainer on the plate.
To put it back on, align the visor swivel molding with its housing on the plate, push the lever up to open the spring loaded mechanism.
Then rotate the visor down slightly which will allow the shield bevel molding will snap into its companion piece on the mounting plate, all with a positive snap.
And you know what I really appreciate? After one or two tries removing or mounting the visor becomes a fifteen second exercise and its something that could be done in the rain or in minimal lighting.
So, on to the face shield itself. The shields provided with the Blutek helmets are devoid of any markings or certifications, are clear in nature and are virtually perfect optically. The shield operates easily with its left-side push tab, even though I still prefer a centre tab for many reasons.
There are five positive detent settings along with an additional setting that just cracks the shield about 2 mm or "a wee bit".
The first positive detent opens the shield about 7 mm or "a wee bit more".
Both settings really work in keeping the shield and glasses clear, particularly in cooler temperatures and all without making it feel like the dentist just put his air hose next to your teeth!
Cutout and visor range of vision is slightly above average side to side and top to bottom. The shield opens and closes positively, but there is a 1-2 mm gap between the top lip of the shield and the helmet seal. It was not an issue during testing, but in rain, it could be.
According to the Blutek website, visors are available in Clear, Light Tint and Dark Tint.
And yes, as I mentioned above, although I can wear my full glasses under the helmet, it takes a certain method to do it gracefully and without putting undue stress on the frames.
Score: I'll rate the opening, face shield and mechanism as Very Good, largely due to the smooth and simple operation of the shield and its mechanism well done.
Noise Levels
A combination of things is needed to make a helmet quiet or really quiet and sometimes, the lack of some things can be positives as well. I think the Blutek helmets are a good example of this.
As identified previously, the shell is a bit smaller than most other Large-sized helmets.
And outside of the top vent, which blends in well when closed and is likely quite effective as a spoiler of sorts when opened, there are no other protrusions, openings or edges that could upset air flow which typically results in higher noise levels around the helmet.
The chin and neck curtains, along with the elongated and thick side-rolls all help to seal the helmet along the bottom. Cumulatively everything adds up to a smooth helmet that is virtually neutral in the air flow and is very quiet.
Despite the ear cavities not having any liner material (curiously), this does not seem to cause any noise issues inside the helmet, due to the fact that there is such a good bottom seal and the fit is so good as well.
In riding the R1200GS Adventure, which admittedly has a very good windscreen, the Blutek is absolutely neutral and only the odd jet of cool air seems to get around the screen and up to the helmet.
On the F800GS with its stock windscreen, the cockpit environment is noisier but the helmet still rides well. The increased noise levels are acceptable.
Both test rides were conducted with correctly fitting earplugs, which should be worn at all times.
Note that our helmet evaluations are a combined effort of several riders over time on different types of motorcycles with and without windscreens.
Evaluators wear correctly fitted, high quality ear plugs (even when evaluating motorcycle intercom systems).
Always protect your hearing when riding a motorcycle. See the wBW Earplug Reviews for more information on choosing and wearing earplugs.
Note also that perceived noise levels will vary, depending on the individual.
Noise can be caused by many factors, including helmet fit, the type of motorcycle and windscreen, wind speed and direction and even the rider's clothing.
For more information on helmet noise, visit the wBW Motorcycle Helmet Noise page.
Admittedly I have taken one or two quick rides around the block sans earplugs on the F800GS with the Blutek and the helmet is still noticeably quiet.
Bottom line: the Blutek helmet is quieter than my HJC Sy-Max II (review), the Nolan N102 (review)and the Arai XD3 (review), about the same as my Arai XD (review), and close — very close — to theArai RX-7 Corsair (review).
Score: I'll give the Blutek helmets an Excellent rating for noise levels.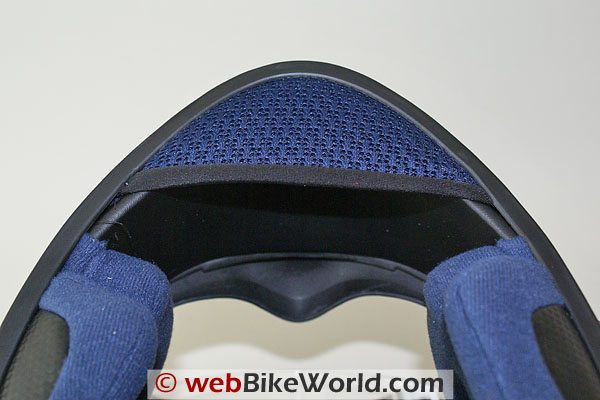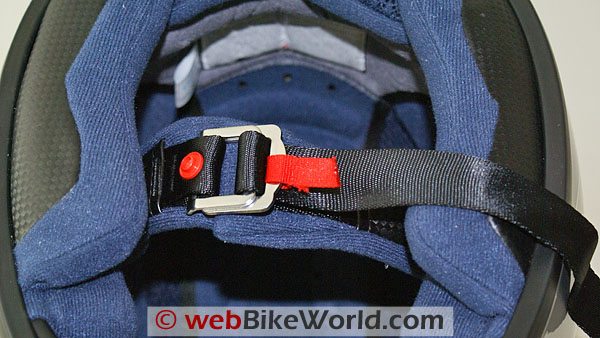 Miscellaneous
The Blutek helmets are DOT (FMVSS 218) approved, as well as ECE approved, along with FCC approval for the integrated Bluetooth system.
A standard D-ring attachment system with good padding is used just remember that the hard thing higher up in the D-ring harness is the helmet speaker.
The strap itself is long, but there is a snap fastener provided to keep the (longish) loop from flopping around.
The helmets come with a lightweight helmet bag embossed with the Blutek logo simple but functional.
A standard warranty of one year is provided which covers any helmet malfunction. Blutek says that if sizing is wrong, they will gladly swap the helmet out for one that fits properly.
Conclusion
You'll have to read Part II of this evaluation for my final judgment on the entire Blutek helmet system including the Bluetooth intercom. But I will give the Blutek helmets themselves a big thumbs up well done.
The helmets are lighter than much of their competition and there is little else that remains a mystery about them, other than perhaps finding out exactly what type of materials are used.
Appreciating the good ol' price point factor and what I estimate is the cost-added due to the Bluetooth system, I think the Blutek helmets at $329.00 USD for the patterns and $299.00 USD for the solids are priced just about where they should be in the form, fit and function zone.
If the Bluetooth system evaluation brings about even more positives, then these helmet systems are an even better deal — you'll have to read Part II to find out!
Next: Part 2 Blutek Integrated Helmet Bluetooth System
wBW Review: Blutek Bluetooth Helmet
Available From: Blutek, LLC (Defunct as of September 2010?)
List Price (2008): $299.00-$329.00
Colors: Solids and graphics.
Made In: China
Sizes: XS-2XL Shell Sizes: Unknown
Review Date: November 2010
Note:
 For informational use only. All material and photographs are Copyright © webWorld International, LLC since 2000. All rights reserved. See the webBikeWorld® 
Site Info page
. Product specifications, features and details may change or differ from our descriptions. Always check before purchasing. Read the
Terms and Conditions
!
Owner Comments and Feedback
---
From "A.M." (8/09):  "Let me start by saying that while I have been riding for many years I only bought my own bikes and helmets in the last 5 years or so, everything before that just came with the bike.
So my experience with helmets is limited to the Icon Mainframe, a few Z1R half helmets, and a limited session with the Shoei X-Eleven. None of these helmets holds a candle to the comfort and ease of the Blutek helmet I am commenting on today.
In searching for a Bluetooth helmet my priority was always a safety device first and a functional Bluetooth device second.
I really wanted something that would be able to stream my tunes (sick of dangling wires and ear buds popping out of my ears) and to receive or make the occasional phone call.
My search led me to many helmets and helmet systems, such as the Nolan system (which just seems too complicated and too expensive) and the add-on Scala Rider system (which also seems complicated, and ugly as well).
Also the Dainese (that doesn't seem to be available in the US, at least not for realistic prices), the Element Fastrack (a solid-looking up-and-comer, at least based on the reviews I've seen), and this Blutek, which I ended up buying.
So my criteria are: 1.) Safe, comfortable helmet, 2.) Simple, easy to use Bluetooth streaming system for music and phone calls. Does the Blutek meet these demands?  Yes, and then some! Read below.
Test Model – "Phantom" Gloss Black Blutek Gen II Fullface Bluetooth Helmet, size M, MSRP $290, bought off Ebay for $160.
Comparison Helmets – "Mainframe" Matte Black Icon Fullface Helmet, size M, Z1R half helmets, and the Shoei X-Eleven, which I have limited experience with, though it seemed horribly uncomfortable when compared to this Blutek.
Pairing Device – Apple iPhone 3GS
Test Conditions: 2007 F650GS, 40-90mph, 70-85 Degrees F, 2 Hrs. Ride Time
Overall Rating: 9.5 out of 10 stars
Design: 10
Smooth, clean lines. Nice gloss black finish. High quality materials. Well thought-out design. Everything is in exactly the right place. When you move your hand to adjust something, it is right there waiting for you.
I chose the "Phantom" gloss black because I tend toward minimalism and I like my gear to last, so I don't want graphics that will lose their appeal or appear dated after a few years, and I prefer solid colors so there you go.
Of the solid helmet colors available through Blutek, I thought the gloss black looked the sharpest. ALSO, my last helmet was a rubberized matte black Icon which was incredibly hard to keep clean.
The Blutek gloss helmet does show fingerprints, but a simple wipe down will quickly eliminate them, as well as any dust, dirt, or dead bugs that have found their way onto the helmet's surface.
My old rubberized Icon always showed signs of wear and was hard for me to keep clean, especially when considering dead bugs, which were a nightmare to clean off. I'd pick this Blutek model/color again in a second and might pick one up for my wife in this color too.
Fit/Finish: 9
Fit was superb, VERY comfortable, and immediately enjoyable. Materials appear quite good and the experience when putting the helmet on was pleasant. Very pleasant.
When I used to put on my Icon I always felt like a knight going to war, though surprisingly with the Blutek I didn't feel like I was wearing a helmet at all. It is that comfortable. It feels extremely light, without feeling insubstantial.
Visibility is good in all directions. I really felt at home in this helmet and wonder why I was clunking along with that Icon for so long. I'm not sure why, but the Blutek helmet is considerably smaller despite the same interior size (both are Medium helmets).
Actually, the interior of the Blutek somehow seems larger with lots of room in the mouth area where in the past with the Icon I found I was always hitting the front of the helmet with my lips.
When resting both helmets on a table the Icon is a good inch taller, an inch longer and at least two inches wider.
The Blutek is definitely more of an oval shape as opposed to the rounder Icon, so maybe all this talk about round vs. oval has some merit because with the amazing comfort of the Blutek I am clearly an oval-shaped head.
On the road the Blutek was a pleasure to wear, and I never felt confined or restricted with side-to-side head movement. This helmet gets a 10+ for its ability to allow you to look over both shoulders with no hang ups whatsoever.
My only comfort/fit complaint, very minor, is that the nose guard repeatedly hit my nose on the ride, so that will probably be quickly shed unless it causes shield fogging without it.
Shield/Visor: 8
I ordered a tinted visor with my helmet and have to say there are easier shield replacement systems in the world.
The Icon's was very easy compared to the Blutek, which involves a bit of a snap off and then snap on of the visor while holding the VERY small shield release that wants to slip from your grasp from the very first moment you touch it.
Once you do it a few times it isn't so bad, but I can see how it could get frustrating. I don't plan on switching my shield much, so no biggie.
When I first got the Blutek helmet I was surprised to notice that there was such a significant gap between the visor (both clear and tinted) and the seal of the helmet. It has to be 2-3mm I'd say.
I wondered how it would hold up to rain with that large gap there, but my immediate fear was that it would be impossibly loud.
Buyers remorse quickly crept in before I even had a chance to try it on the road, BUT SURPRISINGLY in my test ride today, this visor gap doesn't contribute to much road noise at all, even up to 90mph. More about noise levels below.
The tinted visor is perfect. It is a little 'filmy' in that you feel like you're looking at things through a haze, but maybe that's the effect of tinted visors, but honestly, it isn't that bad and you quickly adjust to the serene dimmed view. I don't think this tinted visor is so dark that you can't ride with it at night.
Also, I don't have much experience with tinted visors, so I can't say for certain how good the tint is, all I know is that the experience in the helmet was tranquil. Still curious to see how it will hold up in the rain.
Ventilation: 10
The Blutek has the two traditional vents on the chin and the top of the helmet. They both open with ease and there is a wonderful flow of air throughout the helmet.
What is trickier to comment on is the difference in air flow when the vents are open vs. closed. I couldn't tell the difference at all, regardless of speed, it just seemed to flow nicely.
This could mean more cold drafts in the winter, but its summer now, so its hard to say. NEVER did I feel stuffy or hot, and only once did the shield fog up on an occasion where I was waiting a long time at a stop sign for traffic to clear with the shield down, and even then it was minimal.
Buffeting (or Lack of): 10
I don't know if it is possible to make a helmet have less buffeting than others, but this one certainly seems to have considerably less buffeting than my old Icon.
Perhaps it is the Blutek's oval shape over the Icon's round shape, but I think it has more to do with the Blutek's delightful balance, which is akin to the optimal 50/50 weight distribution design of the best race cars out there (Porsche Cayman anyone?).
So rather than using your shoulder and neck muscles to fight your head bobbing all over the place in a large, off-balance helmet, you are at ease in a balanced and more aerodynamic helmet. The helmet is simply doing the job by design. I really felt free and at ease riding down the road with this helmet on.
Noise Level: 9
Based on my previous helmet experience I have to say that this Blutek is a very quiet helmet. I especially like the neck curtain (or whatever you call it) which helps keep excess sound out of the helmet.
Both it and the neck roll appear durable, and I think they contribute to a more comfortable, quieter helmet.
There is a slight wind noise that comes from the gap between the shield and the helmet seal. But I think it is only noticeable because the rest of the helmet is so quiet, kind of like the lone dog barking down the road, vs. 100 dogs barking all at once.
Sure you can hear it, but it is so far removed from your attention that you barely notice it…especially because you're listening to your favorite tunes being streamed to your ears!
Bluetooth Device/Sound System: 9
This Bluetooth system is compact and remarkable. I've had one Bluetooth headset before, a pair of headphones that I wanted to use with my iPhone, but they were torture to charge, wear, and pair. Bad all around. I sold them immediately.
But the Bluetooth system in this Blutek helmet is great. Not only is this a great standalone helmet, its also a simple, easy to use, Bluetooth system too.
While it did appear daunting when I first read the unintelligible instruction book (yes, I did read this one), it was surprisingly easy to charge, set up, and use.
For those who do not know, because it somehow gets left out in other reviews, or perhaps the manufacturers are trying to downplay this detail, this is a mono, one speaker (left side) helmet.
I actually chose this helmet for that reason, for safety purposes, and let me tell you, I don't miss having two speakers at all.
What I would miss, if it had two speakers, would be being able to hear the sounds of my bike, of approaching vehicles, and everything else in the world.
Other than the small single controlling knob on the left side of the helmet, you wouldn't even know this is a Bluetooth helmet.
It is very small and unobtrusive. Bluetooth module and battery are both located at the back of the helmet and I can't even tell they're there when I have the helmet on.
The battery lays next to the Bluetooth module and I do have to say that charging the battery is a finicky process. The connection between the AC charger and the battery is touchy so keep an eye on it to make sure you have a good connection and you'll be fine.
First charge takes 4+ hours and it allows for 8 hrs. of talk or listen time. That's double what the Element Fastrack offers, which is another reason I chose this helmet…more tunes time.
After charging the battery you are set to pair a Bluetooth device to the helmet. I used the Apple iPhone 3GS (another technical wonder) and it paired quickly and easily. Be sure to use the pairing code 0000.
Once paired it will always pair again, so subsequent pairs are super easy.
The first time I tested the helmet for a phone call was in the house and my wife said that I sounded slightly distant, but not noticeably bad. I'm not sure where the mic is, but it worked well.
When riding there is some noticeable road noise that diminishes the music and your voice during a phone call, but it is very good overall for a Bluetooth system in a motorcycle helmet, and many people didn't even know I was on my motorcycle.
I felt like I could listen to music up to 80mph, and the optimal speed for phone conversations was around 70mph. Music is a dream in the helmet, and the iPhone can stream both iPod tunes and internet radio applications like LAST FM (free download) with ease.
There were very few pairing hiccups, which are tiny delays in the music, perhaps 4 hiccups in my 2 hour ride, so the Bluetooth connection is quite good. Sound quality is a solid 8 out of 10, pretty good considering the speaker must only be a few millimeters wide.
As an aside, I was surprised by how well the last FM internet radio application worked over my cell connection.
These internet radio services usually require a fast connection and need to buffer the music (load it, then play it), which causes some delays in receiving the music, but here again, this phone/application and helmet worked wonders together.
With services like this, that allow you to create your own music selections by type, artist, etc., who needs satellite radio any more? AND NO COMMERCIALS!
So radio, iPod, and iphone calls all work great. The only catch I found was that the iPod or internet music doesn't start playing again following a phone call, so you have to manually restart your music. Oh tragedy.
I think I'll build a mount for the iphone similar to the one I have for my GPS, and with that in place it should be easy to restart music while riding.
Conclusion
What can I say, Blutek has a wonderful product here, excellent in almost every single way. I think the minor issues I have , which are mostly personal taste, will be sorted out with the next generation helmet, which should be on its way to stores relatively soon.
This Blutek Gen II model I bought has been out since last summer, and that might be a reason I was able to pick it up off Ebay for only $160.
All in all, a good investment, and should the Bluetooth device ever fail or be irreparable, it will still always be a solid helmet. I'd readily recommend this helmet to anyone looking for a simple solution for wireless music and the occasional phone call on your bike.
I'd love to hear if anyone has had experience pairing a reasonably-priced Bluetooth GPS (such as the Garmin Nuvi with free FM traffic) with this helmet."
---
From "J.W." (July 2009):  "I just returned one of these helmets because I found it just too unpredictable. It paired with the telephone audio of my Palm Treo Pro but not with the MP3 player or GPS.
A friend of mine has a Samsung Instinct and it paired with both the phone audio and the MP3 audio.
I worked with mine trying everything that I could think of, call the help number a week ago. They said they would investigate and call back. I'm still waiting.
I even got a BT transmitter device and plugged it into my multiplexer hoping that would give me what I am really after (to eliminate the ear speaker cord) and it would not pair with the helmet.
I also found the helmet to be a little uncomfortable giving me a headache for the first 24 miles of riding. After that, it improved but I still consider it less comfortable than any of my other 6 helmets being HJC's and KBC's.
Thanks for wBW. It is great."
---
From "I.A." (12/08):  "As soon as I saw the review on the Blutek helmet, I was shocked.
The Blutek helmet is in fact the BLINC 136 Helmet manufactured by Shanghai Hehui Safety Products Manufacturing Co. also marketed under the brand name V-CAN Sports.
Shangai Hehui actually had videos online at one time of the manufacturing of this particular helmet. DOT Requires that the actual manufacturer of the helmet is listed on the tag inside, rather than the name it's marketed under.
I think the Bluetooth is a novel idea, but this helmet in particular was a poor execution of a motorcycle helmet.
I bought a medium 3 months ago, and have had extremely poor performance from it to the point I threw this helmet away.
The rubber seal around the face opening was so short that the shield could not have come into contact with it if the shield were flush against the shell.
On top of that, the shield was too large for the helmet; enough that I could nearly push a pencil between the shield and the shell while the shield was closed. this resulted in extremely high wind noise and ventilation that I did not want.
In addition, the padding around the neck was not glued into the helmet fully and pulled out after a week worth of use. I ended up gluing them back in.
The last problem I had with this was the face shield…the method of securing the face shield relies on two fairly small tabs. One on the pivot point, and one on the positioning teeth for holding open the shield.
The tab on the positioning teeth breaks off very easily.
After over a month of searching, it appears Blutek may be the only source of a replacement shield to fit this helmet, as VCAN Sports and their distributors have not answered any inquiries by phone or email.
After doing some digging around, I found the Bluetooth module I removed from my V-Can version of this helmet.
According to the plug labeling on the Bluetooth unit, and the FCC's filed documentation, the model Y6300 Bluetooth unit (in the holder with the battery) is A2DP stereo capable.
Some helmet models just don't have the extra ear piece wired into the plug. Unfortunately, due to the type of plugs used, I don't know where to get the pin connector pieces to add on the second ear piece for stereo sound."