Blockade Noise Isolating Earbuds are, ironically enough, comfortable and better at reducing sound.
That's when compared to any of the other products in our 2009 non-disposable motorcycle ear plugs review.
Blockade earbud speakers are claimed to be the only EPA tested earbud speakers with an NRR.
They are rated at an NRR of 24, which is low compared to the NRR of 32 for the best disposable ear plugs.
The Blockade product seems very well made, as far as earbud speakers and related wiring goes.
They also feature a built-in volume controller, seen in the photo above, that does not require a battery.
The wires are coated with a flexible soft rubbery type of coating.
And, as you can see in the photo above, they are nicely attached to the controller with little flexible bosses to help prevent breaking at these critical bend points.
Both the speaker units and the controller have a nice look and feel and overall just seem very well made and have held up to my abuse so far.
The ear plug part of the speakers consists of the 3 silicone cones shown in the top photo above. They have a nice shape and seem to be tapered enough to hold in my ear canals.
The only problem with these is that they are long, compared to the other ear plugs in this review
The entire speaker/ear plug is 35 mm from tip to end, so they don't fit inside every full-face helmet and they can be difficult to keep in the ear when the helmet is being pulled on the head.
Also, they may stick out enough to interfere with the lining in some helmets, so they're best used with a helmet that has full ear pockets for speakers.
But if they remain in the ears, they do a decent job at reducing noise right away, although nowhere near as good as the disposable ear plugs referenced above.
The volume is limited to 91 dB to prevent hearing damage, but even 91 dB can be damaging, so be careful. The problem is that the music has to be pretty loud with these to drown out the wind noise once you get going.
I use the Blockade earbuds with a tiny MP3 player.
The plated connector plug fits an iPod (claimed; I don't own one) and most other standard MP3 players I've tried. I can fit my tiny iRiver player in a top pocket in my shirt and run the cord up inside my jacket and it works fine
I put the player in my shirt pocket inside the jacket because this way the player remains on me and doesn't interfere when I take the jacket off.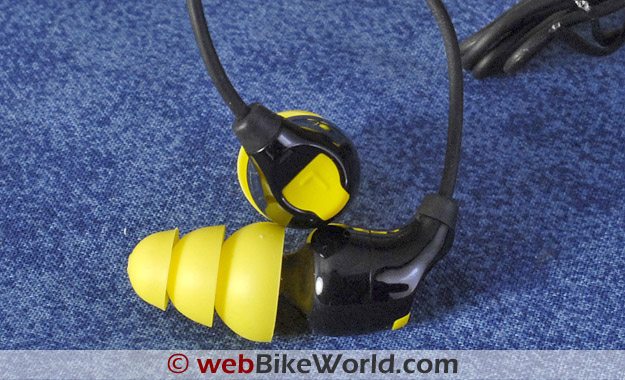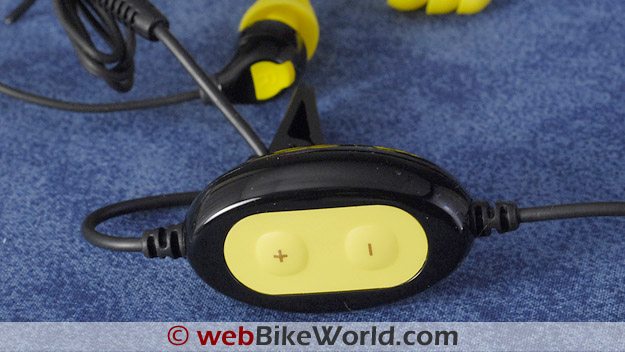 Performance
I will say that the sound quality of the speakers isn't the greatest.
When using them in the house, I can tell that the sound seems muddled and not as clear as many other earbud speakers of tried, including the cheap ones that come with the music players.
I think the biggest problem is that the mid and high tones just don't seem crisp or separated enough from the music.
That's rather disappointing, but on the flip side, once you get going on a motorcycle with all the surrounding noise, it's hard to tell the difference in quality.
So I'd say that it's too bad these aren't very good for both on- and off-bike music listening.
The controller works well, but it's a bit hard to feel the buttons when riding with gloves. I usually place the MP3 player at a higher volume and then adjust the sound with the Blockade controller.
When riding, some of the wind noise is reduced, but there is still a lot of background noise.
I'm not sure how logical it is to use these and then raise the volume of the music to hear it over the wind noise, thereby increasing the overall noise volume anyway!
Noise Isolating Earbuds can be purchased through this affiliate link to Amazon.com.
Conclusion
Overall, between the build quality and performance, I'd say these are about the best motorcycle speakers I've found (which unfortunately isn't saying much).
They at least block some of the other ambient noises, which standard earbuds do not.
The sound quality is disappointing, and I'm not an audiophile, so if I notice it, others with more discerning ears may not be impressed.
But, for listening to sounds while riding (keep it mellow!), and if they fit inside the helmet, the Blockade earbuds seem to work fairly well.
More wBW Noise Cancelling Earbud Reviews
w

BW

 Review: Blockade Earbuds
List Price (2009): $39.95
Made In: Unknown
Colors: Black/yellow
Sizes: N/A
Review Date: May 2009
Note:
 For informational use only. All material and photographs are Copyright © webWorld International, LLC since 2000. All rights reserved. See the webBikeWorld® 
Site Info page
. Product specifications, features and details may change or differ from our descriptions. Always check before purchasing. Read the
Terms and Conditions
!
Owner Comments and Feedback
---
From "S" (12/09):  "I've been using the Blockade ear buds for about two years. I have no issues when putting on or off my helmet (Bell Star Recoil).
If you put them on while your engine is warming up you will notice that a slight pull back on the ear buds will block the ear canal even better.
Also, as your first responder mentioned the Koss Spark Plug ear buds, you can put the crushable foam Koss inserts on the Blockades and they mute the outside noise levels even more!
I use the long Koss ear foams all the time with my Blockades.
Like suggested I turn up my iTouch full volume and same with the Blockage sound level I ride cross Florida all day with them with no earaches or problems Very nice product."
---
From "S.N." (7/09):  "I wouldn't necessarily recommend ear plug/headphones but I do use them occasionally.
My headphones are the Etymotic Research ER-6 ear-phones; the current model is the ER-6 Isolator.
They have a noise reduction rating of 34-36 decibels.
Unlike the Blockade ear-phones, the Etys are designed first and foremost for audiophiles (on a budget).
For the last 8 years, I've been using the same pair for plane travel (500K miles and counting).
They are comfortable (for ear plugs) and sound terrific if you have a good sound source that also has a decent power output level at the headphone jack.
For motorcycling, they fit very snug to the ear and don't shift when putting a helmet on.
The problem while riding is that they cut out almost all road related noise.
Sure, there is some wind noise, but if you have a quiet helmet and bike, you won't hear anything short of a car horn when the volume is reasonable high
So no revving, no other bikes, no engine noise.
The other problem is that they sound good, which on your favorite pieces of music can become too involving, meaning you become less aware of your riding environment.
On the plus side, they sound good enough to make the miles disappear on longer rides.
Pricey at $150. but hella-better then the cheap stuff, so if you like quality sound along with your riding…highly recommended, but not exactly safe."
---
From "T.B." (7/09):  "In regards to the user comments on the article pertaining to the use of IEMs (In Ear Monitors), earbuds, earphones or however you personally like to refer to them.
IMC now offers a 3.5 mm accessory to directly connect IEMs instead of the included helmet headphones.
This should provide a good alternative to the DIY solution described by another reader.
This $30 option will also allow you to keep the bundled helmet headphones intact."
---
From "M.J." (5/09):  "Just read your evaluation on the ear buds, and thought I would write and tell you about the system I use
I just finished a 7 day / 1856 mile vacation and used my system to fight boredom on the long mileage days.
I purchased a Sony NWZ-B135F MP3 player with Sony ear buds. The system works very well.
The MP3 has a multiple choice graphic equalizer, and the matching ear buds deliver the sound.
The buds also have an external volume on the wire It is small, and also hard to adjust,  but once I experimented, I found a perfect setting.
The MP3 has a 2.5GB capacity, and charges in my home computer.
There is also a portable charger, which I don't have. The player and ear buds cost me about $100, but is well worth it!
Keep up the good work. I love webBikeWorld, and have told many people, including motorcycle shops.
The reviews are very appreciated and the format is nothing short of excellent."
---
From "M.L." (5/09):  "Very good review. When I first saw these at Lowe's for $29.95 I thought, "What the heck, might as well get them.
You've already spent over $150 on other earbuds to wear under your helmet while riding."
None of the earlier earbuds cut out enough noise, except for the Koss Spark Plugs and they are a pain to put and keep in your ears.
I have to tell you, I now wear the Blockades every time I ride (I have a 2005 Suzuki Bandit 1200S).
That's even when I don't have it hooked up to my MP3 player or GPS For me, they provide just the right amount of noise suppression.
I even wear them mowing my lawn.
And when I turn off the mower to empty the bag I don't even have to turn down the volume. They block out that much noise.
There are cons though.
As mentioned in the review, they are long. I have found that in order to get a complete seal I have to pull up on the top of my ear while holding my mouth open.
When I insert them, I can tell they have a seal when I feel the air pressure go up like my ears are about to pop as they do dropping in altitude on a plane.
After about two hours my ears feel fatigued and I have to take them out for 5 or 10 minutes.
Overall, I have to say that these are the best under-helmet earbuds I have purchased."