The popular Black Dog Ride to raise funds and awareness for mental health is heading overseas to the US, UK, New Zealand and even Tasmania!
BDR founder Steve Andrews says he is "overwhelmed" by the success of BDR which, in the six years since Steve rode around Australia to initiate the charity, has raised almost $2m. That's doubled the total in the past 18 months!
"Sometimes I'm overwhelmed by the take-up that there has been," says Steve who is also BDR managing director.
"Part of the reason for the success is that we all don't need much of an excuse to get on our bikes and if you can do that and have some fun and support a cause that is close to everyone's heart, it's a great formula."
Steve says he plans to expand overseas with the first international Black Dog Ride Across America in September from New York to LA over 21 days with 50 riders and 24 pillions from Australia.
"That will be an amazing experience," he says. "We put out an invitation to all riders who have participated in rides and had all spots filled straight away.
(UPDATE APRIL 21: There are now a couple of vacancies, but you better be quick. Send an email to Steve express your interest.)
"We've also got plans to do New Zealand next year in October/November and we're looking at the UK the following year."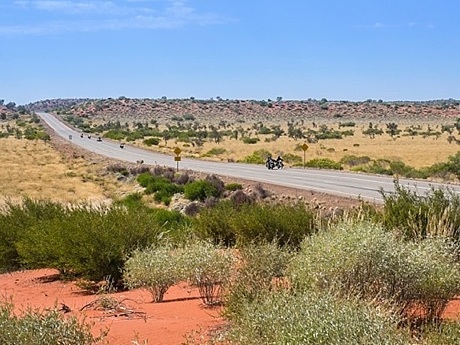 He also says the main BDR in 2017 will be to Tasmania, rather than the Red Centre. "That will keep them happy," he says.
Steve rides a BMW K 1200 GT which he bought to do his first ride and has ridden on every subsequent ride, except last week's One Dayer where he rode a "great little BMW R nineT" at the Wangaratta ride. BMW last year gave away an R nineT in the BDR raffle and this year will provide a popular R 1200 GS.
Total BDR funds raised on the March 23 Black Dog One Dayer have not come in yet, but Steve estimates that it will bring the six-year fundraising total close to $2m.
"When I got on my bike on my own and rode around Australia I never would have dreamed that there would be 33 rides on the same day nationally all riding for the same cause," he says.
Almost 7000 riders participated in this year's BDR One Dayer, which was slightly more than last year, despite clashing with the Ulysses AGM in Wodonga.
"The difference we had this year was that the individual rides supported a Lifeline agency in their particular community whereas before it went nationally to Lifeline," Steve says.
"In a couple of places like my home town in WA we supported a local mental health organisation."
This year's main event is the Black Dog Ride from August 15-22 which returns to the Red Centre after last year doing a lap of the country and raising a massive $411,000.
"But there is a bit of a difference this time with a visit to Uluru for first time," he says. "We're also working on some exciting things … but I can't tell you just yet."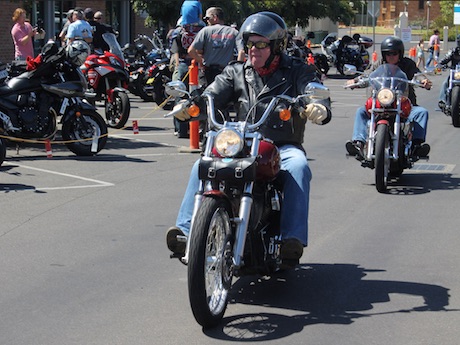 Meanwhile, Wayne Amor and Steve Gower, organisers of the Dubbo BDR One Dayer, say they had almost 200 bikes with 240 participants on a "beautiful day, about 27C".
"We left The Macquarie Inn at 9.30 after a catchup with friends, old and new, and a great brekky put on by the staff and a couple of locals, washed down with coffee from a couple of mobile units," says Wayne.
The ride headed to Narromine and Trangie via the Dandaloo Road for a short break, then back at 11.30am via Gin Gin Rd to the Commercial Hotel for lunch and the auction of a framed Rossi t-shirt plus about 50 raffle prizes including an Indian leather jacket and vest, Harley-Davidson leather jacket, helmets, travel and meal vouchers, and Easter baskets. Local band Green River donated their talents for a couple of hours.
Wayne says they were joined by well-known Channel Nine journalist Simon Bouda with a couple of mates, plus riders from the Big Sky HOG Chapter from the Central Coast and Moree.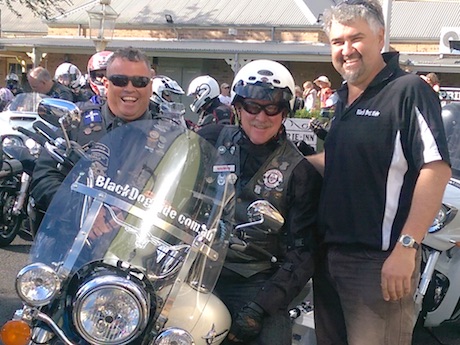 The 2016 BDR One Dayer will be held nationwide on March 20.
Funds raised by BDR are directed to Lifeline's Online Crisis Support chat service and funding Mental Health First Aid Instructors across Australia.
If you need urgent help or support, please contact Lifeline on 13 11 14.