The Black and Decker Gyro Screwdriver
The Black & Decker "Gyro" rechargeable screwdriver is the "World's 1st motion activated screwdriver that controls variable speed and direction".
It's an inexpensive and handy tool for working on motorcycles, especially with all the Torx fasteners used today.
It takes standard 1/4″ drive bits, including Phillips, flat, Torx, square and probably even small nut drivers.
The Gyro has a slightly bulky shape, but quick-release bit driver extensions like the Wiha ClicFix Bit Holder (review) will work to reach those deep recesses on a motorcycle.
The Gyro's direction and speed is controlled by simply turning your hand. Turn it farther and the speed increases.
There's a brief learning curve involved, just because it's so different than either a standard "manual" or a tube-shaped, battery-powered on/off switch screwdriver.
The Gyro's speed is variable and easy to control, from barely turning (16 RPM) to 180 RPM max.
It also has a surprising amount of torque for its size and that's one of its best features for working on motorcycles.
w

BW

 Video: Black & Decker Gyro Screwdriver
Background
Once and a while, we publish a webBikeWorld motorcycle tool review.
I've been on the lookout for an inexpensive battery-powered (rechargeable) screwdriver to use around the shop and I found the Black & Decker Gyro on sale.
The list price is $29.98 but with 5 bucks off for the sale and a $10.00 off Amazon coupon, I ended up paying just $15.00 for mine.
But first, I did a quick internet scan for some reviews and the Gyro returned very positive results.
Why an electric screwdriver?
Well, you can use a manual "Armstrong" basic screwdriver (or the fancy Wiha Micro-Finish Screwdrivers (review)) and call it a day. I've done that for years. Decades, actually.
There were a few reasons — mainly the dozens and dozens of Torx fasteners used on modern motorcycles — that I wanted to speed up the process and save my wrist.
The problem was that most of the tube-shaped rechargeable screwdrivers I found had wimpy specs and didn't get very good reviews.
But when I discovered the Gyro, I was intrigued. Unusual or unique designs always do that to me.
And although the Gyro is made in — you guessed it — China, Black & Decker is a Maryland-based company, having started in Baltimore back in 1910.
So I figured maybe a couple of cents of profit would help my fellow Free Staters keep their employment and the Gyro it was.
The Black & Decker Gyro Screwdriver
The Gyro screwdriver is primarily designed for household use, so it doesn't need huge 18V power packs like a cordless drill.
It also weighs just 301 grams (10-5/8 oz.), not the roughly 2 kg of those massive construction drills with their huge power packs.
The Gyro's battery is a lithium type; Black & Decker doesn't provide any specifications beyond that, other than the 4V rating.
The packaging has the handle exposed with a "Try Me" label that's hard to resist.
The body is made from a heavy type of plastic typically found on drills and other rechargeable tools and the black sections shown in our photos are a semi-soft rubbery type material to enhance the grip.
Charging
The Gyro screwdriver comes with a small charge, just enough to allow some experimenting, but Black & Decker recommends giving the Gyro a long 16 hour charge before first use, then recharging it after each use for optimal battery life.
In reality, we charged it once for the 16 hours and it hasn't needed another, even after a lot of use.
So far, the battery shows no signs of weakness, although I just noticed that the LED blinks twice about 10 seconds after I use the Gyro and then lay it down on the tool cart.
I'm not sure what the two LED flashes signifies? The owner's manual says that when the LED flashes rapidly for 5 seconds, the battery is nearly depleted. I guess I'll give it another charge soon…
The Gyro comes with a recharger that has a special keyed two-prong connector that fits into the bottom of the handle. So don't lose this charger or you'll have to buy another Gyro-specific version (~14.00).
UPDATE: I forgot to mention, there is no battery charging indicator LED anywhere on the charger outlet or the drill. This means that it's difficult to ascertain the battery charging status at any stage during the charging or discharge process.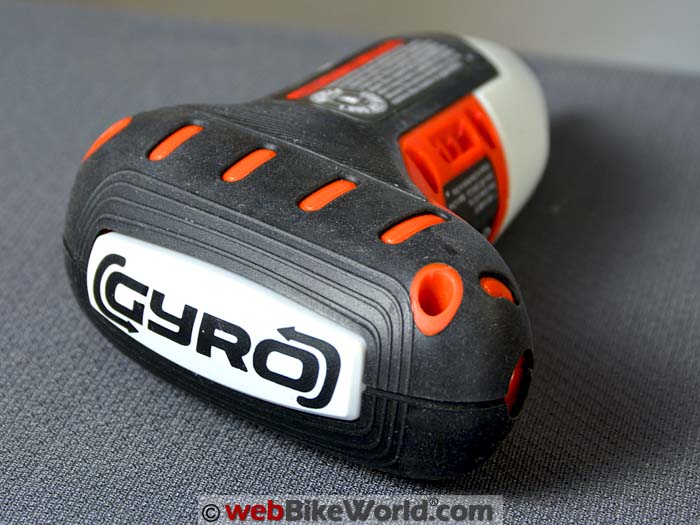 Using the Gyro
[asa2 tplid="6″]B008R5259Y[/asa2]
Operating the Gyro is pretty intuitive due to its melted pistol shape, although it did take us a few tries to become familiar with the different way in which it operates.
Hold the Gyro and place the bit in the screws, then squeeze the big "motion control activator" (aka on/off button) in the rear and twist the Gyro left or right.
The power then turns the spindle clockwise or counter-clockwise respectively.
The more you twist the Gyro, the faster it goes. I can get it to go as low as 16 RPM (we timed it) up to the max of 180 RPM.
If you hold it perfectly still while squeezing the on/off button, nothing happens. Only when you turn your wrist slightly will it start; that's the built-in gyroscope managing the control.
The "home" or starting position is whatever position the Gyro is in when you squeeze the on/off button.
So it doesn't have to be straight up and down; you can hold it offset or even upside-down and it will turn the bit left or right as you turn the Gyro in your hand.
As the fastener nears the end of its travel, slow the Gyro by backing off the amount of twist you're giving it.
You can then stop the Gyro completely by releasing pressure on the on/off button, then twist a bit more to seat the fastener.
I'm not sure how much torque that is in inch-pounds or Newton-meters, but it's definitely more than enough to secure the Torx fasteners that abound on either the 2007 BMW F800S (Blog) or the 2015 Kawasaki Versys 650 LT (Blog) fairings.
Gyro Bits
The Gyro holds a standard 1/4″ drive hex bit and it comes with a flat-bladed screwdriver bit and a #2 Phillips head bit.
Any 1/4″ drive accessory will fit, such as extension bits or bit holders or quick-release bit holders like the Wiha ClicFix Bit Holder (review) we reviewed not long ago.
You'll probably need some type of bit holding extension to work on motorcycles, as many of the screws are hidden deep in the fairing or bodywork.
Gyro Cautions
Remember, this is a screwdriver, so it's basically a tool designed for screws — not nuts and bolts. It works fine on fairing Torx screws, Phillips head and general types of small to medium sized screws.
Although it has a lot of torque for its size, it doesn't have enough power to unfasten anything big or any nuts or bolts with a foot-pound torque rating.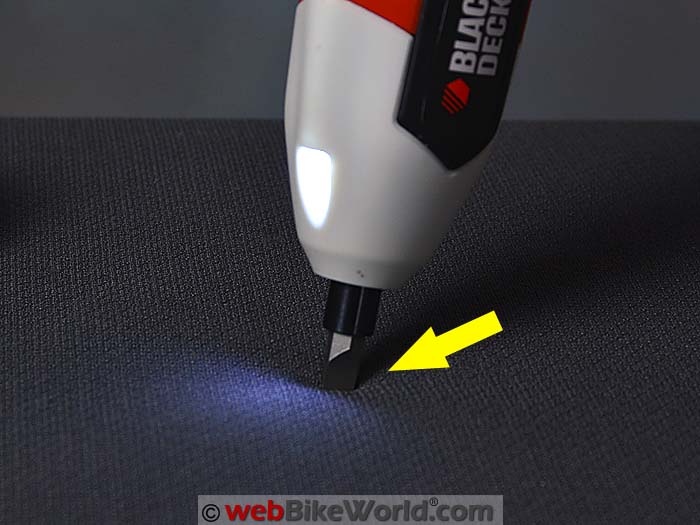 Gyro Nitpicks
The Gyro has a small built-in LED light above the spindle. Unfortunately, the light isn't very bright at all, nor does it actually illuminate the work at the spindle or bit.
As you can see in the photo above, the dim light shines just above the bit and this is in a darkened photo studio.
Unless you're using the Gyro deep inside a fairing with minimal outside light, the LED just doesn't help much, so you'll still need that LED headlight flashlight (reviews).
Another nit to pick is that the Gyro has no place to store an extra bit. You'd think they could have molded a receptacle somewhere on the body to hold at least one bit, but…
In fact, this is probably the most criticized aspect of the Gyro in the Amazon.com owner reviews.
And there's no battery charge indicator light that indicates when charging is completed or how much battery life is left.
Otherwise, the Gyro gets very good reviews no matter where you look, and we agree.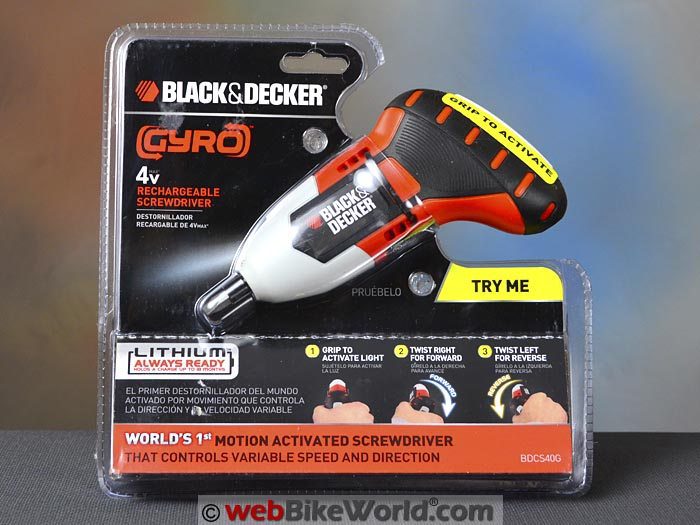 Conclusion
[asa2 tplid="6″]B008R5259Y[/asa2]
There are lots of battery-powered rechargeable screwdrivers out there but we've been hesitant to buy one until now.
That's because many of them don't have the "guts" to unscrew the fairly hefty fasteners typically used on a motorcycle or they don't have a big enough battery or they're not variable speed.
The Gyro screwdriver is not only easy to use, it has a lot of torque for its size. This, combined with the ease of controlling the spindle speed, makes it a winner.
The low price doesn't hurt either!
w

BW

 Review: Black & Decker Gyro Screwdriver
Manufacturer: Black & Decker
List Price: $29.98
Color: Red/Black
Made In: China
Review Date: September 2016
Note:
 For informational use only. All material and photographs are Copyright © webWorld International, LLC since 2000. All rights reserved. See the webBikeWorld® 
Site Info page
. Product specifications, features and details may change or differ from our descriptions. Always check before purchasing. Read the
Terms and Conditions
!
Owner Comments and Feedback
---
From "R.L." (September 2016): "Thank you for reviewing the B&D Gyro screwdriver! You hit the nail on the head (pun intended) on several of the points exactly I also had with this product. But then you can't beat the price of course.
Ultimately, I opted out and went for the DeWalt DCF680G2, although not as expensive as stated on Amazon (shocked!). But still appreciate your review confirming your findings."
Other WebBikeWorld
Tools

Posts