BKS Motorcycle Clothing Review Summary
BKS Motorcycle Image Gallery
By far the best-made and most comfortable motorcycle trousers I've ever worn — and probably the least stylish.
Motorcycle trousers aren't very exciting. Helmets, jackets and gloves give you plenty of ways to express your style and individuality, but trousers are much of a muchness and tend to go unnoticed.
Practical, unflattering, any colour as long as it's black; over-trousers rarely inspire emotion.
But with the BKS Gloucester Waterproof Trousers it was love at first touch.
I was prowling the discount section of Infinity Motorcycles in Farnborough when I noticed them. They were nothing special to look at, but when I ran my fingers down the leg I was hooked.
Most bike trousers — even the high-end models — are made from a stiff, plasticky nylon. These were different. They had a lovely soft feel, almost like moleskin. I tried them on and they felt even better from the inside.
I rejoiced, for I had found the most comfortable trousers ever! Yet I mourned, because by my standards they were on the expensive side.
Then I attempted to make a rational decision rather than one based on how nice they felt.
I have never bought an item of bike clothing with so little information on the label — I've come to expect half a dozen little cardboard tags telling me exactly what materials are used, probably with quite a few trademarks thrown in.
These trousers had a small leaflet about the CE armour and that was all. I couldn't even work out if they were supposed to be waterproof. If they were, I decided, I would buy; otherwise there was no point, as I ride in all weathers.
I summoned a shop assistant, who scratched his head and summoned another assistant, who pronounced that the "W" in the product code (BKW003) stood for "waterproof". Having threatened to come after him with a big stick if he was wrong, I made my purchase.
Due to the aforementioned dull nature of overtrousers, they have always been purchased as an afterthought and I've never spent more than £100 on a pair…which is possibly why I've put up with so many ill-fitting, leaky, uncomfortable pairs. It's a silly attitude of course, because I use bikes for year-round commuting and leisure, and having warm, dry legs massively increases the comfort level.
The BKS Gloucester trousers retail at £199.99, though I bought mine for £159.99 in the sale. If they were proportionally better than previous pairs I'd owned, I would be well pleased.
BKS, established in 1986, is a British motorcycle clothing manufacturer best-known for their leathers. They count Mark Knopfler and Hugh Laurie among their customers, while from the world of racing, James Toseland and Suzi Perry are on board to dispense technical and stylistic advice.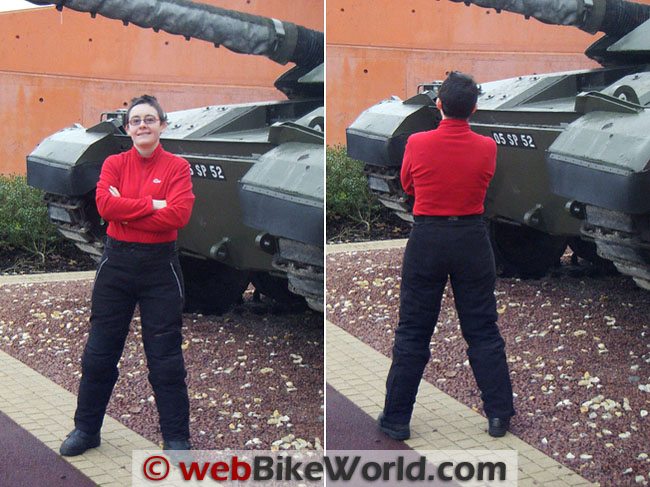 Apearance
The BKS Gloucester trousers are very plain and simple in design. Black all over, the only attempt at decoration is a thin line of reflective material on each of the two side pockets and contrasting silver thread around the pocket openings.
Panels at the back of the knee and the front of the thigh are practical rather than decorative; they're made of a stretchy material that lets you bend your knees in comfort.
I've noticed the soft fabric that makes up most of the trousers isn't quite a true black and it can look dark grey, brown or purple in the light. It's almost guaranteed to be slightly wrong for whatever you're wearing on your top half, unless that happens to be the matching Gloucester jacket.
Branding is kept to a minimum: "BKS: is embroidered at the bottom of each leg, with "Proven Protection" across the left thigh in small text.
The BKS lion head logo is embroidered on the back, where it would normally be covered by the back of a jacket, and it also features on the rubber coating of the press stud fasteners. These trousers won't set the fashion world ablaze, but they look functional, comfortable and good quality — which they are.
BKS Gloucester Trousers – 
w

BW 

Lightbox Slide Show

BKS Gloucester Overpants

wBW Lightbox Slide Show: Click on a photo to start the Lightbox slide show.
Fitting the BKS Gloucester Trousers
I was somewhat put out to try on a size 30, which would usually be right for me, only to find they wouldn't do up, even though my favourite jeans will testify that my waist is a svelte 29 inches.
I've long held a theory that the more expensive the clothes, the smaller they run, and here is additional evidence. Thus, I had to buy the size 32. 32 indeed!
To be fair, I always wear my bike gear on top of everyday clothes, so if I were wearing the Gloucesters without trousers underneath, a 30 would be just right. This baggy look may not be flattering, but it is very comfortable.
The loose fit also means that the trousers are easy to pull on and my ordinary trousers underneath don't get rucked up. I have a 28-inch inside leg and most bike trousers are far too long for me; these are just a fraction longer than I'd like, and without the ankle zips would probably brush the ground, but they fit fine when they're done up. (The length of the size 30 trousers was perfect.)
If you, like me, struggle to buy off-the-peg trousers short enough for you, the Gloucesters could be the answer to your problems; if you're of average height or above, you might find your shins exposed when you're on the bike.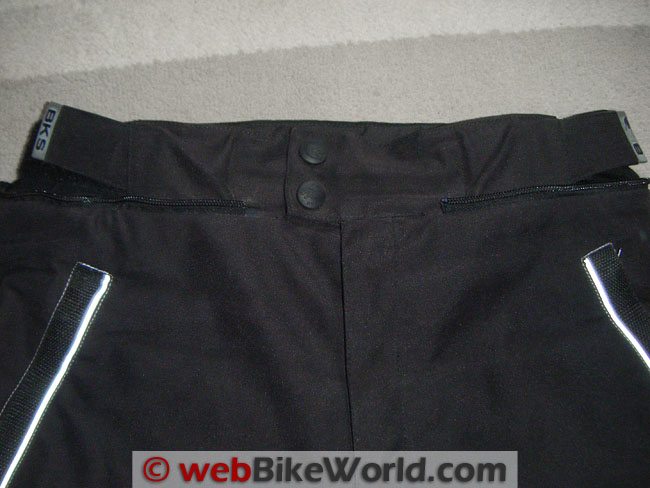 Materials
Thanks to the paucity of information on the garment labels, I had to visit the BKS website to discover that the Gloucester trousers are made from 600 denier fabric with a Dry-Tex membrane. I've already mentioned the lovely feel this fabric has, but it's also hard-wearing; after several months it's looking as glossy as ever with no sign of wear.
Most of my motorcycle trousers quickly start to look scruffy around the knees from kneeling down to put a lock through the wheel of my bike. But BKS also boasts that all inseams are double stitched. Certainly the stitching is very small and neat — in fact, it's barely visible — and shows no signs of loosening or breaking anywhere after months of use.
I bought the trousers in July, so it was some time before I needed the detachable quilted liner. This attaches at the top ot the trousers with a zip around the waist and at the bottom with two buttons in each leg which pass through elastic loops. The liner doesn't run the full length of the leg, stopping halfway down the calf — just where the zip on the outside starts. I imagine this is to make it easier to fit boots underneath.
The trousers also include a non-removable mesh liner. Could it be the "Dry-Mesh" insert mentioned on the website? This ends just above the ankle, and the last few inches of the legs are lined with nylon. I'm sure this serves a purpose, as the trousers seem so well-designed. Sliding easily over boots? Repelling water if your boots are wet? Easily cleaned if they're muddy?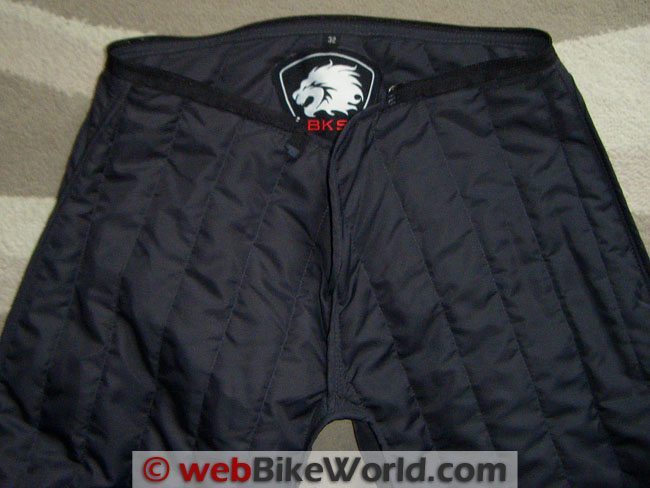 Fasteners and Pockets
The Gloucester trousers fasten with a YKK zip and two press studs. The zip runs smoothly, and there's a nylon flap behind it to keep the water out. The press studs snap shut firmly and have never popped open, on or off the bike — unlike, ooh, every other pair of bike trousers I've ever owned.
To fine-tune the fit, there's an elasticated belt which fastens to wide Velcro panels on either side of the waist area. I find this very useful, since the number of layers I'm attempting to tuck in to my trousers can vary a great deal. A zip on the outside of each ankle allows you to tuck boots into trousers.
Once these are fastened, the fit feels snug and secure. However, the legs aren't wide enough, nor the leg zips long enough, to let you pull the trousers on or off over the boots.
Round the back, there's both a full and short zip for connecting to a jacket with a compatible fastener, the half zip with larger, chunkier teeth.
To my joy, I found the short zip was a match for my Polo Bahiro jacket (review). The two deep hip pockets zip securely and when they're open, I can get my hands all the way in, even with the hip armour in place.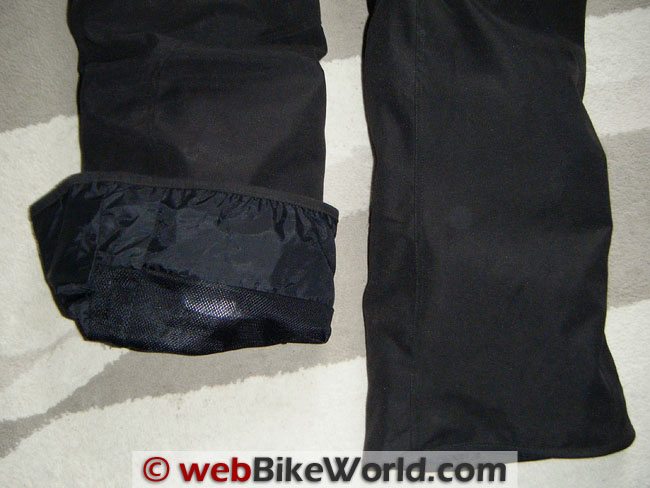 Armour
The BKS Gloucester trousers come with CE-approved knee and hip armour made of dense foam. The knee pads are sewn into place, forming a firm cup which sits nicely over the kneecap and covers a large area. The hip pieces are detachable and supplied in their own little drawstring bag. They sit snug to the body in pouches closed with Velcro.
The armour is made by an Italian company, Betac, which is a strange choice for BKS, who obviously pride themselves on being British. I've no doubt that they did their research, however, as the armour seems very good: flexible, lightweight and far from bulky, while covering all the right areas.
Wear and Waterproofing
On a recent touring holiday through France and Italy, I wore these trousers pretty much all day, every day. When the temperature approached 30 degrees C they were a little sticky at urban speeds, though fine on the open road, and when we hit a chilly 4 degrees on the Tonale Pass(map) I wished I'd brought the liner, but on the whole they coped well with the varied conditions I encountered.
They kept me dry the day it drizzled constantly as we rode around Lake Garda (map), and when I rolled off the ferry in Portsmouth to driving rain they were the only part of my outfit to remain entirely waterproof for the two-hour journey home.
After a fortnight's constant wear the trousers were in a far-from-savoury condition. I was disappointed to learn from the care label that both machine and hand washing were out and only surface cleaning with warm water is permitted. Thank goodness for Febreze…
Conclusion
My boyfriend likes to ask me "Still pleased with those trousers?" as I made such a fuss over trying and buying them. On every occasion, for six months and counting, the answer has been "Yes, they're great!"
There's only one mystery: why "Gloucester"? Perhaps the answer lies in this nursery rhyme:
Dr. Foster went to Gloucester
In a shower of rain.
He stepped in a puddle
Right up to his middle
And never went there again.
w

BW

 Product Review:  BKS Gloucester Waterproof Trousers

Manufacturer:  BKS Clothing
List Price:  £199.99
Colour:  Black.
Made In:  Unknown
Sizes: 30-40
Review Date: January 2011
Note:
 For informational use only. All material and photographs are Copyright © webWorld International, LLC since 2000. All rights reserved. See the webBikeWorld® 
Site Info page
. Product specifications, features and details may change or differ from our descriptions. Always check before purchasing. Read the
Terms and Conditions
!
Owner Comments and Feedback