wBW Special Report – Edited by webBikeWorld Staff
"Where did your spaceship land?"
The man in his mid-fifties shakes his SCHUBERTH flip-up helmeted head, befitting his station in disbelief. "Could you please move over for a second?  I have to take a closer look on this bike — is it really a BMW?"  Five minutes later his perfect motorcycle world has finally collapsed when I told him that I was actually sitting on a BMW GS just like him.
He probably continued to shake his head for another hour when I spurred the silver-black bike again and the two-cylinder boxer engine plunged itself again into the thousand curves of the Black Forest, orchestrated by the greedy slurping of the two small open air filters and the deep grumbling of the shortened standard exhaust system.
Yes, this absolutely isn't a one-man Starfighter that was launched from a starship — it really did start life as a totally stolid BMW R 1100 GS.
Klaus Beutler is the man behind this project. Normally he is running a paint shop and among bikers in Germany and in the adjoining properties – since his hometown Görwihl is just a few minutes away from Switzerland and about an hour to drive from Austria – he is one of the best places to go for special paint jobs.
The 40-year old doesn't really know or doesn't want to remember how he happened to buy his conservative Enduro-Tourer motorcycle back in 1998. Before this decision Beutler's garage was rather occupied by Japanese bikes from the legendary Kawasaki Z1 up to the current superbikes.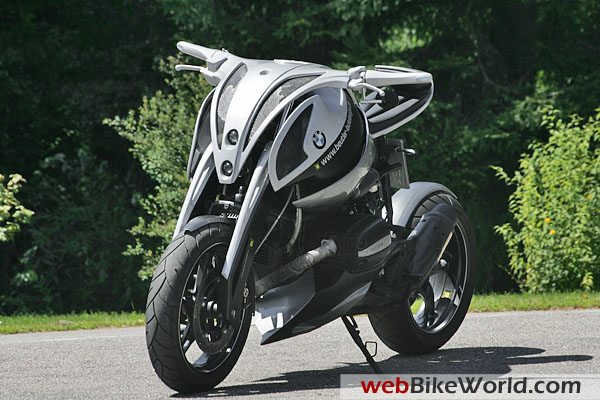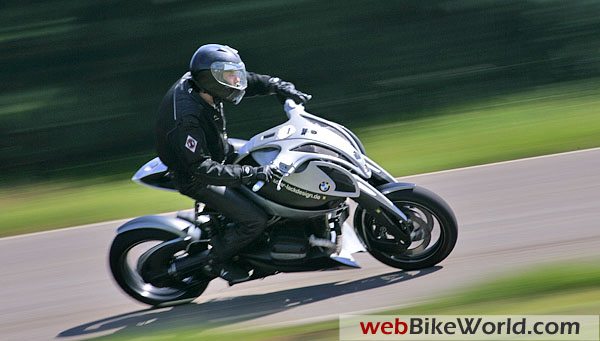 "But you quickly learn to estimate the virtues of a GS on the narrow and curvy roads in our region. You will even rarely find a rider of a modern superbike who can leave you behind with this 170 hp rocket", the master smiles.
One day back in the year 2000 Klaus Beutler had some difference of opinion with a pensioner regarding the right of way, and that is what changed the design of the BMW GS. Since a motorcycle painter also has to work on damaged bodywork every day, it didn't take long until the R 1100 GS was repaired again, and as a side effect he also modified it a bit in a quite subtle way.
With this first conversion, he developed a taste for it and since he needed a show bike anyway for his different appearances at motorcycle shows to promote his Carbonlook paint jobs, he started to think about how to turn his Enduro into a unique eye-catcher with a very innovative "Streetfighter" look.
There were some strange UFO sightings recorded at this time, but maybe the famous Black Forest beer lent a hand in the development, along with many meetings with his pal Peter Stoll, who is distributing Streetfighter parts under the name MEGATEC.
Although they have strayed from the path of virtue at BMW with motorcycles such as the K 1200 R or the HP2 Megamoto over the past few years, I am sure that even the wildest concepts of the BMW designers for the bike of the year 2020 are comparatively conventional in contrast to this bike.
Klaus Beutler started with a plain white sheet of paper, and also with lots of moulding foam, filler, a pile of fiberglass mats and epoxy resin.
Some original parts were thrown in the dustbin immediately. The high standard front fender isn't wanted on the FUTURE BMW just as little as the standard fuel tank cover or the standard saddle including its auxiliary frame which is exchanged for a much shorter self-made construction.
Passenger footrests are equally pointless – the black knight of apocalypse rides alone into the street café. The massive enduro-style tire didn't suit the constructor's plan either, nor did the huge 19-inch standard front wheel. And toss the lamps and turn indicators all around, along with the upright stock instruments, which haven't been the favorite choice of the customizer.
As a result, the former enduro stood quite naked in Beutler's workshop, who meanwhile had quite an exact idea how his BMW should look like in the future. Futuristic and aggressive – this philosophy characterizes the face of the former GS.
 Beutler Future BMW – 

w

BW Lightbox – Click photo to view.
The handlebar cover design, which includes the handlebar and the new digital cockpit, takes after the skull of a bull we have seen thousand times in western movies and that certainly isn't by change. The two tiny ellipsoid headlights, one coming from a Ferrari F50, gives the bike this special kind of Star Trek look in the rear view mirrors of the bike in front of you, which clears the road ahead.
The BMW-typical Telelever front wheel suspension also got a new suit and looks quite technical due to its contrasting Beutler-painted carbon-look and brushed aluminum finish. It is even hard for experts to reveal that these parts are made from simple plastic.
Behind that the bike hunches its shoulders that even the hunchback of Notre Dame would be proud of. The Monocoque-style unit from fuel reservoir cover and tiny saddle, which has got such a strange design, that it looks like it would like to take the rider's butt into a loving grip, isn't only very special due to its hemispherical shape but especially due to its tasteful combination of – you've guessed it – carbon and gleaming silver.
The two small rear lights round out the design language of the front section while the two-tone fenders front and rear are more or less an alibi. The rear mudguard perfectly matches the whole design due to its inspiration taken from the bike's standard single-arm swingarm. The aggressive look is finished by the spoiler fitted below the engine.
Of course the conversion also contains special wheels and it was quite helpful that BMW uses a modular wheel system for their motorcycles. The 3.5Jx17 and 6Jx17 rims with 120/70 ZR 17 and 180/55 ZR 17 tires come from the strong-as-an-ox K 1200 S.
Before BMW owners run to their dealer to ask for a set of ultra-light Carbon wheels like this for their bike, they should know that the remarkably real high-tech look of the rims on the FUTURE BMW isn't a result of the super-light carbon material, but from the paint shop of Klaus Beutler. This finish is also available for all cast alloy wheels of other motorcycle manufacturers.
"The 1,085 cc two-cylinder boxer remained basically unchanged, but for a better sound I have adapted the open air filters and got the standard exhaust system made shorter", Beutler explained; he should know, as he invested about 900 working hours into his jewel. The exhaust wrap on the headers give the bike an even more angry look.
In a time when the 200 hp barrier has already been touched by some bikes, the 80 HP of a R 1100 GS doesn't sound too impressive, but if you ever made a trip across the Alps you will know that it is pretty tough to follow any BMW with an experienced rider.
The absolute ease of maneuverability is certainly lost a bit because of the change to the wider low profile tires. And in the much lower and wider handlebar makes the biggest disadvantage of the BMW Telelever front suspension even more noticeable: The rider would certainly appreciate a better feedback from the front wheel.
But this becomes a matter of habit, just like the handlebar cover which moves with the bar and which also houses the instruments.
But the uniqueness generated by the FUTURE BMW is simply fascinating. The boxer engine makes lots of fun with its enormous propulsion power and it doesn't matter that the bike doesn't run faster than about 200 km/h. Nevertheless you shouldn't underestimate 80 horsepower on two wheels: With an acceleration time of about four seconds from 0 – 100 km/h you are on the same level like a current Porsche 911 turbo.
But the road performance is of minor importance on such a bike. Its owner is always confronted with astonished looks and countless repeated questions. And for all this, you'll need a good measure of self-confidence mixed with a shot of exhibitionism and a well-stuffed wallet.
In the end the investment of 12,000 Euros for the conversion alone plus the 17,000 Euros that are required to get a new R 1200 GS released from the dealer's showroom are all it takes. Then you can sit behind the handlebar of one of the most extraordinary bikes of our time – the applause at the street café is guaranteed. Just like the impeccable quality of the conversion. Klaus Beutler doesn't only seem to be great painter but also a great customizer.
Beam me up, Scotty!
Technical Specifications
Engine
Air/oil cooled two-cylinder four-valve BMW boxer engine
Displacement
1085 cc
Bore/Stroke
99 x 70.5 mm
Compression
10.3:1
Power
80 hp at 6,800 rpm. Max. torque 97 Nm at 5,300 rpm
Exhaust
Modified Beutler Design 2-in-1 exhaust system, open sport air filters
Transmission
Five-speed manual gearbox, universal-shaft drive
Chassis
Telelever front wheel suspension with Beutler Design plastic cover, single-arm swing arm rear with single suspension strut
Wheels
BMW K 1200 S light alloy cast wheels with Beutler Design Carbon look paint. Dimensions 3.5Jx17 front with 120/70 ZR 17 Michelin tire; 6Jx17 rear with 180/55 ZR 17 Michelin tire
Front Brake
Two-rotor disc brake front with four-pot calipers and floating 305 mm brake discs
Rear Brake
One-rotor disc brake rear with two-pot calliper and 276 mm brake disc
Design
Beutler Design FUTURE BMW body styling kit with front mask including handlebar cover with integrated direction indicators and instruments. Monocoque with fuel reservoir cover and single-seater saddle, two ellipsoid headlights for passing light and high beam, two mini direction indicators rear and two rear lights for driving and brake light. Bow spoiler.
Paint
Beutler Design special paint, Combination Carbon-Look and brushed aluminum finish
Performance
0 – 100 km/h approx. 4.0 seconds
Max. speed approx. 200 km/h
Price
Approx. 12,000 Euros for the bodywork and owner's BMW R 1200 GS. New complete motorcycle, based on new BMW R 1200 GS, approx. 29,000 Euros.
Manufacturer
Beutler Design, Hauptstr. 34, D-79733 Görwihl, Germany, Tel: +49 / (0) 77 54 / 75 11, 70
Note: For informational use only. All material and photographs are Copyright © webWorld International, LLC – 2000-2013. All rights reserved. See the webBikeWorld® Site Info page. NOTE: Product specifications, features and details may change or differ from our descriptions. Always check before purchasing. Read the Terms and Conditions!
Other WebBikeWorld Brands Posts