Let us introduce to you a few of the most prominent riders in the world who also happen to be bloggers – and our favorite ones. These women are all bikers and motorcyclists at heart, and happen to do a little blogging about it too. These ladies all seem to have their unique and different ideologies concerning motorcycling activities and they have proven to be effective. Their passion and expertise may vary, in terms of motorcycle safety and riding – but they have are all women who we consider to be experts.
Here we go:
Women's Motorcycle Blogs to follow in 2017

Alicia Mariah Elfving – "The MotoLady" has featured women riders on her blog for long time. Because she is a great photographer, you'll find all of the pictures on her site and the other MotoLadies she features are very high quality. If she doesn't shoot them herself, she will most defiantly find the source. Following along with her bike builds is also a great reason to watch this moto-blog in 2016. You can also follow most of her shenanigans on Instagram.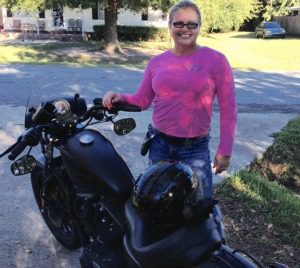 A motorcycle enthusiast, Regina Schrieffer the "Steel Cowgirl" makes jewelry, has a fashion brand center on bikers, and loves to ride her bike and her horses.
Be sure to check out her shop, especially the Lil Steel Cowgirl section.
Motoress
The founder of this blog –  Vicki Gray – was also the one who in 2006 initiated the "International Female Ride Day". This is someone who over the years, precisely from 1992, has sponsored and support program from women, known as Look Good Feel Better.
Today, the site is an online women's motorcycle magazine and resource for women motorcycle enthusiasts'. A full line of riding gear, training, and tools for women is also the focus of the popular brand Motoress. 
This female motorcycle rider has authored a couple of eBooks –  "Women, Motorcycles and the Road of Empowerment", and "Life Lessons."
With years of experience riding on the road, Liz is a speaker, coach, and consultant for anyone who enjoys the open road and is ready to make a change in how they live their life.
This blog is owned by the operator of RT's North Hills Cycle Inc. Sara Liberty.
She is a journalist as well as a photographer.
You can follow at twitter @garagegirls
This is a blog that has existed since 2003, and is solely for the motorcycle riding community in Canada and environs. Its content centers on news and events having to do with motorcycle, law and politics.
Interested in a follow, here's twitter handle: @bdbetty
Have any questions to ask on anything motorcycles? This is one ideal blog to do just that. The high point of this blog is the Q&A section of the blog.
She also features reviews on clothing and tips on proper fit.
You can follow her on twiiter @Gearchic and also the co-host of the moterrific podcast
The author of this blog is by name Carla, a writer and an expert on self publishing. Other series she has authored are: Motorcycling for Women, American Boarders Motorcycle diaries, Stories from Elsewhere: Solo Wanderings on Two and Three Wheels and lots of others. Her twitter handle: @MissAdventuring, or @carlaking,
This is one woman known for her amazing women empowerment tours, her inspiring writing on living with your dreams as a motorcyclist.
She's as a motorcycle tour guide, journalist, and blogger.
This blog is solely about a young woman, based in West Coast Canada and writing about her biking experiences.
To follow, her handle is twitter @Moto_Diva.
Over the years we have taken the time and effort to compile a list of resources that will help you with your motorcycle challenges – this includes blogs, forums and online magazines. This way anytime you (or we) have motorcycle questions or troubles, you and I know where you head to directly.
[schema type="review" url="http://webbikeworld.com/best-womens-motorcycle-blogs/" name="Best Womens Motorcycle Blogs" author="Karl Steinmeyer" ]