In most cases, I would encourage you to ride your motorcycle or drive your ATV or UTV to your destination, but sometimes, you can't. 
Whether you have a designated off-road powersports vehicle and you need to get it out to where you can use it or you just need to bring your motorcycle along with you for some reason, having a trailer and being able to tow your bikes or other powersports equipment around is a serious convenience. 
Having the right vehicle for this is a must. Too often, folks have a great idea to tow a trailer with them only to find out that they don't own the right vehicle for it. With this in mind, I wanted to take a moment to discuss towing a powersports trailer and what vehicles you should look for when you're thinking about towing a trailer. Without further ado, let's dive in. 
Get the Proper Tow Rating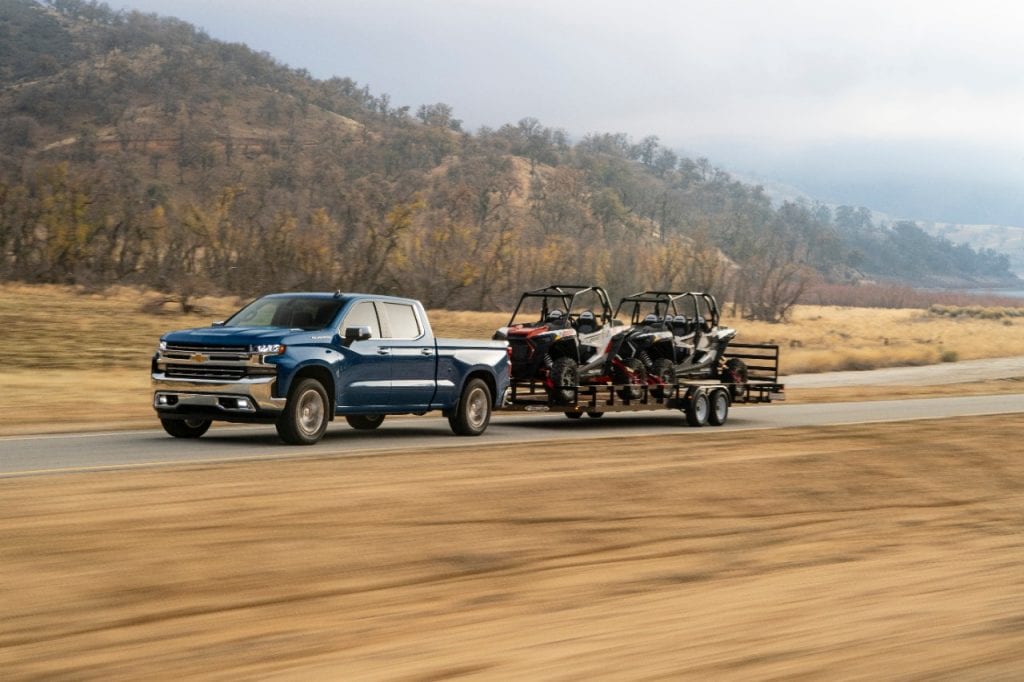 Towing a trailer isn't always an easy feat, but if you have a vehicle that can handle the weight of that trailer, then you're off to a good start. You need to get a vehicle with the right towing capacity. 
This is going to be more than your typical passenger car or many of the smaller crossovers out there. Think about it like this: the trailer you pull is going to weigh somewhere between 500 pounds and 1,000 pounds at a minimum. Add to that your motorcycle which can weigh anywhere from 300 pounds to 500 pounds or more, and you're looking at needing a towing rating of at least 1,200 pounds or 1,500 to be on the safe side. 
If you're putting more than one bike on the trailer, then you're only going to add to this need for a high towing capacity. Personally, I'd advise you to find something that can tow over 3,000 pounds at least. That way, you should be in the clear. Even with a couple of bikes on a small trailer. If you have ATVs or UTVs, make sure you calculate the weight properly and have a vehicle that's equipped accordingly. 
Think About Tongue Weight, Too
The towing capacity isn't the only figure you need to think about. You should also figure out the tongue weight capacity. The tongue weight is the downward force that's exerted where the trailer connects to the vehicle. Usually, this is a simple ball hitch. Your hitch will be rated for a specific amount of weight, and you need to be sure not to exceed that weight. 
The best way to do this is to use a commercial vehicle scale. However, you don't have to use one, especially if you're pretty sure you'll be far below the capabilities of your vehicle. Tongue weight should be between 9 and 15 percent of the gross trailer weight. 
So, if you have a 1,500-pound trailer when laden down with motorcycles or ATVs, you'll have a tongue weight of about 225 pounds. 
Of course, how you load the trailer matters, too. If the trailer is loaded down with everything at the front, it will have a heavier tongue weight than if everything is loaded at the back. Generally, you want a bit more weight on the hitch, because it helps you avoid trailer sway. 
Below is a great demonstration of trailer sway and how tongue weight plays a role. 
As you can see in the video, the more weight you load towards the front of the trailer, the less trailer sway occurs. Make sure to load the trailer evenly, and also ensure you'll be within the vehicle's tongue weight capacity, and you should do just fine. 
Now, let's take a look at some of the best vehicles for towing a motorcycle or powersports trailer. 
Trucks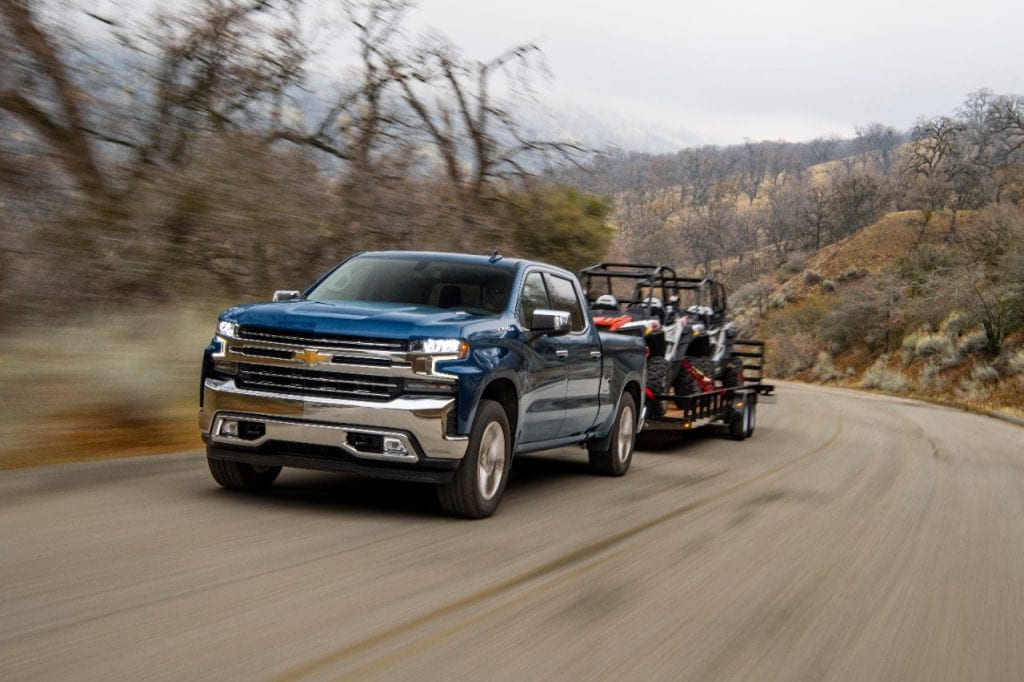 Trucks are going to be most driver's go-to vehicle type when towing. These machines are designed with towing in mind, and that means that you'll have trucks of all sizes that can easily tow over 5,000 pounds, sometimes they can tow far, far more. 
There are generally four different sizes of trucks: compact, midsize, full-size, and heavy-duty. All of them will be able to handle a small trailer with some motorcycles or ATVs on them. However, a word of caution. Don't just assume every truck for sale can tow the weight you need to tow. 
It's still important to do the math and cross-check that against your particular vehicles' towing capacity and tongue weight. If you're shopping for a new truck, then you should talk with the salesperson about your specific needs. Tell them what you want to tow, and they should be able to help you out. 
SUVs and CUVs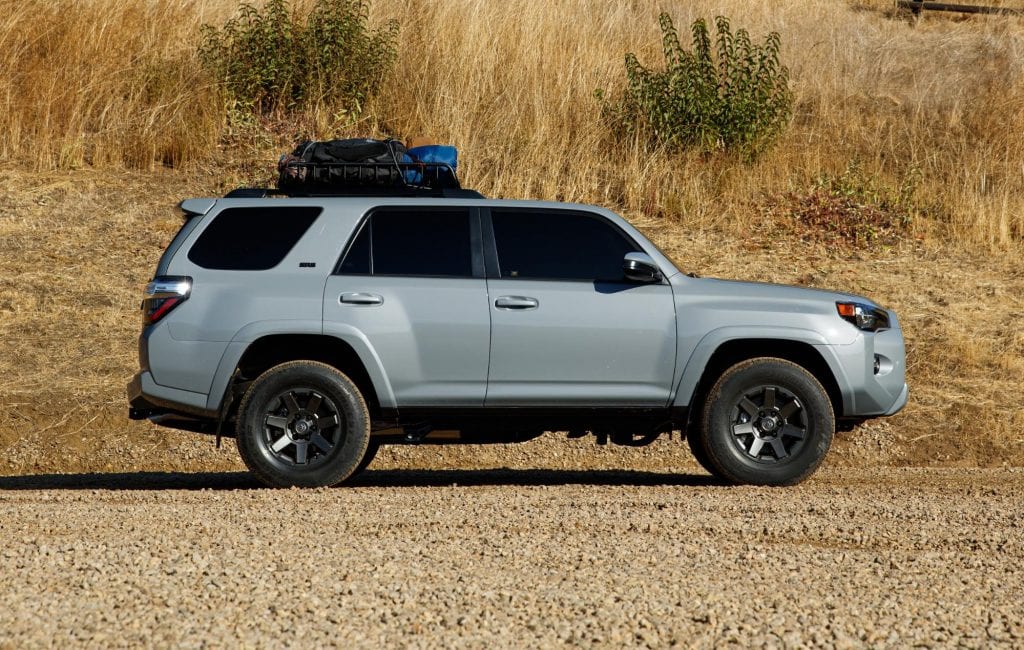 SUVs and CUVs, or crossovers as they're commonly known, are extremely popular vehicles right now, and for good reason. These vehicles are the true do-it-all machines. They have generous cargo areas, plenty of seating, all-wheel drive in many cases, and they sit up a little higher providing a good view of the road and some off-road capability. 
SUVs and CUVs are also good towing machines in many respects. Not every single one on the road is going to be right, but for mild towing duties, you'll find that even many crossovers do just fine. 
"Many late-model vehicles including numerous small CUV's and SUV's, are capable of towing a small trailer easily." The team at EchoPark Automotive told me. "They're also great everyday vehicles for when you're not towing a trailer." The spokesperson for EchoPark went on to say that many people looking for a good tow vehicle use an SUV without ever experiencing any issues. 
While some are better than others, pretty much all of them will be able to tow at least 1,500 pounds. However, I'd look for a CUV or SUV that's capable of towing at least 5,000 pounds. The Toyota 4Runner (shown above), for example, can tow that much and is a great option. 
Generally, the bigger the SUV, the higher its towing capacity will be. It's also worth noting that the body-on-frame SUVs that are based on truck chassis will have the highest towing capacity while the smaller car-based CUVs will have lower towing capacities. 
Vans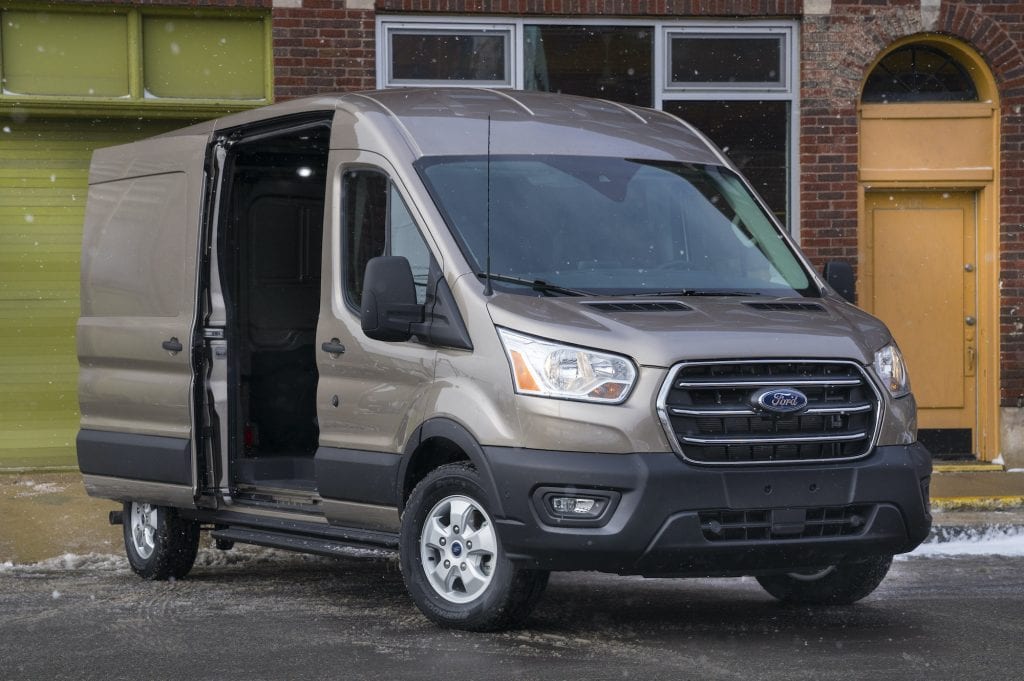 Last but certainly not least are vans and minivans. Full-size vans will have the highest towing capacity and generally be the best towing option. However, you might be surprised to learn that even most minivans can tow 3,500 pounds or so. 
Full-size vans will be able to tow far more. The Ford Transit Cargo (shown above) is able to tow between 5,000 and 5,800 pounds depending on how it's equipped. In most cases, that's more than motorcycle-and-powersports enthusiasts actually need. 
Also, the nice thing about vans is you can take a lot of gear and passengers with you as well very easily. While pickup trucks will beat out vans in terms of outright towing capacity. Vans are sometimes the more versatile vehicle overall.