Article Contents:
Whether you're bringing along your laptop, need a place to stow some rain gear, or you've packed-up for a long weekend ride, having a good backpack that works on your motorcycle is a must.
You can get by with your everyday run-of-the-mill JanSport backpack for only so long. At some point, you're going to want something that's purpose-built and offers some better features and tougher construction. When that time comes, you need to think about motorcycle specific backpacks.
To help you narrow down your options, I've pulled together a list of the best backpacks at various price points. These aren't the only choices you have, but they're some of the best ones out there. So, take a loo, count up your spare dollars, and think about which one best suits your needs.
How & Why I Picked These
Before we get into what's best, you might be wondering why you should listen to me. That's a fair question! I've been riding motorcycles since high school. I regularly ride wearing a backpack (what I wear depends on what I'm testing/reviewing/have recently bought), and I know what to look for.
I also review gear, cars, motorcycles, and more for a living. I know what makes a good product and I know what to look for. I don't get paid by the brands I've listed below and I don't get paid for the backpacks that you buy. I make my money by putting together the best possible list of motorcycle backpacks and telling you why they rock.
What I looked for in a good backpack was: good build quality, ease of use, attractive design, something that was comfortable to wear on the bike, and most importantly a bag that was designed for the needs of motorcyclists. Here are my top picks at various price points.
Backpacks Under $100
OGIO Throttle Backpack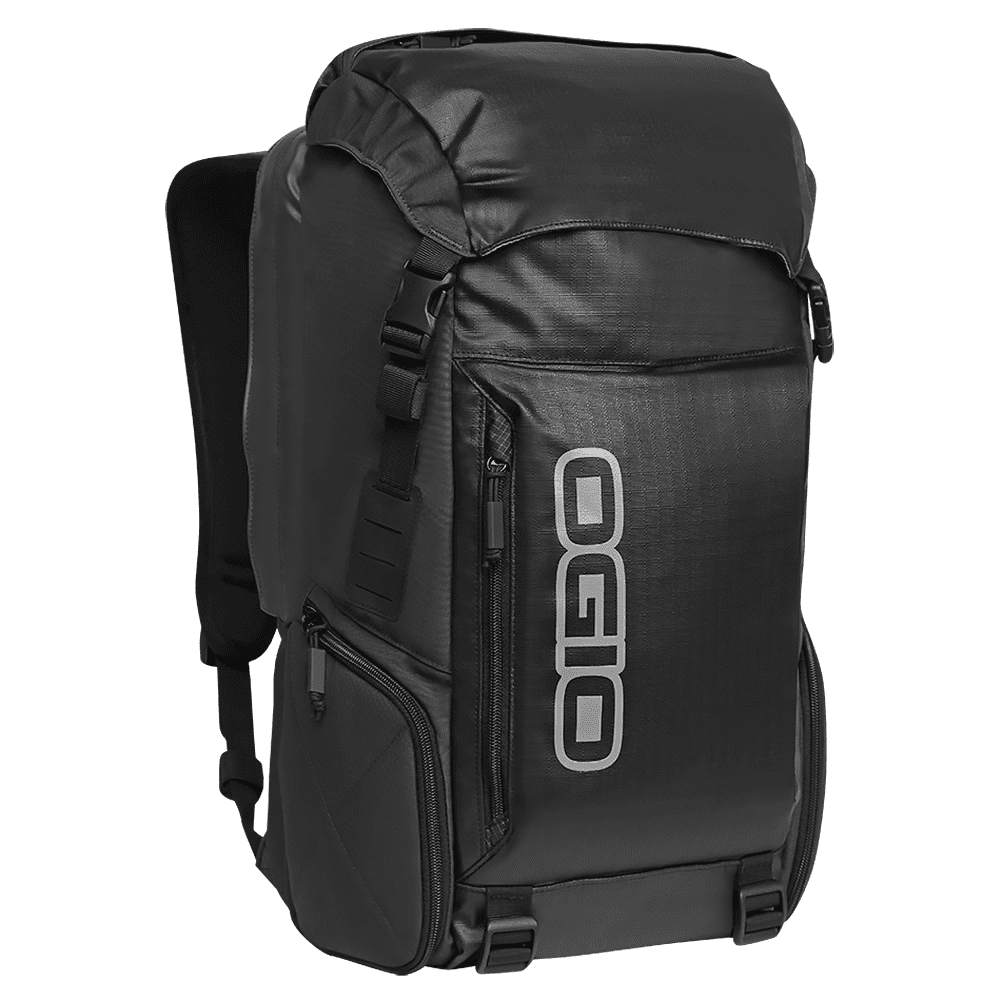 When it comes to good motorcycle backpacks, OGIO is a brand worth turning to. The Throttle Backpack is a fantastic bag for under $100. The bag features a top-loading design with a water-resistant rain hood.
It also offers a 17-inch laptop sleeve inside as well as about 28 liters of capacity. Weighing a lightweight 1.9 pounds, when empty, you should be able to fit all you need in it. The Throttle Backpack also features two external pockets and two internal organization pockets.
Klim Nac Pak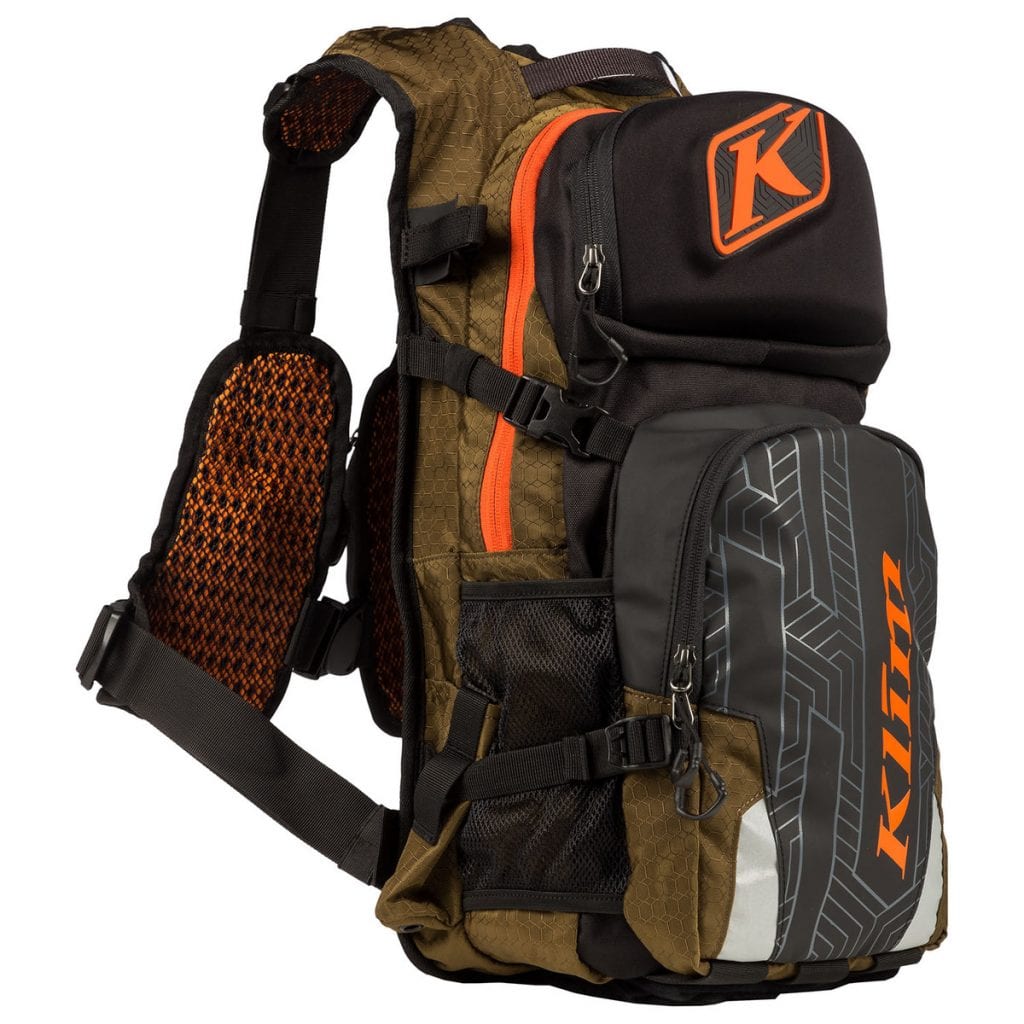 The Klim Nac Pak is a unique offering. It offers a design built for off-roading. There are plenty of other off-road backpacks out there that have similar features, but few of them come at a similar price.
The backpack features external shovel storage, water-resistant tool pack, pockets for small and medium-sized laptops, a molded and ventilated back panel, pocket for goggles, heavy-duty nylon construction, and room for a three-liter hydration pack.
Firstgear Torrent Backpack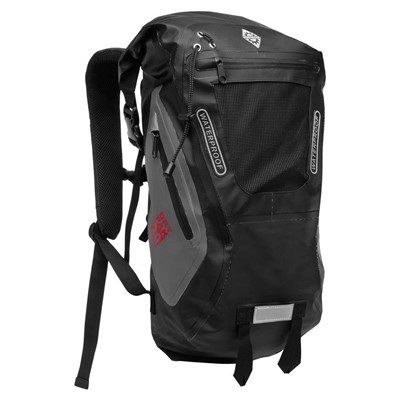 The FirstGear Torrent Backpack is a simple and inexpensive backpack built for riders who need something basic that will still get the job done of carrying around their everyday items.
There's a 20-liter capacity and numerous pockets on the outside of the pack. The top has been designed to help keep the backpack water-resistant. The shoulder straps are padded and there's a sternum strap.
Backpacks $100 – $200
Icon Dreadnaught Backpack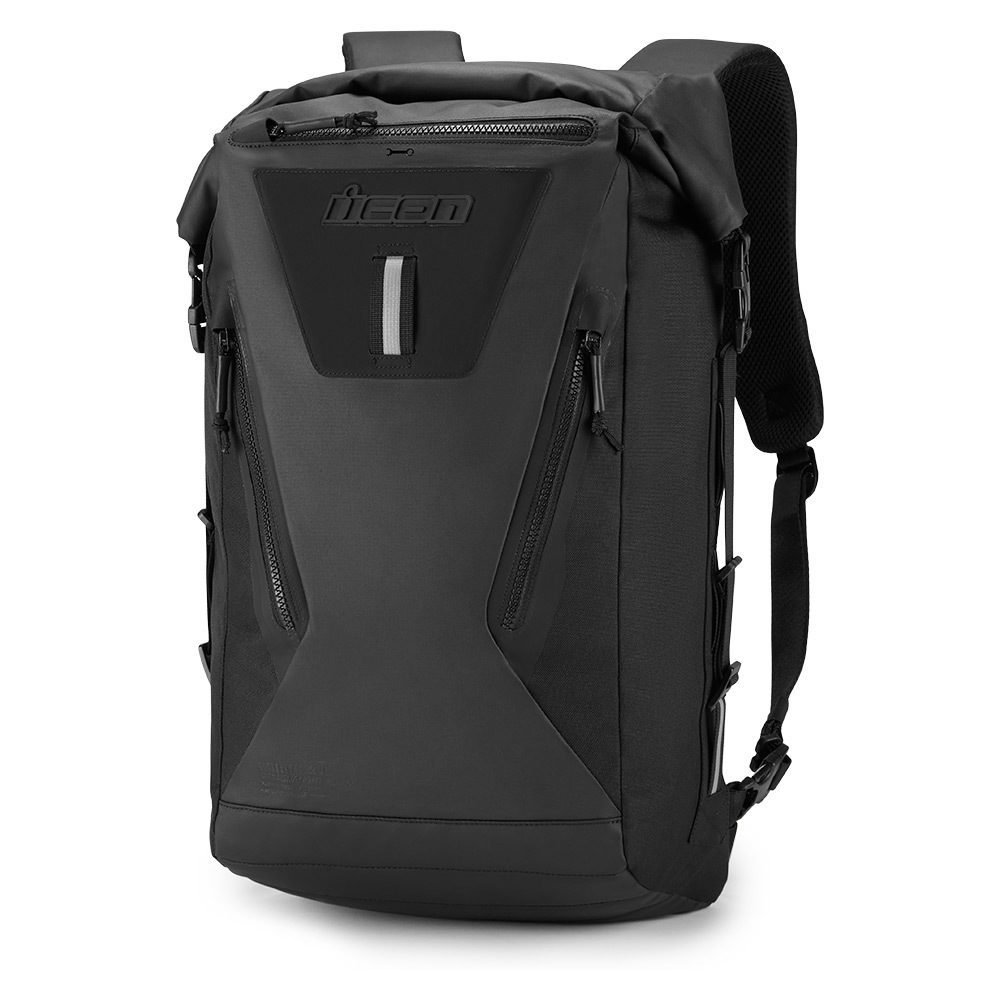 The Icon Dreadnaught Backpack features a roll-top design that keeps moisture out of the pack. The backpack has a 20-liter capacity. It has a space for a 15-inch laptop. You can also add either a D3O Viper Back Protector or a hydration pack both of which are sold separately.
The shoulder straps have been specially designed for comfort on the bike, and there's a tool roll but the tools are sold separately. Overall, this backpack from Icon offers a lot for its relatively modest price tag.
OGIO Dakar 3L Hydration Pack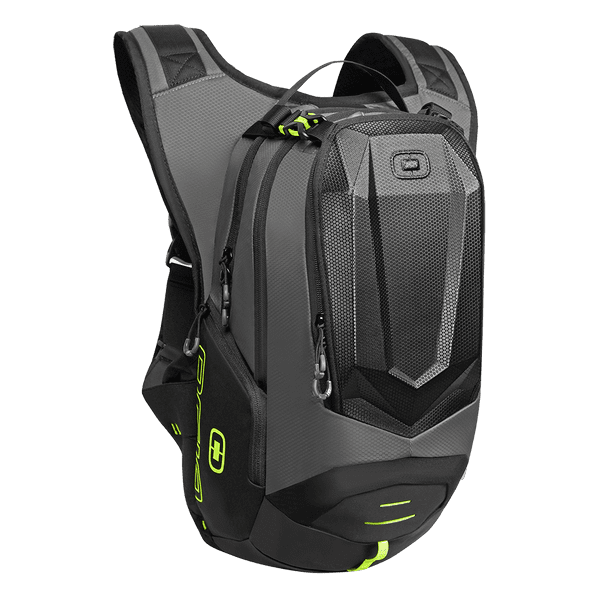 The OGIO Dakar 3L Hydration Pack is a small but mighty little backpack. Designed to be a very useful pack for sport riders. It features an insulated bladder compartment. It features ripstop and nylon construction.
The shoulder straps feature a centrally fastening harness system designed to keep the bag from moving around on you while you're riding. If you're looking for a backpack that will hold tight while you take the twisties on, then this is it.
Nelson Rigg 40L Hurricane Waterproof Backpack
The Nelson Rigg 40L Hurricane Waterproof Backpack is a fantastic backpack for a longer trip. It's a big brute of a bag with a 40-liter capacity, but luckily it can double as a tail bag, meaning you won't have to have all the weight of everything you packed weighing on your back all day while riding.
This backpack has multiple external and internal pockets. It's a complex bag featuring a waterproof construction, one-way waterproof purge valve, external pockets and bungees, inner sleeve for 15-inch laptops, and a padded back panel with a built-in airflow system.
Backpacks $200+
Velomacchi 40L Roll-Top Backpack
If you know anything about Velomacchi, then you know that the company makes expensive backpacks. The 40L Roll-Top Backpack is a pricey bag, but it's one that's worth the money. It's a backpack designed to be extremely durable and offers 40-liters of capacity.
The bag features a watertight main compartment, three-point harness system, 1000D nylon exterior, water-tight large front pocket for tools, hydration sleeve, and motorcycle tie-down points.
The unique harness system is one of the things that makes this backpack so special. It better distributes the weight on your torso, meaning it's far more comfortable. This means you can pack heavier and ride longer.
Point 65 – Boblbee GTX 25L Backpack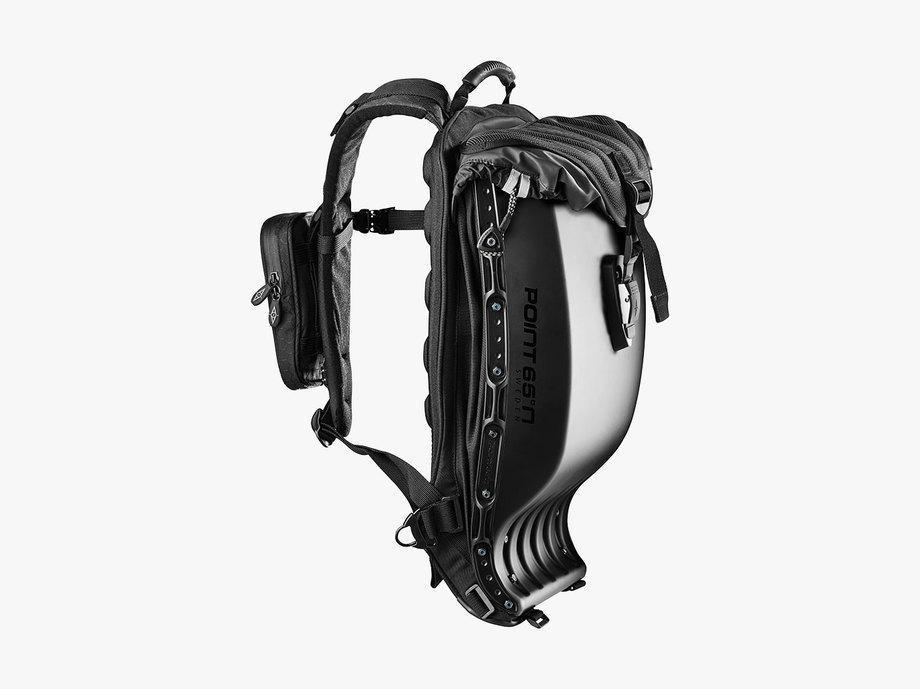 If you don't care that the backpack looks weird and is expensive, then you should check out the Point 65 – Boblbee 20L GTX Backpack. This somewhat odd, hard-shell backpack is actually one of the best motorcycle backpacks you can possibly buy.
It features CE-level 2 protection for your spine and protection for the pack's contents thanks to a high-impact ABS shell, ergonomic ventilated foam back panel, belt attachment, and hip padding.
The backpack is perfect if you carry a lot of camera equipment or sensitive electronics. You've likely paid a lot for all of the items you put in your backpack and the Boblbee protects them.
Kriega R30 Backpack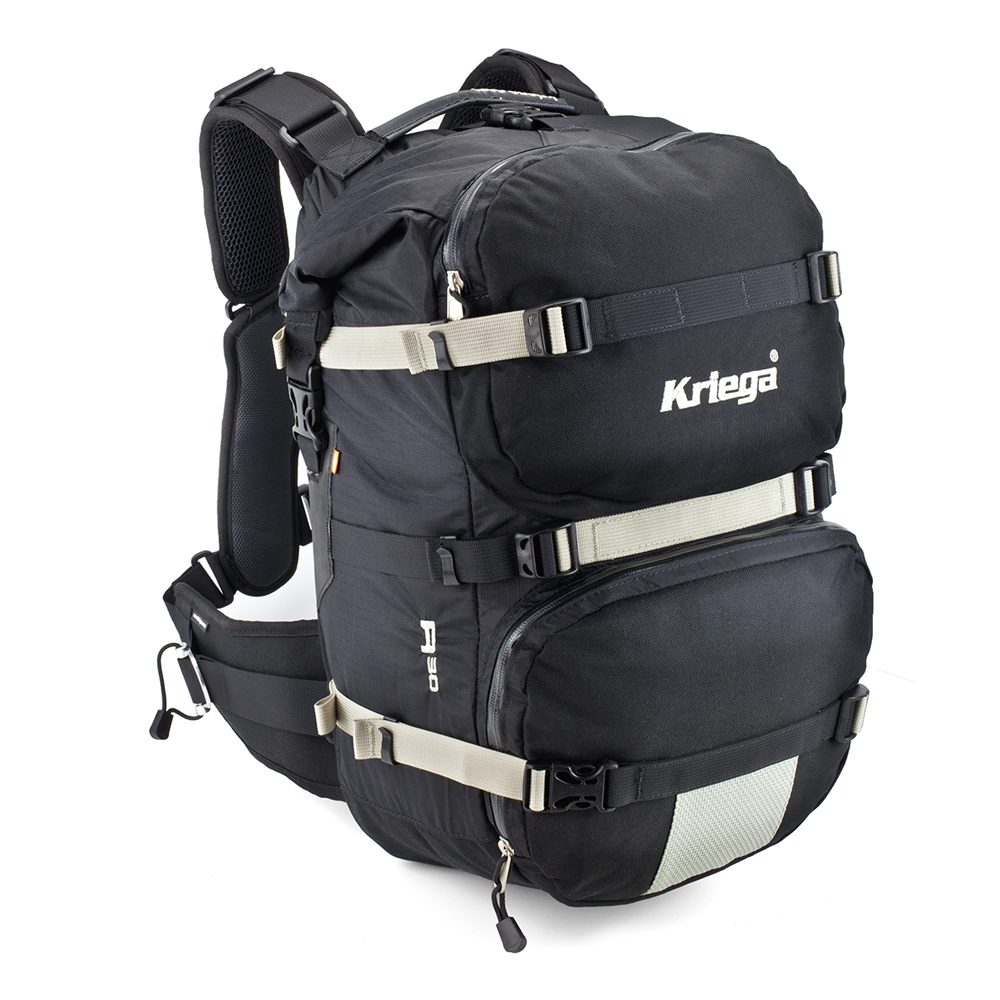 The Kreiga R30 Backpack doesn't give you the hard shell exterior that the Boblbee does, but it's still a darn good backpack at a premium price. This has a waterproof roll-top design that sets it apart from the rest of the Kreiga lineup.
The backpack is a special design with a 1000D Dupont Cordura base and harness. It also gets 420D rip-stop nylon fabric, an internal taped-seamed liner, 3M Scotchlite reflectivity, a 30-liter capacity, several compression straps, and various pockets and pouches for all of your items.
You can also add a hydration pack to the backpack if you wish. However, the actual hydration pack is sold separately. And don't forget the 10-year guarantee.