The Bell Drifter helmet is a popular half helmet manufactured by Bell Company. It has many nice features but by far its best feature is the speed dial due to its adjustability to fit different head sizes and neck contours. Previous half helmets did not come with such a feature. To keep the helmet in place, riders needed to fasten the chin strap to an uncomfortable degree which many found very frustrating.
With this new "innovative speed dial", Bell has eliminated this common problem and riders can now enjoy the enhanced comfort and flexibility that this helmet provides. Its shape and finish is fairly attractive and has less of the mushroom look effect that had plagued previous helmets. Among its drawbacks are its tendency to trap more air than other half helmets, its retention of some of the mushroom look (though minimally), and its propensity to scratch easily (according to some reports). Here is a brief overview of its main features, its pros, and its cons.
Main Features
The Drifter DLX is available in a variety of colors and graphic designs. Solid colors include gloss black and the matte black. Graphic versions are also available in various forms. You can choose a range of sizes from a chart but if your head size is slightly smaller or slightly larger than what you find in the chart, it can be adjusted for you though only to a certain degree. This means if your head size is far above the maximum or far below the minimum size shown in the chart, you may not be able to get what you want and you will be better off looking elsewhere for helmets that will fit your size. Helmet weight will vary depending on the size you buy but it is generally around 2-4 lbs.
Bell Drifter Helmet Safety
Like all helmets, it is designed to protect the rider from serious injury after a fall or accident. Naturally, as a half helmet, it does not provide the same level of high protection one would expect from a full face helmet. Nonetheless, it protects the most vulnerable parts (the top and the back parts of head). Studies have shown that protecting these areas greatly minimizes the chances of receiving a traumatic brain injury. Moreover it fully meets DOT standards. DOT certification is affixed at the back of the helmet. So in terms of safety, it does fairly well.
Adjustable Fit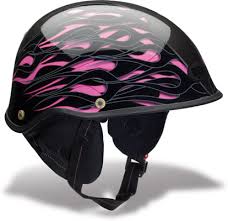 As we indicated in the introduction above, this helmet's greatest feature and its main selling point is the speed dial. Perhaps deservedly, it is often described as "innovative Speed Dial adjustable fit system". Maneuverable and easy to use, the speed dial can be adjusted to give you the exact fit you are looking for. To tighten, simply rotate it to the right to the desired fit. Pushing it in and rolling back to the left opens the back area and enables you to remove the helmet. Done properly, this will cause the helmet to stay on your head securely and comfortably cuddling the back part of your head while you ride and it will not lift or come off. The dial is deliberately designed to smoothly cradle the bumpy part of your neck where your neck meets your head. Of course to feel comfortable, the dial must align with the ridge of your head. So to accommodate different heads and shapes, it comes with a snap that has multiple positions that you can adjust to match the height of your head
Ear Pads and Goggle Strap
Bell Drifter DLX also comes with ear pads. This is a nice feature that will be appreciated by many riders. In addition to the comfort and protection it gives to your head, the pads also help ensure slip offs and prevent lifting. They also protect you from gusty winds during freezing winter days. Best of all, they are removable. This flexibility will be prized during hot summer days when protection from cold or wind is less crucial and you want the pads off. The ear pad come with some openings for speakers that you can install enabling you to listen to music while riding.
The goggle strap holder is another feature that will be appreciated by riders because most riders like to wear glasses or goggles to protect their eyes from dust, dirt, and other natural elements. This is a handy convenience that will prevent your goggles from being blown off by strong winds when you are riding at high speeds on the highway. It comes off easily with a single press of a button. The strap is called goggle retention strap and is found at the back of the helmet.The above is a short list of the main features of the helmet. To summarize, let us now look closely at its pros and cons.
Pros
Overall comfort at an affordable price*
Less mushroom look effect.
DOT certified which means it meets the minimum standards for safety.
Ear pads provide comfort and protection from cold and wind
Goggle strap to protect eyes.
Speed dial for custom fit.
5 year warranty
Cons
Some head sizes may not be available
Seems to attract more air than other half helmets
Still retains some of the mushroom look (though minimal)
Some buyers do not like the Bell logo in the front
Conclusion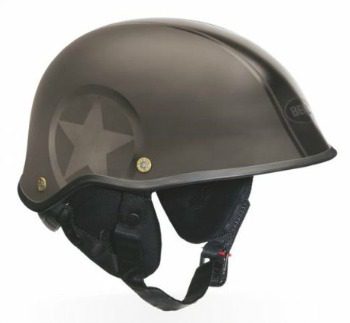 All in all, the Bell Drifter DLX has much to offer with few drawbacks. Competitively priced with a sleek overall design, it is undoubtedly a strong contender among the half helmets. It would probably not win a beauty contest but in terms of comfort, flexibility, quality, and comfort, it seems to hold its own among its peers.
If you are looking for an adjustable, comfortable, and relatively cool looking helmet therefore, then look no further. This half-helmet delivers! But if you are the type that must have full protection or cannot live with its drawbacks, then you may want to look elsewhere.
* Prices may vary depending on where you buy it.
–> Check out all the different styles of Bell Motorcycle Helmets here.