When the Bell 500 was first introduced by Roy Richter in 1954, it became an almost instant success. The Bell Custom 500 Carbon was designed to pay tribute to the original that helped the company earn its reputation as one of the top helmet manufacturers in the world, while also ensuring that today's riders were also provided with the latest safety features and a comfortable fit.
If you are a serious rider that is looking for a new helmet, the Bell Custom 500 Carbon helmet should be at the top of your list.
The following Bell Solid Custom 500 Carbon Motorcycle Helmet review provides an in depth look at everything this helmet has to offer riders.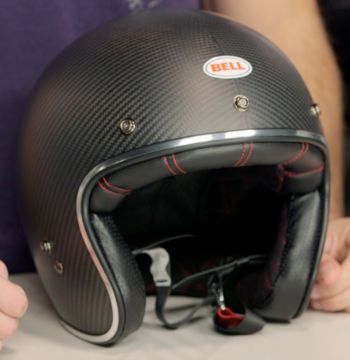 Features:
Low profile carbon composite shell
5 shell and multi dense EPS liner sizes
EPS foam layer for a narrow profile
Custom suede leather interior liner
Padded chin strap with D-ring closure and strap keeper
Integrated five snap pattern that allows you to easily attach aftermarket shields and visors
Leather goggle strap and D-ring pull
ECE and DOT certified
Includes an industry leading 5 year warranty from the manufacturer
Comes with a high quality leather Bell helmet bag for easy and safe storage when not in use
Buy from a Badass Helmet Partner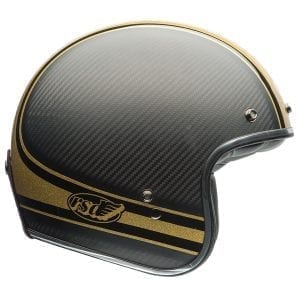 We have worked closely with RevZilla, Amazon and 2Wheel over the years to provide our testers with products to review. They are all great partners and unique in their own ways, so make sure to check out their prices. Please don't forget we may get a commission if you buy from them.
RevZillaBuy
AmazonBuy
2WheelBuy
What Sets the Bell Custom 500 Carbon apart from the Custom 500 and the Competition?
While the Bell Custom 500 Carbon has the same features and retro style of the Bell Custom 500, there is one significant difference between the two. The Custom 500 Carbon is made of full carbon fiber instead of the decorative carbon that is common in today's helmets. Thanks to its full carbon construction and a suede leather interior lining for a first class finish and feel, the Custom 500 Carbon is incredibly lightweight (less than two pounds) and comfortable.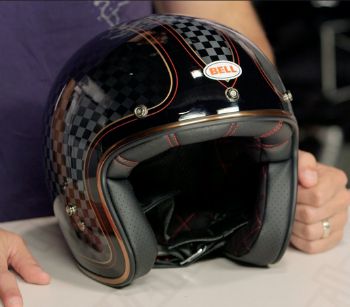 While the Bell Custom 500 Carbon has a retro and stylish design and is available in nine different colors with a chrome style trim that runs around the bottom of the helmet and a leather strap, you also have the option of purchasing the Bell Custom 500 Carbon RSD featuring gloss and matte silver and black graphics by Roland Sands. Essentially, it is the Custom 500 Carbon with a little extra flair. Regardless of which style or color you choose, you are sure to appreciate the classic look that brings to mind photos of bikers in the 1960s.
Although it must have been hard to improve on an open face helmet that was already at the top of its game, Bell managed to do just that with the Custom 500 Carbon. The brand new headform is smaller and fits better than ever before, leaving you with a narrow profile. The thin profile shell sits lower on your head and manages to completely eliminate the Bobblehead or "mushroom head" look that is so common with other helmets. Thanks to the five different shell and EPS sizes, you should have no problem finding the perfect size and fit.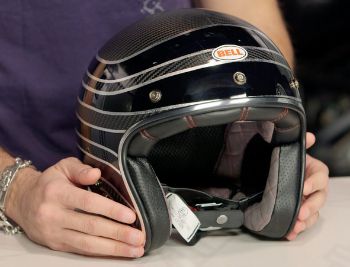 This is one of the few helmets on the market that fits so well after it has been broken in that you may forget you are wearing it from time to time. The snug fit does a great job at protecting you from the elements, while not fitting so tightly that you barely have room to breathe. It offers great visibility, while also blocking out some of the wind and highway sounds.
It is also priced for slightly less than $400, but this is an investment that is well worth making. Keep in mind that not only is it one of the most durable helmets currently available, but it is also one of most lightweight full carbon helmets on the market. When you combine this with the fact that the Bell Custom 500 Carbon offers all of the latest and greatest technology and safety features, it is easy to see that this helmet is worth every single penny.
If you appreciate a simple, classic design that will never go out of style, Bell's line of Custom 500 Carbon helmets is exactly what you have been looking for.
More Custom 500 Helmet Designs:
[schema type="product" url="http://webbikeworld.com/bell-custom-500-carbon-helmet-review/" name="Bell Custom 500 Carbon Helmet Review" brand="Bell" price="$399.00″ condition="New" ]