"Environmentally friendly" (or friendlier, anyway) method of cleaning a motorcycle chain.
Being "green" doesn't mean you have to compromise. This stuff works!
While there are plenty of different motorcycle chain lubes for sale (as our recent review of 13 confirms), there aren't many products that specifically claim to be motorcycle chain cleaners.
We reviewed Motorex 611 Chain Clean some time ago and then we ran a comparison of Motul vs. Motorex chain cleaner sprays shortly thereafter.
And although both products do a decent job of cleaning, they can be very hard to find and they're also rather expensive.
There are admittedly several other ways to clean a motorcycle chain, and webBikeWorld readers have submitted a variety of methods over the years.
Take a look down the right-hand column of this page and you'll find links to reviews of motorcycle chain lubes and chain cleaning devices, and read the Owner Comments in each review for more tips.
Then, of course, there's the controversy about whether or not to use WD-40 as a motorcycle chain cleaner. It does a great job at cleaning a chain, but some say that given the chance, it will dissolve the grease behind the O-rings.
The official WD-40 website has a list of "2K Uses for WD-40", but they're submitted by users and WD-40 makes no claim, as far as I can tell, that the product is safe for use with motorcycle chain O-rings.
But I suppose that just about any chain cleaning solution may dissolve grease if it gets behind a cracked or compromised O-ring.
Of course, there's always good ol' kerosene, but not everyone has a container of the smelly and messy stuff in their garage…
Some readers are also enthusiastic about using "green" products like Simple Green, Greased Lightning or Orange Blast cleaners and a variety of other home-made or commercial products for cleaning a motorcycle chain.
Actually, I suppose that most degreasers, if used sparingly, will do a pretty good job of cleaning a chain.
By "sparingly", I mean spraying or applying some of the product to a folded-up paper towel and then carefully wiping the chain as the rear wheel is slowly turned.
This minimizes the amount of degreaser applied to the chain and it also reduces the mess.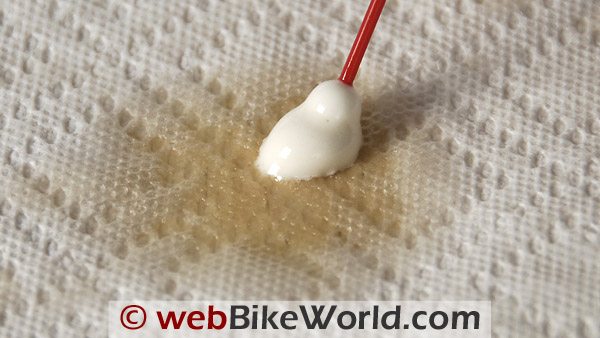 Motorcycle Chain Cleaning and O-Rings
But remember that there's always the question about whether or not the product will swell or degrade the O-rings.
This is an important issue, because modern motorcycle chains depend on the O-rings that live on either side of the side plates to keep the grease inside the rollers.
It's actually pretty amazing that modern O-ring materials can withstand the pressure, heat and rotation that a motorcycle chain suffers during a typical motorcycle ride, so it's important to treat them properly.
Easy for me to say, but I'll admit that chain maintenance is pretty low on my agenda, and with several bikes to choose from, no one motorcycle builds up enough miles to make chain cleaning and lubrication anything more than a grudgingly occasional chore.
To speed up the process, I'll sometimes spray one of the liquid type chain lubes on a folded paper towel and use it to do a rudimentary job of wiping down the chain to clean it.
MFR Chain Lube (review) and Klotz KLR (review) seem to work pretty well for this method, because they're formulated as a liquid, not a chain "wax" or foam or gel.
Bean Clean
So knowing all this, wouldn't it be nice to have a "real" motorcycle chain cleaner that could be used without feeling guilty or like you were violating O-ring security or cheating or something?
Guess what?  That product has finally arrived, and it's made from soybeans, of all things! Yep, Bean Clean is made from 100% soybean oil, so it's biodegradable and it contains no harsh chemicals.
Brilliant! Just in time too — "green" thinking is generating a lot of new and interesting products lately, so why not for motorcycling too?
Sometimes these alternative cleaners aren't the equal of their chemical brother counterparts, but Bean Clean is not only a really good chain cleaner, it's also an excellent all-around degreaser.
It just happens to be a bonus that it's made from soybeans and it's biodegradable.
It's also made in the U.S.A., which is a kick, because the other chain cleaner products we reviewed are made elsewhere. And, believe it or not, Bean Clean is also less expensive than the rest!  Just 6 bucks a can, or four for $22.00.
Can't beat it with a stick, as they say…
Apparently, soy methyl ester solvents like Bean Clean have been around for a few years, but not in the form of a motorcycle chain cleaner.
A brochure from the United Soybean Board (who would have ever connected the dots between them and motorcycling?) states that the regulation of chlorinated, fluorocarbon and petroleum-based solvents were pretty much eliminated after the Clean Air Act of 1990, so they went looking for a replacement on behalf of the soybean industry.
Soybeans wouldn't be the first place I'd look to make a motorcycle chain cleaner, but hey — what do I know?
In any case, it's a long and somewhat boring story, but as it turns out, this methyl soyate stuff is pretty handy. "You could look it up", to paraphrase Mr. Berra, so I won't go into it.
But here's the deal: It would be nice to just get a bushel of soybeans — wherever and however one might do that — and go to town with the Mixmaster and gin up a coupla' gallons of methyl soyate.
Then all you'd have to do is dump it in an old Coke bottle and sell it at the next motorcycle club meeting, right?
Alas, that's not the way it works…
There are, of course, a few other "secret" ingredients involved to make the stuff do important things like come out of a can, foam up, clean the chain and minimize any residue.
And by the way, Bean Clean is also formulated so that it can be rinsed with plain water.
Although we found that it leaves minimal, if any, residue when we used it to clean bugs and grime from fairings, headlights, engine cases and the like, so why bother? Besides, the soybean oil helps lube the chain…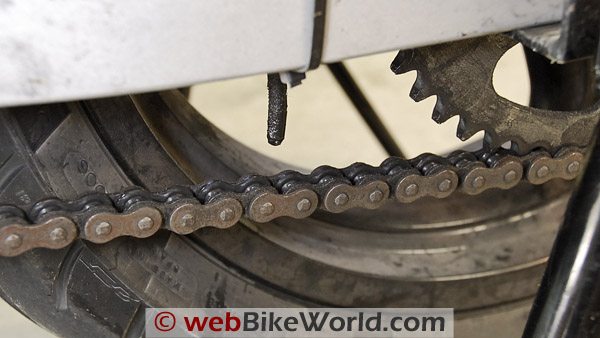 Why Bean Clean?
So what's the story behind Bean Clean?
It's made by a company called Applied Ingenuity, LLC, who are also in the final stages of another product called the "Chain Drain", which is designed to catch lube drippings, and which we hope to review as soon as it's released.
The company owners are motorcyclists, and during the development of the Chain Drain product, they were running some compatibility studies on the different types of chain lubes available, to make sure they all worked with the Chain Drain.
Well, if you're using a lot of different chain lubes, you'll probably end up with a very slick and smooth running chain, but you'll also have a pretty big appetite for chain cleaner.
That's when they realized, like we did, that there just aren't very many real, live, dedicated, focused motorcycle chain cleaning products out there. So they decided to create their own.
Well, one thing led to another, as any entrepreneur knows, and several zillion dollars and many tests and trials later, along with, I'm sure, lots of pulled out hair, we now have Bean Clean.
One of the cool things is that during the research, they ran a bunch of long-term tests on motorcycle chain O-rings to see how Bean Clean compared to other available cleaners and to test O-ring compatibility.
They say that Bean Clean was found to cause no measurable swelling or degradation of motorcycle chain O-rings.
This was not the case for the other cleaners, which, they said, caused minor to substantial swelling of the O-rings, even though the products were claimed to be O-ring safe.
They also told us also that "Bean Clean was also tested on an OEM painted fairing and found to cause no visible damage to the finish after a continuous exposure for 1 week".
We've been using Bean Clean to clean up everything from bugs on the windscreen and fairing to engine cases.
It did a great job of cleaning off some years-old gas varnish on the outside of the Bing carburetors on the BMW R65.
It works on painted and unpainted engine casings and just about any other surface to clean up grease, grime, bugs and dirt, although it is primarily formulated as a degreaser and chain cleaner.
And besides the fact that the stuff works really well, it gives me a lot of satisfaction to use it, knowing that it doesn't contain any of the brutal chemicals that other cleaners and degreasers have in their formula.
Some of them, like the late and lamented Mr. Moto Degreaser (review) and PJ1 Super Cleaner (review) must be loaded with harmful chemicals, because the smell is overpowering when they're used.
Yes, they do the job — but they are definitely not designed for cleaning motorcycle chains — and you better have the garage door wide open when you start spraying if you want to save what few brain cells are left.
w

BW

 Video: Bean Clean Chain Cleaner
Conclusion
Bean Clean is pretty amazing stuff; it does a great job at cleaning a motorcycle chain and as a general degreaser, tar remover, bug cleaner and more.
It's described as safe to use on O-rings, and the company says that it also allows chain lube to "adhere tenaciously" to the chain after it has been cleaned.
It's also a great bargain at $6.00 per 15 oz. can, and you can buy a 4-pack for $22.00.
List Price (2008): $6.00/15 oz.
Note:
 For informational use only. All material and photographs are Copyright © webWorld International, LLC since 2000. All rights reserved. See the webBikeWorld® 
Site Info page
. Product specifications, features and details may change or differ from our descriptions. Always check before purchasing. Read the
Terms and Conditions
!
Owner Comments and Feedback
---
From "A.S." (December 2012): "I ordered these products after reading your review of them. I used them last night for the first time after returning home from work.
The chain on my VStrom was plenty warm after the 55 mile commute and plenty dirty after 2,000 miles without cleaning. The entire process from gathering materials to clean-up took 20 minutes.
My chain and sprocket shine like new and are well lubed, my garage floor is clean and my hands are grease free. Thanks for recommending two products that work really well."
---
From "V.S." (12/10):  "It's a shame that this product hasn't gotten more attention over its solvent-based counterparts. It's a safe product to use, it really works, and smells wonderful!
It does not do the immediate job that the chemical solvents do, but with a bit of softening and a brush, you get to feel something besides your skin burning… pride that you've done the right thing, environmentally, AND gotten your chain clean!
It worked great on my bike, and I've used it to clean other caked-on crud. I haven't tried the Chain Drain, but will consider it in the future."
---
From "L.S." (7/08):  "Ordered some Bean Clean after reading your article and recently put it to its first use on my Suzuki.
My impression – WOW!  This stuff actually works. It easily remove all manner of grease from various areas in need without toxic fumes or furious scrubbing.
It even removed that notoriously tacky chain lube that comes from the factory and gets slung on the rear wheel. It's usually the devil to remove with most conventional products but Bean Green handled the job with apparent ease.
The bonus is that its a true "green" product and becoming as green as possible is, in my opinion, something we all should be more concerned with incorporating into our daily lives.
The only thing I might have preferred was a spray that was more diffused and less of a stream but that may have been a design decision to insure the spray to get into nooks and crannies.
It only means that the user has to be a little more precise where he/she is aiming. Well done!"