Evolution of Batman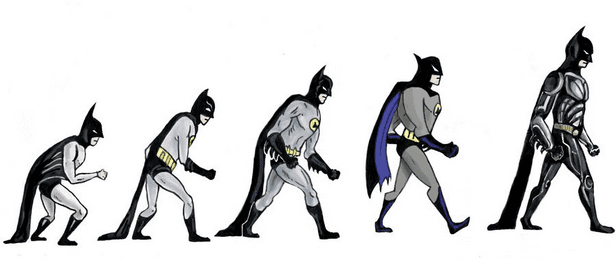 No one can deny that batman helmets for motorcyclists appear super sharp. It is definitely a nice helmet to have, but it has one con: its price. Yes, this type of helmet can be expensive.
[expand title="Batman and Gotham City" elwraptag="div" elwrapclass="wrap-col"]
There are some of us who allow our fears to shape our future and then there is BATMAN, who took his fear by the neck and used it to save his beloved city of Gotham from small as well as big time criminals.
Also known as the Caped Crusader and the Dark Knight, Batman uses the latest technology and faces his fears every single day to not only save lives but also protect the world from the evil forces that roam about disguised as mankind.
Unlike Superman, Batman wasn't naturally gifted with his skills. However, his hatred for injustice and criminals and the availability of resources, helped him get all the necessary help from science and technology. Be it the latest car, bike or even spying technique, there is nothing that Bruce Wayne a.k.a Batman cannot have. After all he is the owner of Wayne Enterprises that is heavily involved in protecting and helping the people.
Bruce may have created a reputation for being a playboy and a philanthropist, but only a few, trusted group pf people know that after sunset, it's Batman who is helping them sleep peacefully with their families while he keeps a watch on the city.[/expand] [expand title="Batman's childhood" elwraptag="div" elwrapclass="wrap-col"]
Bruce Wayne was a small child when he realized that he was petrified of bats – those creatures that came out after sunset. His parents were famous Americans who were known for their compassionate and kind nature. Unfortunately, his parents were killed in front of him when he was a young boy while being robbed after a concert and that had a life long impact on a young Bruce. It was then that he he vowed to fight injustice and it also fueled his hatred against criminals. His fear of bats still haunt him, but instead of being bogged down by it, he decided to face them and move forward in life.
He is perhaps one of the few superheroes, who do depend solely on themselves for their survival, but are aided by a group of loyalists, whose loyalty first lies with Bruce and then with the rest of the world. One cannot imagine how Batman would survive without his butler Alfred Pennyworth, who has been like a second father to him and has seen Bruce at his worse and helped him survive when the world didn't even care about him. He is the one who reminds Batman about the importance of love, friendship and survival, when he seems to be boggled down with his life as the caped crusader as well as that of the owner of Wayne Enterprises.
He is also helped by the police commissioner Gordon and his allies like Robin, with whom he has teamed up several times to save Gotham city. In a world where people are feeling extremely lonely, in spite of having tremendous followers on social media, Batman is an inspiration to look up to – he has a few trusted friends and they mean the world to him.[/expand] [expand title="Batman's Gadgets" elwraptag="div" elwrapclass="wrap-col"]
Batman movies are quite a rage these days and, as much as the people love and adore Batman, it would be a lie if they weren't left impressed with his gadgets that he uses to protect Gotham from evil enemies like the Joker and the others.
Starting from the suit, it has been designed to remind one of a bat, courtesy, his childhood nemesis, his main mode of transportation is the batmobile, which is a sleek, black car, from which his motorbike can also release. The bat-signal is the searchlight that is activated by the Gotham Police which has a bat shaped design placed on the lenses, that projects the shape of a bat in to the sky that can be seen from any point in the city. Even in his absence, the citizens of Gotham are assured of his vigilance.[/expand] [expand title="What makes Batman stand apart" elwraptag="div" elwrapclass="wrap-col"]
In a world full of superheroes where the heroes are naturally gifted or have been lucky to be born into affluent families, Batman stands apart. Bruce Wayne was born in to a normal family with humane parents. However, his childhood was far from being normal.
He is a billionaire who has worked hard to make his money and what makes him so endearing is that instead of spending all that money on a lavish lifestyle, he uses all that money to help the people and work on his gadgets, that help him fight the never-ending evil in his city. At the end of the day, Bruce is torn between his commitment to his city and his longing to have a normal life and a romantic interest.[/expand] [expand title="His capabilities lie in his mind" elwraptag="div" elwrapclass="wrap-col"]
We did mention that he was not naturally gifted like Thor and the others, however, it is his mind that has made him what he is. It is within that mind of his that one will discover the deadly but perfect combination of uncontrollable pain and anguish and an adamant genius, who refuses to give up on his resolutions, even if that means making several sacrifices in his personal life.
His mind is not afraid to give up the good to pursue the great. His strong sense of conviction, hatred for injustice and the desperation to put an end to evil is what makes him the endearing character that he is. He also has his flaws, just like Iron Man, Batman is known to brood a lot and he is kind of damaged too. He is very much like us – he is made up of the good and bad. This makes him extremely relatable to every other human being.
[/expand]
For this matter, if you want this kind of helmet but don't have the money to purchase it or just don't want to spend a lot of your hard earned money on one, why not create it all on your own? Yes, it is possible to make this kind of helmet all on your own if you follow a couple of easy and simple steps. We will show you everything that is needed in order to produce a road worthy and aerodynamic batman helmet from scratch in just 4-5 hours, without you having to spend a lot of money on material. You don't need to be a skilled individual to create a batman motorcycle helmet, as experience is not required. Necessary Items:
Bat ears (you can print them in 3D or buy sharp pieces of plastic and simply cut the ears out).
Cutting instrument
Super glue
Sanding paper
Tape to prevent leaks
Batman stickers/decals
Paint
Five Steps to Creating a Batman Motorcycle Helmet
1. Preparation
The first thing you need to do is prepare the helmet base. Remove the decals, and in order to prevent any scratching to take place, make sure that the visor is detached.
2. Batman Ears
It is very difficult to find the correct fin kits, especially in Europe. Shark like fins is something that should be considered and be fitted on the very center top of the helmet. You will need to sand them with an Exacto knife till they fit the curvature of the helmet. It might take time to match perfectly with no gaps. Try creating the ears with a natural curve extending backwards so that it adds less resistance. Add super glue and, once it is fully dry, sand off any residue present. 3D printing fins will more than likely have to print out the batman ears and sand them, and then cover with primer paint cover.
3. Helmet Preparation for Helmet Painting and Knowing the Regulations
It is important that you cover every sensitive spot with painting tape. Take your time, as preparing the surfaces is the most important part in any job that requires painting. Every helmet worn on UK roads must have a mark and/or follow regulations. For this matter, make sure that you meet all of the law requirements that are involved with helmets, as you can be stopped by the police if you don't.
4. Painting
Sit in a good ventilated place and apply a few coats of matte plastikote spray (or similar product) on it and let it dry for 20 minutes. Once it is fully dry, you can remove all the paint tape.
5. The Finishing Touches
If the original helmet came with a transparent visor, put a black tinted one and keep both, as you cannot drive with a tinted one at night. You can opt to add a decal or more on the back and front sides. Last but not least, go ahead and test out your batman helmet creation!
Some pics of Custom Bat man Motorcycle Helmets
Also see Helmet Dawg for a completed Batman Helmet.