Barkbusters Blizzard Hand Guards Image Gallery
The Barkbusters "Blizzard" fabric hand guards are like XXL-sized buddies to help to block cold winter air.
These windstoppers can be fitted to 240+ different motorcycle makes and models of all types.
Here's the Barkbusters Blizzard BBZ application chart (.pdf); chances are your bike is on the list.
It doesn't matter if the bike has hand guards or not and the Barkbusters Blizzard units can even fit over the existing hand guards on some bikes.
They're made from fabric that resembles a heavy-duty Cordura-type of nylon with a semi-rigid stiffener to ensure they retain their shape.
The kit comes with a whole mess o' spacers, bolts of various lengths and other unidentifiable parts; I only needed a pair of small washers from the pack to fit the V-Strom.
Fitting the Blizzard hand guards will differ, depending on the individual bike and there's a certain amount of noodling and fettling necessary to get them installed, but once you figure out one side, the other side is easy.
Once they're on, the cold air is blocked but the Blizzard hand guards don't get in the way…at least on the 2014 Suzuki V-Strom 1000 ABS (Blog). They're also much less constricting and probably safer than Hippo Hands (review).
I couldn't quite get the Blizzard guards to fit over the stock Suzuki hand guards but it was easy enough to remove the Suzuki guards, which don't fit on a metal backbone.
I also didn't have the correct length bolt that would allow the Blizzard hand guards to be placed over the outside of the bar end weights, so I mounted them with the weights on the outside.
[UPDATE: The Blizzard hand guards fit perfectly over the 
Barkbusters Storm hand guards (review)
.]
Mounting the bar end weight on the outside has an added benefit of placing the widest/tallest part of the Blizzard guards over your hands. You'll need all the room you can get when you're wearing heavy winter gloves.
And one more thing — I didn't have a bolt long enough to mount the Blizzard guards with the Kaoko throttle control (review) in place, so I removed that for winter.

[UPDATE: See the updated 
review of the Kaoko throttle control for Barkbusters hand guards
.]
Let's take a quick photographic tour: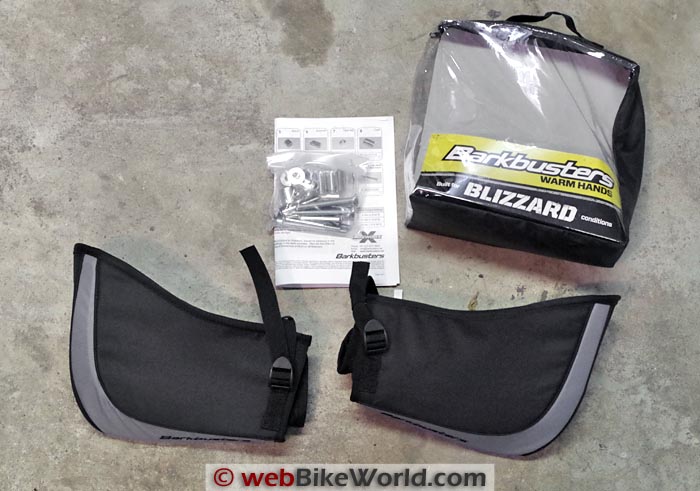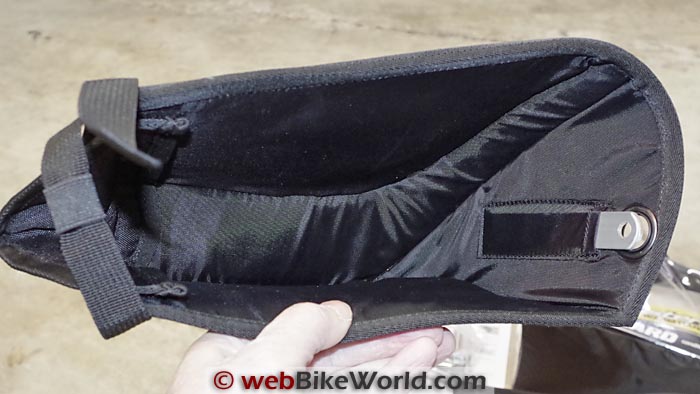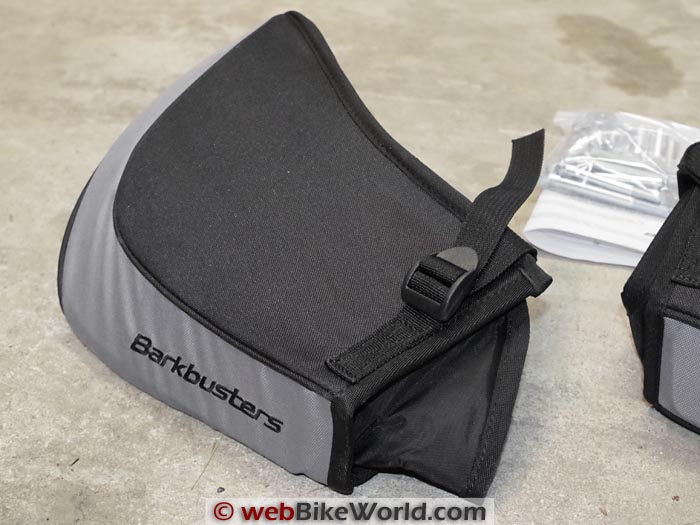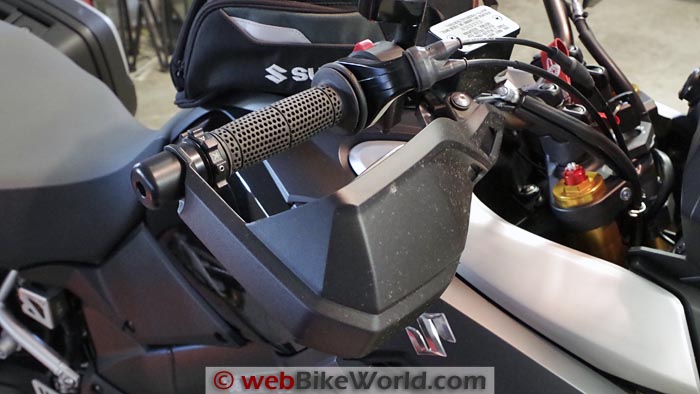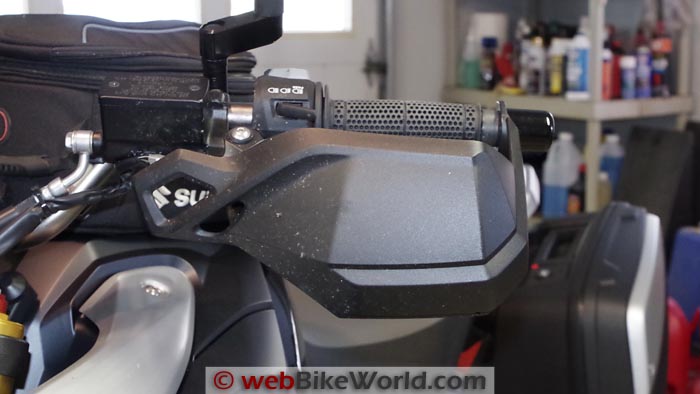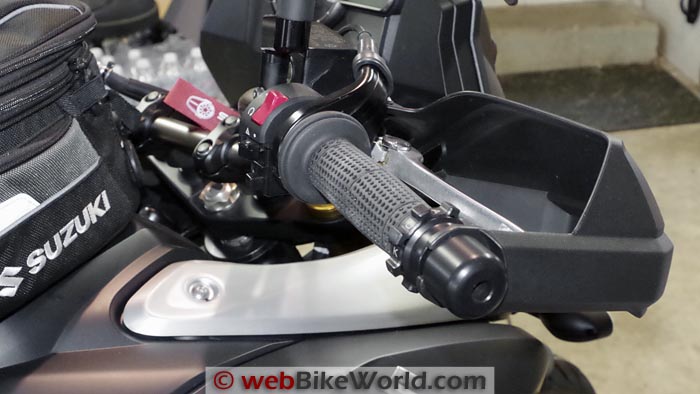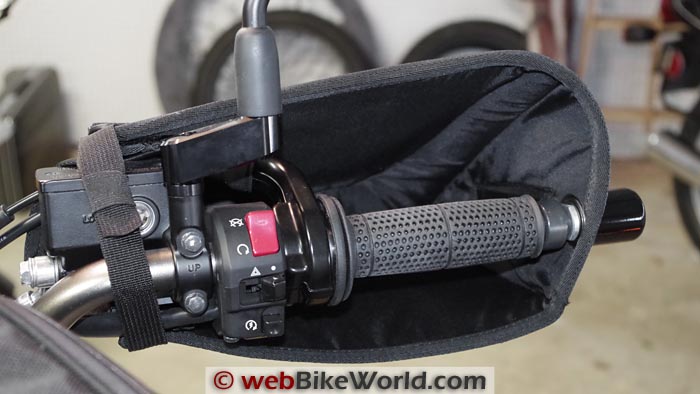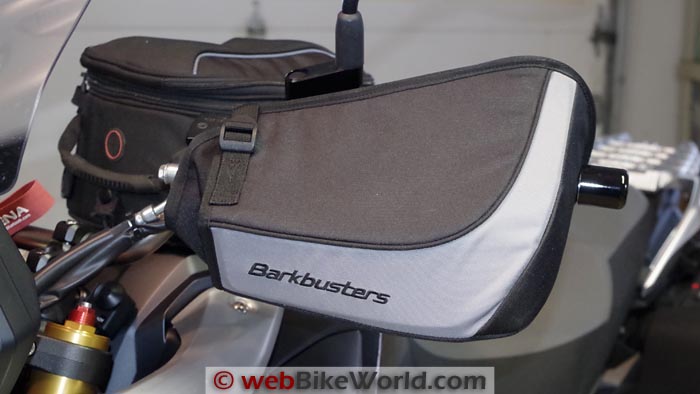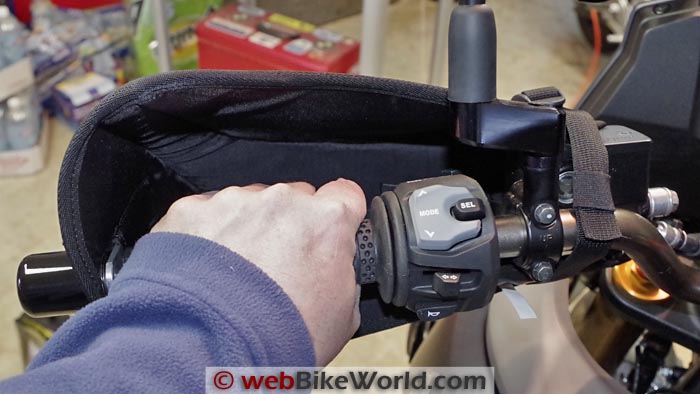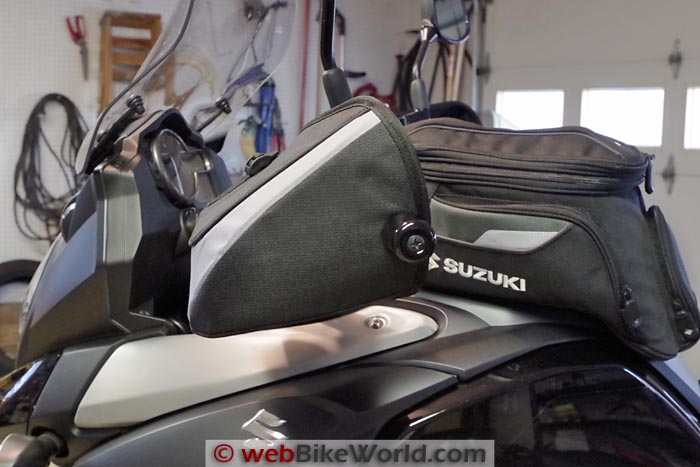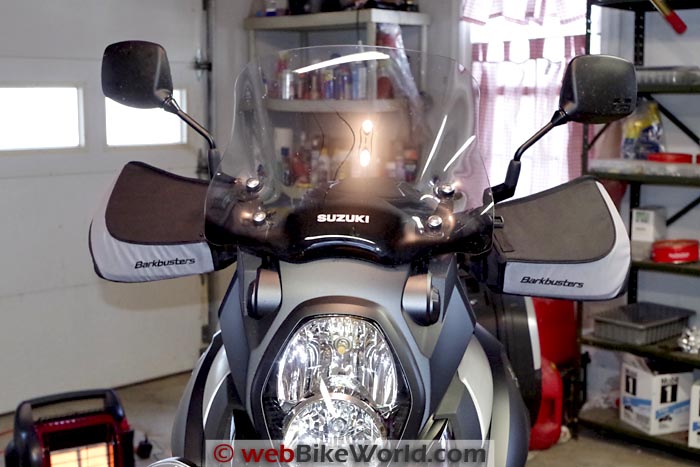 Conclusion
The brutal winters we've experienced the last couple of years here in the Mid-Atlantic are quite a change from what used to be considered the norm.
We now go for weeks at a time with weather that is simply too cold to ride, with snow and ice thrown in for good measure. Thus, we have to go all-out to do what we can to protect against the cold.
Although the Barkbusters Blizzard hand guards were installed about 8 weeks ago, I've only been able to ride a couple of times with them — the weather has been that bad. So my evaluation is brief.
But the difference is definitely noticeable compared to the stock Suzuki hand guards, which aren't very protective even during a slightly cooler day in summer.
The only downside I've noticed is some light extra buffeting in certain heavy crosswind conditions, apparently due to the larger size of the Blizzard hand guards.
I really like the Blizzard hand guards and I'm going to order a set of the Barkbusters "Storm" hand guards with the aluminum backbone that bolts to the Suzuki's handlebar.
I'd like to see if I can fit the Blizzard hand guards over the backbone and also fit the Kaoko throttle control; apparently this does work. I may just end up leaving the Blizzard hand guards on the bike all year 'round.
More wBW Motorcycle Hand Guard Reviews
▪ Heated Grips and Heated Glove Reviews
▪ Hippo Hands Review
▪ Barkbusters Storm Hand Guards Review
w

BW

 Review: 

Barkbusters Blizzard Hand Guards
List Price (2015): $109.99
Sizes: Sizes fit many different motorcycles.
Owner Comments and Feedback
---
From "P.V." (November 2015): "I purchased these in October 2015. I ride a BMW K1200S and live in Connecticut.
Even though I have heated grips, my hands would get extremely cold riding in the fall and winter. I considered heated gloves or Hippo Hands but then saw these. They were probably one of the best investments I've made to improve my riding comfort.
They block the wind and rain and allow my heated grips to do their job. I went for a ride the other day at 42 degrees and actually had to turn down the heated grips because my hands were sweating! Highly recommended."
---
From "H.S." (June 2015): "Israel is considered a warm country, therefore these aren't easy to find here…
Easy to install, no real change of mass and a great improvement through the winter for my naked MT-09 Yamaha.
And even though winter is no longer with us, I keep them on as I ride at cool sun-up (05:45) from Tel Aviv to Jerusalem all weekdays (80 miles round trip) and I still find them helpful.
A very good purchase."
---
From "A.B." (March 2015): "I've got a pair of these mounted on my 1997 Yamaha Seca II and they work pretty well on blocking the cold wind and rain. They make heated grips work even better. And unlike some of the other options out there, you can still see your controls/switche