Psychological or Real Back Support? We Test Back-A-Line Back Support Belt
The Back-A-Line is a true back support, not an elastic "kidney belt". It's patented and the manufacturer says it's medically proven to promote good posture. It can help reduce back pain and it's fairly comfortable. The slightly thick design may mean a tight fit under some pants, however.
A friend and riding companion first introduced me to the Back-A-Line belt. I would watch him put it on before each ride, and he always commented on how this belt helped to "save his back". He said it was the only way he could ride his Suzuki TL-R with its race crouch riding position. I thought that back supports were only used by cruiser riders, so it was news to me that a product like this could help the sportbike crowd.
I had tried various types of elastic "kidney belts" in the past, but never really noticed that they did anything. I'm a victim of what seems to be regularly scheduled back pain, I think due more to my (ahem) "weak" stomach muscles than from any over strenuous lifting. So I became intrigued, and figured I should give the Back-A-Line a try.
---
Where to Buy Back-A-Line Belt
Check Reviews & Prices on Amazon
Check Reviews & Prices On RevZilla
---
The Back-A-Line "Kidney" Belt
[asa2 tplid="6″]B00AQ2HK28[/asa2]
The Back-A-Line belt is unique enough to have earned a couple of patents. This product definitely has some thought behind the design, as it is much different than any other type of wearable back support. The main section that fits snugly against the lower back is about 20cm tall (8″) and 33cm (13″) wide. It's made from some type of very firm backing material.
The central section is curved, tapered and recessed to fit around the spine, while at the same time providing a relief so that the material doesn't press the spine itself (see photo left).
The belt is a quality piece and very nicely made of high-quality materials. It's surrounded by a perfectly aligned edging and stitching, so someone has taken a lot of care in its design and manufacture. It's also very light, at 245g (8-5/8 oz.). The belt portion of the Back-A-Line consists of two overlapping sections.
There's  wide belt of approximately 10cm (4″) that runs continuously from behind the main back support and is roughly 120cm (47″) long. There's another 5cm (2″) wide nylon web-type belt that doubles across the top of the wider belt and is secured across the stomach.
Wearing the Back-A-Line Belt
To wear the Back-A-Line, you first wrap the wide belt around your stomach. It secures with a big, wide strip of Velcro fastener. Then you take the smaller nylon web belt and wrap it across from right to left and under a metal loop, then back again across your stomach and fasten it against another piece of Velcro.

The series of photos below shows the process — believe me, it's easier done than said! The belt is available in various lengths to fit waists from 23″ to 48″, it's washable, and it has a nice, soft, felt-like liner. Back-A-Line, Inc. claims that it can be worn either under or over clothing. I wear mine over underwear but under riding pants.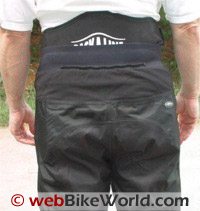 It's about 19mm (3/4″) thick, so you may have a tight fit under some pants, but it fits very nicely under most riding pants with elastic stretch panels.
I wear it under the comfortable Tourmaster GX pants (photo left) with their big, wide, elastic stretch panels, and I don't even notice the Back-A-Line is there. The first time I wore the Back-A-Line, it felt a bit stiff, and I wondered if I'd be able to get used to it, especially since I've never worn a back support before.
But a funny thing happened; by time I got my bike prepped and rode away, I completely forgot about it and I honestly did not even realize I had it on until I came back from the ride and took my riding gear off and realized I was wearing it.
My unscientific explanation for this is that the support will "mold" to your individual contours after break-in.
But my question about this produced a more scientific explanation from Back-A-Line, Inc. here's basically what they said:
[asa2 tplid="6″]B00AQ2HK28[/asa2]
Instead of the lumbar pad "molding" to the wearer's back, it's actually a little different, and this is why it works. The lumbar pad has a "fixed" curve. You move (or "mold") to it, rather than it moves ("molds") to you.
Muscles love to press against firm surfaces (e.g. pressing your back against the wall, acupressure, shiatsu massage), so on a sub-conscious level, the spine will change its shape to conform to, and press against, the pad.
Why? Simply because it feels good, and that's all the incentive the muscles need! Since the pad has some curve, the spine will sub-consciously go into "lumbar lordosis" (the natural alignment of the spine when standing).
That's where it activates the muscles and does the least amount of tissue stretching (which is the reason for back fatigue). The bottom line is that after wearing the Back-A-Line support for a few minutes, it definitely feels more comfortable!
Conclusion
Will the Back-A-Line help prevent back pain? Back-A-Line, Inc. claims that the support will help you maintain good posture all the time, and this helps prevent back pain. This claim is backed up by several endorsements as listed on the Back-A-Line, Inc. website.
The studies show that a firm, curved surface against the back muscles can reduce back pain. This is the only product that has ever received the Seal of Acceptance by the American Osteopathic Academy of Sports Medicine.
Since many motorcycles force the rider into riding positions that are unlike anything else encountered during non-riding activities, there is a real potential for back pain. This may be why motorcyclists seem to always be experimenting with various types of back supports.
If you're a long distance rider or you've experienced back pain during or after a ride, the Back-A-Line may be for you. I notice a real difference when I wear mine — almost like I feel "refreshed" when I finish a ride.
w

BW

 Review: Back-a-Line Back Support Belt
Manufacturer: Back-A-Line, Inc.
List Price (2007): $49.95
Colors: Black or Blue
Made In: U.S.A.
Review Date: December 2007
---
Where to Buy Back-A-Line Back Support Belt Clothing
Check Reviews & Prices on Amazon
Check Reviews & Prices On RevZilla
---
Owner Comments and Feedback
From "S.C." (9/08):  "I don't ride a motorcycle, but bought one after seeing reviews about it. I love it! I cannot tell you enough how much this thing has changed my life. When I first put it on I had a few spasms because it was forcing my back into the correct position. In 2-3 minutes I felt like a new person. I sleep in it every night and am able to get out of bed in the morning pain free. Thank you!"
From "J.B." :  "I purchased one of these recently, though it predates your review. It does seem to work well, although I have some issues that may not affect most users. I'm a big guy with a 50" waist and I purchased the largest size, "ZZ" but it's actually just a bit too big. To get a good snug fit would require adding more Velcro to one side or the other (the belt ends overlap just a little too much).
While riding this doesn't seem to be a problem, but I used it while doing some yard work last week and I couldn't get it tight enough while standing to give much support. The other thing I noticed on a ride on Saturday is that, while my lower-back problems seemed cured, I had some discomfort in my upper-back. I can't attribute this necessarily to the belt – it did handle the lower-back.
I wear the belt over my jeans but under my chaps – seemed to work well on Saturday. One last thing, my belt does not have the extra nylon web-type belt over the top of the two belt ends. Perhaps it's because of the size I ordered."
Editor's Note: The Back-A-Line comes in various sizes; each size spans a different waist width. All of the Back-A-Line supports now come with the second nylon web strap as far as I know…
Other WebBikeWorld Clothing Posts