The first thing you notice about the new AXO Freedom Adventure boots ($299.95 through ficeda.com.au) is the absence of bulky clips and latches typical of most adventure or off-road motorcycle boots.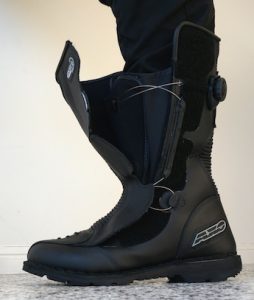 Instead, they feature the "Boa" latching system which is used in ski and snowboard boots. It consists of a click-knob and wire harnessing system.
Instead of latches to get tangled in bushes or caught on your bike frame or levers, there is a ratchet knob on the outside and small steel wires hidden between the inner and outer tongue. 
To push your foot in, just pull the knob and the wires loosen and the tongue easily pushes opens. 
To tighten, just turn the ratchet clockwise and the wires pull the boot nice and tight for a perfect fit to your feet every time. I have a slightly bigger right foot because I broke it in an off-road crash, but these boots fit perfectly on each foot as though they are different sized boots.
The Boa system seems secure and long-lasting. But just to put your mind at rest, Boa Technology guarantees them for the life of the boot.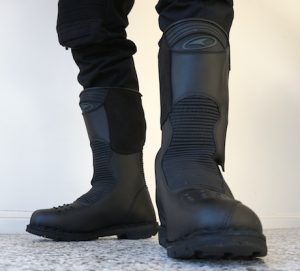 The most important aspects of adventure boots are comfort, ruggedness, protection and waterproof abilities, and the AXO Freedom Adventure has them all.
The Axo Freedom Adventure boots are a sturdy construction and feel fairly stiff when you put them on, but when you walk around they are surprisingly supple because of the flexible material at the instep and above the heel.
AXO makes strong boots and these seem very rugged with a sole you would expect to see on trekking boots. They also have strong moulded protective inserts in the shin, heel and calf areas. 
The Axo Freedom Adventure boots are coated outside with a waterproof synthetic material and the tongue has waterproof webbing so water doesn't seep into the boot through the opening.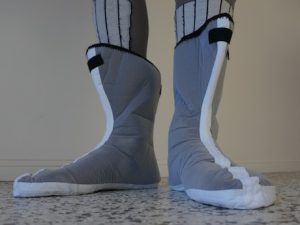 For added comfort and waterproofing, there are internal booties or socks which are made of a lightweight and waterproof material called Watertech. 
I stood the boots and the socks in two buckets of water for 30 minutes and the insides were completely dry.
Usually waterproof boots make your feet sweat, but the internal Watertech socks are lined with a material that wicks the sweat away from the skin to the outside where it evaporates.
All this for $299.95 is pretty good value!