Australian importers have secured about 200 limited-edition Vespa scooters specially designed to celebrate the venerable Italian brand's 75th anniversary.
The 75th anniversary Primavera 150 and GTS 300 models feature unique styling, special 75th anniversary decals, nubuck leather saddle edged in grey and chrome-plated luggage rack for a specially designed bag.
PS Imports Group Marketing Manager Dale McBride says "supply shouldn't be too restricted with around 100 of each model.
The GTS and Primavera 75th models are due around late June/ July with pricing announced closer to arrival.
I've ridden many scooters and I have to say the best handling and among the best finished are the steel-body Vespas with their unique front suspension.
These two 75th models in retro "Giallo Pirite" metallic yellow should be very special, indeed.
One distinctive feature of the Vespa 75th is the chrome-plated rack and complimentary round bag whose shape replicates the typical spare wheel holder. 
Made from velvety-soft nubuck leather in the same colour as the saddle, the bag has a shoulder strap and clips on the luggage rack with a quick-release mechanism. It comes with a waterproof cover.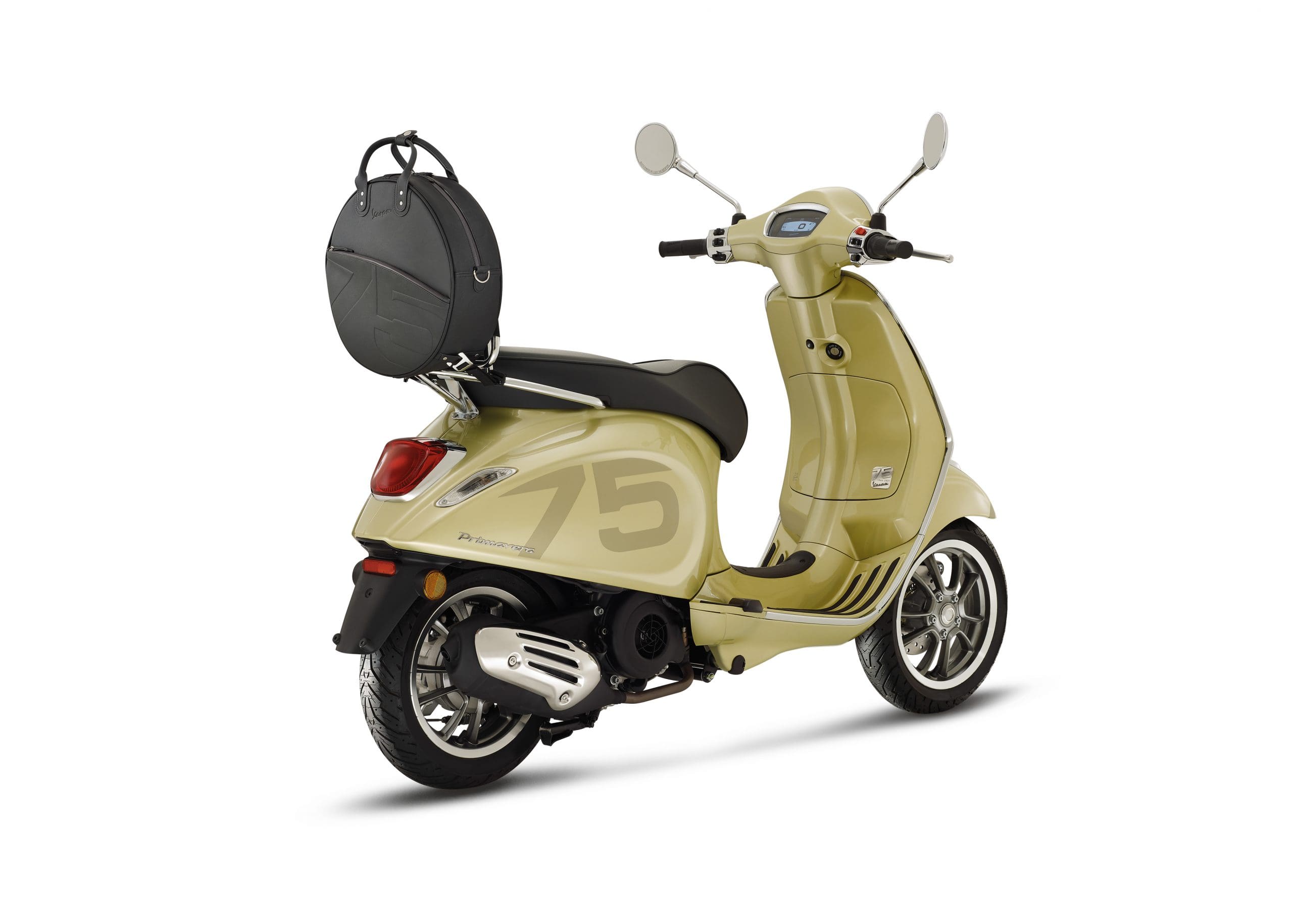 Like all Vespa special editions, the series is identified with a plate behind the leg shield.
All 75th models come with a 4.3″ TFT colour display and Vespa MIA smartphone connectivity system.
Each Vespa 75th also comes with a Welcome Kit, a vintage steel Vespa plate, a personal Owner's Book and eight collector postcards with images from the eight decades of the Vespa story.
THE VESPA LEGEND
Vespa's paint company, Piaggio, filed its first scooter patent on 23 April 1946, beginning 75 years of iconic urban riding.
Piaggio has now made nearly 19 million vehicles with the growth rate not slowing down.
Vespa produced 58,000 scooters in 2004, more than 100,000 in 2006, 180,000 in 2017 and 200,000 units in 2018.