Arboreal Systems Neutrino Image Gallery
The Arboreal Systems Neutrino is the world's first smartphone controlled power delivery system for motorcycles.
It has six configurable circuits that handle up to 60 amps to connect and manage lighting systems, heated clothing circuits, GPS, radio, power outlets and other accessories
The Neutrino eliminates or reduces the need for the extra wiring involved with fuses, fuse blocks, relays, switches and controllers for your accessories.
That's because these functions are taken care of in the Neutrino itself.
That alone is a huge advantage, as anyone who has attached multiple accessories to a motorcycle can attest.
Once the accessory power requirements are programmed into the Neutrino, the accessories are controlled by the smartphone app.
For example, you can eliminate the need for a separate relay and hardware controller for heated grips or auxiliary lights.
Instead, use the Neutrino app to set, change and control the amount of heat desired or the light output of your LED auxiliary lights and other accessories.
And as all settings are stored by the Neutrino module, the next time you start up the bike, all programmed or previous settings are recalled and displayed by the app.
See Also: Motobrain PDU Review  |  Dispatch 1 Review
Background
The Neutrino is an evolution of the Dispatch 1 Power Distribution Module (review).
These "smart hubs" are, at their most basic level, a terminal block that is connected to the motorcycle battery and allows the various power and ground wires to be neatly connected in one place.
Instead of the separate control panel used by the Dispatch 1, the Neutrino uses a smartphone app.
It's called the Neutrino Cockpit and it provides the user interface for configuration and management of the Neutrino and the attached accessories.
The app can also be used to reconfigure devices in real time to address on-the-go user requirements.
The smartphone controller provides ultimate portability.
It can be used with multiple Neutrino modules installed on different vehicles (motorcycles). The app reads the data from and interacts with the module in use.
The Neutrino app interacts with both smartphone sensors and the module to compute speed, time, volts and amps by circuit and information like heading, altitude and temperature.
It also integrates with other smartphone features like mapping, phone, music, texting and email.
A couple of minor hiccups noted early on have been exorcised out providing a seamlessly functioning management interface for the Neutrino module.
Anything that might be construed as hard to understand or difficult to use isn't; screens and inputs are downright intuitive and shortcuts abound.
"Neutrino is a next-generation power distribution and control system for vehicles…and a whole lot more."
I can't and won't argue with that statement; the Neutrino brings a new and affordable dimension to the evolving road ahead in addressing accessory power management requirements.
Watch This Video
Since the Neutrino is a revolutionary product, its use and features may be difficult to understand.
Probably the best thing to do before we start the review is to watch the Aboreal Systems video below.
The details of how the Neutrino is programmed and how it works start around 3:20 in the video below.
Arboreal Systems Neutrino Video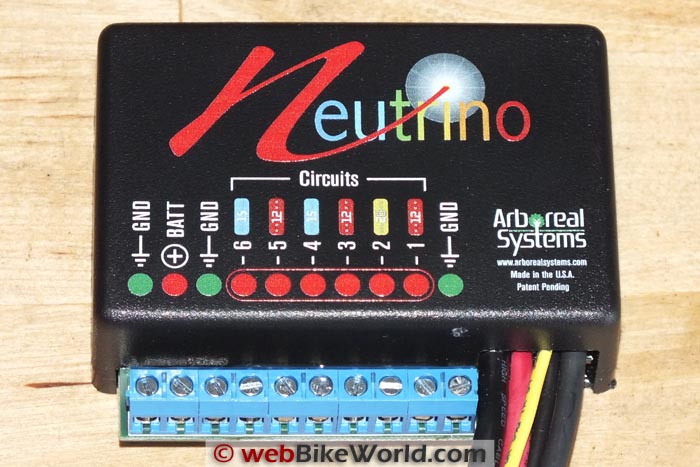 What Is It?
Those who own or are familiar with the Dispatch 1 Power Distribution Module (review) system (the other Aboreal Systems product) will know just how powerful this type of power distribution and management system is.
They also know that it's original and very unique and the value that it provides to motorcyclists.
No surprise really, given that it was designed by a frustrated motorcyclist wanting to have a one-stop technologically advanced solution to managing accessories.
Also, the idea is to minimize or eliminate with components like relays and switches and lots of wiring.
In having multiple Dispatch D1 systems on six motorcycles over four years, nothing has broken nor failed to work.
The only maintenance required? Replacement of the four AA batteries in the wireless controller modules once or twice a year (a USB-powered module is now available).
The original Dispatch 1 wasn't perfect; it had a very large distribution module that could limit some installations and require additional protection from the elements.
But despite some close competition, none have yet managed to equal the versatility, flexibility and capability provided by the Dispatch 1 and its wireless management capability.
Keeping it ahead of the pack, the Dispatch 1 has ten circuits (1 x RJ11, 3 x USB and 6 x coaxial port) for connecting and managing devices.
These can include multiple auxiliary lighting systems and modulating heated clothing circuits without the need for a separate adjustable controller and switching 12V and 5V USB outlets.
It's all done via the simple touch-based wireless control module.
Nevertheless, there was always the thought that evolution or replacement of the Dispatch 1 would see a smartphone interface of some sort.
And by staying in touch with the Arboreal System team this thought was kept alive.
So enter the Neutrino, the new smart kid on the block.

Introduction
Arboreal Systems states that the "Neutrino is one-stop-shopping for electrical distribution and control for your electrical accessories."
And like the original Dispatch 1, this statement pretty much sums up what the new Neutrino is and what it can do, albeit in a very different form factor and approach.
Similar in size and shape to the Rowe Electronics PDM60 or Centech products, the waterproof and ruggedized Neutrino power distribution module is far smaller than the Dispatch 1's distribution module.
So finding a piece of real estate for mounting the Neutrino module won't be an issue.
The Dispatch 1 utilizes a weatherproof wireless (Zigbee Radio) remote control module with LCD screen and tactile input buttons (two variants: one battery and one USB powered).
The Neutrino provides a wired USB connection (and optional wireless Bluetooth module) as its interface with the smartphone app providing user input and thus system management.
The Neutrino Cockpit iOS App (v1.0) was available from the Apps store as of 1 August 2014.
Subsequent updates have provided even faster performance, optimization for iOS 8 and support for the iPhone 6 and 6+ models, among other things.
I have a beta version of the Android app, so it seems its official release won't be far behind.
[
UPDATE
 (December 2014) – Arboreal Systems has just posted the 
Neutrino Cockpit Controller app
(v1.0) for Android 4.4+ devices only.
With this timely release, Neutrino uses will now be able to configure and control and power distribution system using either the iOS or Android app.]
Configuration and management of the Neutrino is done by using the smartphone app connected by wired USB or wireless Bluetooth 4 LE link.
System setup includes full control of all six circuits with a diverse range of information available to the user regarding electrical (system-based) and environmental (smartphone sensors and app interaction) information.
While dynamic management of the system may be the norm for many users, the system can also be a true stand-alone power distribution system.
That is, once necessary pre-programming is done by a reseller or dealer to meet a specific motorcycle accessory configuration, providing a "set and forget" installation of sorts.
The Neutrino Cockpit app is designed to play nicely with other smartphone applications.
And depending on smartphone capabilities, it can become the control centre for the app convergent multi-tasking environment utilized on so many smartphones by so many riders on a daily basis, for every ride.

Features and Capabilities
What the Neutrino currently provides and does is impressive to say the least. The following sections detail the design, features and specifications of the system:
Configuration and control via smartphone app (iPhone supported, Android pending) 60A total capacity over six configurable circuits.
Can handle up to 20A on one circuit (Circuit 2).
Direct battery charger input.
Programmable self-resetting circuit breakers.
Watchdog timer for automatic reboot of the system (if lock-up occurs).
Additional advanced circuit-level and system level voltage monitoring (configurable).
External thermo-sensor (temperature) lead.
Heavy-duty construction using six layer circuit board with heavy copper layers.
Waterproof and shock resistant module (not yet IP rated).
Accessible and configurable screw terminals for power and ground plane connectivity.
USB lead facilitates a wired USB connection or insertion of the Bluetooth radio adapter.
USB connection supports power as well as data.
Dimensions: 50.80 mm x 76.20 mm x 22.86 mm (2 x 3 x 0.9 in).
Benefits of the "Neutrino Cockpit" Smartphone App
Connecting to the Neutrino hardware module or "hub" can be accomplished using either a direct wired USB connection or wirelessly using the proprietary Bluetooth radio dongle that fits into the Neutrino's USB port.
The Neutrino Cockpit smartphone app provides the user-friendly interface.
Just to be clear, the Neutrino eliminates the need for bulky relays and fuses for your accessories.
All of those electrical issues are taken care of inside the Neutrino module. Here are some of the advantages of using the Neutrino and the smartphone app:
System and circuit parameters for all of your attached accessories are highly definable; i.e., you can name the individual circuits (e.g. "EXO Heated Vest").
Set individual circuit breaker limits, a "dimmer" or "rheostat" capability by using the system's Pulse Width Modulation (PWM) variable control or switched modes.
Retain settings memory by individual circuit.
Set voltage alarms that will stop an accessory from overloading.
Configure circuit shut-down (auto, timed, voltage-based) if settings are exceeded.
Change units of measurement (temp/distance/speed/time), switchable between English and Metric.
Monitor and display speed, time, vehicle-voltage, amperage by circuit and system total, heading, altitude and, temperature.
And as identified previously, leveraging of other smartphone features and capabilities provides integration with navigation or map apps, phone, music, texting and email.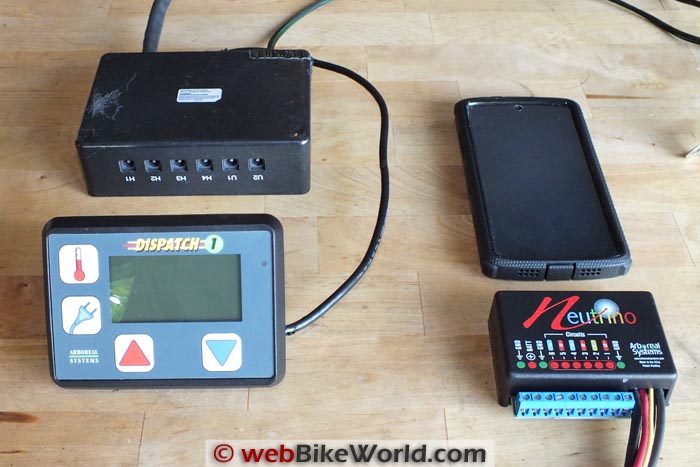 Next: Part 2 Installation Examples 
See Also: Motobrain PDU Review  |  Dispatch 1 Review
Note:
 For informational use only. All material and photographs are Copyright © webWorld International, LLC since 2000. All rights reserved. See the webBikeWorld® 
Site Info page
. Product specifications, features and details may change or differ from our descriptions. Always check before purchasing. Read the
Terms and Conditions
!
Owner Comments and Feedback
---
NOTE: See Part 3 for the Owner Comments and Conclusion.