Arai Vector-2 Review Summary
Arai Vector Image Gallery
The new Arai Vector 2 is a careful evolution of the original Arai Vector (review), with a few new tweaks to make it…better, of course!
The ultra-plush Arai interior is still there (thank you!) while the excellent ventilation system has been improved even more.
Visibility is also improved, along with the internal shape and resulting fit, which should attract even more customers to the brand.
Part of the plan, eh?
Although the list price for the Vector 2 has taken a slight jump from the 2007 original, Arai fans probably won't mind a bit and this is one instance where you get what you pay for.
This helmet exudes quality and it has that substantial — and intangible — "Arai feel" that no other helmet has been able to duplicate.
I took on the task of evaluating and reviewing the new Arai Vector 2 for no other reason than it was I who reviewed the original Arai Vector (review) in January of 2007, soon after it became available in the UK.
The helmet in that review was decked out in the stunning Phil Read replica livery and I wish I still owned it. But alas, the Arai "Intermediate Oval" fit as interpreted by the company in 2007 wasn't quite for me.
The big news here — and I may as well get to it right off — is that Arai has apparently normalized the internal shapes of the Vector 2 along with their other helmets.
Arai internal shapes used to range from "Round Oval" in the Arai Quantum II (review) to "Intermediate Oval" in the Arai Corsair V (review) and the Arai RX-Q (review) and Vector (and now the Vector 2).
Then to the "Long Oval" shape of the Arai Profile (review).
But the Round Oval is gone (in the U.S.) and the Intermediate Oval is now everyone else's "Neutral".
In fact, we've noticed a general trend from many helmet manufacturers to a convergence on a "Neutral" internal shape for many helmets.
The Vector 2 adds an interesting twist, however, because the liner fit can be custom-tailored to the individual.
I'll describe this in more detail in the "Helmet Fit, Internal Shape and Liner" section below, but the feature is very welcome and it certainly opens up (I'm full o' puns today) a whole host of options for Vector 2 wearers.
Arai has always been focused on helmet fit, probably more than any other manufacturer and this capability should also expand the customer base for this excellent helmet.
The revised fit isn't the only new tweak for the Vector 2, so let's take a walk through the Vector 2 park and I'll relay all of the juicy details.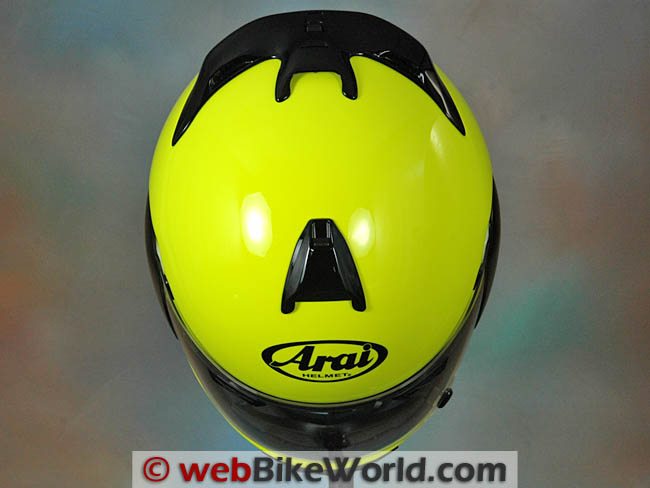 Arai Vector 2: Paint, Graphics and Overall Quality
The Vector 2 is currently available in 7 graphic paint schemes and 10 solid colors; plenty of choices for everyone.
Our helmet is in the new "Fluorescent Yellow" solid, an eye-searing solid color set off with jet black hardware that makes for a challenging photo shoot.
High-visibility colors have finally become popular and I'd have to say that webBikeWorld has been pushing this issue for over a decade.
So it's really nice to see (there's that punner again) that motorcyclists have finally taken to these colors.
For sure, this helmet pops and makes the rider very visible, especially at dawn and dusk and on cloudy days. Since the helmet is usually the highest point on the bike, it's the perfect location for this high-viz color.
One of the many things you pay for when buying an Arai helmet is the quality, and this Vector 2 is no slacker in that regard.
The quality of the paint is flawless and there's just something about the overall fit and finish and feel of an Arai helmet that — so far — hasn't been matched by any other helmet manufacturer, in my opinion.
The helmet shell, which meets the DOT safety standard and is Snell approved in the U.S. (and meets ECE 22.05 in Europe), also feels like it's carved from a piece of composite billet, if there was such a thing.
The moving parts work precisely and feel like they'll still be clicking along, way beyond the 5-year warranty date.
And the best part of it is that everything works. As you'll read in the rest of my report, the ventilation system in the Vector 2 is a careful evolution of previous Arai technology and it works better than just about any other helmet I have tried.
The liner on the Vector 2 is that super-plush, super-comfy and thickly padded fabric Arai is famous for — and which was missing, for some reason, from the RX-Q.
Anyone and everyone who has popped this helmet over their head has commented on how comfortable it feels. It really is different than any other helmet for sale today.
The only nit I can pick regards the chin strap, which needs a longer and thicker padding underneath.
This isn't really a quality issue; it's a design issue that was also a problem on the RX-Q, and I just don't know why Arai doesn't add a few millimeters of extra padding on this crucial part.
In fact, you could always cut off the liner if it's too long (doubtful), but it's hard to add it where it doesn't exist. How about it, Arai?
Score: I'll give the Vector 2 an "Outstanding" rating for overall quality, without hesitation. See the Summary Table at the end of this review for a description of the rating system.
Helmet Fit, Internal Shape and Liner
As I alluded to in the Introduction, Arai — along with the rest of the industry — seems to be converging on a more neutral helmet fit.
In Arai's case, they're doing it by chipping away at the extreme ends of their vaunted helmet fit choices of Round Oval and Long Oval and settling on what we call a "Neutral" fit.
I was as surprised as anyone to pop on a Vector 2 and find that it fits me as well as any helmet I've tried. Even the Editor, with his notoriously round head, finds the Vector 2 to fit more comfortably than his current Arai RX-Q.
So I'd have to rate the size large Vector 2 shown here as a "Neutral" fit in the webBikeWorld internal shape rating scheme.
Although we no longer have the original Vector available for comparison, I distinctly remember its fit.
And as far as I can tell, the Vector 2 tends more towards neutral than the Vector (review), which, as you can read in my review, didn't feel much different than the narrowest Arai helmet, the Arai Profile (review).
But it sure looks like the both tails of the Arai internal shape distribution graph are getting clipped, because there no longer seems to be as much of a dramatic difference in the way that Arai helmets fit.
We first noticed this in the RX-Q but sort of gave the issue a pass because that helmet replaced the Round Oval Quantum II in the U.S.
Now we have the Vector 2 that fits "Neutral" and "Round" heads (our terminology) much better than any Arai Intermediate Oval of the past.
Take that clue, and the elimination of the Round Oval shape from the Arai helmet lineup (in the U.S. anyway) and the only answer we can come up with is that Arai has changed — or shall we say "evolved" — the fit of their helmets.
Let me be clear that at least for this owner, that's not a problem at all — indeed, it's fantastic news!
And here's why Intermediate Oval heads (like mine) shouldn't worry: Arai has you covered — so to speak — with a new "bespoke" fit system that allows the owner to customize the fit in two different locations.
By the way, the size large fits to size and Arai has different liners and cheek pads of various thickness to further customize the fit.
Besides a new removable liner in the Vector 2 (the liner in the original Vector was non-removable, believe it or not), Arai has included 5 mm thick removable "peel-away" cheek and temple pads with the helmet.
They're located — you guessed it — behind the cheek pads and at the temples, underneath the newly designed crown pad.
Stuffing foam between the liner and EPS has long been a trick of motorcyclists frustrated with the fit of their favorite lid and Arai isn't the first helmet manufacturer to offer this feature.
If that's not enough, Arai also offers mix-and-match cheek pads and helmet liners for their helmets and the Vector 2 has its own unique system (that even uses a different removal process).
The liner material is the wonderful old Arai soft and cushy material that is sorely missing from the RX-Q. It also includes acres of soft padding and plopping a Vector 2 on your head is akin to taking a dive into a 50-gallon drum of Marshmallow Fluff.
The Vector 2 actually feels more round inside than the new Shoei Qwest (review) or the RF-1100 (review), both of which now ironically feel more "Intermediate Oval" than the Arai Vector 2 fit.
Perhaps it's the thick padding in the Vector 2 that masks the internal shape, or at least helps the shape to conform to the rider's head, even if it isn't a perfect match.
I was also amazed to be able to easily fit my sunglasses inside the Vector 2 with no problem at all, although this is highly variable, depending on the rider's head shape and eyeglasses type.
The ear pockets in the Vector 2 are adequately sized and the gasket around the bottom of the helmet allows mounting of clamp-type intercom modules.
A note on the Vector 2 helmet shell: it feels as sturdy as they come but the outer shape or profile does look a bit stodgy to some.
Arai calls it their "organic" shape and it does seem to cut through the air with little turbulence. But I guess the shell really does look like more of a "mature" rider's shape than some of the boy-racer looking helmets available today.
By the way, I haven't been able to confirm the number of shell sizes that Arai uses across the size range (XS to XXL).
And one more thing: even though Arai offers the variety of graphics for the Vector 2, they seem a bit corny to me and not very complimentary to the helmet design, so my feeling is you're probably better off with a solid color you can customize yourself.
They're cheaper too…
So apparently the Arai "Intermediate Oval" shape is now pretty much everyone else's "Neutral", and that's how I'm going to rate it. Remember that the shape can be adjusted with the 5 mm adjustment pads behind the cheek pads and the temples.

More information on helmet fit can be found in the webBikeWorld Motorcycle Helmet FAQ page.
Also, be sure to check out the chart that lists the helmet weights of webBikeWorld reviewed helmets and also by shape on the webBikeWorld Motorcycle Helmet Shapes page.
Score:  We'll give the Arai Vector 2 an "Outstanding" rating for fit and comfort and a custom-fit internal shape that should make many riders very happy.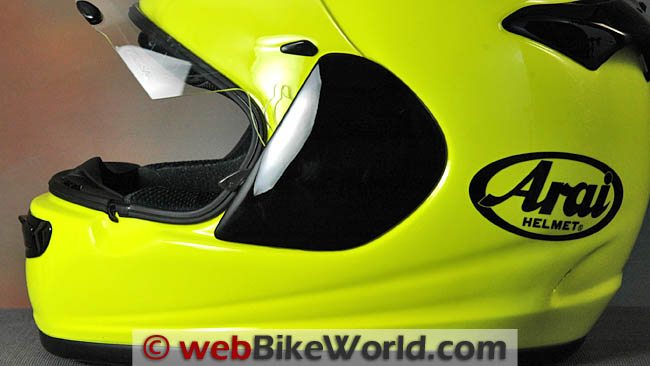 Face Shield, Eye Port and Visibility
The eye port of the new Vector 2 is a claimed 5 mm wider on both sides than the original Vector. The visibility is definitely improved and it provides nearly unlimited peripheral vision in the horizontal plane.
I have to move my eyes right or left to see the edge of the helmet shell; I can't see it in my peripheral vision otherwise.
The face shield had to be made 5 mm longer also to account for the new design. Arai said that the base plate for their unusual face shield removal system has also been redesigned.
Since the crew has experienced broken side plates on Arai helmets in the past, we didn't try to remove the face shield on this one, although it can be done with some practice (here's how in this YouTube video).
I think by now Arai is sticking to the old design more out of stubbornness and because they'd lose face if they changed.
They claim it allows them to design a better shell because the rotating mechanism doesn't intrude into the shell.
While that may have been true 20 years ago, today there are some excellent face shield removal mechanism designs that take up a minimum amount of space and work very efficiently.
In any case, since I nor anyone else here rarely changes a face shield, this isn't a problem.
The vertical sight plane is excellent and don't forget that the Arai face shield also includes the pair of built-in brow vents along the top.
These funnel air through matching scoops build into the top of the eye port and direct the air through the fabric liner towards the rider's head.
The face shield is infinitely adjustable, more or less. The Arai side plate system doesn't use detents, which is an advantage because it allows the face shield to be raised to any position and held via friction.
The face shield is lifted with the locking tab/button at the lower left.
The lift tab is a tight fit, making it feel a bit stiff to operate when wearing gloves because you have to dig a finger underneath the button and yank it forward to release the face shield, but when it's locked, the tab does keep the shield secure.
I'd like to see a larger or redesigned button, but this system has been used on Arai helmets for as long as I can remember.
This face shield did not come with Pinlock anti-fog insert (review) mounting posts, although a generic Pinlock may fit. Arai has the "SAI Max-Vision Anti-Fog shield" and optional  Pinlock system available for the helmet as an option.
The revised eye port shape can now accept the full-size Pinlock insert, according to Arai, and the Pinlock is available in 5 different tint colors. I used the new Bausch & Lomb FogShield Sport anti-fog coating (review) recently reviewed on webBikeWorld and it worked fine.

Score: I'll give the Vector 2 an "Outstanding" rating for the overall quality and operation of the face shield and eye port and outward visibility.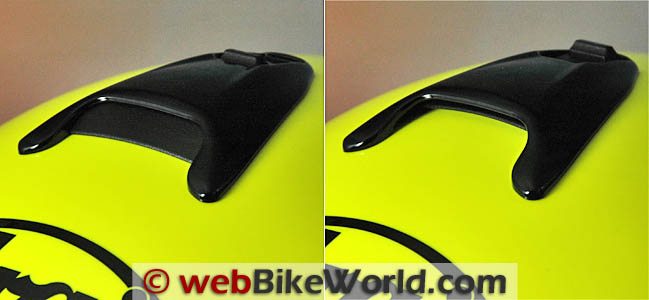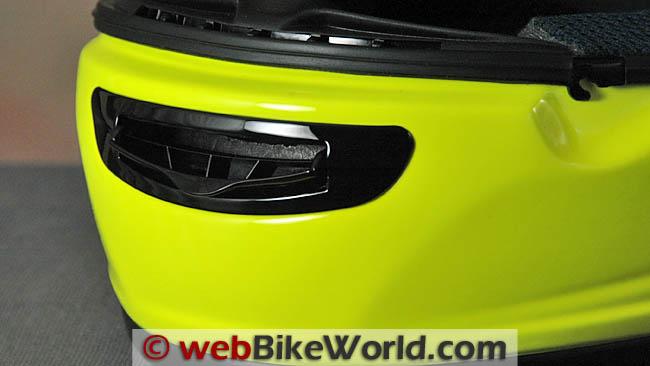 The chin vent on the Vector 2 is also redesigned and provides outstanding air flow.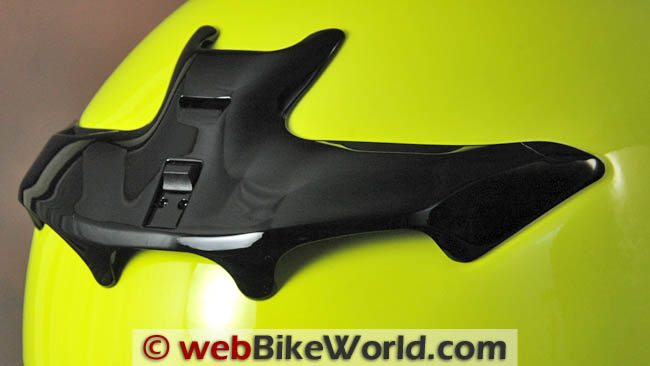 The rear exhaust on the Vector 2 has also been redesigned.
Ventilation and Air Flow
More gold stars to Arai for the venting system on the Vector 2; I'd have to say that this helmet ranks among the best for ventilation and air flow I've experienced in a motorcycle helmet.
The Arai system has been carefully evolved over the years — this is a company that doesn't change things just for the sake of change. In fact, I'd say they're exactly the opposite.
The large fold-down chin scoop system on every Arai helmet I've ever worn works really well to provide plenty of ventilation, and it's been slightly improved in the Vector 2, according to Arai.
The chin vent has two positions: lots of air and huge amounts of air. On pretty much any motorcycle helmet, if you can even sense air coming through the chin vent, you're lucky, because most of the systems are so poorly designed.
This one literally pours air through the chin bar, no problems there. I do very much miss the fold-down chin curtain that comes with the RX-Q however.
And I think Arai missed the boat here by not providing some type of chin curtain with the Vector 2, because some air does flow up from underneath and this type of air flow can't be controlled without a chin curtain.
The top vent has also been redesigned; the slider completely closes the top vent both inside and outside the helmet shell, which should bode well for anyone riding in the rain.
The vent provides an excellent amount of air flow through a direct and unblocked air passage vent hole inside the upper portion of the helmet. It does have some noise issues, described in the next section.
The rear exhaust vent is also newly redesigned on the Vector 2 and the single slider in the rear opens three exhaust ports.
By the way, Arai said the new top vent scoop system and the rear exhaust vent are available as accessory parts, but I assume this means for fitment to a Vector 2 and not to retrofit older Vector helmets.

Score:  I'll give the Vector 2 an "Outstanding" rating for ventilation and air flow.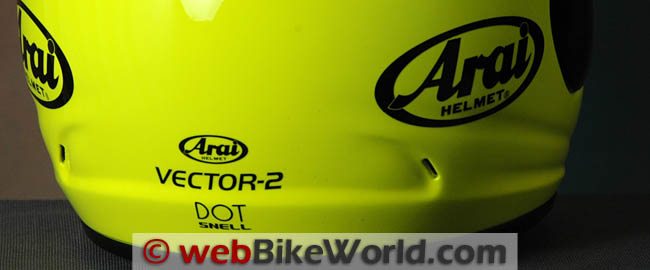 A pair of exhaust ports are located in the lower rear of the Vector 2.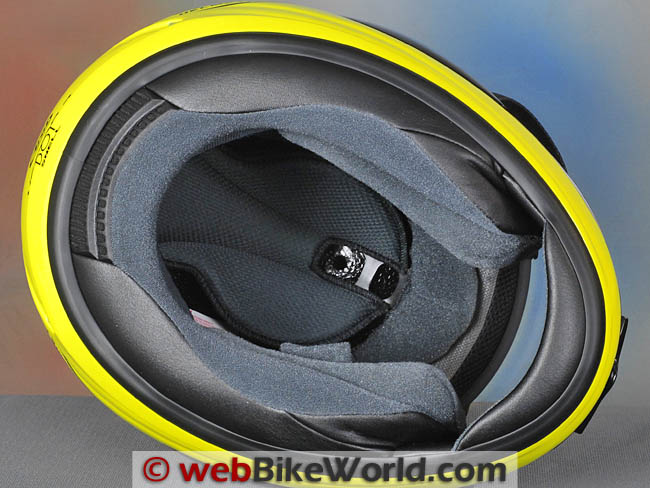 The liner material and padding used in the Vector 2 feels plush and very comfortable.
Vector 2 Sound Levels
The top vent of the Vector 2 is quiet when it's closed, due to the new system that completely blocks the front vent opening with the plastic slider cover.
But the vent does make a whistling sound when it's open and I can also hear the air rushing around it. Tilting the head forward when riding a sportbike nearly eliminates the sound, but sitting upright increases it, because the air flows directly into the scoop.
I'd bet that Arai had to redesign the system to cover the vent opening when it's closed to help reduce noise.
Burn discovered something curious about the top vent when riding his BMW K1100LT.
If the air coming off the top of the windscreen flows over the top of the Vector 2, it can make a very loud "duck call" type of honking noise.
I could duplicate this on a Yamaha FZ6 when I dipped my head down behind the screen and I have to admit, the sound scared the heck out of me, it came on so suddenly and it is really loud.
But for the most part, you'd have to work to make it honk, so other than the whistling noise when sitting upright, you should be fine.
Otherwise, the Vector 2 is relatively quiet and after riding several different motorcycles, I can say that I haven't found any extraordinary noise issues coming from the chin vent or around the sides of the helmet.
Probably the tight-fitting face shield and the Arai side pods help, along with the low-profile "organic" shell shape.
The helmet shape and the thick padding around the bottom of the Vector 2 also helps control buffeting noise around that part of the helmet.

Note that our helmet evaluations are a combined effort of several riders over time on different types of motorcycles with and without windscreens.
Evaluators wear correctly fitted, high quality ear plugs (even when evaluating motorcycle intercom systems).
Always protect your hearing when riding a motorcycle. See the wBW Earplug Reviews for more information on choosing and wearing earplugs.
Note also that perceived noise levels will vary, depending on the individual.
Noise can be caused by many factors, including helmet fit, the type of motorcycle and windscreen, wind speed and direction and even the rider's clothing.
For more information on helmet noise, visit the wBW Motorcycle Helmet Noise page.
Score:  I'll give the Vector 2 an "Excellent" rating for noise control.
wBW Video: Arai Vector 2 Helmet
Arai Vector 2 Helmet Weight
This Arai Vector 2 in size L weighs 1611 grams (3 lbs. 8-7/8 oz.), a good showing and ranking it currently at number 62 out of 157 helmets reviewed on webBikeWorld.
There haven't been many helmets in this weight range in some time for some reason, thus there aren't many recent comparisons. The original Arai Vector (review) in size XL weighed 1583 grams (3 lbs. 7-7/8 oz.).
Other helmets in this range include the Xpeed XF-705 in size L at an identical 1611 grams and theShoei RF-1000 at 1610 grams.
The Vector 2 meets both DOT and Snell 2010 safety standards, yet weighs much less than the Shoei RF-1100 (1746 grams, although that was a size XL) and the Arai Corsair V, also in size XL, at 1758 grams.
The Vector 2 feels light when it's handled and the comfortable and close fit gives the helmet a nice balance when riding.
All of these weights are available on the wBW Motorcycle Helmet Weights page, along with a chart that lists the helmets by weight and shape on the wBW Motorcycle Helmet Shapes page.
Score:  The Arai Vector 2 gets an "Excellent" rating for its low weight and excellent balance.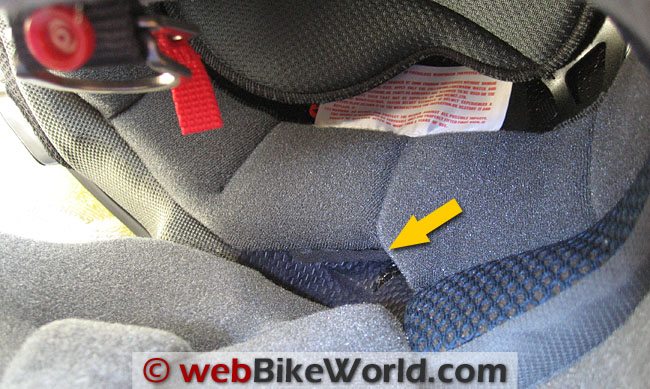 Miscellaneous
The Vector 2 has a double D-ring chin strap retainer system, but the padding underneath is too short and rather thin.
Arai provides a 5-year warranty on the Vector 2, which should effectively cover the life of the helmet.

Conclusion
The Arai Vector 2 is a bit of a paradox, because from one perspective, the changes are evolutionary and even difficult to notice until pointed out.
On the other hand, the changes definitely make this a better helmet and the new internal shape and the ability to custom-tailor the fit with the foam cheek and temple pads open up a whole new customer base for the Vector.
Other than the slight whistle from the top vent and the too-thin chin strap padding, which are minor complaints, this has to be one of the nicest helmets I've worn in a long time and it's a keeper for me.
Yes, you're going to pay a bit more for an Arai than for one of those brands with a made-up name for marketing purposes, but you're buying a long and slow evolution of features that really do work and really do make a difference.
To date, there's nothing comparable to the feeling you get when you slide an Arai helmet on your head.
And it's difficult to put a price on that kind of quality and feel. Thus, we give the new Arai Vector our highest 5-Star rating and we can highly recommend it.
Also: Arai Vector 2 Owner Report
wBW Product Review: Arai Vector 2 Helmet
Manufacturer: Arai Helmets
List Price (2011): $459.95 to $609.95
Colors: Solids and graphics.
Made In: Japan
Sizes: XS to XXL.
Review Date: February 2011
Shell Sizes: 2 (?)

Rating Scale is subjective: Unacceptable, Poor, Neutral, Very Good, Excellent, Outstanding.
Note
: For informational use only. All material and photographs are Copyright © webWorld International, LLC since 2000. All rights reserved. See the webBikeWorld® 
Site Info page
. Product specifications, features and details may change or differ from our descriptions. Always check before purchasing. Read the
Terms and Conditions
!
Owner Comments and Feedback
---
From "T.R." (March 2015): "…What a loud helmet, after using a budget HJC and a Shark RSR, both top helmets compared to the Vector 2.
I needed a replacement and bought this Arai Vector 2, fairly comfortable but the roar of wind noise inside is unbearable even with ear plugs; yes I was fitted in store twice.
I have tried to return it to the point of purchase and they maintain its not faulty blaming everything but the product. Mostly the bike's fairing, my ride gear, my head, blah blah…
5 year warranty is garbage as well as this helmet, just lip service.
My own fault — I should have fessed up the extra cash for the Shoei. You do mention this roar in the article, wished I had seen it before I parted with my hard-earned.
My advice to buyers is to test your mates' helmets on your own bike before you buy."
---
From "C.L." (September 2014): "I recently purchased an Arai Vector 2 helmet based primarily on your review. I ordered this helmet through RevZilla because of their 30 day return policy.
The one thing that has had me on the fence about this helmet is the lack of a chin curtain.
Because of your review I decided to take a chance and order an HJC IS-16 chin curtain when I ordered the Vector 2. I am enclosing a picture with the chin curtain installed. By using some Velcro it seems to fit very secure.
I am wearing this helmet in the house every night until I feel confident of the fit and that the chin curtain will stay in place.
As a note if I were to return this helmet I would order an Arai Defiant as a second choice and see how it felt. Thank you for your excellent review."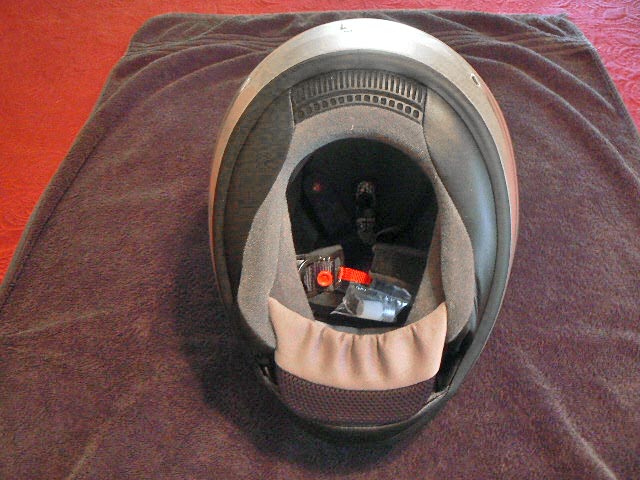 ---
From "D.M." (May 2014): "I bought my Vector 2 after crunching my Shoei and before reading your review. I've got a rounder (some say square) head, and the XXL fitted much better than my previous XL Shoei TZ-R (review).
Apart from the overall comfort and fit of this helmet, one of the main reasons for me choosing this helmet over several other brands and styles was the ability for me to comfortably fit and wear my prescription glasses.
It looks like Arai specifically designed the shock-liner segments to allow for thin-arm eye-glasses to be easily fitted and comfortably worn. Many other brands did not have that important feature.
I have no trouble fitting the visor. I am interested to try the HJC chin curtain that C.R. recommended (comment below), as there is way too much airflow on the cooler days."
---
From "C.R." (June 2013): "I just bought a Vector 2 recently after having read your review and having tried one on in the store.
It fits me just as well as my Quantum 2 did, but I was in for a rude surprise after a couple of rides on my naked Aprilia Tuono; my eyes were watering from the heavy airflow inside the helmet with all vents closed.
You weren't kidding when you said you thought they missed the boat with dropping the chin curtain for this model!
I have found a very easy and cheap work around however, I just added the aftermarket HJC IS-16/FS-15 chin curtain ($5) to my helmet, and it cuts down on ALL unwanted airflow.
The mesh holes cover the little chin lip that the Vector 2 still has, and you already have to put your thumb on the chin strap to get it out of the way when putting the helmet on or off, so this thing does not add any problems in that regard.
This saved the helmet for me, otherwise I would have had to sell it."
---
From "S.S." (January 2013): "I was at the NYC motorcycle show yesterday, and while there I took the opportunity to look at Arai helmets, a brand to which I have limited access in my region of upstate New York.
Having a head that appears to be "earth-shaped" (my wife says like a St. Bernard), I have always had a difficult time finding a helmet which fits comfortably.
Whenever I am on the road and stop at any motorcycle shops, I look in vain for something that feels better, but with no luck.
In a reply from you in the comments section of a prior helmet review, you suggested that I look for an older Arai model which was for round heads. I recalled that suggestion when I saw the big Arai sign yesterday, so over I went.
I spoke with Robert from The Service Pavilion, and he took about 20 minutes to measure me up and custom fit a helmet for me.
Interestingly enough, the Arai Vector 2 was the perfect fit, and he swapped liners and cheek pieces until it was just right.
Wow! So this is how a properly fitted helmet should feel?
Nothing like my current fit, and not only more comfortable, but also closer fitting all the way around, so it should be much safer too.
It made me wonder how many other riders are probably riding with helmets that are a compromise, simply because they also are limited in what they can actually lay their hands on to try on, or the lack of knowledge of how to properly fit a helmet?
Probably more than a few, I would guess.
I also shared two concerns, visor removal and fogging, both of which were addressed by Robert.
And having been shown how to properly remove and attach the visor, I see that without correct instruction it could be a headache, but once you see it done, it is actually much easier than other designs.
Also, they have taken the Pinlock system to a higher level by having it cover such a large area that the seams are actually outside of your field of view.
Overall, I am excited to be ordering a new helmet from Robert in the Spring, and I encourage folks who usually do their buying exclusively online to get to a shop that knows how to properly fit a helmet when it comes time to replace their current lid.
I think they will find it to be money very well spent."
---
From "E.V." (August 2011): "I have been looking into a new helmet for a while now.
I currently own an Arai Astral X which wasn't the best fit when I bought it but fits me very well now. It was a round oval shape and I am more of an intermediate Oval.
I was in need of a helmet though and at the time I bought the Astral X I didn't feel like shelling out $700 for a Corsair.
I have been wanting a new helmet for a while but none of the current lineup has been doing much for me visually and I still love the styling of my Astral.
But as it is well over 5 years old I am realizing I need to get a new helmet even if it doesn't look as nice as I would like.
So I came to your site hoping to read up on helmets. I would like an Arai but the cost is a bit of an issue for a helmet that I am not in love with. So I am also looking at a few others like the AGV.
I tried on the T-2 and GP-Tech over the weekend at the D-Store in San Francisco and wasn't terribly impressed. I felt they were good helmets but about 100-150 over priced. The fit and finish is not as good as my used Astral.
The helmets are pretty comfortable shape wise but not too plush. I don't care for the visor system.
Which brings me to my comment. I am serious about this too — not just messing with the whiners posting comments on your site. I change face shields on my Arai a lot. I have done it hundreds and hundreds of times.
I admit that it was a little tricky to learn. It took me about 5 minutes and the instructions were totally useless. But once I figured it out, I found that it is the easiest system I have ever come across.
I can change shields in 3 seconds blindfolded/eyes closed. I have done it to show complainers how easy it is and then they realize that the system they have is garbage.
Not only is it quick and easy, it looks nice and the friction system is much preferable to the other stuff out there.
I like the locking system and though I don't use them that often, there have been times when I was very happy to have the brow vents as well.
To me it is a bit like hitting a golf ball. It isn't so much fun until you really connect with the sweet spot.
Then you realize what it is all about. Anyway, long story short, I for one love the Arai visor system and it is one of the many reasons why I am an Arai customer."
---
From "N.B." (July 2011): "I am not sure I get the Arai mystique. The Arai Vector 2 is a decent helmet, but at a premium price point.
Compared to the Bell Star I have been using for the past few years I find the Arai lacking in a few key areas.
The chin strap is too short, no strap cover to prevent chaffing of the neck, strap snap is too close to the helmet side making it difficult to snap into place and easily comes unsnapped when you twist your head, no chin curtain making the helmet pretty noisy.
If I place my hand where the chin curtain should be the helmet quiets down to an almost bearable roar.
The shield mechanism is clumsy to operate, doesn't stay positioned in place like shields that use detents, the shield is prone to fogging when moving at speeds below 20mph and the eye port is narrower and shorter.
There is less neck protection as the helmet does not extend down quite as far as the Star and it doesn't vent anywhere near as well as the Star.
If I could fit my Bell star in my FJR's side cases I would definitely return the Arai."
---
From "D.M." (March 2011): "I just received my new Arai Vector 2, with Launch graphics. Everything you stated in your review was right on.
I have used my Quantum 2 for years and I was hesitant to change. But, it was time for a new one.
I must say, that I was sold on the Vector 2 after reading your review. Anyway, it fit perfectly and the lining is plush. I haven't had a chance to ride with it yet, but I don't expect any surprises. A great helmet it is."
---
From "C" (March 2011): "(Regarding the Arai Vector 2 "Duck" noise): I likened it to a dying bagpipe and I experienced it a lot on a Triumph Sprint GT, and less so on a Tiger. Dipping my head caused it to occur all the time.
For me – it occurred when the vent is closed and I think it is because the flap is acting like a reed on a flute and is vibrating at a high frequency. I'm quite concerned because it is very loud."
---
From "E.E." (March 2011): "Hi guys, I love and have used the site for years! I had to comment on the Arai face shield issue.
After 30 years of riding and MANY different helmets, I LOVE the Arai system.
Other helmets require two hands per side so you can only extract or insert one side at a time.
They also tend to have these j hook slide guides that require you to squeeze each side of the shield into the helmet while working a button/lever AND of course holding the helmet.
I have ended up on the floor like a monkey trying to hold onto a greased football trying to do all this at once.
There is none of that with an Arai. Grab both sides of the shield, push the spread tabs down and pull the shield out of the side plates.
To replace, insert the shield into the side plates, raise it up or down an inch or two from the top to get the side mechanisms and shield sides lined up, and put it down with a click that lets you know it's right.
It does NOT get any easier.
There is definitely a "feel" to it that you must master. My successful advice to other new Arai users, is to stop worrying about breaking the shield.
Just grab it, tab it, and pull it the heck out. Put it in, jiggle it till it feels smooth, and put it down.
I change my shield from dark to clear almost every ride and again when I get home to drop it in a bucket of water.
Maybe the practice makes perfect but there is no easier or quicker shield to change AND it is the only one you can do without taking the helmet off."
---
From "B.M." (February 2011): "Thanks for the review of the Vector II. Maybe it's me, but I'm a little bit confused regarding the shape of the helmet and the removable pads.
The internal fit, as it ships, is rounder (or more "neutral" than the original Vector, right? So does removing the peel-away pads make it even more round? That's what is sounds like to me.
If so, it sounds like the only manufacturer who cared about people with narrow heads is abandoning us. What are those for whom the original Vector fit supposed to do now?
The only reason I've paid Arai's ridiculous prices is because they made the only helmet that really fit.
If I've now got to wear a helmet that doesn't fit, there are a lot of good helmets for a lot less money than Arai. I'm not sure what they're thinking, but by following everyone else to the middle, they're losing at least one customer.
And probably a lot more."
Editor's Reply: I think you have it about right, the Vector 2 seems more neutral than before and removing the pads makes it rounder. Or remove the pads under the cheek pads to make it wider at the jaw, or wider at the top, mix and match.
I wish we still had the original Vector here to compare, because I'm not sure how much the shape has changed.
I have to say, the Vector never fit me before, and this one does and I was pretty surprised. I'm a Quantum II round head guy, and Arai dropped that one, so they abandoned me too!
But I've been wearing the RX-Q, it's working for me, not quite as comfy as the Quantum II, but pretty good.
Before you write them off, give the Vector 2 a try, not sure what size you take, but stop by a shop and try one size smaller maybe than you normally take also, to compare?
Also, it may or may not be correct that Arai lost a few customers with the changes, but I'll bet they gained quite a few more with the new fit and ability to customize the shape.
---
From "A.R. " (February 2011): "I just read and enjoyed your review of the Arai Vector 2. However, glossing over the obsolete and ridiculous face shield retention/release mechanism because "no-one changes face shields anymore" is unfortunate to say the least.
It's an archaic system and the stubborn-ness to change it has cost Arai at least two of my purchases.
I often take the face shield off to clean it properly on our multi-day trips but refuse to even try to learn to cross my eyes and twist my tongue correctly to change the Arai face shield when HJC, Scorpion and Shoei are one click wonders!!
Surely its face shield operation is only worthy of a 2 out of 10 rating so ending up with an outstanding rating is very unfortunate. Just my 0.02 cents.
Editor's Note: We received several emails with more or less the same theme. All I can say is that changing an Arai face shield isn't that difficult! Even I can do it, and that's saying something!
Watch the the video, try it a couple of times and you're golden. It's way easier than changing the face shield on, say, the Vega Summit 3 (we couldn't get the face shield off even after calling the manufacturer) or the Shoei Hornet (you'll need a screwdriver).
In fact, it's probably easier to remove and replace an Arai face shield when you're wearing the helmet than most other helmets, regardless of type.
There must be zillions of Arai owners who don't have an issue with this, because how else would the company have won those 12 in a row J.D. Power Customer Satisfaction Awards?