Alt-Berg Boots Review Summary
Alt-Berg Boots Image Gallery
Alt Roof -Berg Hogg Lite Boots Review
Excellent quality, heavy-duty custom or semi-custom made motorcycle boots should last a long, long time.
The British are renowned for an incredible number of remarkable travel exploits and discoveries through the centuries.
Even today, the British seem to be second to none in exploring far-off lands.
Want a couple of great examples?
Check out our reviews of the wild and wacky British explorers in the Mondo Enduro and Terra Circa videos.
That crew and their round-the-world motorcycle adventures represent modern-era chapters (in a sort of twisted way) in the British tradition of adventure.
Some adventurers go the "bare bones" route, while others prepare to the max. Does it make a difference? There's something to be said for minimalists, which can be an adventure in its own right.
I'm a huge admirer of Ernest Shackleton's supernatural heroism, and I've read just about every book ever printed about his exploits, which are some of the most incredible ever recorded.
Shackleton was a gear freak, but prior to his journeys he sometimes got hung up on decided just which gear was essential.
Shackleton oversaw every minute detail during the provisioning of his journeys. The expedition gear that he chose back then was high-tech for its time, but it sure seems quaint compared with today's ultra-lightweight gear and space-age materials.
I can easily imagine him riding up to Richmond from London to see the Alt-Berg folks to discuss the details of the specially made boots for his latest trek.
It didn't happen, of course, because it was long before Alt-Berg's time, but it's great to know that there's still at least one British bootmaker left that carries on the old traditions. I'm sure if old Ernie was around today he'd be shilling for Alt-Berg on TV.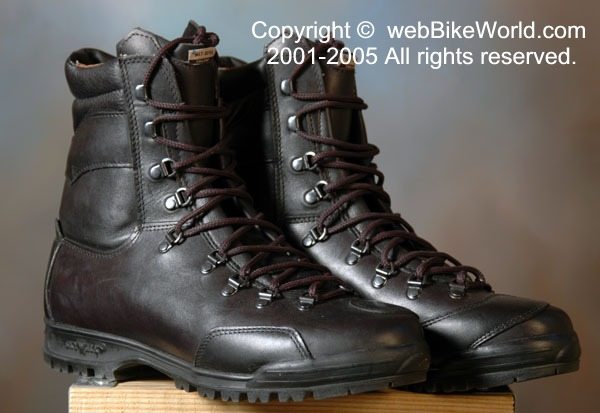 Alt-Berg Hogg Lite Boots
But twenty-first Century technology means that you don't have to travel to Richmond to get fitted for a pair of custom-made or made-to-order boots. A visit to the Alt-Berg website is all that's necessary to place an order. The 14 or so staff members will be happy to get you fitted, and they will even make a completely custom boot for you if so desired.
The best part about it is that a made-to-order boot like the pair of Hogg Lite Mk II's seen here costs only about 75 quid. With the value of the U.S. dollar shrinking as fast as a wet sponge in the Mojave, that's still only about $138.00.
Add in shipping and a few extras and you'll be up to around $190.00, but still very reasonable for a virtually semi-custom made boot of this quality.
Besides a completely custom-made boot, Alt-Berg can fit all sorts of options in your made-to-order version, from special insoles to different linings and even different tongues, panels and foot beds.
And all of their boots can be completely refurbished at the factory, which means that a pair of Alt-Berg boots will provide good service until they're coddling your feet during your eternal 6 feet under resting place.
In addition to a varied line of motorcycle boots, Alt-Berg makes walking boots, country boots, military boots and they'll even make you a Vegan version of their boots using Lorica, the leather substitute often seen in motorcycle racing boots.
I had a very hard time picking out a pair because I couldn't make up my mind between the different versions, wanting one pair of each. I ended up with the Hogg Lite Mk II, one of their most popular lace-up motorcycle riding boots.
The Hogg Lite Mk II's are everything I imagined. They fit like, well, they fit like a pair of made-to-order boots. They make my feel feel comfortable and secure. They're comfortable for walking or trekking. And surprise — my feet, for some reason, don't even sweat in them!
Features
The Hogg Lite Mk II's have extra patches of leather on the sides of the toes (acting as a shift/brake patch), the heels and the ankles. The ankles include some extra padding for protection.
The tongue has a very unique design — it's cut in one piece and it's cut to fit perfectly inside the externally mounted (riveted) lacing D-rings. The top of the tongue is cut on a curve, which matches the curve of my shin and prevents chafing.
Although they're called "Hogg Lites", and they're lighter than a similar work boot (and certainly lighter than a steel-toed work boot), anyone moving to this type of boot, if not used to it, will find it a bit heavy and cumbersome.
Let's face it – they're made for protection and they're very sturdy and use thick leather, so the word "Lite" is relative in meaning. Each boot (size 10) weighs 1 lb., 13.5 oz. (835 g), which really isn't bad considering the type.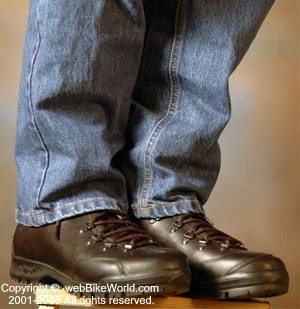 But even with the generous use of leather, the extra patches added especially for motorcyclists and the other extras, I'm surprised actually at how comfortable the boots feel. Mine took no break-in period at all, which is remarkable for a work-style boot.
In fact, the first time I wore them, I rode over to a work detail to help some friends plant trees in a "Green Sanctuary".
It was a hot day and I did lots of walking up and down the hills, kneeling down and generally doing just about everything that should result in rubs and blisters, but had neither.
My boots are lined with DuPont's Cambrelle and some 2mm open cell foam.
The soles are labeled "Skywalk", and they have hiking-shoe dual density rubber, so unlike many other dedicated motorcycle riding boots, these are comfortable for walking.
In fact, the Hogg Lites look suspiciously like the Alt-Berg "Peacekeeper" military boots, which are certainly made with hiking in mind.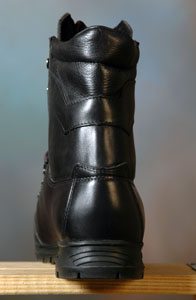 Alt-Berg says that "the rubber used in Skywalk soles is slightly softer than that used by other sole makers. This gives the sole good shock absorbency and improves the 'wet-rock' slip resistance.
Skywalk soles are dual density combining a hard rubber outer skin with a soft rubber middle to give lightness and shock absorbance."
The Hogg Lite Mk II's have many other features too numerous to list, but I should note that they use two different types of Pittard's famous treated leather in the tongue, one on the outside and one on the inside.
This probably also accounts for the lack of chafing in this critical area, because the Pittard's leather is as soft as a baby's bottom.
In addition to the 14 D-rings, there are 4 "speed lace" hooks at the top of the 22 cm high (8-5/8″) boots.
It takes a few minutes to get the laces through the D-rings the first time, but after that, the boots lace up quickly by using the hooks. This is my favorite type of system for lace-up boots, and it's one of the reasons I chose the Hogg Lite Mk II's.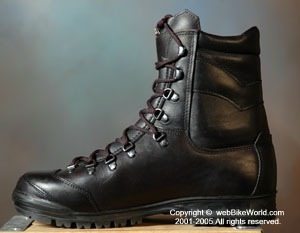 I take a U.S. size 10.5 boot, and the UK size that Alt-Berg sent is labeled a 10.
My boots fit perfectly in length, but they are very slightly wide, so I wear heavier wool hiking socks underneath to take up some of the slack.
Part of it may be that I'm not used to wearing lace-up boots, and I know that boots must have some extra room because the foot will swell when hot or during a hike.
All of the Alt-Berg boots are "no frills", functional designs that are made to excel at specific tasks.
Alt-Berg claims that the Hogg Lite Mk II is a "three season" boot and is not designed for the winter.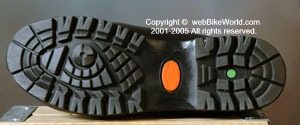 I'm not sure why this would be so — it feels hefty enough for colder weather, although so far it's been very comfortable in the late spring, 70+ degrees (Fahrenheit) temperatures we've had so far.
Conclusion
As you can tell, I really like these boots. I can't think of any other lace-up work boots or motorcycle boots that come close to the build quality and the versatility of Alt-Berg's offering. I'm definitely going to order a pair of walking boots and maybe even one of their all-around street boots.
Alt-Berg also makes some non-lace-up traditional motorcycle boots that are designed for touring, and they have a pair or two that would look great when riding that vintage Norton also.
w

BW

 Review: Alt-Berg Hogg Lite Mk II Motorcycle Riding Boots
Manufacturer: Alt-Berg Bootmaking Company
Suggested Retail Price (2005): £74.89; Postage – £30; Total £104.89.
Colors: Black
Made In: England
Product Comments: Can be custom ordered. Each boot is made to order, so delivery can be slower than expected. Comfortable and designed with motorcycling in mind. Review Date: May 2005
More: wBW Motorcycle Boots Page
Note: 
For informational use only. All material and photographs are Copyright © webWorld International, LLC – 2000-2013. All rights reserved. See the webBikeWorld® 
Site Info page
. NOTE: Product specifications, features and details may change or differ from our descriptions. Always check before purchasing. Read the 
Terms and Conditions
!
Owner Comments and Feedback