Alpinestars Storm Rider GTX Gore-Tex Winter Motorcycle Gloves Review
The Alpinestars Storm Rider GTX gloves provide race glove looks and Alpinestars quality. The interior is also very comfortable. And the gauntlet with zipper is adequately sized. The Storm Rider GTX gloves are also waterproof.
The Alpinestars Storm Rider gloves were recommended by several webBikeWorld visitors and other local riders as a popular favorite, so we added them to the list for this comparison. Alpinestars doesn't actually claim that the Storm Rider Gore-Tex gloves are for winter; in fact, they state that the Storm Rider "is a lightweight riding glove, ideal for touring and sport riding, even in cold weather".
I'm not sure I'd call them "lightweight", and they're not the warmest glove in this comparison, but I have to admit a growing admiration for them and I can see why they're so popular. The warmest weather of summer may be a bit much for them; likewise the coldest depths of winter, but otherwise I think they would be an excellent choice for nearly all-year-round use, especially here in the Mid-Atlantic, where winter shouldn't be as cold as it has been recently.
Alpinestars makes a wide variety of high-quality motorcycle clothing and they have a strong reputation with motorcyclists around the world, and it looks like a lot of their experience went into the design of the Storm Rider gloves. But you'll pay for 'em; the Storm Riders are tied with the Rev'it Tempest H2O gloves as the most expensive in this comparison.
---
Where to Buy Alpinestars Storm Rider Gloves
Check Reviews & Prices on Amazon
Check Reviews & Prices On RevZilla
Also: Motorcycle Jackets, Motorcycle Gloves, Motorcycle Boots, Motorcycle Pants
---
Glove Fit, Comfort and the Warm Factor
The Storm Rider gloves are very comfortable, with a fit that is reminiscent of the British Motorcycle Gear Thermosport Gloves also reviewed in this comparison. They feel like someone popped a medium-thickness liner in a race glove, which makes them slightly different than a typical winter riding or touring glove, but this is by design.
I can see where some might argue that they shouldn't even be in this comparison, but this isn't meant as a comprehensive survey of all winter gloves, just a selection of various types for different riders in different climates. Don't forget — to some riders, 40 degrees F is as cold as it gets.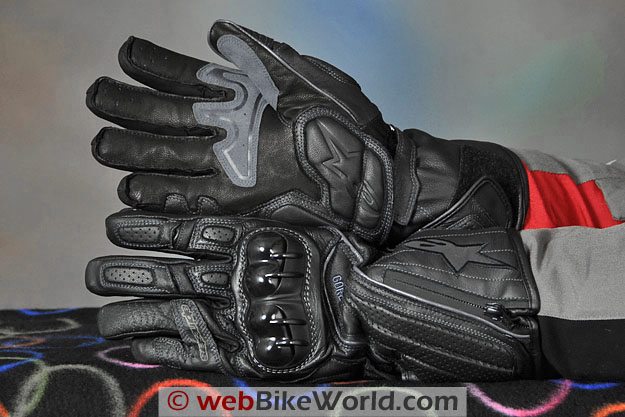 This pair in size large fits more snugly than probably any other glove in this batch; the fingers are good for my size large hands, but only just so. If the fingers were even 2 mm shorter they would probably be too short and I'd have to bump up a size. This is unlike most of the other gloves here, with fingers and especially thumbs that seem longer than normal.
To put it another way, the Storm Rider gloves fit me perfectly, but my feeling is that they run about 1/2 size small compared to the other size large gloves in this comparison. They also feel slightly tight across the back of the hand and main knuckle area, not enough to be bothersome though, and they'll probably stretch a bit in use. The liner material isn't the plushest in this batch because it lacks that fleecy/flannel feeling; it's more like a simple type of cotton or similar fabric inside the medium weight thermal lining.
I can also hear the "crinkly" sound of the Gore-Tex lining inside, which gives the gloves a feeling sort of like there's a plastic bag-like liner inside. This feeling seems to be common with Gore-Tex and some other types of membrane-lined gloves. It's not an issue, just a different feel than you'd get when sticking your hand into an all-leather race glove without a waterproof or thermal liner.
I'm not sure which generation or type of Gore-Tex is used in the Storm Rider gloves, but they definitely proved waterproof in our "bucket test", at least up to the back of the hand/end of the wrist. This is as it should be as long as the membrane isn't compromised by the stitching.
I might note that care should be taken when removing sweaty or moist hands from a pair of membrane-lined gloves like these. The liner is not usually attached to the membrane, which, in turn, is not attached to the inside of the glove body because any stitches through any of these layers could compromise the waterproof integrity of the glove.
So when you remove the glove, make sure the liner doesn't turn inside-out. According to Murphy and his Law, this will happen just when you're in a rush and can least afford the time to mess with it. Believe me, it can be a real bear to try and get all the guts put back in correctly…
I've been wearing the Alpinestars Storm Rider gloves whenever the temperature gets above 40 F or so (4 C), although I'd say they're probably better suited for something close to 45 F and above (7 C+). And, of course, they're especially well suited for rain wear or in cold, damp fall conditions.
I have not worn them in a multi-8-hour downpour, and frankly, anyone expecting a "waterproof" leather or textile motorcycle garment to survive several hours while riding in a torrential downpour without leaking is, I think, asking for too much. Wear a rainsuit over the top and get a pair of Rain-Off waterproof over gloves (review) if you really want your clothes to remain dry inside.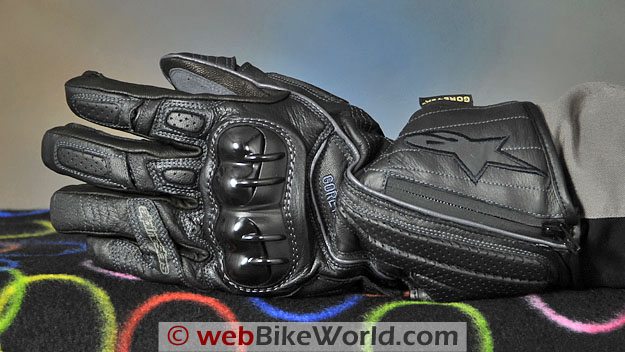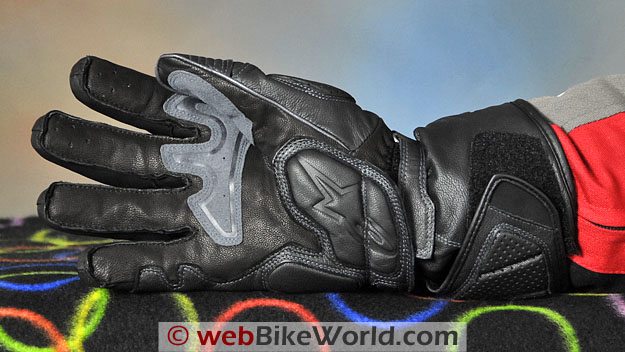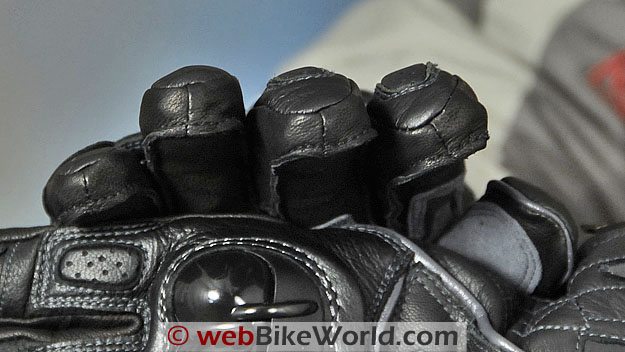 ---
Where to Buy Alpinestars Storm Rider Gloves
Check Reviews & Prices on Amazon
Check Reviews & Prices On RevZilla
Also: Motorcycle Jackets, Motorcycle Gloves, Motorcycle Boots, Motorcycle Pants
---
Finger, Thumb and Overall Construction
Alpinestars is usually synonymous with quality, and it's apparent in the overall construction and the stitch quality in the box-section fingers of the Storm Storm Rider gloves. The seams are tight and even, with hidden stitches on top and outside stitching on the palm side, which is an interesting combination.
The race-inspired construction and attention to detail includes a connected pinky and ring finger, something rarely seen in winter touring gloves but an added safety factor here to help prevent the pinky from rolling under in a slide.
The rest of the stitching used throughout the glove is also excellent quality, with very tight and close parallel lines and even some lightly contrasting blue thread used in the stitches on the back of the glove, which just barely shows up in the bright light of the studio photos if you look hard enough.
Plastic armor is used across the back of the main main knuckles, with only a kiss of soft padding here and there, claimed to be EVA, or ethylene vinyl acetate. The combination of the armor and padding is probably a good compromise between race and tour style protection, but it would be nice to see more hard armor covering the rest of the knuckles.
Some of the leather is perforated and the knuckle armor includes air scoops at the back, but I'm not sure where all this air goes, because the waterproof/windproof Gore-Tex liner prevents any ventilation from reaching the hand and you'd think all those holes would compromise the water shedding ability of the gloves.
But it does help in the looks department I suppose, and most of the perforations are on padding that is sewn on top of the main glove body, so it's possible that the holes don't continue into the glove itself.
The leather used on the palms feels soft and pliable, and Alpinestars has sewn an extra synthetic suede leather wear pad in a gray color on the palm for added reinforcement. The heel of the palm is protected by a thicker leather or suede padded area embossed with the Alpinestars logo, and the extra padding and material continues up the side of the pinky.
The thumb seems to have the same "blade" construction used in the rest of the winter motorcycle gloves in this comparison, but this one feels more comfortable, possibly because it has a more snug fit so there isn't a lot of extra material floating around. Also, since the padding or liner is thinner than most dedicated winter gloves, the thumb doesn't have to be as long to make up for any added material at the tip.
The back of each knuckle has inside-out articulations similar to those found in the Held Freezer gloves (review), which is a nice touch that adds flexibility — and probably expense.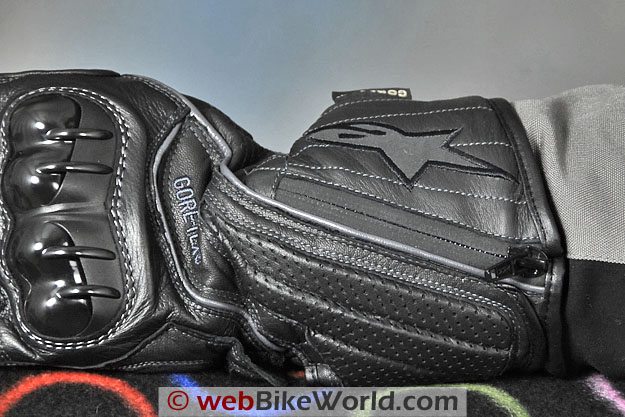 ---
Where to Buy Alpinestars Storm Rider Gloves
Check Reviews & Prices on Amazon
Check Reviews & Prices On RevZilla
Also: Motorcycle Jackets, Motorcycle Gloves, Motorcycle Boots, Motorcycle Pants
---
Gauntlet
The 150 mm wide gauntlets on the Storm Rider gloves widens to 170 mm with the zipper open, making these the second-largest gauntlets in this batch of gloves. This provides just enough room to adequately cover the large cuff of the Rev'it Cayenne jacket (review) we used as a worse-case scenario for comparing the winter gloves.
The zipper is well-hidden and has what looks like a waterproof cover, but as you can see in the photo above, the zipper teeth can be seen, so I don't think the cover is truly waterproof. We did not evaluate the waterproof integrity of the gloves beyond the wrist and into the gauntlet, so I can't comment on that and will have to assume the Gore-Tex liner continues that far.
The zipper helps to make the Storm Rider gloves easy to put on, but the small zipper pull on the YKK zipper is difficult to find and grab with the gloves on.
But overall, the gauntlet is large enough and long enough and should cover just about every sleeve cuff around.
The underside of the gauntlet uses the typical hook-and-loop fastener, in this case claimed to be actual Velcro brand, which is placed correctly to allow securing of the gauntlet over the thick cuff of the Cayenne.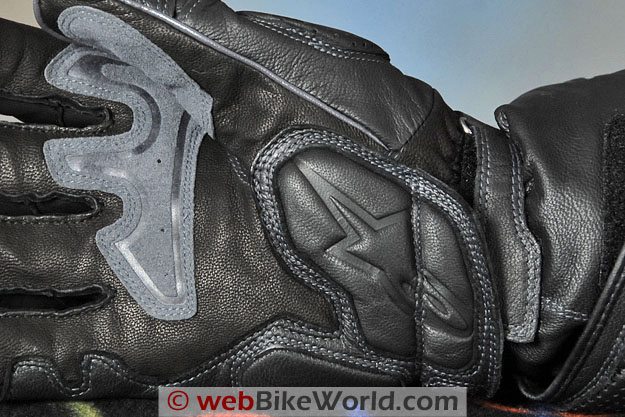 Security and Protective Features
Overall, the Storm Rider gloves give me that "race glove" snug feel across my hand when I'm riding, which feels secure.
The gloves also include an adjustable wrist closure, secured with Velcro, on the underside of the wrist. This is covered by a short leather flap coming down from the palm. The Storm Riders passed the security test; i.e., they could not be pulled off my hand after the gloves were secured.
Added security or safety comes from the reflective piping used across the back of the gloves that can be seen in the photos.
Alpinestars does not mention the use of any abrasion-resistant materials like Keprotec or others, so apparently the protection depends on the supple full-grain leather used nearly throughout.
Water Resistance
The Storm Rider Gore-Tex gloves passed the "bucket test" and although the leather seemed to absorb quite a lot of moisture, possibly due to the perforations, the inside of the gloves remained dry.
Miscellaneous Details
Again, the stitching and apparent quality of the Storm Rider gloves seems excellent. There are some nice details used here and there, like the embroidered but subtle Alpinestars logo on the back of the gauntlet that actually is a very nice example of tight embroidery. I think these details make a difference on this glove.
Conclusion
The Alpinestars Storm Rider Gore-Tex winter waterproof motorcycle gloves have an interesting and useful combination of race glove features with near-four-season comfort and waterproof capabilities.
They're not the warmest gloves in this comparison, and the price is on the high side. Also, it's sometimes difficult to find discounts on Alpinestars gear.
But in reality, $179.95 (the going price at the time of publication) is about what you'd pay for a quality pair of race gloves, so the added insulation, waterproof and breathable Gore-Tex liner and other features can be looked at as a bonus!
w

BW

 Review: Alpinestars Storm Rider GTX Winter Gloves
List Price (2008): $179.95
Made In: China
Colors: Black
Sizes: S to 3XL
Review Date: December 2008
Note:
 For informational use only. All material and photographs are Copyright © webWorld International, LLC since 2000. All rights reserved. See the webBikeWorld® 
Site Info page
. Product specifications, features and details may change or differ from our descriptions. Always check before purchasing. Read the
Terms and Conditions
!
---
Where to Buy Alpinestars Storm Rider Gloves
Check Reviews & Prices on Amazon
Check Reviews & Prices On RevZilla
Also: Motorcycle Jackets, Motorcycle Gloves, Motorcycle Boots, Motorcycle Pants
---
Owner Comments and Feedback
---
From "R.T." (12/08):  "First of all, no matter how good the Rain-Off Waterproof Motorcycle Gloves are, if you can't get them cinched up – well, just how much are they worth? I could follow your description very well and I have to say that the cordlock design leaves a lot to be desired. It was almost laughable reading how the manufacturer was telling you to go through contortions with the brake lever on the bike in order to avoid using your teeth (chuckle)?!
They need to go back and redesign that feature. Some of us don't have all out teeth anymore!
I remember my old Alice pack and how you adjust the harness and cinch up the shoulder straps. A friction-ratchet type buckle and small nylon strap seems to me would be an ideal system. You just use the opposite hand and give a good yank and the thing stays tight until you get ready to release the buckle.
Releasing the buckle is just as easy as tightening the strap and is a one-hand operation even with gloves on! You just take your thumb or finger and flick up the back side of the buckle (there is even a tab on the buckle to assist the operation) and it loosens the strap enough that you can easily pull slack out of the buckle till you can get the pack off (or the gloves off). I know I have seen the same system used on other back packs and don't see why it couldn't be adapted on a slightly smaller scale for the gloves.
Just my two cents…
Second, you made a statement in your review of the Alpinestars Storm Rider Gloves that I just have to disagree with. You stated that:
"They also feel slightly tight across the back of the hand and main knuckle area, not enough to be bothersome though, and they'll probably stretch a bit in use."
In my vast experience (54 years), that just isn't going to happen. I have hoped the same thing with shoes and most recently a nice pair of summer riding gloves that are now permanently retired.
Leather just isn't going to stretch appreciably and I don't believe that anyone should be led to believe that it will. I have tried using neatsfoot oil and jamming objects into leather items that I wanted to make bigger, but it just doesn't work. Unless your hand is made of wood, the leather is going to win every time.
Living tissue will stretch of course. Else pregnant women would be in big trouble. But the properties of tanned hide just aren't the same.
Now, I don't claim to know everything and if you or anyone else can suggest to me a method for stretching leather (in particular that pair of gloves I retired) then I am more than willing to listen and give any reasonable suggestion a try.
The gloves I am talking about fit the same way you describe in the article – too tight across the back and thumb side of my hand. They are tight to the point of becoming downright painful after a 35 mile commute from work to home. So please – if you know something I don't, then don't hold back. I would love to be able to use those gloves."
Other WebBikeWorld Gloves Posts