Alpinestars Air-Flo Pants Review Summary
The timing couldn't be better — just as the weather here in the Mid-Atlantic has reached its typically brutal hot and humid summer peak, we've been taking a look at some of the new mesh clothing items for 2006 from Alpinestars.
We covered the Alpinestars T-Stunt 2 mesh jacket a few days ago and the Alpinestars ACR Air-Flo jacket review is now posted.
And what better choice to go with the jackets than the Alpinestars Air-Flo mesh pants?
Note that a sharp-eyed webBikeWorld visitor informed us that the pants shown here are the Air-Flo pants.  We had been calling these the ACR Air-Flo pants, which was incorrect.  Apparently, the ACR version does have a waist zipper to attach to the Alpinestars ACR jackets.
Only Alpinestars knows what "ACR" stands for, but the "Air-Flo" part is self-explanatory.  I've been wearing these pants on several extended rides and they do flow lots of air, so they're aptly named.
However, the Air-Flo pants are only about one step above jeans in the protection department.
They're cut like jeans and they fit like jeans when ordered to a normal street pant size.  But they're also designed to be worn as an over-pant, as long as they are sized accordingly.
My feeling is that they would have to be ordered at least one size over the normal street pant size for them to fit as overpants.
I ordered the pair shown here to fit me as normally sized pants and not as over-pants.  I usually take a size 36″ waist, and the Air-Flo pants in size large, claimed to fit 31″ to 36″ waists, just fits me when I suck in my breath as I batten down the hatches.
At the small end, it's my feeling that riders with a 31″ waist would find them to be too baggy, so I'd say that the size large would really be better suited to something like a size 32″ to 35″ waist.  The other sizes probably fit about the same, relatively speaking.
The Air-Flo pants have minimal protection, with very thin pads only in the knees.  Think of these pants as offering the protection of, say, a heavier textile pair of jeans.  Since I never wear jeans for riding, these pants would be about the absolute minimum I'd recommend.
The pants do have the typical softer mesh lining sewn inside, which is made from a material rather like taffeta.  This keeps the heavier mesh outer fabric away from the rider's skin and offers some comfort and provides a bit of air to circulate against the rider's skin.
I've also worn the Bohn Cool Air Bodyguard Adventure (armored) pants underneath, and I think they will definitely add to the protective qualities of the Air-Flo pants.  The Bohn armor is designed to stay snug to the rider's body, so it might not matter that the somewhat baggy ir-Flo pants could move around a bit during a slide.
I'm also worried about what might happen if I did end up in a slide wearing the Air-Flo pants with only a pair of underpants underneath.  It probably won't be much fun getting molten Nylon plucked out of my scrapes, but this is a problem with most textile motorcycle riding pants, mesh or not.
The pants have two relatively deep jeans-like slash pockets in the front, and the vertical seam on the sides has a zipper that allows entry into the pockets of any pants worn underneath.
The waist has a jeans-like zipper and closes with a metal hook and snap assembly.  The pants also have Velcro adjusters on either side, but since there's no elastic used anywhere in the pants (as far as I can tell), the adjusters are only minimally useful and may cause some bunching for those with smaller than maximum waist sizes.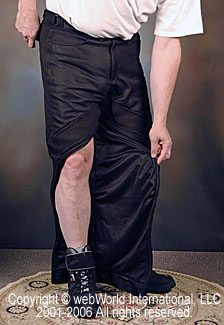 Elastic waists should be standard in every pair of motorcycle pants made, as far as I'm concerned.  This would make them much more comfortable and it would also help the pants fit a wider range of sizes, which could mean more sales and less inventory problems, so I'm not sure why the manufacturers don't wake up and think of ways to do this.  I'm always amazed to find a pair of pants like the Air-Flo that have zero elastic.
The pants have a unique zipper arrangement for those who will be wearing them as overpants.  The zipper starts at the outside of the ankle and unzips all the way up and over the knee and then ends on the inside of the thigh.  This zipper is fairly well hidden, and since I don't wear mine as overpants, I'm pleased that the zipper isn't in the way.
The Air-Flo pants don't have a waist attachment zipper that would allow them to be fastened to any of the Alpinestars mesh jackets, and I find this to be a very strange oversight.  However, the ACR Air-Flo pants, which are almost identical to these, do have a zipper attachment and zipper slash pockets in front.  Unfortunately, they were not available when we ordered our Alpinestars gear.
Although it may be a moot point, as the T-Stunt 2 jacket we recently reviewed does not have an attachment zipper anyway, but the ACR Air-Flo jacket does.
Conclusion
If the weather is so hot that any other type of motorcycle pant is simply too uncomfortable, then the Air-Flo pants should be just the ticket.  I think they actually offer more air flow than jeans because of their heavy mesh construction, and I would think they'd certainly offer better abrasion protection.
I will admit that the combination of the Air-Flo pants and either the Alpinestars T-Stunt 2 jacket or matching Air-Flo jacket (which flows more due to its greater quantity of mesh) is about as comfortable as you're going to get when the weather is brutally hot.
And I'll also secretly admit that, protection levels notwithstanding, I've been wearing the Alpinestars combo on most of my rides recently.  The problem is the minimal amount of armor or padding, but I guess that's the price one has to pay for being able to ride in hot conditions.
Note:  For informational use only.  All material and photographs are Copyright © webWorld International, LLC – 2000-2011.  All rights reserved.  See the webBikeWorld® Site Info page.  NOTE:  Product specifications, features and details may change or differ from our descriptions.  Always check before purchasing.  Read the Terms and Conditions!
Product Review:  Alpinestars ACR Air-Flo Pants

Available From:  Alpinestars.  We purchased ours at New Enough.
Suggested Retail Price:  $139.95
Colors:  Black.  Sizes:  S to XXXXL (4XL)
Made in:  Indonesia
Owner Comments and Feedback
From "P.A.":  "Aloha, I have been using the ACR Air-Flo Pants for a couple of months now.  The weather here in Hawaii for the most part is almost always warm to hot.  Leathers are great at night, early mornings and very late in the afternoons.  During the day however, you'll feel like a Hawaiian lau lau (steamed pork wrapped in spinach).
I do agree that protection is very limited having only the soft foam protectors in the knees.  However, I wear these in lieu of jeans along with Bohn armored shorts and Icon Field armor leg protectors and boots.  I also share in the opinion that these pants should be the minimum amount of leg protection unfortunately there are many riders here in Hawaii that ride with out any sort of protection. Mahalo…"