AFX FX-39 DS Helmet Review
The new AFX FX-39 DS (Dual Sport) helmet has improved quality, comfort and good looks all at a very reasonable price.
Several AFX helmets have been reviewed on webBikeWorld in the past with mixed conclusions regarding quality and performance.
The helmets were priced right but there's more to a good helmet than just a low price.
Value is the key, and the best way to achieve that is to surprise the customer with better quality and performance than expected at the asking price.
It doesn't mean that a more expensive helmet is somehow better.
It means that the individual motorcyclist has balanced the quality, comfort, performance and cost equation to their own satisfaction.
AFX helmets aren't expensive, so that wasn't the issue.
But the rest of the criteria in the value equation were somehwat problematic.
That has now changed, because AFX has been working to improve the product line across the board, according to the company, and it shows. Which means it's time for a bit of recalculation!
We have 5 AFX helmets we'll be reviewing in a series over the next several weeks that will feature a good cross-section of the updated AFX product line.
Most of the road evaluations have been completed and the evaluators agreed that AFX has stepped up their game with some impressive results.
The FX-39 DS is an excellent example of the company's evolution, and it is the subject of this review.
AFX staff will be the first to admit that the company isn't an Arai or Shoei. Instead, they have a very specific and focused market niche to address; one that is probably the most competitive in the entire industry.
AFX helmets are distributed by Parts Unlimited in the U.S., which is one of the largest motorcycle product distributors in the world.
In addition to AFX, Parts Unlimited has several of their own "house brand" helmets in their portfolio, all competing for dealers' shelf space (and customers' heads).
Unlike Arai, who can pretty much spend whatever it takes to make what they want and then sell it for whatever the market will bear, AFX must operate within a specific target price range of $50.00 to $150.00, give or take a few dollars.
Any higher and there will be too much overlap with the Parts Unlimited brands such as Icon, Z1R and others.
I think you'll agree that's a pretty tough market segment to occupy.
It's very difficult to design a line of motorcycle helmets, get them manufactured, imported, marketed, distributed and sold through the huge U.S. retail network and expect to make a profit, with everyone taking their cut along the way.
Not a recipe for a good night's rest, I'll bet!
But, somehow, AFX has been doing it and, by the way, not as one of those nameless corporate entities, but as a family-run company. In fact, the Editor met the AFX staff — family and associates — at the 2011 Indianapolis Dealer Expo.
Everyone was there, sharing the booth-staffing duties, greeting guests and answering questions. Want to talk to the CEO? There he is, helping customers just like everyone else. Try doing that at the Arai or Shoei booth!
AFX helmets are currently designed, marketed, distributed and sold specifically for the U.S. market, although the company is now also beginning to plan for European and worldwide distribution.
In fact, many of the new AFX helmets — including the FX-39 DS described in this review, have been tested and labeled to meet both DOT and the ECE 22.05 safety standards.
Several of the helmets also meet the AS/NZS 1698:2006 standards in Australia and New Zealand.
This new global sales strategy has benefitted the entire AFX product line, because it means that the helmets must now withstand the scrutiny of many different types of motorcyclist customers and safety standards from all over the world, so quality simply had to be improved.
And it has — we're suitably impressed, and not to jump to the conclusion, but the new AFX FX-39 DS offers what we think is an amazing amount of value, price and performance for a dual-sport helmet. Let's take a closer look…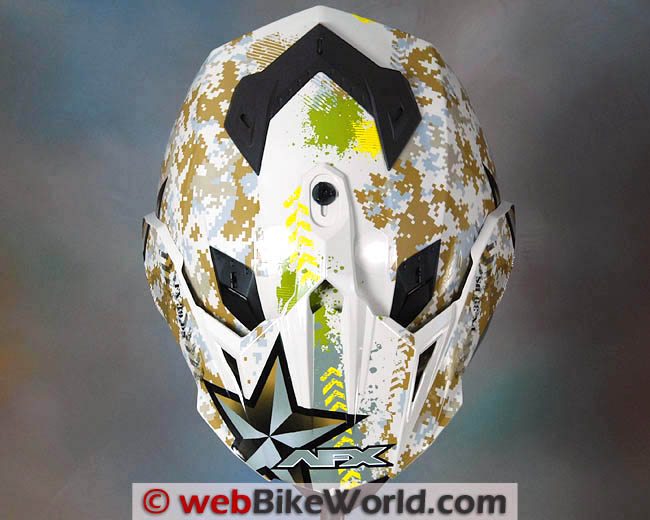 ---
Where to Buy AFX FX-39 DS Helmet
Check Reviews & Prices on Amazon
Check Reviews & Prices On RevZilla
See More Motorcycle Helmets, Motorcycle Visor, Motorcycle Intercom
---
The AFX FX-39 DS: Paint, Graphics and Overall Quality
The FX-39 DS ("Dual Sport"), is currently listed in the 2011 catalog alongside the previous version, the FX-37 DS, which was reviewed on webBikeWorld.com in March of 2009.
The production run for the FX-37 DS is nearly over, so the helmets that are left on dealers' shelves are going fast. That means the new FX-39 DS is the replacement in the AFX "enduro" or "Adventure-Touring" helmet segment.
This is a popular helmet type, designed to provide off-road looks and performance with on-road features, like a full-sized face shield.
The FX-39 is available in a wide range of colors, from the basic solids like black, white and silver (and a high-vis neon yellow) to five different shades of "Strike" graphics.
Then there are the special edition colors, including the MARPAT ("Marine Pattern") graphics of our helmet, along with a "Wood" and "Urban" camouflage pattern.
The MARPAT pattern is a takeoff on the real thing — the camouflage pattern used by the U.S. Marine Corps. The true MARPAT camo pattern is found only on the Marines' uniforms, but commercial variants are available.
The pattern has an interesting history (more about it on this Wikipedia page)) and I recently watched a History Channel TV show that explained how it was developed. If you can catch the show, it's an interesting story.
It was a tough choice between the high-visibility yellow and the MARPAT pattern, but we have another AFX helmet in the high-vis color and the FX-39 just looks perfect in the camo coloration.
It give the helmet a real off-road adventure look and, just by coincidence, it's also perfectly suited for the new webBikeWorld Budget Adventure Touring series.
The camo pattern on FX-39 is a decal, and it has been applied with care to this helmet. I think this is one color pattern that could use a matte finish, which would give it even more of a military/rugged look.
But the clearcoat used by AFX feels pretty thick, so it should provide good protection.
The graphics are nicely applied and without even considering any of the other features, the helmet already looks like it's worth more than the $145.00 list price.
The rest of the helmet is also of excellent quality at a level that is at least one or two steps above the quality of previous AFX helmets we've reviewed.
For example, the peak on top of any dual-sport helmet can be a weak point, but this one feels as sturdy as they get, as you can see in the video (below).
While the vent switchgear on the FX-39 DS may not feel as solid as a $600.00 Arai, it works just fine and doesn't feel flimsy.
The optical quality of the visor was the biggest gripe on the FX-37 we reviewed, and I'm happy to report that problem has definitely been solved.
I had no problems at all with the FX-39 face shield and in fact I forgot all about the problems on the previous version until I re-read that review while preparing for this one.
The rest of the helmet has very good to excellent quality throughout, especially the liner, which feels very comfortable in both padding and choice of materials.
The liner and cheek pads are removable and AFX says they are made with an anti-allergenic and anti-microbial nylon material.
A couple of surprising features include dual lift tabs in the center of the face shield and a European-style micro-click quick-release chin strap.
The helmet meets the DOT safety standard and it has been tested and passed ECE 22.05, although only official European importers sell the official ECE approved helmets.
So the bottom line is that compared to other AFX helmets we have reviewed, the new FX-39 (and the other AFX helmets in this series) have dramatically improved quality, which a this price point makes them both a strong value and a serious choice.
Score:  I'll give the AFX FX-39 DS an "Excellent" rating for graphics, design and overall quality. See the Summary Table at the bottom of the page for a description of our rating system.
AFAFX FX-39 DS Helmet Fit, Internal Shape and Liner
Our helmet is a size large, but it definitely fits more like an XL at least and perhaps even a touch larger than that.
I was rather surprised at the "generous" fit and next time I have a chance, I'll have to try a size M just to see.
So you may want to talk to your retailer and try one on first. It is possible that this one is mislabeled, because it was one of the first production examples, and I wouldn't be surprised if it was.
The AFX size chart lists the size large as an appropriate fit for a 60-61 cm head, but I'd say this example fits more like a 61-62 for sure.
A medium is listed as fitting a 58-59 cm head and if the roomy sizing holds true for that, then it might more accurately fit a 60-61 cm head.
Otherwise, the fit feels neutral that is a touch towards the slight round with regards to the internal shape.
It's a tough call and the slightly loose fit of this one makes it difficult to determine the actual internal shape, but I'll call this a neutral shape shaded towards slight round.
I also don't have any information on the FX-39 shell size breakdown between head sizes, but I'd guess there are two shell sizes and I'm pretty certain this is the larger shell, because it does feel big.
It's certainly bigger than the X-Lite X-551 (review) Adventure-Touring style helmet recently reviewed on webBikeWorld.
The liner material used in the FX-39 feels nice and soft, with a texture that is sort of a cross between microfiber and polar fleece and it's not scratchy at all.
The ear pockets of the FX-39 are roomy and unlined at the shell but with a plastic section fitted, which should act as a very good anchor for gluing in some Velcro speaker holders.
My sunglasses fit in the helmet with no problems, although the extra-roomy fit of this size may have something to do with that.

More information on helmet fit can be found in the webBikeWorld Motorcycle Helmet FAQ page, along with the chart that lists the helmet weights of webBikeWorld reviewed helmets and also by shape on the webBikeWorld Motorcycle Helmet Shapes page.
Score:  I'll give the AFX FX-39 DS an "Excellent" rating for comfort and liner materials and padding and a fit that should satisfy the majority of riders.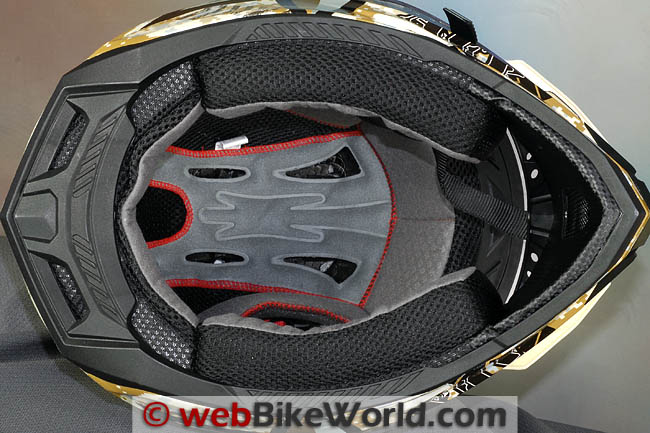 ---
Where to Buy AFX FX-39 DS Helmet
Check Reviews & Prices on Amazon
Check Reviews & Prices On RevZilla
See More Motorcycle Helmets, Motorcycle Visor, Motorcycle Intercom
---
AFX FX-39 DS Face Shield, Eye Port and Visibility
I think the move to ECE standards has helped; the face shield is marked as meeting the EC standard but, for some reason, not the VESC-8 standard used in the U.S.
In any event, this one has excellent optical quality and it measures 2.09 mm thick.
It's claimed to have an anti-scratch coating and it's UV resistant. Tinted shields are also available or the helmet can be worn with the face shield removed (use goggles in this case).
The face shield has two lift tabs, located at the lower center part of the shield on either side of the curve that covers the extended chin bar. This is a nice touch and makes it handy to lift the shield with either hand.
It also helps prevent some of the twisting that is expected on a large and compound shape face shield used on this type of helmet, although it hasn't completely eliminated it.
It's also difficult to get a face shield with this shape to seal tightly against the eye port gasket, although this one does a pretty good job.
It passed the "leak down" water test, where we run water over the top of the visor where it seals along the top of the eye port.
As long as you push the face shield closed (it doesn't have a "snap" as it's shut), it should seal without problems. The large and thick eye port gasket is continuous around the opening, which also helps to maintain the seal.
Although it doesn't have a first small opening position for defogging, the face shield can be opened slightly and it will stay open just a crack through the friction in the lifting system.
There are only two detents; one lifts it half-way and the other is full open. But defogging isn't quite as important on this type of helmet, because a lot of air flows up from under the extended chin bar and also because the chin vent on the FX-39 is very effective.
The eye port provides slightly better than average side-to-side visibility and slightly better than average vertical visibility.

Score:  I'll give the AFX FX-39 DS an "Excellent" rating for the overall quality and operation of the face shield, the sealing of the eye port gasket and outward visibility.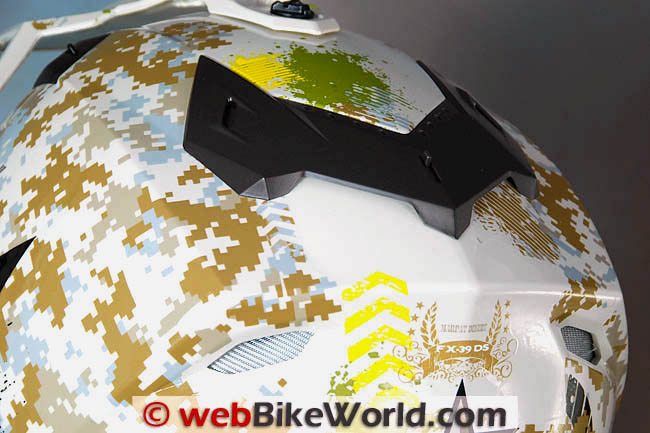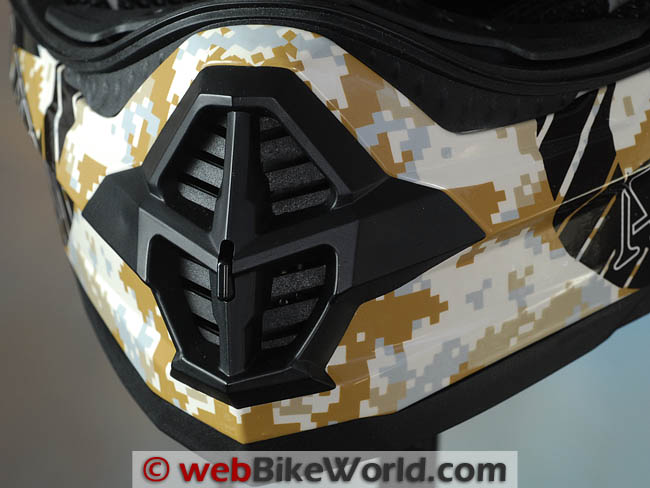 AFX FX-39 DS Ventilation and Air Flow
The chin vent on the FX-39 looks big, but it's also functional. This isn't always the case.
The inside of the chin bar is yet another surprise on this helmet; it's finished very nicely in a sort of carbon-fiber look cloth. AFX designed a very large intake port through the chin bar and it's backed with a nylon mesh to keep out the bugs.
The system provides a huge amount of air flow when the switch on the front opens the shutter-like vent.
The switch doesn't have the most secure feeling and there's some play in the plastic vent part, but nothing out of the ordinary for a helmet in this price range and it feels perfectly acceptable.
The chin bar does not have a curtain underneath, but few Dual-Sport helmets do and the extra ventilation that comes up from underneath is welcome in slow going off-road riding.
The FX-39 has two small top vents and each one opens with a small stick-like handle on top. It's a simple system but it works and has a minimum of moving parts, which should help longevity.
When the stick is pushed back, the vent cover opens and although the opening is small, the top venting is actually pretty good and better than average. The air flows down into the helmet through holes in the EPS liner and enters about 1/4 of the way back on the top of the rider's head.
I think the better than average ventilation system on the FX-39 DS is also due to the extensive rear exhaust system.
A large exhaust assembly (that mimics the angular stealth fighter shape of the helmet) opens with a single switch and uncovers vents underneath. Four more screen-covered vents are built into the rear of the helmet shell, and the system seems to be very effective.
Overall, the ventilation system on the FX-39 is surprising, both for its effectiveness and for its unexpected efficiency at this price range.

Score:  I'll give the ventilation system of the AFX FX-39 DS an "Outstanding" rating.
AFX FX-39 DS Sound Levels
Yet another surprise is the relatively low noise levels of the FX-39 DS. Less expensive helmets usually have poor ventilation and are also usually louder than average, but this helmet is an exception.
I think it's due to a combination of the comfortable padding and liner used inside the helmet and a good seal around the face shield. The noise from the vents is well controlled, as is the noise around the bottom of the helmet.
It's not the quietest helmet you will find by any means, but for a Dual-Sport helmet with that peak and the big chin bar, I am surprised that it seems quieter than I expected.

Note that our helmet evaluations are a combined effort of several riders over time on different types of motorcycles with and without windscreens.
Evaluators wear correctly fitted, high quality ear plugs (even when evaluating motorcycle intercom systems).
Always protect your hearing when riding a motorcycle. See the wBW Earplug Reviews for more information on choosing and wearing earplugs.
Note also that perceived noise levels will vary, depending on the individual.
Noise can be caused by many factors, including helmet fit, the type of motorcycle and windscreen, wind speed and direction and even the rider's clothing.
For more information on helmet noise, visit the wBW Motorcycle Helmet Noise page.
Score:  I'll give the AFX FX-39 DS an "Excellent" rating for slightly better than average noise control.
wBW Video: AFX FX-39 DS Helmet
---
Where to Buy AFX FX-39 DS Helmet
Check Reviews & Prices on Amazon
Check Reviews & Prices On RevZilla
See More Motorcycle Helmets, Motorcycle Visor, Motorcycle Intercom
---
Helmet Weight
Our FX-39 DS in size large weighs 1784 grams (3 lbs., 14-7/8 oz.); a touch on the heavy side. The helmet shell on the size large does feel pretty big, so I'm assuming the smaller shell fits up to a size medium, one more reason I'd like to try that size.
AFX says the helmet shell is made from an "advanced lightweight composite poly-alloy". That's a new one on us! Probably a polycarbonate with a dash of special sauce left over from lunch…
Helmets in this weight range include the Caberg Sintesi 2 (Flip-up) in size large at 1772 grams and the Nolan N90 (Flip-up, size L) at 1784 grams.
Also the Bell Vortex (L), also at 1784 grams; the Scorpion EXO-400 (XL) at 1785 grams and the Shoei Multitec (XL) at 1786 grams.
Other Dual-Sport or "Enduro" helmets for comparison include the Icon Variant in size L at 1697 grams; the Arai XD (XL) at 1693 grams; the Arai XD3 (L) at 1675 grams and the Shoei Hornet (XL) at 1542 grams.
Although the FX-39 feels heavier than expected in the hands, the comfortable fit helps balance the helmet on the head.
The aerodynamics must be working, because the helmet doesn't have any unexpected movement and the peak also seems well designed because it isn't very noticeable when riding.
Note also that all of the helmets reviewed on webBikeWorld have been weighed and the weights are available on the wBW Motorcycle Helmet Weights page, along with a chart that lists the helmets by weight and shape on the wBW Motorcycle Helmet Shapes page.
Score:  I'll give the AFX FX-39 DS a "Very Good" rating for its acceptable weight for this type of helmet and its good balance.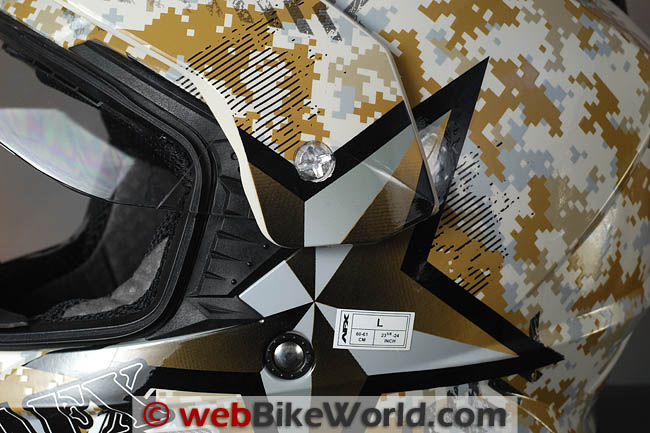 Miscellaneous
The FX-39 DS comes with a pair of black side covers, which allow the helmet to be worn with the peak removed.
I'm not sure who would buy a Dual-Sport helmet and then wear it like a somewhat odd-looking full-face, but the feature is available if you want to use it.
The helmet has a "Microlock" ratchet-type chin strap system, but there is no loop for the extra length of strap. The strap is longer than normal, so this is somewhat of a problem.
It can be tucked in under the secured chin strap or you can cut it and then heat it with a flame to seal the end.
AFX offers a "lifetime" warranty on their helmets. The expected life of the helmet is 5 years, so in effect, this is a 5-year warranty, which is outstanding for a helmet in this price range.
The helmet is labeled as meeting both DOT and the ECE 22.05 safety standard (more). This helmet is currently sold in the U.S. only.
AFX said that they "keep parts for every model we have ever sold for 10 years.
After our distributor stops stocking parts in the 5th year, the replacement parts are offered at no charge for dealers and consumers".
The company also offers a "no questions asked accident replacement policy, if you have an accident with any AFX helmet and return the helmet to our office, you may choose any current AFX helmet as a no charge replacement.
We used these survivor helmets at shows and schools to educate the benefits of helmet safety."
Over the last 14 years they have replaced more than 70 helmets — and it's interesting to note that AFX said 90% of those were dark colors.
Conclusion
We've been really impressed with the evolution in quality and performance of motorcycle helmets over the last couple of years, and the AFX FX-39 DS is one more that can be added to the list.
The helmet is tangibly improved over the previous FX-37 DS model with improved quality and features and the move to ECE 22.05 standards has presumably helped in this regard.
There's no doubt that the FX-39 DS is the price/performance value leader in the Dual-Sport helmet class. You can spend a lot more money if you really want to, but you probably won't get much more helmet.
Add in the outstanding 5-year "lifetime" warranty and parts support, along with the accident return policy and I'm scratching my head trying to figure out how they're making any money selling this helmet at a list price of $149.95 and a street price around $115.00.
Better get one before they get wise!
Also: AFX FX-41DS Review
wBW Product Review: AFX FX-39 DS Helmet
Manufacturer: AFX Helmets
List Price (2011): $139.95 – $149.95
Colors: Solids and graphics.
Made In: Taiwan
Sizes: XS-2XL Shell Sizes: Unknown
Review Date: April 2011
Note: Item provided by a retailer, distributor or manufacturer with these Terms and Conditions.
Note: For informational use only. All material and photographs are Copyright © webWorld International, LLC since 2000. All rights reserved. See the webBikeWorld® 
Site Info page
. Product specifications, features and details may change or differ from our descriptions. Always check before purchasing. Read the
Terms and Conditions
!
---
Where to Buy AFX FX-39 DS Helmet
Check Reviews & Prices on Amazon
Check Reviews & Prices On RevZilla
See More Motorcycle Helmets, Motorcycle Visor, Motorcycle Intercom
---
Owner Comments and Feedback
---
From "O.L." (October 2012): "Thanks so much for your very valuable AFX FX-39 review. I was looking to buy either the Trekker or this helmet and your info was absolutely valuable specially since you can't find a retailer here in Miami, Florida."
---
From "J.B." (May 2012): "Thanks for your complete reviews of…everything. Your review of the AFX FX-39 was a big help in choosing the helmet.
I find my experience, after using my new Hi-Vis model for about a week (on top of a Hi-Vis Roadcrafter suit…yes, I'm a dork; did you see me? Exactly…), road use only so far, to be similar to yours except for a couple of things.
Sizing: I wore a Shoei RF-900, size Large, for ten years.
After reading that your Large felt a bit too big, and measuring my head circumference (58.7 cm bare head, 59.6 cm with my usual thin balaclava), I ordered a Medium.
When I got it it was too tight putting it on, almost to tight too remove. It was not going to get better with time. I returned it and got a Large, which after the usual initial snugness fits just great. Thanks to RevZilla for a great return policy.
Visor: As you note, the optical clarity is outstanding. I've reached up to be sure it's there several times. However, my helmet fogs up easily on these cool-but-not-too-cold early Spring days.
Neat rainbows around the oncoming headlights but not great for seeing where you're going. At night I would either have to ride with the visor up or stop to clear it.
I hope a standard Fog City Pro shield will fit this visor; haven't tried it yet (and could Pinlock and Fog City and those types start making shield to fit dual-sport helmet visors, please?).
Sealing: In a cool drizzle this morning, the top seal leaked and drops did run down the inside of the visor, contrary to your test result. They actually helped clear some of the fogging, so that makes it a feature, right?
I notice that the gasket that mates with the top edge of the visor is a bit distorted on my helmet so manufacturing variation may make this a hit-or-miss thing. I could probably return the helmet for this but I'm not likely to.
Noise: I don't find it to be as quiet as my old Shoei. I get a lot of wind noise, on a naked bike as well as on a V-Strom 650 with windshield, some of which is to be expected since it's a dual sport helmet and needs the ventilation.
I found I could quiet a lot of it by putting my hand against the bottom of the helmet at the back/side. So I need a thicker neck.
A friend has a Scorpion helmet with an air bladder that can be pumped up to close the gap around the back, and something like that would help. I also found that the noise on one side or the other could be pretty loud in crosswinds.
This will just make me wear earplugs more consistently; with earplugs the noise is not an issue.
I like the helmet, I think it's great value for the money, and buying it through RevZilla was perfectly satisfactory. Thanks again for the site."
---
From "T.P.W." (March 2012):  "I bought this helmet solely based on your reviewed about a year ago. I have about seven helmets and this is the only dual sports helmet I have.
The price of helmet was very good, inexpensive (but not cheaply made, big different!). It's true that there are lots of ventilation on this helmet.
This helmet does not snap your neck backward or created lift when you are on the highway like some helmet that I've own. I just wish that chin curtain was available due to great amount of air come underneath the chin.
Only complaint I have was the shield tend to crack open when you going over 80 miles per hour. But other than that I am really love this helmet. Thank you for your review and discovery of this helmet."
---
From "R.S.T." (September 2011):  "Just a quick note on this that others may find useful.
In order to swap the face shield on the 39DS, you need to remove the black ratchet things from each end of the current shield and attach it to the new shield because the black ratchet things are what is screwed onto the helmet.
However, the black ratchet things are attached to the shield via some tabs and a single flimsy post which break every so often.
The simpler way is to avoid removing the black ratchet thing and just buy an additional pair to attach to the new visor. Then the face shield change becomes much easier."
---
From "D.L.C." (05/11):  "Loved the review. My question is how is the lift? I currently own a Joe Rocket hybrid and the lift is quite noticeable even at lower speeds (40 -50 mph) when I am on my dual sport."
Editor's Reply: The design of the peak and the shape of the helmet seems to limit the amount of lift, it feels like it has minimal lift when riding motorcycles without a fairing.
Other WebBikeWorld Helmet Posts