As far as tribute bikes go, this 1979 Honda CB750 is probably the most heart-rending.
It sits in the 9/11 Museum in New York as testimony to how colleagues have kept alive the spirit of those who died in the line of duty and as a sobering reminder of how dreams were shattered by that day's tragic events.
The bike was bought in the summer of 2001 by Firefighter Gerard Baptiste, New York City Fire Department (FDNY) Ladder Company 9.
Despite the advice of his fellow firefighters and motorcycle enthusiasts, he bought the bike for $100 and stored it in the back of the Engine 33/Ladder 9 firehouse with plans to restore it for use as his first motorcycle.
Gerard was unfortunately one of the brave firefighters who climbed the North Tower to help rescue people trapped in the floors above.
He died in the line of duty.
The bike sat in the back of the fire department for some time before one of his colleagues decided it would be a fitting tribute to have the bike restored in Gerard's memory.
Over the next 15 months FDNY members restored the bike with the help of motorcycle enthusiasts, Backroads Magazine, American Honda, a motorcycle restoration shop in New Jersey and financial support from several corporations.
The firefighters refer to it as the "bike of healing" or "dream bike". Firefighter Kevin Duffy painted 10 roses on the cover of its gas tank to honour the 10 members of Ladder Company 9 and Engine Company 33 who were killed on 9/11.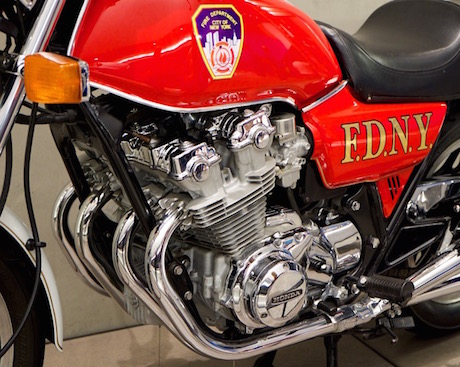 The artwork is also replicated on the boom of Ladder 9's tower ladder, the firehouse floor, on a hand-carved plaque and as tattoos on several members of the 33/9 house.
The artwork also features other symbols including a cross, 343 to honour all emergency workers who died in the tragedy, a hose and pike pole, and two helmets signifying the companies represented.
The bike has been displayed in the French-American School of New York Museum of Firefighting in Hudson, but is now part of the Tribute Walk section of the 9/11 Memorial Museum.
This section focuses on the outpouring of tribute items made honouring the victims and first responders after 9/11.
Thanks to Brisbane rider Mark Taylor for the photos he took while visiting the museum recently.