7Eye Motorcycle Sunglasses Image Gallery
It was 10 years ago when the 7Eye men's and women's motorcycle sunglasses were reviewed on webBikeWorld.
That's a long time by anyone's standards!
Frankly, we were surprised to learn that not only is 7Eye still in business, they're going strong.
Back then, the company was called Panoptx.
That name is still used; in fact, it would be more correct to call the current lineup "7Eye by Panoptx".
But who's going to quibble?
7Eye makes a whole big bunch — and I do mean that literally — of both men's and women's sunglasses.
And yes — many or most of them are very useful for motorcycling.
In fact, some of them are specifically designed for motorcycling, like the 7Eye "PanHead" sunglasses in this review, with their updated and very comfortable (and removable) "AirShield" wind-blocking system.
Also, the "Rake" sunglasses have a similar style but without the AirShield.
Any of the 7Eye sunglasses can be ordered by choosing from a huge selection of lens tints and types, from yellow to copper (good for skiing, I'm told) and even a couple of different versions of what 7Eye calls "DarkShift" or photochromic lenses.
Both the PanHead and Rake sunglasses in this review have straight temples, perfect for sliding into a helmet.
But 7Eye sunglasses are not just for motorcyclists; indeed, the company organizes the sunglasses into 4 different categories: Active Lifestyle, AirDam, AirShield and one more catch-all category for the rest.
The AirDam category is for motorcyclists or anyone who needs a bit more protection from the wind to prevent tearing or dry eyes.
The AirShield category — like the PanHead sunglasses in this review — has the patented AirShield insert that pretty much completely blocks the wind.
They're not only useful for motorcyclists, they're great for the beach or anywhere else you need to block the wind and get maximum sun protection.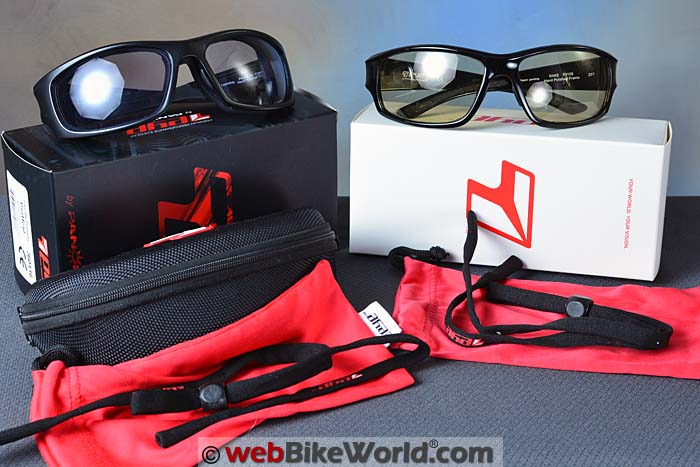 Way back in 2010 we reviewed a men's and women's version of the Panoptx sunglasses, as they were known then, designed for motorcycling.
Shortly thereafter, 7Eye bought Panoptx…or something like that and the name changed from Panoptx to 7Eye By Panoptx.
We hadn't heard much about the company since then, but in a surprise, we discovered they were not only still in business, but thriving.
That's kind of a testament right there, because companies come and go like butterflies
And another surprise was to find out that both the "Taku" men's sunglasses and the "Zephyr" women's sunglasses we reviewed are still in the 7Eye lineup, so they must be pretty popular. Either that, or the styles were so classic that, well, they just don't go out of style.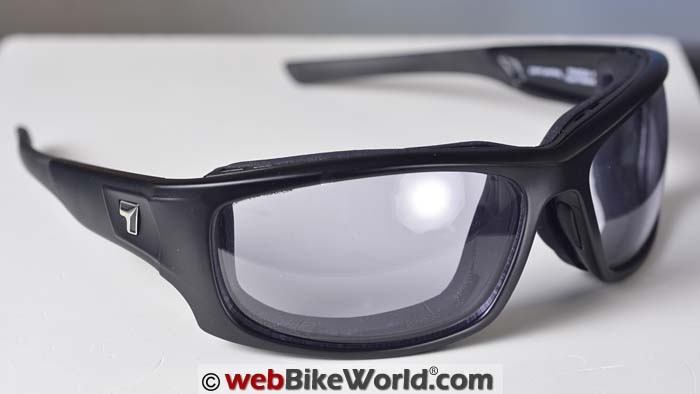 7Eye PanHead With Photochromic Lenses: Introduction
The PanHead name shouts "cruiser", but these comfortable sunglasses work just as well anywhere — in the snow (as I discovered), at the beach (ditto) or for general use.
All of the very many 7Eye sunglass designs are what I'd call "classic", in that they probably won't go out of style for many years.
The PanHead is in the 7Eye AirShield category. It's very popular with motorcyclists of all types and it has a rounded squarish shape, if I can call it that.
7Eye says that both the PanHead and Rake sunglasses are designed for medium to XL sized heads with a square to oval face, which means just about everyone.
The frames of all of the 7Eye sunglasses I've tried or have seen are made from plastic. The PanHead frame feels relatively substantial, although I will say that the plastic frame of the Rake sunglasses doesn't feel quite as sturdy.
Each lens in the PanHead sunglasses measures about 36.5 mm high by 68.0 mm wide, slightly smaller than my oversized old pair of sunglasses.
I have what I'd guess you call a squarish round head and my standard sunglasses have been a basic, cheap pair of aviator style.
But once I threw the PanHeads over my ears, I was hooked. These are very comfortable for me, needing no adjustment at all to fit perfectly.
The best part, as I quickly discovered, is the wrap-around feature. I've never worn a pair of sunglasses like this before but the difference between this and my old pair is immediately noticeable.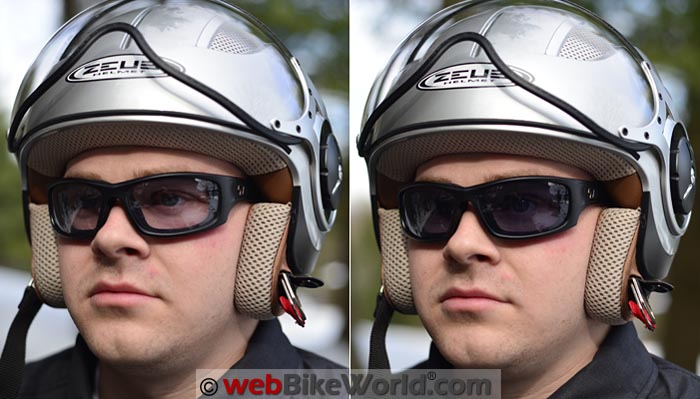 Wrap-Around and Temple Notes
The wrap-around effect shades a lot of the light that comes in from the sides.
This is the light that was reflecting off my face and on to the back of my old pair of sunglasses, something that always annoyed me and made me squint, despite the very dark tint of my old pair.
The temples of the PanHead sunglasses are also wider, at 20 mm just behind the hinge on the frame in front and tapering down to 7 mm at the tip of the temples.
This also helps block the light, yet the wrap-around lens gives me good outward visibility.
From about 1/3 of the way back along the temples to the rear, the PanHead temples are coated with a rubberized finish on all sides. This adds to the comfort factor inside the helmet and helps prevent the sunglasses from sliding off your face.
7Eye says the temples are bendable but I'm not sure about that and I didn't want to try.
They're about 3 mm thick at the rear; a bit thicker than most eyeglasses (especially wire frames) but we have no trouble fitting them into any helmet, full-face or otherwise, because of the nearly straight temples with minimal curve.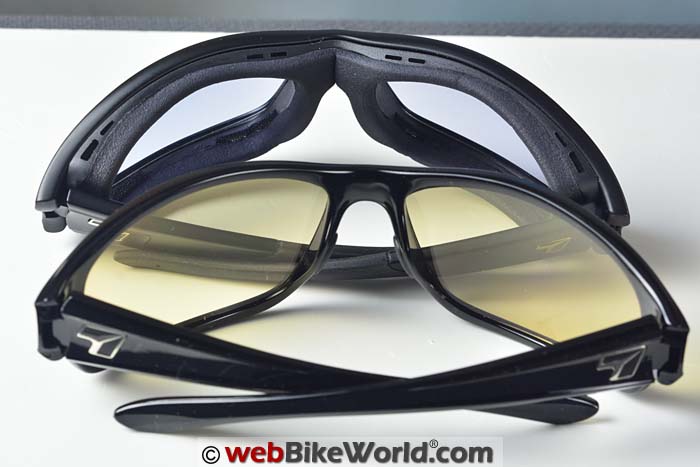 PanHead Lens Types
The PanHead sunglasses range in price from $99.00 to $160.00, depending on lens options, and they are also available in prescription.
There are 10 different tints available, ranging from clear to yellow to polarized to copper to a few different types of photochromic, including light gray to dark gray or dark gray to very dark gray. Also photochromic yellow to brownish-yellow is available.
My PanHeads have the photochromic "Day/Night Eclypse" lenses (18% to 80% light transmission), an expensive $70.00 option.
The photochromic Day/Night lenses have an anti-fog coating and 100% UVA+UVB protection, according to 7Eye.
But note that there is nothing that I can find in the 7Eye marketing literature that has any information on shatter resistance or adherence to ANSI standards for shatter resistance, like some motorcycle face shields/visors have.
Unfortunately, like all of the photochromic and electrochromic lenses we've reviewed (and we've reviewed quite a few), these aren't clear enough in the dark and not dark enough in the sun.
Also, they don't turn dark enough fast enough (we timed it at about 1 minute) and vice-versa. It's the nature of the beast.
And note also that photochromic lenses will not change tint when used behind a UV-resistant helmet face shield or car window.
So if you're going to use these mostly in a car or behind a helmet face shield, I would recommend not spending the $70.00 extra for the photochromic option.
Just go for the "SharpView" gray (no charge option; light transmission 12%) or polarized gray ($30.00 option; light transmission 11%) or one of the other tints.
But if you're wearing a helmet without a face shield or need a good pair of sunglasses for general use, the beach, outdoors, etc., the photochromic lenses are very nice.
There's also a 7% light transmission gray for those with really sensitive eyes (great for beach wear) or a DarkShift 8%-80% light transmission photochromic type.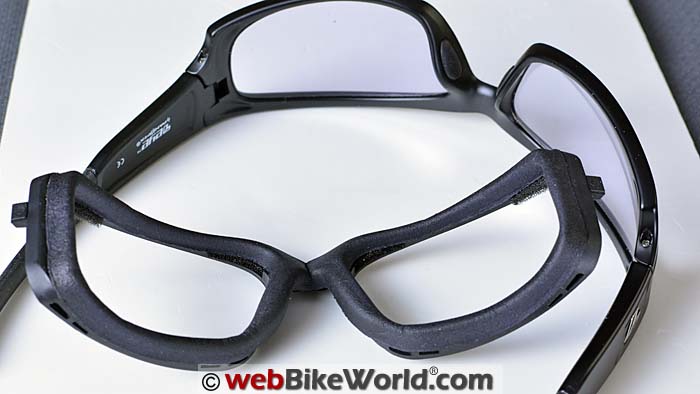 The other nice feature of the PanHead sunglasses is the included "AirShield" patented removable orbital wind-blocker. The 7Eye Taku sunglasses we reviewed back in 2010 had something like this but it's been improved over time.
It's a soft foam type liner that outlines the inside of the frame that holds the lens (the orbit of the eye). It easily clips in or out with a small plastic nub boss on either side (see photo).
There are small vents top and bottom and the overall effect is that it does block the wind from making your eyes tear.
This is useful for cruiser riders who wear a helmet without a face shield and any other type of open-face riding.
It also makes the sunglasses feel more comfortable, with the soft foam just touching the outer orbit around the eye. It's not bothersome at all and the soft foam gives a nice feeling.
It also serves to block even more reflections — literally there are no reflections on the inside of the PanHead sunglasses when you're using the AirShield, which is a real blessing.
But, if you want to remove the AirShield, it's easy enough. Just don't lose it — it's a $25.00 bill to replace it!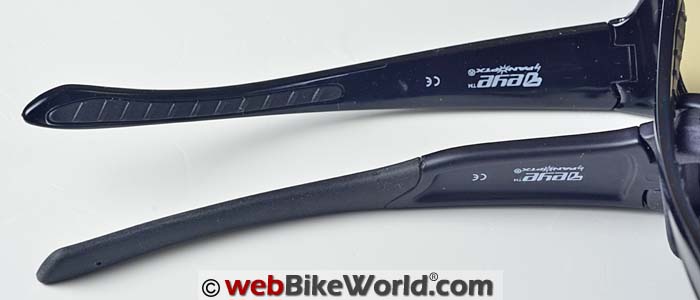 7Eye PanHead Conclusion
The PanHeads are now my favorite all-around sunglasses by far, for good reasons: first, they're the most comfortable sunglasses I've ever tried (although admittedly I haven't tried all that many).
They block the sun much better than my old sunglasses, even though the light transmission through the photochromic lens option on the PanHeads is less than my old sunglasses.
That's because the design blocks any light from reflecting off my face and on to the back of the lens, which I discovered is (was) a real problem with my old sunglasses.
I didn't realize how bad that problem was until now.
Also, the PanHead sunglasses fit into any helmet I've tried and they just feel all-around more comfortable.
I do really wish I had more confidence in the lenses meeting some sort of shatter resistant standard. At the prices that 7Eye charges for their sunglasses, this should be a given.
By the way, do not think that these are only good for motorcycle riding, because they're perfect for all-around use, especially at the beach and in winter snow, as I discovered.
7Eye Rake Photochromic Sunglasses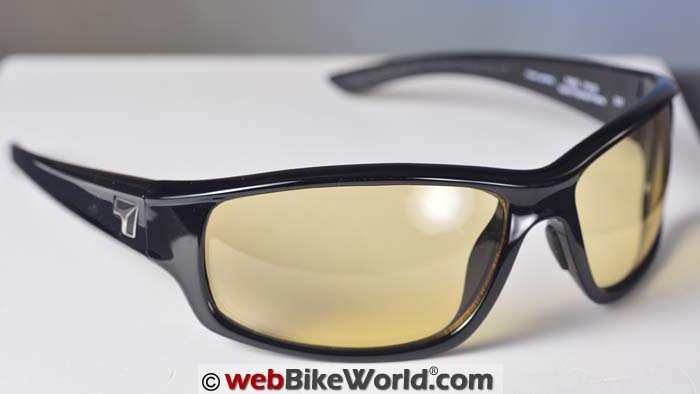 Rake With Day/Night Photochromic Contrast Lenses: Introduction
The Rake sunglasses are in the 7Eye "Active Lifestyle" category and they're a new model also in the 7Eye "Signature" series. I assume that all means general all-around use, not just for motorcycling.
The Rake style is priced from $79.00 to $149.00, depending on the options you choose.
The plastic frame on these is glossy, compared to the semi-matte frame with lots of rubberized surface on the PanHead sunglasses.
Although when you lay the Rake sunglasses on top of the PanHead, the curvature looks the same, the Rake seems to have more of a wrap-around effect even than the PanHeads.
This means that the fit might not be as perfect on some heads, but on mine, the wrap-around is such a good fit that it blocks probably 98% of the wind, even without the AirShield that isn't available anyway on this model.
The only quirk is that I have long eyelashes, so I can feel my eyelashes brushing against the inside of the lens.
If I pull the Rakes out just a touch — like maybe 1-2 mm only — the feeling disappears, so it's not really an issue but I figured I'd mention it.
It's difficult to measure the lens dimensions for the Rake sunglasses, due to the curvature and the trapezoidal shape. I estimate the height at about 38 mm and the width in the center at about 63 mm.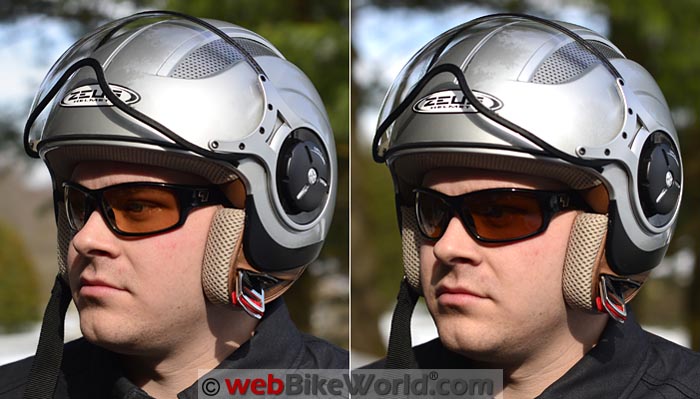 Temple Notes
The temples on the Rake sunglasses are also virtually straight, making them easy or even easier to fit inside a helmet than the PanHeads.
But where the PanHead sunglasses have the completely rubberized temple ends, the Rake sunglasses are more of a street/casual design by definition, so there's just a rubberized and textured surface on the inside of the temples where they fit over the ears.
This helps to give the sunglasses "grip" to stay on your head.
The Rake sunglasses come in the same very wide variety of lens types and tints and colors as all of the other 7Eye sunglasses, so it's hard to make a choice!
Lens Notes
I decided to try the optional ($70.00) Day/Night Contrast yellow lenses on these, also with an 18% to 80% light transmission, just to see (pun!) the difference.
Also, like the PanHead or any of the other lenses listed in the 7Eye catalog, I couldn't find any information on shatter resistance.
I never heard of a yellow contrast-type sunglass lens that was also photochromic, so I wanted to give these a try.
Plus, these photochromic lenses have the same light transmission range as the Day/Night Eclypse lenses in the PanHeads, so I could compare the difference.
I definitely need more contrast in dim weather and at night for some reason with my eyes. But if you really want high contrast, there's a no-cost "Solar Yellow" optional lens, with 15% light transmission
Even though it may not appear to be so in our photos, the tint does seem to have about the same amount of light transmission at either end of the tint range, although it's difficult to compare dark gray with dark yellow/brown.
The yellow is quite unique — for me anyway. I actually like them, although they don't seem to have the same sun-blocking capabilities as the darker gray.
I can more easily get used to the yellow tint however; after a few minutes, I don't notice it at all and the world looks strange to me after I remove them!
It takes about the same time as the gray photochromic lenses to go from light to dark — about 45 seconds or so.
I don't really notice a difference in contrast, either in bright light or dim, but when fully dark, the color turns more like a brown and works as a general sunglasses type and the color is especially useful for motorcycle riding with a helmet and visor.
Again, like the PanHead and the other 7Eye sunglasses for both men and women, there are a bunch of lens tints and types, so anyone should be able to find a favorite.
7Eye Rake Conclusion
The Rake sunglasses would be my choice for general all-around use.
If I lived in the Northwest U.S. or in the UK or somewhere with a preponderance of cloudy/overcast days, I'd go for the yellow Day/Night Contrast photochromic lenses.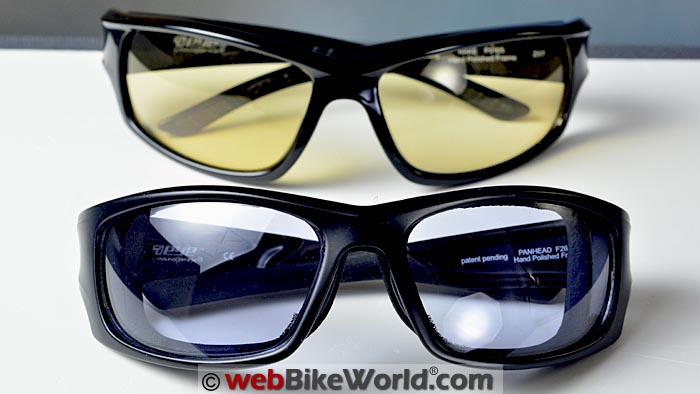 Conclusion
It's good to know that 7Eye/Pantoptyx is still going strong after all these years.
We said it 10 years ago and can say it again: the style choices, quality, design and the ability to customize these sunglasses are strong selling points.
Good quality sunglasses or eyeglasses of any type are expensive today, but actually the list price of the 7Eye sunglasses has only gone up $4.00 in that time, both at the low and high end.
Also, if you've looked at Oakley prices lately, the 7Eye sunglasses seem like a bargain!
I'm particularly fond of the PanHead sunglasses because they do it all for me. They work very nicely with a helmet but they're also perfect for general outdoor use, especially at the beach with its bright glare and afternoon strong winds.
The hardest part is choosing what type of style and lens combination you like best, but sunglass freaks usually own several pair anyway, so have at it!
Master Listing of All wBW Motorcycle Product Reviews
w

BW

 Review: 7Eye Panoptx  Motorcycle Sunglasses
Manufacturer: 7Eye
List Price (2017): $79.00-$179.00
Colors: Wide variety of colors and options.
Made In: Unknown
Review Date: March 2017
Note:
 For informational use only. All material and photographs are Copyright © webWorld International, LLC since 2000. All rights reserved. See the webBikeWorld® 
Site Info page
. Product specifications, features and details may change or differ from our descriptions. Always check before purchasing. Read the
Terms and Conditions
!
Owner Comments and Feedback
---
From "H.F." (June 2017): "I want to congratulate you for more this particular review, '7Eye "PanHead' and 'Rake' Photochromic Sunglasses.
Based on that I decided to buy the 7Eye 'Rake' model and once again, the information you gave was clear, sharp and honest.
I'm very happy with the glasses! Thank you!!
I'm a glasses-wearer since I was 12 and used to take (secretly) my Daddy's Ray-Ban Aviator glasses (at that time, a "real" Ray-Ban), it was 1972 and the glasses were a gift of an American aircraft pilot, friend of my father, that was travelling in Brazil.
But the reason I'm writing this message for you is because more and more, we (customers) look not only for high quality first line products, but beyond that, we also look for respectful manufacturers that really provide good after sales support when it is needed.
That's make the whole difference!!
Via 7Eye's website I made my purchase and everything was running great, but after more that 15 days after the purchase my glasses didn't arrive.
So, I contacted the 7Eye's Customer Service and they informed me the tracking number of the parcel, and finally I could realize that the parcel should have arrived in my address just three days after the purchase. Oh, my…
So, I contact 7Eye back and informed them about the issue and made also a complain because there wasn't the 'delivery receipt' of the parcel.
The always nice and attentive girl of the Customer Service said that for the mail service category they hired (USPS mail) didn't provided the concerning delivery receipt. And again… Oh, my!!!
And, for my surprise, without even asking, 7Eye informed me they had already shipped a second unit. This one, finally has arrived Ok!
You guys may think… Ok, not big deal… just a honest supplier!!
So, try to get this kind of attention from Ray-Ban for instance, and you will see what I'm talking about. Since Ray-Ban Co. was sold to the Italian Luxottica Group I decided not to buy from them anymore because of that!!
Congratulations 7Eye for your respectful attitude with a Customer. It makes the difference!"
---
From "M.I." (March 2017): "FYI…any type of eye glasses are like motorcycle helmets, it's best to try them on before you buy.
I went to the 7Eye website to look at styles and noticed they had a dealer finder option. I live in a small town in New England and selected the 20 mile radius option. There are seven dealers, with the closes just six miles away.
Retailers include eye care MD's, opticians, and motorcycle dealerships. 7Eye is in fact alive and well and appears to be highly regarded in the eye care industry."
---
From "A.H." (March 2017): "Great review — informative and very thorough, as expected from wBW. Thank you!
You mention not being sure about the bendability of the temples. Did you try soaking the temples in hot water before trying to bend them?
Boil water in a pot, then pull the pot off the stove. Immerse the temple in the hot water for about 15 seconds to soften the plastic, pull the temple out of the water, then bend the temple to shape. As the plastic cools, it should hold its bent shape.
I'm a glasses-wearer, and this technique has never failed me. I prefer glasses that can't be reshaped (misshaped) without using heat.
In other words, I don't mind using heat to reshape my glasses, because I hate it when the temples are inadvertently bent from pocketing the glasses, or even from repeatedly inserting the temples through the temple channels of my helmet."
Editor's Reply: I talked to Glenn, no, we didn't try that, good tip though. Actually the sunglasses fit so well that neither of us felt the need to modify them.