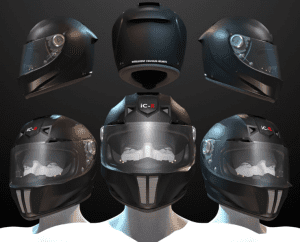 Riding a bike is an exhilarating experience! You can imagine the pure bliss you'll have when you're riding that bike of yours, with the speed exciting you, the wind in your face, and the traffic it helps you escape. It also happens to be more economical!
However, there are two sides to a coin. And, as much fun riding a bike can be, it can also be equally dangerous, and many times, fatal. If you are riding motorbikes, or are thinking of starting soon, you must know that wearing a helmet while riding one is of utmost importance to protect yourself from injuries and fatal crashes.
The head trauma is the worst experience to recover from. You might get away with a slight scratch on your body, but things get complicated when the head gets involved. That is why wearing a helmet is mandatory when you're riding your bike, and when it comes to protecting the most important part of your body, nothing less than the best will do!
Why Intelligent Cranium Helmets?
We know that this is the question going on in your minds and we will tell you why. With technology dominating each and every aspect of our lives, why should traveling be left out?
There is nothing better than having a helmet that, instead of making the wearer feel suffocated, helps him become more aware of his surroundings and take the biking experience to the next level. That is precisely what Intelligent Cranium helmets do – revolutionize your biking experience. Intelligent Cranium is a revolutionary technology based company that works to bring a more technologically advanced atmosphere in the world of helmets.
Benefits of Intelligent Cranium
To begin with, there are innumerable benefits! And because of this, you will have to pay a good price for their helmets! But hey, you are getting more than what you're paying!
These helmets have almost every feature that you can think of – excellent ventilation, lightweight, good fit, and an unobstructed field of view so that you can take your bike on long rides without worrying about the stress or pain. In fact, the company is coming up with a state-of-the-art technology helmet, the IC-R, that will change the world of helmets.
IC – R, the Smart Helmet
This is a helmet that has a futuristic design with some high-tech features! It incorporates crazy technology to give you a helmet that has Bluetooth communication and phone connectivity, LED displays, and rear facing cameras.
That's not where it ends – it has voice control, collision warning, and can make itself darker by the simple touch of a button.
These features are not there just for the heck of it, but actually make an effort to protect the rider and give him a better experience and protection. Let's analyze the features of this gorgeous beast.
The Never Ending Field of View
If you're the tech geek, who likes to work with top-notch equipment, this helmet is for you. It can be yours for $1400. This helmet has not one but two rear cameras that give the rider a 210-degree view of his surroundings, so there is absolutely no need for the rider to take his eyes off the road. In fact, these features eliminate any possible blind spots completely.
You can switch the display to know about traffic updates, pick your songs, and have a look at the additional passenger on board. There are other "smart helmets" that offer to provide several features that help them tag their helmets as "smart," however, there are not many helmets like the IC-R, giving you rear views like this one does.
Notification Lighting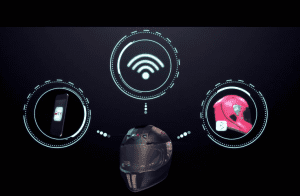 This is one of the best features of the IC-R. This is an interior notification lighting that has two LED lights in red and amber color that light up in case any car comes too close for comfort, thereby warning the rider of a possible collusion and helping him make decisions accordingly.
This light system works in combination with a warning sound and/or vibration system that is built into the helmet. If a vehicle comes within a radius of 420 feet, the amber light will start blinking after every two-second interval. And when a vehicle moves within 240 feet, the red light, which means danger, will blink after every second to warn the rider of the impending danger.
Looks
This helmet looks like something that is straight out of a tech-friendly super-hero novel. Dark in color and sleek in design, the outstanding look and feel of this helmet are just another bonus in this already unbelievable helmet!
Other Features
The helmet is packed with several other features such as having a solar panel installed on top to help with charging electronic equipment and an "E-tint" that helps you tint your visors and make them dark at the flick of a button. It also comes with an SDK hardware that promises to create better and cooler apps in the future.
Final Verdict
The helmet is about to get launched very soon, and we know it will change the way the world looks at helmets. It is not just a heavy, bulky piece of plastic, saving your skull in collisions, but is now a work of art that incorporates the best of what technology has to offer to enhance your view and to change the way you ride your bike.
If you are interested in watching this helmet turn into reality, the company has a funding page on Indiegogo, where interested investors can go and fund this piece of beauty! So if you are sitting in front of your laptop, wondering how it would feel to put on this helmet and ride your bike, go and do your bit today!
Livemap Motorcycle Helmet
We know you all are safe and responsible bikers and absolutely avoid riding on a bike if you are not wearing a helmet. But, who would want to wear these huge, monstrous and heavy boxes on their respective heads when all they want to do is enjoy their experience! We know helmets can be really ugly, even though they are of utmost importance to bikers and their passengers.
Having your head unprotected while riding a bike is like leaving an egg on the edge of the table. There are very high chances of the egg falling off the table and cracking open. Would you want the same thing to happen to your skull?
No, right? We thought so, too. That is why, for the umpteenth time, wear a helmet when you decide to take your motorbike for a ride.
The Transformation of Traditional Helmets
Now, you have a helmet and a smart helmet. Like all your smartphones and smart gadgets, you will be happy to know that technology has now discovered the "smart helmet" that help you enhance your biking experience.
And these helmets are too good to resist. You would definitely WANT to put on one before you get on your bike. It might sound too good to be true, but believe us, these smart helmets can now actually be yours!
The Livemap Moto helmet is a "smart helmet" which is a helmet with an effective navigation tool that makes the traditional method of navigating with a physical map in hand, redundant. After all, stopping at regular intervals and checking if you're on the right track or not can be time consuming and annoying.
The team behind Livemap Moto helmets have worked hard with dedication and determination to bring to you smart helmets that are equipped with navigation systems where the images are projected on the visors, and utilize earphones and voice controls to keep the rider's hands-free and offer several other features.
Features of Livemap Moto Helmet
This smart helmet is packed with beneficial features! Just have a look:
1. Light sensors that help adjust brightness according to the external light availability.
2. 3000 MAH batteries for a longer life.
3. Easy and user-friendly navigation system.
4. Earphones and microphones for voice control.
5. Easy tracking of head-movement helps adjust the display accordingly using the digital compass.
Shape and Size
Despite being a modular helmet with high-level technology, this helmet will be relatively easy to use. And even though the first helmets were bigger and bulkier in size, their continuous research has helped them now to pack in all the features in a helmet that is normal in size with the usual look and feel.
So these helmets have easy certification within the recommended helmet weight and excellent aerodynamic properties, making them easier to wear and use.
Field of View
Livemap knows that your field of view is highly important and has manufactured the helmet that doesn't obstruct your view in any way at all. In fact, with the projected images on the visors being crystal clear, it is tough for the rider to actually miss seeing something.
User Interface
These helmets may be packed with new features and technology, but that doesn't mean they aren't user-friendly. In fact, it is minimalistic and rather simple.
The voice commands are short and easy to understand. Help that the rider may need is just a word away. All he has to do is say "Help," and the necessary instructions will follow.
Additional Specifications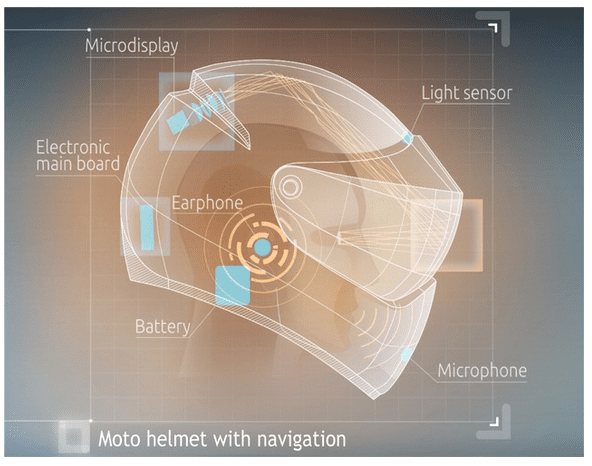 This "smart helmet" is expected to weigh 1.4 kgs, and the company has not finalized the color choices as well as the shape of the helmet. The navigation maps will be pre-loaded, so you are saved from the hassle of downloading them for yourself. However, the maps can be updated on a regular basis.
Although Internet won't be needed to show you the different routes, you will require it for any updates on weather changes and traffic information. When it comes to lighting, the helmet will display your image in a way so as not to dazzle your eyes. The lighting will adjust itself according to the weather outside. So during rains and fog, the image will brighten up for a better view, and on sunny days, it will be soft enough for your delicate eyes.
What Is Going On At The Moment?
Livemap has come up with a futuristic helmet plan and design that has got the support of several important organizations from around the world, such as Moscow Department of Science, Industrial Policy and Enterprise, Skolkovo Foundation, Russian Ministry of Science, and many others. With the funds that the company has raised, they have made several parts of the helmet to help them put them together to make their dream a reality.
Future Goals
All the funds that the company raises will be invested in bringing this helmet into existence with all the features that the creators wanted it to have in the first place. Investors do not have to worry about their hard earned money being wrongly utilized for the comfort of the management. They will be getting timely updates and reports of progress.
The company has undertaken a long journey to work on this helmet, and they are close to making their dreams come true. They now aim to:
• Complete the designing of the optics and electronics.
• Have a proper software system in place for the helmet.
• Carry out the last-stage tests and get the necessary certification for safety standards.
When it comes to the certification, they expect the following standards to be met:
1. USA DOT
2. European ECE 22.05
3. Japanese JIS 8133
4. FCC
• Start in the industrial production of the helmet.
In a Few Words
Once in a while, a company comes up with something that will change the way the world functions, and in the world of motorbikes, this revolutionary helmet will have the same effect. Kudos to Livemap for coming up with this idea and working tirelessly to make it a reality. This helmet will sure be a wondrous creation.
Reevu Smart Helmets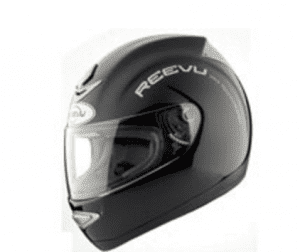 The world of smart helmets is rather fascinating. The world used to think of helmets as a boring, but mandatory accessory when it came to riding your motorbike. Riders loved 'forgetting' putting on their helmets as it was heavy and ugly to look at. However, with the advent of science and technology, we are seeing a smarter version of the boring helmet that has truly changed the way the world sees helmets!
Let's not forget what the main function of a helmet is – protecting the most important part of your body, your head. If you have the misfortune of getting involved in an accident while riding your bike, you might get away with a few bruises here and there, but things get dangerous, and sometimes even fatal, when the head gets involved.
Any concussion, internal bleeding, and other problems in and around your skull are enough to get you hospitalized for a long time. And it is better to be safe than sorry. So yes, those boring helmets are more important than you probably think.
However, the good news is that the helmet is not boring anymore! In fact, the smart helmets are more like an accessory that Iron Man would use while he goes about saving the world. Smart helmets come packed with unbelievable and refreshing features that will get you addicted to them.
The next time you get on your bike, you might forget your wallet and cell phone, but you won't leave that helmet behind. You'll be that much in love with it!
With the competition in the world of 'smart helmets' stepping up and the rivals feeling the heat, innovation has reached its peak. In such a world, Reevu has been making a good name for itself by setting new benchmarks in manufacturing smart helmets. What makes Reevu so special, you may ask?
Well, it's because the Reevu smart helmet is the first helmet that has a rear view mirror system. In fact, even without the rear view mirror, the Reevu helmet is very much loved because of the superior quality finish and comfortable fit.
History of the MSX1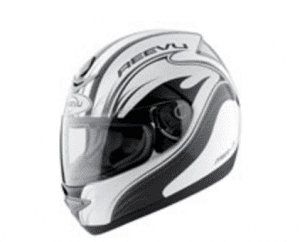 The Reevu MSX1 helmet goes back a long way to 2005. It was a good helmet and critics were impressed with it. However, one flaw was that the front portion of the rear view mirror could not be adjusted. Slowly, the company faded into oblivion and even had a website that was inaccessible for a while.
While the world was thinking that Reevu had ended even before it could have a proper start, the Reevu Team was working passionately and dedicatedly to improve this helmet. And they didn't rest until they had it right.
They came back with the new and improved version of the MSX1 that the world fell in love with. With the rear view system making it different, there were several other improvements – the inner liner was softer and completely removable, and it also had cheek pads that could be adjusted and removed to make it a custom fit for different head shapes. It was true that even without the mirror system, the helmet would do a good job in the market as the makers had not compromised on a single thing, right from the quality of materials used to the fit and finish of the MSX1.
The Rear View Mirror System
This feature had to be discussed first. How the system functions remains mysterious, but has a set of obliquely placed mirrors. At the rear end of the helmet, there is a large covered mirror. It has enough transparency to work well, even though it makes things easier at night by muting the dazzling effect of the headlights.
A mirrored polycarbonate surface is there in the front that has a viewing screen size of 87mm in length and 17mm in height. You don't have to worry about batteries as it doesn't use them.
Air Flow and Ventilation
While the makers were busy installing the rear view mirror system, they have worked hard to maintain a standard level of ventilation. You don't have to worry about dust particles and other minute particles disturbing the working of the rear view mirror.
There are two exhaust ports on both the sides of the mirrored polycarbonate at the rear end of the helmet. The air ventilation, overall, is average to below average, and so far, users have not reported any problems in hot, sultry weather conditions.
Sound Levels and Weight
The helmet has smaller vents and a smoother shape that help minimize the sound levels. The helmet has shown quieter than average results in several tests. The padding on the inside along with the ear pockets also reduce noise levels and help create a better fit simultaneously.
The biggest size (XL) of the MSX1 weighs 1839 grams or 4 pounds. That does place it on the heavy side of helmets. It is obvious that most of the weight comes from the rear view mirror system, but considering everything, the helmet has a good fit and feel to it.
Other Features
The chin strap has a micro-adjusting style, and it meets most of the safety standards in the United States, the United Kingdom, Brazil and Europe. This smart helmet is indeed a revolutionary product.
Customer Verdict
Riders using the MSX1 have been highly impressed with the rear view mirror system that helps them see what is going on behind them without obstructing their view at any given point of time. There have been no complaints about headaches and suffocation, even by those who frequently suffer from them, when they wear a helmet for some time. They noticed the minimized sound effect and would recommend this helmet to their family and friends.
FUSAR Smart Helmet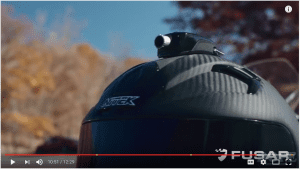 The world is now being introduced to the concept of smart helmets. Gone are the days when your most important protection on a motorbike was the heavy and boring helmet. The helmet still remains, but in a better, modern and a smarter version.
The traditional bike helmets have been heavy on the neck, lack the right ventilation, and in most cases, also obstruct the view of the riders.
The New Era of Helmets
However, with the introduction of smart helmets, riding your bikes with your helmets on can be anything but boring. With the features that these smart helmets come packed with, you wouldn't even forget to put on your helmet before you get started. You will fall that much in love with it!
Apart from helping you with your map and navigation, they are installed with voice controls and projection on the visors to give you a better view of your surroundings. And the best part? All these features (and more) come in the helmet which is the same in size as the older ones. So, more features don't translate into a heavier and bigger helmet!

We know you're wondering this! Let us clear your doubt right away. FUSAR brings about the best combination of technology and adventure! They believe in improving your adventurous biking journey with state-of-the-art technology. That is why it is a company whose products are worth looking out for.
They pack in features in their helmets that were previously considered impossible by the rest of the world. The FUSAR team is as serious about the biking journey like you and do their best to bring you products that change the way you look at your motorbikes, including helmets!
The Unique Aspects of FUSAR
There are way too many features in the FUSAR smart helmets range for us to put them all down, but we'll mention some for you:
1. Crash detection feature
2. Blackbox recorder
3. Bluetooth connection for better control
4. High definition photographs and videos
5. Long distance Communication
6. Emergency alert systems
7. A system to track and record your activities
These features are irresistible and will make you fall in love with your helmet the moment you put it on. After all, your helmet protects your head; it's time for you to show the same love to it.
Don't Throw Away Your Old Helmets!
You don't have to buy a smart helmet. Instead, you can convert your old one into a smart helmet by just placing the main component, which is known as the Mohawk, that is likely to work with almost any helmet.
With just this part, you can add a voice recorder, a navigation kit, a communication device and an emergency alert system on your helmet and you get an action camera that can work very well on your helmet – whether you place it on the side or the top.
And that's it, all you need to have is the FUSAR app installed on your smartphone, and you are good to go!
Easy Controls
FUSAR understands how frustrating it can be for the riders to raise their hands up to their helmets to adjust the camera or press buttons that they can't see. So the handlebar and wrist mounted controls allow you to easily use the camera according to your convenience.
You also have LEDs in different colors that will give you continuous feedback to help you know exactly what you're doing.
Shoot and Share in Real Time!
You can press the button on your handlebar or wrist controller to start shooting pictures and even videos. They get easily recorded and synced with your smartphone to enable easy viewing and sharing.
Don't miss the chance to capture any of the amazing stunts or action that you perform on your bike. The FUSAR app comes with a HOTSHOT feature. All that you have to do is just push the two buttons on your handlebar or wrist controller to capture the last 15 seconds of any action and immediately share it on social media – in real time!
By the time you stop to have a look at your phone, your videos and photos have been seen, liked, and shared by all your friends!
Unbelievable Communication
Riding in a group and wish to talk to many friends? That's possible too!
FUSAR has employed a cloud-based communication feature that allows up to twelve users to talk over any distance! The Bluetooth headset from FUSAR can easily sync in with iOS and Android devices.
Track Your Activities Like Never Before
Yes! We are as excited as you!
The FUSAR camera is equipped with sensors that help you track each and every second of your activities. The smallest details of your ride's twists, turns, and jumps are tracked and well taken care of. The blackbox recorder also keeps a complete record of the last two minutes of audio, video, speed, and other necessary information in case of a crash.
Emergency Alert Systems
Once you're on the road, there is no knowing which turn will bring an ugly surprise. And, if you do happen to be involved in a crash, the app has emergency alert systems that will notify and alert the nearby help centers, as it keeps a record of the emergency contact numbers.
When a crash is detected, the FUSAR camera gives out a distress beacon, and the cloud servers send a notification to emergency contacts. Along with that, these people also receive your exact location along with the telephone numbers of the nearest hospitals.
Final Words
The world has faith in FUSAR and the technology-bike merger that it plans to introduce to the rest of the world too! The company has strong belief in its goals, and with its team of dedicated engineers and passionate bikers, we know that FUSAR will succeed in achieving its goals. Perhaps it is the commitment and dedication that the team has shown that has helped FUSAR run a successful fundraising campaign on Indiegogo.
Sena Cavalry Helmet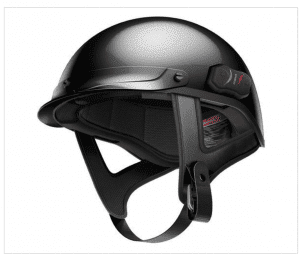 The Sena Cavalry Helmet is one that we've reviewed before, so let's review some of highlights. Sena has been a pioneer when it comes to manufacturing top class helmets with genuine innovations.
They have produced helmets of different categories which are greatly popular among motorcycle riders.
Benefits
The open-faced helmet is lightweight and great for comfort wear. The most striking benefit is the Bluetooth integration that comes with the helmet. The premium fiberglass of the helmet is integrated with the Bluetooth wireless features. This nullifies the need for installing complicated routing wires.
Though it is a half shell, still it is ventilated. That means no stuffy feeling wearing the helmet! You also get strong safety features that come with the helmet.
Features
The Sena Cavalry Helmet is a unique helmet that comes with the revolutionary built-in Bluetooth device. It has pre-wired Bluetooth speakers, microphone, and controls which are seamlessly integrated into the helmet.
It is a perfect fit for most heads and costs around $350. It can be considered a lightweight helmet which you can wear all day long.
Shell Design
Sena Cavalry Helmet gives you the comfort and protection of fiberglass composite material. The Sena Bluetooth Helmet has a robust shell design which is even aerodynamic.
The Bluetooth controls are integrated smoothly inside and in the build of the helmet, and appear as integral parts of the helmet.
Interior
The interior is not very plush, but it is very comfortable. It keeps you dry even in hot conditions, and you will obviously not feel stuffy as it is a half-shell helmet. The interior cushioning gives the helmet a snug fit and keeps it in place. Your head also doesn't feel any pressure points due to the comfort cushioning.
Bluetooth Connectivity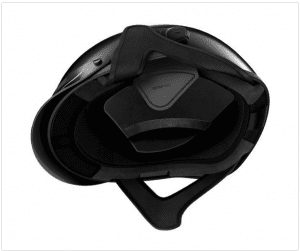 The most striking feature of the Sena Cavalry Helmet is its Bluetooth integration. The Bluetooth of the helmet is 4.1. This is the latest version of Bluetooth. This up to date version helps the wearer to continue with the chat without interruption. Using this Bluetooth version, you can share any file with other riders too.
While discussing the specification, it is important to mention the speaker quality. A crystal clear sound is what this helmet delivers. The speakers are also quite loud which make them ideal for use even in areas with wind or road noise.
The headset profile of the helmet keeps your hands free. You would not have to use your hands to adjust the helmet while making a call any longer. Audio distribution feature helps you with quick sharing. The same goes for video as well.
The Bluetooth is strong enough to support at least four riders in the range. It works till 900 meters range of distance. The noise control feature of the helmet makes it easy to reduce noise. As it is mentioned earlier, with the advanced technology, you can deduct the noise of the wind and other zooming cars.
One of the best features of the helmet is the built-in FM. When you are going down the street alone, it can very well give you company.
Noise Reduction
The Sena helmets are geared with an Intelligence Noise Control system. It has noise canceling headphones, and you can stay aware of the sounds on the road like sirens, car horns, and your engine sound. The system can analyze the sounds received through the microphone and cancel out the unwanted or damaging noises.
You can listen to music, FM, or talk with your buddies easily with just a touch of a button. The wind noise is also significantly reduced so that you can keep a lower volume range and operate well within it.
Other Factors for Consideration
The riders who have worn the Sena Cavalry Helmet said that if you are wearing a pair of gloves, controlling the buttons might become difficult. However, as you keep using the helmet and the buttons, you will slowly get used to them. With time, your hand will adjust to the buttons, and you will find them easy to use.
The helmet can be enhanced with different Sena products as well. You may purchase additional accessories and use them with your helmet to make things more convenient.
Ear pads are available, which you can get with the Cavalry helmet. You can also opt for head liners which Sena has created especially for the Bluetooth helmet.
Conclusion
You will look stylish and poised while securing your rugged biker look with the Cavalry helmet. It also comes in different eye-catching colors. Riders have only satisfaction to express when they have reviewed or rated the Sena Cavalry Helmet. It is one product with which you cannot go wrong.