Just the name 'Ninja' on a bike conjures up images of something that is going to be fun and exciting so when Kawasaki UK launched the new Ninja 650 I was eager to get a ride on this bike and see for myself if the name lived up to my imagination.
Review Summary
Starting from a price of $9,510 USD / $12,811 CAD / £7,649 making the Ninja an affordable new bike.
No rider modes but two levels of traction control which can also be turned off.
Two color options available – lime green/ebony KRT edition (Kawasaki Racing Team) and metallic matte graphenesteel gray/ebony.
193 kg with a seat height of 790 mm making this a great bike for those of us with a shorter disposition.
For UK riders, the bike is A2 license compliant so it grows with you as your riding career grows.
Kawasaki Ninja 650
The Kawasaki Ninja 650 is no new kid on the block, it has been around for some 17 years now and has grown and developed during this time into a sleek, modern and fun bike to ride.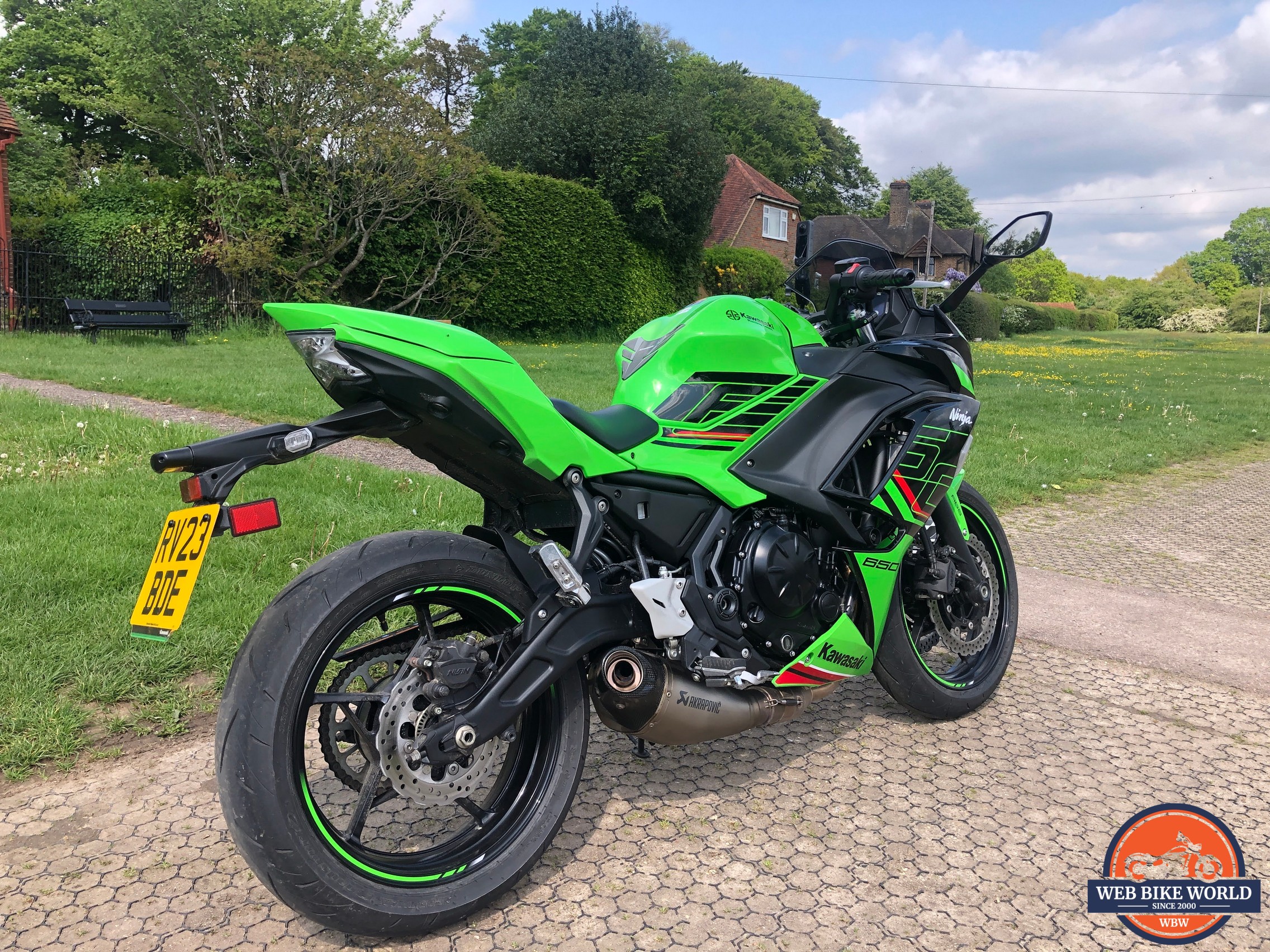 According to the stats from Kawasaki Motorcycles, the Ninja 650 weighs in at 193 kg but to me, it feels way lighter than this. Maybe it is because the seat height is 790 mm which means that my feet are firmly planted on the ground, but I found moving the bike around really easy which endeared me to this bike right from the start.
The Ninja 650 I had on loan was the Performance Edition which comes with:
Akrapovic Titanium sports exhaust.
Seat cowl.
Smoke windshield.
Tank pad.
Screen protector.
Other accessories available are:
Large touring windshield.
Radiator trim.
Top case.
Backrest pad for the top case.
Frame slider.
Knee pads.
High seat (plus 30 mm).
Panniers (2 x 14 liters).
DC output (12v socket).
U lock and bracket.
Tank bag with window.
Screen protector (meter lens film).
Oil filler cap.
The Ninja 650 has quite an upright seating position making this a popular sportbike with commuters apparently. Although I thought the bars were a stylish shape, I did find mounting a phone holder difficult. You could mount the holder on the mirror arms but then I found it was too far away to see the screen clearly – I use my phone as a sat nav too. It would be interesting to hear what the commuter riders of this bike do.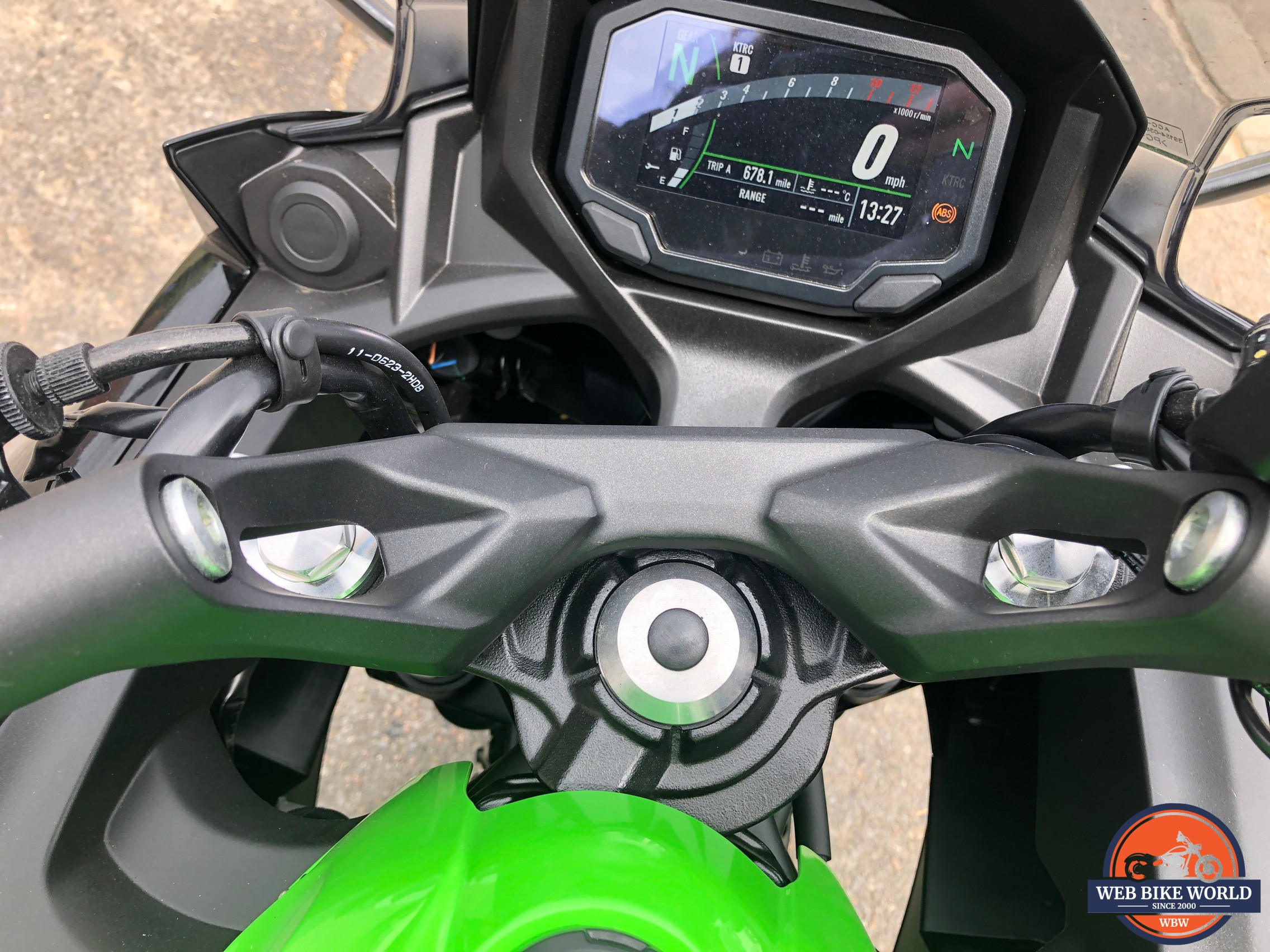 Let's take a closer look at the Ninja 650 shall we.
Specifications
Weight: 193 kg
650 cc liquid-cooled, 4-stroke parallel twin engine
50.2 kW / 8,000 rpm, 68 bhp
TFT color screen
Adjustable traction control, 3 settings
790 mm seat height
15 liter fuel tank
Color Options: Lime green/ebony – KRT edition and Metallic matt gray/ebony
Price: $9,510 USD / $12,811 CAD / £7,649
First Impressions
I love the color scheme! The Ninja I had came in the KRT (Kawasaki Racing Team) colors and it totally makes this bike, it looks the business.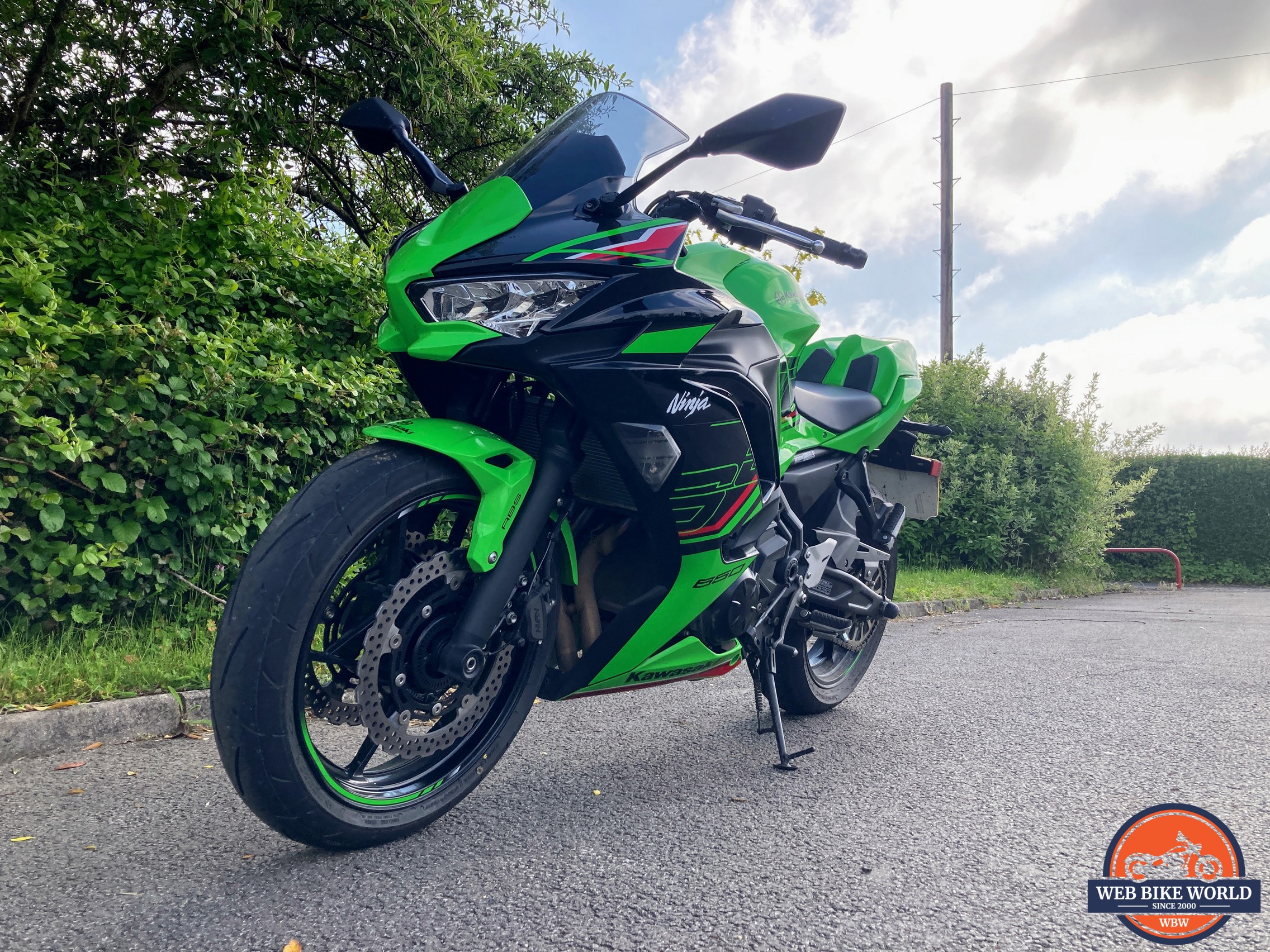 The front end looks intimidating and I could just imagine what that must look like from the rear view mirror in a car.
Just by looking at the bike, you can see that it is going to be a fun bike to ride, it looks so cool and is just calling you to get on and take it for a ride.
Before I sat on the bike, I thought it was going to be more of a sports bike in terms of seating position and I had visions of leaning over the tank but it really isn't at all like that, it has quite an upright position and is very comfortable.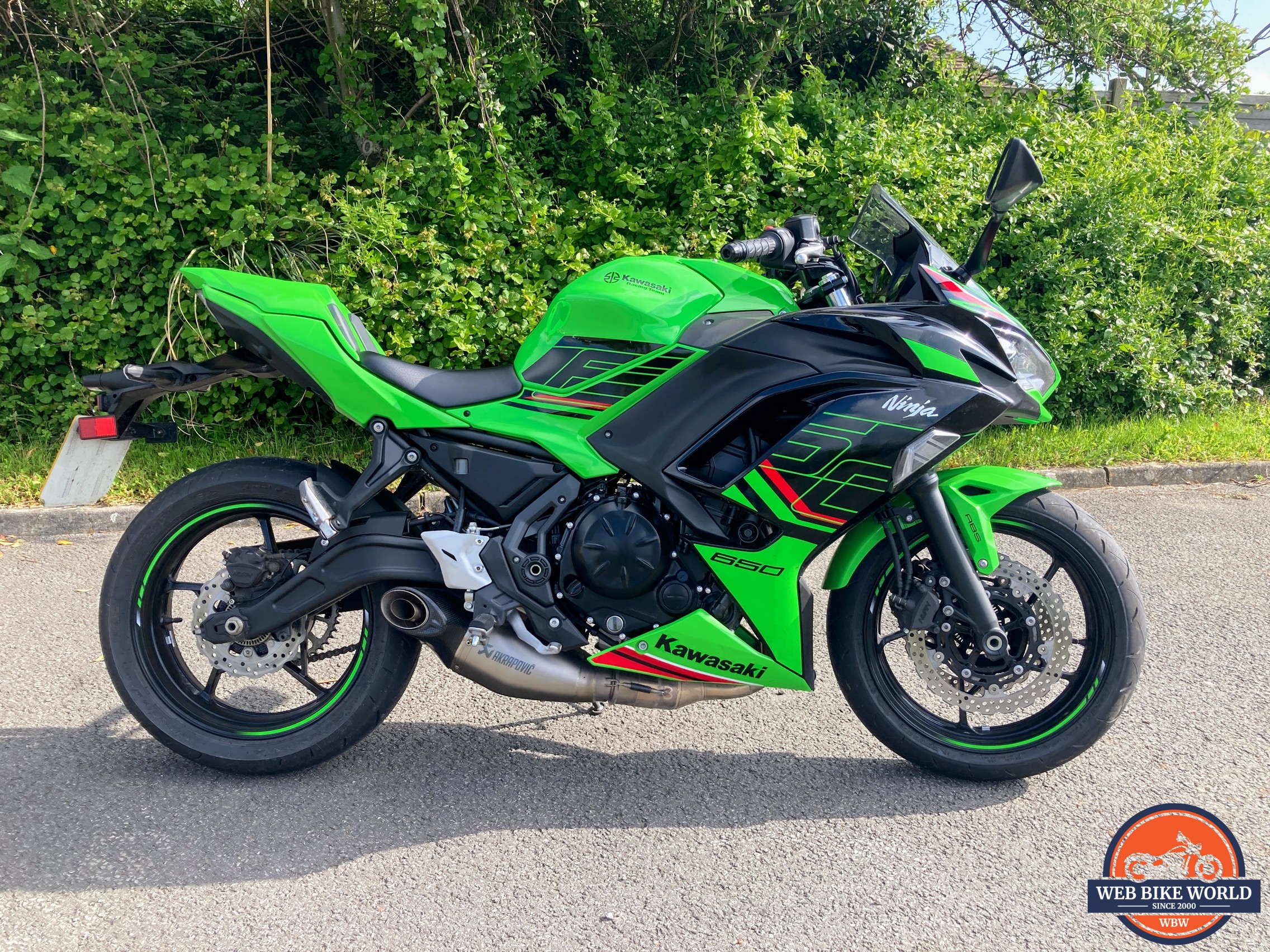 After a couple of rides, I knew that I would have to change the seat to a 'comfort' one, there really is just not enough padding on there for me.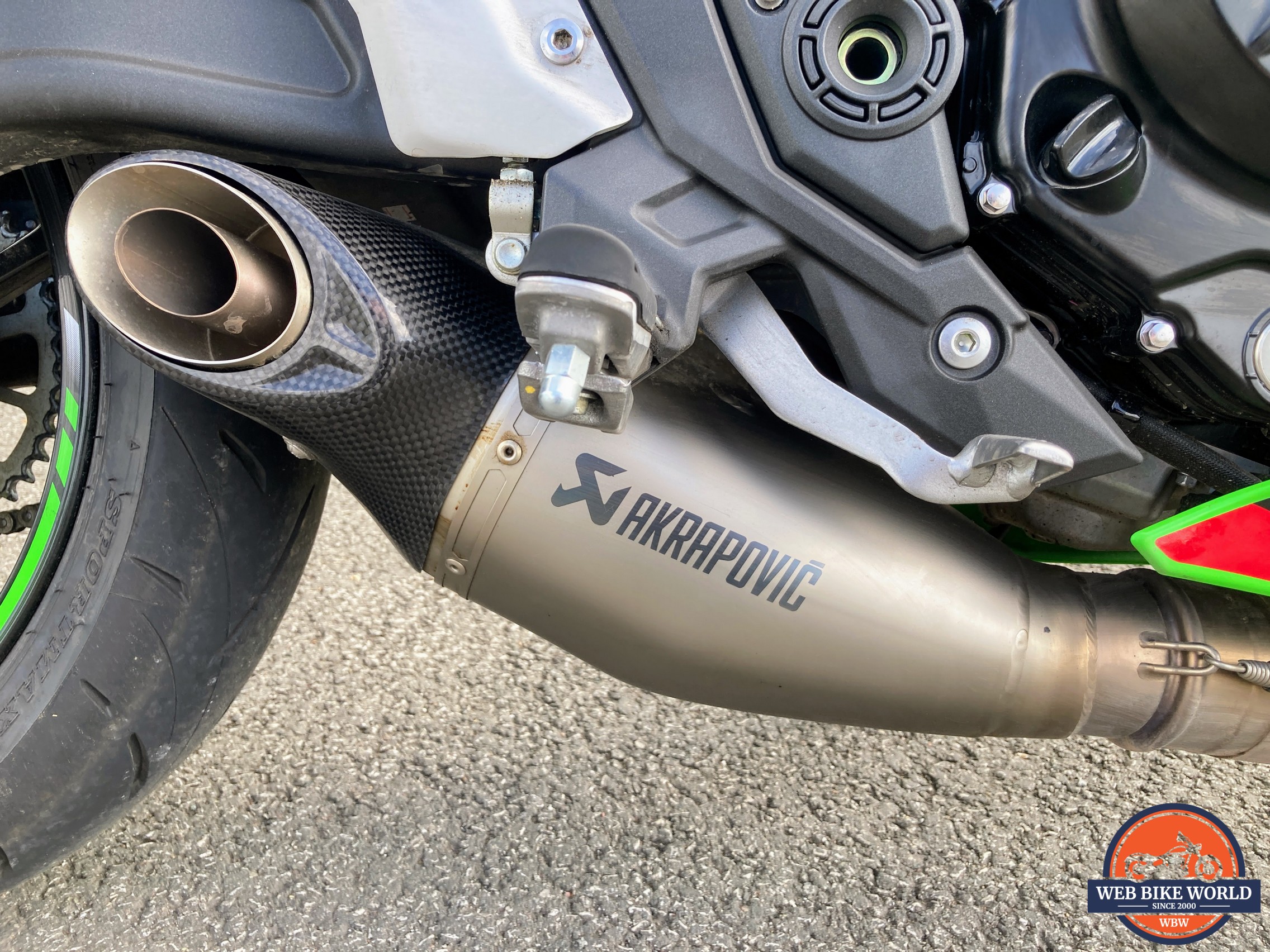 The Performance edition comes with the Akrapovic Titanium sports exhaust which not only looks incredibly cool but, when you start the bike up, you can hear the sound of the exhaust and the engine together and that's when the grins start.
Engine
The Ninja 650 is powered by a 2 cylinder, 649 cc, Liquid-cooled 4-stroke Parallel Twin engine putting out 64 Nm @ 6700 rpm torque and 68 PS @ 8000 rpm power with a strong low to mid range focus, a lightweight chassis with increased mid-range torque.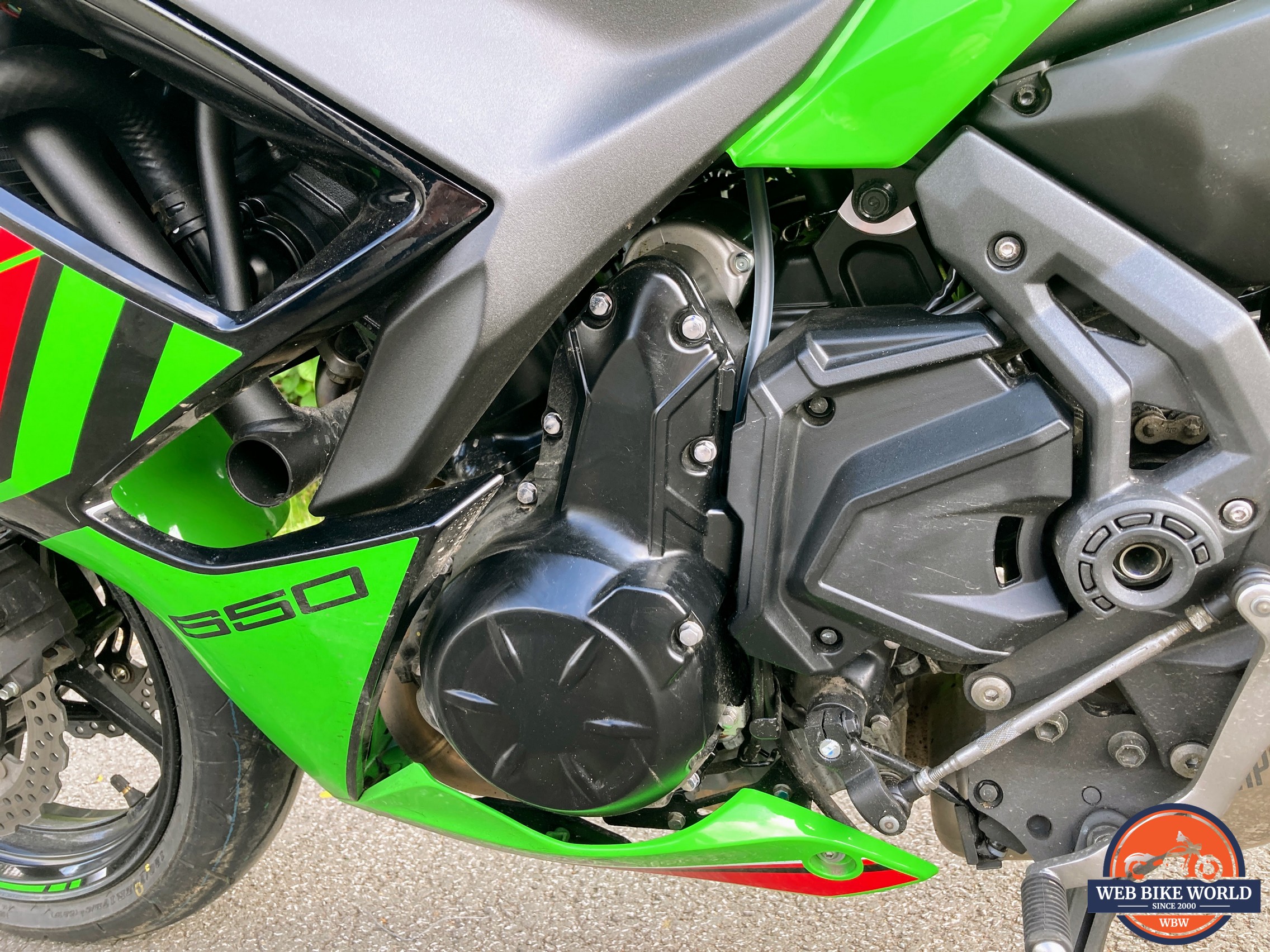 Weighing in at 193 kg which, in my opinion, it does not feel this heavy, this makes the bike  really nice, light and easy to ride especially on those twisties. I also think it is one of the smoothest bikes I have ridden, it delivers a smooth, sleek ride.
The Ninja 650 is a very torquey bike and is happy both at low speeds around town and even more so on an open road where it comes alive.
Specifically relevant for UK riders, the Ninja 650 is A2 license compliant, you just need to fit a restrictor kit which can be removed when an A1 license is obtained, making this an ideal bike for riders at the start of their riding career.
Chassis
The engine is housed in a new steel diamond lightweight frame with Showa 41 mm USD forks and a rear shock operating through Pro-Link.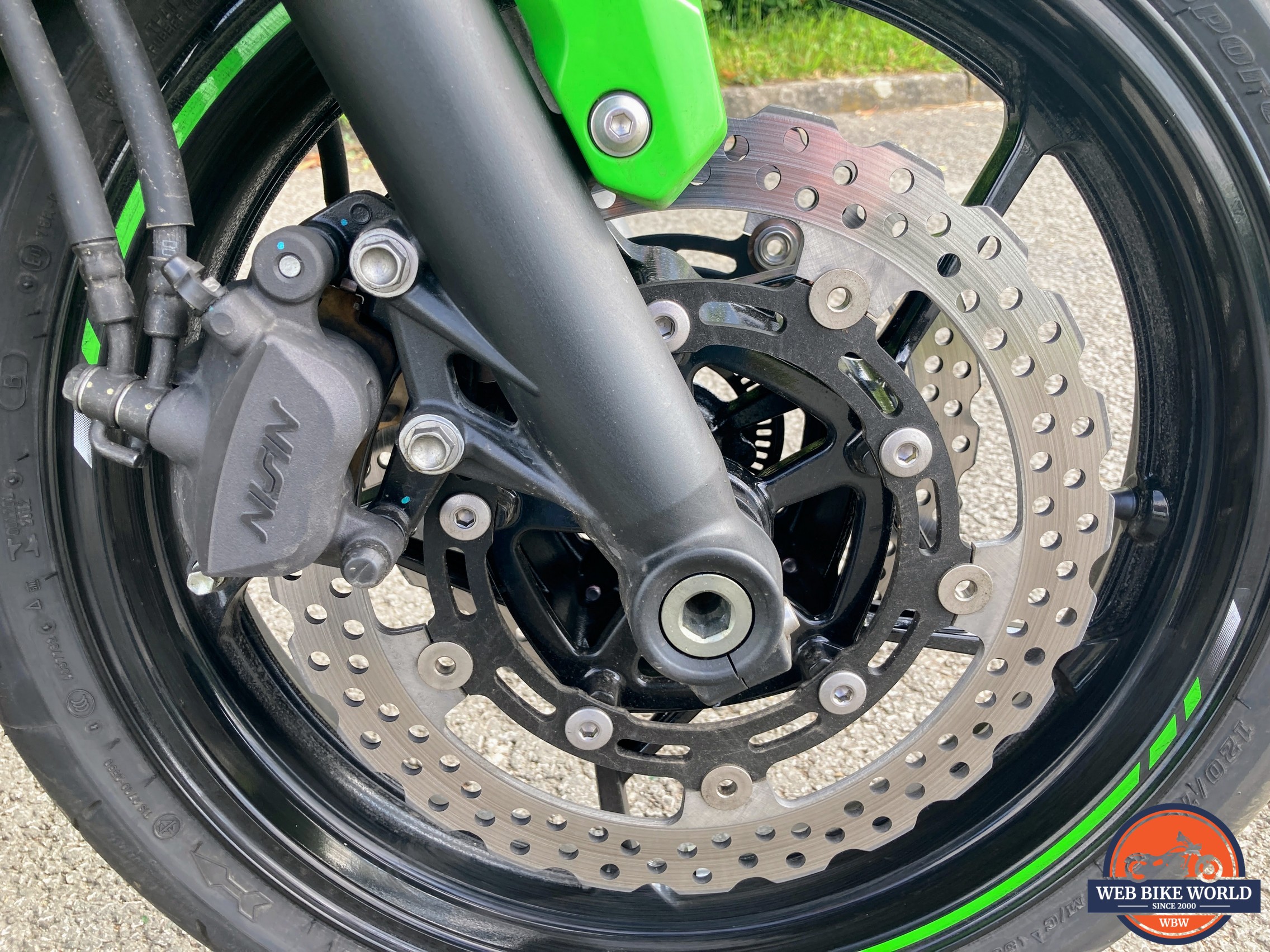 The dual four-piston radial-mount calipers ensure that the brakes work efficiently and effectively and come equipped with Emergency Stop Signal (ESS) technology.
Modes
There are no modes as in rain, road, sport on the Ninja 650 which, for me, is perfect. I like a bike with no modes, it's just me and the bike at one with each other.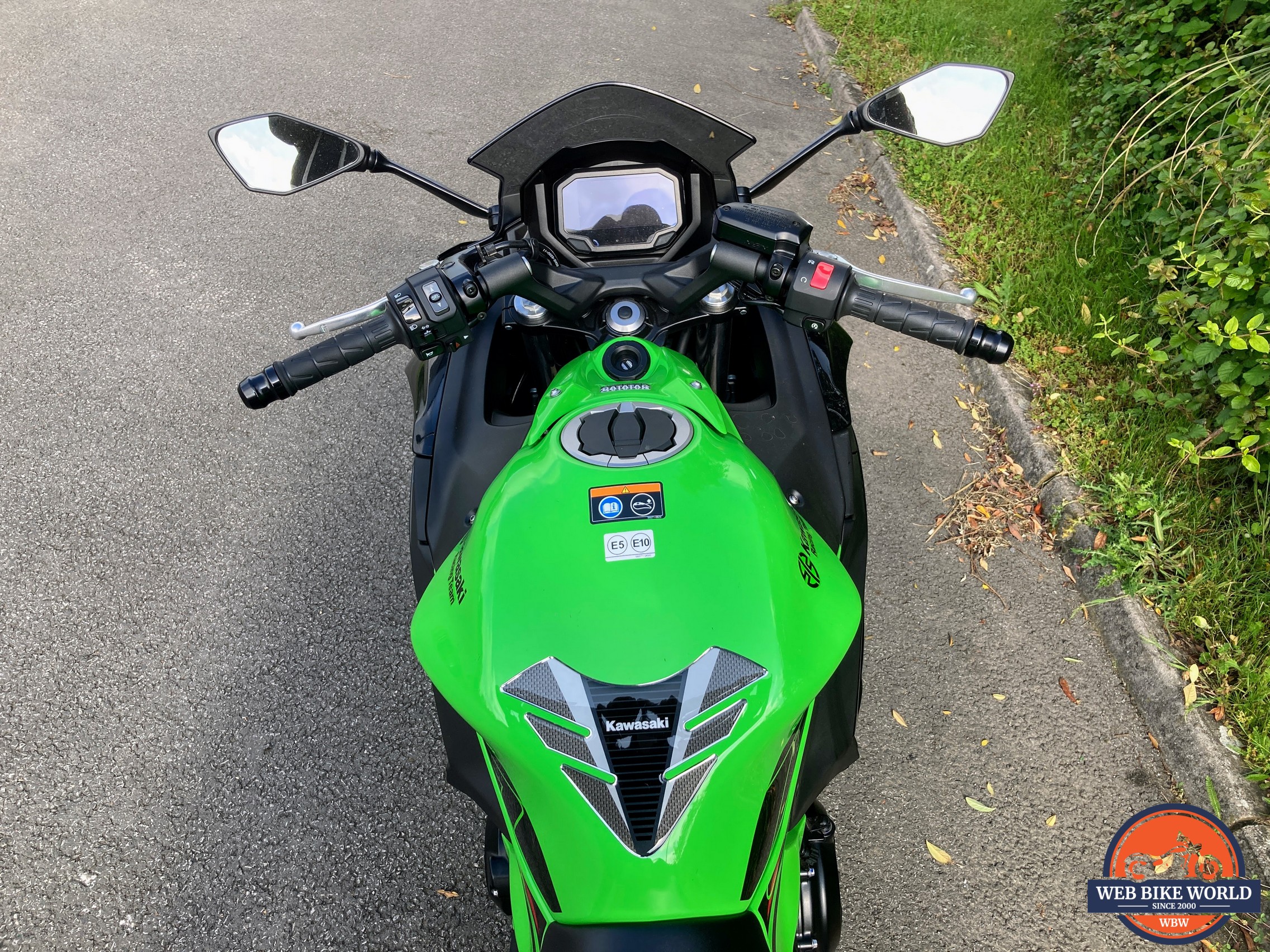 There is however, Kawasaki Traction Control (KTRC) which you can adjust. The KTRC provides an enhanced riding performance and peace of mind under certain conditions to enable you to negotiate low-traction surfaces with confidence.
The two modes allow you to adjust the setting to suit the riding situation and also your preference. The KTRC can also be turned off.
For the A2 restricted models, there is one mode on the KTRC plus you can also turn it off should you wish to do so.
Instrument Display
The 5" digital color instrument display is clear and easy to read. The screen displays what I need to see – including revs, speed, gear, fuel gauge, time and mileage.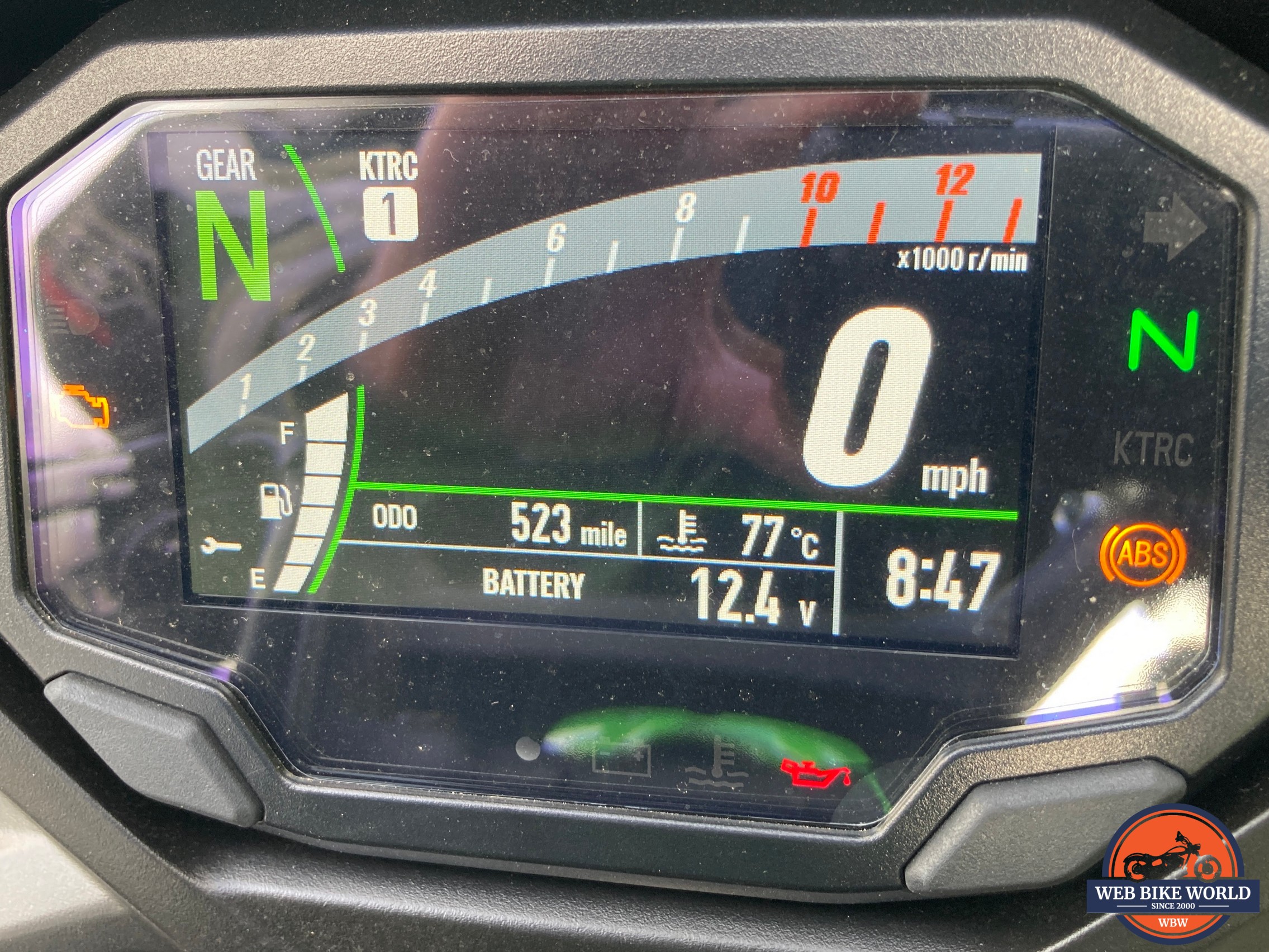 To change the level of KTRC, press the SEL button on the left bar. KTRC and the level you are in then flashes, one or two, and to change the level simply press the up or down arrow button, depending on which level you want. Press SEL again to confirm that level.
To change what information you wish to see at the bottom of the screen, press the arrow keys. Up arrow to see Trip A, Trip B or ODO and the down arrow to see your average miles per gallon (interestingly this was 68.8 mpg which I think is brilliant especially for a commuter bike), fuel range, average speed and battery.
It is so easy to navigate around the screen which, for me, is a huge plus point.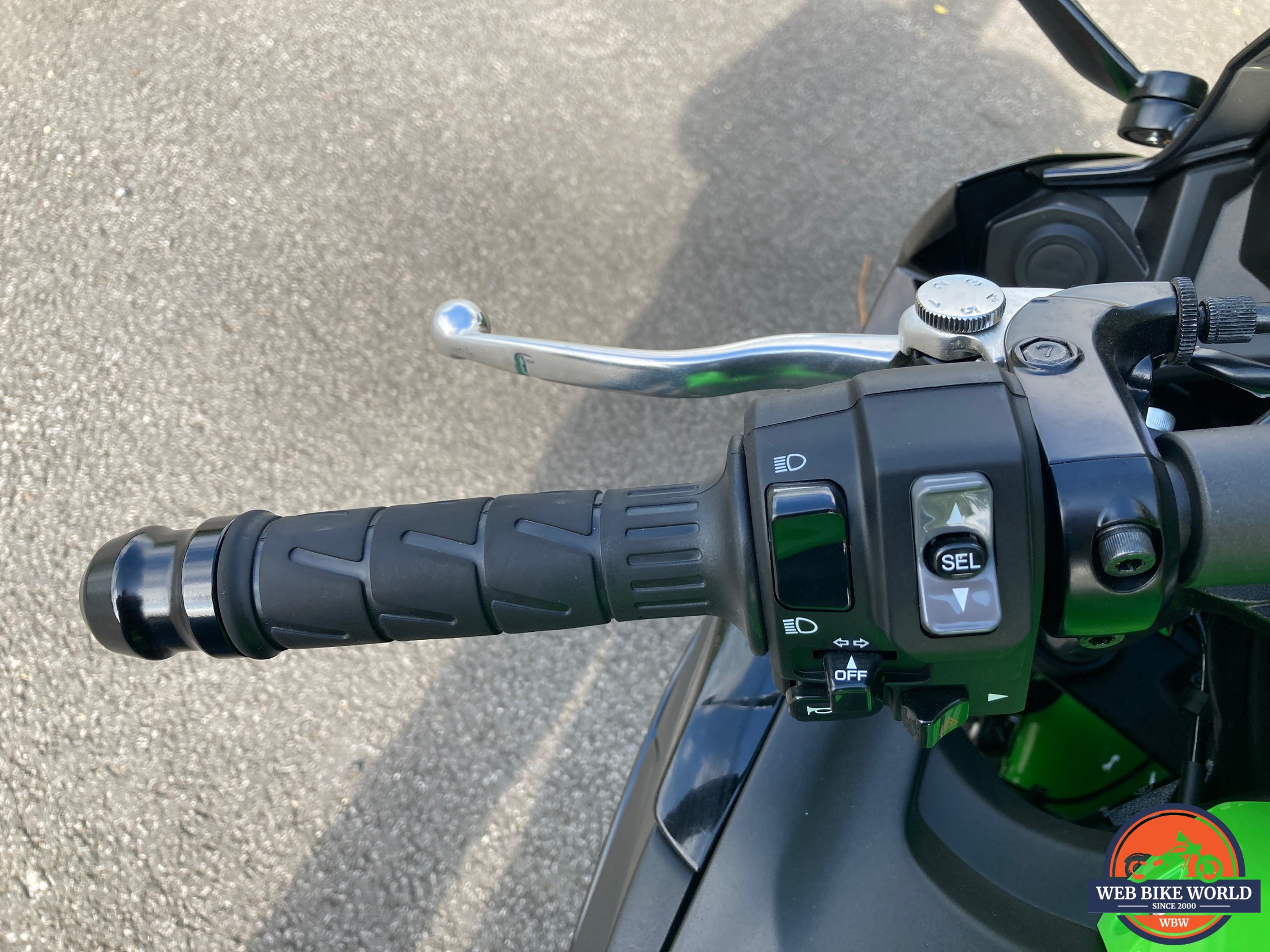 A bluetooth chip is built into the instrument panel to enable you to connect to your bike from your phone using the app, Rideology The App. Simply download the app onto your phone and connect your device with the bike. A number of instrument functions can be accessed via your phone including your vehicle information – mileage, fuel level, service indicator etc. You can change these settings too on the app.
You can also record your ride with 3D animation which is a really cool feature and keep a riding log. A great feature if you wish to do a new route and keep a note of this for future rides. I found this app really easy to use and connect to the bike.
The service became due during the time I had the bike. The word 'service' appears on the screen when you first turn the ignition on but this disappears on start up.
Tires
The tires on the Ninja 650 are Dunlop Sportmax Roadsport 2. I have ridden with these tires before and was pleased with how they handled.
Dunlop Sportmax Roadsport 2 tires.
Michelin Road 6's are my tire of choice on my personal bike which I find to be a great all round, all year tire which work well in all conditions – hot, cold, wet or dry.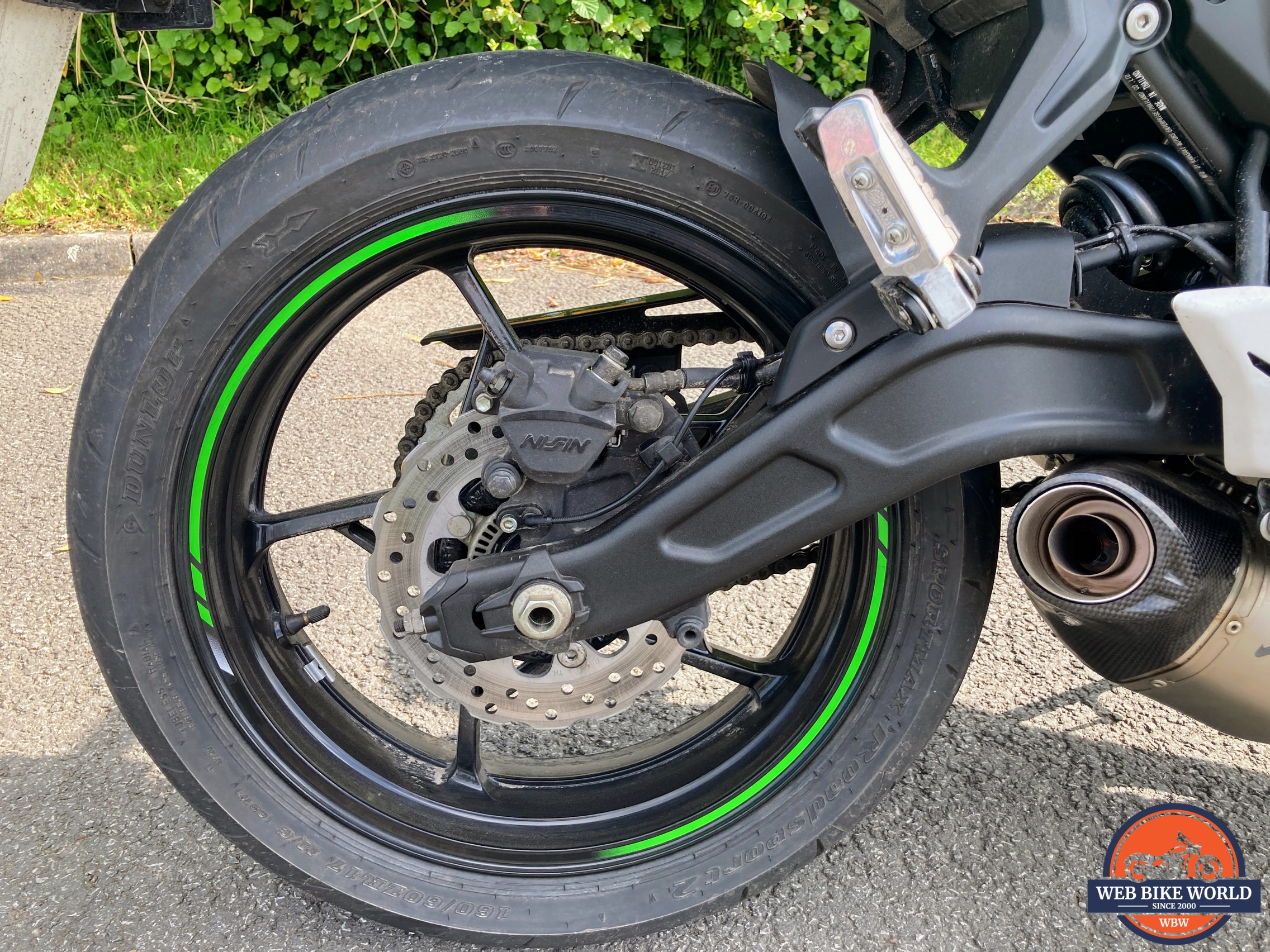 Dunlop describes the Sportmax Roadsport 2 tires as "a new sport tire ideal for riders who seek sport performance and value". The Sportmax are an upgraded sport performance from the GPR-300 tires offering more grip and stability under braking, quick to warm-up and nimble, predictable handling and quick turn in.
I experienced varying weather conditions during the time I had the bike – damp roads, wet roads, very wet roads and beautiful sunny dry roads. I do like these tires, the bike handled very nicely in all the conditions I had. I felt they had plenty of grip, stuck to the roads nicely and most importantly, gave me the confidence that I crave from a tire.
LED Lights
The front headlights on the Ninja 650 look incredibly cool. I can just imagine what they must look like in the rear view mirror in a car!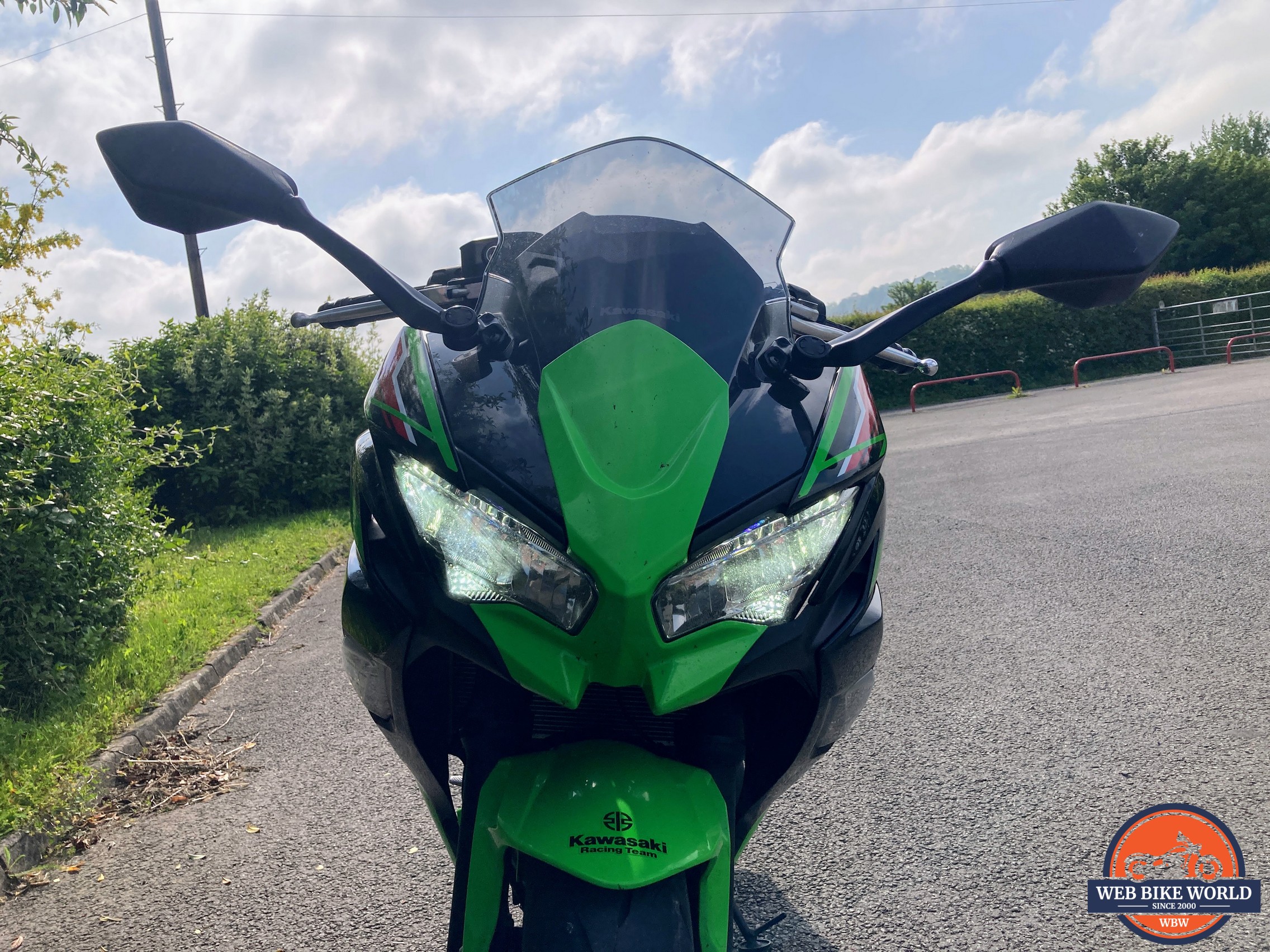 The lights, both front and rear, are LED and light the road up well at night.
The rear light is housed very neatly under the rear seat area and when lit up appears to form an 'X' shape. Again, a very cool feature that suits the styling of the bike.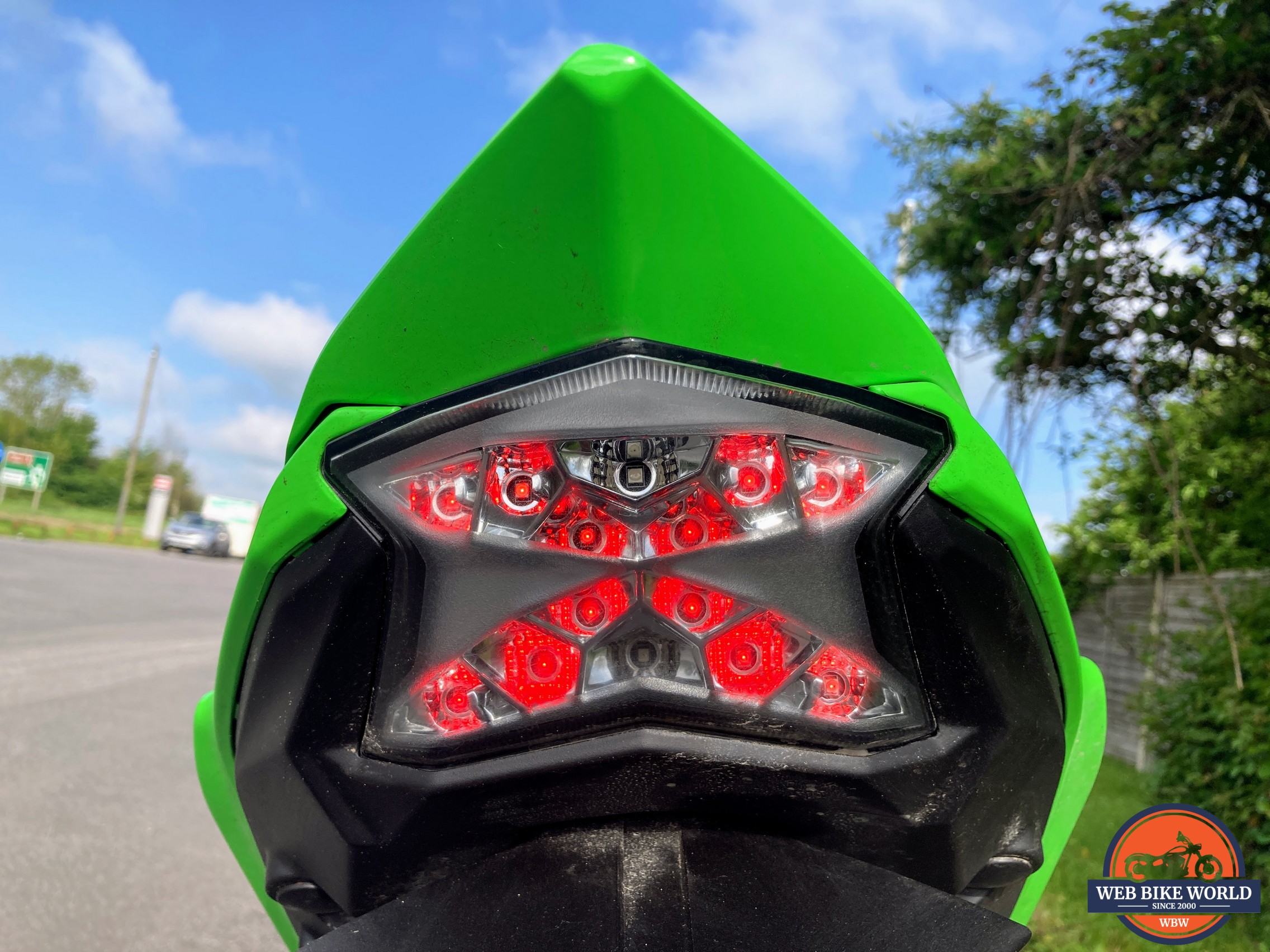 You can tell that a lot of thought has gone into the styling of this bike and I think Kawasaki have got it so right with this bike, the Ninja 650 is definitely the cool kid on the block.
What's The Kawasaki Ninja 650 Performance Like To Ride?
So, what is the Ninja 650 like to ride? I have to admit when I first picked up the bike, I did spend a lot of time walking around just looking at the bike. I love the styling of the Ninja.
Green is not my first choice of bike color, in fact it's not my second or third either but the Kawasaki Racing Team livery really sets this bike off. I didn't think I would ever say this, but I would have the Ninja in the green!
The livery on this bike is absolutely brilliant and I wish more manufacturers would be more adventurous with their color schemes. Most new bikes now are plain in color and I would love to see a greater range of exciting liveries available.
Straightaway I felt at home riding this bike, it feels nice, rides beautifully and sounds good too. The Ninja I had came with an accessory Akrapovic Titanium sports exhaust which combines perfectly with the sound of the twin to give a very distinctive sound.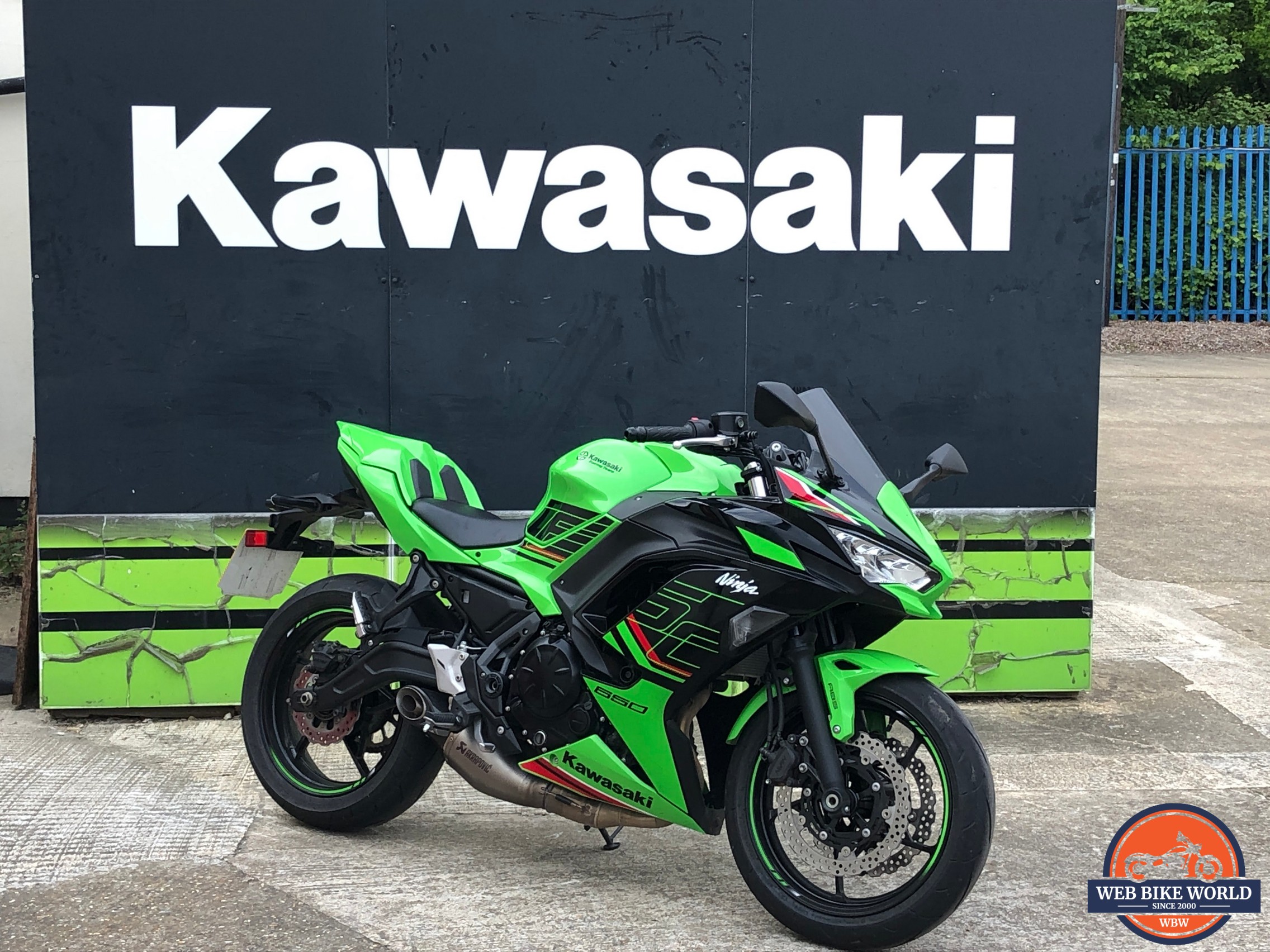 On my first ride, I encountered two really heavy downpours and my next few rides were damp and wet too so obviously I had to take it easier than what I would do in drier conditions. The bike was not at all bothered by the conditions in which we found ourselves, it was me that was more bothered at having to keep drying my gear when I got home!
Finally the sun came out and I was able to have a proper ride on the Ninja. Oh boy, this is such a fun bike to ride. It's light, it's nimble and it is so smooth to ride especially in the corners. In fact, I would say it's probably one of the smoothest bikes I have ridden.
I found a nice stretch of road that had a mixture of sweeping bends and straight stretches and the bike loved it, it was definitely in its element. When I got to the end of the road, I was grinning so much that I turned around and did it again.
I did find the suspension a little on the hard side and could feel the lumps and bumps but that could be down to the state of the roads partly. The rear suspension is not adjustable, just adjustable preload.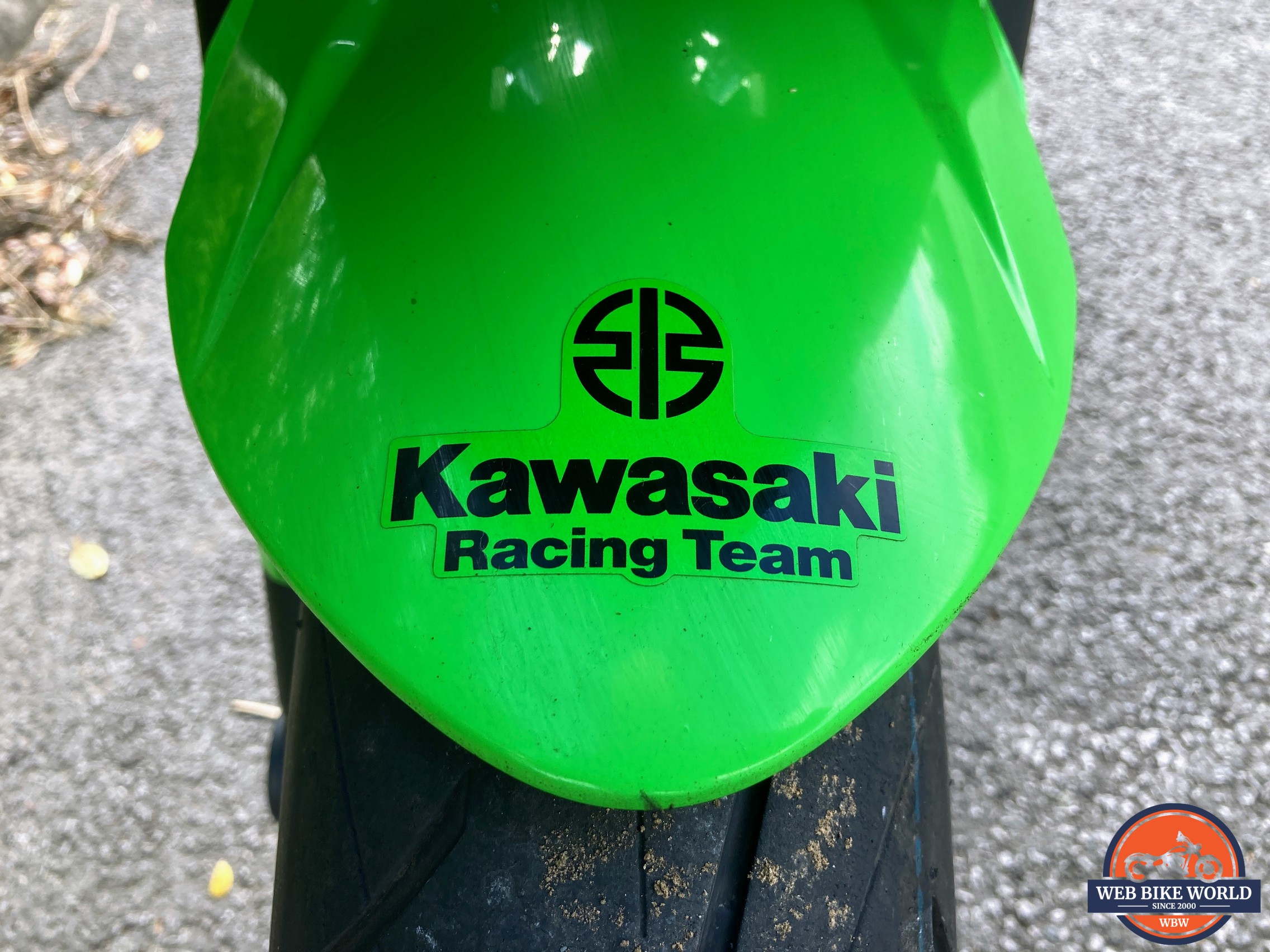 I also found that my wrists ached to start with. I would say the Ninja has a fairly upright riding position so I am not sure why my wrists hurt, I guess it is a combination of my height (I'm 5'6") and my riding position. After a while this did wear off and of course did not affect how the bike rode.
I am not a fan of the mirrors on this bike. They are not the best I have encountered, I found them really fiddly to adjust because you have to lean so far forward to reach them but I could see okay out of them.
I am just not sure if I like the look of them either. Looking at the bike, I can see why they have been put where they are and it does make sense but I am really undecided about them. I don't think bar end mirrors would work either.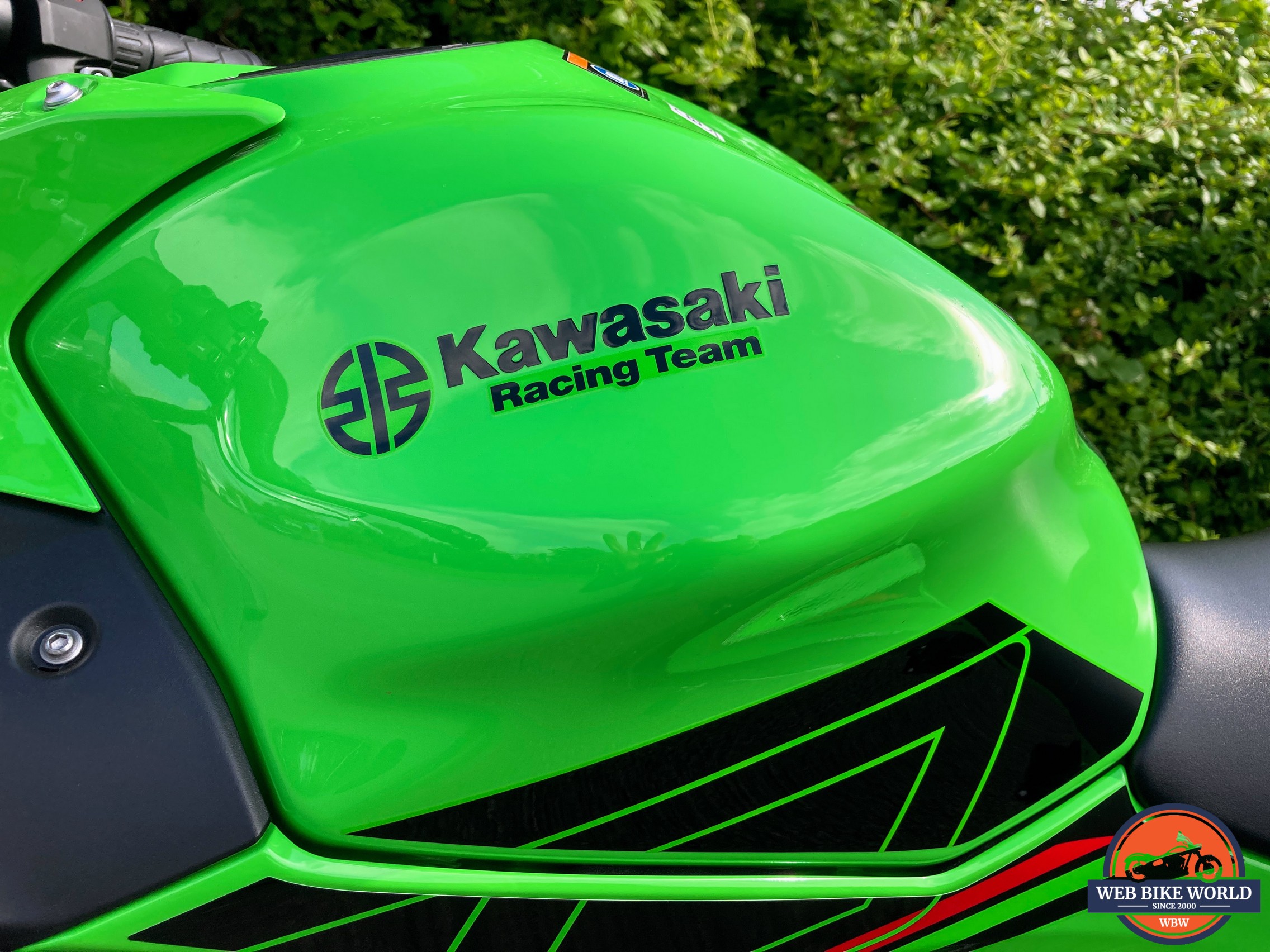 The Ninja when parked up is a real people magnet. I always had people coming up to the bike to look at it. I think maybe it was the livery that was drawing people to the bike but it certainly went down well. I don't think it looks like a 650cc bike and this surprised people when they found out it was.
I really like the fact that the Ninja does not have modes as in, rain, road, sport. There are two levels of traction control that you can choose from (you can also turn this off) but other than that, it is just you and the Ninja riding the bike. You are controlling how the bike is ridden and personally I love that about a bike.
The seat cowl that came on the bike (this comes as standard on the performance edition) to me, really sets off the rear end. I personally don't take pillions so this would be perfect for me. I would also take off the rear pegs just to neaten it up.
I would also have to put a tail tidy on. It is a legal requirement on all new bikes that the number plate is the rear most part of the bike, but a tail tidy would have to be one of my first purchases for the bike.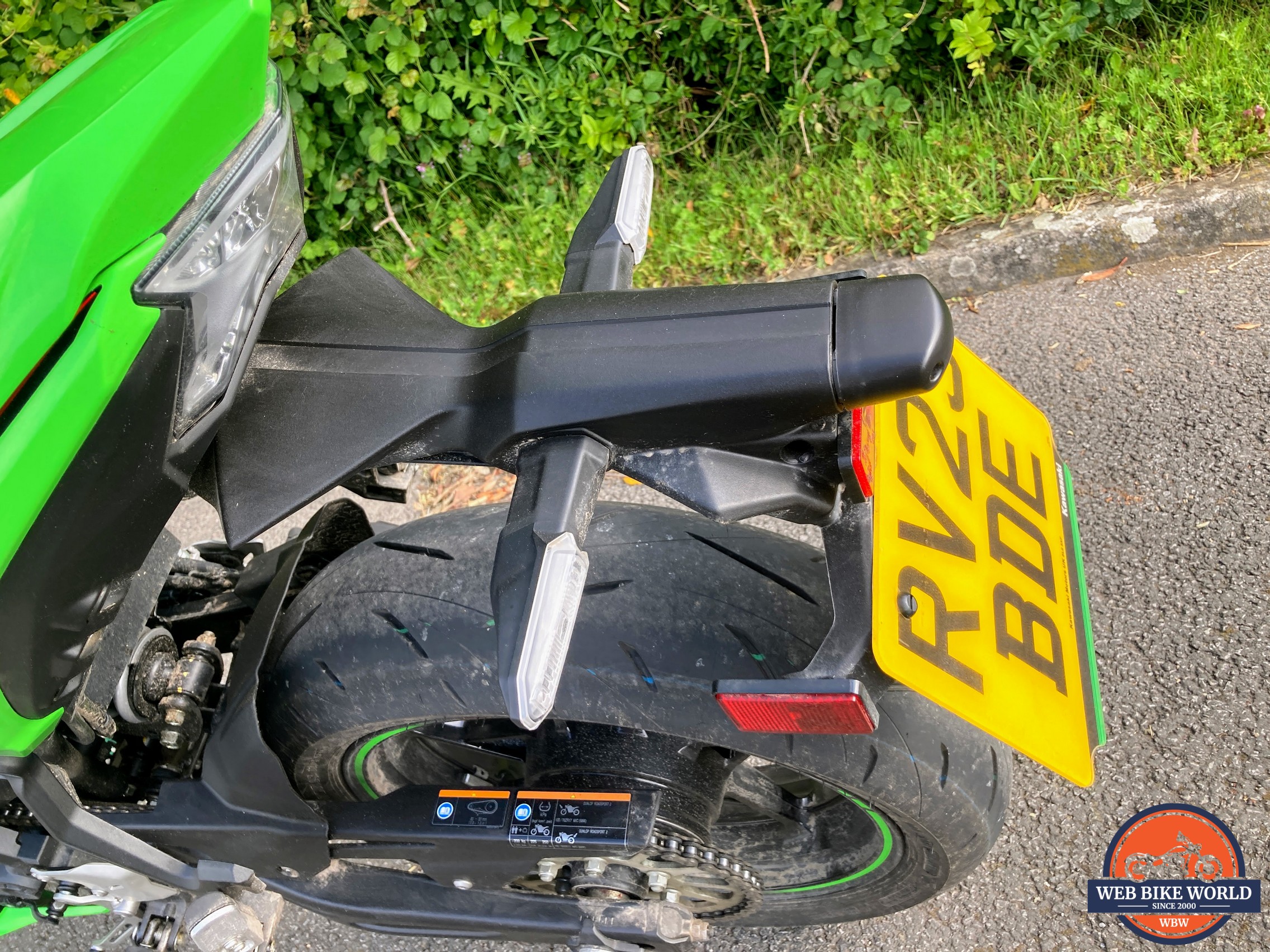 The Ninja weighs 193 kg (although to me, it feels a lot lighter) with a seat height of 795 mm, and I found moving the bike around incredibly easy. My feet were firmly on the ground which gave me plenty of leverage.
The bike has a lot of mid range torque and was quite happy riding through built up areas at low speeds but was far happier on an open road soaking up the bends.
I felt that the Ninja had a lot of engine braking so just easing off the throttle scrubbed off a lot of speed. Having said that, the brakes felt very responsive.
My couple of weeks with the Ninja went by way too quickly. I love the fact that this is such an easy bike to ride, you don't have to set the bike up, fiddle about with modes, you just get on the bike and ride it.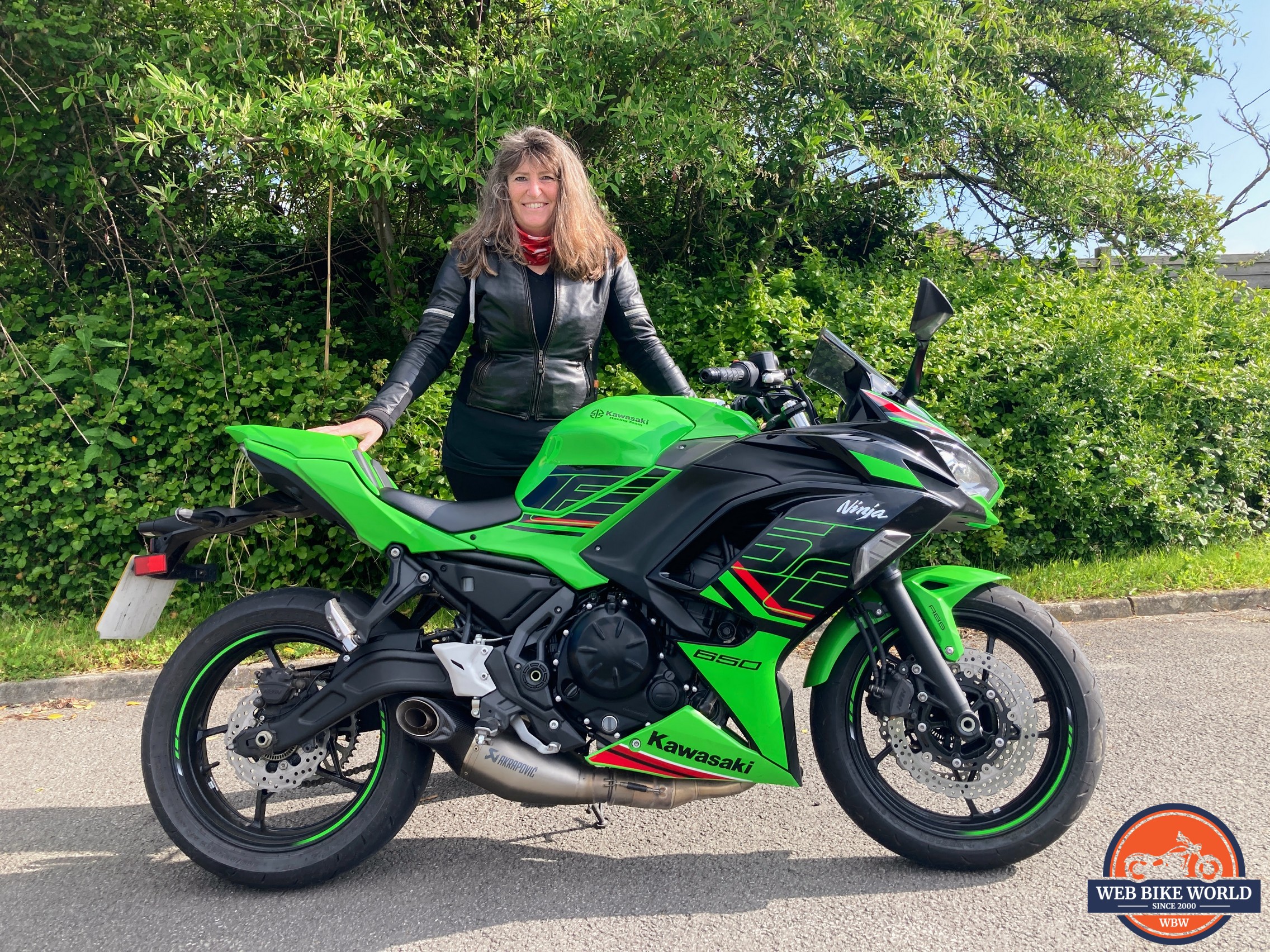 You know with Kawasaki that you are getting a quality bit of kit and this shines through in the Ninja, it does what it is designed to do really well but in a fun way. At $9,510 USD / $12,811 CAD / £7,649 you are getting an awful lot of bike for your money.
Thank you to Kawasaki UK for the loan of the Ninja, I had an absolute blast 😎
2023 Kawasaki Ninja 650 Video Review
You know with Kawasaki that you are getting a quality bit of kit and this shines through in the Ninja, it does what it is designed to do really well but in a fun way. At $9,510 USD / $12,811 CAD / £7,649 you are getting an awful lot of bike for your money.
Thank you to Kawasaki UK for the loan of the Ninja, I had an absolute blast 😎
Pros:
Very light bike to move about and easy to ride
No modes – just how I like my bikes, me and the bike
5" TFT color screen with Kawasaki Rideology
Great range of accessory available to personalize the bike to you how you like it
A2 license compliant
A quality bike at a really affordable price, you get a lot of bike for your money
Cons:
Not sure about the mirrors, I would have to do something with them
Needs a tail tidy
No heated grips as standard
2023 Kawasaki Ninja 650 Image Gallery