Our team at MotorScooterGuide have been connecting with various ebike brands over the past year. If you've seen our brand lineups such as Himiway and GoTrax, you'll no doubt know that they're among the myriad of brands that have popped up as part of the electric bike industry.
One of these brands is TurboAnt, who emailed us several months back to collaborate on a long-term review of their Nebula N1 fat tire electric bike.
Their current collection features the multi-terrain Thunder T1/Nebula N1, the foldable Swift S1, and the commuter-style Ranger R1 City Bike.
This is the first of several articles planned as we bring you a long-term review of the Nebula N1 Electric Bike. We're starting off with the unboxing, assembly, and our initial thoughts after our first ride.
We'd like to thank TurboAnt for providing us with this Nebula N1 at no cost for the purposes of this (and future) reviews. Brands sending us gear/product for review must agree to our extensive review policies. Thank you for supporting us.
2021 TurboAnt Nebula N1 Specifications
The Nebula N1 is a multi-terrain bike with plenty of power at a reasonable price point. There are two versions of the bike: the Thunder T1 (externally mounted battery) and the Nebula N1 (internal removable battery).
Motor: 750W Bafang rear-hub motor
Torque: 80 Nm
Battery: 48V 14 Ah Samsung battery (removable)
Range: 56 km – 97 km (35 – 60 mi)
Pedal-Assist Sensor: Cadence, 5 PAS levels
Top Speed: 45 kph (28 mph)
Derailleur: Shimano 7-speed
Brakes: Tektro Aries 180mm disc
Tires: 26″ x 4″ Kenda fat tire
Weight (w/ battery): ~33 kg (~75 lbs)
TurboAnt Nebula N1 Unboxing & First Impression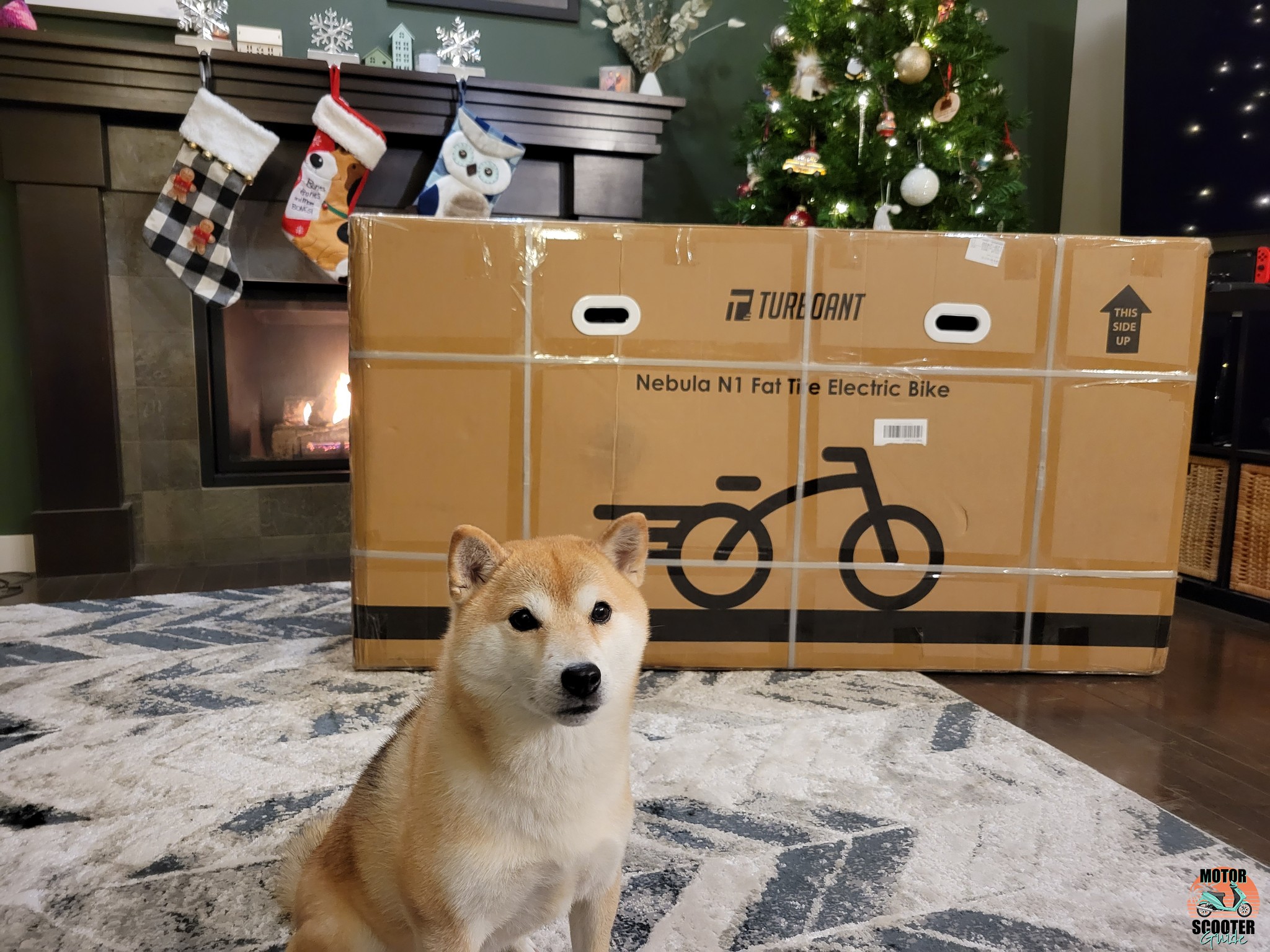 The Nebula N1 arrived early December as we went into the Christmas holidays. As you can see, it's a fairly big box and weighed in at roughly 80lbs. The packaging comes with handle inserts for easy carrying.
The bike itself was well packed with styrofoam and zipties with no out-of-place pieces when we opened up the packaging.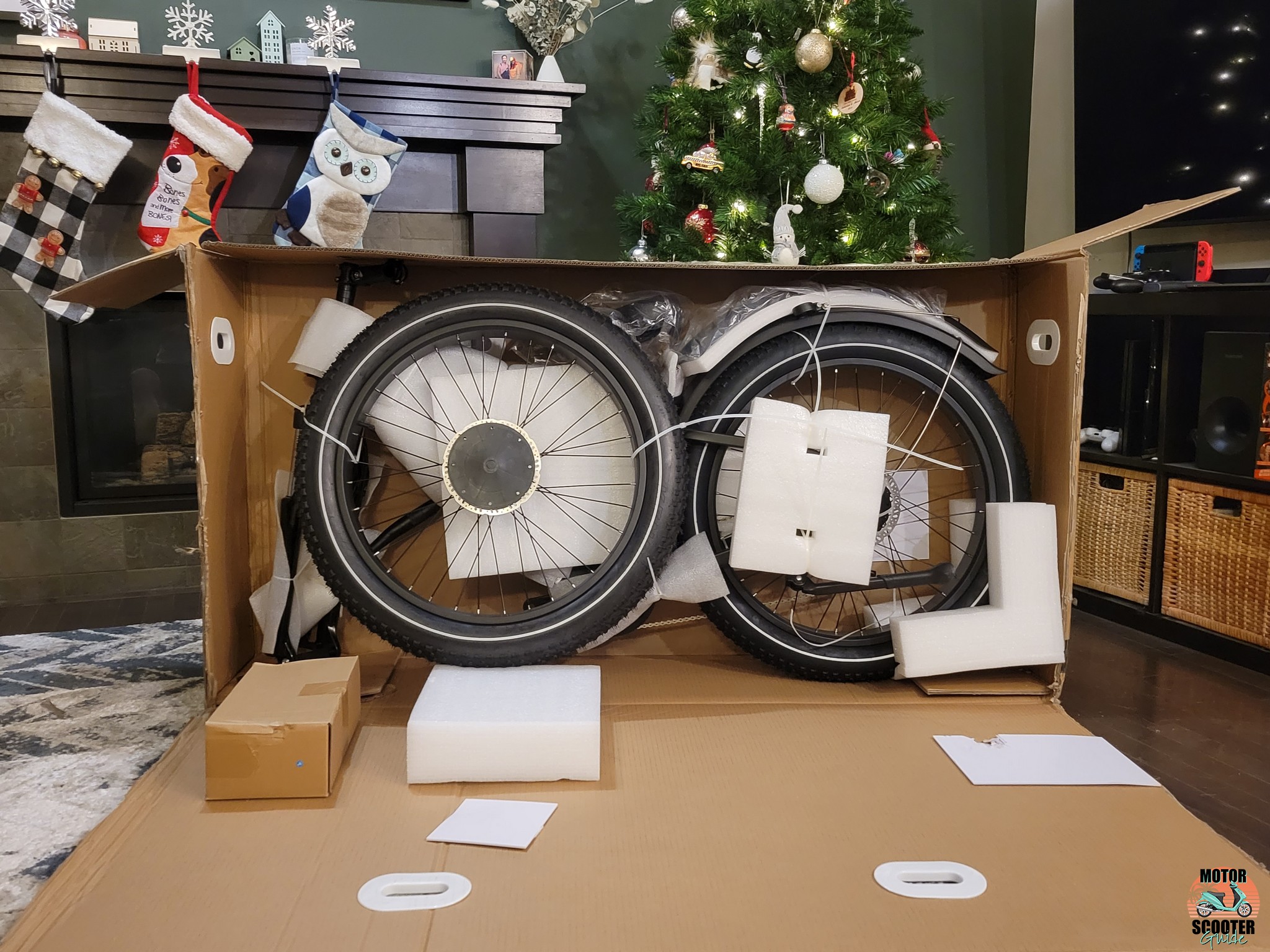 We laid out all the box contents as we prepared for the assembly of the bike.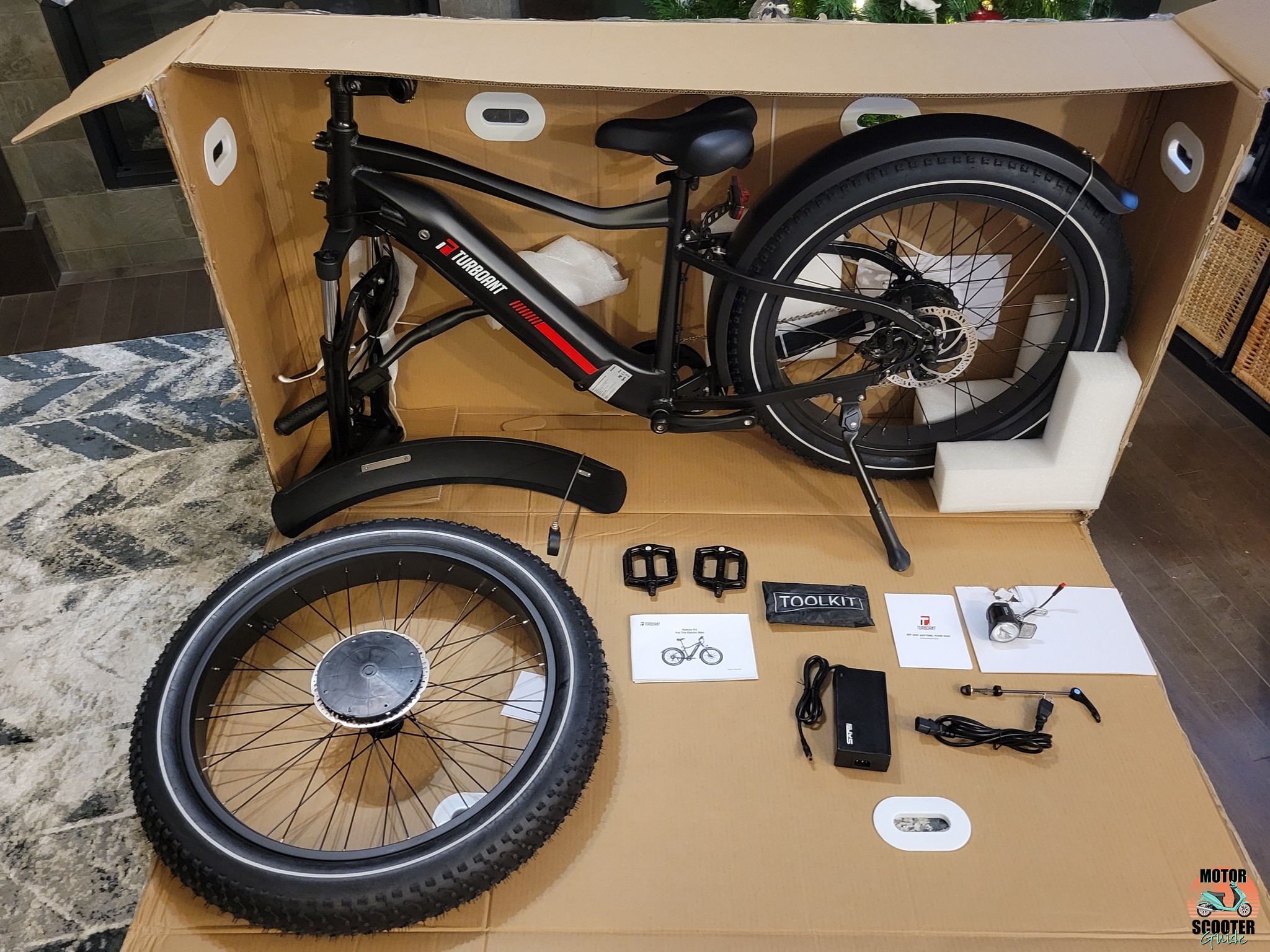 TurboAnt has made the assembly phase as easy as possible. The bike comes 90% preassembled as you put on the finishing touches:
Attach the handlebars to the frame and adjust ergonomics
Attach the front wheel and lock with quick release lever.
Attach the front fender and headlight
Connect the headlight wiring
Attach the two Wellgo pedals
Ensure tires are properly inflated
The process took less than 20 minutes and we had a gorgeous assembled ebike ready for photos. The internal (removable) battery ties together nicely with the overall aesthetic.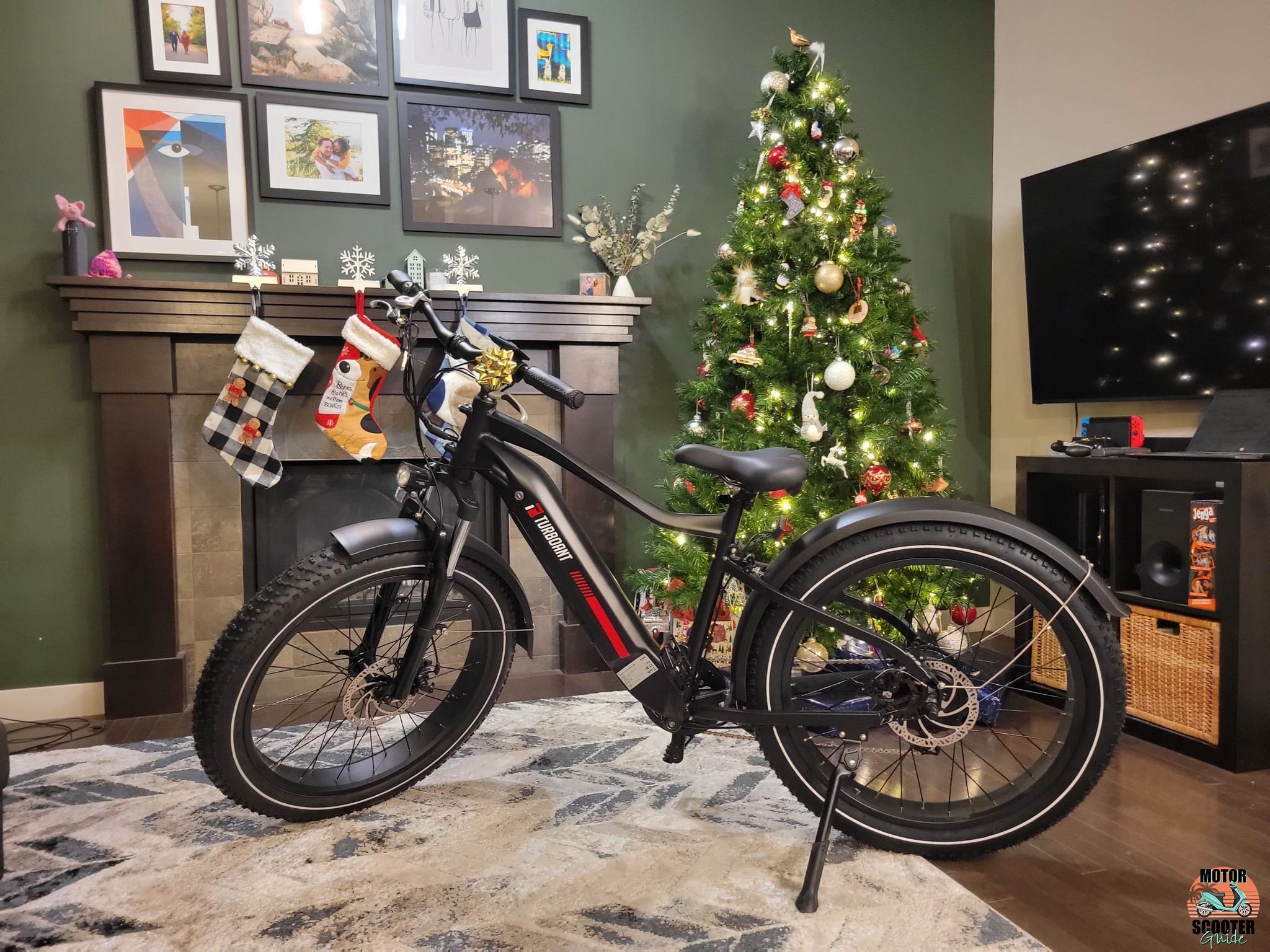 TurboAnt Nebula N1 Assembly Video
The bike comes 90% assembled already, but if you're looking for additional guidance on how to assemble the Nebula N1, check out TurboAnt's video here:
There's several simple steps to assembling the bike but I mounted the handlebar upside down like a total newbie. Whoops.
You'll save some guesswork so be sure to check out the video ahead of time.
TurboAnt Nebula N1 Components
48V 14 Ah Battery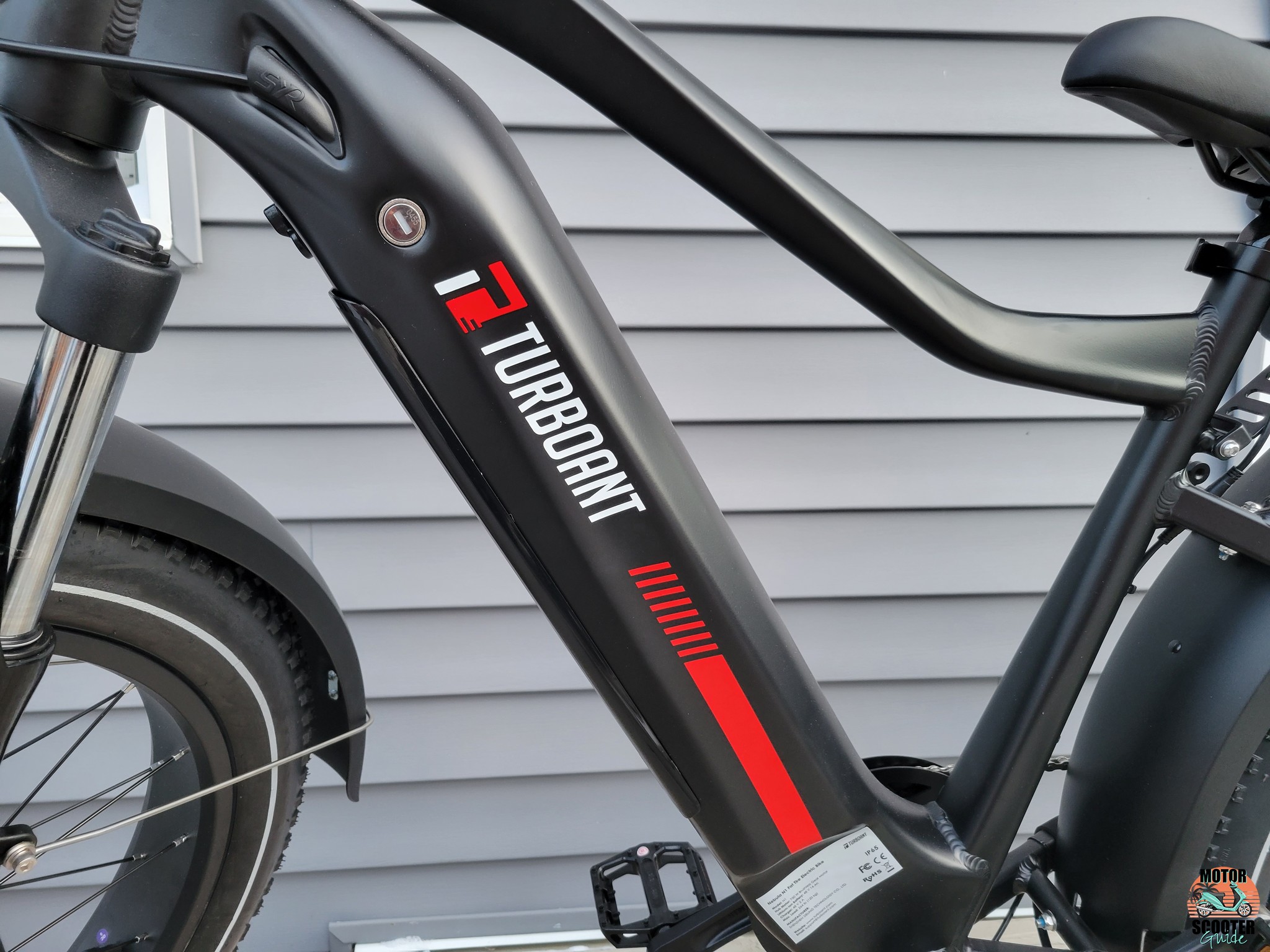 The Nebula N1 is powered by a 48v 14Ah lithium-ion battery that uses Samsung cells. It's a common battery much like the one that comes on the Himiway Step Thru or the Surface 604 Shred. The only difference between the Nebula N1's battery is that it is a 14Ah instead of a 17.5Ah.
In terms of range, its reported range is 56 to 97km (35 – 60 mi), reasonable for a fat-tired ebike and its added weight, but the lower amp hour has me thinking whether it will deliver those numbers due to lower overall capacity.
A total charge will take up to 7 hours.
Bafang 750W Motor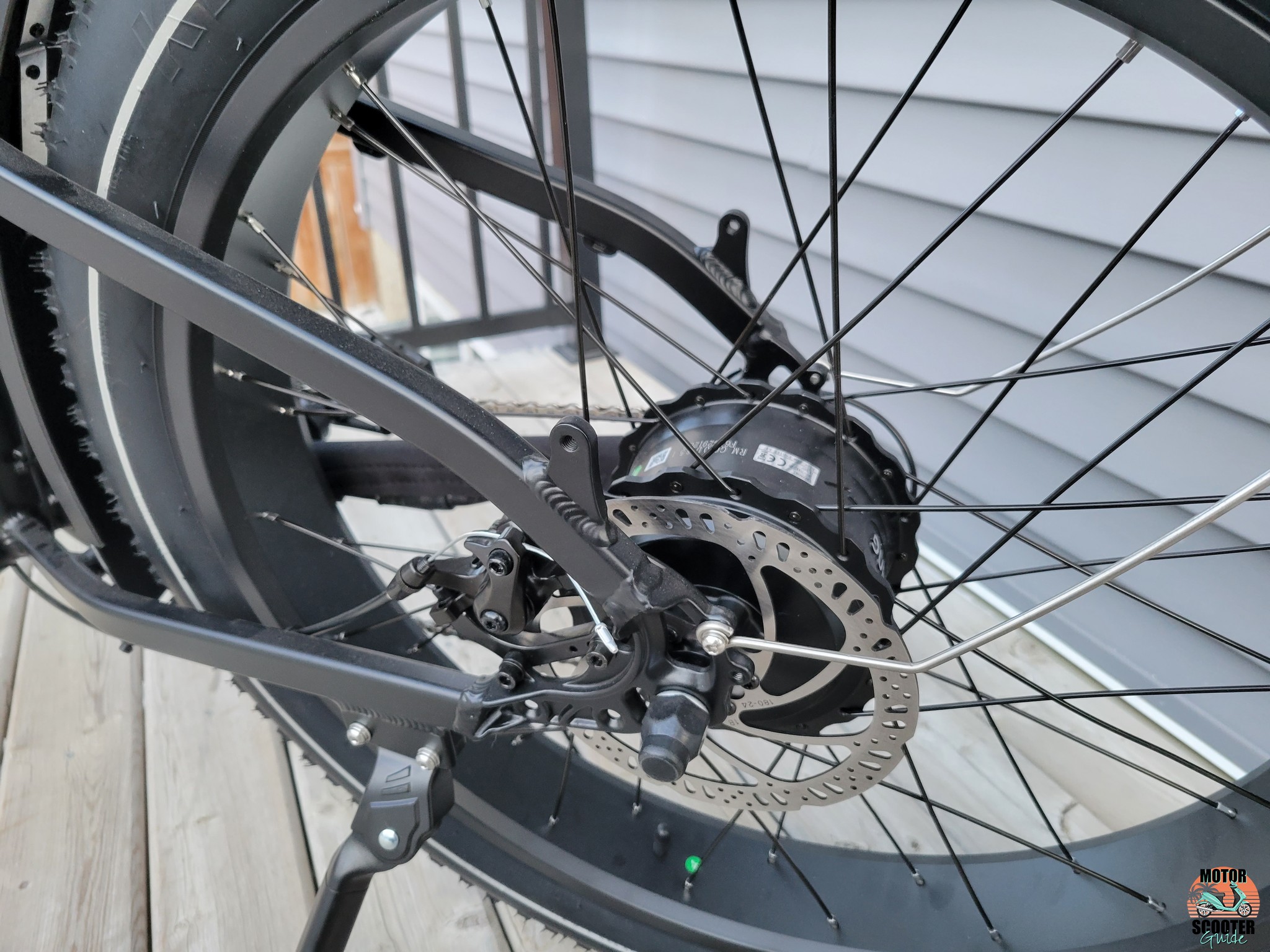 The Nebula N1 sports a 750w Bafang rear hub motor which puts out a healthy 80 Nm of torque. With an MSRP of $1849 USD, many of the bikes in this price range come with 750w hubs.
26" x 4" Kenda Puncture Resistant Fat Tires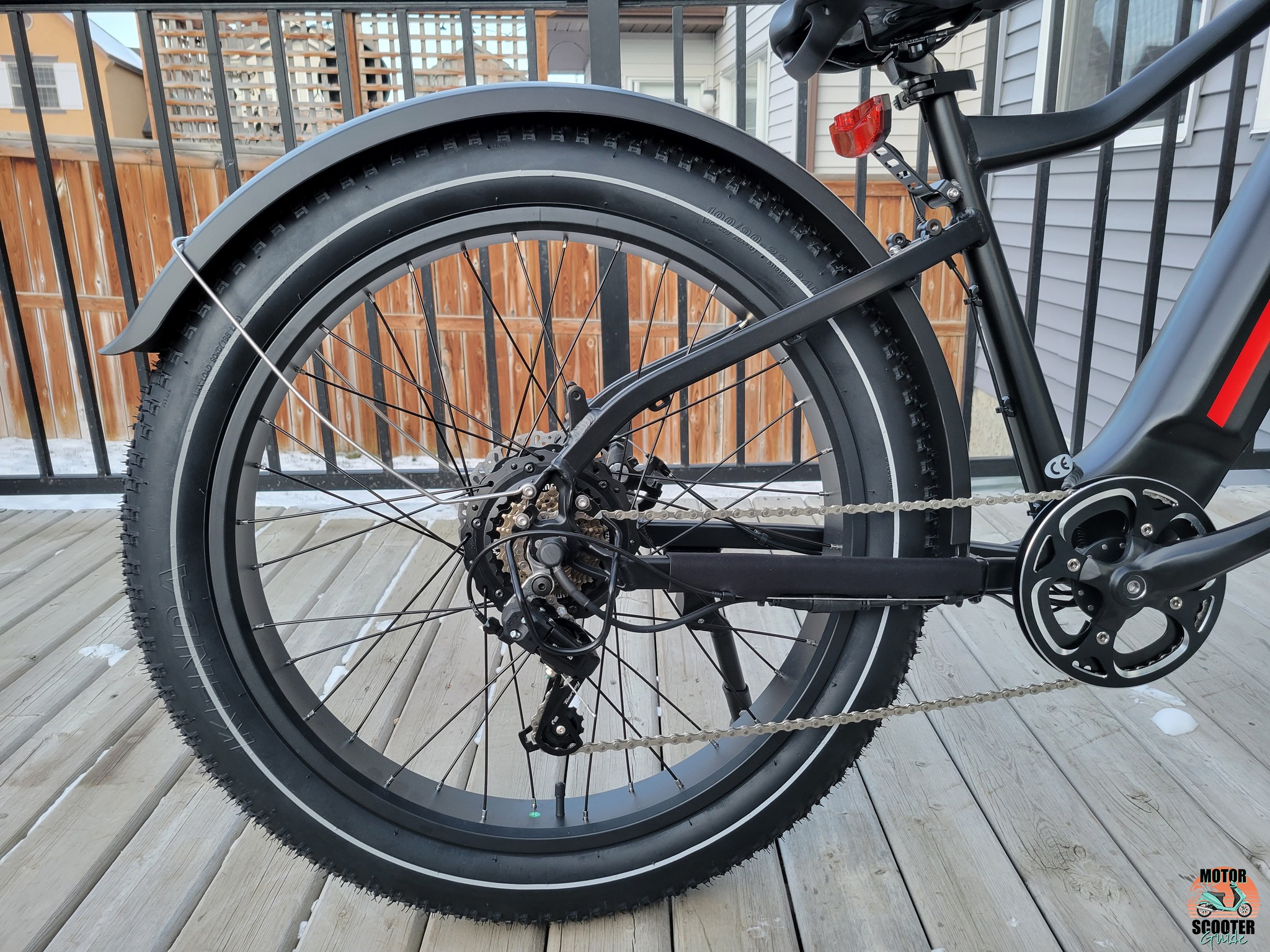 Marketed as a multi-terrain bike, it's no surprise that it comes with 26" Kenda fat tires. Out of the box, they had roughly 10 psi in the tires. The instruction manual indicates that proper pressure is between 20 to 30 psi.
As a pneumatic tire, you'll experience natural air leakage so it's prudent to check your tire pressure occasionally. Do not overinflate or underinflate the tire as this can result in damage.
We intend to test the Nebula N1's capabilities on snowy roads as our Canadian winters are long and cold, which will also give us the opportunity to test out how chilly weather conditions impact the battery's range.
LCD Display, Settings Menu, & PAS/Light Switch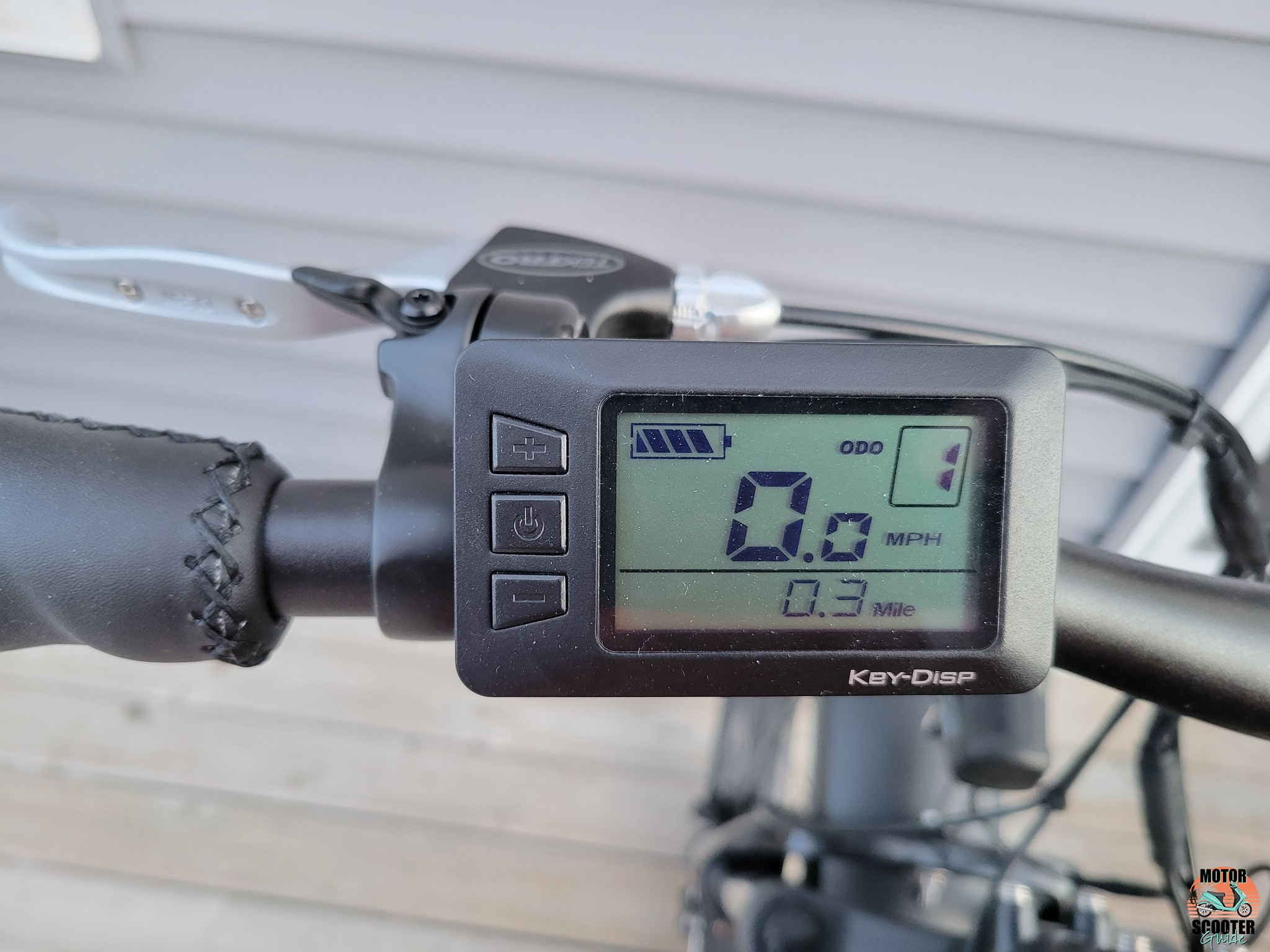 The LCD display is integrated with the PAS controller on the left side of the handlebar. The screen is basic but delivers easy-to-read numbering and the brightness is sufficient in overcast daylight.
From an ergonomic standpoint, I prefer when displays are center-mounted and even better if the display screen is oversized, like the Varla Pegasus electric scooter I recently unboxed.
As with all displays, you'll be able to access your odometer, speedometer, trip A/B, and adjust your PAS settings while riding using the + and – buttons.
Front & Rear LED Lights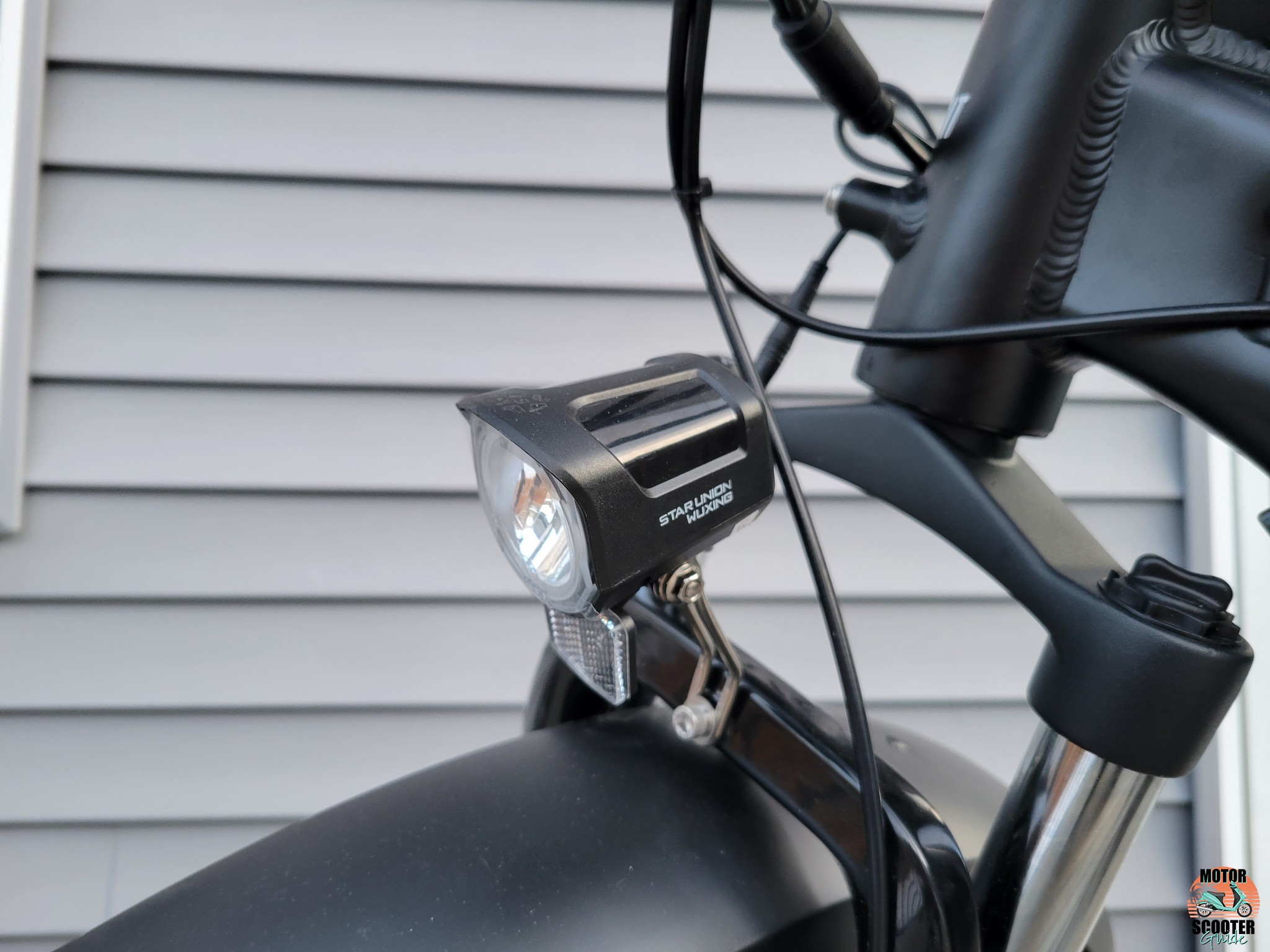 The headlight is mounted via screw onto the fender and is made from a lightweight plastic material. Over the various ebikes and escooters that we've reviewed here at MotorScooterGuide, the headlight is the one aspect that frequently seems to take the brunt of cost-cutting measures.
I haven't seen any LED headlights that deliver meaningful lumination for nighttime riding, so I always think of them as visual aids for motorists and other bikes to be alerted of your presence.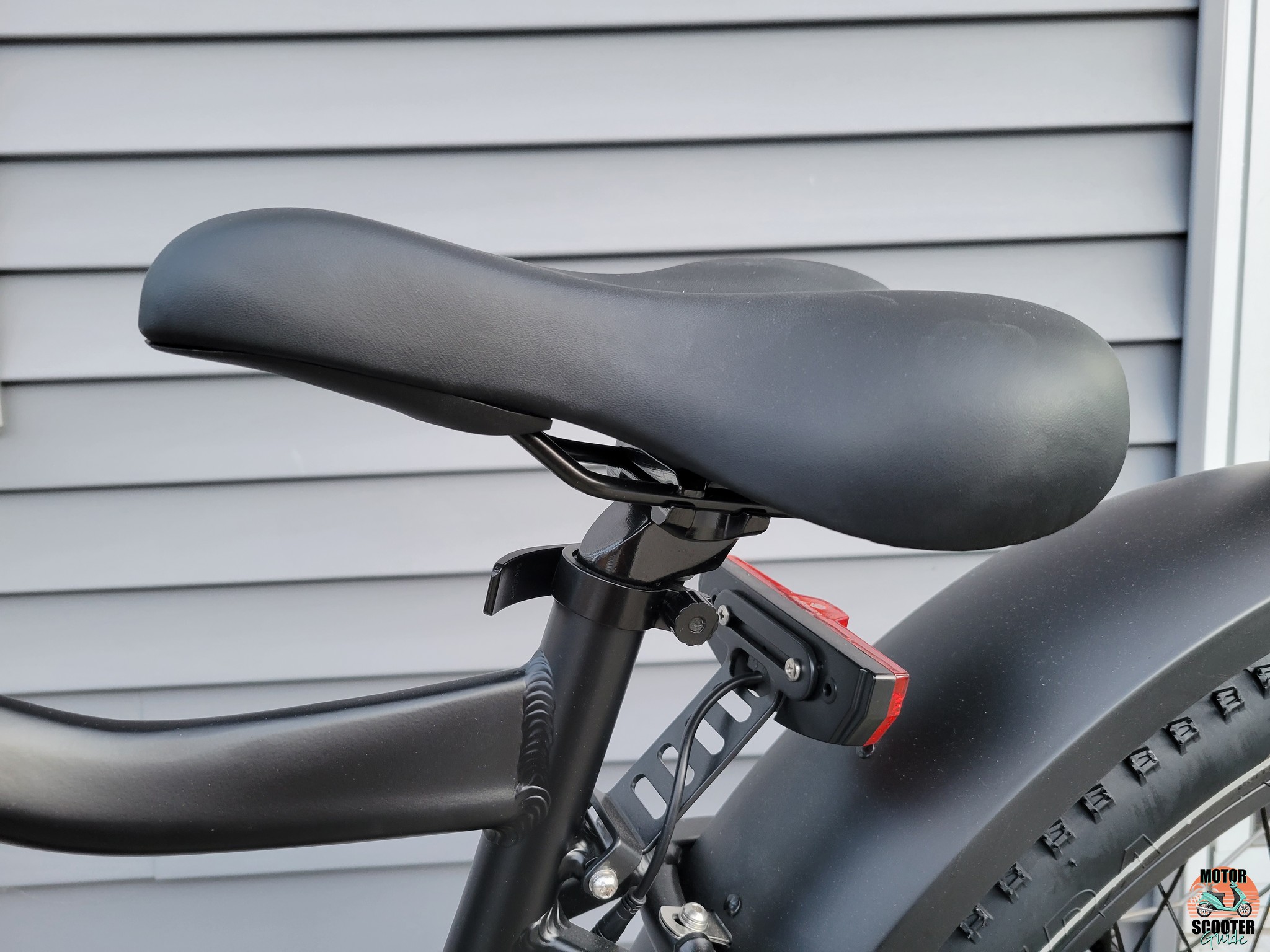 However, design-wise, I think that TurboAnt has missed the mark on the taillights, namely because they're partially blocked by the rear fender since the light is situated right underneath the saddle seat. An extended bracket to bring the taillight above the fender would alleviate this issue.
Comparatively, the Himiway Step Thru mounts its taillight on the rear rack, which the Nebula N1 does not have.
The brightness of both lights is acceptable and does the job.
Shimano Tourney Shifter + Shimano Altus Derailleur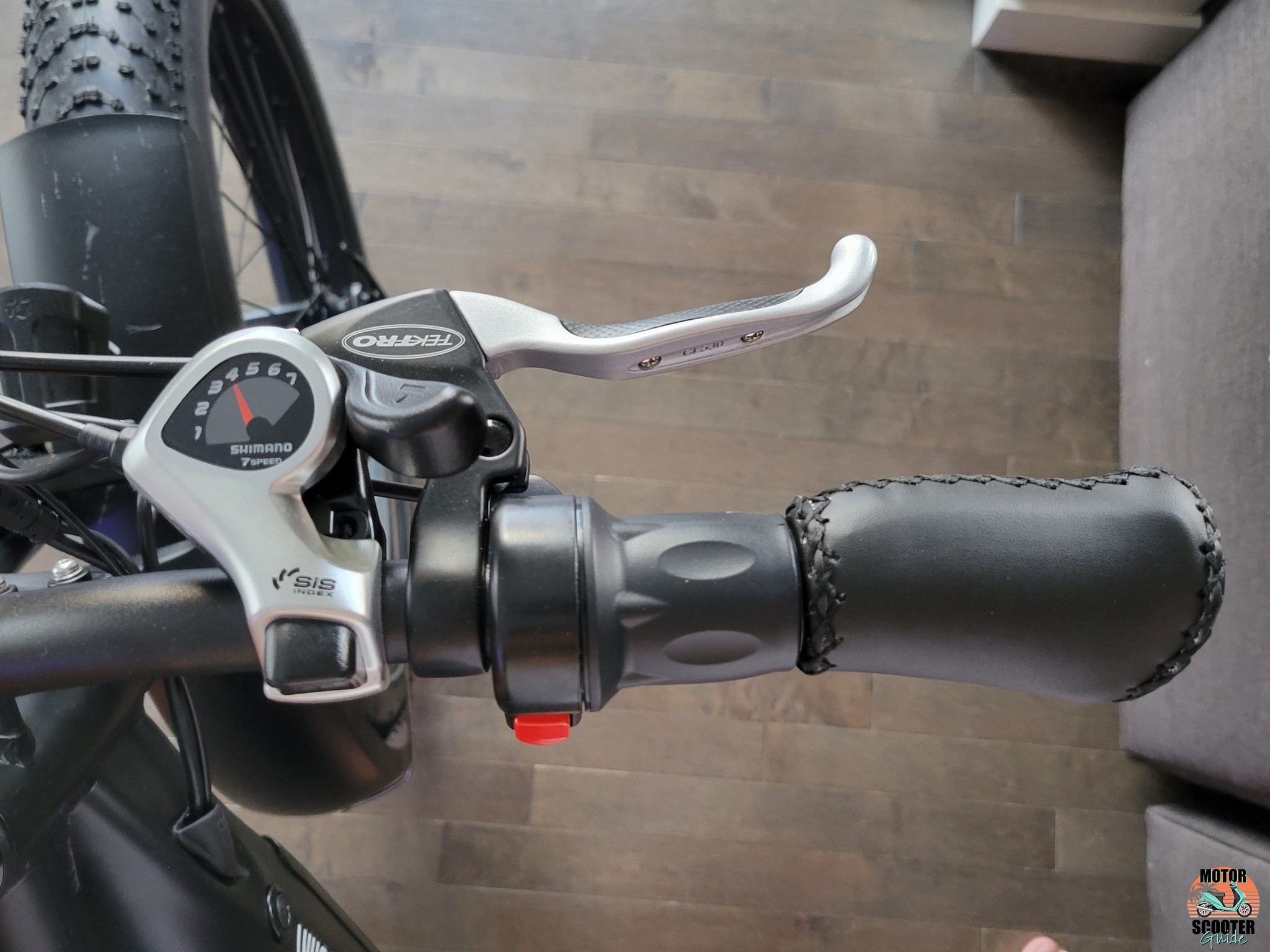 The Shimano Tourney shifting system is seen on some of our previously reviewed ebikes such as the Pedego Interceptor and Himiway All-Terrain Cruiser. It is paired with a 7-speed derailleur in the rear, which is a common combination on entry to mid-level eBikes.
The red button that you see is a throttle lock that, when pressed, prevents accidental acceleration.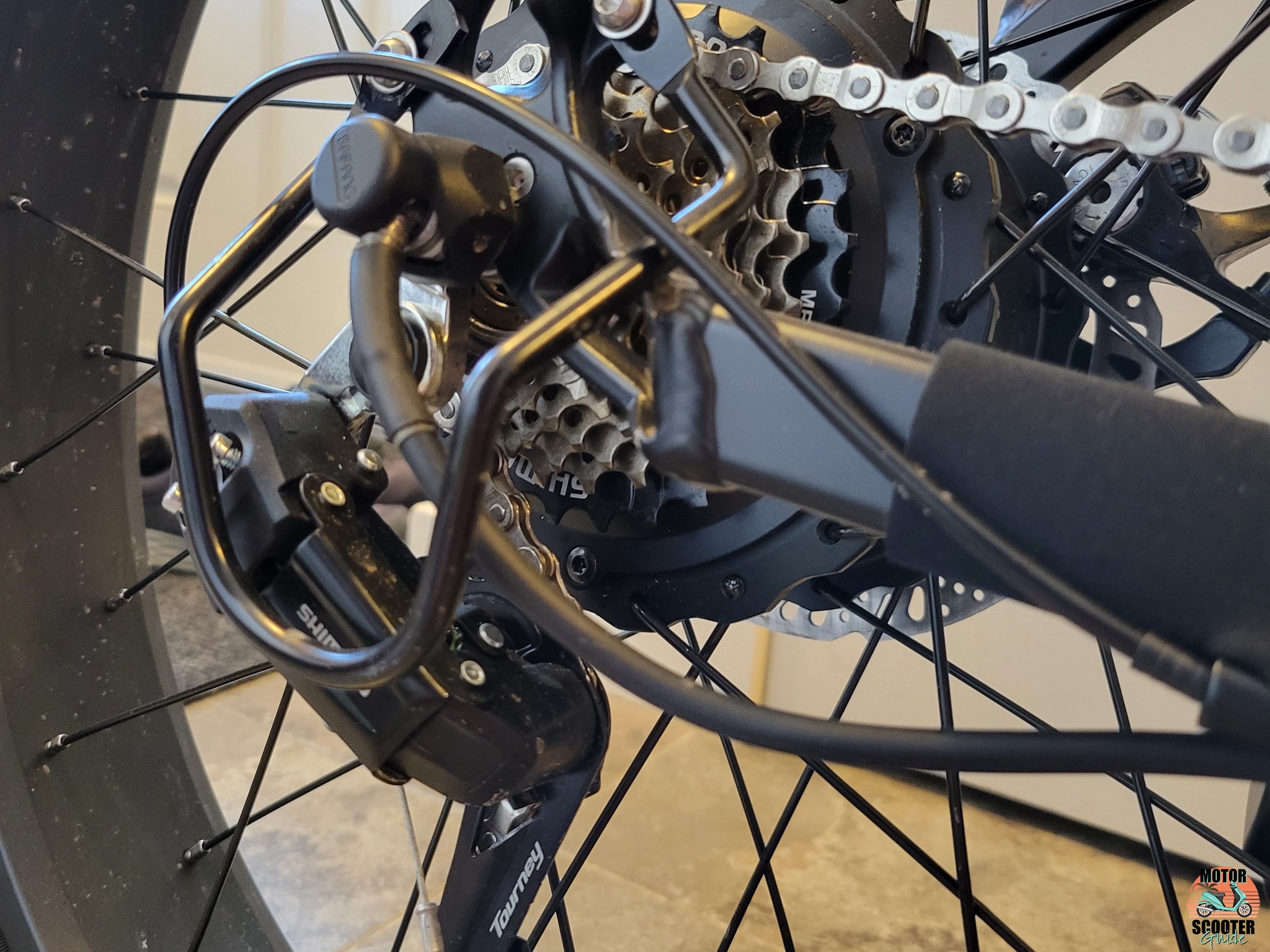 RST Hydraulic Front Fork Suspension
The Nebula N1 has front fork suspension that offers preload adjustment and lockouts, which I expected to see on a multi-terrain bike.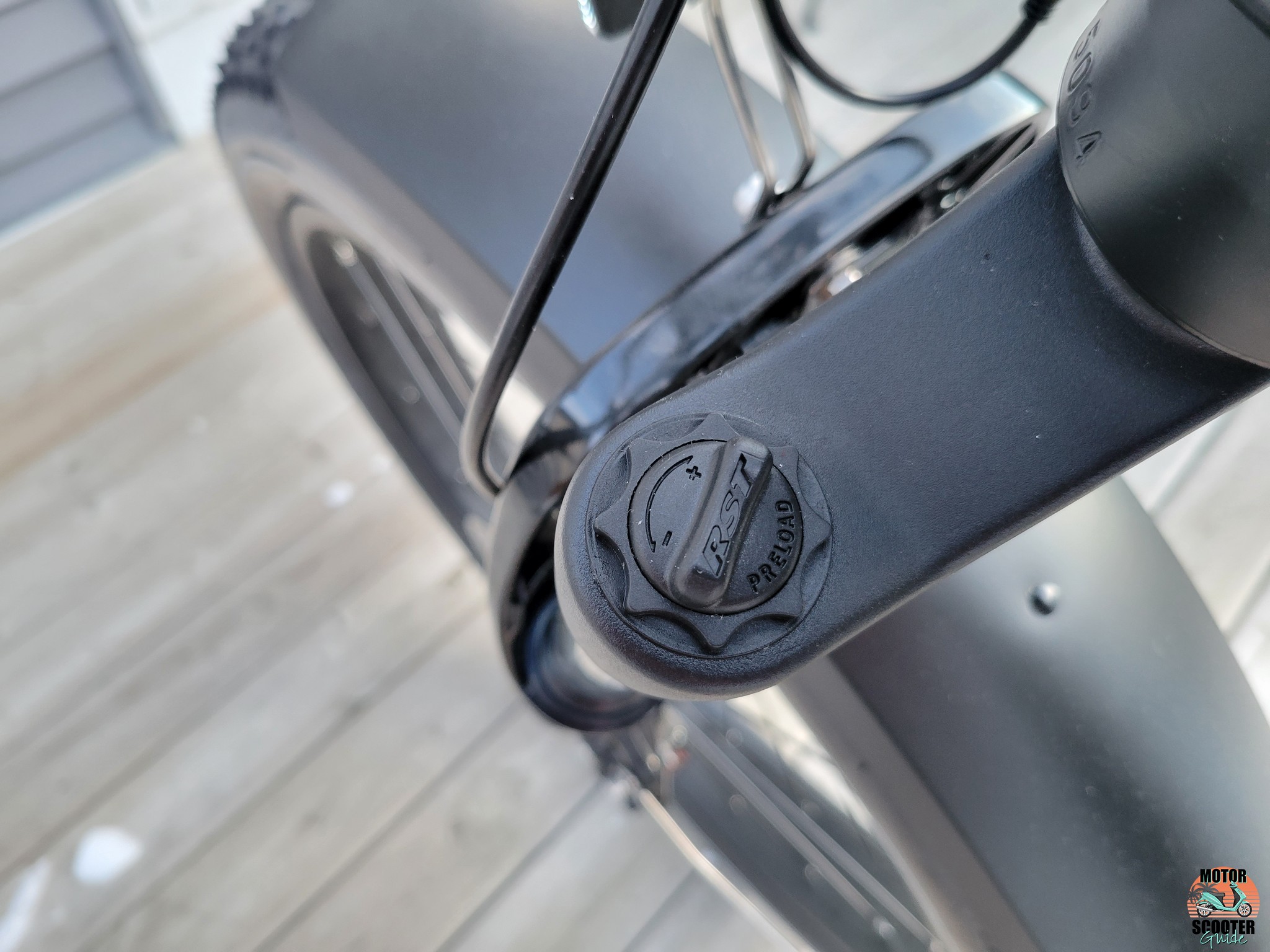 The 3.1" preload allows riders to customize the level of stiffness/softness of their fork while the lockout knob allows you to lockout the fork to be completely rigid.
These options give the rider a level of customization to choose the "ride feel" that they like most, providing more predictability if you're riding the Nebula N1 in different terrain conditions.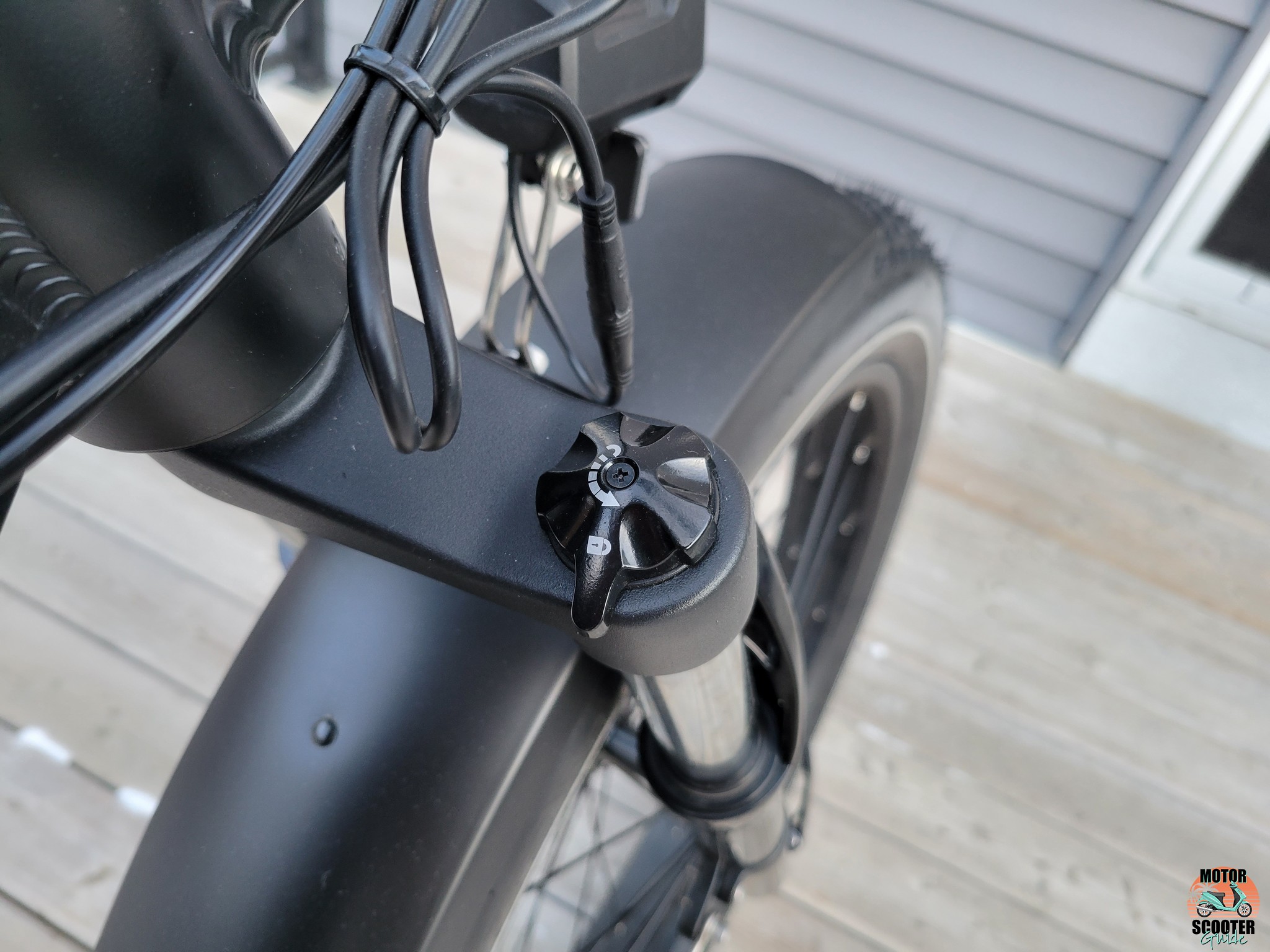 A Fully-Assembled TurboAnt N1 Nebula!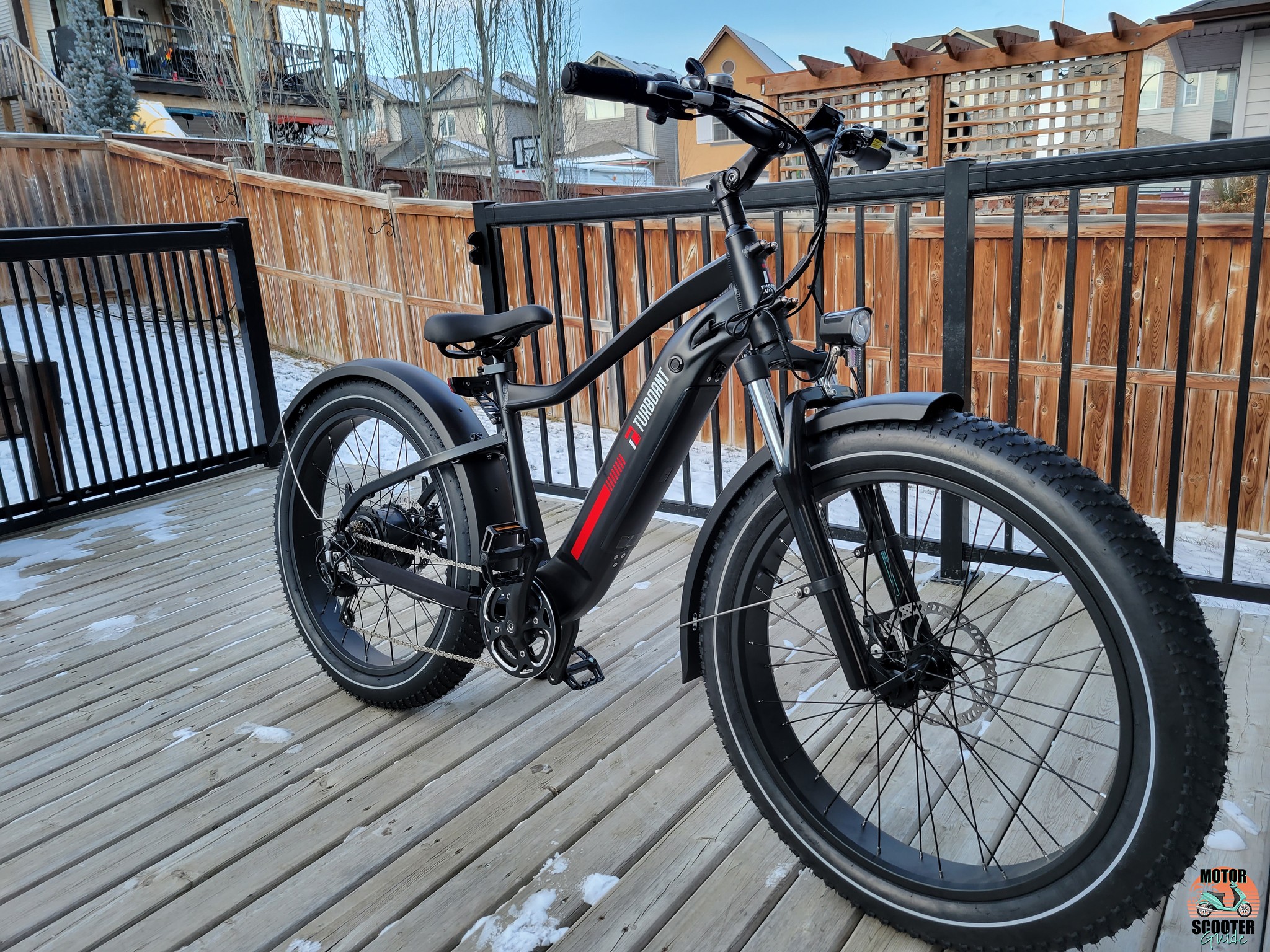 The matte black aesthetic lends itself well to the Nebula N1's design. The fat tires clearly show that it's meant for more than flat roads and with the assembly complete, it's time to take it out for a ride.
The Nebula N1 Takes Flight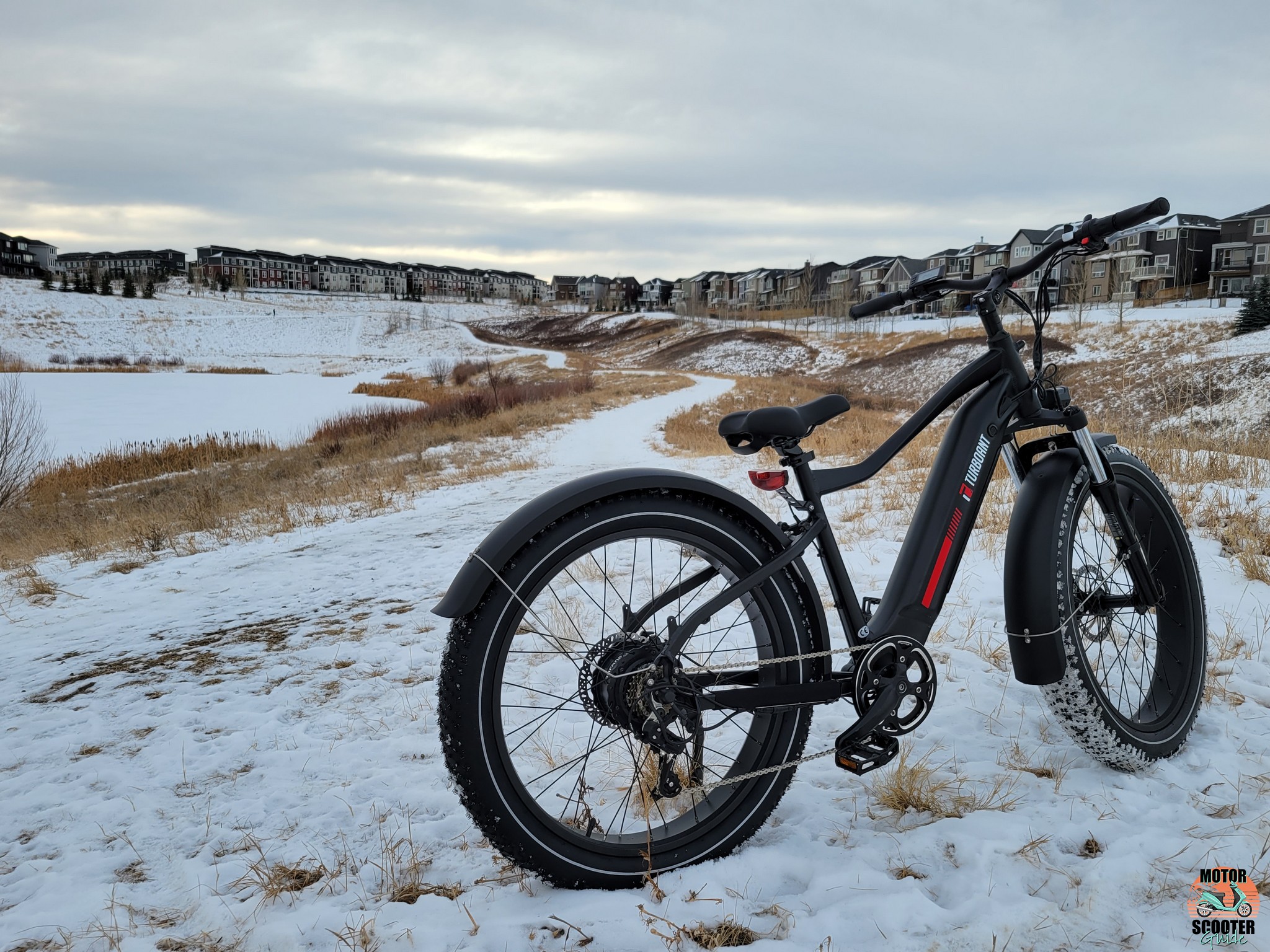 On the day of my test ride, it was -25C (-13F for our American friends). Just a tad chilly.
I opted to take it to a nearby suburban walking path and test it on both snow-covered sidewalks and grass routes. I covered just under 3mi / 4.8km before the frigid temperatures got to me. The windchill gets colder the faster I rode the bike.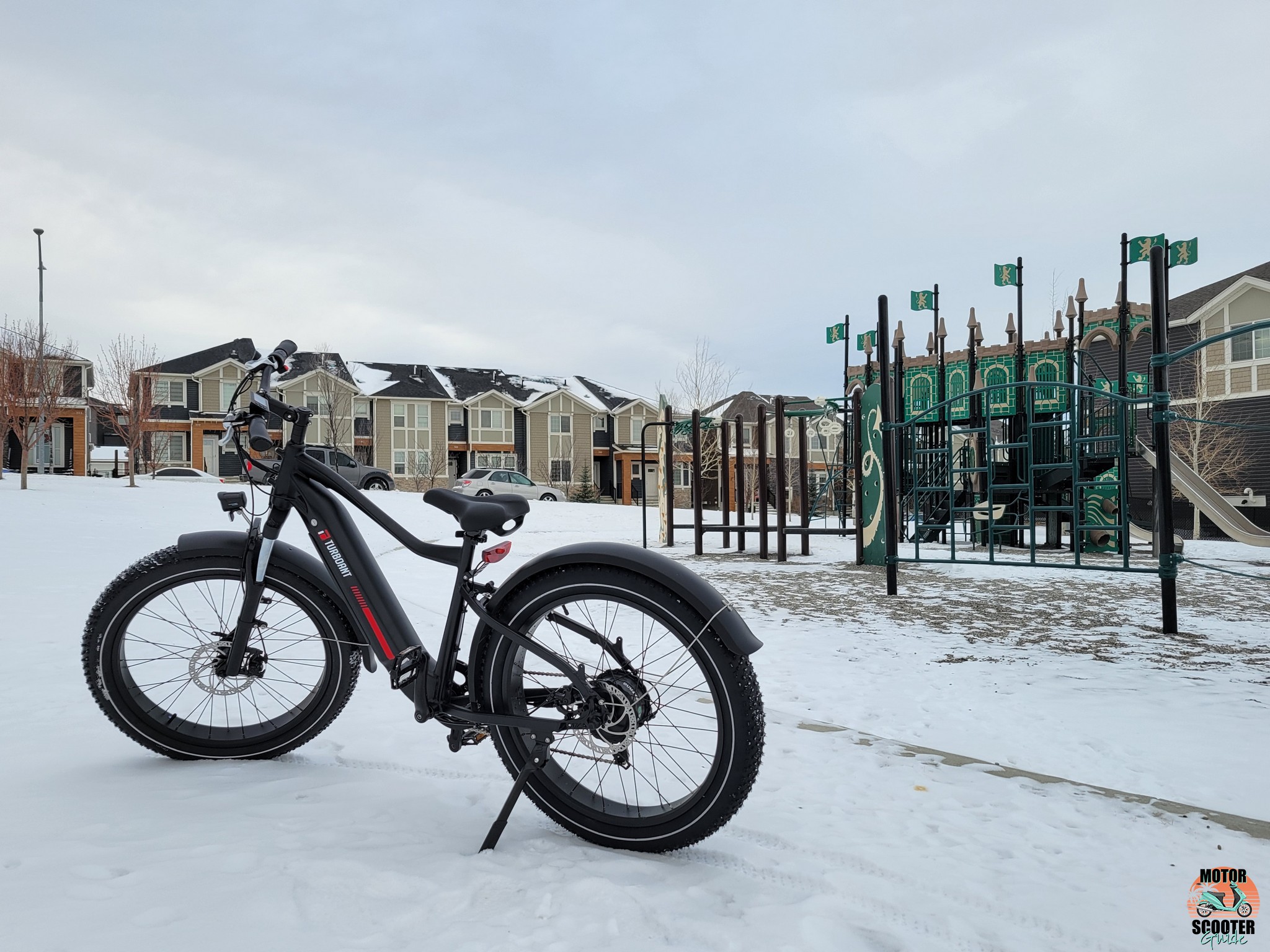 The Nebula N1 performed admirably on snow-covered paths. It cut through the snow without any issues and the fenders did their job keeping the rest of the bike clean. With snowy paths, I did not increase the PAS settings higher than level 2, instead using the 7-speed shifter to make my way up small hills.
The main concern with snow-covered paths is that more power isn't necessarily better if your wheels just end up spinning from a lack of traction. The Kenda fat tires are capable of offroad riding, but it wasn't designed specifically for this kind of weather.
If you've never ridden an ebike, you'll be surprised as cadence sensors take some getting used to. I found myself lurching forward with a small push of the pedal so to mitigate that, I would use the twist throttle to get a rolling start before pedalling.
I found that I prefer twist throttles over thumb throttles as using my entire wrist helps to thumb muscle fatigue.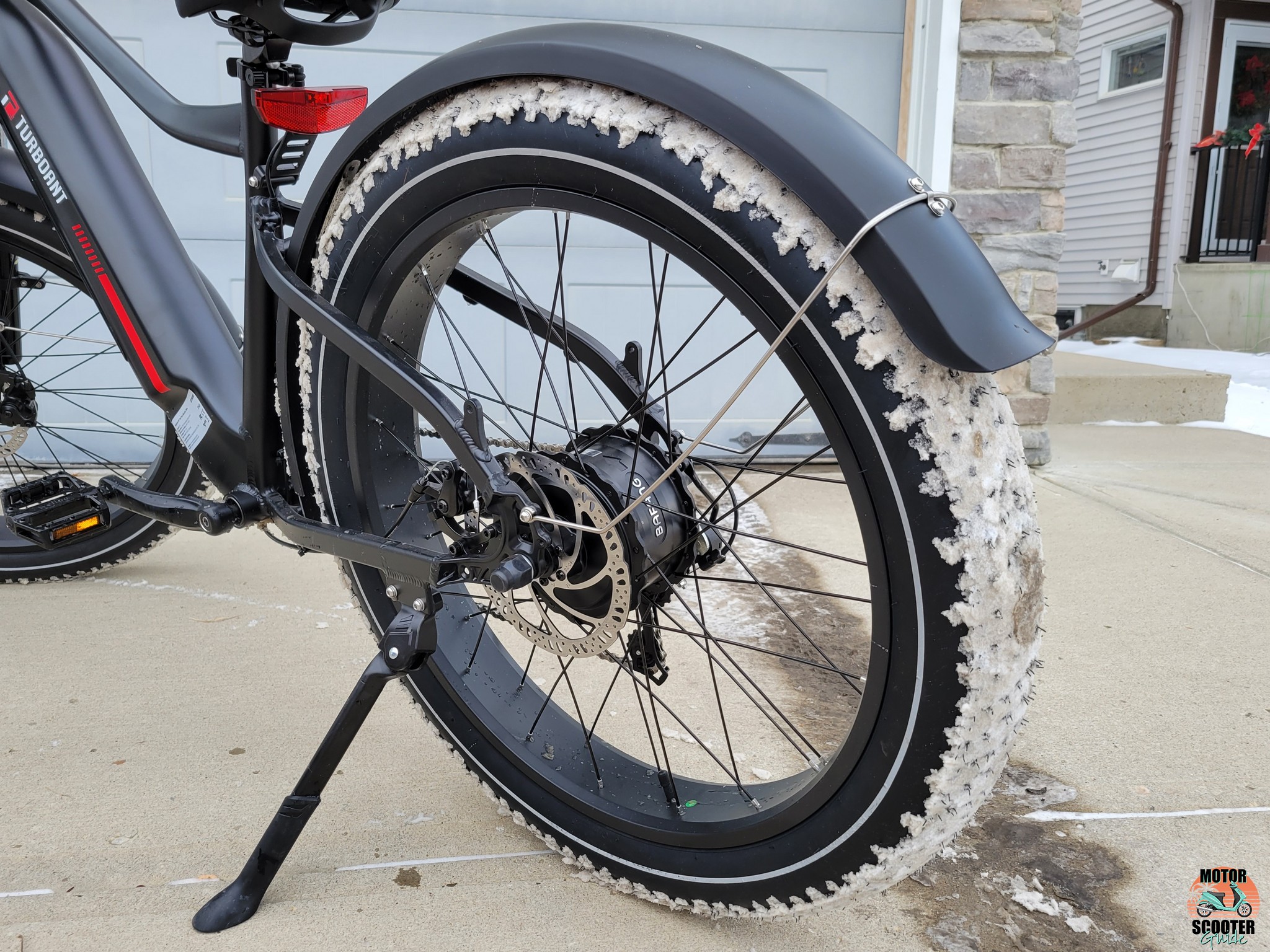 The handlebar grips were ergonomic and comfortable. The brakes were responsive and I felt in control of the bike as I traversed both sidewalk and bike paths in the snow. The saddle seat was comfortable and thoughtful design elements such as the seat handle make a difference as he fat tired ebike design can be cumbersome and the bike itself is heavy.
Despite its hefty tires, it was easy to cruise along with no pedal assistance.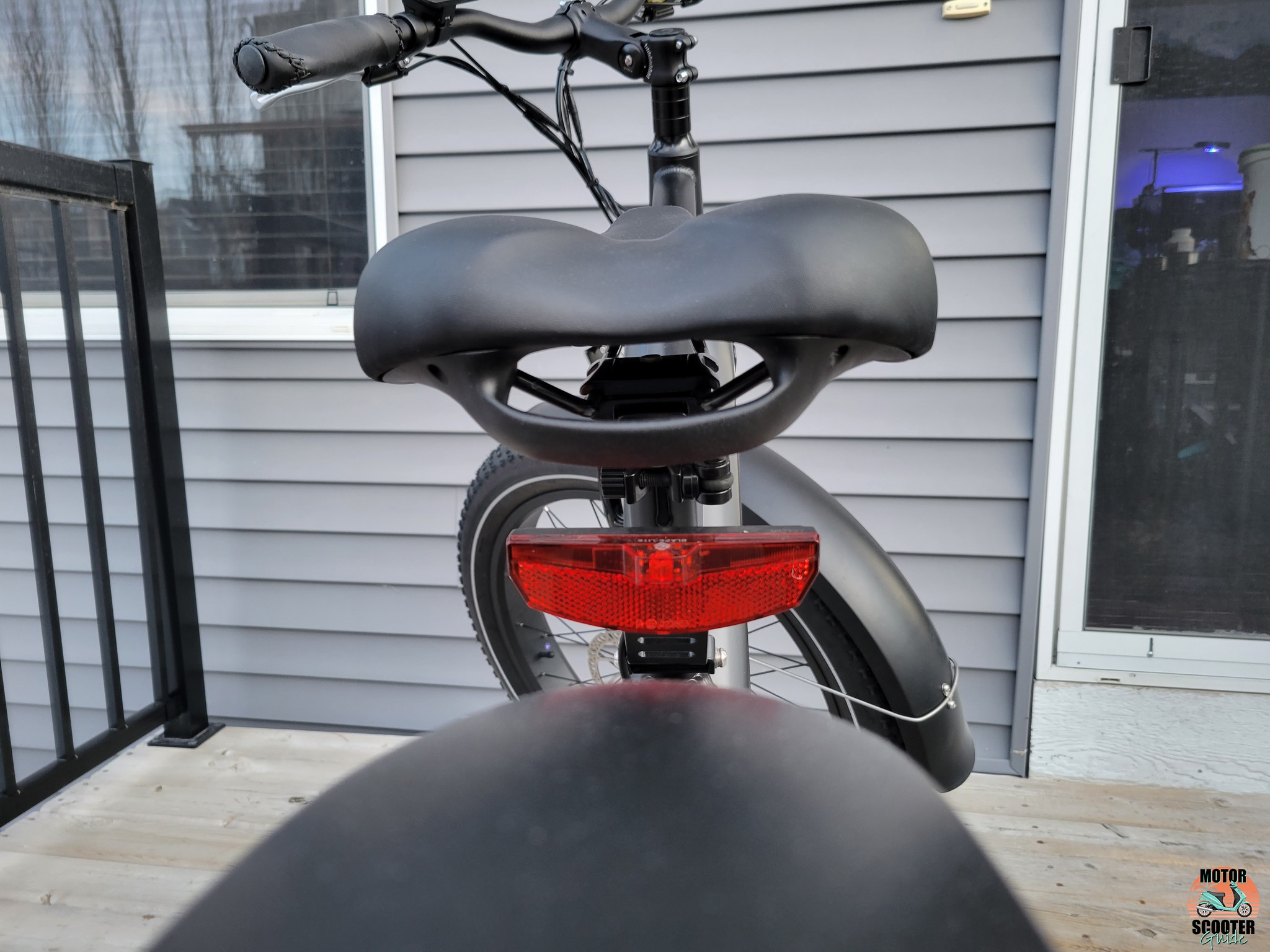 The Upcoming Long-Term Review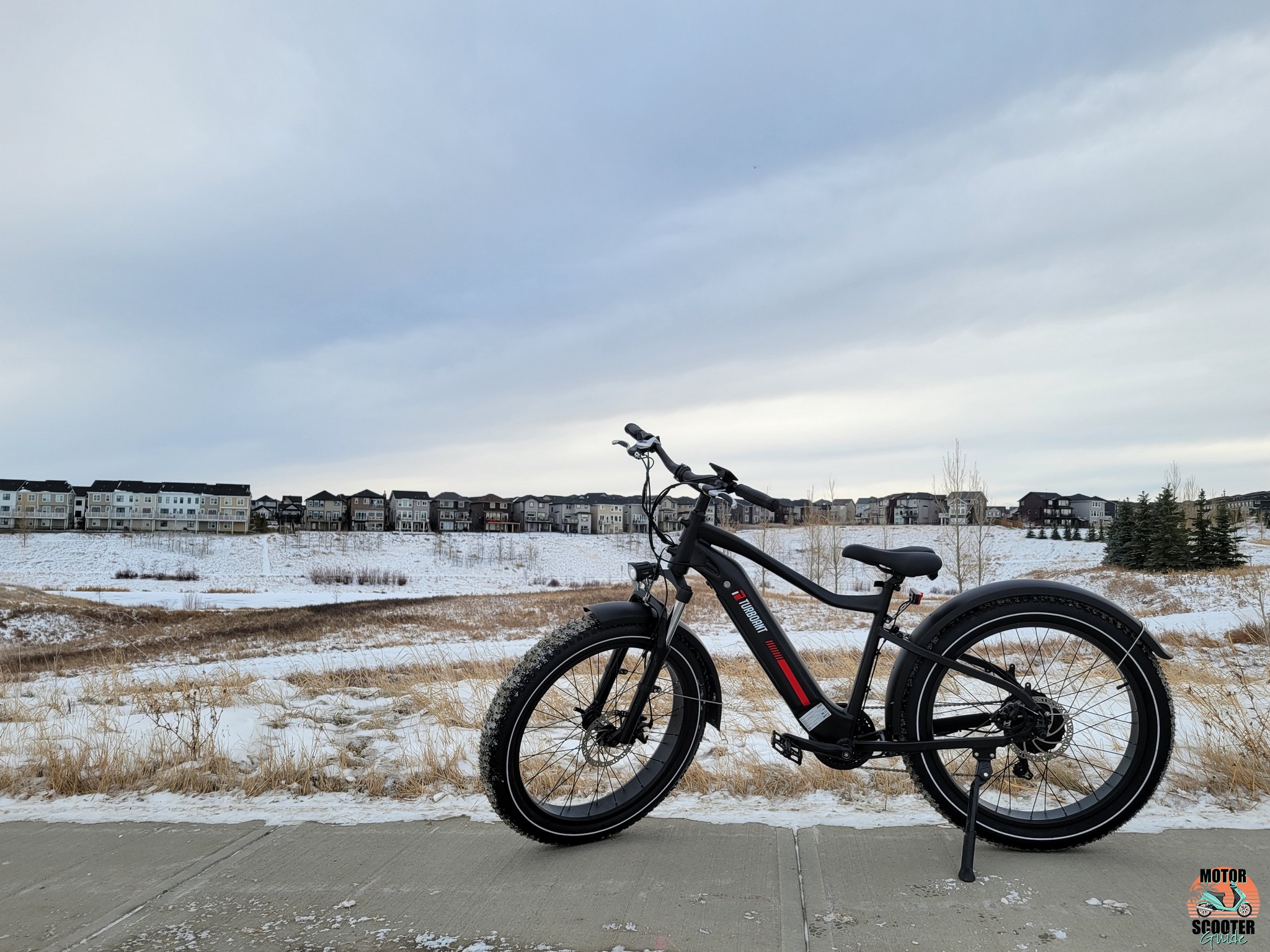 The TurboAnt Nebula N1 offers plenty of power at a competitive price point. The MSRP is $1849 but at the time of writing, it is currently $1449 (coupon code HDY400 for $400 off). Considering its internal removable battery, a 750w motor, and additional features such as preload/lockout, it makes a fantastic choice for riders looking to foray into electric bikes.
Although the design of the bike is heavy and somewhat cumbersome, it has up to 60mi / 97km of range which is more than enough for anyone requiring a commuter bike. It does take up plenty of space, so condo and smaller home owners may find it difficult to store.
Once we are through the cold Canadian winter, I look forward to taking this bike on proper biking paths and push it to its limits.
We'd like to thank TurboAnt for graciously providing us with this bike as we prepare for the upcoming 100km long-term review.