My friend has a Royal Enfield Continental and he absolutely loves his bike. Whenever he is parked up, people come up to him and chat about the bike, how they have one, used to have one or their dad had one. There is definitely a following for these bikes.
I decided that I needed to find out why these bikes are so popular and so when I was offered one by Royal Enfield I jumped at the chance so I could see for myself what all the fuss is about.
Review Summary
No riding modes which, for me, is a huge plus point, it's just you and the bike.
For $7,783 USD / $10,609 CAD / £6,239, you are getting a lot of bike for your money.
Weighing around 200 kg, the bike feels way heavier than that to me.
Love the twin silencers, really add to the styling of the bike.
I would like to see different tires fitted as standard, I did not like the Ceat tires that came on the bike.
History of Royal Enfield
Royal Enfield has a very long history in the motorcycle world. In 1891 Bob Walker Smith and Albert Eadie bought a needle manufacturer, George Townsend & Co, which had been established for some 50 years. They had just begun manufacturing bicycles.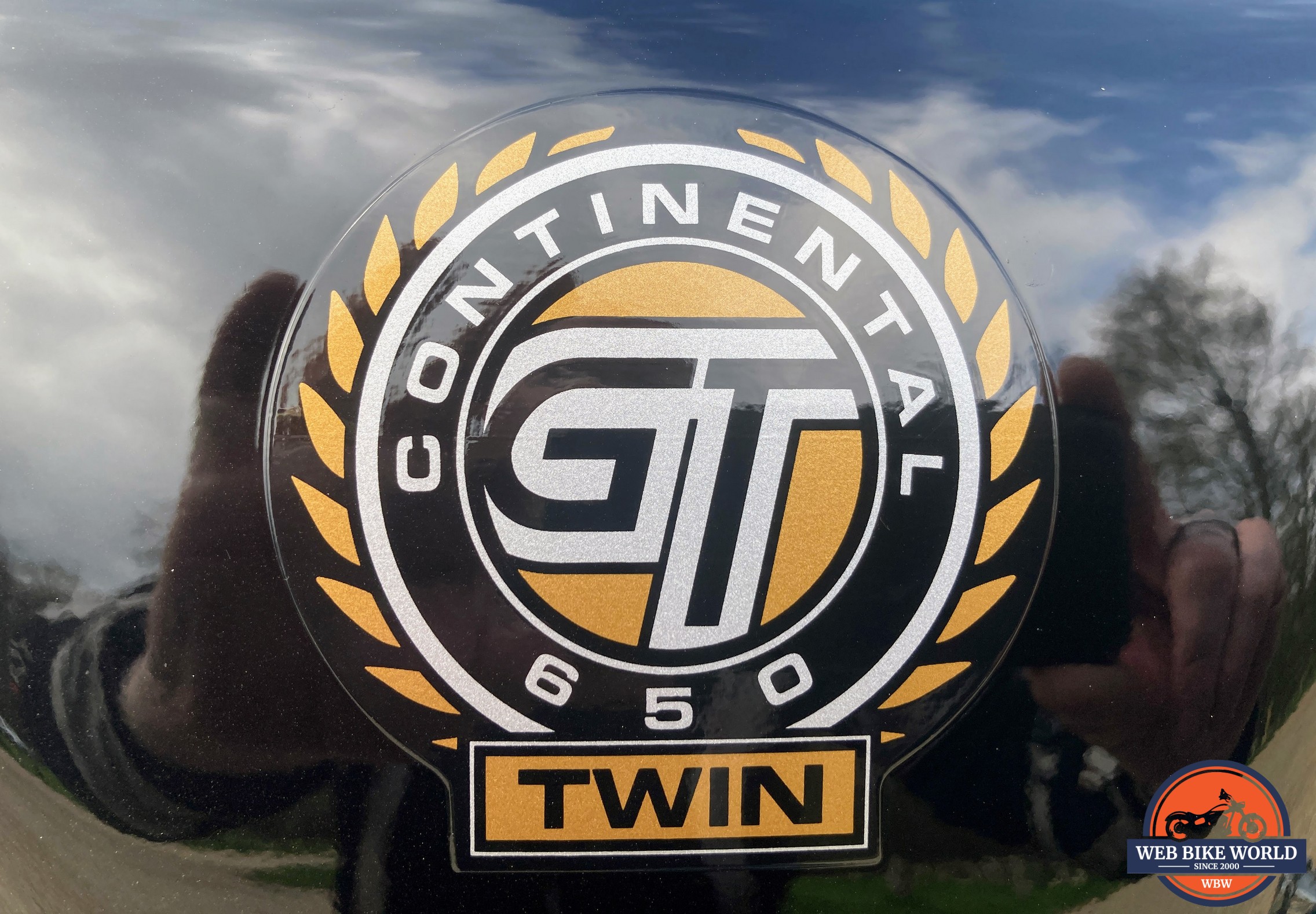 In 1893, Smith & Eadie won a contract to supply precision parts to the Royal Small Arms Factory of Enfield and to celebrate this order they renamed their company the Enfield Manufacturing Company Ltd. Their first Bob Walker Smith designed bicycle is named the Enfield and the following year their bicycles are renamed Royal Enfields and their trademark 'Made Like a Gun' is introduced.
The company's first motorized vehicle, known as quadricycle, was designed by Bob Walker Smith in 1898 and the company's trading name, The Enfield Cycle Co Ltd, was finalized and this was to be used for the next 70 years.
The first Royal Enfield motorcycle was produced in 1901 designed by Bob Walker Smith and Jules Gobiet. This 1 ½ hp engined bike was launched at the Stanley Cycle Show in London. Royal Enfield's first twin, a 297cc Swiss made Motosacoche engine, was launched in 1909 with the company's first 2 stroke motorcycle going into production in 1914.
In 1955 the company partners with Madras Motors in India forming Enfield India with a purpose built factory constructed at Tiruvottiyur, near Madras
With a range of models being produced in the years following, the Continental GT cafe racer was launched in 1964 featuring a fiberglass racing petrol tank, clip-on handlebars, rear sets, a humped race seat, rev counter and a swept back exhaust.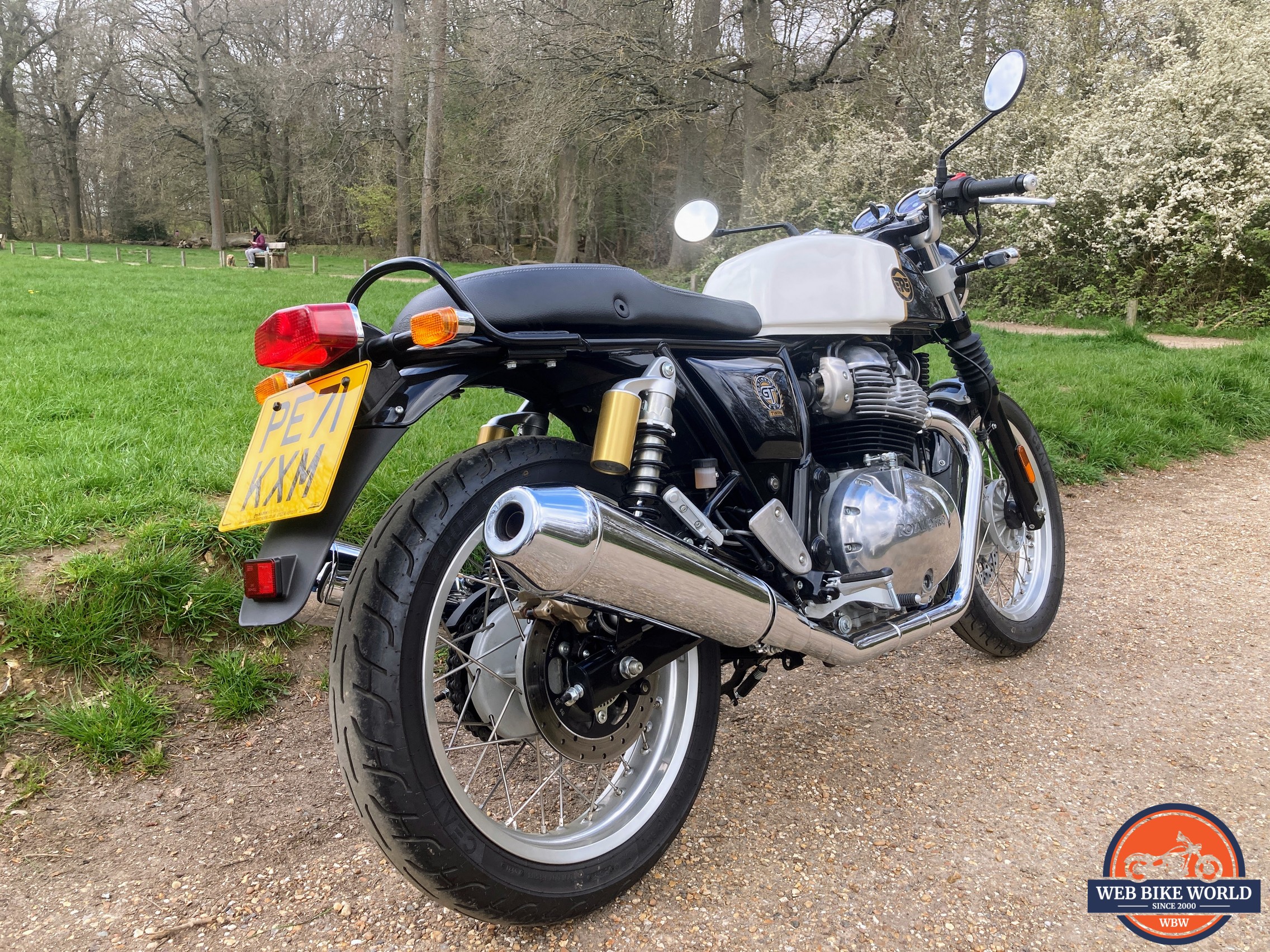 Some 48 years later a new Continental GT was launched in 2013 featuring a cradle frame designed by Harris Performance and a 535cc UCE engine. Two years later Harris Performance was acquired by Royal Enfield.
In 2017 the new 650cc Continental GT and Interceptor were launched at EICMA in Italy and incredibly in 2018, 18 year old racer, Cayla Riva from California, set a new land speed record of 157.053 mph during Speed Week at the Bonneville Salts Flat on a specially prepared Continental GT 650 twin.
So, that is some history indeed to the Royal Enfield. Let's take a closer look at the Continental shall we.
At A Glance
Curb weight: 198 kg
12.5 liter fuel tank
650 cc parallel twin air/oil cooled twin engine
47 bhp
6 speed
Twin silencers
Clip-on bars
Twin piston ByBre (by Brembo) calipers with 320 mm floating front disc
Color Options: White and Red
Price: $7,783 USD / $10,609 CAD / £6,239
Newer Model Changes
The 2023 version of the bike has the following extras as standard:
Blacked out engine
Cast alloy wheels on the blacked out variants come with tubeless tires
LED headlamp
USB port
Premium switch cubes using aluminum
Finely tuned suspension with 'piggy-back' gas-charged twin shocks
Color Options: Slipstream Blue and Apex Grey
Price: $8,497 USD / $11,579 CAD / £6,799
For the rest of the fleet, check out Royal Enfield's 2023 model lineup.
First Impressions
When the Continental first arrived, I spent some time just looking around the bike at all the little bits of detailing you don't notice when glancing at the bike.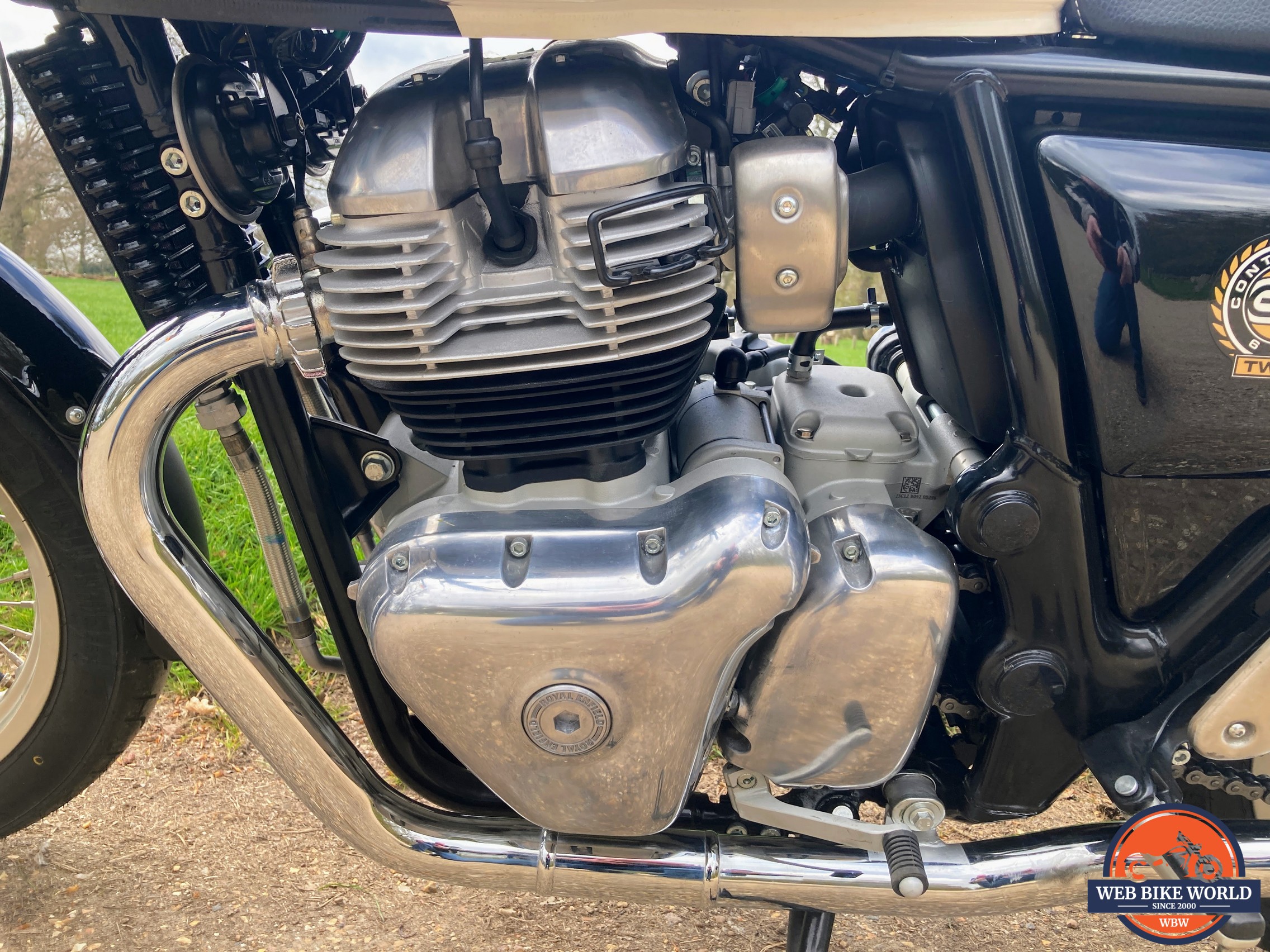 You can tell time and thought has gone into making this bike – there are knee guards on the engine, Royal Enfield detailing on the engine casing, fork gaiters, top yoke, foot pegs, rear of the seat, side panels and tank.
When I first sat on the bike, I could tell it was a solid bike, it felt robust. Although the bike weighs around 200 kg, it did feel heavy when maneuvering it out of the garage. My Kawasaki Z900 weighs 210 kg and the Continental feels a lot heavier than this.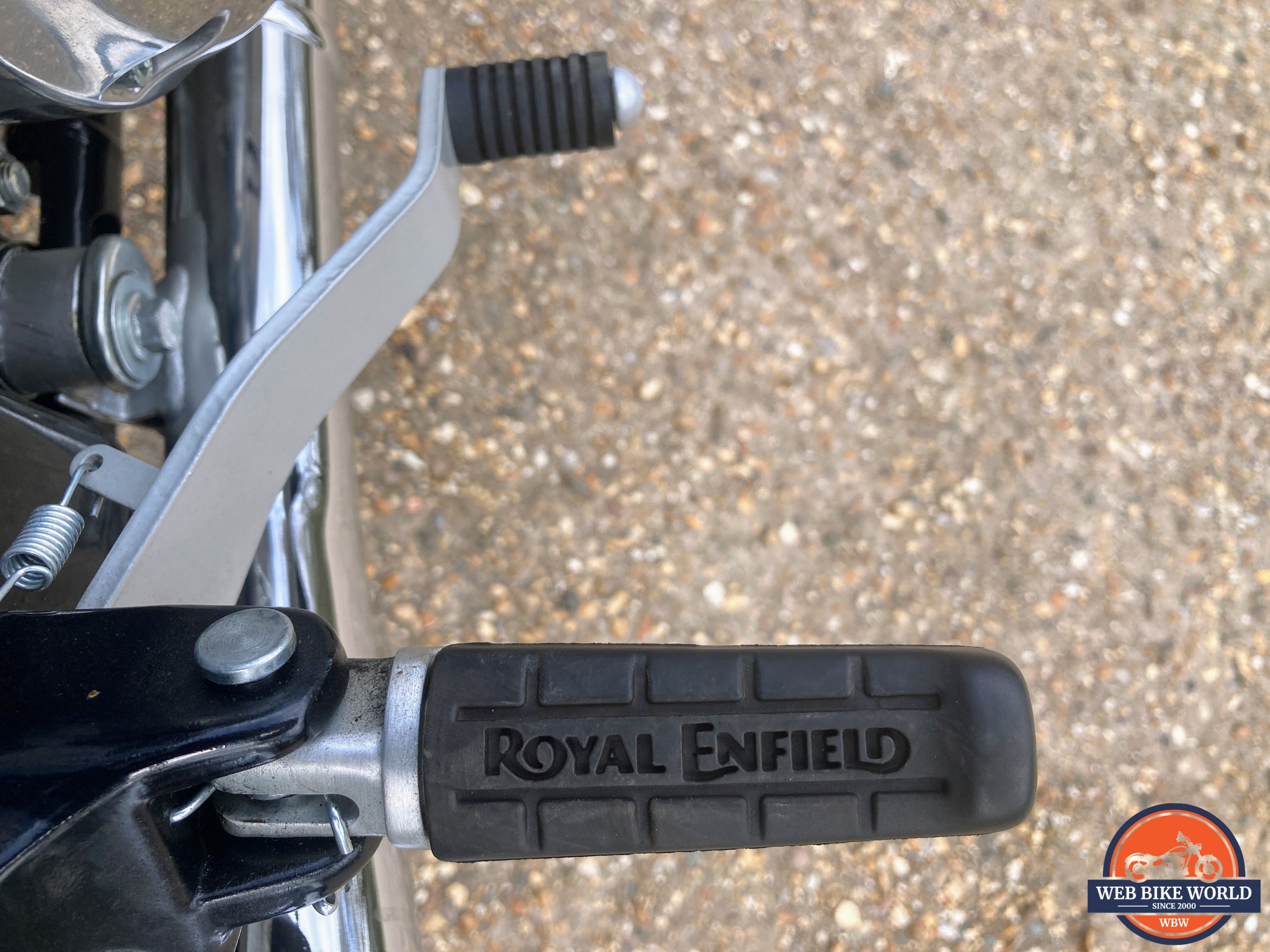 The seat height of 795 mm meant that my feet were firmly planted on the ground which gave me plenty of grounding and felt a nice height for me, I'm 5'6". My friend who has a Continental is 6'3" and he is happy with the seat height too, the bike fits him well too.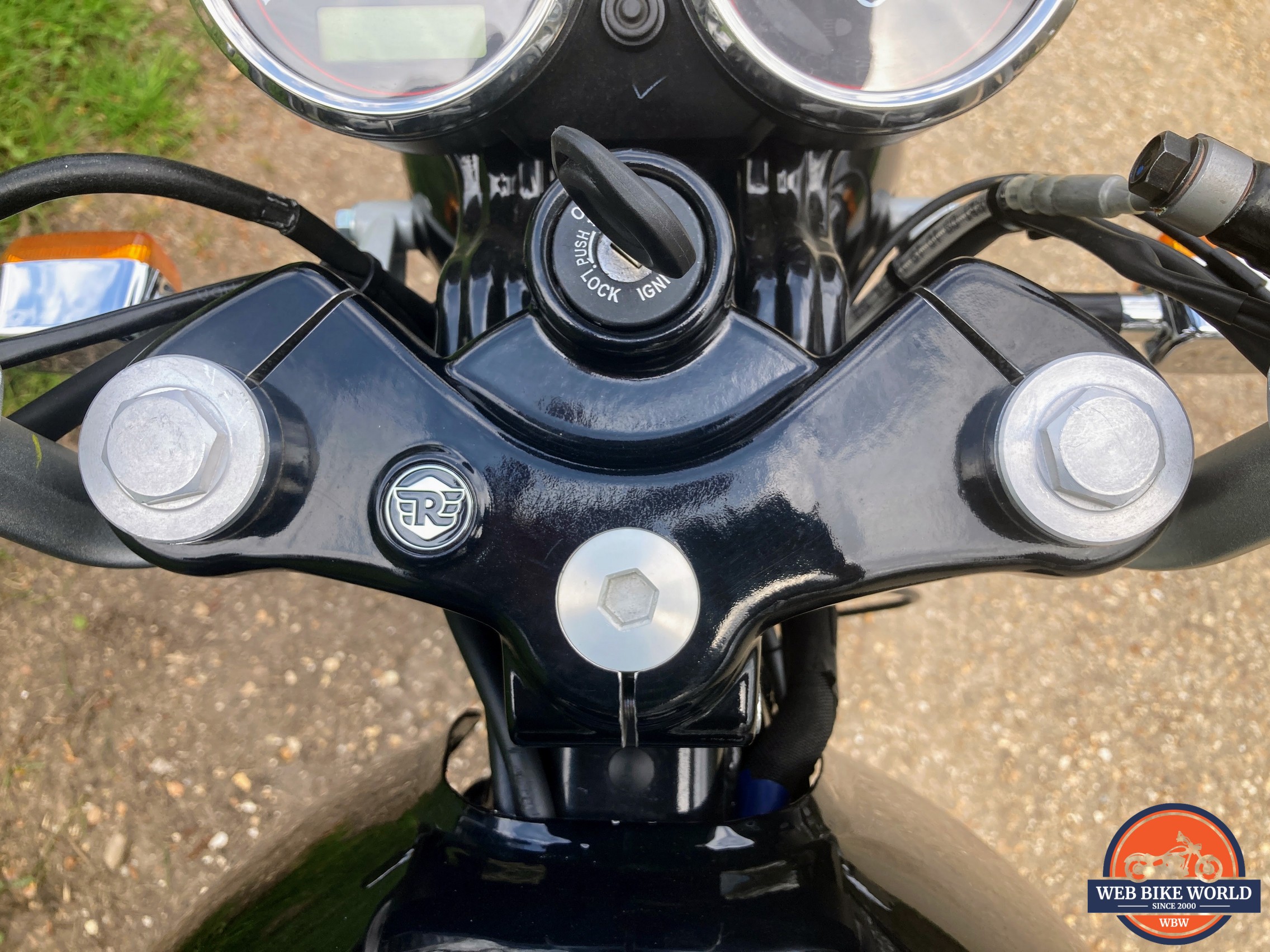 On starting the engine, you get that unmistakable thrum of a twin and this, combined with the twin silencers, gets you grinning straightaway. It definitely has a distinctive sound and turns heads when riding along.
When I first rode the bike, I did take to it straightaway. I didn't need a couple of rides to get used to it, it is an easy bike to ride and with no gizmos, it takes you back to 'old school' riding. I was looking forward to getting out for some more rides.
Engine
The Royal Enfield Continental GT 650 is fitted with Enfield's new, air-cooled 650 parallel twin engine. Although huge amounts of power (47 bhp) or torque (39 lb. ft) are not made, it does actually feel about right for this bike.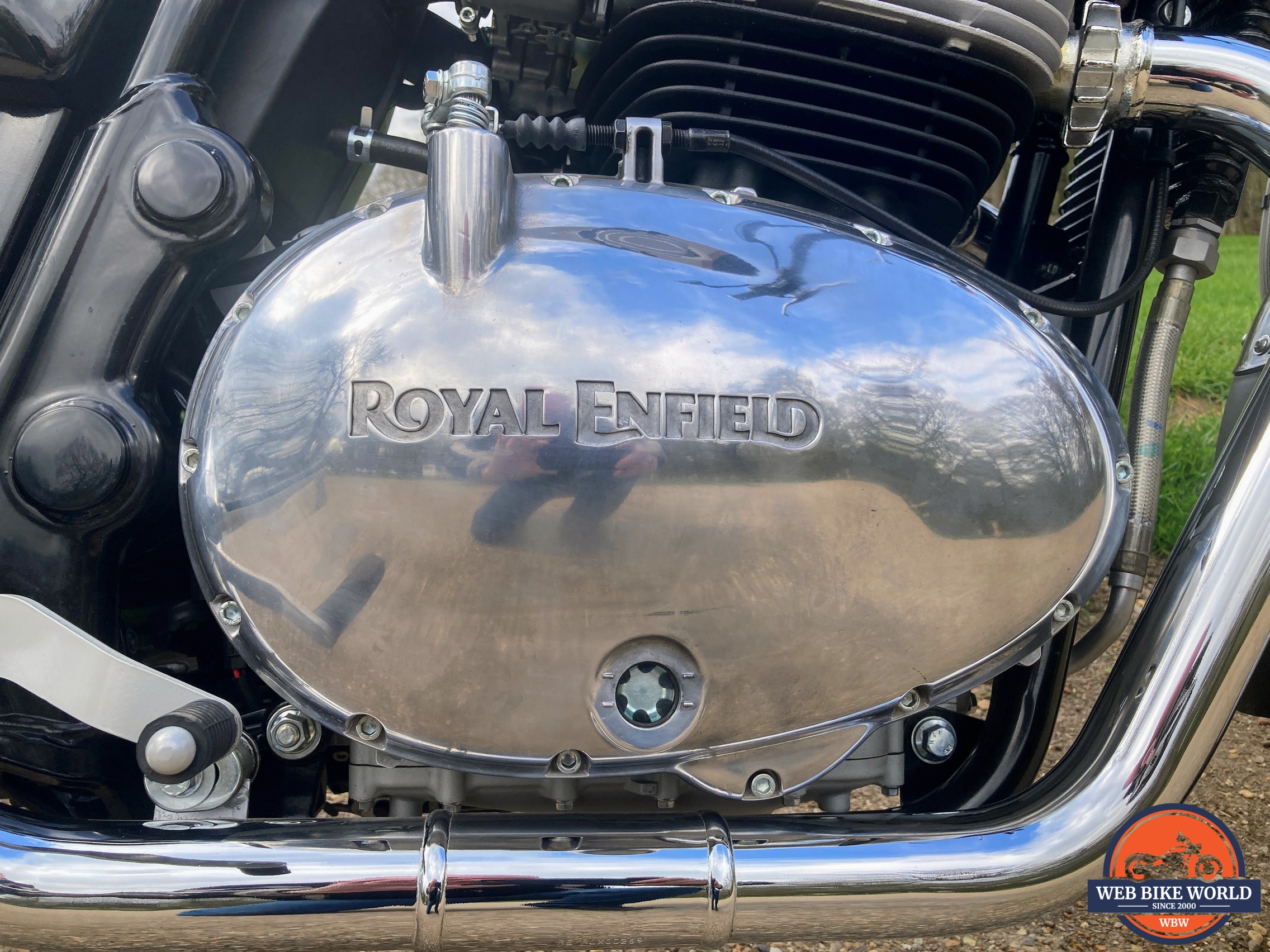 I really like the detailing on the engine casings. On one side is the lettering 'Royal Enfield' and on the other, the plug cover is nicely engraved, again with Royal Enfield.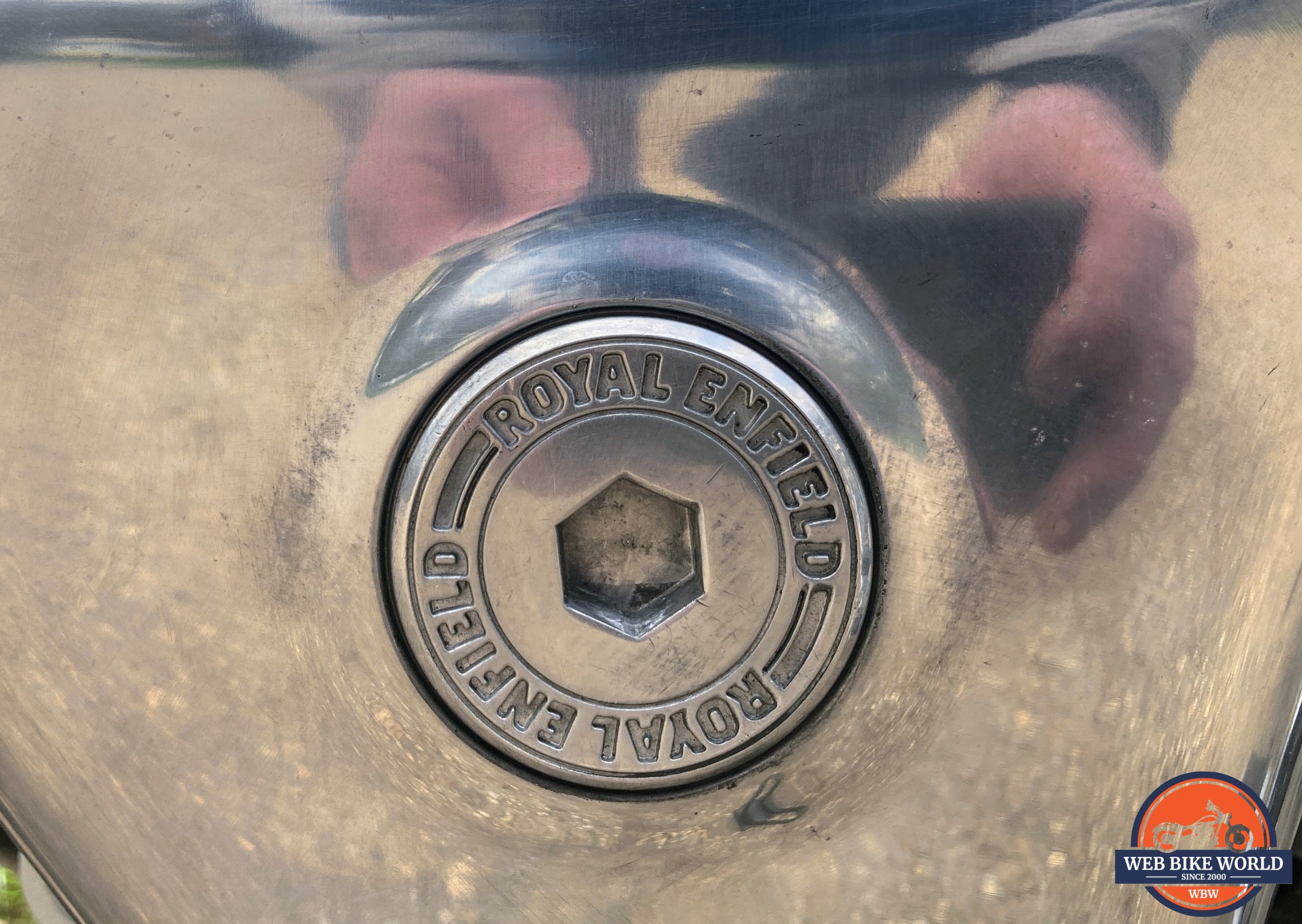 The six speed gearbox is smooth and the engine sounds lovely as you run through the gears to top. The bike feels steady to ride and at low to medium speeds, it feels stable in the bends and gives the impression that it is happy to be ridden like this all day.
At higher speeds, I did not like the feel of the bike as much but I feel the tires may have contributed to this.
Chassis
The frame has been developed in conjunction with Harris Performance and, according to Royal Enfield, 'has been thoroughly tested for durability and offers superior balance and handling'.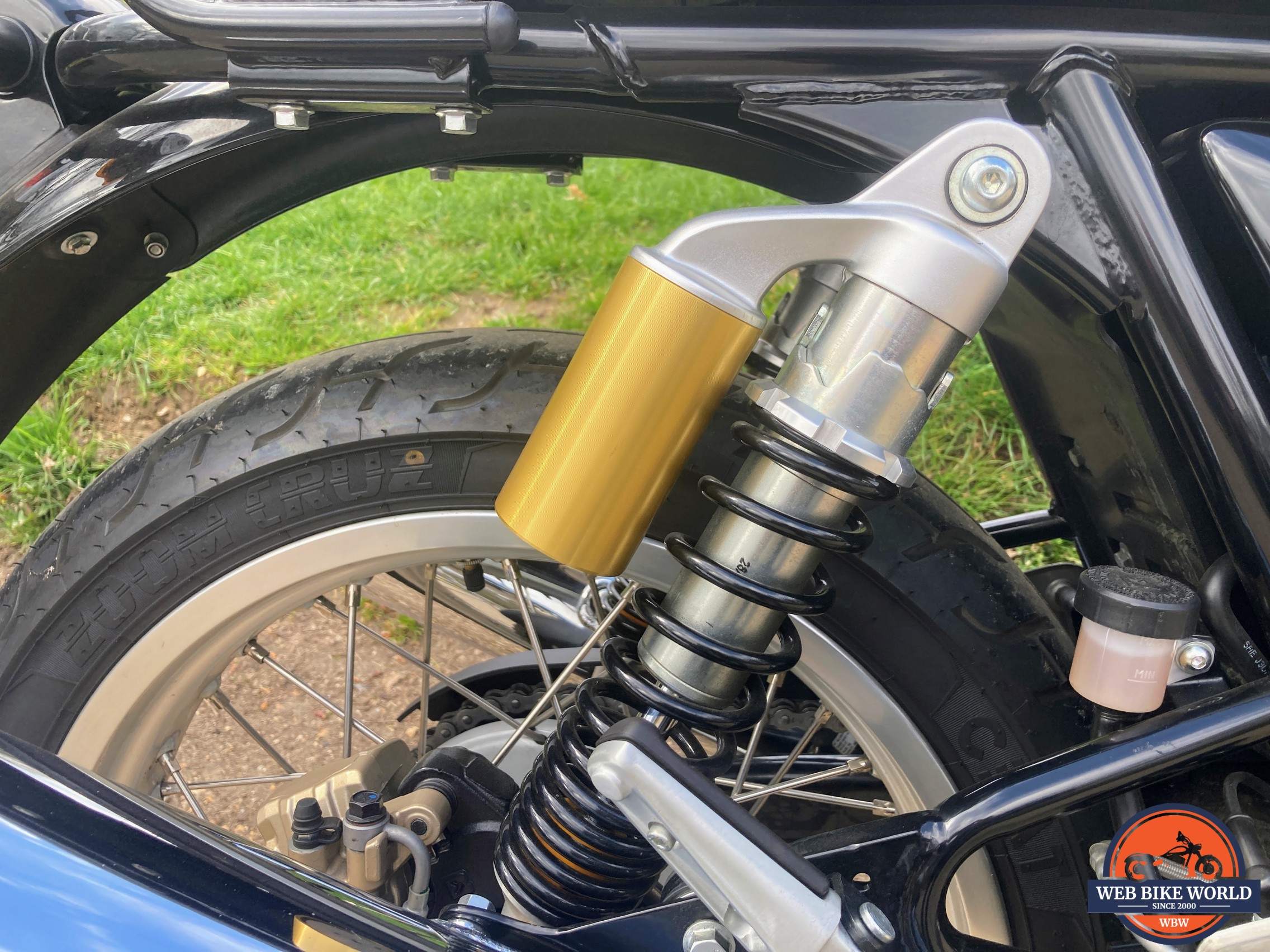 The rear suspension has gas shocks with a small remote reservoir. The front suspension is basic and non adjustable but this seems adequate for the style of bike.
I felt the bike remained reasonably composed in the corners and the turn in, although not sharp, is quite good although again, let down by the tires.
Instrument Clocks
There are two traditional style round clocks housing the speedo and rev counter. On the bottom of the speedo is a digital display showing the fuel gauge and mileage.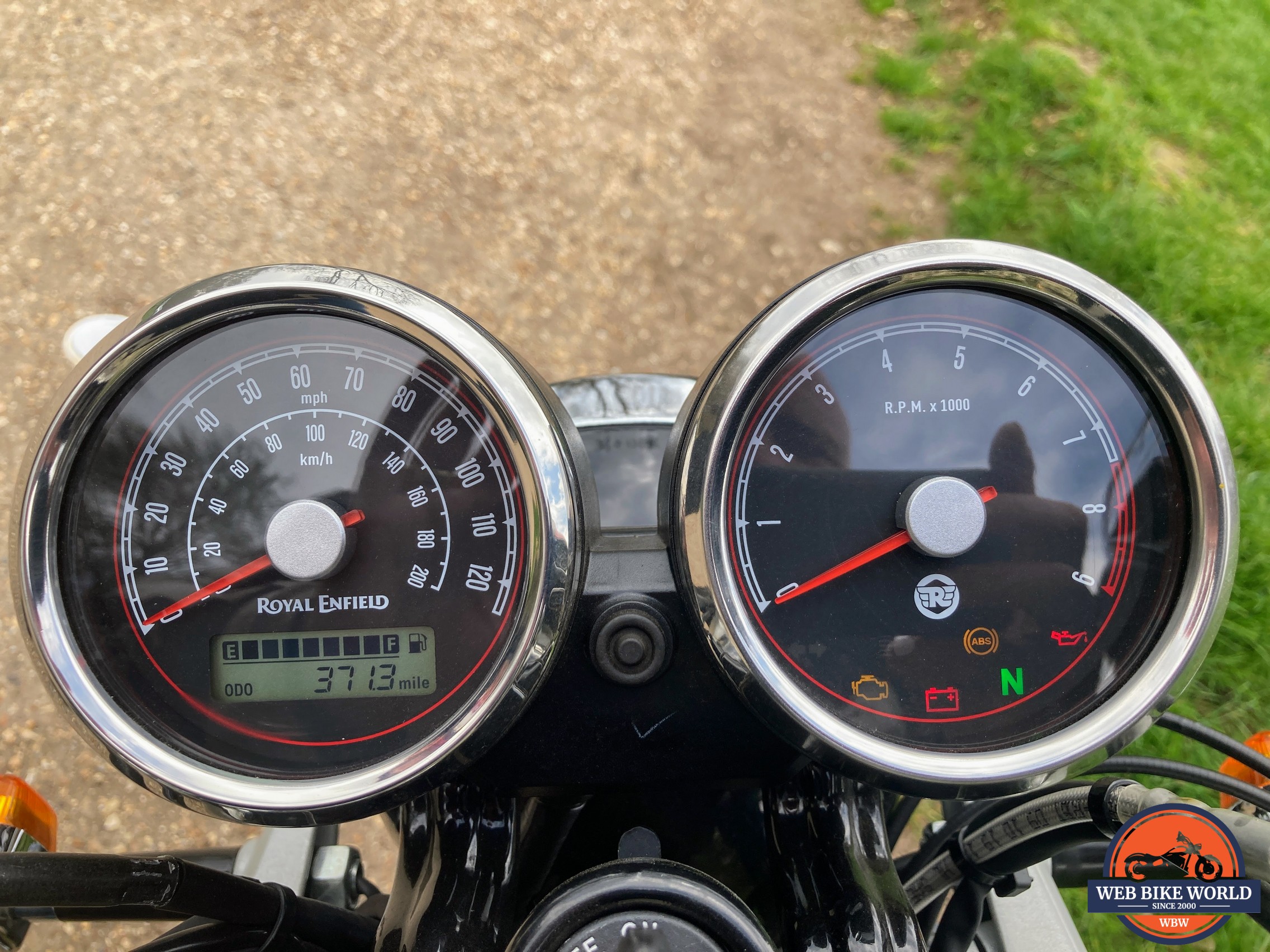 On the bottom of the rev counter, icons light up for the indicators and if you are in neutral. On switching on the ignition icons appear for engine, battery, oil and ABS but these disappear once the engine has started.
That's it. There are no other gizmos. No traction control, wheelie lift or modes. Just plain and simple, what I would call 'old school'. Perfect.
This is part of what endears me to this bike. You are riding the bike, you are controlling it and deciding how to ride it depending on the road and weather conditions, just how I like it. This also means of course that there is less to go wrong, nob fancy electronics to worry about.
Tires
The tires on the Continental are made by Ceat and are their Zoom Cruz F tires. I did not like these tires.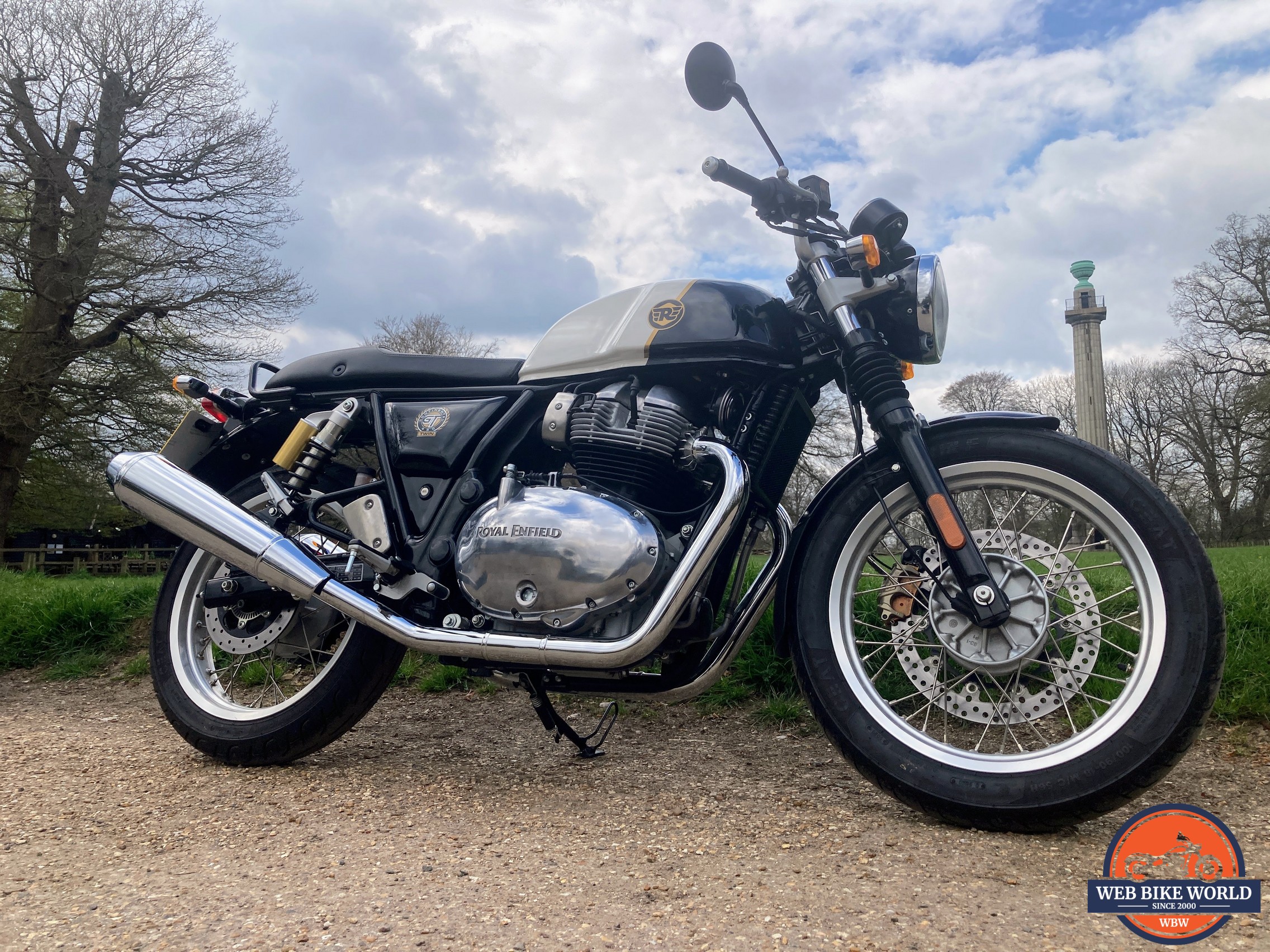 Ceat describes these tires as 'The tire's continuous center groove for easy rolling gives you better control at high-speeds. The progressive circumferential shoulder grooves give you confidence while leaning. The tires hold onto the roads irrespective of weather, endowed with improved aquaplaning courtesy of the extended lateral grooves. This enhanced aquaplaning allows for improved water channeling, giving you a skid-free riding experience. CEAT Zoom Cruz bike tires retain high grip, even while cornering'.
I found, especially on cold tarmac, that the tires felt 'floaty' to me. I thought there was a distinct lack of grip and they did not give me the feel and confidence that I wanted or indeed, expect out of a tire.
I felt the tires were kind of okay in the twisties on dry roads at lower speeds but then every so often they would remind you that they are not okay. On a straight road I was reminded very often that the tires are really not okay.
Changing the tires to a more all round, all year tire which works well in all conditions be it hot, cold, wet or dry would be my first priority.
LED Lights
The single round headlight on the Continental has a traditional bulb. This is definitely in keeping with the bike, it looks nice and certainly does the job of letting me see in the dark very well.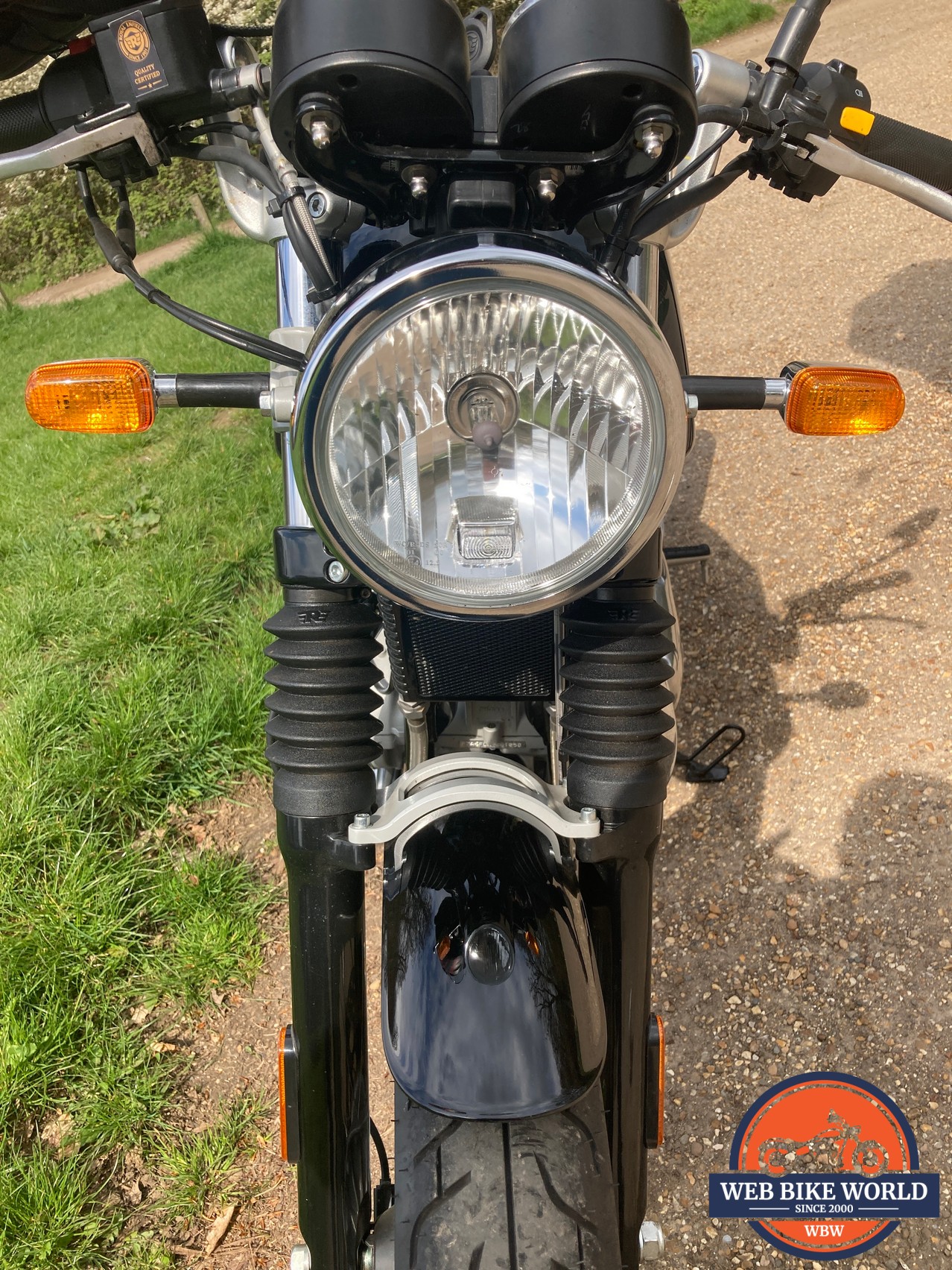 However, on the new 2023 model, the traditional headlight has been replaced with a new headlamp, still keeping the round style but with modern LED lights for increased visibility.
The rear light is simple in design and certainly suits the bike and sits neatly at the rear.
I think I would have to change the indicators on both front and rear. Although perfectly adequate and functional, I don't think these suit the bike and I would look to change these.
Real World Riding
The Continental is my first riding experience of a Royal Enfield. I have a friend who has one and he absolutely raves about his bike. I have heard many great things about the bike too so I was keen to find out for myself what all the fuss was about.
When the bike arrived, I spent a bit of time just having a look around it before donning my bike gear and getting out for a ride.
Straightaway, the bike felt heavy just lifting it off the stand. Looking at the stats of the bike it appears to be around the 200 kg mark but to me, it feels way heavier. I suppose it is all about where the weight is.
When I first started the bike up, I had that unmistakable sound of the twin engine and together with the noise of the twin exhausts, I was already smiling.
Heading off down the road, the bike felt comfortable straightaway and when negotiating junctions, the bike did not feel heavy nor indeed when riding.
I headed out of town and into the countryside and already I could tell what the fuss was about with this bike, it really is a nice bike to ride.
The Continental feels like a very understated bike to me, it just quietly (or not so with the twin exhausts) gets on with doing what it is designed to do in what feels like a calm manner. You can feel that this is a solid and dependable bike.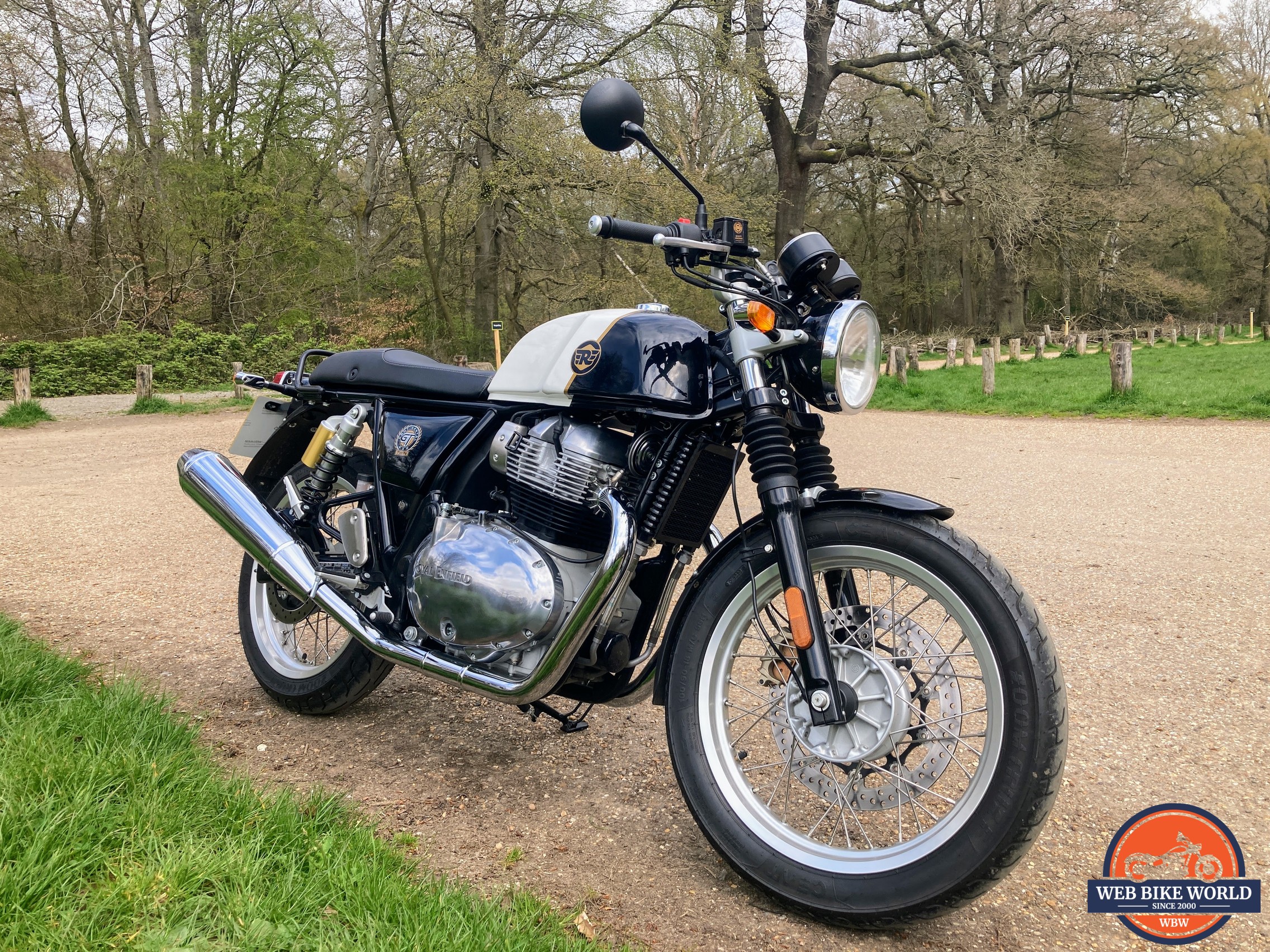 I love the feel of the bike in the corners, it seems planted on the ground and soaks up the twisties nicely almost like these are the roads it was made for. I would be more dubious in the rain or cold conditions though, changing the tires would be my first priority and I think with different tires, it would handle so much better.
The brakes are not as responsive as I would like them to be, although perfectly adequate, it feels as though you have to apply a bit more pressure to slow the bike. Perhaps a second front disc would help in this regard.
The suspension is a little on the hard side but that could also be attributed to the road conditions, to say there were a few potholes is an understatement!
I found, without fail, that whenever I parked up, I would get people coming over to look at the bike. They have a Royal Enfield, know someone who has one or their parents/grandparents had one and they all had a story to tell. I love listening to people chatting about their bikes and biking and the Continental really draws the people in, and that alone endears me to the bike.
The Continental is by no means the quickest bike on the market but that's not what this bike is about. It's about being part of the special Royal Enfield family and enjoying leisurely rides with one or two friends.
Having said that, my friend has had his Continental remapped and I had a hard job keeping up with him when we went out together! He absolutely loves his bike and indeed is off to Europe in the summer touring on his Continental.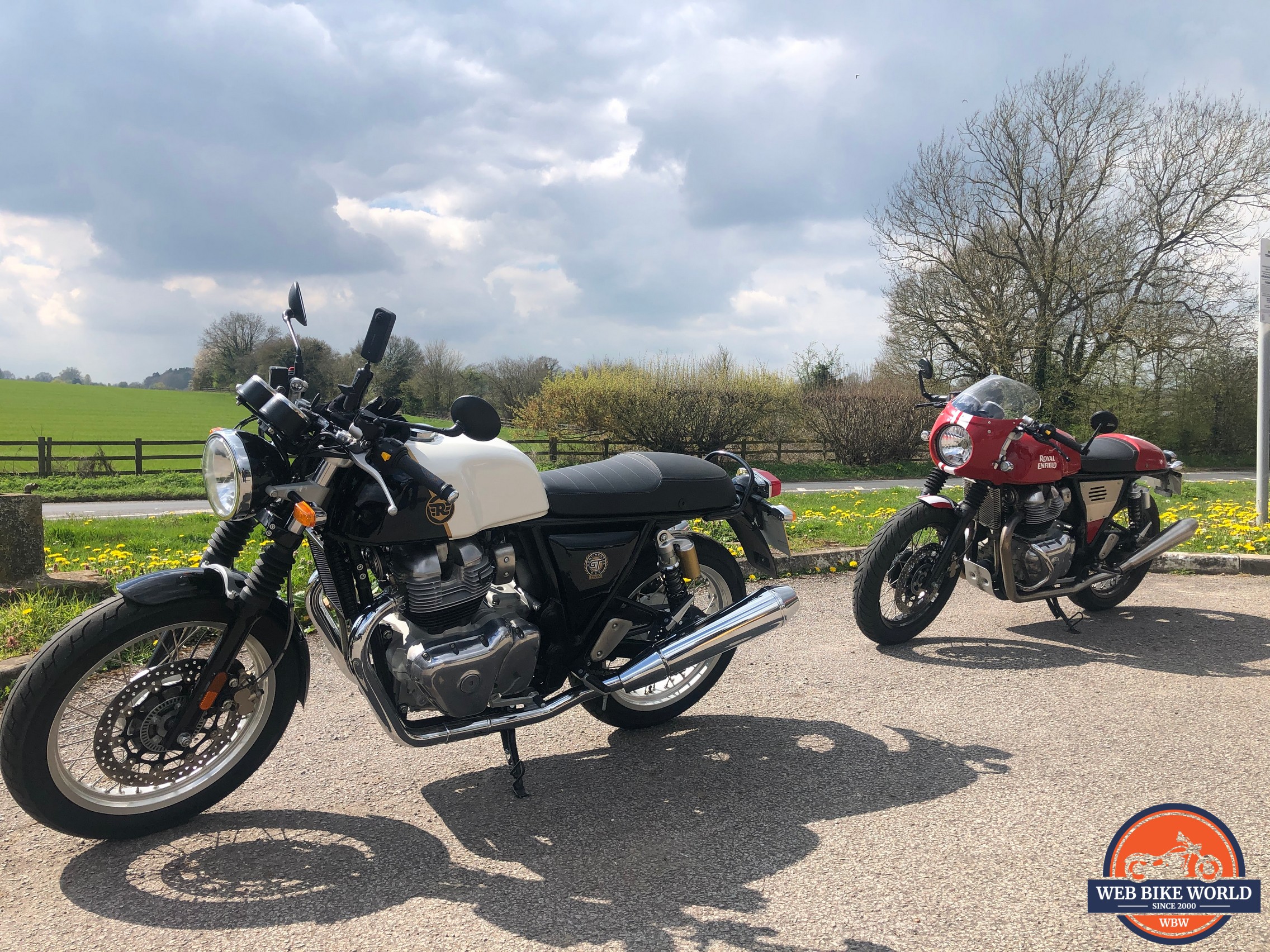 Even though I found the bike a little heavy moving it around, once you're on the bike and riding, this more than compensates for the struggle to get the bike out.
For the money, you are getting a lot of bike. Okay there are a few niggles that would need addressing but then I think you would have a great bike and from a brand that is steeped in history too. There is definitely something about a Royal Enfield.
My time with the Continental flew by and I found I did miss it when it went back! I can definitely recommend you get yourself a test ride and find out for yourselves what the fuss is about.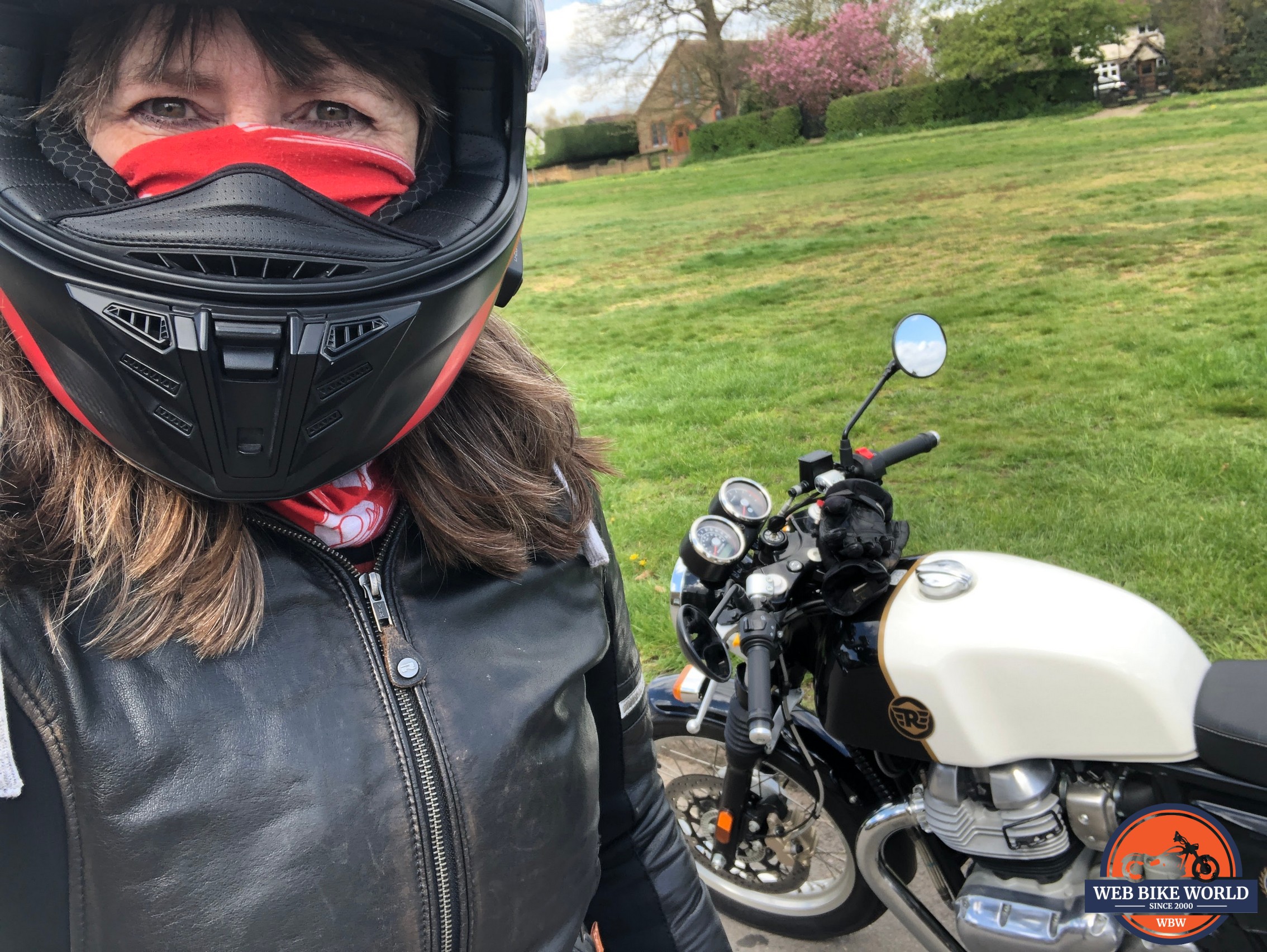 Thank you to Royal Enfield for the loan of the Continental GT 650,  it was an absolute privilege to ride.
2021 Royal Enfield Continental GT 650 Video Review
Pros:
Very easy to ride
Twin exhausts
Seat height is 795 mm which is great for those of a smaller disposition
Traditional style round clocks
Great styling, definitely a head turner
Cons:
Weight – although the weight is around 200 kg, to me it feels a lot heavier
No radiator guard
Tires are not great
Although new models have LED lights, the 2021 model does not
2021 Royal Enfield Continental GT 650 Image Gallery