Review Summary
The Himiway Cruiser feels like a premium e-bike but with a relatively cheap price tag. While some minor aspects of the bike lacked in quality, the frame is well-made, easy to assemble, and offers a comfortable ride for anyone that's looking to get into the eBike scene.
Pros
Product has a premium aesthetic and feel
Well-made with no manufacturing defects, sloppy welds, or poorly painted surfaces
Pieces fit well during assembly and feels sturdy, no parts rubbing together
Cons
Quality of front headlight feels cheap and came loose after several rides
3.8
A Versatile And Comfortable Cruiser
The Himiway Cruiser is a wild fat tire cruiser eBike designed for rough terrain and sealed roads alike. It's got big tires, a relaxed riding position, and a useful luggage rack, making it something of a beach cruiser, shopping, and mountain bike hybrid.
As someone who lives in an area that's half-rural, half-urban, with decent access to forest trails, there's also a desire to go grocery shopping on two-wheels rather than four, the Himiway Cruiser seemed like a great transport option.
E-bikes are wonderful things, and for someone like me whose career has one foot in the motorcycle industry, and the other in smart city development, the e-bike is the perfect mobility solution. It's got two wheels (assisted by a motor, naturally) and it's a greener alternative to using a car. Of course, motorcycles will always be my first love, but gearing up just to grab a loaf of bread and a pint of milk seems like overkill. Especially when you can get quick thrills at speeds of over 35 km/h without having to dress up.
So, when the Himiway Cruiser came up for review, I jumped at the chance. It's one of three exciting bikes in the 2021 Himiway line-up, and of the three, this one appealed to me the most.
Since I'm based in Europe, rather than most of my colleagues who are North Americans, I didn't have to wait long until a great big box was delivered to my doorstep. But while I was waiting for delivery, I pored over the specs and familiarized myself with the Himiway Cruiser's specs, dimensions, and capabilities.
Himiway provided us with the All-Terrain Cruiser at no cost for the purposes of this (and future) reviews. We also have an affiliate relationship with Himiway and receive a small commission if you purchase an eBike via our links. Note that brands sending us gear for review must agree to our extensive review policies. Thank you for supporting us.
2021 Himiway Cruiser Specs
Price: $1,599 USD / $1,935.67 CAD
Buy: Himiway Cruiser
Motor: 750w Brushless Gear Hub Motor / 80 Nm Torque
Est. Range: 35 mi / 56 km (electric power only), 60 mi / 100km (pedal assist)
Top Speed: est. ~ 25 mph / 40 kph
Pedal Sensor: Cadence, with 5 PAS levels
Battery: 48v 17.5AH Samsung Lithium Battery (840WH)
Transmission: Shimano 7-speed free-wheel
Overall Weight: 72 lbs / 32 kg
Payload Capacity: 350 lbs / 158.7 kg
You can find the full specs on the Himiway website.
Unboxing The 2021 Himiway Cruiser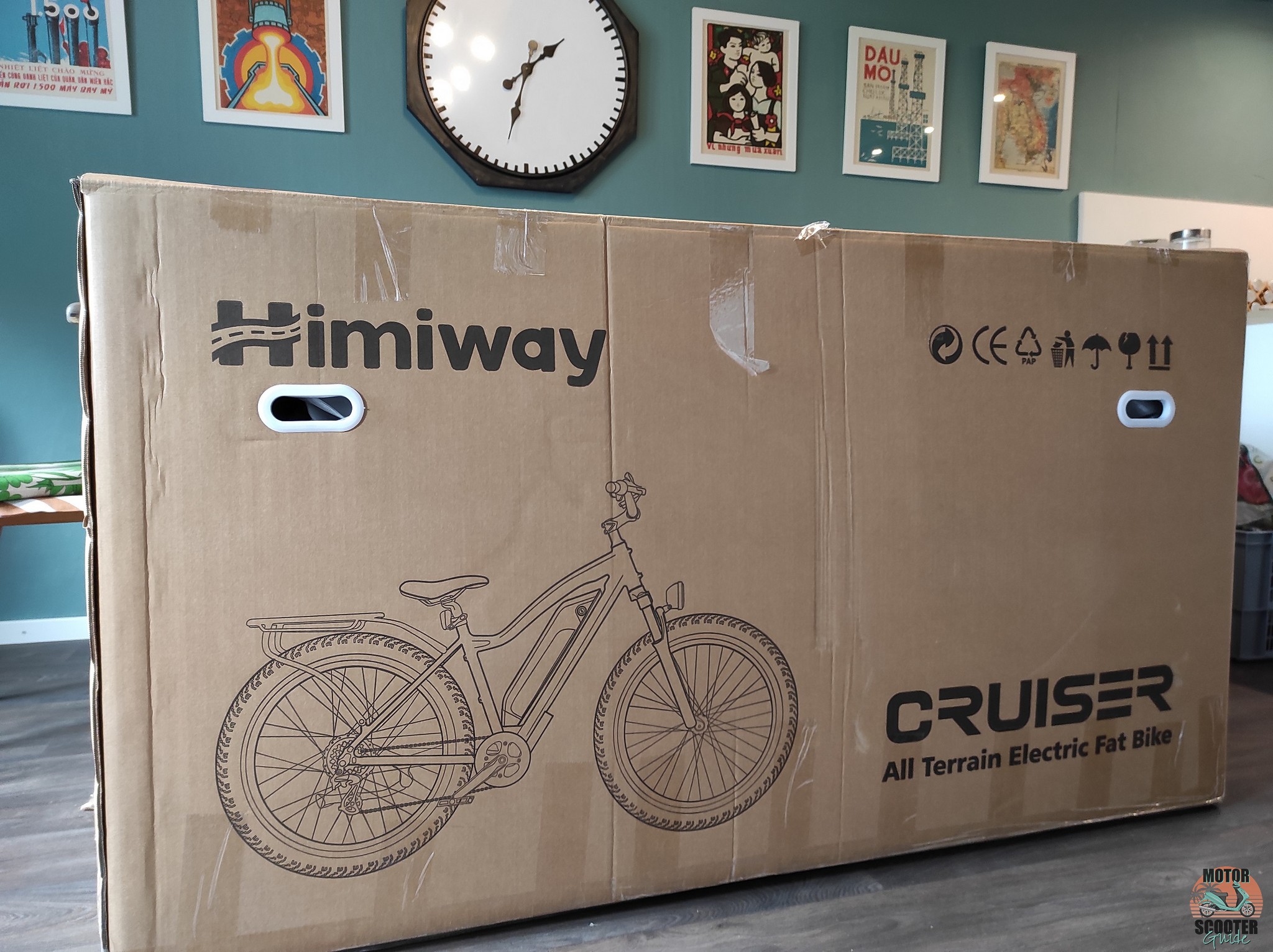 The Cruiser arrived in a large box with plastic carry handles to make lifting a breeze. It wasn't a heavy package, but the plastic handles made it easy to move around. For some reason, I decided that the kitchen was the best place to assemble it. In retrospect, this was a bad idea, especially considering that my kitchen is not located on the ground floor. Still, it seemed like the ideal place at the time.
The plan was to go through the box and its contents in a standard "unboxing" order and take photographs as I went, but this didn't really happen. As soon as the box was open and I saw how impressive the Himiway Cruiser looked, any type of patience went out the window.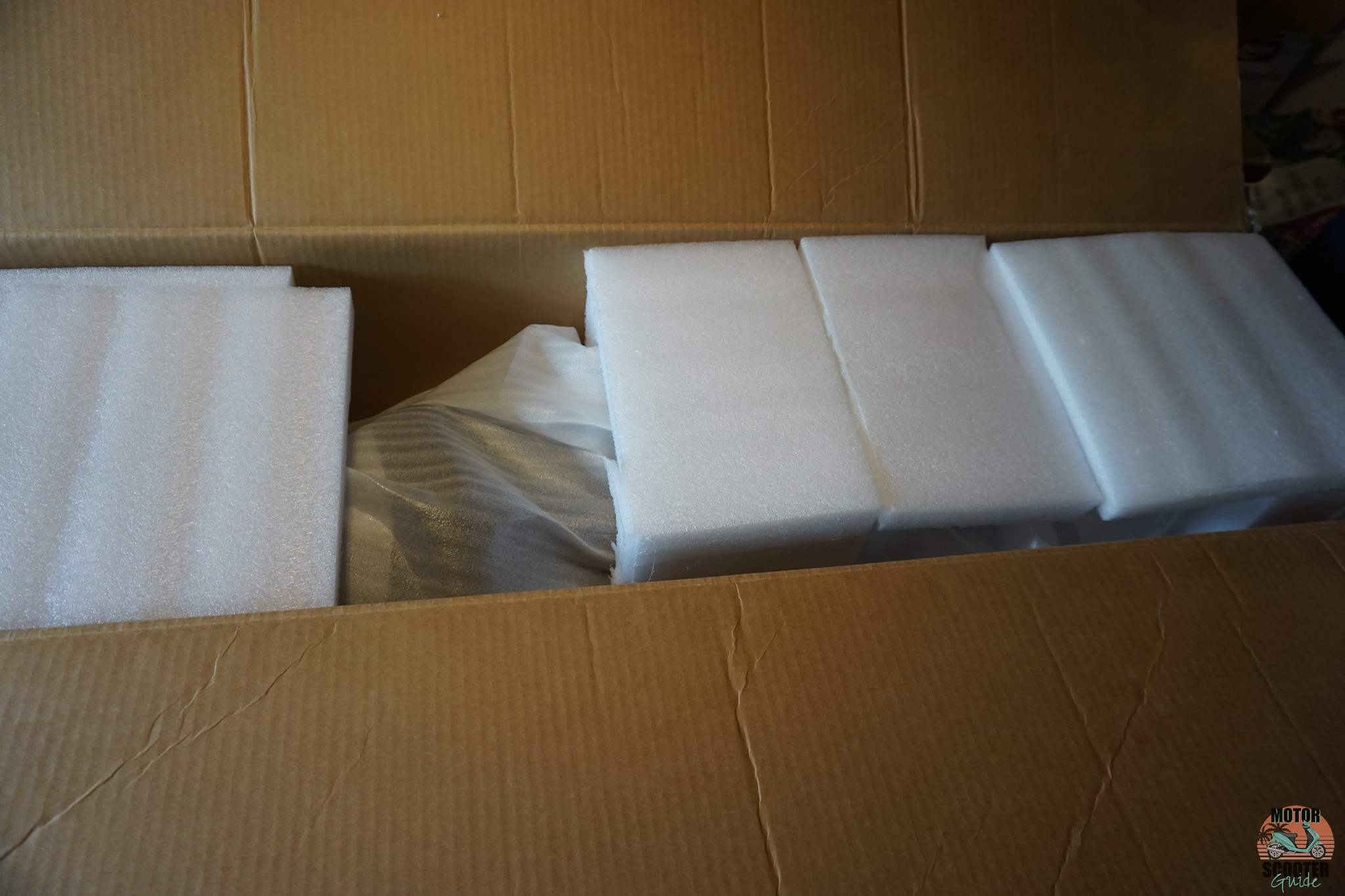 Packaging
Inside the cardboard box, the actual bike was incredibly well packaged. It was shipped wrapped in soft packing materials, with vulnerable parts double wrapped in bubble wrap, with plastic hub protectors for the wheels. Everything was cable-tied neatly together. Pro tip: don't cut the cable ties. Undo them and save them for your toolbox. I always seem to run out of them when I need them most, and the Himiway Cruiser ships with A LOT of them.
Box Contents
The first thing I pulled out of the box was a smaller box that had a few goodies inside. These included: the pedals, the quick-release front wheel axle, the battery charger, an LED headlight, a very useful pocket tool, and a Himiway-branded hat.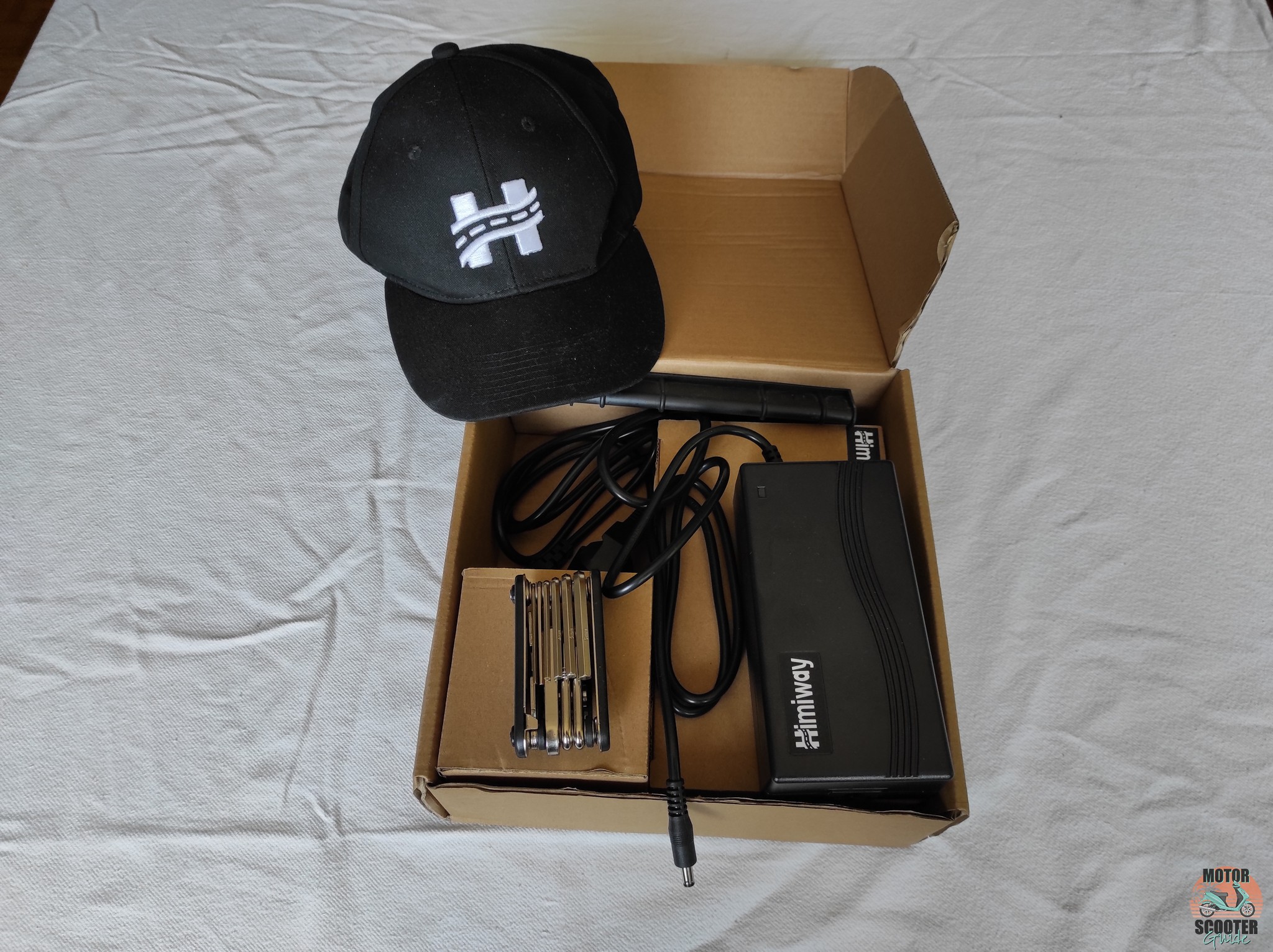 Putting that to one side for a moment, the next thing I removed was the front wheel unit, followed by two mudguards, and finally, the frame. The frame was pre-assembled with the saddle and rear rack already installed. The handlebar section was attached but only by the electric cables. It was secured to the front fork with plenty of packaging to avoid any damage.
Battery Unit
Lastly, there was the battery. The battery unit is very similar to many other e-bike setups. It's a long unit that attaches to the frame. It simply clicks into place, with a key to unlock it when you need to remove it. Standard stuff. However, there's one big problem with the battery.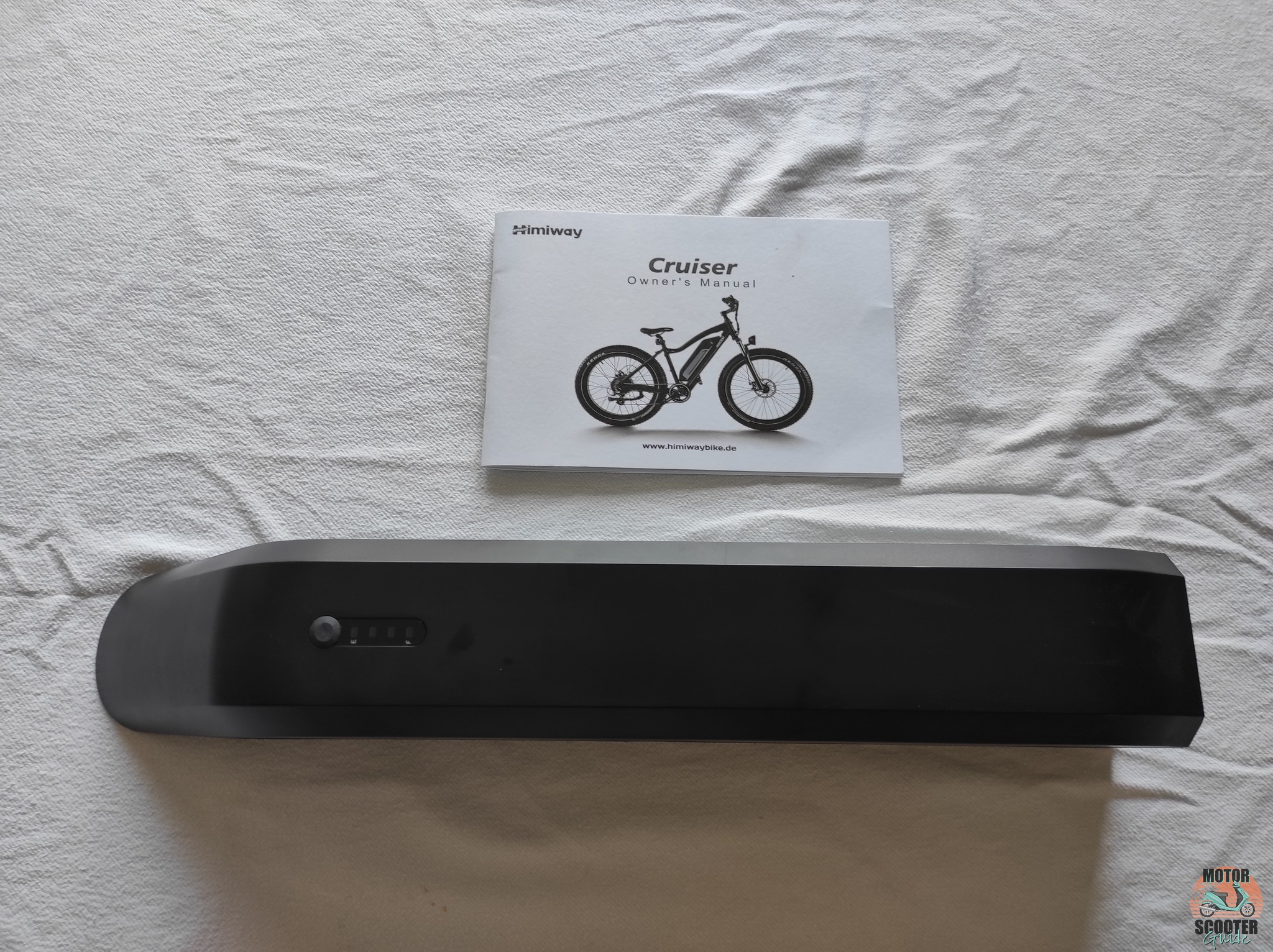 According to the Himiway website and other online sources—including our very own Himiway brand overview—the Cruiser is equipped with a Samsung battery. I'm having trouble finding any other information about that. The battery pack and charger ships with a leaflet from WUXI DPOWER ELECTRONICS CO., LTD (a battery manufacturer from Jiangsu province in China. It may use Samsung battery cells inside but there is no mention of it anywhere, except in passing in the Himiway Cruiser owner's guide.
I don't know about you, but with battery quality and range being two of the most scrutinized specs in the e-mobility industry, you'd really want to push that Samsung connection into the foreground and heavily highlight it. All I can say is that while the website says it's a Samsung, and the manual says it's a Samsung, and other reviewers say it's a Samsung, the actual physical battery does not have the word "Samsung" written on it at all. Anywhere.
I'm not a brand snob, so I don't really care about who made the battery, as long as it produces the expected performance and won't burn my house down while it's charging. However, if you're buying this e-bike because you want to own one with a Samsung battery, this lack of clarity may be an unwelcome surprise.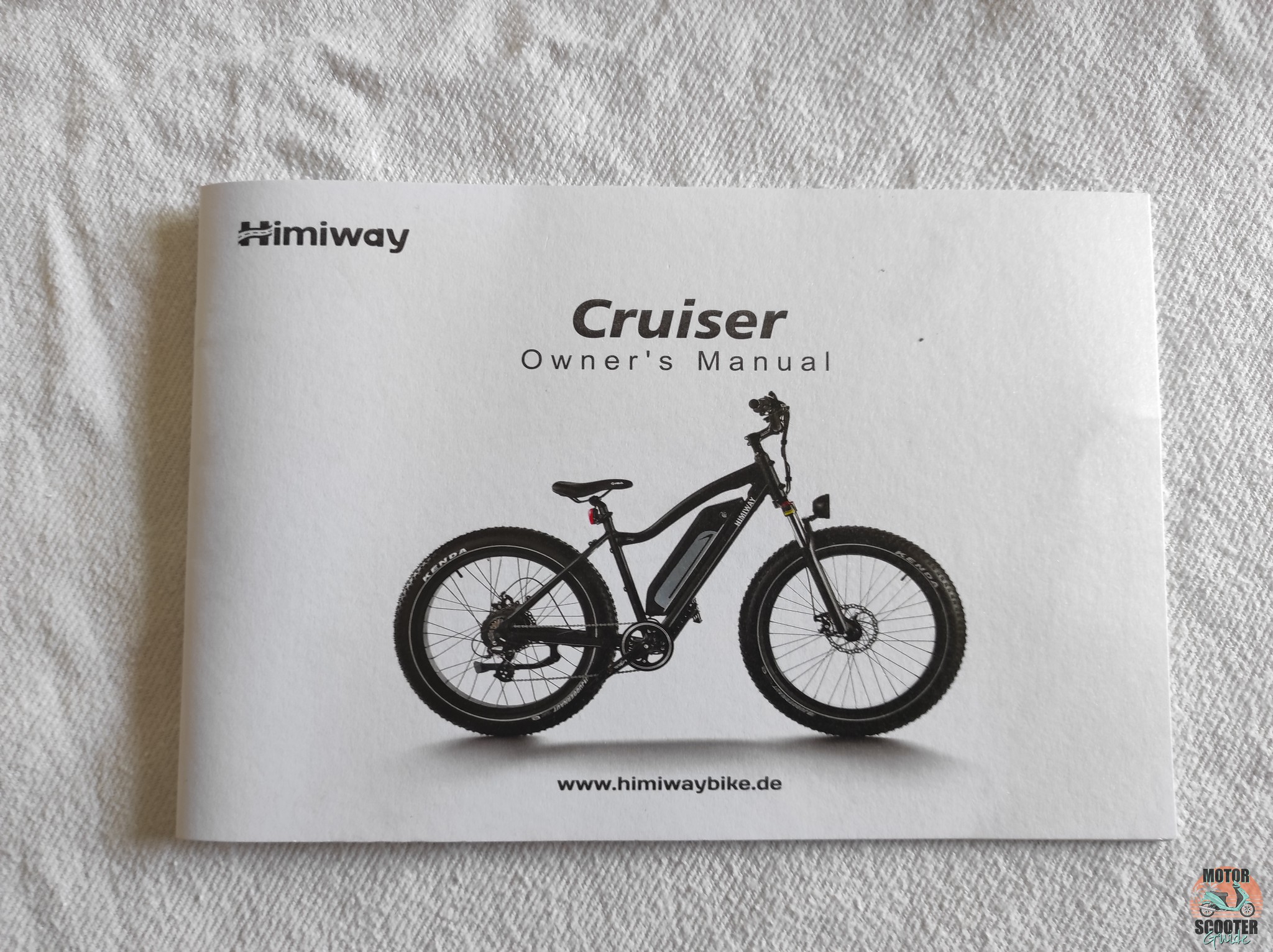 Naturally, the Cruiser also came with all the usual paperwork, including an owner's manual, complete with a step-by-step assembly guide.
Assembling The 2021 Himiway Cruiser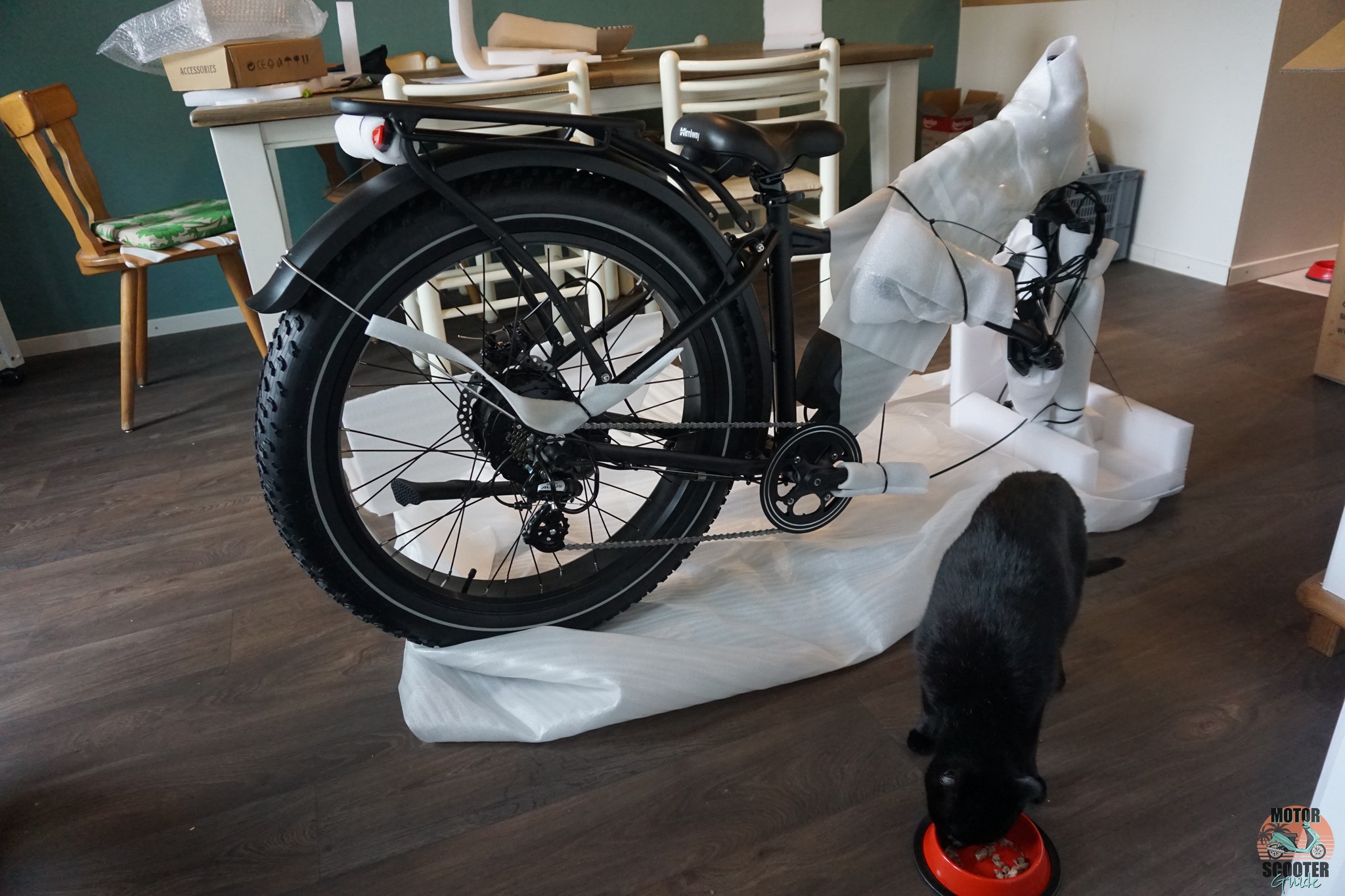 Assembling an e-bike isn't rocket science but even if you're confident with your abilities, it can be a wise idea to call in the help of your local bike shop. A real bicycle mechanic will be able to put something like this together in no time at all and have the bike set up specifically for your measurements. Even if you choose to assemble your bike yourself, I'd still recommend calling into the local shop for a service before you take on any real spirited riding.
Testing My Building Skills
Before you get started putting it all together, here's some advice: while you can get the bike together using the toolkit provided, I don't recommend it. The toolkit is great, and I think it's a nice bonus item to have, but you're best off with a few sockets and a decent Phillips head screwdriver.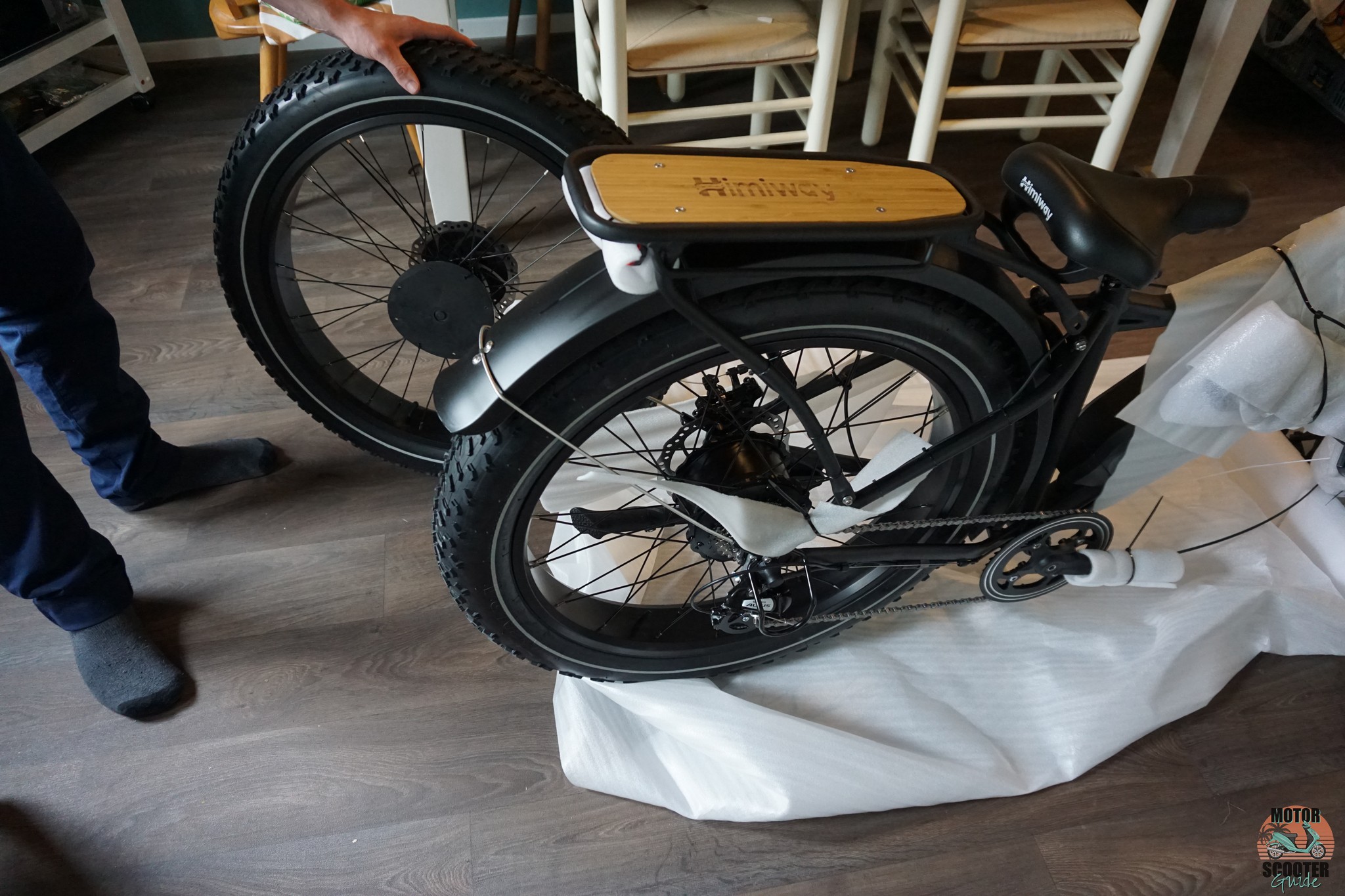 Getting it together was pretty straightforward since most of it was pre-assembled. The owner's manual has a fairly concise how-to guide, and the Himiway website has a series of videos to help you if you get stuck.
My advice would be to get the bike assembled first and then tailor it to your height and riding position after.
The handlebar clamps are easy to use and there's plenty of room for adjustment to suit riders of all sizes. The front-wheel uses a quick-release system which is super-easy to install, and the rest is a matter of putting bolts through corresponding slots and tightening accordingly.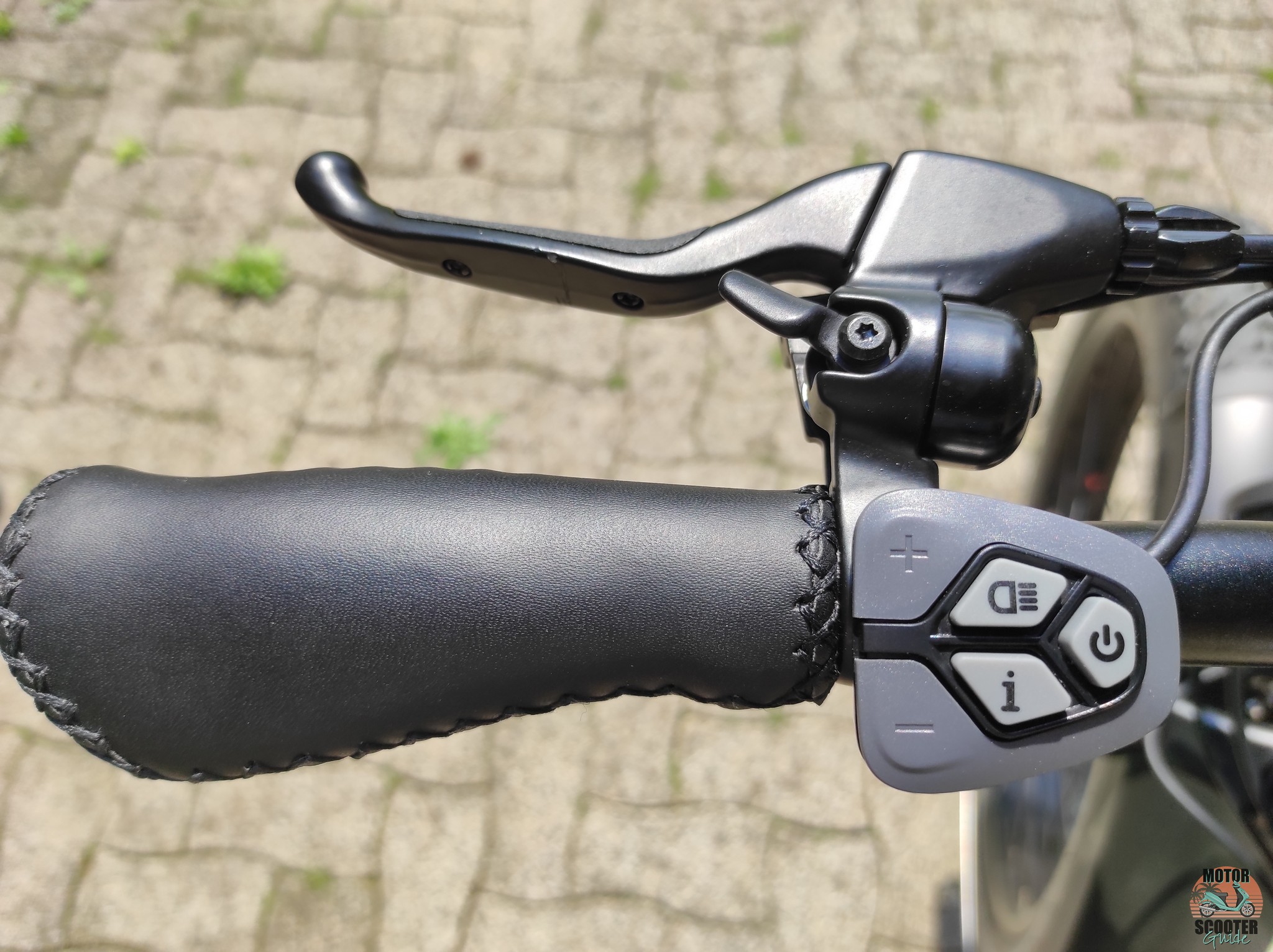 I was worried about the wiring though. Electrics of any kind are not my forte, whether we're talking about re-wiring a Honda CBR1000RR or installing a new ceiling light. So, I was pleasantly surprised to see that the wires on the Himiway Cruiser are few and far between, and the ones that required connecting together were about as easy to connect as a headphone jack into a laptop. It was as simple as that.
Every component of the Himiway Cruiser feels expensive and reliable—apart from one. The headlight is a cheap plastic LED thing that doesn't tighten up particularly well. It feels cheap, it looks cheap, and after a few rides, it did come loose. Now, it's nothing that you can't fix with a washer or two, but you shouldn't really have to—not when you're spending over $1,500USD for something. The actual light does work well though, so I can't fault that.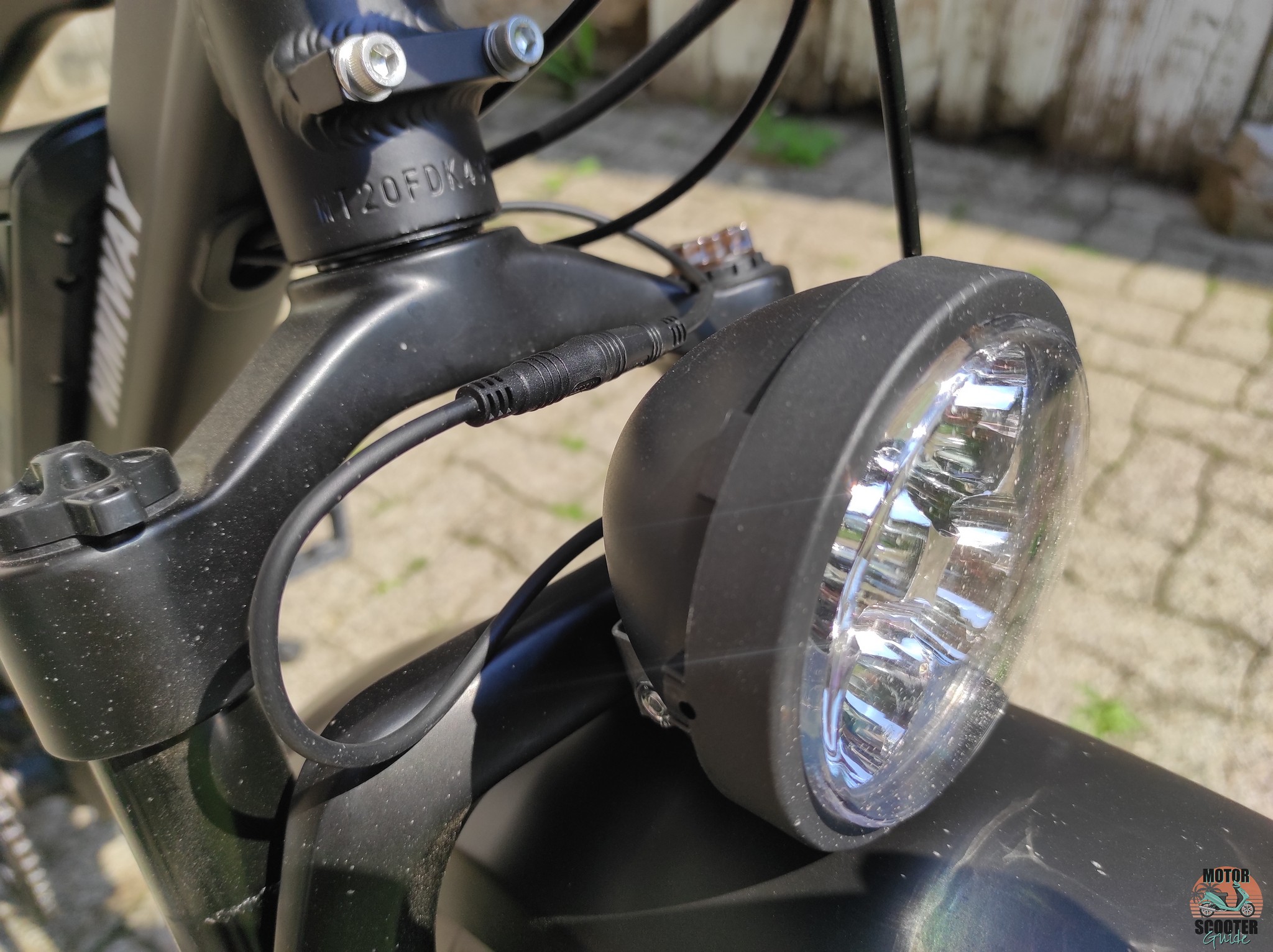 Talking of lights, the Cruiser comes with a pre-installed rear light, with a fully-functioning brake light too. The lights can be controlled by the backlit greyscale LCD instrumentation after clicking a handy button on the handlebar.
Overall, assembly took about half an hour from start to finish, not including putting air in the tires.
Himiway Cruiser Components
Now that we've put it together, let's take a closer look at the Himiway Cruiser's components and see what's what.
48V 17.5 Ah Battery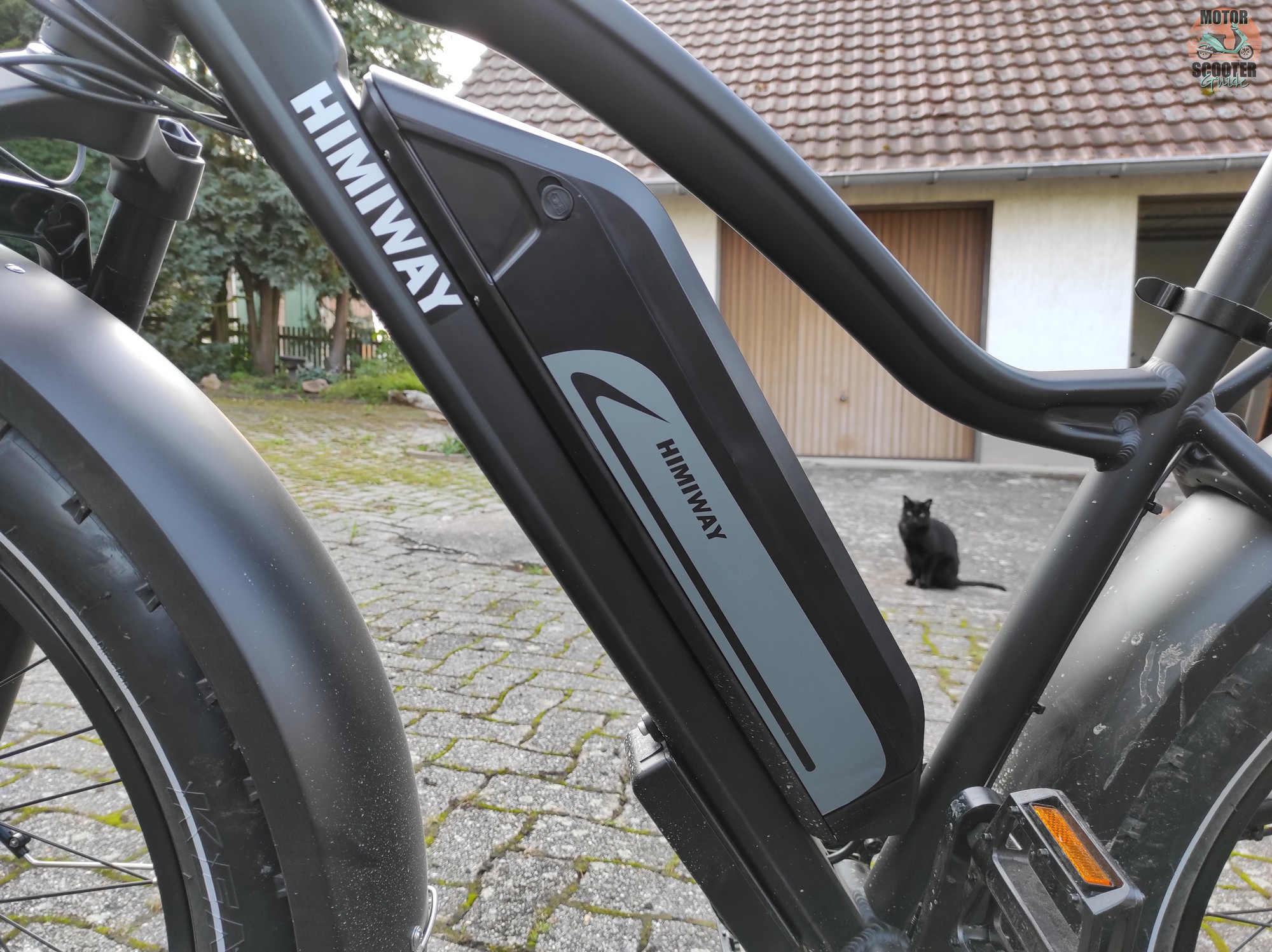 The Himiway Cruiser is powered by a 48V 17.5 Ah battery that features Samsung cells on the inside. It's not a particularly noteworthy battery and it's very similar to other eBike batteries out there. However, it does have some impressive range statistics, with an estimated range of between 60 miles and 100 kilometers with pedal assistance. (After more thorough testing, I've found this to be fairly accurate, too). Charging time for this unit is rated at between 6 – 9 hours, but again, I've found it to be more like 5 hours for an absolutely full charge.
Bafang 750W Motor + Controller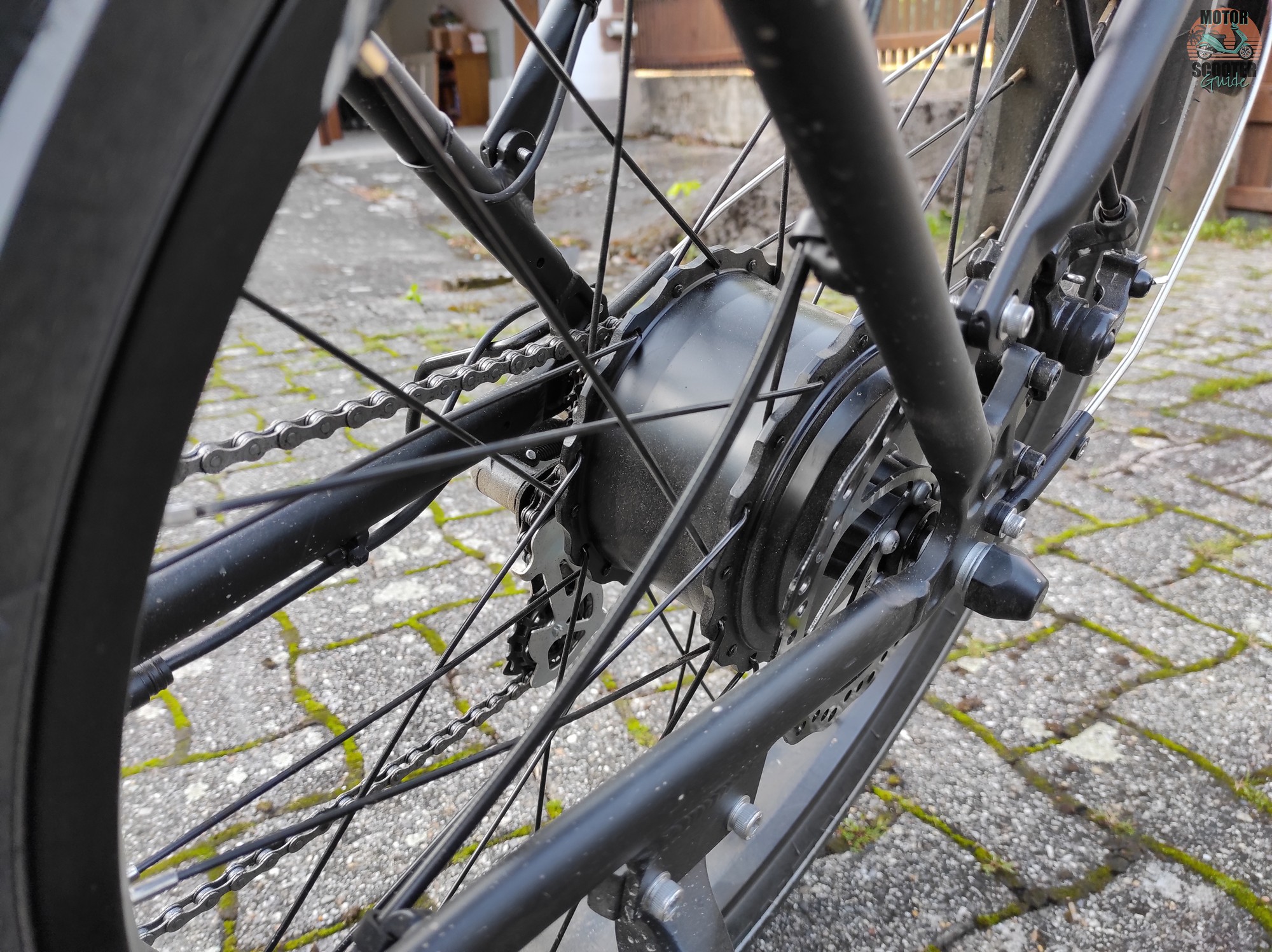 Contrary to what the manual states, the Himiway Cruiser sports a mammoth 750W Bafang motor. The website states this, but the owner's manual obviously hasn't been updated to mention this excellent upgrade. With 750W to play with, the Himiway Cruiser is a real beast.
To put that in perspective, similarly priced rivals usually come equipped with something in the region of 250W to 350W. So, with 750W and a torque output of about 80 Nm, the Himiway Cruiser means business.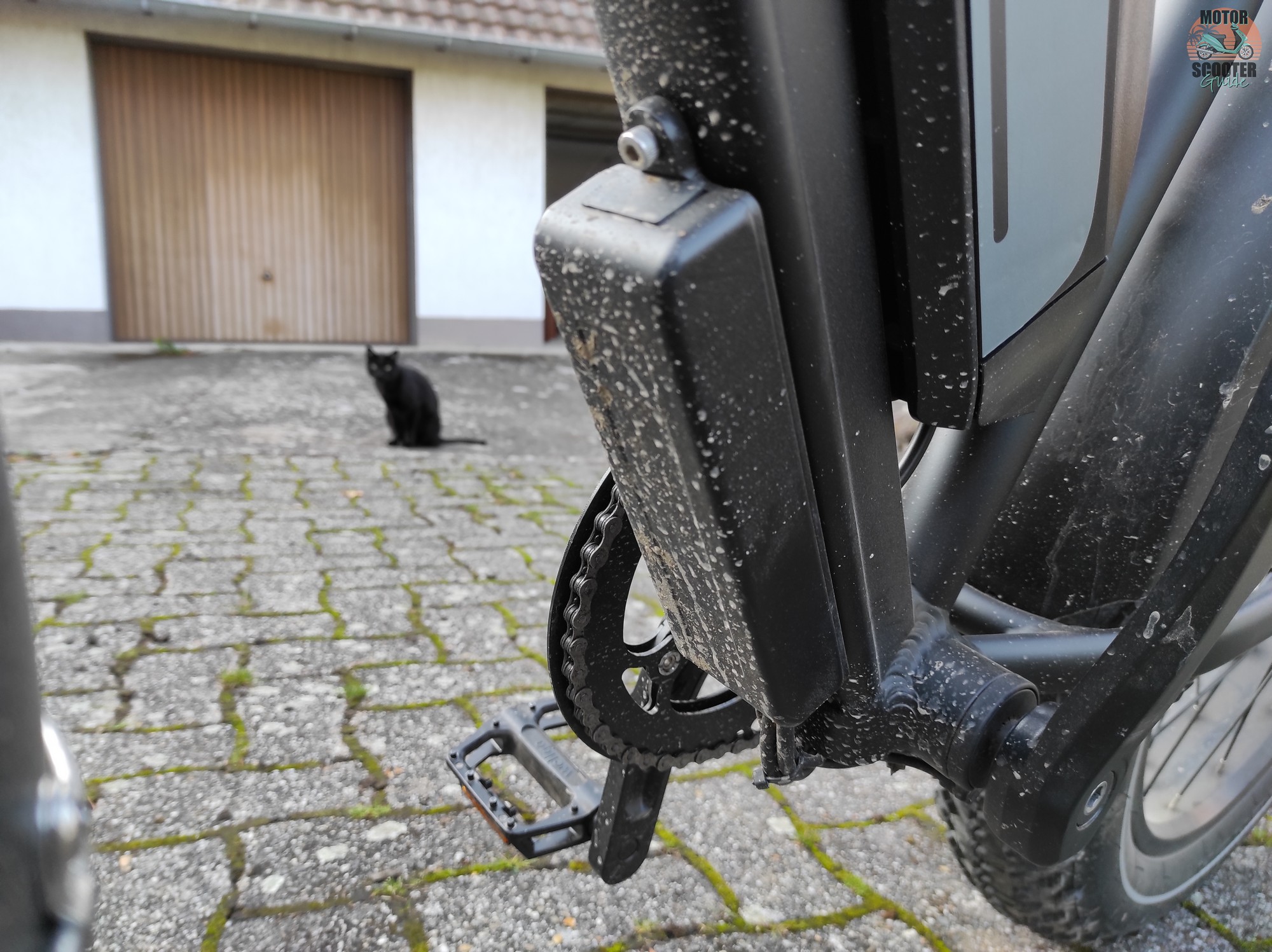 The controller is annoyingly located on the underside of the frame which is something of a design oversight. You see, it's in a location that could see some abuse if you're planning on doing anything more than light off-road riding. Still, it's a small gripe considering how much bang for your buck you get in other departments.
26" x 4" Kenda Puncture-Resistant Tires
As a fat tire cruiser bike, it makes perfect sense for the Himiway Cruiser to sport some giant tires. Specifically, these are large 26" x 4" Kenda rubbers with a heavy-duty tread pattern that can truly handle a range of unpaved surfaces.
Be sure to keep an eye on your psi, because they need to be filled properly if you want to ride the Cruiser with any real confidence. For the Himiway Cruiser, the manufacturer's recommended inflation is 20 PSI or 1.379 Bar.
LCD Display, Settings Menu, & PAS/Light Switch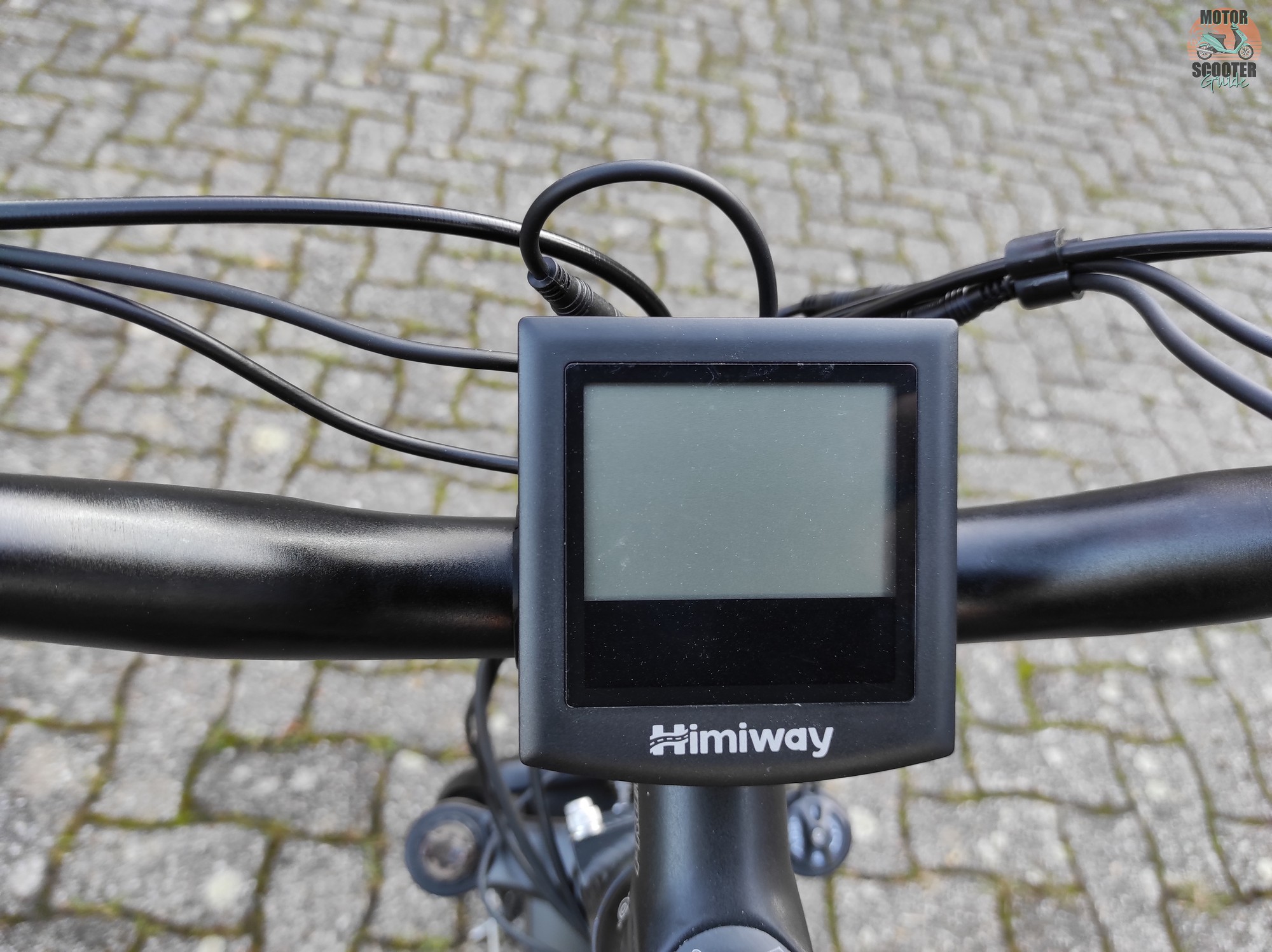 Given that the Cruiser is very much a budget-focused eBike, I didn't have high expectations for the display and control system. However, both function really well. They're not high-quality components but they certainly do the trick.
The LCD display has a large screen that's easy to read and understand, displaying all of the relevant information with clarity without glare. It has backlight capabilities, too. All in all, it's absolutely satisfactory.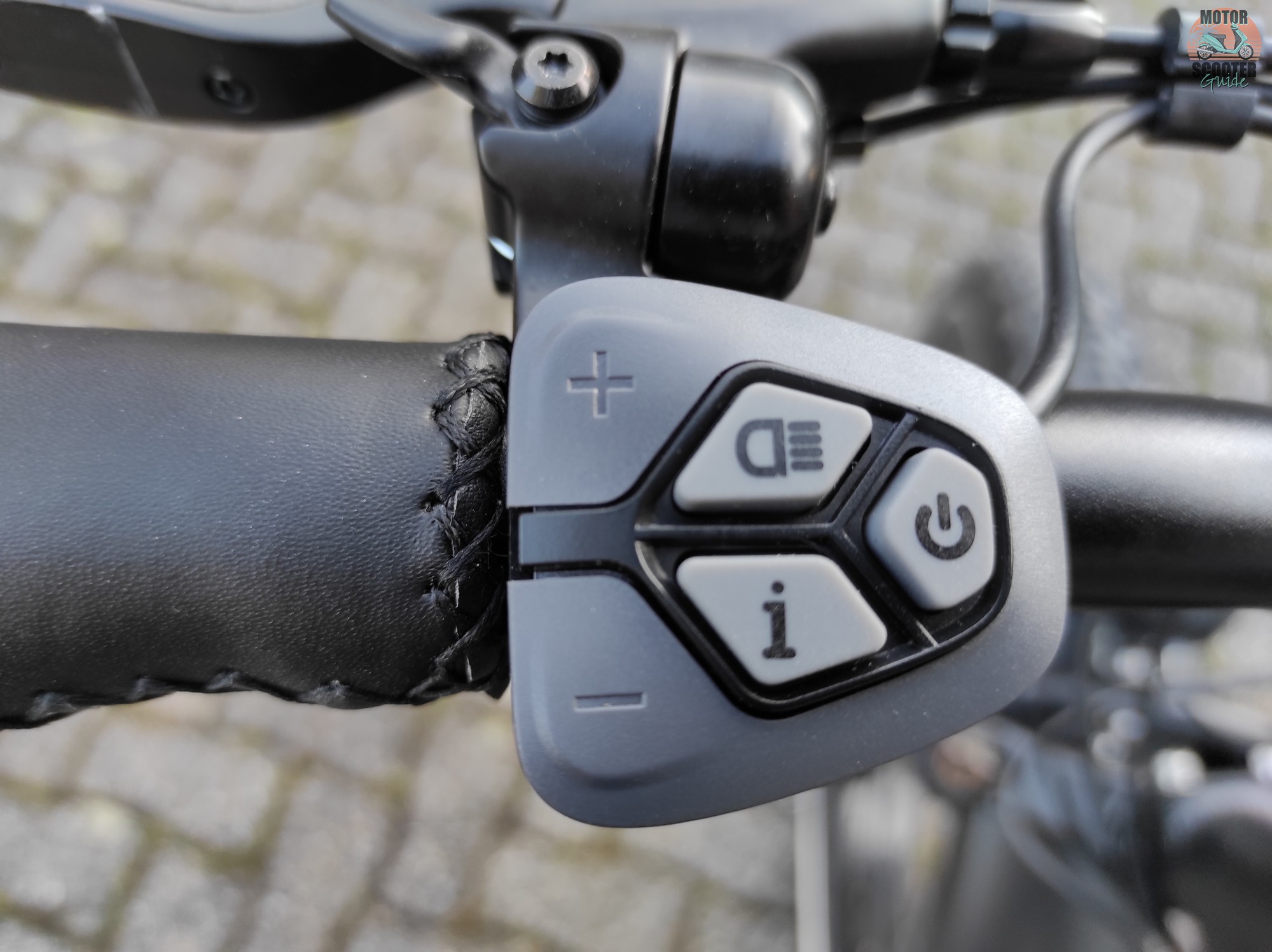 The controls are mounted on the left handlebar and feature "+" and "–" buttons to control your power output, with a button for your headlight, and "I" button to access more display options, and a power button. It's not rocket science. However, the thrill-seekers among us will be pleased to learn that you can override the speed governor by inputting a certain code. Check out Cam's review of the Himiway Step-Thru Cruiser for more information on that.
Be warned: unlocking the speed governor may change the class of your vehicle class in the eyes of the law, so keep that in mind and don't be (too) silly.
Shimano Tourney Shifter + Shimano Altus 7-Speed Derailleur
The Shimano Tourney shifter is fairly standard among eBikes, with other names like the Pedego Interceptor and Pedego Boomerang using the same technology. Here, the Himiway Cruiser uses that same SL-TX50-7R system, which provides easy gear changes with a smooth action.
The Shimano Tourney shifter is paired with a Shimano Altus 7-speed derailleur at the rear for dependable and unsurprising gear shifting.
Front Fork Suspension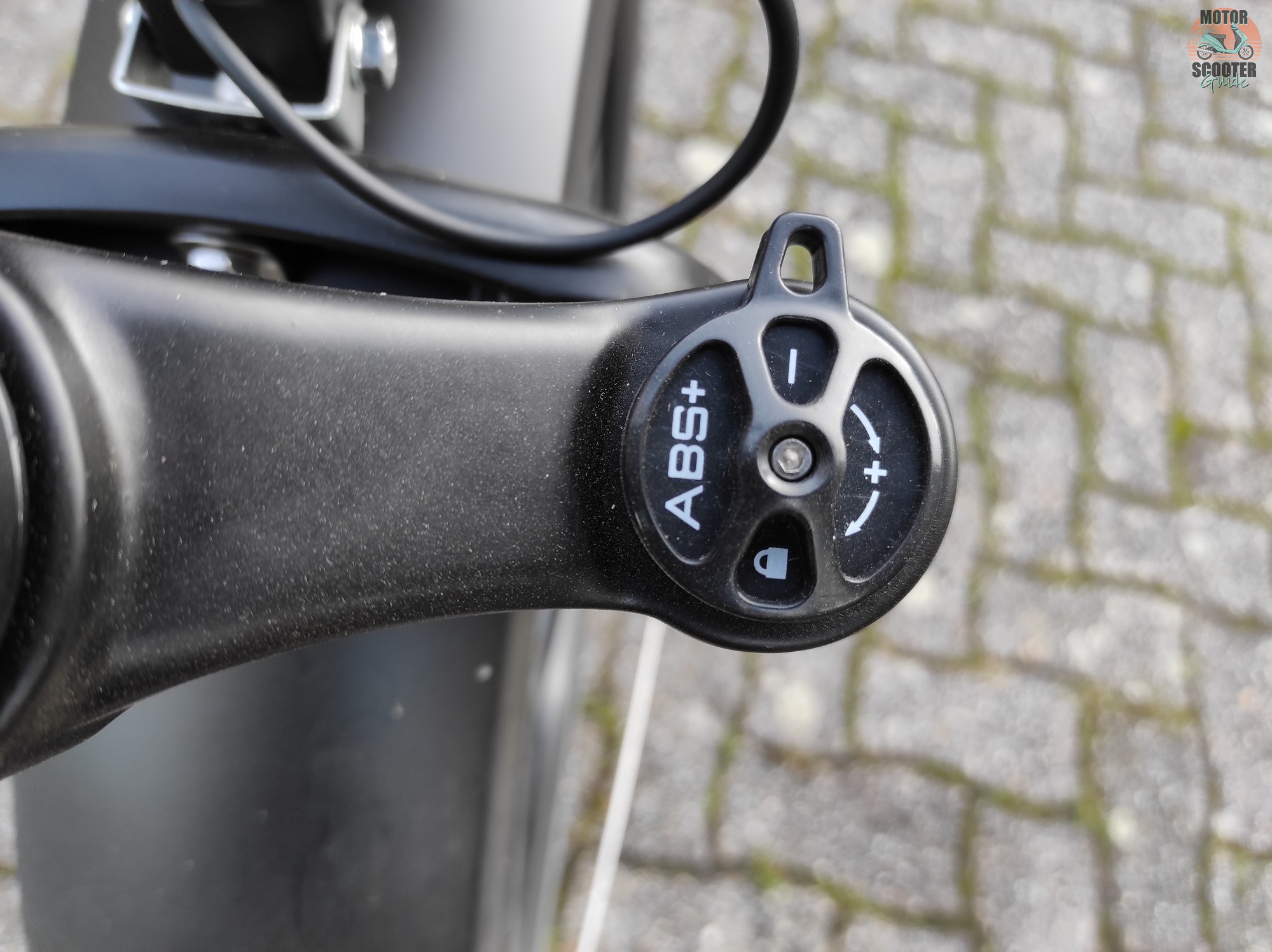 With off-road riding a very real possibility, Himiway equipped the Cruiser with impressive alloy front suspension with pre-load adjustment and lockout. You won't see any brand names written on these components, but just having them is nice enough—especially considering the price tag.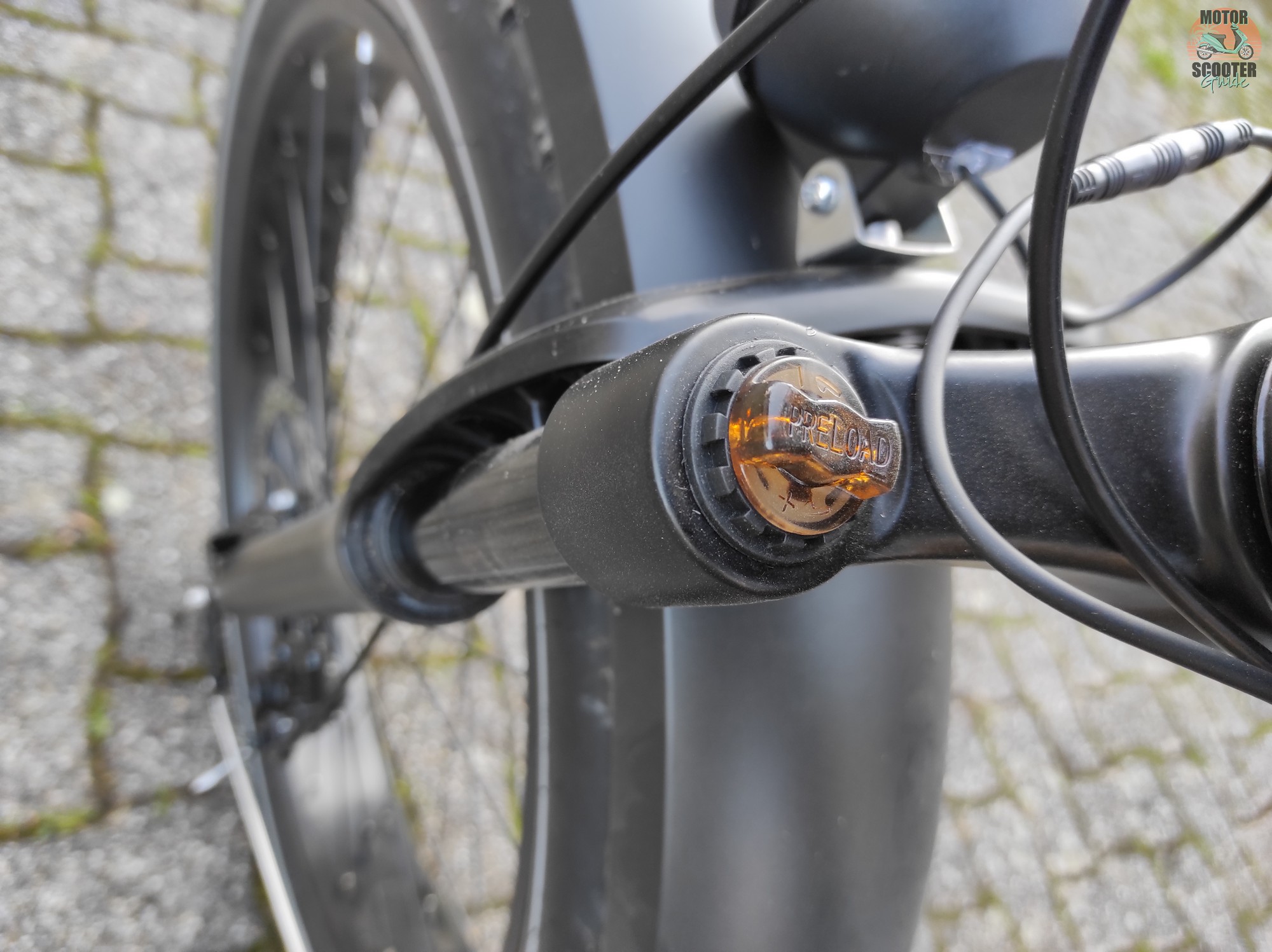 Don't be fooled though, there might be suspension at the front, but it's all hardtail at the back. But that's ok. The saddle is plenty plush enough to absorb some shocks and jolts. If you've got plans to do anything too serious, this probably isn't the bike to do it on anyway.
Getting Ready To Ride The 2021 Himiway Cruiser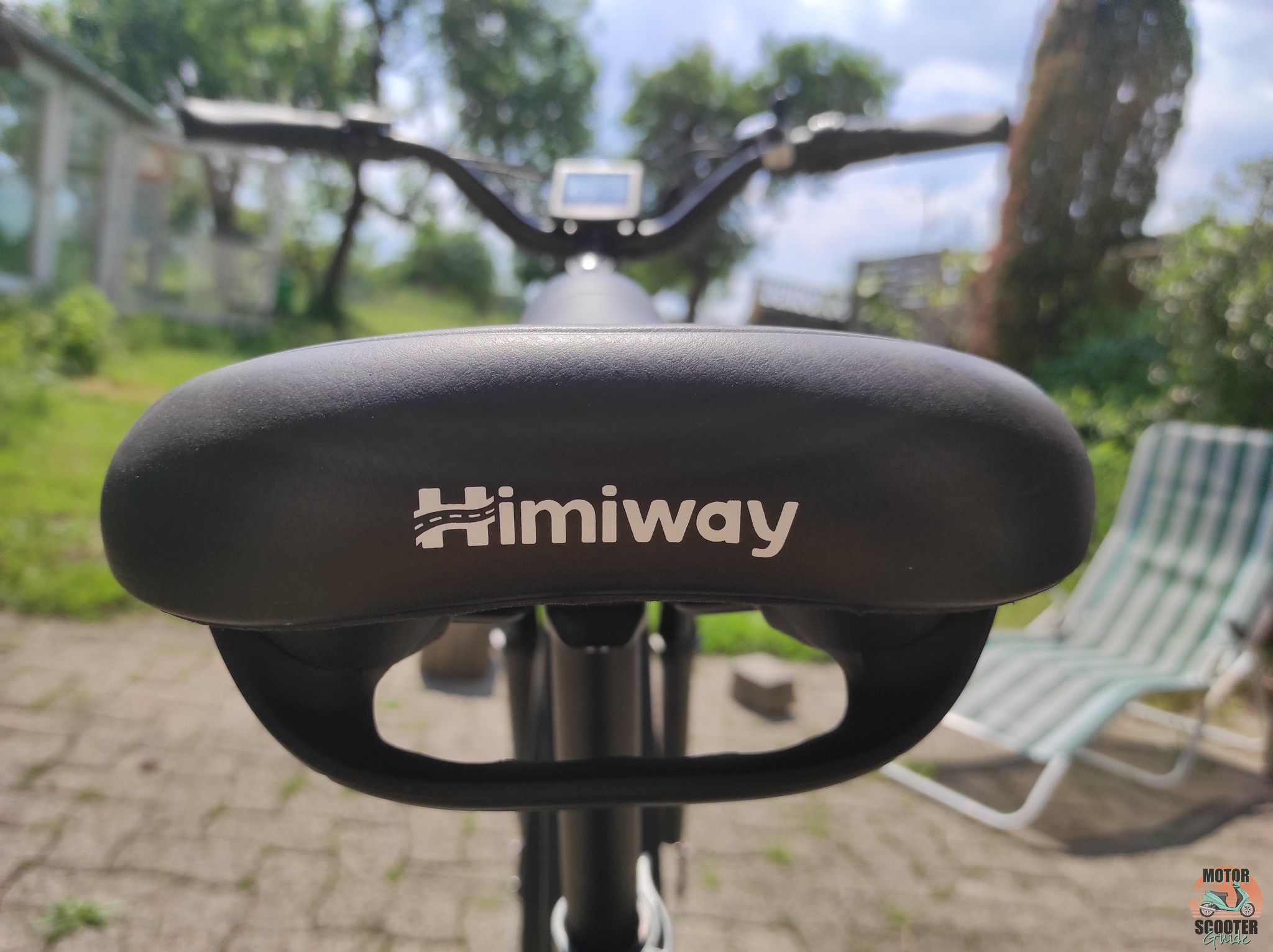 After getting the now fully-assembled bike back down to ground level, it was time to put air in the tires, set the ride height, test the brakes, install the battery, and give it a ride.
Despite the size of the tires (which are massive) inflation is fairly easy with a manual pump and doesn't take a lot of effort.
Handlebar Position and Saddle Height
Setting the handlebar position and height is another easy task. To set the height, simply unscrew the handlebar's clamp bolts, unscrew the cap bolt on top of the stem, and add or remove the included spacers as desired. When you've found the height you like, reverse the steps but put your handlebars in a good position before tightening them up.
The saddle is super-easy to adjust. It has an easy-lock mechanism that you release, allowing you to set your saddle height before re-engaging.
LCD Instrumentation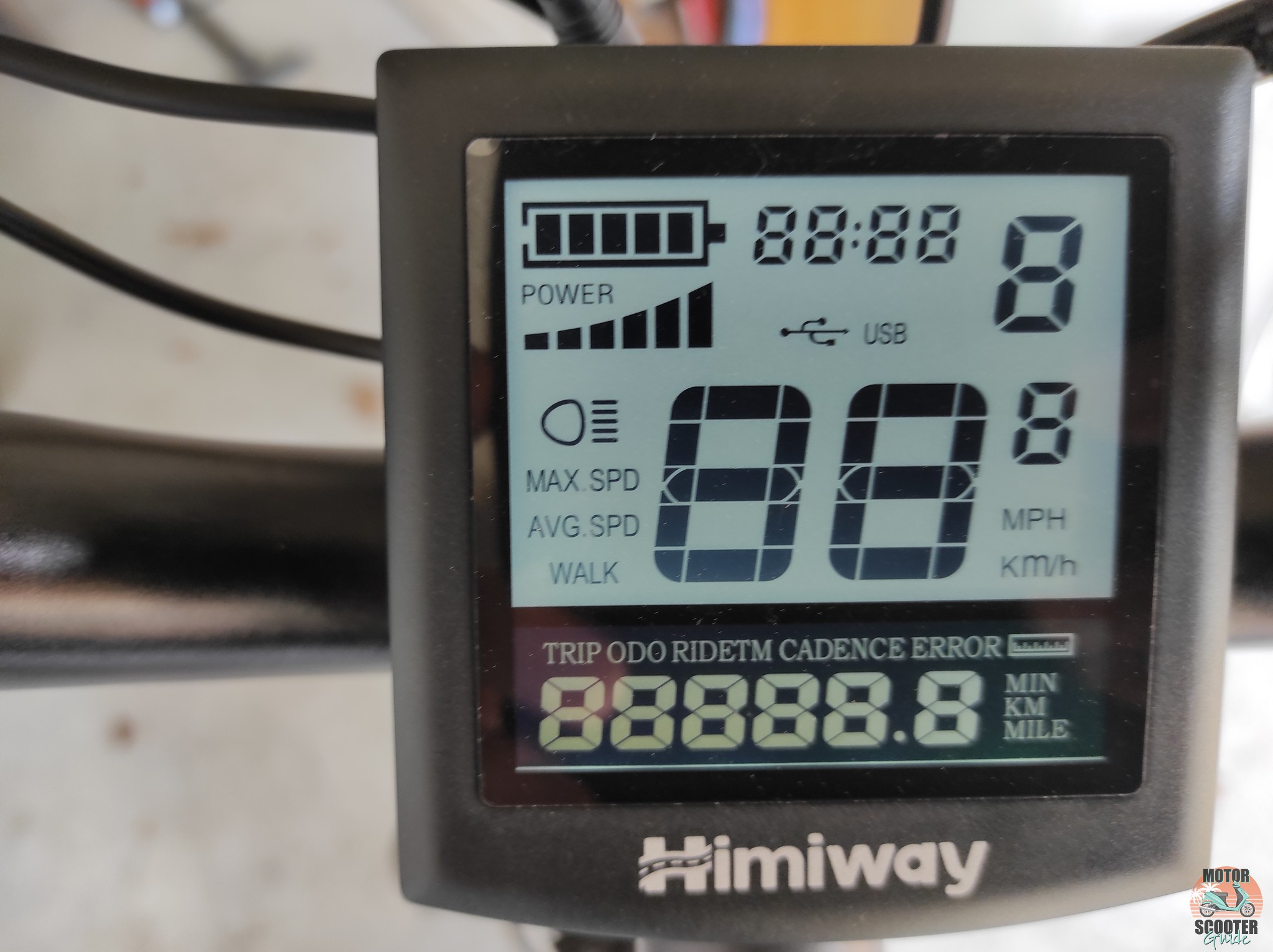 After installing the battery, you can play around with the settings on the instrumentation. The manual has a concise guide of what metrics it can display and how you can reset them or log them, and it also keeps an eye on your usual specs, such as the battery life, range, and speed. It also shows what power level you're using, and it features a very useful USB charger for any devices you might be using.
Speed Sensor
The Himiway Cruiser uses a cadence sensor to determine when to deliver power. This sensor delivers power across five power ranges, and it's also supplemented with a twist-grip throttle on the right hand of the handlebar to give riders a slow-speed dose of power up to 6 km/h. The latter feature is great for assisted pushing, or for effortless pull-aways.
So Far, So Good?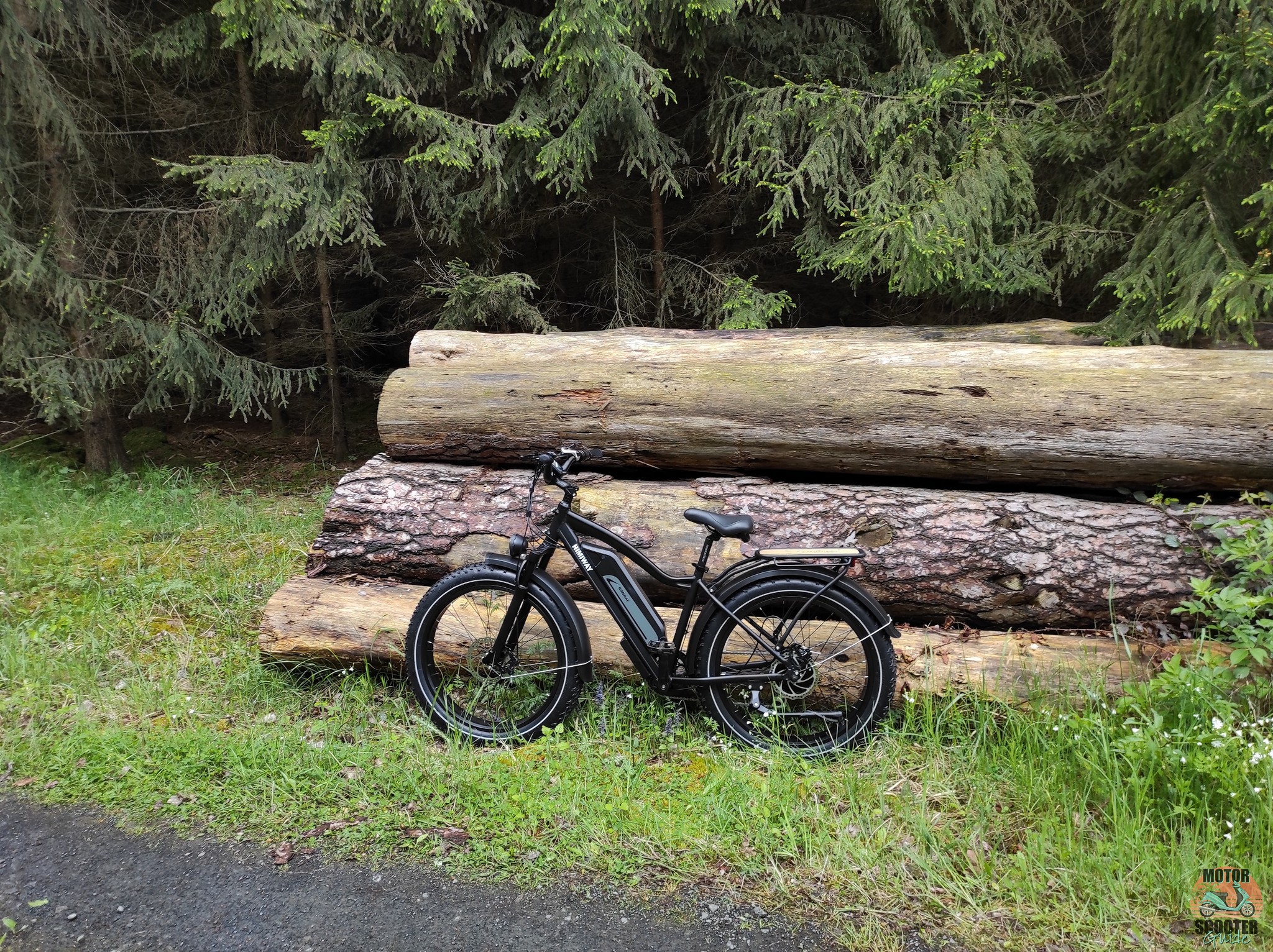 Yeah, so far, so good indeed! Since it was assembled and prepped, I've managed to get some decent mileage on the Himiway Cruiser and have learned what I love about it, and what I think could be improved. I'm going to cover how it riders and performs in a later review once I've managed to get a few more rides done. In that one, I'll go into detail about how the cadence sensor affects the power delivery, how accurate the battery life and range specs are, and just how much fun the Cruiser is to ride.
However, if you want a quick assessment, here are some valuable things I've learned so far:
The Cruiser is well-made with no manufacturing defects, sloppy welds, or poorly painted surfaces.
The headlight assembly is the only part I'm unhappy with. It can easily be fixed, but it could've been better.
Nothing squeaks! There are no scary noises and no parts are rubbing together.
The wiring is well-hidden but accessible if you need to unplug components.
The side stand is very strong and sturdy. You can feel confident that it will hold the Cruiser up on flat surfaces and uneven terrain alike.
It feels and looks more expensive than it is.
In summary: the Himiway Cruiser feels like a premium e-bike but with a relatively cheap price tag. It's not without its faults, and I can tell you that with confidence even after my short time with it. However, the company shipped a great bike that was easy to assemble, with no particularly unwelcome surprises.
I'm going to look into this Samsung battery business though because I've read other reviews from reputable sites who are still repeating that it has a Samsung battery. I may be misunderstanding something.