2011 REV'IT! Spring and Summer Clothing Image Gallery
The winter/summer motorcycle clothing review cycle will never make sense.
Cold-weather clothing can't be reviewed until winter arrives and by time winter arrives, spring clothing is on its way to the dealers' shelves.
Does the word "irony" come to mind?
It was only a couple of weeks ago that we published our review of the brand-new Rev'it Gore-Tex Defender GTX jacket and pants, which is the current top-of-the-line Rev'it outfit for winter.
December was only half over, and I was on my way up to New York to check out the Rev'it spring 2011 clothing lineup.
The weather that day had winter written all over it, with biting cold and Force 7 winds howling in from the Atlantic, slicing through the Verrazano Narrows bridge right up Gowanus Bay and straight into the brick building that houses Rev'it USA headquarters.
20-degree Fahrenheit temperatures at this velocity is breathtaking — literally. And the Rev'it building sits 20 feet from the water and maybe 6 feet above sea level, so there was nothing in the way. The wind was so strong it nearly knocked me over and guess what? Street clothes don't protect against that kind of cold!
And here I was, all set to view the spring and summer clothing lineup?  It's crazy!
Thankfully, that old brick building has been there since cows were grazing in what is now Central Park and once inside, with the sun pouring through the windows, it didn't take long to "think spring".
We're big fans of Rev'it clothing, no news there. But there's a reason the company gets so much visibility on webBikeWorld.
They do a great job at keeping us informed of all their latest gear and I get bi-yearly invites to travel up to New York (which I do at my own expense, by the way) for an exclusive look at the new clothing.
We'd do the same for any other manufacturer…but so far, none have invited us.
So I have to take it as it comes, and if Rev'it gets all the press, well, all I can say to those other clothing manufacturers is — drop me a line. I'd be happy to oblige.
Rev'it 2011 Spring and Summer Clothing
Timing is everything when it comes to motorcycle clothing, and if it seems strange to be introducing hot-weather riding gear in December, well, there's a reason for it.
Actually, December is already late for spring motorcycle gear. In fact, the dealers had already viewed the clothing, placed orders and were awaiting shipments.
In fact, the Rev'it spring 2012 clothing line was off the drawing boards before the dealers even got a chance to see the 2011 gear. Did I say it was crazy?
What's New for 2011
Rev'it is taking a slightly different tack with their 2011 spring and summer lineup by filling in some gaps related to pricing and value.
It's a bit of a risk for a company perceived as a purveyor of high-end equipment and my guess is that current economic conditions might at least be partly a motivator, although Rev'it denies it.
Value pricing isn't a completely new Rev'it strategy; for example, the 2008 Rev'it Air (review) jacket had a list price of $179.99 when it was introduced and it's still in the product lineup (and it's my jacket of choice for very hot weather).
The trick is to maintain the Rev'it focus on quality and safety for products sold at a price level that could mean slimmer profit margins, and I think they easily succeeded for 2011.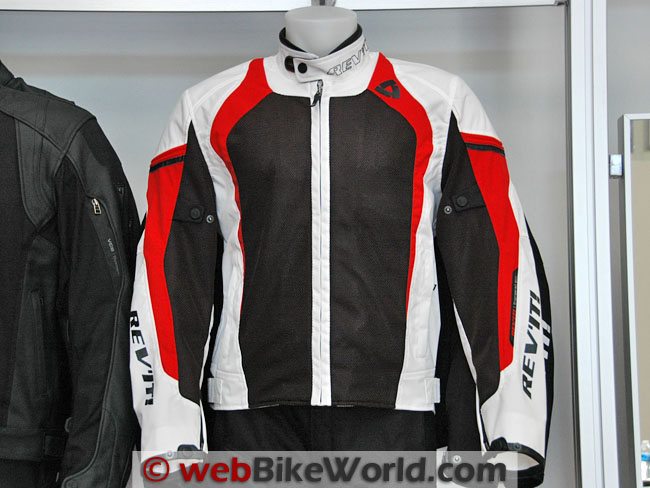 The Rev'it Tarmac Air Jacket
The "Tarmac" label is a Rev'it summer theme this year, with a stunning Tarmac one-piece leather suit; Tarmac summer gloves; the Tarmac Air jacket and the Tarmac USA leather jacket and pants combo.
With a list price of $199.99, the new Tarmac Air mesh jacket now slips in between the existing Rev'it Air jacket (men and women specific versions; list price $189.99) and the new Rev'it Tornado mesh jacket for men and women ($299.99) I'll describe in a minute.
Rev'it apparently has an inside line on the weather for summer 2011 and they've determined it's going to be a scorcher, because the emphasis throughout the lineup seems to be on providing high levels of air flow with lots of mesh, perforated and vented clothing.
The Tarmac Air jacket has a race fit and is available in all black, black and white and the looker of the lot is a white/red/black color scheme that also seems to be the favored Rev'it palette for summer 2011.
The jacket is made from 600 denier textile and has CE-approved armor in the shoulders and elbows and EVA foam in the back, along with a unique strap that allows it to attach to a pair of jeans. It will be available in sizes ranging from S to XXXL.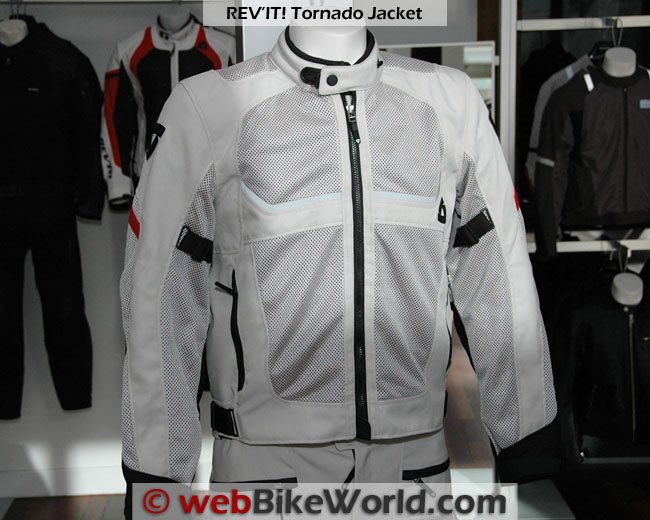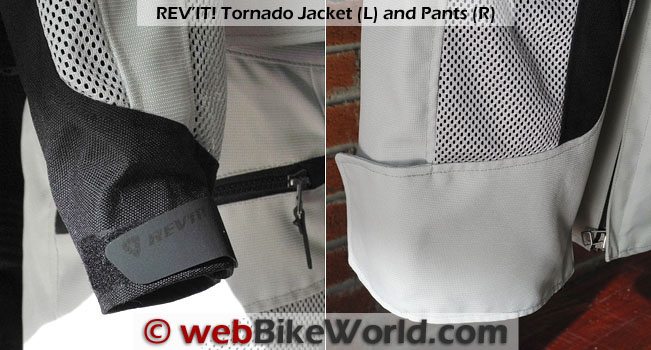 Rev'it Tornado Jacket and Pants
The new Rev'it Tornado jacket and pants are one of the major releases from Rev'it for summer 2011 and this outfit should be just the ticket for hot-weather riding.
The jacket and the matching Tornado pants are available in both men's and women's specific sizes and matching colors of black or the preferred (for summer use) silver with black trim. Rev'it calls it "silver" but it looks more like a light clay or putty color to me — perfect for hot and sunny riding conditions.
The Tornado has a tour fit and a pair of these in matching colors would be perfect for two-up summer touring on your RT or Gold Wing or for bashing around on any old street bike.
The jacket features four huge mesh panels in the front and three covering almost the entire back. The mesh is quite different from anything I've seen in previous Rev'it products (or other brands for that matter). The mesh "holes" are large circles and the fabric is knitted around the hole in a very unique reinforcing pattern that is designed to provide maximum airflow while maintaining its integrity across both the horizontal and vertical planes.
The shell of the Tornado is a 600 denier textile and it also has a new and unique finish that I call a "nailhead" pattern. It's not quite ripstop and almost looks like tiny nubs and it gives the jacket a very nice look. The jacket also comes with a new 2-in-1 removable liner that provides waterproofing and insulation and the liner can also be used as a casual "walk-around" jacket off the bike.
The matching Tornado pants can be used as overpants — a first for Rev'it — or purchased one size smaller to wear alone. The pants come in standard, short and long lengths and they have Knox CE-approved "Flexiform" adjustable armor in the knees and EVA foam in the hips. The jacket also has the Knox Flexiform armor in the elbows and shoulders and an EVA back pad.
The Tornado jacket and pants outfits are available for men and women and the women's outfit is specifically tailored for women. The prices seem very reasonable for this level of quality, with the jacket at $299.99 and $259.99 for the pants. Men's and women's are priced the same.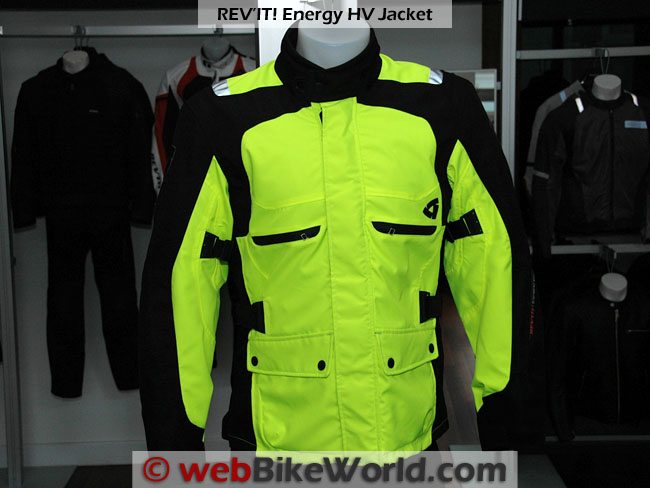 Rev'it Energy HV Jacket
The Energy HV (for "High Visibility") jacket is a new "thinking outside of the box" product for Rev'it. Their designers have been reluctant in the past to incorporate high-visibility colors into the product line for several reasons, I'm told. But once they decided on high-viz, they went all the way, because the Energy HV jacket is high-viz kicked up several notches!
As you can tell from the photos, the special high-visibility fabric used in the Energy HV is a retina-burner. The sensor in the poor old Nikon D70 nearly melted trying to record the stuff! I'm joking, of course, but the special 600 denier fabric used in the Energy HV jacket isn't just some old lemon-yellow color claimed to be high-visibility — this is the real thing, and it meets the EN-471 directive for high-visibility safety gear.
This is a vibrant neon yellow color designed to provide maximum visibility both day and night. All I can say is, this stuff hurts, it's so bright, and the jacket is a standout. High-performance 3M Scotchlite brand reflective tape is heat-sealed on the shoulders, elbows and back for good measure, to add even more visibility at night.
The Energy HV jacket is geared towards city commuting. The roomy cut and the fabric was designed to make it very easy to wear and to throw over your street clothes — perfect for commuting. It's waterproof with a built-in Hydratex lining and has a detachable insulating liner and the CE-approved Knox Flexiform armor in the elbows and shoulders.
Pull out the armor and I think the jacket would also make a great casual sport cover for outside activities other than motorcycling where maximum visibility is important, such as walking the dog, hiking, etc.
The jacket has big pockets in the front and inside and the best part is the price: $249.99 list. Since it will most likely be used for commuting over street clothes, the Energy HV jacket is available in sizes ranging from M to 4XL.
Rev'it Axis Pants
The Rev'it Axis pants are a perfect match for the Energy HV jacket. These are very simple and roomy black textile pants with two-way zippers on both legs for quick and easy throw-on over your street pants; perfect for commuting or quick trips to the 7-11.
The special two-way zipper was used instead of Velcro and it works efficiently and fast without all that pulling and tearing at the hooks and the loops. The Axis pants have a list price of only $139.99.
The Energy HV jacket and Axis pants combo should be a super-sellout for Rev'it this year and, of course, each can be worn separately, so these will be very popular I'm sure.
REV'IT! Spring 2011 Clothing – Slide Show
REV'IT! Energy HV (High Visibility Jacket and Axis Pants
REV'IT! Tarmac and Victory Leather Suit
REV'IT! Tornado Jacket and Pants
REV'IT! Ventura Women's Jacket and Pants
REV'IT! Fly, Phantom GTX, Raven, Summit and Tarmac Spring 2011 Gloves
wBW Slide Show: Click on a photo to start the Lightbox slide show.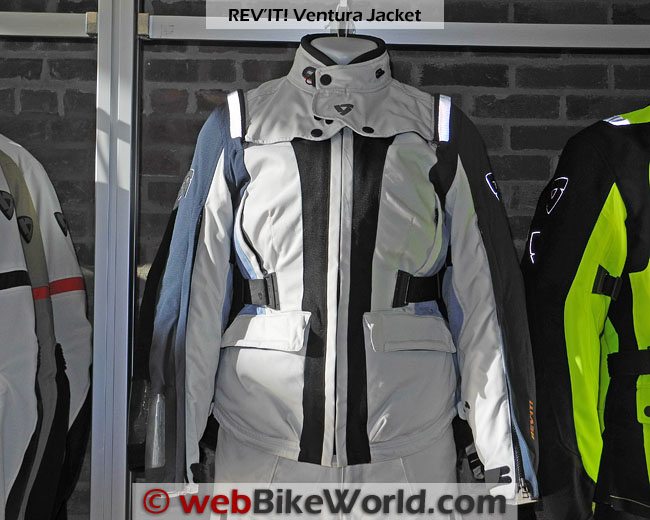 REV'IT! Ventura Women's Jacket and Pants
Rev'it probably has more clothing that is specifically designed, styled and cut for women than any other motorcycle clothing manufacturer. The Ventura jacket and pants is a brand-new, high-end riding outfit designed specifically for women. There is no men's equivalent to the Ventura outfit and Rev'it has invested a lot of time, energy and money into this focused product.
The Ventura jacket is available in either a silver/black, silver/blue or all-black color scheme. Again, what Rev'it calls "silver" I would say is more of an off-white or light putty color. The silver/blue pattern in the Ventura is especially nice.
The jacket and pants have all the bells and whistles, with 500 denier Cordura, removable insulating and waterproof liners and special ProLife armor designed for women.
Of course, it wouldn't be a Rev'it jacket without a unique feature and the Ventura has a removable collar. The entire top assembly, which protects the neck and upper shoulders in winter, can be removed for use in warmer weather.
The jacket is available in women's sizes from 34 to 46 and the pants are available in sizes ranging from 34 to 46 in short, standard and long lengths. The Ventura jacket has a list price of $449.99 and the Ventura pants list for $299.99; again, very reasonable numbers for this quality.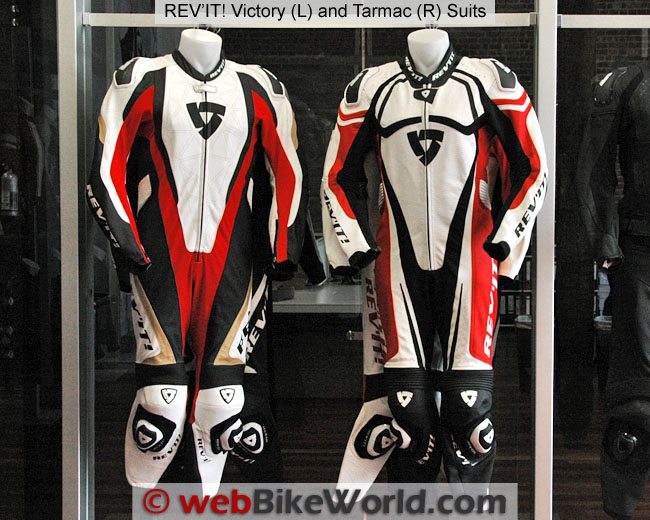 REV'IT! Tarmac Perforated Leather Suit
Rev'it is probably better known for textile gear but they've always had an extensive line of leather motorcycle clothing. The Tarmac name is used yet again in the new Tarmac leather one-piece suit, which sits below the Rev'it Victory suit in the lineup and is designed for track day or street use.
The Tarmac suit incorporates many of the lessons learned from the Rev'it Victory suit, used in MotoGP by Randy de Puniet, including the built-in shoulder and elbow armor sliders and the aerodynamic hump that holds a hydration bladder.
The suit is heavily perforated, presaging what will apparently be a red-hot summer in 2011. The quality of the leather, the cut and the sewing on this suit is fantastic and there are many details that must be seen "live" to fully appreciate.
The Tarmac suit has a list price of $1,149.99 and it's available in sizes ranging from 46 to 58 (Euro) in the "classic" red, black and white Rev'it color scheme, along with black/blue and black white.
REV'IT! Tarmac Leather Jacket and Pants
Cut the Tarmac suit in two and what do you get? Why, the Tarmac USA jacket and Tarmac trousers, of course!
This black leather outfit has all of the safety features of the one-piece suit, including ProLife armor and the hydration blader speed hump.  But the jacket and pants can be mixed and matched for custom sizing for riders who have difficulty fitting in a one-piece leather suit. The black leather also provides a toned-down look and can easily be spiced up with a high-viz vest.
The Tarmac USA jacket is available in sizes ranging form 46 to 58 with a list price of $599.99 and the pants are $429.99 in sizes ranging from 46 to 58 in short, standard and long.
Spring 2011 Rev'it Gloves
Rev'it has developed a bevy of new motorcycle gloves for spring and summer of 2011. The Tarmac name is used once more in a new high-end sport glove made from leather and goat hide, with a large TPU (thermo polyurethane) molded main knuckle protector. The Tarmac gloves are available in black or a red/white/black pattern to match the Rev'it Tarmac leather suit or Tarmac Air jacket. Sizes range from S to 3XL and the list price is $189.99.
The most extensive new glove line is the Summit, with the Summit H20 waterproof gloves in men's and women's patterns, along with the Summit summer gloves, also in both men's and women's cuts. The Summit gloves have a list price of $99.99 and the Summit H2O gloves list at $119.99. Men's sizes range from S to 3XL and women's from S to XL.
The Fly gloves are of the short gauntlet type and are fully perforated with a leather-covered main knuckle protector. They offer the protection of leather but with the potential of good air flow and I think they'd be a good match for the Tornado outfit. The Rev'it Fly gloves have a list price of only $69.99 in an extended size range from XS up to 3XL.
The Phantom GTX gloves are a high-end touring/sport style made from water-resistant goat leather. They include the Gore-Tex "X-Trafit" waterproof liner we first described in the 2010 Eska Indianapolis GTX gloves (review). The Phantom GTX gloves are designed for "maximum inclement weather" protection in warmer weather. They are available in a very extended size range, from XS to 4XL and have a list price of $189.99.
Conclusion
There's lots more to the 2011 Rev'it spring and summer clothing lineup and these are just some of the highlights.
It's a safe bet that the Tornado outfit, along with the Energy HV jacket and Axis pants should be hot sellers in what may be a very hot summer. Frankly, I can't wait for the warm weather to arrive and to try all of this new gear!
Publication Date: January 2011
Note:
 For informational use only. All material and photographs are Copyright © webWorld International, LLC since 2000. All rights reserved. See the webBikeWorld® 
Site Info page
. Product specifications, features and details may change or differ from our descriptions. Always check before purchasing. Read the
Terms and Conditions
!
Owner Comments and Feedback
---
From "B.C." (01/11):  "Good posting…really appreciated, even though I can't wear any of the stuff. Which brings me to a couple of comments…
My thoughts regarding size were already reflected in the previous comments (comment below). Anyone over 6 ft 1 in or so, and 200 lbs plus is not likely to find much from Rev'it, even in gloves. I have now tried on ten different pair of old and new model gloves and so far I have struck out on all counts…which is really disheartening as I usually can find at least one glove from a manufacturer that fits me.
Our local vendor is really anxious to get me in to try on the new stuff as well…but she has also been told, during her visit to Rev't this month, that long or tall sizing would be not available or for some markets only – which doesn't give me a warm and fuzzy feeling.
Rev'it design and quality is really (really) good, and you can quote me on that. But until they make a corporate decision to enter the real-world rider market (cross spectrum), I believe their success will be limited, and (potential) consumer frustration will grow (another negative for the manufacturer and our industry).
Most of the hard-core or serious adventure/touring riders I know and ride with are my size or better and not one of us can wear anything from Rev'it, less then an odd pair of gloves.
So, end of rant, off my milk carton. I am keeping my fingers crossed that there might be something in the 2011 line that I can at least think of wearing."
---
From "D.R." (01/11:  "I wanted to comment on the Rev'It Gear shown, specifically the Tornado jacket. This thing looks perfect! The colors used are at the light side of the spectrum, perfect for trying to keep the heat down. Why are so many jackets very dark to black even when they're for summer riding and are made of mesh or perforated materials? So they got that right. The styling is nice. And I think Rev'It quality is some of the best out there.
Why am I not calling the dealer where I get my Rev'It gloves from for a chance at this thing as soon as it is available? I'm tall. 6'4" or so, and Rev'It offers almost zero "tall" gear. I would pay a premium for this jacket over the $300 asking price if I knew it would really fit, but the few times I've tried on Rev'It jackets have ended in disappointment.
I foolishly bought a pair of their pants that were available in a "tall" variant and they're at least two inches shorter than they should be. If Rev'It sees this, please let them know that they will get more of my money (I'm already looking at which new summer gloves to get that replace my existing Rev'It's) when they really start catering to my demographic.
As it is, I feel like my best bet is to go for custom sized gear from one of a couple manufactures of such here in the USA."
Editor's Note:  Several Rev'it pants are available in both short and long lengths, as noted in the preview above.