World Exclusive!  The 
web

BikeWorld

 Live Report From The 2008 Powersports Dealer Expo Indianapolis, Indiana – February 16-18, 2008

We're now reporting live from the annual Powersports Dealer Expo, held this time each year in Indianapolis, Indiana.

This is our 5th annual report from the Dealer Expo, and it's always quite a trip.  This is the place where all the U.S. dealers meet with the manufacturers and distributors of motorcycle accessories, clothing, helmets, gloves, boots and — believe me — just about every other thing you can think of that fits, sits or clicks on two wheels.

And guess what?  You will have a front-row seat and a live world exclusive to see all of this year's motorcycle goodies as they are released by the manufacturers for the very first time!  If you want a hint at what's in store, see the links in the right-hand column to our reports on previous years' shows.

The Dealer Expo is like the biggest birthday party ever for me, because I have no idea what's on tap for 2008 — everything there will be just as much of a surprise to me as it will be to you.  I'll report back as often as I can starting Saturday afternoon with some brief commentary on the show and the goods along with photos and info.

Last year there were something like 24,000 visitors at the show from all over the world, and there are usually over 1,000 displays and exhibitors with cool stuff to see and touch, which means there should be plenty to talk about.

So here we go — be the first on your block to know what's cookin' for '08!
Index

Thursday, February 21, 2008 – Final Report!

Christini All-Wheel Drive Motorcycle  |  Rev'it Apache Adventure Boots*  |  Rev'it Freestyle Boots Updated*

Wednesday, February 20, 2008

wBW Motorcycle Helmet Photo Gallery – Selection of Colors and Graphics from the 2008 Dealer Expo

Tuesday, February 19, 2008

2008 Helmets*
Vemar Helmets First Look
Vemar Jiano Review*
Rev'it Sirocco*
Rev'it Cayenne*

Monday, February 18, 2008 – Page 2

Rynus Clothing*
RKA Tank Bag
Leatt Brace
Alpina Wheels
Scoot Coupe
Hepco & Becker
Bobber Mini-bike
Tire Claw
Covered Trailer
Air Suspension
Tourmaster
More soon…

Saturday, February 16, 2008 – This Page (Below)

Teknic Freeway
Teknic Women's
Shock Doctor
Akuma*
Floating Eyewear
Mikuni Carbs
Roland Sands
Trail Tech HID
Muffler Sliders
Brembo*
* Extended reports; separate page.
Teknic Freeway Jacket
February 17, 2008 –  Teknic has been advertising the heck out of this jacket, which is strange, considering it hasn't been in stock in any of the retailers that we've contacted over the past couple of months.  I guess this happens sometimes; marketing gets ahead of production, or some technical snag gums up the works.
It looks like a nice jacket and it comes in high-visibility yellow.  We wanted to compare it to the Firstgear TPS 3/4-length jacket we have (review coming soon), but no dice.  The Freeway will have to wait for another day…
The Teknic Freeway has some pretty good specs, and guess what?  They're calling it a "2/3 length" jacket.  Maybe they read our review of the Teknic Sprint, which we called a 5/8 length because it was the first jacket we found in this style that wasn't 3/4 length?
The Freeway is claimed waterproof; it has an "Alufoil" removable liner; the sleeves are rotated forward 15 degrees and it has the YKK waterproof zippers, first used by Rev'it, as far as we know.
The jacket also has underarm vents, and although I didn't try them to learn of their exact location, I wonder what took the manufacturers so long to copy what I consider to be the best feature of the Aerostich Darien jacket?
It also has Knox CE-approved armor in the elbows and shoulders and a Knox CE-approved Level 2 spine protector included.  It has many other features, including lots of reflective 3M piping and panels and more.  And the collar looks highly adjustable.
The jacket comes in sizes ranging from men's 40-54 in colors and black in the U.S.; 40-50 in colors in Canada and 40-52 UK sizes.  List price is $329.99 USD; $499.99 CAD and £249.99, but these are usually discounted at the retail level.
By the way, it's interesting to note that the 2008 Teknic catalog shows a model wearing the jacket standing in front of two police motorcycles, holding a police motorcycle helmet.  Wouldn't it be nice for motor cops to be allowed to wear 21st Century clothing, rather than the stuff that was designed in the 1940's?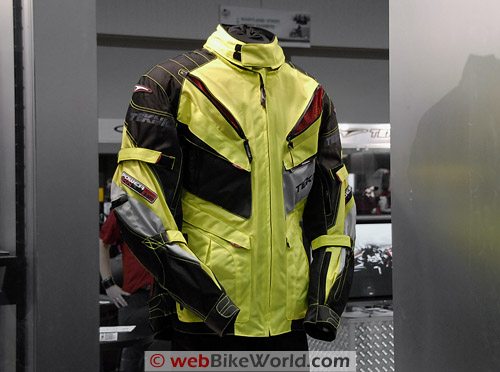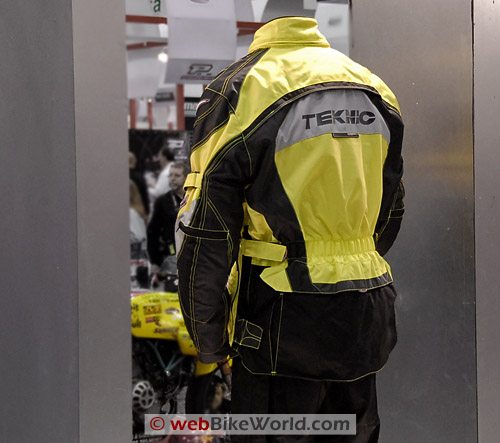 Teknic Women's Clothing
February 17, 2008 –  If there are two things I can take away from this year's show, it's helmet graphics and women's clothing.  I'll have more on the helmets later — the high-end manufacturers (and even some of the low end) seem to be focusing on graphics, paint and style for 2008.  There are some pretty incredible looking helmets, and I took a bunch of photos and I'm going to create a gallery.But in the meantime, women's motorcycle clothing is finally getting the attention it deserves.  We've always been promoting the use of safe riding apparel for women rather than the good-looking stuff that isn't much more protective than street clothing.  The manufacturers have finally caught on, and more than one told me how many women are getting into the sport.  Hey folks — where've you been?  We've been telling you that for years!
Anyway, the big news here is protective clothing that looks great and has style.  I'm talking about jackets with full CE-approved armor, back padding, boots and gloves.  The real stuff, but designed by women to look great — and not necessarily just cruiser styling either.  Really nice-looking sportbike gear for women.  It's about time…
This was repeated in many booths, with helmets (see the Akuma article below), clothing and more.  Unfortunately, I ran out of room in the camera's memory card, so I only have a couple of photos from Teknic.  They always have a great big booth that's more like a showroom.
The Teknic Vogue 1.4 mm cowhide leather jacket (below) is very nice looking and stylishly different.  They have a pair of matching Vogue pants also.  The jacket has an offset zipper and cool asymmetrical graphics.  It has Knox CE-approved armor in the elbows and shoulders.  The Vogue jacket is available in sizes from 4-14 (US/CAN) or 8-18 (UK).  The matching Vogue pants run the same.  The jacket list price is $299.99 USD; $329.99 CAD; £199.99.  The pants retail for $199.99 USD; $229.99 CAD; £129.99.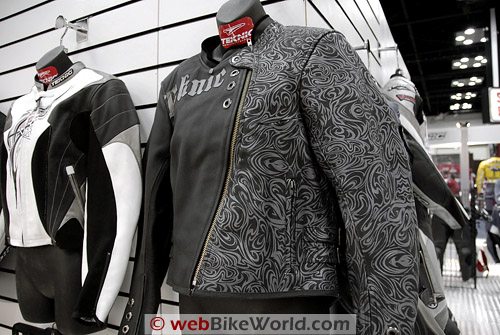 The Teknic Venom 1.2 – 1.4 mm cowhide leather jacket (left) is a sportbike jacket with pre-curved arms.  It has Cordura stretch panels and a removable liner.  It also has Knox CE-approved armor in the shoulders and elbows but includes a Knox CE Level 2 spine guard.  The Venom pants match; they're made from 1.2 – 1.4 mm goat skin with Spandex stretch panels.  The pants have Velcro for knee sliders.
The Venom jacket is available in sizes from 4-16 (US); 4-12 (CAN) or 8-18 (UK).  The matching Venom pants run the same.  The jacket list price is $299.99 USD; $399.99 CAD; £199.99.  The pants retail for $219.99 USD; $349.99 CAD; £149.99.  I'm told the price differences in the three countries are due to tariffs on goat skin and Brazlian cowhide.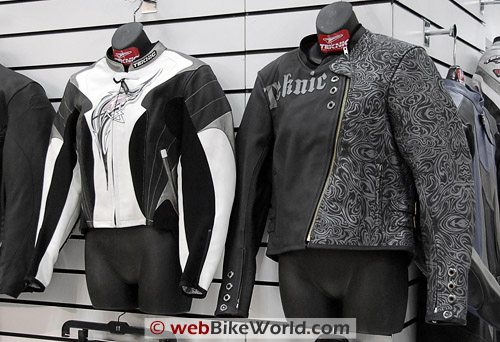 Also a couple of nice leather jackets for women from the Teknic cruiser wear catalog; I don't know about the protective features of these jackets, but they sure look nice: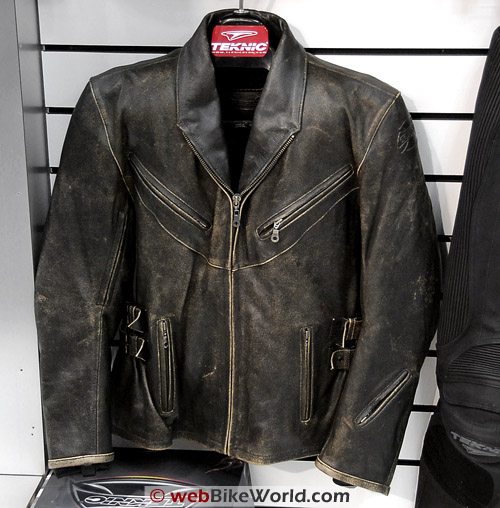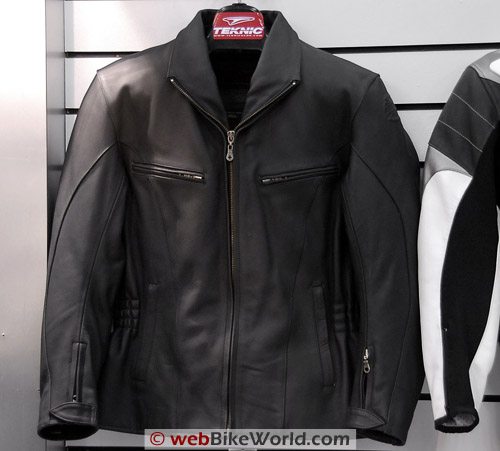 Shock Doctor
February 17, 2008 –  Shock Doctor is probably one of the biggest companies you never heard of.  They have a huge catalog of safety gear for just about every sport in the book and they make a wide range of products, from mouth guards for hockey and football to padded and armored clothing and they even have a line of luggage.Their "Power Dry" helmet bag is about the highest-tech helmet bag around.  Open a zippered compartment underneath and there's a door that slides on to the side of the Power Dry unit, which blows hot air and ozone into the helmet while the helmet is in the bag.  This dries out the helmet and sanitizes it, killing the bacteria.
By coincidence I had run into an ex-racer in the Scorpion booth and he said he used to own 14 helmets at at time because he raced and practiced so much on the weekends that he'd have to wear one helmet, put it aside when it got sweaty and grab another for the next heat.  Too bad he didn't have a Power Dry.
The Power Dry also has a vent that fits on top and the helmet can be placed on the tubes (photo below) when it's not in the helmet bag.
I've also included a photo of the Shock Doctor luggage below; the larger bags have the Power Dry "door" also, so they can fit on the Power Dry fan unit to get the treatment.
Shock Doctor is now also manufacturing the "Hats Off" helmet removal system used by racers.  This is an air bag that fits above the rider's head with a tube that goes down through the helmet liner.  The tube is used to inflate the bag if the rider crashes, thus lifting off the helmet without damaging the rider's neck.  I'll write up a separate page on that with photos later.  Available from Shock Doctor.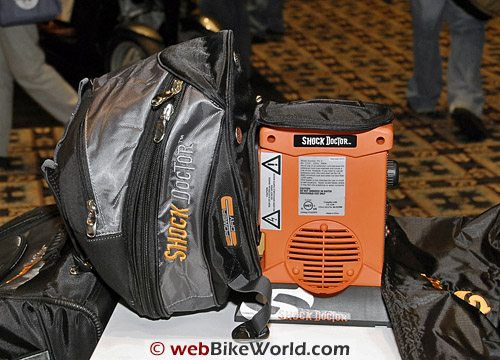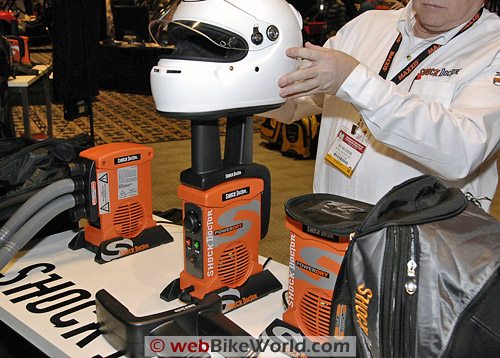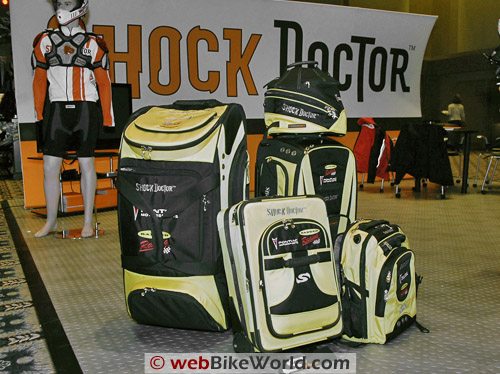 Akuma Electrochromatic Visor
February 16, 2008 – 
 The Akuma dudes have been super busy!  The makers of the webBikeWorld 2006 Motorcycle Helmet of the Year and the Akuma Stealth are bringing us into the future with — get this — an
electrochromatic visor and an electroluminescent helmet
!  And they've also partnered with Collett Communications with the Collett Bluetooth intercom that's powered from the on-board Akuma rechargeable Integrated Power System!  Top it off with a new women's flip-up helmet that was completely designed by women for Akuma and wow — 2008 is going to be pretty special!
Floating Eyewear
February 16, 2008 –  Floating Eyewear?  You see all sorts of weird stuff at the show.  These are actually pretty interesting; they come in many different shapes and colors and they have little blocks of soft foam on the inside, placed near the junction of the temple pivot.  They float right-side up and the foam also blocks the wind from coming around the side and causing tears.The best part about them is they retail for $12.95.  And by the way, they're completely flexible; the sales rep took a pair off the rack and pulled them apart and they stretched out completely straight and then sprung right back into shape.  Dealers can order them through Parts Unlimited.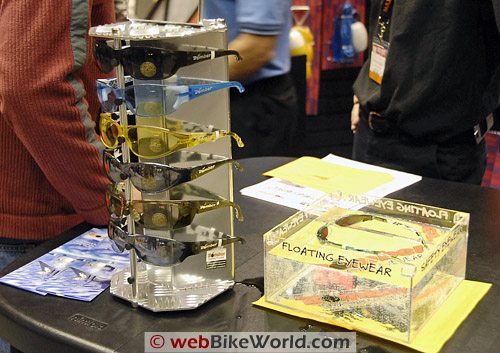 Mikuni Carburetors
February 16, 2008 –  I just had to grab a shot of this — have you ever seen so many Mikuni carbs lined up in a row?  Nice!
Roland Sands Designs and Jesse Rooke
February 16, 2008 –  I'm not much on some of the outrageous and completely un-rideable customs going around that are basically eye candy for the show ring.  And does the world need yet another H-D clone with a skull headlight and 300 mm rear tire?So I pretty much ignore customs.  The craftsmanship and paint can be cool, sure — but I want to see something I can imagine riding.  That's why I've really admired the work of Roland Sands.  The guy is a true motorcycle renaissance man.  He is so, so good at melding the technology of today with the essence of the glory days of motorcycling; his art is a perfect icon for the 21st Century.
And he's not afraid to stand outside the cruiser world, which is definitely admirable.  Very cool bikes!  Sands had a huge display —  check out his take on the Hypermotard and the Jesse Rooke KTM below.  Let's just hope that fame doesn't ruin a good thing…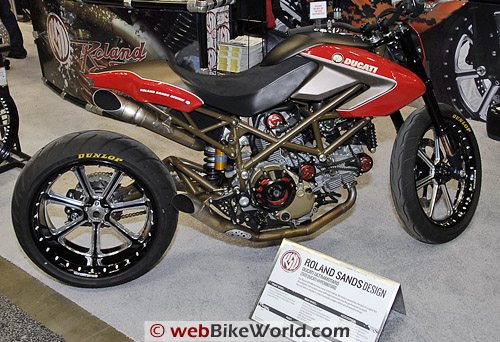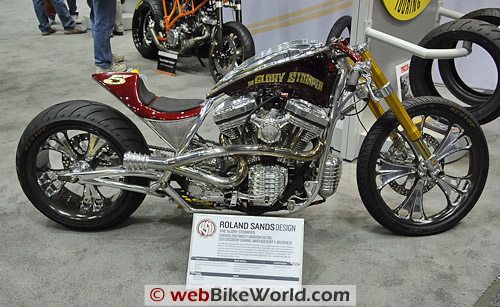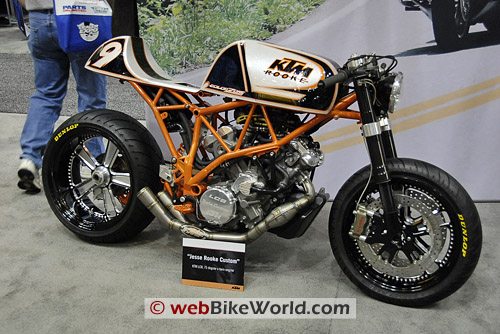 Trail Tech HID Lights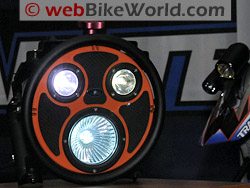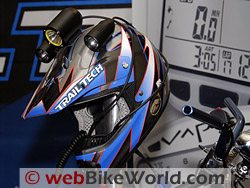 February 16, 2008 –  New Exhibitor:  Trail Tech has some serious off-road gear, including this incredibly powerful light (left) with three HIDs.  It needs something like 100W of power from the alternator, and they also sell replacement stators for off-road bikes that create DC power for the light.  It attaches to the fork tubes of the off-road bike, and they had it on a KTM, but how cool would this thing be on a streetfighter?
They turned it on while I was standing in front of it about 10 feet away, and I'll have to say it was retina-scorching.  The guy standing behind me could probably thought he was looking at an X-ray of my bones, it was that powerful!
The also have these cool single HID lights and a rechargeable power pack; the lights can be mounted on a helmet (right).  They have a lot of other cool stuff, including many different electronic LCD dash displays, with time, distance, speed, miles, etc.  And they make some interesting water temperature sensors too.  Interesting gear that could easily be adapted for Adventure-Touring or all-around farkleing…  From Trail Tech.
Muffler Sliders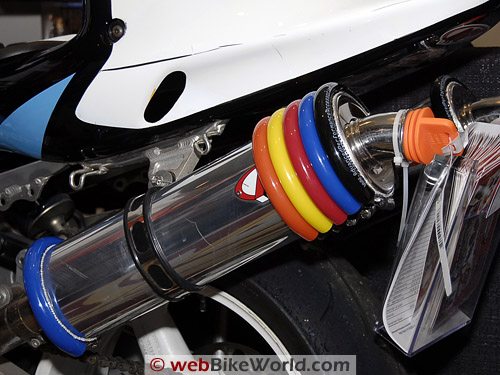 February 16, 2008 –  New Exhibitor:  Here's a good example of one of those interesting accessories found at the show.  It's called a "Muffler Slider", and it fits into the "Why didn't I think of that?" category (like many products found at the show).
One or more of these colored plastic (or some type of polymer) rings fits around the end of the muffler.  Each ring is sold in a kit, which includes a heat protection shield that fits under the ring.  It attaches with a type of hose-clamp underneath.
The Muffler Slider will help protect the exhaust canister from getting scraped up in a crash.  The company said the product has been "thoroughly crash tested by the USA Factory Kawasaki Supermoto team".  Available from Advanced Performance Accessories, price ranges from $24.95 to $32.95.
Brembo Radial Master Cylinder and New Brake Calipers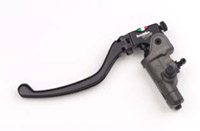 February 16, 2008 –  Motorcycle manufacturers use the Dealer Expo to announce new products, and Brembo usually has something new and exciting.This year they have announced the availability of a revised radial brake and clutch master cylinder and new brake calipers available for many Japanese and European bikes.
Hmmm…I bet these would be sweet on the GT1000!
UPDATE:  The Brembo rep says the radial master cylinder and clutch cylinder should fit the Ducati SportClassics.  New photos just posted, including a photo of the Brembo MotoGP brake system with carbon rotor.
More on Page 2
Note:  For informational use only.  All material and photographs are Copyright © webWorld International, LLC – 2000-2011.  All rights reserved.  See the webBikeWorld® Site Info page.  NOTE:  Product specifications, features and details may change or differ from our descriptions.  Always check before purchasing.  Read the Terms and Conditions!